We are creating a special discount that will give you one of our other premium WordPress themes for free just for trying Point Theme. Point is a free, fluid responsive WordPress theme that is built to be multipurpose and flexible.  Thanks to the built in options panel, it's easy to choose from multiple layouts and designs to build your perfect site.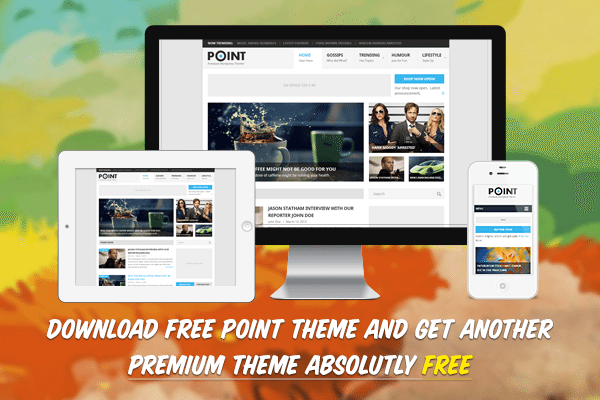 Here's how you can get yours:
(This offer is over now!)
1. Download Point Theme.
1.1 Please leave an honest review on WordPress.org (it's free to do). (Not necessary to get the coupon code though, please leave the review only if you used or will use Point theme)
2. Install and activate Point on your server.  It may be a free WordPress theme, but it has premium features!
3. Once activated, check the options panel and you'll find your special coupon code: http://sitename.com/wp-admin/themes.php?page=theme_options (replace site name with your website's name)
4. Then, choose which theme you want for free from here and use the coupon code to get it for $0 (that's free!) from below download button.
5. Enjoy the theme with one month of exclusive premium support included.

Why are we giving away our themes?
We always believe in giving back to the community, because after all, it's you who have helped us grow this big so quickly.  We love to find new ways to make our users feel special, whether they are premium customers or just people who like our free themes.  This is our way of giving back to our free theme users, who have helped us grow but haven't been able to get the full MyThemeShop experience yet.
Don't miss any of our future offers:
Don't miss any of our offer on our premium WordPress themes or premium plugins. And yes, you will get the notification if you use Gmail.