Glamour is one of our most popular magazine WordPress themes, and we've received tons of great user feedback about it as well as some suggestions. At MyThemeShop, we aim to exceed all our customers' expectations, so we are releasing our new v1.1 update for Glamour to address some user suggestions and requests.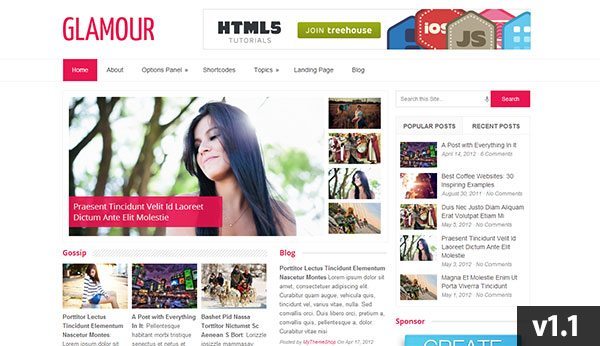 We add our new and improved options panel, our new social profile widget, and our custom dashboard option. Additionally, we optimized Glamour by adding prefetching, minimized code and scripts for faster loading. We made a few aesthetic changes to the design and fixed a few minor issues that users had reported. After installing Glamour v1.1, if you experience issues with thumbnails, please use this plugin to regenerate the thumbnails and resolve the issue.
We hope you like the new and improved Glamour, and are looking forward to bringing you more great WordPress themes and updates for our existing themes in the future.
If you are interested in the full changelog, view it below:
v1.1 (February 5th, 2013)
-----------------------------
Improved Options Panel

Added HTML Prefetching for lightening fast site loading.

Upload any size of logo without modifying code.

Theme will create Latest Posts page automatically on theme activation.

Added Custom WP Dashboard UI option.

Better Scripts and CSS files loading.

Added 768x90 Ad widget.

Added few words in .po file for translation.

New social profile widget added.

Now column shortcodes are responsive on small screens.

Added proper styling to Calender widget.

Removed thumbnail size option from Category, Recent posts widget.

Customized tag widget.

Fixed search form.

Fixed title background issue.

Added author name in Author Box.
Steps to Upgrade:
Open cPanel and find the folder named 'glamour' in themes.
Create backup of this folder and delete it.
Add new theme folder or install the theme using WordPress.
Activate it, you will not lose any settings from Options Panel but if you have made any changes in core theme files, then those changes will be lost.
You can check live demo here and download new theme files from our Member's area. If you face any problem while updating, feel free to create new thread on our support forum, our support staff will help you