We seek to provide the best WordPress themes that are simple to use and easy to install. However, occasionally users have questions and our support staff is always available to help. Due to the increasing number of support requests, we've focused on reducing response times and maintaining the quality of our support forum.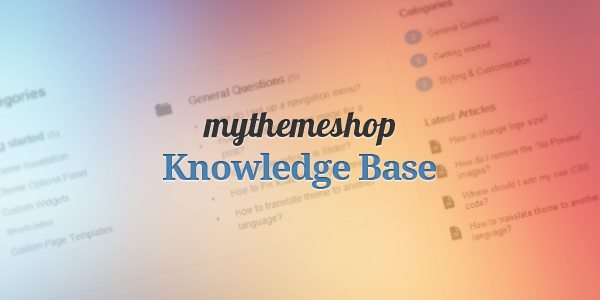 As such, we have put together a knowledge base and FAQ about theme installation and configuration to address the more common questions that users may have. In order to provide the best support experience possible, we ask that our users refer to the knowledge base before posting a question on the forums, as it enables faster resolutions to your more common problems while also allowing our support team to provide a more personalized experience on the issues that users do have.
Also, if you are new to using WordPress, do watch our free WordPress tutorials to learn exclusively in depth about the platform.
With the release of our knowledge base comes a list of articles and short tutorials on subjects ranging from theme installation, theme configuration, changing or re-sizing logos, customizing widgets, and also adding a translation to your theme. Included are screenshots and some video tutorials to guide you through the setup.
If you are looking for assistance for your theme, please check the knowledge base to see if the question has been answered there. If not, please feel free to post on the Support forum and our support team will be happy to assist you.
We hope that this improves the quality, responsiveness and turnaround for all of our support.
Thank you for your continued relationship with MyThemeShop.