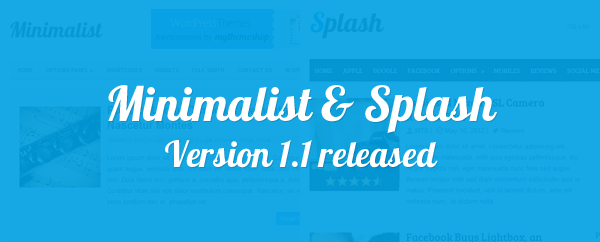 As we mentioned last week, we're currently rolling out some new updates to our WordPress themes. We love getting user feedback, and we take suggestions and user input to heart.
We've taken the recent feedback for Minimalist and Splash and used it to improve and streamline the themes. Also, as we mentioned with Sensational, we're rolling out some new options panel updates as well, and we've included these in our updates for Splash and Minimalist.
The updates address a few minor issues, and some improvements to the way certain functions are handled. We believe that these changes will lead to a better user experience for both Minimalist and Splash, and we hope you think so as well.
Here is the list of Changes in Minimalist v1.1 and Splash v1.1
We'll continue to work to reach perfection with our themes, and we'll occasionally release new updates as we get more user feedback. If you have any further suggestions or need support, please contact us and we'll make sure your issue is addressed.