Along with the MyThemeShop 2.0 site launch, we've revamped the pricing of premium WordPress themes to make it simpler and more straightforward. Now, there are only 2 pricing options: Membership and Single Premium theme. Our free WordPress themes are still available freely, but for premium themes, you can either purchase an individual theme license for a one-time fee of $35, or you can purchase a membership.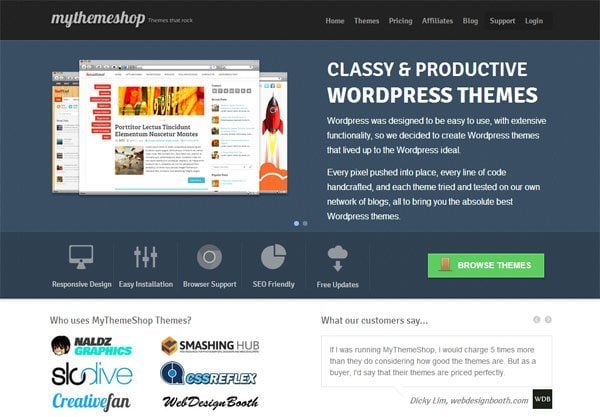 A membership is $9 per month, with a $45 initial sign-up fee. With this purchase, you get access to all of MyThemeShop's available themes, plus a guarantee of access to more than 3 new themes each month. You get an extended license with the themes, meaning you can use them on multiple sites or for clients, something that isn't available with individual theme purchases. You can cancel your membership at any time and keep the themes that you already have, or you can remain a long-term member and get access to new themes at less than $3 per new theme that you receive each month. The savings really add up.
We've also revamped our affiliate program to meet your needs. Instead of complicated payouts or thresholds, you receive a flat 60% commission for each sale, which is higher than any other affiliate program in the industry. The affiliate tracking mechanism is the same, where users click your link and if they buy a theme within 60 days, you receive credit. It's free to join and quick to get running, so if you haven't promoted our themes before, now is the perfect time to start. Mythemeshop provides the best professional WordPress themes at a reasonable price. This makes it easier for our affiliates to promote our themes and plugins with the best conversion rate.