We get a lot of great feedback about our magazine WordPress themes and love hearing about how they have helped boost your blog's success. We're always testing and trying new styles and structures to create the perfect magazine theme for your WordPress blog, and our latest result is Emerald.
Emerald is a gem of a WordPress theme, with a bright and refreshing design and it's packed with all of MyThemeShop's most powerful features. For starters, it's fully responsive and uses the latest techniques in HTML5 and CSS3 to make your site ready for all that the future has to offer, while also streamlining the user experience regardless of device type or browser size.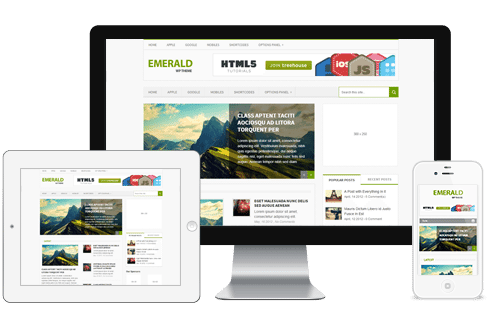 Emerald comes with our best optimizations, such as our WordPress search engine optimization that will help your blog overcome obstacles and rise to the top of all the search engines including Google. With translation-ready ability, you'll be able to add another language to your theme and reach new users around the globe. Thanks to our custom widgets, Shortcodes and Ad management options, you'll be able to manage your site without slowing it down with 3rd party plugins.
Emerald also comes with our premium support, so you can get instant help with installation or configuration issues and take the stress out of your blogging experience. Plus, Emerald is fully customizable thanks to our options panel, so you can control colors, fonts, backgrounds and more in a flash.