One of the most popular uses for WordPress is for breaking news and news magazine websites. The ease of updating, the number of themes and the ability to feature multiple types of content make WordPress a great choice for bloggers with news websites.
We are proud to be releasing our latest Magazine WordPress theme today, called HotNews. HotNews is a trendy, news magazine and breaking news style WordPress theme. It features multiple post sections, so you can customize and control the posts that are featured on the homepage and drive traffic to breaking news or other important posts.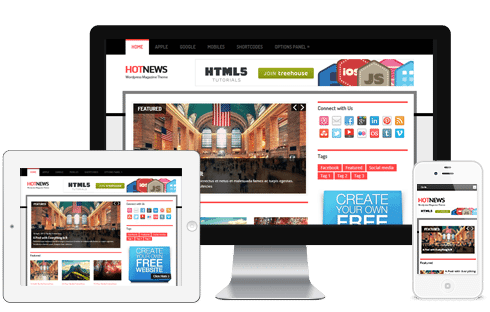 HotNews has a crisp, clean design with a touch of color, lots of contrast in order to improve readability, and the ability to customize the background design, the colors, and the fonts thanks to Google's font library, so you have full control over the design and appearance of the theme.
We jam-packed it full of our best features, including our coveted WordPress shortcodes to help make creating posts a breeze, our lightbox to help you display your media in an elegant manner, and our custom widgets to help your blog load quickly without the need for plugins. Best of all, you can customize it all through our industry-grade options panel.
HotNews is also fully optimized, using the latest techniques in HTML5 and CSS3 with responsive design, so your WordPress blog is ready for the future and will display perfectly for desktop, tablet, and mobile users. It's optimized for search and advertising, and is also translation-ready. We even included our streamlined custom dashboard design which you can activate and turbocharge your blogging experience.
Buy HotNews Theme | HotNews Demo