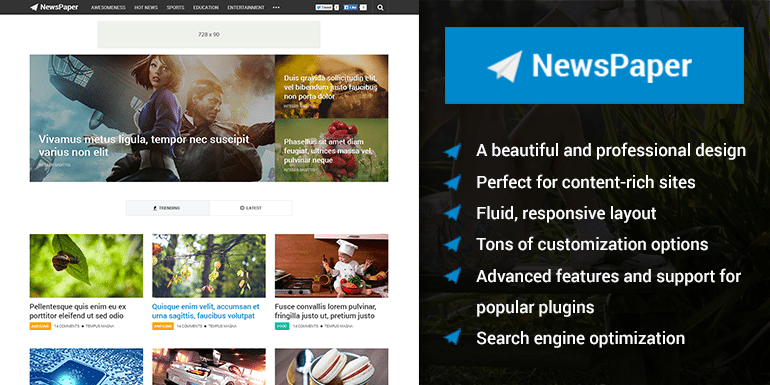 Mainstream is, well, too mainstream. You need to be doing something different from the rest of the crowd in order to make a bigger impact.
MyThemeShop is that "something different" you need in order to make your WordPress blog stand out from your competition. Our NewsPaper WordPress theme is our latest release to help you stand out, rank better, gain more ROI, and grab more subscribers than your competitors.
We have put special care into the design of NewsPaper theme and we are proud to say that it is one of our best, if not 'the' best, legible themes. That means, your users will thank you for the amazing readability and friendly interface.
Pleasing your visitors is just one part of the job, our premium wordpress theme does perfectly. It also helps you gain more pageviews from your current traffic thanks to the subtly inserted "recommended reading" sections to help your visitors check more content you provide.
The featured slider on the homepage and other featured sections make the theme catchy and perfect for content-rich websites. Overall the design helps grab your visitor's attention in an eloquent manner.
Here are some of the main features of NewsPaper WordPress theme:
A beautiful and professional design
Perfect for content-rich sites
Fluid, responsive layout
Tons of customization options
Search engine optimization and rapid load times
Speed Optimization
Tabbed Homepage Layout
Popular Categories Section
Brands Section
Off Canvas Mobile Menu
Easy Legibility
Powerful Options Panel
and many others you expect in our themes
You can check more details and demo of NewsPaper theme here.
We are really proud of this theme and we hope it helps you take your website to new heights.