2013 is off to a roaring start, and we're working to bring you the best new WordPress themes every step of the way. As we continue to monitor the latest trends on the web, we're releasing new updates for our old themes and building new themes to take full advantage of new technologies and keep you on top of the web.
Today, we're proud to unveil our latest creation: SoftPress. SoftPress is a clean, elegant and refined WordPress Magazine theme that has a crisp, white layout, just a splash of color to capture your visitors' attention, and some really slick features.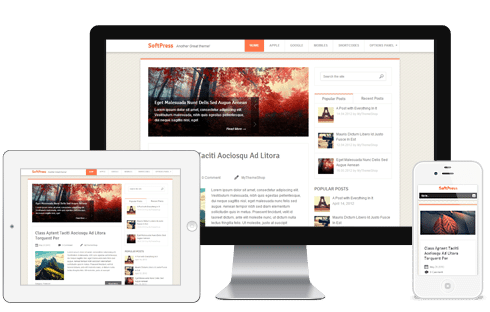 2013 is expected to see huge growth in mobile and tablet computing markets, so having your site work properly for those users is absolutely essential. With SoftPress, this isn't an issue, as SoftPress is fully responsive and works out-of-the-box for all users, regardless of browser or device type. Plus, with our translation-ready functionality, you can reach visitors around the globe and expand your audience dramatically. Using the themes, you will truly feel that starting a blog was your best decision till date.
SoftPress includes all the features that you know and love us for. Full optimizations for SEO, advertising, readability and HTML5 with CSS3 technologies are all implemented, and of course we included our options panel. Plus, we are proud to include our latest new feature, our custom dashboard design that organizes and optimizes your admin panel to turbocharge your blogging experience.
Oh, and it also includes our shortcodes, lightbox, slider, access to all Google fonts, custom patterns, ability to customize colors and much more.
So, what are you waiting for? Get SoftPress here for our lowest price: Buy SoftPress Theme
Or, check out the demo and experience the theme firsthand before buying: SoftPress Demo
We're looking forward to rocking 2013 with you and building the best blogs on the web.