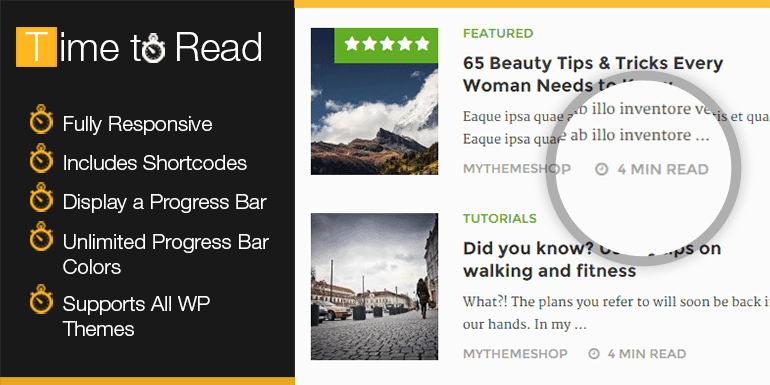 Wouldn't it be great if there was an app that showed you how much time you would need to read this email? How about that article you wanted to read but thought it would take too long. Wouldn't you want to tell your users how long your WordPress blog post would need to be read?
As avid internet users, we always skim articles because we don't want to spend too long reading a post. Then, we realized this problem isn't very unique. Many people don't read full articles and hence miss many valuable gold-nuggets hidden in the text.
We have devised a solution to this problem though. If you could tell users how long an article needs to be fully read, they will be in a better position to guess whether they should read an article right now or later.
Our WP Time to Read plugin will not only show your users how long an article will take to read, it will show a progress bar as well to let your users know how much more time the article demands.
Like our other plugins and themes, this is also a fully responsive WordPress plugin. It supports WordPress shortcodes as well as PHP code for integration into ANY WordPress theme. You get options to chose the minimum and maximum word-count per minute as well as choose any color for the progress bar.
Now, your readers will read entire articles because they know it won't take as long as they anticipated.
Here are the main features of the plugin:
Fully Responsive
Developer Friendly
Min-Max Words Per Minute
Enable/Disable with One Click
Progress Bar with Unlimited Color options
Shortcode Function
PHP Template Code
Show on Different Pages
Supports All WordPress Themes
Extensive Documentation
24×7 Support