While we continue to release new WordPress themes, we're also constantly addressing reported issues with our existing themes, and we're also focused on upgrading them to include the latest best practices, optimizations and techniques on the web.
Today, we're releasing the updated version of our famous Report theme. To supercharge Report, we added some more background patterns, our improved options panel, a new social profile widget, and some other new features.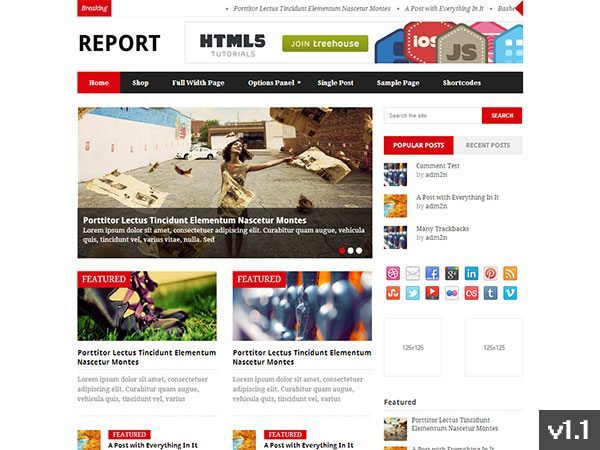 We also performed some new code optimizations to help Report load faster, and added some SEO improvements to help your WordPress blog rank higher. Along with a few minor design improvements and some upgraded features, Report is now fully up to speed and better than ever before.
If you're interested in the full list of changes, you can view the changelog below:
Added 20 extra background patterns.
Text logo color can change with color scheme.
Improved Options Panel
Added HTML Prefetching for lightning fast site loading.
Upload any size of logo without modifying code.
Added few words in .po file for translation.
New social profile widget added.
Replaced Pinterest button with counter.
Now column shortcodes are responsive on small screens.
Added proper styling to Calendar widget.
Removed thumbnail size option from Category, Recent posts widget.
Customized tag widget.
Fixed search form issue.
Added author name in Author Box.
Made a few SEO improvements.
Small design improvements.
Related posts will show random posts from same category.
Code optimization for speed.
Removed padding around 125×125 ad widget.
Shortcode compatibility in RSS feed.
Steps to Upgrade:
Open cPanel and find the folder named 'report' in themes.
Create the WordPress backup of this folder and delete it.
Add new theme folder or install the theme using WordPress.
Activate it, you will not lose any settings from Options Panel but if you have made any changes in core theme files, then those changes will be lost.
You can check live demo here and download new theme files from our Member's area. If you face any problem while updating, feel free to create new thread on our support forum, our support staff will help you.