In 2013, we'll continue to monitor changes on the web with regards to new technologies, best practices for SEO and WordPress, and new features that users request. When we find something new, MyThemeShop will implement it in both new and old WordPress themes, and we'll roll out updates for themes accordingly.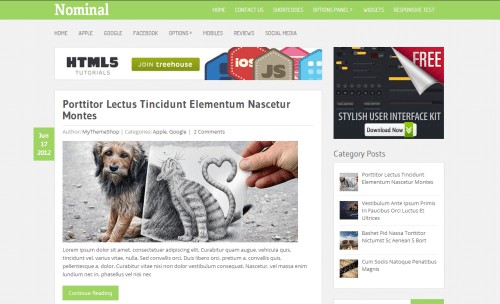 Today, we're releasing Nominal v1.1. The new version of Nominal features some new modifications to both address user requests, potential issues, and new best practices. A few things we've done are adding our custom dashboard design to make it available, updating the options panel, adding new background patterns and widgets, as well as some code optimizations.
Learn the basics of WordPress from our latest WordPress Tutorials that will help you start a WordPress website with a bang.
We hope that these updates make your blogging experience with MyThemeShop's themes even better.
Here's the full changelog:
v1.1 (January 3th, 2012)
—————————–
Added WP Dashboard Custom Design.
Added 728×90 Ad widget.
Improved Options panel.
You can upload any size of logo image without modifying CSS.
Code and speed optimization.
Added few words in .po file for translation.
Small design improvements.
Removed No Preview image from homepage excerpts.
Pinterest counter button added.
New social profile widget added.
Improved Recent Posts and Category posts.
Removed star from Category & Recent Posts widget.
Removed contact page due to security issue.
Made Column shortcodes responsive on small screens.
Added 20 extra background patterns.
Shortcodes will work in Feed.
Footer copyright option fixed.
Added New Google fonts.
Steps to Upgrade:
Open cPanel and find the folder named 'nominal' in themes.
Create backup of this folder and delete it.
Add new theme folder or install a theme using WordPress.
Activate it, you will not lose any settings from Options Panel but if you have made any changes in core theme files, then those changes will be lost.
You can check live demo here and download new theme files from our Member's area. If you face any problem while updating, feel free to create new thread on our support forum, our support staff will help you.