We continue to build new themes and optimize our previous WordPress themes at a record pace, and we're not stopping any time soon. We've gotten great feedback on new types of themes that our users want to see, so we've gone back to the drawing board and come up with our latest WordPress blog theme: Thunderstruck.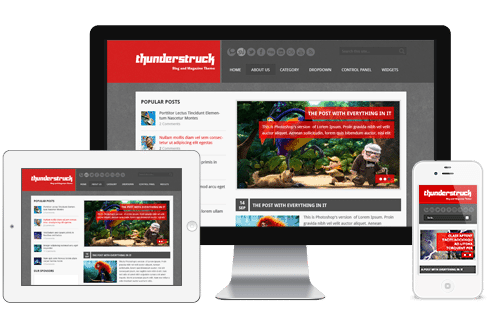 Thunderstruck is an eye-catching, colorful WordPress theme with a fully responsive, contrast layout and a ton of great features. It's lightning fast, fully optimized for SEO and advertising, and it comes with our awesome options panel.
With Thunderstruck's options panel you can control colors, patterns, textures and fonts to customize the design. Thanks to the custom widgets, shortcodes and optimizations, you won't have to tinker with extra plugins to make Thunderstruck work.
With our premium support, you can get help with any issues you might experience with Thunderstruck, but thanks to its responsive design, optimizations, and latest code techniques, you won't have any problems.
You'll get more traffic, earn more money, and take the stress out of blogging, all thanks to Thundestruck.
Check out the Thunderstruck demo |  Buy Thunderstruck Theme