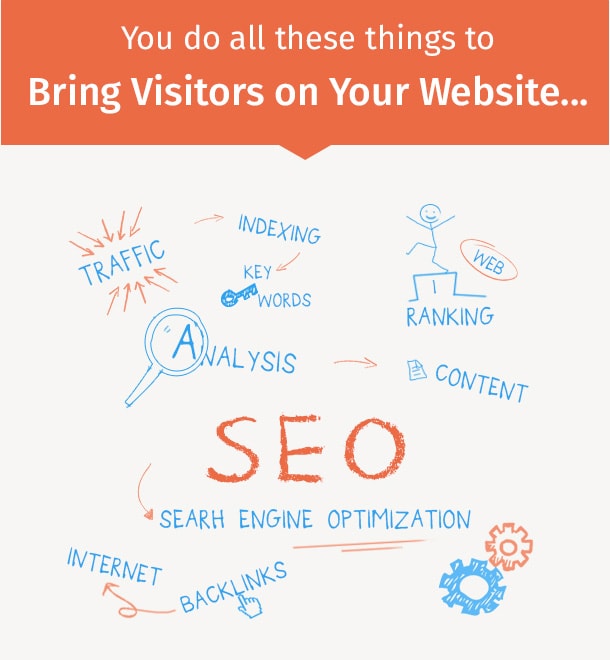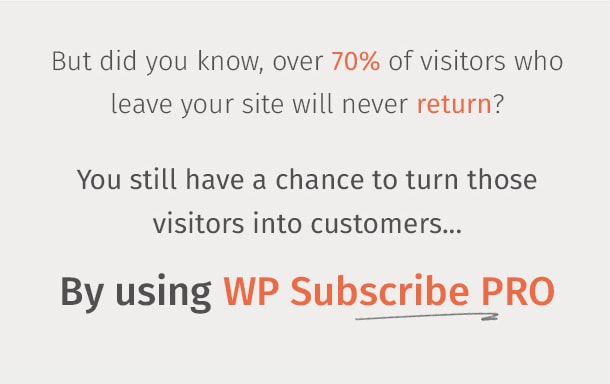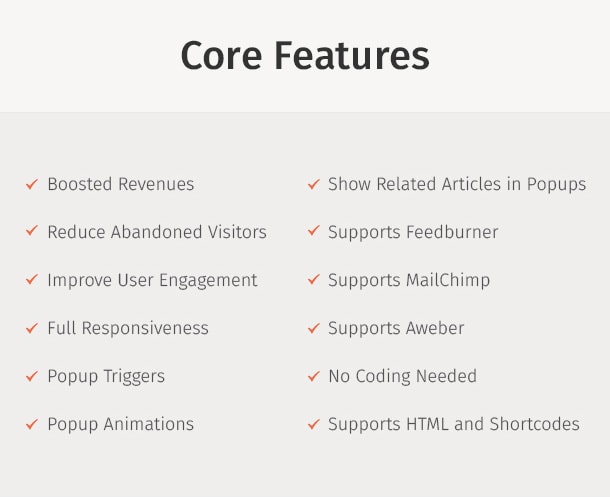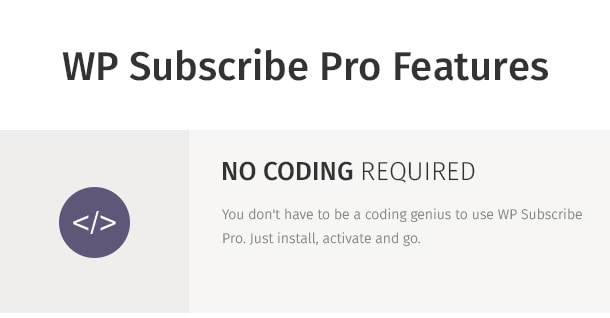 Whether you are a digital marketer or running a brick-and-mortar business, customer's feedback plays a significant role in the success of your business. The cheapest way to quickly reach out to thousands of customers is through email marketing. Email marketing is cost effective since, with a good marketing list, you inform your clients about changes in services, promote new products or keep them informed of important industry changes.
Building an Email Marketing List
If you have not yet started building an email list, you need to begin immediately. You will require a subscription service that helps you run your email marketing campaigns. There are several email marketing subscription services that you can choose from – Aweber, MailChimp, GetResponse, and MailerLite are some of the most popular subscription services.
Secondly, you will need a subscription system on your site that captures the emails from the website visitors. WP Subscribe Pro is a remarkable subscription WordPress plugin that you can setup and connect it with your subscription service within few minutes. Let us evaluate in detail the features of WP Subscribe Pro plugin and find out why you need it for list building.
Features of WP Subscribe Pro
Fully Responsive Forms – WP Subscribe Pro is a fully responsive plugin that displays opt-in forms perfectly in different screen sizes. This allows you to capture emails from both the desktop and the mobile website visitors.
Optimized for Speed – WP Subscribe Pro is lightweight and has clean code with no redundant JavaScript or CSS files that will slow down the loading speed of the popup forms. Speed optimization for opt-in forms is critical since most website visitors who subscribe, require a smooth and a fast subscription system.
Exit Intent – The users who attempt to leave your site are presented with a popup that gives them a chance to subscribe thereby increasing your subscription rate.
No Coding Required – Adding subscription forms to your website should not be a nightmare. Most email subscription services will generate subscription form code that you can add to your site. WP Subscribe Pro provides you with a seamless integration process, and there is absolutely no coding. This allows you to add subscription system to your website within few minutes and with no coding skills.
FeedBurner Integration – FeedBurner is the most popular feed management service that is run by Google, and it supports email subscriptions. WP Subscribe Pro works perfectly with FeedBurner allowing you to integrate your site with FeedBurner without trial and error.
Aweber Integration – Aweber is one of the most popular email marketing subscription services used by millions of marketers. This plugin integrates with Aweber giving you the opportunity to grow your list and run your email marketing campaigns with Aweber.
MailChimp Integration – WP Subscribe Pro integrates and works well with MailChimp that is another most popular email marketing subscription service.
GetResponse Integration – You can connect WP Subscribe Pro to GetResponse email marketing subscription service. You can quickly and easily add subscription forms and popups that link up with your GetReponse subscription account.
MailerLite Integration – WP Subscribe Pro comes with full support for MailerLite subscription service. If you are using MailerLite for list building, you can create forms and popups and integrate them seamlessly with your account.
Benchmark Integration – Benchmark is a popularly growing subscription solution for email marketers. You can use WP Subscribe Pro with your Benchmark email subscription service since they work perfectly together.
MailerRelay Integration – WP Subscribe Pro integrates impeccably with MailerRelay allowing you to create, send and manage newsletters.
Unlimited Colors – This plugin has unlimited color options that are useful for customizing your forms and popups to match your theme colors or unique preference. The customization interface is also user-friendly. It makes it easy for even new WordPress users to tweak the popups to match theme design quickly.
Super Lightweight – WP Subscribe Pro is highly optimized for speed since it has clean code that guarantees users high speed, ease of use and absolute power needed in a subscription system.
Compatible with SEO Plugins – Compatibility with SEO plugins is vital for helping you gain more exposure and more subscribers. WP Subscribe Pro has been tested and proven to be compatible with all SEO plugins.
Compatible with Caching Plugins – You should not worry that caching plugins will break your site when you install WP Subscribe Pro. This plugin has been tested with all caching plugins, and you can be assured that it will not crush your site.
Eye-catching Design – The popup forms on WP Subscribe Pro have been designed to increase your subscription rate. The forms are tastefully designed with a variety of colors that blend well and are perfect. The customization panel also allows you to change the color and match the design with your theme colors.
Built-in Widget Support – You can use WP Subscribe Pro in your sidebar since it has a built-in widget support. This feature allows you to increase your subscriptions, especially when used together with the popup subscription form.
Popup Animations – You can choose from a wide array of animations effects for your popups display. WP Subscribe Pro popup animations allow you to get the attention of your visitors and encourage them to subscribe.
Popup Triggers – The ability to control the time your popups are shown to visitors is very important since it determines how successful you will be in getting more subscribers. A Popup trigger is a valuable feature that allows you to control when the popup is shown. This can help you ran a test to see the best time for maximum conversion rate for your traffic.
Custom HTML and Shortcode – WP Subscribe Pro allows you to add custom HTML and also use shortcodes in the popup box. This lets you to further customize and enhance the functionality of the popup subscribe box.
Cookie Expiration – You can configure how long the cookie will last and therefore control precisely how often the user will see the popup that requests them to subscribe. This cookie expiration allows you to entice more new visitors to subscribe, while not displaying it to already subscribed visitors.
Flush Cookie – Flush cookie allows you to show the subscribe box to all visitors including those who have already subscribed. This is important when you have made a major change on your site and would like to show all your visitors. Flush cookies allow you to show the subscribe box to all the visitors to your site and they expire immediately.
Newsletter Box Below or Above Content – Positioning your newsletter box is important since it determines your subscription success. WP Subscribe Pro comes with the option of placing the subscribe box either above or below the content. It also allows you to preview the subscription box before you can publish it live. You can check the preview to ensure it displays correctly.
Preview Popup Button – As mentioned above, the Preview Popup Button is a useful feature that lets you preview then changes to your forms before going live.
Control Popup Box Text – You can choose exactly what you want in your popup box text and test the different kinds of phrases to see the one with the best conversion rates. This is important for split testing and developing the best call-to-action phrases that will increase your subscription rate.
Delay Popup Display – If you want to show the popup after some time when the visitor is on your site, you can use this feature. You can choose to have a small delay before the popup displays.
Exclude Pages or Posts – If you don't want to show the popup or subscription box some pages and posts or for specific pages and posts, you can choose to exclude theme with this exclude pages feature.
Custom Colors for Widget – You can customize the widget subscription box like the popup. You can change the colors for the widget using the wide range of colors available to match the design of your theme.
24/7 Dedicated Support – WP Subscribe Pro comes with full support through our forums and also has extensive documentation to help you setup and get started quickly.
Newly Updated WP Subscribe Pro
In our continued effort to make WP Subscribe Pro the best email subscription plugin, we have recently updated it to make it more efficient and increased the number of subscription services supported among other features. Here are the details of the new updates on WP Subscribe Pro.
In general, the whole plugin has been re-coded in object oriented programming OOP approach to enhance performance and future scalability. The JavaScript has been re-coded for better performance.
11 More Subscription Services Added – to make WP Subscribe Pro useful for all internet marketers, we have introduced these email subscription services Acumbamail, FreshMail, K-news, Mad Mimi, MailerLite, MailPoet, MyMail, SendGrid, SendInBlue, Drip, and Sendy. You can now set up any of these subscription services from the settings page and integrate effortlessly.
You can now translate this plugin to your native language a POT file has been added for localization.
To help maximize on your list building effort, we added a double Opt-In for supported services such as AcumbaMail, Benchmarkmail, Freshmail, KNews, MailChimp, MailerLite, MailPoet, and MyMail.
For improved performance, we re-located JS, CSS folder inside assets.
We now have a more organized file structure with the functions organized in wps-helpers and wps-functions-options file.
In the new version of WP Subscribe Pro, all the setting tabs now reside in their individual files for easy editing.
Finally, we fixed the missing and incorrect textdomain
Why You Need WP Subscribe Pro
If you could make one change to your website and realize an instant increase in email subscribers, it should be installing WP Subscribe Pro. We created this plugin since we wanted to boost the conversions of traffic to subscribers. After research on the different subscription plugins, we realized they were deficient in many ways.
WP Subscribe Pro has been a product of marketing research and stands out as the best subscription plugin based on the quality of its features. There are many subscription plugins in the market, but they are not comparable to WP Subscribe Pro for the following reasons:
Attractive Design and customizable – this plugin presents you with a host of pixel perfect design options that helps you to customize and match the popup forms or the widget subscription box to your theme color scheme.
Generate More Traffic – WP Subscribe Pro allows you to generate extra traffic from the popups and thus increase your earnings.
FeedBurner Support – This is a unique feature you will not find in most subscription plugins. It lets you connect your site with FeedBurner and manage your site feeds with Google's feed management service.
Affordable High-Quality Subscription Plugin – This plugin costs literally 'nothing' compared to the value you get for your list building and email marketing effort.
Support All Major Email Subscription Services – with this subscription plugin you can integrate nearly all email subscription services. This presents you with a broad range of choice of the subscription service. The plugin supports the following services Aweber, MailChimp, Benchmark, GetResponse, MailerLite, MailRelay, Acumbamail, FreshMail, K-news, Mad Mimi, MailerLite, MailPoet, MyMail, SendGrid, SendInBlue, Drip, and Sendy.
Unique Core Features – WP Pro Subscribe has unique features that all work towards increasing your subscription rate. Some of the features include the position of the subscription box, delay of the popup, preview button, flush and expiration cookie.
High Conversion Rates – WP Pro Subscribe provides you with two options to a add subscription box to your site, and therefore you can maximize the conversion rates.
Boosted Revenue – WP Subscribe Pro has been rated highly and recommended by leading email marketing experts as a great booster for generating targeted marketing lists.
Improved User Engagements – The variety of features available on this plugin give users improved engagement and the best user experience.
Showing related articles in Popup – The addition of related articles in the popup helps to keep the visitors on your site.
Speed Optimized – Clean code, research-driven popup design and optimized JavaScript and CSS files give this plugin the speed it deserves and goes a long way in ensuring you serve the popup box at the appropriate time for the maximum subscriptions.
Reduced Bounce Rate – Exit intent feature allows users who want to leave your site to subscribe, and it has been found to work perfectly.
Are you an internet marketer with a passion for tastefully designed subscription popups? WP Subscribe Pro is what you need; it will help you to quickly build a targeted marketing list. If you still have not tested this plugin, you need to consider trying it soon especially if you love building email marketing lists without boring your site visitors with stubborn popups.
Finally, we just have one goal – providing entrepreneurs like you the best marketing tools to help reach their internet marketing goals. We want you to realize your email marketing goals and grow your business with WP Subscribe Pro.