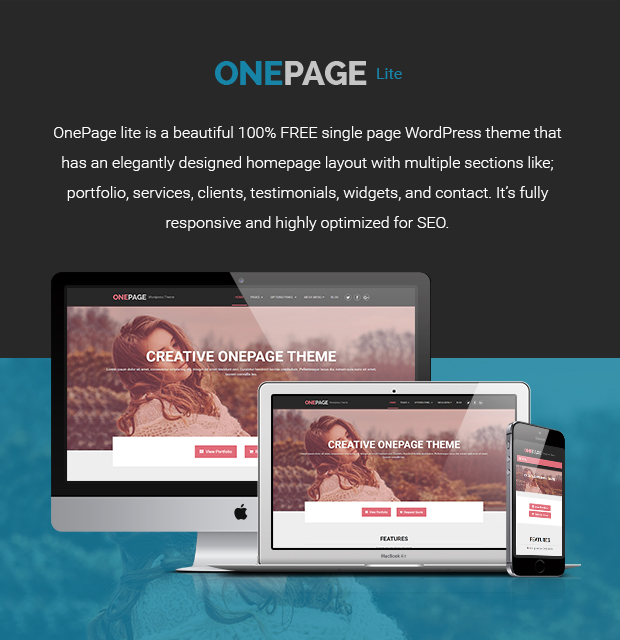 In the recent times, the design of a single page website is trendy and has become the norm for the vast majority of corporate, portfolio, business and professional's sites. The simplicity of a one-page site captures the attention of all visitors and helps them to smoothly navigate every section of the single page and take action instantly.
Single page websites have the highest conversion rates since the visitor can quickly learn everything about a service or product then immediately click on the call-to-action button. Let's begin by looking at the reasons why the one page web templates and WordPress themes are becoming trendy.
Why One Page WordPress Themes are Popular
There are many reasons why you should consider using single page WordPress themes for building your business website. The following are few of the reasons why single page web templates and WordPress themes alike are increasingly becoming popular:
Straightforward navigation – nearly all single page WordPress themes have a navigation that is based on scrolling from one section to another. This type of navigation is simple to use and gives the visitors a quick glimpse of the content of every page or section on your site. This sections scrolling navigation is not only sleek in design but also saves time for the website visitors who want to quickly skim through the site.
Lightweight and fast – the page loading speed has become an important ranking factor in Google. The single page WordPress themes are usually lightweight since there are fewer files and code. This significantly improves the page loading speed making one page WordPress themes the best as relates to the page loading speed. The improved page loading speed consequently improves the ranking of the site in Google.
High conversion rates – several case studies have proven that a single page WordPress theme has far better conversion rates than WordPress themes with several pages. The high conversions can be justified by the strategically placed call-to-action buttons in most single page WordPress themes. This section based layout makes it easier for the visitors to identify the product or service, review the portfolio, view previous clients and read the testimonials in a sequence that encourage the visitor to take action.
Quick Installation and customization – it's obvious that single page WordPress themes have far less number of options that are confusing especially for the novice WordPress users. Most one page WordPress themes come with a simple to use theme admin interface and quick install demo and editing the content is straightforward.
OnePage WordPress Theme
WordPress as a leading CMS has a large number of single page themes both premium and free. When you are building a single page site using WordPress as your CMS, you need to choose the best one page WordPress theme.
It can often be a difficult task sorting out the thousands of free and premium one page WordPress theme available online to get the most suitable theme for your site. To help our customers create the best single page WordPress sites, we previously created a remarkable single page WordPress theme – 'OnePage' that has continued to grow in popularity.
In fact, OnePage is one of the most popular WordPress themes in our collection. The theme has received rave reviews from users and continued to grow in popularity.
OnePage comes with a host of all the features needed to create a stunning corporate, business, portfolio or professional one page WordPress site.
Furthermore, this theme has an ultra-fast and highly optimized framework that guarantees every user the best ranking results for their site. It's simply the best premium single page WordPress theme for creating any site you have in mind.
OnePage Lite WordPress Theme
Due to the surging demand for a high quality free one page WordPress theme; we have released the OnePage Lite WordPress theme. This is a single page WordPress theme that comes with an attractively designed homepage with multiple sections like features, testimonials, services, client's logos, and Twitter feed.
The best thing about the OnePage Lite is that it is the free version of the most popular single page WordPress theme – OnePage.
Why use OnePage Lite?
OnePage lite gives users the taste of the quality features and the highly optimized framework of the pro version. Users of the OnePage lite version can always upgrade to the OnePage pro version for advanced customization. The following reasons set apart OnePage Lite from other single page WordPress themes:
Premium Quality – OnePage lite is 100% free WordPress theme with premium quality features, and you can use it on several sites. The theme has clean code and an elegant design featuring a classic multi-section based homepage and an excellent blog page that can also be used as the front-page if you prefer to showcase your latest blogs.
Easy to set up – unlike other single page WordPress themes, you can quickly set up OnePage lite with a perfect homepage scrolling sections. You can also customize this theme through the default WordPress customizer.
Rank Higher – OnePage lite is powered by a highly optimized SEO framework that is significantly optimized for speed. This ensures your site ranks higher and keeps your competitors off-balance.
Multiple Homepage Sections – OnePage lite comes with different sections on the homepage that include clients, testimonials, features, services, blog posts and Twitter feed. The content of these homepage sections can be easily removed or edited.
Sleek Blog Layout – OnePage lite has a blog page that is designed with a unique layout, which displays your recent posts in two stunning columns that are based on a grid responsive layout. This allows you to use the blog page as the main page and it also improves content readability and improves visitor's engagement. The posts pagination is superbly designed.
Comprehensive Theme Documentation – unlike many free single page WordPress themes, OnePage lite comes with full access to complete theme documentation to help you install and customize it quickly.
Excellent Customer Support – with OnePage lite, you should expect the best customer support from our friendly and dedicated support team. Our support team is always ready to answer all your questions and resolve any issues promptly.
Features of OnePage Lite WordPress Theme
The following are the features of the OnePage lite WordPress theme, in a quick summary:
100% Free One Page WordPress Theme
100% Responsive
WordPress Customization
Unlimited Theme Colors
Widgetized Homepage
Unique Blog Layout
SEO Ready
Speed Optimized
Latest Tweet Section on Home
Featured and Button Section
Features Section
Stats Counter Section
Service Section
Twitter Widget Section
Testimonials Section
Clients Section
Blog Post Section
Related Posts
Clean Code
Font Awesome Icons Included
Shortcodes
Off Canvas Mobile Menu
WP Mega Menu Compatible
HD Video Tutorials
Extensive Documentation
365x24x 7 Dedicated Support
Finally, OnePage lite is ideally designed for those looking for a high-quality 100% free professional single page corporate or business WordPress theme. You can Download OnePage Lite WordPress Theme for FREE and use it in any of your projects. For advanced customization options of this theme, you should consider purchasing the OnePage pro version