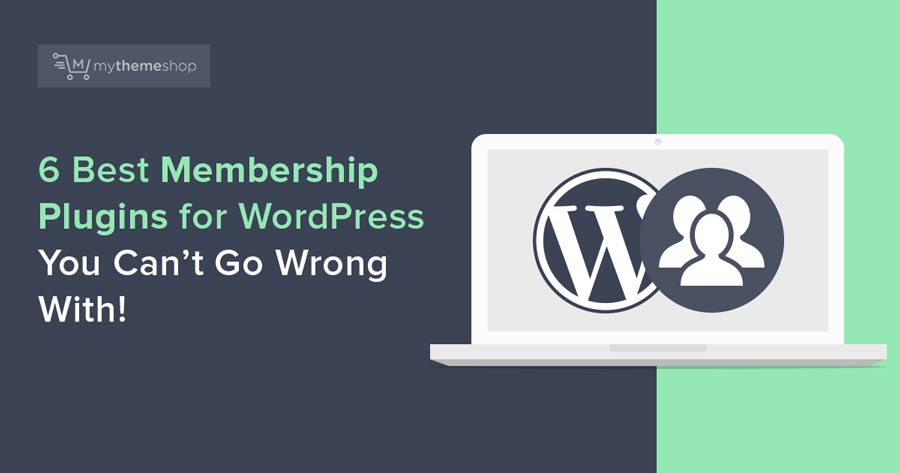 In an effort to help our readers set up and build membership sites, we have been publishing some really in-depth, useful content on starting and managing membership-based WordPress sites.
After helping you learn in detail how to create a WordPress membership site, we will now be walking you through the best membership plugins for WordPress based on your needs.
But before that, let us quickly understand the important factors you need to consider when choosing the right membership plugin for your WordPress site.
What to Look for in the Best Membership Plugins for WordPress
In order to choose the best plugin for your needs from the ones we have reviewed for you in this post, you should keep the following factors in mind.
Membership levels: Ideally, you will want the plugin to offer unlimited membership levels, help you manage the membership levels when they expire, as well as offer free trials.
Flexibility with respect to the content restriction: Does the plugin only allow restricting the posts and pages or the categories and other important areas of content as well? It's also important for it to be easy to restrict the content based on individual membership levels. A great plus here would be to be allowed selling some posts or pages on a one-off basis or separately from the membership plans.
How does the dripping of the content work with the plugin? Content dripping is a term that refers to the process of releasing and expiration of a particular amount of content automatically, without requiring any manual intervention.
How easy is it to make and manage coupons, as well as allow your users to use them?
Something that you shouldn't overlook at all is the integrations. While you may not realize it when you start your membership site, it wouldn't be long before you find that you need to use various third-party tools and plugins. If your membership plugin doesn't support that, managing your site may turn into a nightmare.
While these are some of the most important factors, there are many others as well that we will talk about when reviewing the plugins below.
1

MemberMouse

MemberMouse is arguably the most feature-loaded and functional membership plugin for WordPress sites. After all, there's a reason even many multi-million dollar businesses rely on it to run their subscription business.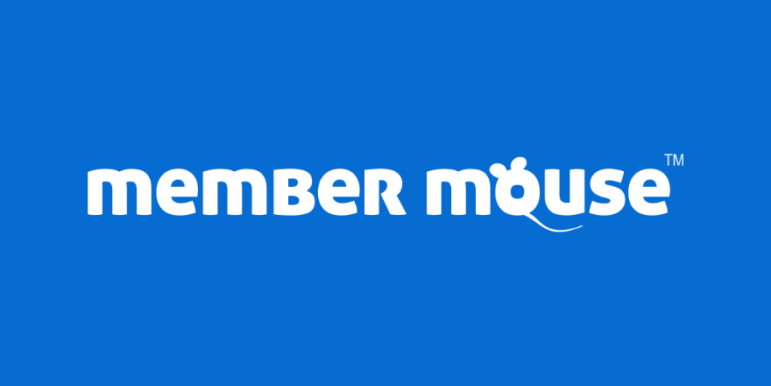 Something you will love about this plugin right off the bat is how fast and efficient it is. You would see a "Grant Access" button right next to the default Publish button, and all you need to restrict the content is click on it. The same goes for using many of its other standard features as well.
Now, when it comes to the overall functionality, MemberMouse totally blows away the other membership plugins. While it offers many membership levels just like the other plugins, it also allows offering bundles, which basically let you sell some posts or pages as a one-off thing. This is something that no other plugin allows you to do.
Besides allowing you to drip out restricted content, a really cool feature it offers is letting you use your membership site as a member. Once you get into the member mode, you will be able to use it exactly the way a real member could, including the content they have access to, among other things.
But there's more to it. You can also change the "subscription period" of your test account to turn it from an old to a new one, in order to experience how your new subscribers would be able to use your site.
Then there's a widget that keeps your subscribers updated on the content status: what content they can access and what is still restricted to them. There are many restriction levels as well.
Another set of features that will make you absolutely love this plugin is the reporting and optimization features.
It offers the most detailed reporting that's unmatched by any other membership plugin, letting you access key data metrics easily such as the average period of a paid subscription, average lifetime value of a customer, the total number of subscribers and many more.
The optimization features include a split-test feature, which allows you to compare the results you get with different pricing models. It can help you dig deep into your strategies and figure out what helps you drive the most conversions.
The other optimization features include upsells, helping you get more out of your subscribers, and, to your surprise, the "last-resort" downsells.
When a user is leaving without subscribing, MemberMouse can help you offer them a super cheap price (perhaps for a short period of time) just to get them on board as a customer.
MemberMouse also supports as many as 8 different payment gateways and 4 different email marketing services, among many other third-party tools and plugins.
Finally, there's really nothing to lose if you decide to give MemberMouse a shot, as it comes with a 14-day free trial, which is more than enough for you to find out whether it's worth it for your site.
A quick summary of the main features of this plugin:
Restricting content and managing the restrictions is incredibly easy
The plugin allows for a very fast and efficient subscription website, even for users with no coding or technical knowledge
Allows users to sell a few posts or pages as a one-off bundle
You can use your site as a member, in order to get the first-hand experience of the user experience of your site
Your members will always be kept updated about their membership status and the upgrades still available to them without increasing the work at your end
You can set up more than a few restriction levels
A plethora of reporting and optimization features that help you optimize your site for better conversions
You will be able to use 8 different payment gateways and 4 different email marketing tools
It allows you to offer coupon codes
Access API to be able to sync it with the affiliate network of your choice, and for integrating it with other services that require an API access
Set it up with any affiliate network of your choice
Send push notifications to mobile devices as well as do pixel tracking
There are just a couple minor downsides to it. The bigger one of them is that MemberMouse is not GPL (General Public License) based, meaning that it's not customizable. In other words, like the other plugins, you won't be able to make any kind of changes to its code.
The pricing too is a bit on the higher side, with the plan that allows up to 1000 subscribers being priced at $19.95 per month. However, you would expect that with a plugin that brings so much to the table for your subscription business.
Similarly, the pricing for the other plans is as follows:
The 5,000 members plan is priced at $39.95 per month
The 10,000 members plan will set you back $59.95 per month
The Advanced plan, that supports up to 50,000 members, costs $99 per month
The Premium plan can handle a massive 100,000 subscriber base for just $299 per month
So, if you can live with these not-so-good things about it, there's no reason to not get this plugin and get your subscription business running right away.
2

MemberPress

While there's no one-size-fits-all membership plugin, MemberPress is as close as it can get to being one. While it too is a WordPress paid membership plugin, it's well worth the cost for most users looking to build a highly functional WordPress membership site.

This is because it comes with a long list of features, many of them solely aimed at improving the overall functionality of your membership site. What this means for you is that you will be able to customize your site as much as you can without having to write the code from scratch.

You will easily be able to restrict whatever content you want on your site, be it a category page or specific posts or pages. But what's even more impressive is that the improved functionality doesn't come at the cost of the ease of use.

Users new to building a membership site will be glad to know that using the MemberPress plugin for managing their site will be surprisingly easy, thanks to its features like the self-serve dashboard, quick and easy setup, detailed reports, automated emails and more.

One of the more important features that made it one of our favorites was its ability to let users make premium community forums without making their life difficult. If you have tried making a forum before, you know what we are talking about here.

It can often be too challenging of a task, especially for users new to the whole membership site thing. However, MemberPress integrates seamlessly with many common, popular WordPress forum plugins, including BBPress, making it way easier.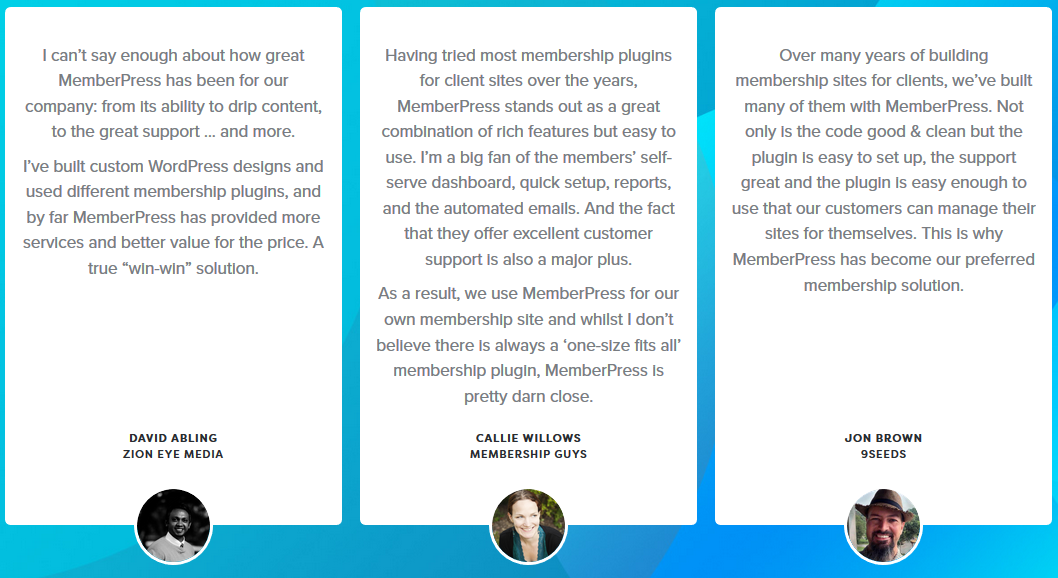 Some of the other features of MemberPress that we are a fan of include:
An incredibly easy way to create and manage coupons, which is an essential component of running a successful membership site
Functionality-focused features allow you to generate dynamic pricing pages that are not only functional, but also appealing and conversion-focused
As the developer is someone that has designed many similar plugins, they manage to make MemberPress an extremely stable and secure membership plugin
MemberPress doesn't disappoint on the flexibility front either, as it can work just as well with pretty much any WordPress theme
It's not limited in any way, allowing you to manage unlimited members, have unlimited rules with respect to accessing the premium content, create as many pricing pages and sell as many digital products as you want
You will also be able to accept payments through PayPal and Stripe easily
Takes a lot of challenge out of managing your site as you don't need to manually grant or deny access to members on subscribing and unsubscribing – it does it all for you
The clear, detailed reports will give you a lot of insight about how your products and your site in general is performing so that you can keep tweaking things to get the most out of your traffic
MemberPress also offers "content dripping," which is basically something that allows you to set a time for the release and expiration of content, saving you the time and headache of having to do it manually
Finally, Caseproof, the developer of MemberPress and other popular plugins, offers excellent customer service, meaning that you really can't ask more unless you have some very specific needs.
As far as the pricing is concerned, MemberPress offers three different plans:
The Basic plan is priced at $129/year, which can only be used for a single site
The Plus plan is priced at $249/year, and support up to 10 sites
The Pro plan is pieced at $369/year, and you can use it on as many as 30 sites
If you're only looking to launch one membership site, the Basic plan is all you need. However, if you're a webmaster that's looking for something to manage multiple membership sites, you will have to get either of the Plus or Pro plan, depending on how many sites you manage.
3

Restrict Content Pro

If you're looking for something more beginner-friendly than MemberPress and other membership plugins, without having to settle for limited features, the Restrict Content Pro plugin is a solid option for you. While it offers more than enough features most users would need to run a membership site, it does it in a way that makes it stupidly easy to use and manage your membership site.


One of the best things about it is that it comes with a user interface that seamlessly integrates itself with your WordPress dashboard, making it very easy for you to operate your site as everything you need is available at the same place. Its user interface itself is fairly simple and straightforward, not to mention pretty functional as well.
Moreover, it offers a ton of helpful material right inside your WordPress admin section, which will certainly turn out to be very useful for beginners. Despite being a simple membership plugin, it stands out from the rest as the developer is very responsive and keeps coming up with updates in a very consistent manner.
While this might not sound like a big deal, it really is as it keeps improving your overall user experience and bettering the way you manage your site. It can also come in handy when there are some new security concerns, as the developer will be quick to address them by releasing an update faster than the others.
Another important feature of this plugin that won't fail to impress you is that it allows you to have a lot more control over the way you can restrict your content. This is something often missing with many other plugins, as they only have a few standard options for restricting your content; and while that works just well for most users, some do have specific needs that call for something more flexible.
And this is where Restrict Content Pro's highly customized restricting options come in. You can restrict your content in a variety of ways, including on the basis of individual posts, categories, tags and more, and also on the specific membership level of your subscribers.
If you're running or planning to run a big membership site with many different subscription options, Restrict Content Pro may turn out to be your best bet.
Here's a quick look at some of its other features that are worth noting:
Create unlimited discount codes, while also being able to choose whether to make them a flat-rate discount or a percentage-based discount
It integrates well with many different payment processors, including PayPal, Stripe, 2Checkout, Braintree and more
Clean and simple reports that allow you to track your site's progress, and take the necessary measures to take it to the next level
A Data Export feature which may turn out to be useful for those who want to track their user data in great detail
There are no limitations on the number or level of subscription plans you can make, including free trials and different premium subscriptions
An easy way to view the status of all your members, helping you stay on top of your subscriber management tasks without letting things get complicated
As the code the plugin is based around is simple and clean, it paves the way for a very fast-loading subscription site, which is one of the most important factors determining its success
Many specific, customized content access options
Great customer support
Now, here's how the pricing plans look like:
The Personal plan that allows you to use it for 1 site with 12 free add-ons: $99 per year
The Plus plan for 5 sites and 12 free add-ons: $149 per year
The Professional plan for unlimited sites and a massive 17 free add-ons with all future add-ons included for free: $249 per year
The Ultimate plan, which is the same as the Professional plan except for that it offers free lifetime updates and lifetime support, but with a one-time payment of $499
4

Paid Memberships Pro

There's little doubt that Paid Memberships Pro is another one of the best membership plugins for WordPress that you can go with for setting up and running your WordPress membership site.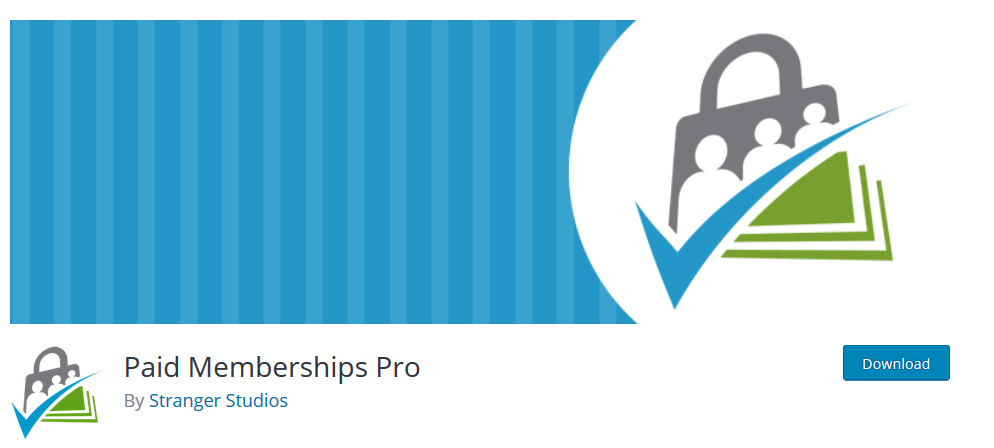 This plugin has both free and premium versions. And that's definitely something that makes it one of the better options for beginners, who would like to first get a feel of things before deciding to pull out their wallet.
The good thing is that you can use the free, basic version on as many sites as you want, though it's going to be fairly limited in terms of the overall functionality. That said, however, it comes with a range of add-ons, both free and paid as well, that you can use to make it a much more functional without actually having to go for the paid version.
If you're looking to run a serious membership site that makes you a decent amount of money, though, then you would eventually want to get the paid version of this plugin. It will make managing your site a significantly easier and much more effective process, while helping you access features that will go a long way in helping you grow your site.
Some of its key features include:
Supports multiple payment gateways
Integrates with a variety of third-party tools and plugins that allow you to build a robust system for effectively managing and growing your membership site
Just like most of the other plugins on this list, it allows you to offer both paid plans and free trial options
Setting up recurring subscriptions is a breeze
You can restrict content based on individual posts and pages, which is one of the most important requirements when it comes to membership sites
One of the few plugins that work great for sending customized notification emails to the users
You can also modify or replace the default login page, which again turns out to be a pretty useful feature as most plugins offer a very basic login page with a rather dull feel to it
This plugin allows users to customize it considerably more than many other plugins, which is a great plus as well
Makes accepting payments a hassle-free experience
The documentation is thorough, something you will really appreciate when you actually need it
Active forum with a lot of useful information
Impressive customer support
All said and done, if you're building a membership site that wouldn't get flooded with hundreds of visitors every day, then the Paid Memberships Pro's free version is a no-brainer. However, if you do have some budget and are building a small to medium subscription site, one of the plugins we reviewed above make more sense.
This is because Paid Memberships Pro comes with a hefty price tag, with its paid pricing plans explained below:
The Plus version, which supports up to 5 sites, costs $297/year (which is on the higher side of all the other plugins we reviewed, especially given that it's the cheapest plan)
The Unlimited plan, which as the name suggests, offers support for unlimited sites and comes with unlimited updates, is priced at $597/year
Furthermore, it's not exactly very beginner-friendly, and you may have to rely a lot on the add-ons to get all the features you need.
With all that said, it will still be a pretty good option if you're looking to build a major membership site with thousands of members, as Paid Memberships Pro (the paid version) is one of the few membership plugins that's capable of handling that.
5

RainMaker Platform

The RainMaker platform is much more than just a WP membership plugin. As the name suggests, it's a complete platform for building your WordPress membership site from scratch.

This includes everything ranging from the hosting to the email plan to even the site builder tool and plugins. In other words, you wouldn't have to bother trying to figure out what you need and how to get it, as the RainMaker Platform will take care of everything for you.


While it's something that's not just limited to building membership sites but all types of sites in general, that doesn't take anything away from its ability to help you quickly build a perfect membership site.
Here are some of the more important features it offers:
It's one of the fastest ways to get a website online, although you will need to put in more work to make it look and work how you want it to
An easy way to manage your forums and its (premium) members
The platform will allow you to make as many courses as you want, including both paid and free ones
Comes with a built-in affiliate program, which you can later customize according to your needs
Offers some of the most important and standard features of paid membership plugins such as unlimited membership levels, number of members, digital products and more
It supports multiple payment gateways
Despite being a rather general website-building platform, it offers useful features specific to membership sites like content dripping
The support is stellar, so you can expect any issues or queries to be resolved fairly quickly and not have to figure things out on your own, which is sometimes common when using many of the membership plugins
These features don't come cheap though, as the RainMaker Platform is priced at $145 per month if you pay monthly, and $125 per month if you choose to pay annually.
Something important to note here is that the RainMaker Platform isn't for everyone. While it's a powerful, functional platform for building beautiful, functional membership sites, it's far from flexible.
It won't allow you to use individual WordPress plugins and will limit the overall functionality of your site quite a bit outside of its platform. But if you're fine with that or don't need to use other tools or plugins, then there's not much of a reason you shouldn't consider going for the RainMaker Platform over membership plugins, especially if you're a complete beginner to site-building, let alone to building a membership site.
6

s2Member

Here's the best free WordPress membership plugin, the only TRULY free option on our list. While there are other free plugins as well, one of which we did review above, but they are often so limited in terms of the features that they are barely usable for anything that's more than just a hobby project.


However, the s2Member plugin is different. It offers enough features and functionality to run a small subscription website perfectly. Its free features include:
Allowing you to restrict content
Setting up a custom login page
Other custom features like a custom membership options page
PayPal buttons to let your users instantly pay and become a member
Of course, s2Member also has premium versions, which are priced as follows:
The single-site Pro version is priced at $89
The unlimited-site Pro version is sold by the developers for $189, which is actually very economical if you're planning to build multiple membership sites
Unlike most other plugins, however, these are one-time prices only, and if you're building a membership site on a shoestring budget, they are kind of your only option.
The additional features of the paid versions include one-step checkout forms, support for many payment gateways other than PayPal, unlimited membership levels, ability to create and manage coupon codes and more.
Our Final Verdict
It's easy to tell that MemberMouse is our absolute favorite, and for a good reason. It's the most sophisticated and efficient membership plugin you can find, and unless you're a very advanced user that needs to tweak the plugin's code or want a lot of customization, you wouldn't need anything that it can't offer.
For those that would like a bit more customization than what the MemberMouse can offer, both MemberPress and Restrict Content Pro will turn out to be a great option.
However, if you're on a very tight budget or aren't looking to invest anything at all, you would likely be hard-pressed to find anything better than the s2Member plugin.