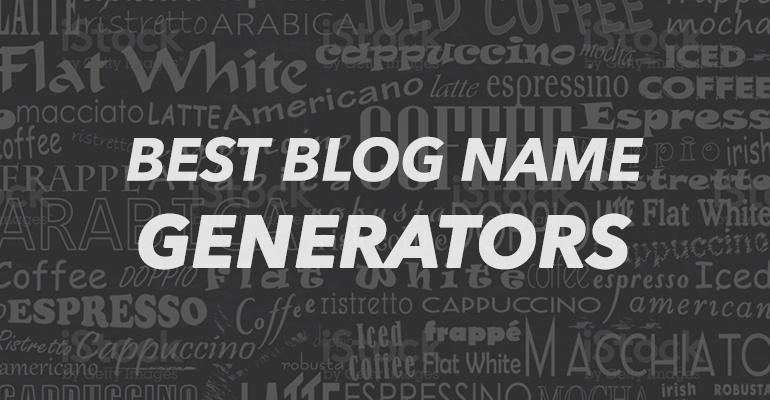 When you start blogging, one of the most important decisions that you make is deciding on a blog name.
It's not a small decision. Think of the biggest companies in the world. Apple, Google, Coca-Cola, Pepsi, Walmart, etc. Their names alone are worth billions of dollars.
Your blog name is your identity on the web. Therefore, it's important to choose one and choose well.
Blog name generators are tools that help you find the perfect blog name. But that's not all; they also help you see if the domain with that name is available or not.
Today we will share 16 of the best blog name generators that will help you find the perfect name for your blog.
Best Blog Name Generators
1

Panabee

Panabee is an excellent blog name generator with some unique features. Start using Panabee by entering one or more keywords in the search window and hit find.
Panabee searches through multiple combinations of your words and suggests different blog names for you.
The default TLD suggested is .com, but you can select other TLD's as well. Panabee will also search the Google Play Store and the Apple App Store to see if apps with similar names exist.
If you scroll to the bottom, you will also be able to check the availability of your name on Facebook, Twitter, Instagram, and Tumblr.
2

Namemesh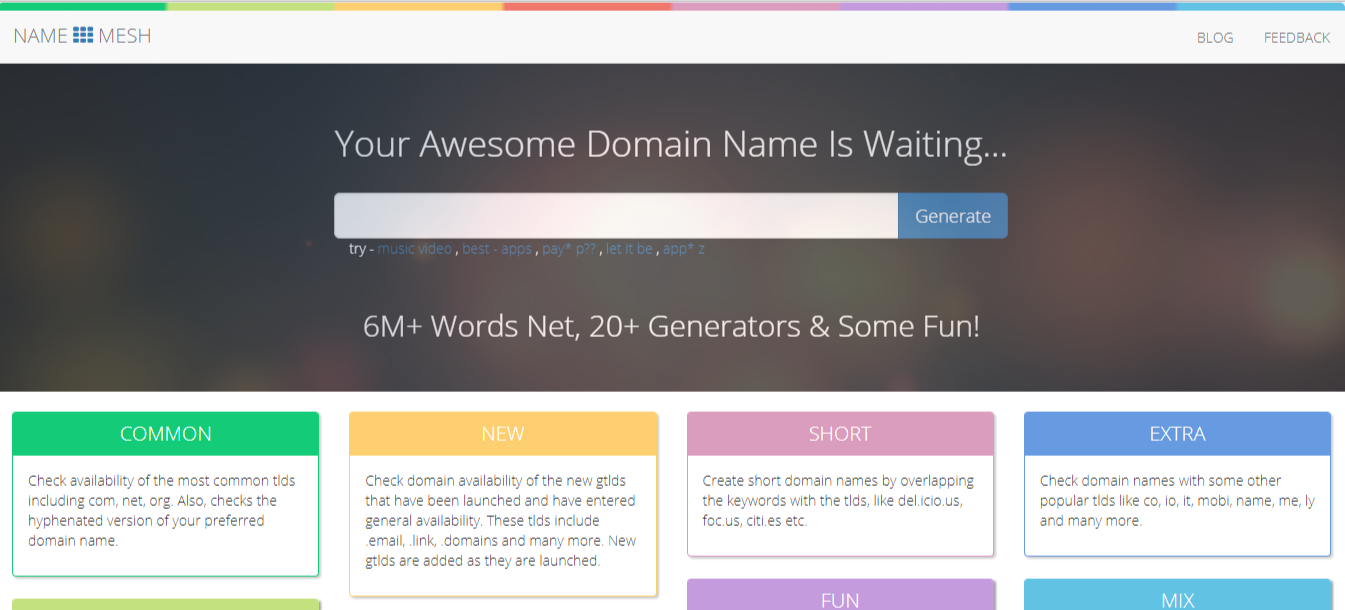 Namemesh is a useful utility to come up with new and interesting blog names. Start by entering 2 or more words separated by a space and hit generate.
Namemesh will generate hundreds of available blog names. You can choose four different TLD's to display available domain names as well. Namemesh groups blog names into different categories.
To see more blog names with Namemesh, keep scrolling down, and Namemesh will keep on generating more names for you.
3

LeanDomainSearch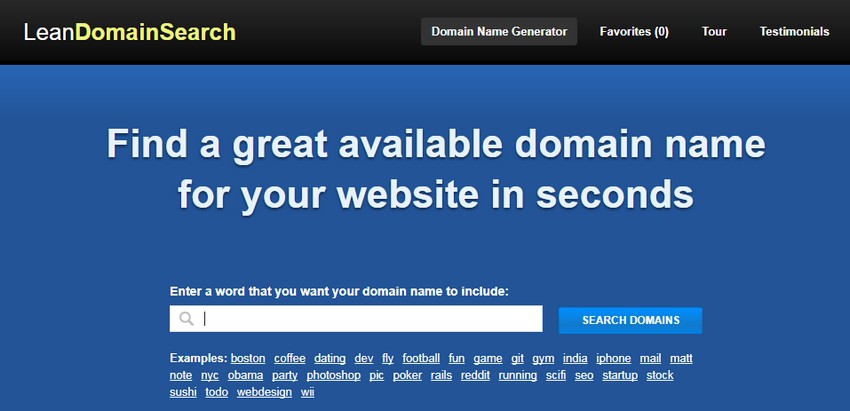 Enter a few keywords and LeanDomainSearch will suggest hundreds of names by adding related keywords to your target names. Filtering is easy and visual in LeanDomainSearch.
Available names are in green, already registered names are in pink and yellow names are favorite (saved) names. Click on a name to see registration options and the availability of the Twitter handle.
4

SpinXo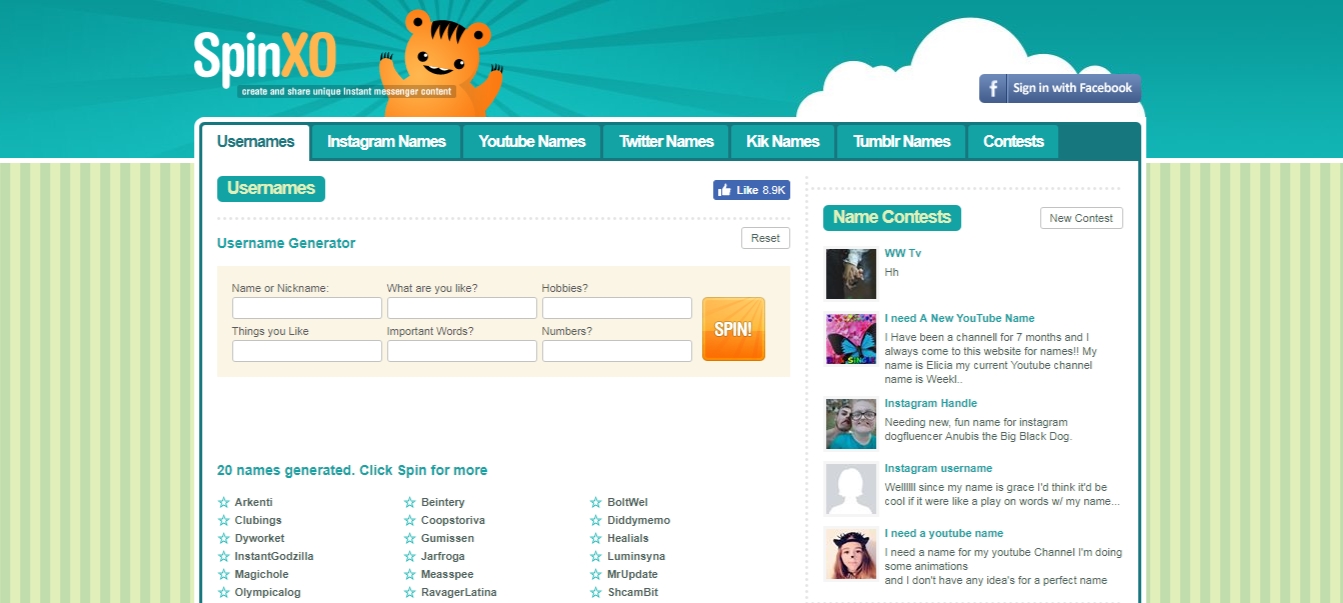 SpinXo is a blog name and social username generator. It's unique from other blog name generators as it does not substitute words to create names. Instead, it creates unique names.
The advantage of that is you can find great names even if your keywords are very competitive. You can use SpinXo to search blog names and also find a catchy username for a social network.
SpinXo also has a different way of choosing the words for your domain name. Instead of just words, it asks for a variety of information to spin and create unique names.
A downside of SpinXo is that it generates only 20 names at a time. You can always create new names by hitting the spin key. There is also no way to check if the name you choose is available for a domain.
To check name availability on social networks, you have to enter the username one at a time in the "Availability Check" section. This takes a long time and can be frustrating if you are looking for a lot of names.
5

Wordoid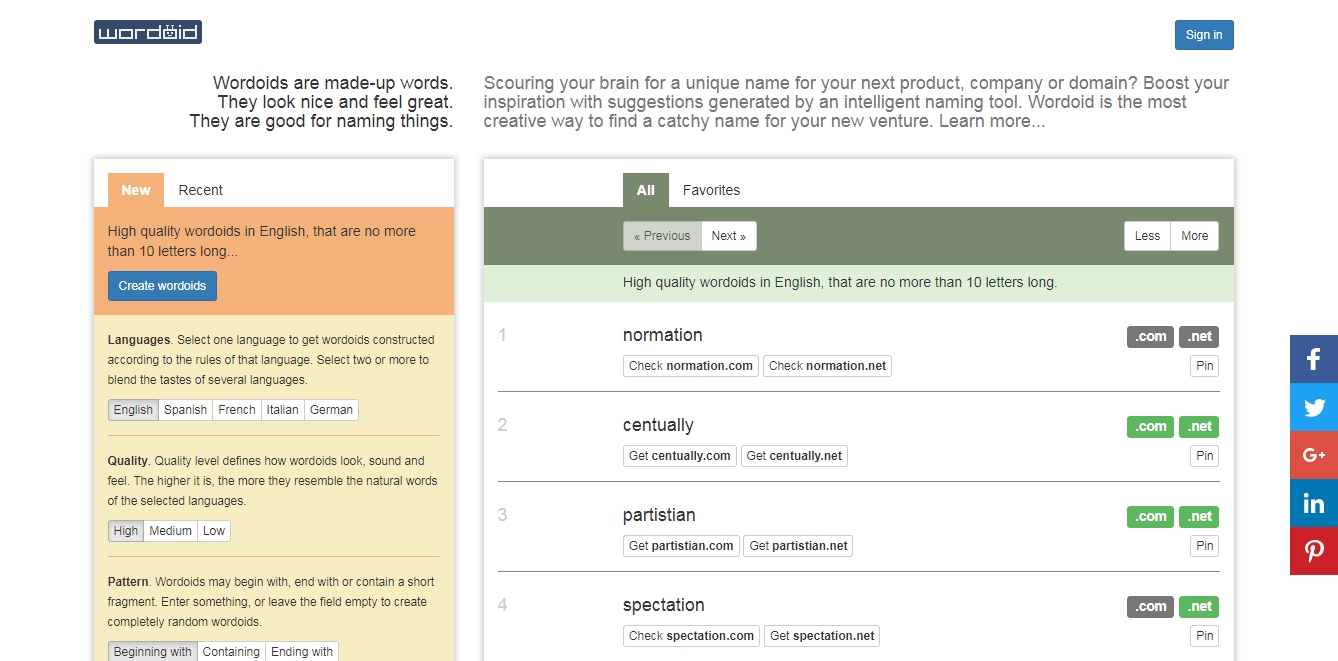 Wordoid calls itself the creative name generator, and it lives up to its name fully. The advantage of using Wordoid is that it generates only made up words. That might sound strange, but it has its advantages.
Made up names can't already be taken
Some of the biggest brands in the world are made up words (Epson, Motorola, Geiko, Wal-Mart)
To create a name with Wordoid, enter a keyword in the pattern field, select a language (5 are supported), tweak the other settings, and hit "create wordoids".
Wordoid will suggest multiple names based on your keywords and other settings. Domain names representing those names will be highlighted. A grey highlight means a name is taken while a green highlight means its available.
6

Namesmith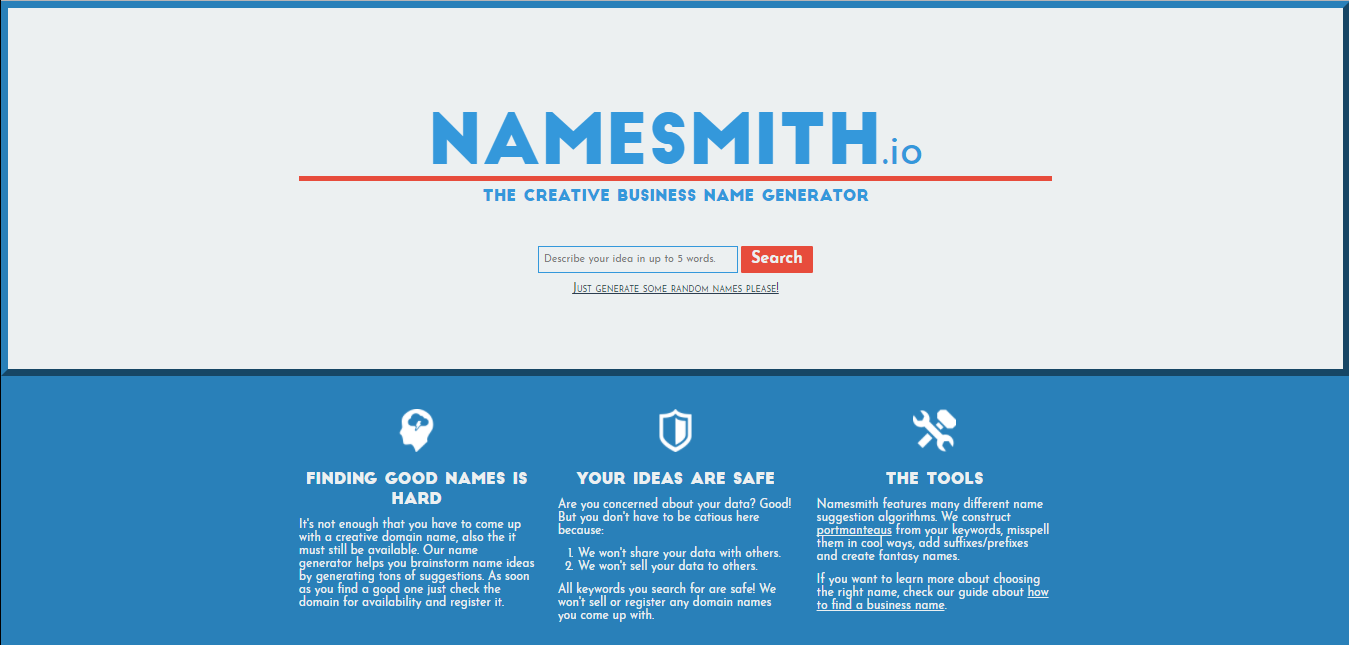 Namesmith is a creative business and blog name generator. You can use Namesmith to create random names or give upto five keywords that it can use.
Namesmith suggests different names by substitution, rhyming, suffixing, prefixing and even modifying the words completely.
This makes for some interesting sounding names. Namesmith can also search for available domain names in over 18 different TLD's. You can even pick one of four different domain registrars to register your name in one click.
7

Domainsbot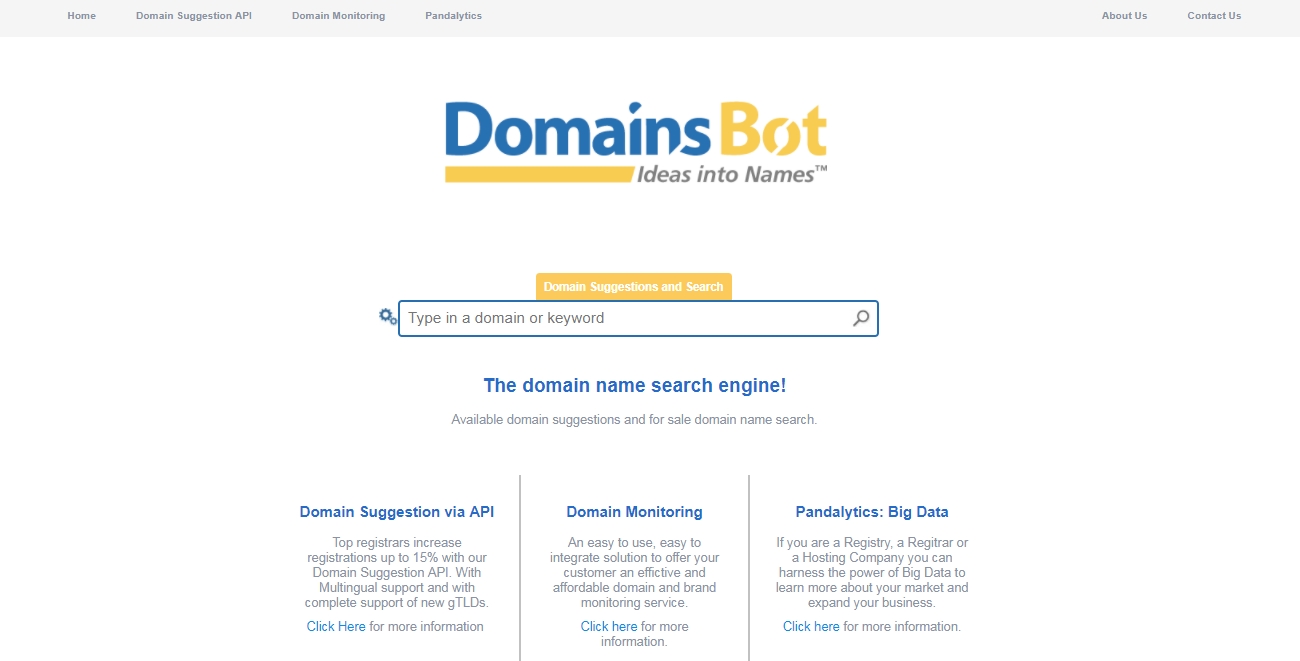 Domainsbot is another blog name generator similar to Namesmith.
Domainsbot generates multiple suggestions based on synonyms, substitution and other methods. You can also specify a prefix and suffix to your name.
You can choose from over 8 TLD's to register your selected name. A choice of registrars appears when you click buy on your selected name.
8

Coolnameideas Blog Name Generator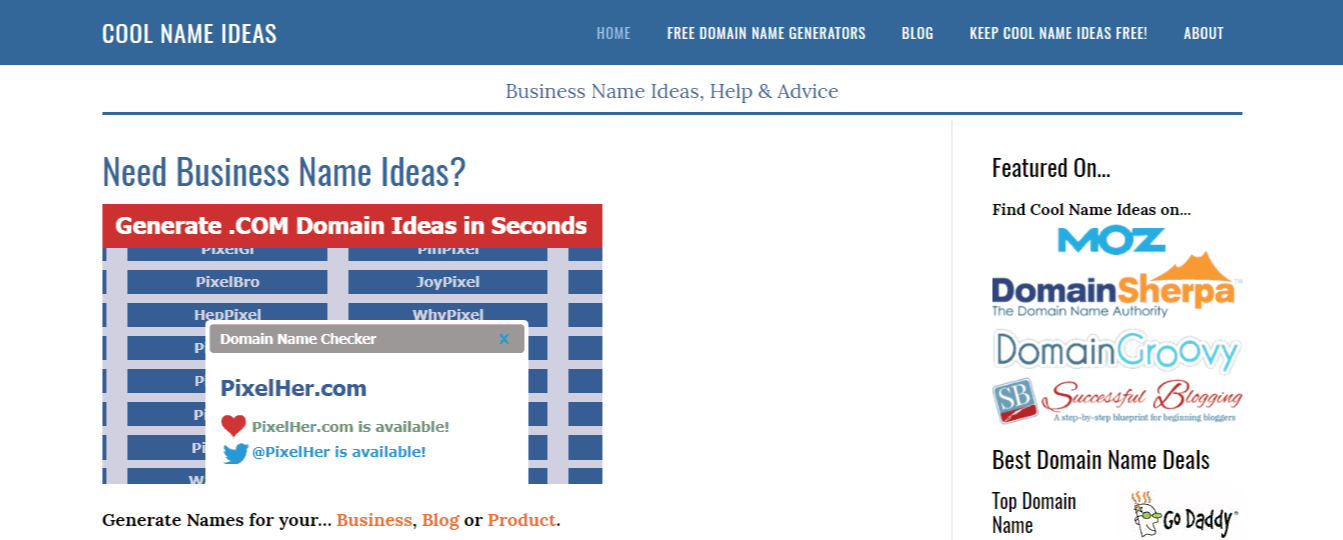 Coolnameideas is a blog name suggestion tool that can generate thousands of blog names for you. Coolnameideas asks for keywords relevant to your blog.
It also asks you to choose the category your blog would fit in. Based on this information, Coolnameideas generates blog names for you.
The unique thing about Coolnameideas is that it considers the blog category that you mentioned and uses words related to that to create new names. This makes the generated names much more relevant to your subject.
When you click on a name, you can see if the name is available to register. Coolnameideas also checks if the same twitter handle is available.
9

Bustaname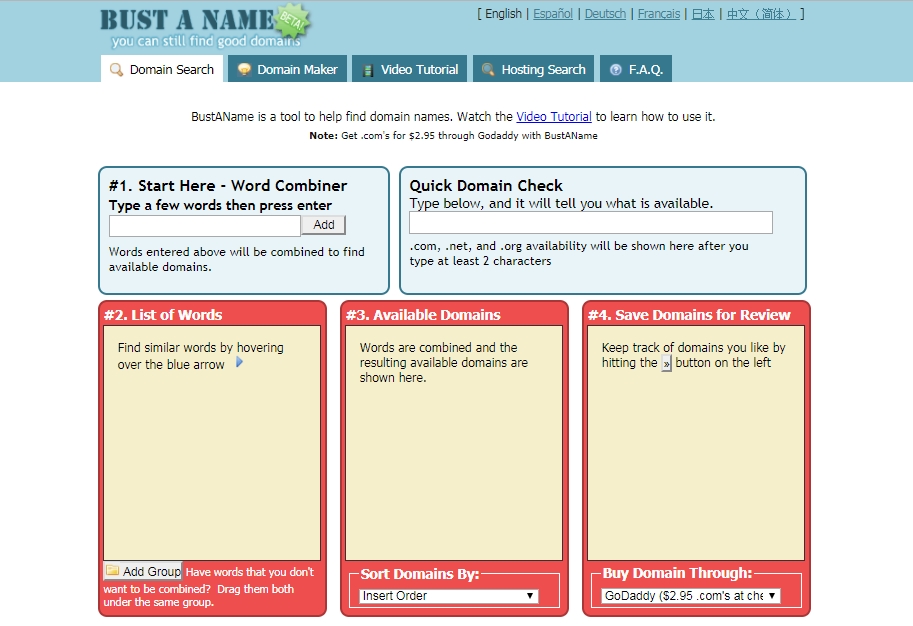 Domain Search is a step by step name generator. Start by entering a keyword. A blue arrow shows more word suggestions. Add one or more suggestions and blog names that are available to register populate in the next section.
Keep adding more words or selecting some from the suggestions to see more available names. Domain maker works similarly like Wordoid. Enter some keywords, and Domain Maker will create new words that you can use for your blog.
Clicking on a name will show options to purchase the name from popular registrars.
10

123finder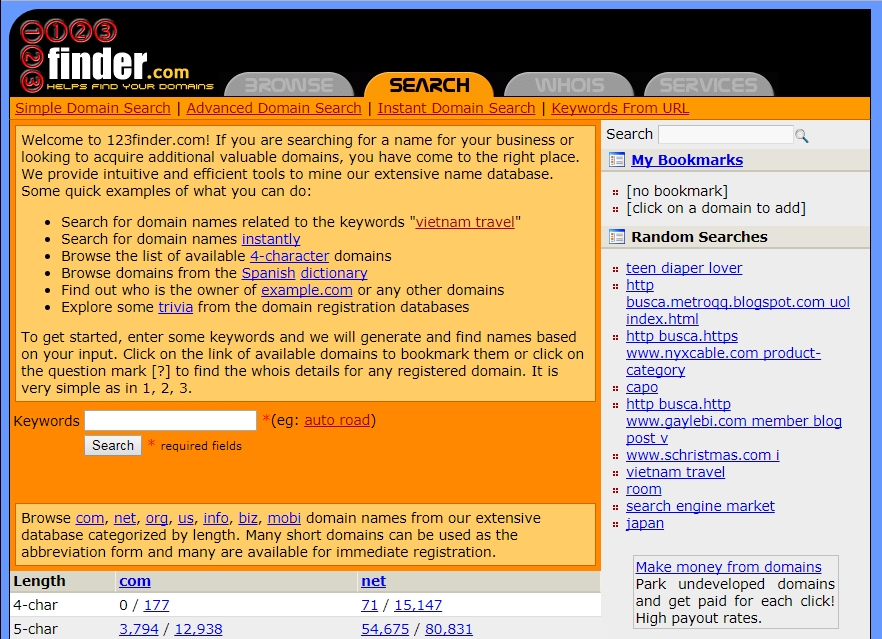 123finder is a domain name database which can also suggest great names for your blog. Start by entering a few keywords and hit search.
The results are divided into two sections. The first section is where 123finder will suggest premium domains to purchase from their database. The second section is for the name suggestions.
123finder will suggest blog names by prefixing your keywords with popular keywords. This way you get thousands of ideas instantly.
However, there is no way to check which of the names are available to register. There is a section to do a whois search, but that has to be done manually, which takes time.
11

DomainTyper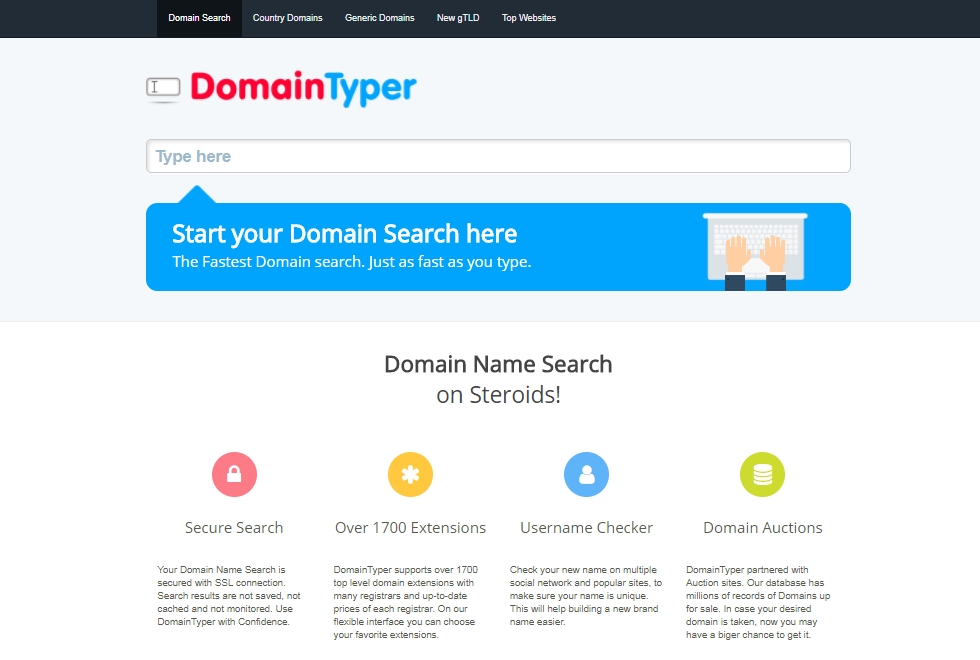 DomainTyper is the tool to use when you have a good idea of the kind of name you want for your blog.
Type the words in the search bar, and DomainTyper will instantly search its availability. The domain generator will suggest different domains related to yours. You can also check the name availability across 34 social networks with one click.
12

Shopify Business Name Generator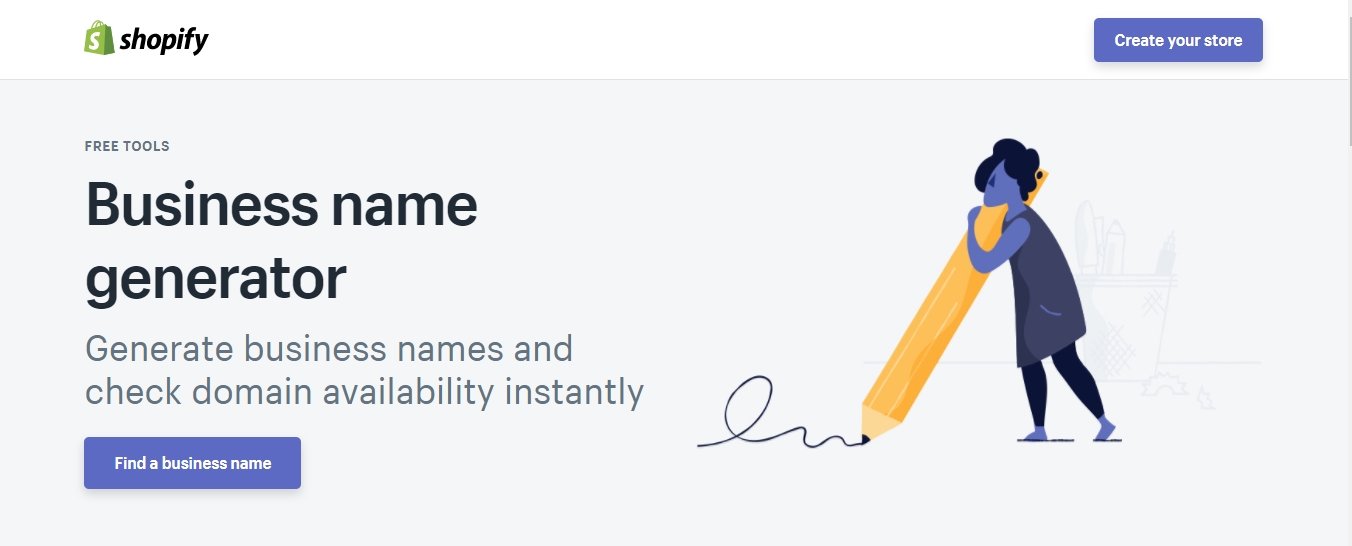 Shopify has a nifty name suggestion tool which can work for blogs. Type in a few keywords and Shopify will suggest hundreds of domain names related to your keywords.
Shopify suffixes different words with your keywords to generate new names. To get the best suggestions, keep the number of keywords small.
13

NameStall Domain Name Generator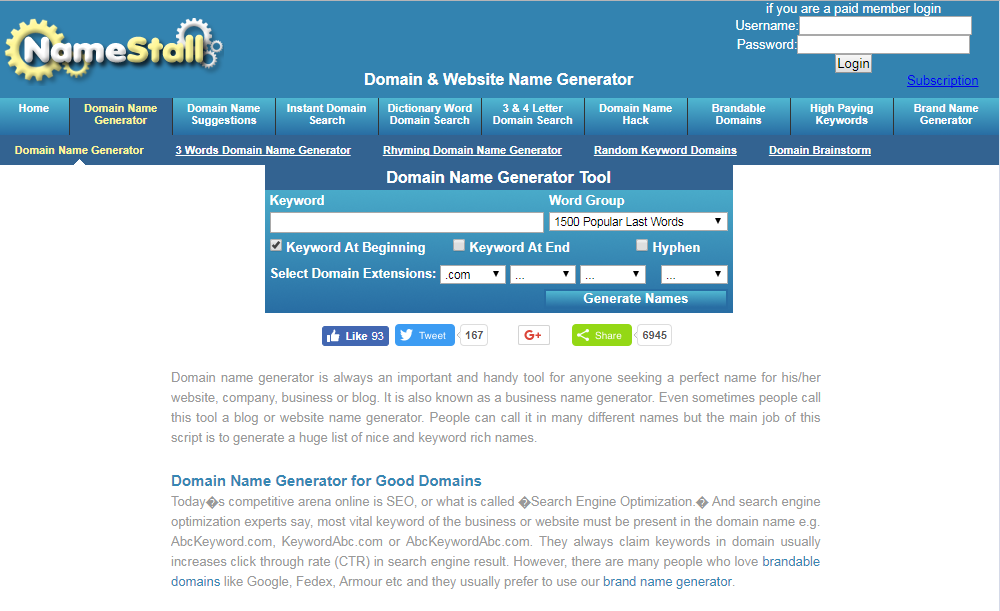 NameStall's domain name generator searches names based on single keyword. You can choose upto 4 TLDs at once while over 50 TLDs are supported.
All the suggested blog names are instantly searched for availability and you can register them in a few clicks.
14

IWantMyName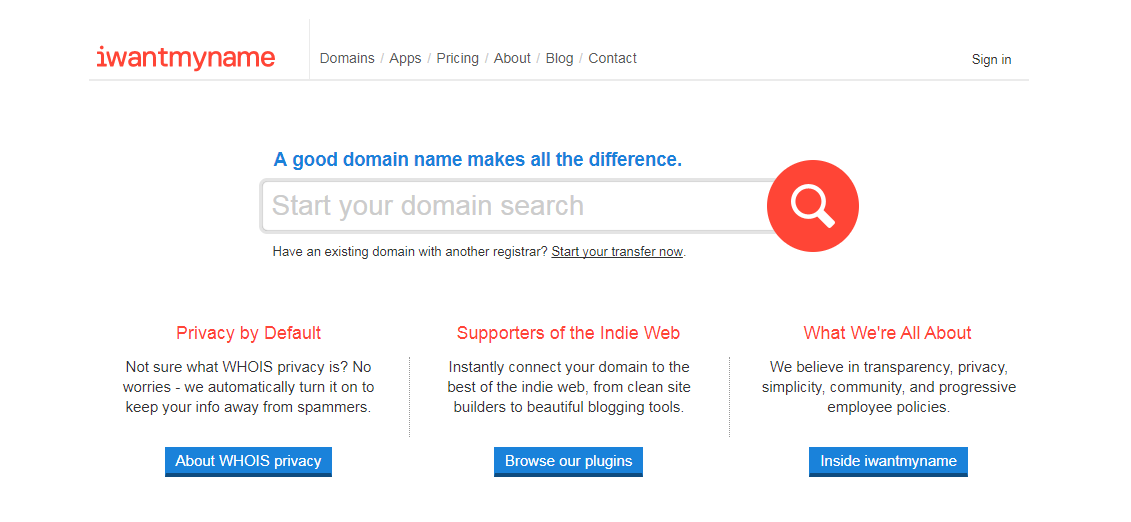 If you just found the perfect blog name and the .com domain for that name is taken, Iwantmyname comes to the rescue.
This name suggestion tool suggests hundreds of different TLDs for the same domain name. Our search showed us over 100 different TLDs for our keywords.
15

Dynadot Domain Suggest

Dynadot offers a free domain name search tool that is great for blogs. Enter your keywords, and Dynadot will suggest multiple names to you.
The names are generated by replacing words and using contextually similar words on their behalf.
16

SoftwareFindr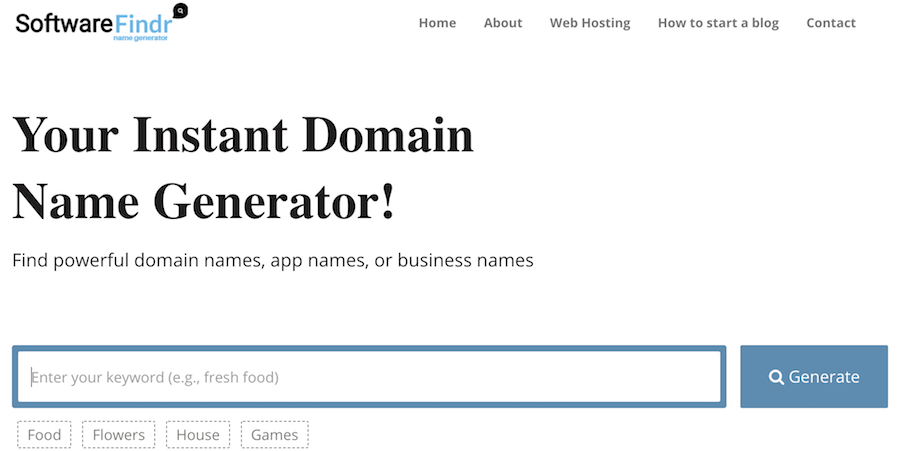 SoftwareFindr is a minimalistic domain name generator that can also help you find a name for your blog, website, startup, or app. It has a simple design, and you start by typing in a few words in the text field.
SoftwareFindr immediately goes to work and starts generating relevant names and domain names for you to choose from.
SoftwareFindr's intelligent algorithm generates domain names that are better than other name generators and also sound better.
Apart from generating names, SoftwareFindr also checks the domains' availability from multiple domain registrars for accuracy and presents the option to purchase your favorite domain in a single click.
17

Conclusion

Your blog name is like your own name. You will probably have one for the rest of your (blogging) life. You will be known for it.

It will be the first impression of you for everyone. Getting the right domain is like laying the foundation of a blog. Only a good foundation can support big business.

We hope that by using the above tools, you can find the domain name that suits your business best. If you have any questions, ask us in the comments.