Everybody knows something about what WordPress is and how it works. The platform has been flooding the internet and ruling the website development arena in a variety of niches.
With a number of alternatives for free website development and designing tools, WordPress has made its mark as one of the must-have website builder platforms for every type of business or blog.
With so many websites running on one single platform, it is imperative to manage the websites and optimize them on a regular basis so they never shut down.
In order to keep your site healthy and optimized for faster performance, you need a WordPress database plugin to clean up murky files from the database.
The database is an important aspect which cannot be ignored while you are managing and handling your website.
Everything you upload on your website is stored in a database and with time it can become messier and grow clunky. If you are already using a plugin to manage your database, then you can browse this article to find a better alternative.
1

Why WordPress Database Plugins are Important?

These are some of the common reasons to opt for a WordPress database plugin to ensure that your website is live and safe.
2

Benefits of WordPress Database Plugins
Optimizes your site's performance by delivering the requested output each time the user visits at a faster speed
Provides more space for your database by removing unwanted and corrupted files and documents
Easy-to-use plugins that work automatically and are safe to use for your database
Provides multiple inputs to improve the site's performance
Stores backups of all data stored in the database so you never lose any
3

List of Top 10 WordPress Database Plugins

Below are some of the working plugins that will help you in cleaning, managing, and improving your WordPress Database.
3.1

My WP Backup Pro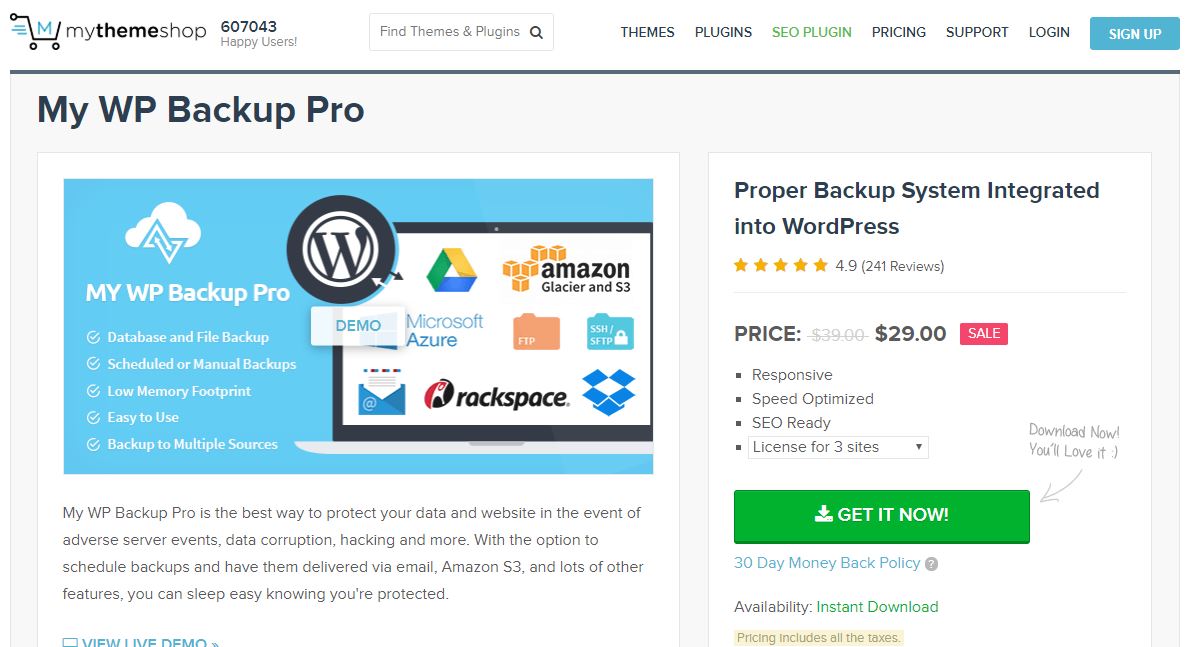 My WP Backup Pro helps in eliminating the damage and loss of data during any downtime on the website. It protects the website database in the event of adverse conditions, hacking, data corruption, or any other.
My WP Backup Pro plugin helps online business websites to focus on content creation by regularly backing up data.
With My WP Backup Pro plugin, you never need to worry about your backups as it stores your backups with safer integrations.
Moreover, the plugin notifies you by email when the backup process is completed.
Plugin Features
Plugin Walkthrough, easy-to-use WP-CLI integration, automatic or manual backup
Complete backup option, differential backup option, and split backup into volumes
Database only backup option, files only backup option, schedule and restore backups
Backup to FTP and email, backup to Dropbox and Google Drive, Backup to Amazon S3 and Rackspace cloud files, etc.
Zip and different Tar archive options, excludes unnecessarily file and globbing
Get notified by email, push notifications, Slack, and Hipchat
Pricing
3.2

WP-Optimize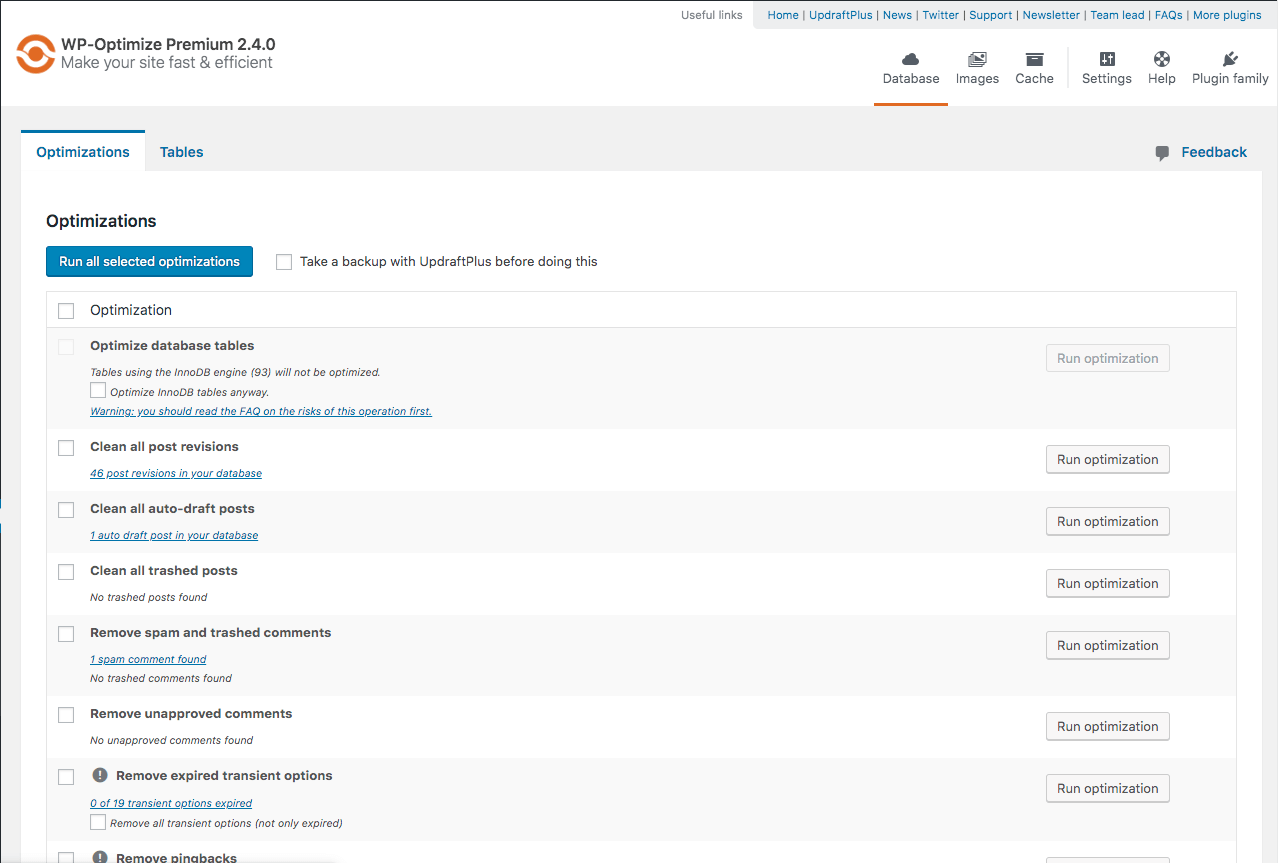 WP-Optimize is an all-in-one plugin that helps to clean and manage the database by compressing large images and caching of sites.
Moreover, this is one of those WordPress plugins makes your site run fast, better optimized, and more efficient.
WP-Optimize plugin is very simple and easy-to-use that has everything to keep the website optimized and clean. Also, the plugin offers one free plan for every user and a premium version for advanced requirements.
The premium version features multisite support, advanced optimization options, scheduling, enhanced logging and reporting. It is multilingual and multi-currency compatible.
Plugin Features
Retains data during clean-ups, easy optimization, automatic clean-ups, notifications, and statistics
Incredibly simple to use with drafts, comments, trackbacks and pingbacks, transient options, spam, and trash
Optimization of images by restoring original functions, EXIF data-keeping, auto compress function, bulk compression, and lossy compression options
Caching features include cache preloading, Gzip compression, device-specific code, advanced exclude rules, and browser cache
Multisite support, choice and flexibility, scheduling, multilingual as well as multi-currency compatibility
Pricing
3.3

WP Cleaner Pro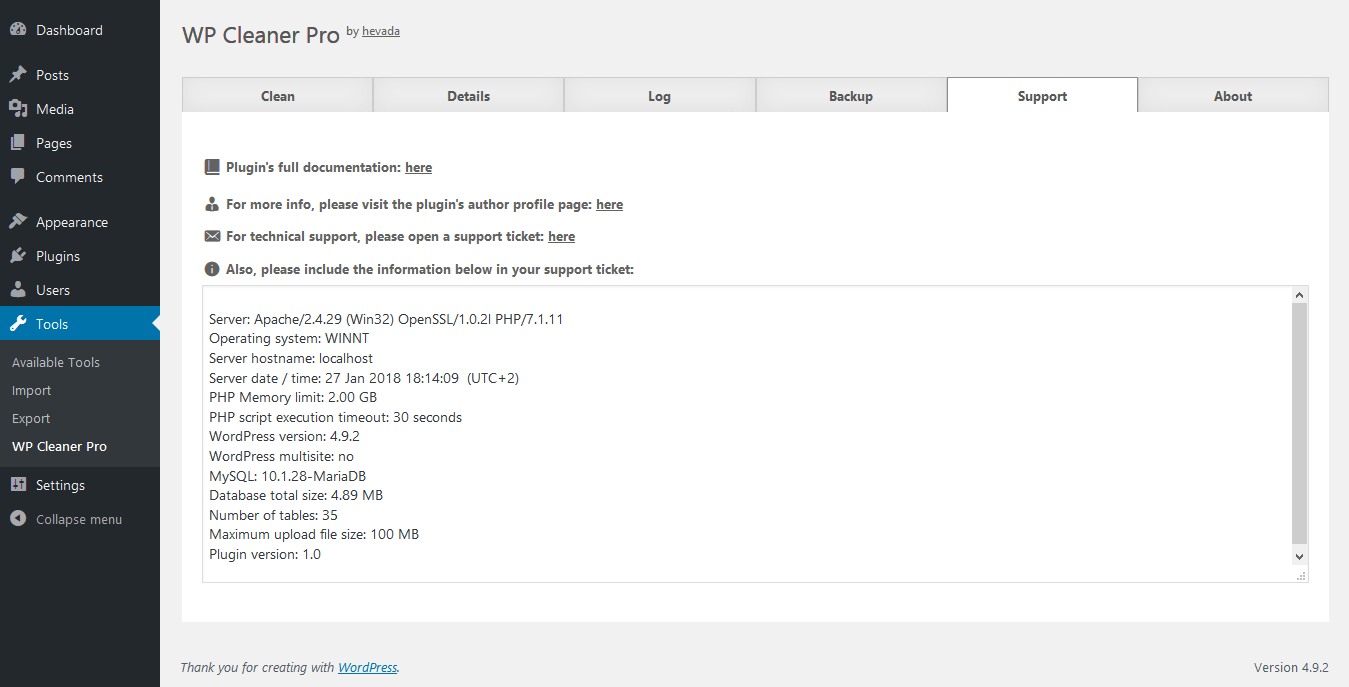 WP Cleaner Pro is another WordPress database plugin that helps to clean 25 different types of data with a clean interface and no back-end errors.
The plugin is specially developed for single-site installations and not for multi-site installations for optimal speed.
Besides, the tool offers optimization of a complete database at once or in a scheduled event. The plugin is also efficient and easy-to-use with a mobile-friendly dashboard providing mobile-friendly documentation and automatic updates.
The best part is it includes Envato market plugin which automatically updates the plugin when new versions are available.
Plugin Features
User-friendly interface including trash comments, spam comments, moderation comments, pingbacks, trackbacks, drafts, and auto drafts
Orphan comment and post meta, duplicated comment and post meta, orphan term relationships, and unused terms
Duplicated term and user meta, orphan user meta, trash posts, revisions, expired transients, and subscribers with invalid emails
Links in WP_links table, oEmbed caches from posts meta, comment agents from comments, weird characters from posts and comments
Pricing
3.4

UpdraftPlus Backup and Restoration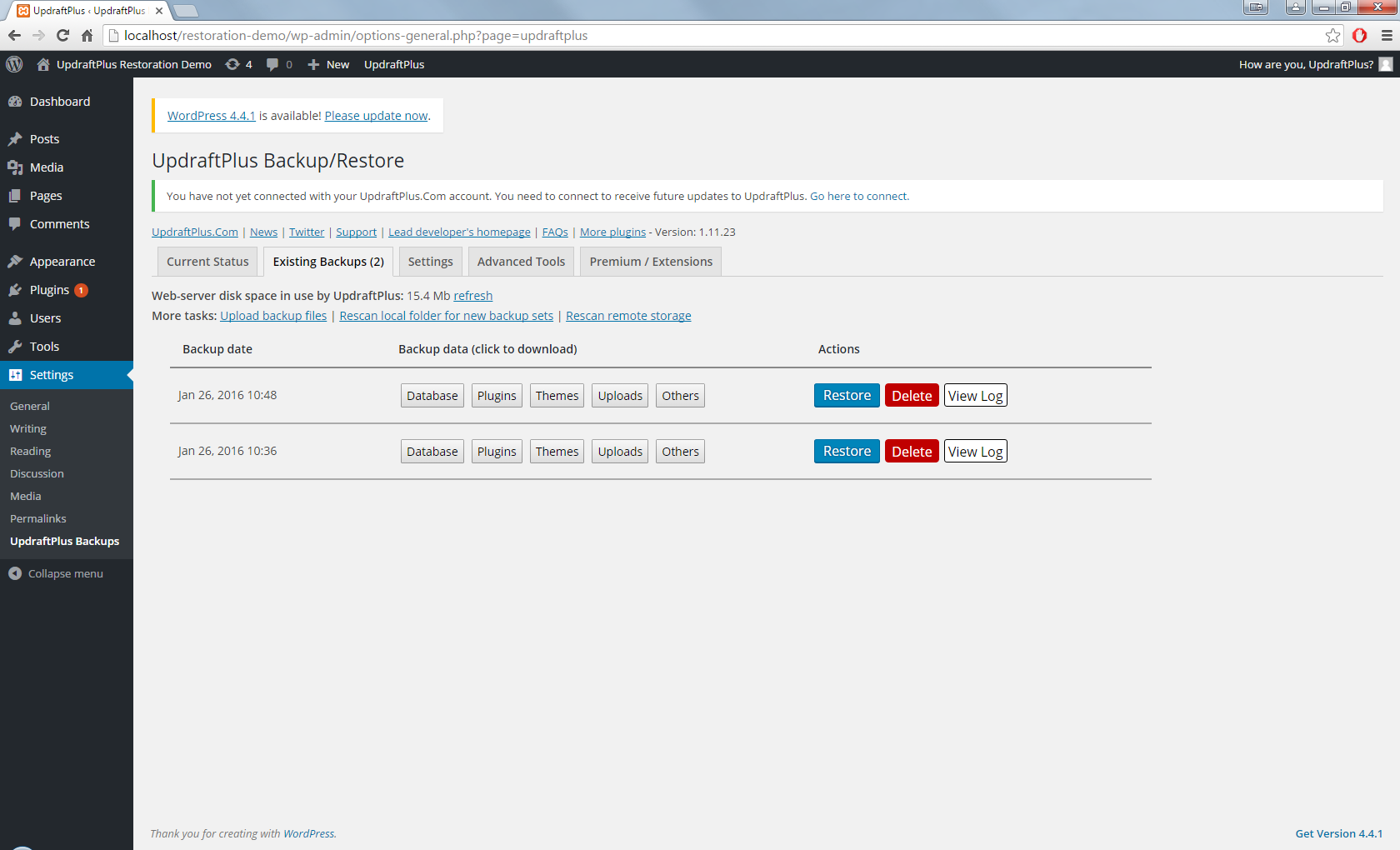 UpdraftPlus claims that they are the world's most trusted WordPress backup, restore, and clone plugin.
The plugin protects your site from hacking, server crashes, dodgy updates, simple user errors and keeps your WordPress database as well as website safe and updated.
In addition, the plugin offers an interactive and easy-to-use interface for backup and restoration with a single click by defining a schedule.
UpdraftPlus is more comprehensive and a complete tool offering more advanced features for managing website and database.
Plugin Features
Scheduling supports for manual and automated backups; can even be customized
Simple, flexible, secured UpdraftVault storage and Remote storage options with Drive, Dropbox, and Amazon web services
Reporting, monitoring, scheduling, restoring, recovering, and migrating options
Compatible with WordPress network and multisite installs
Pricing
3.5

VaultPress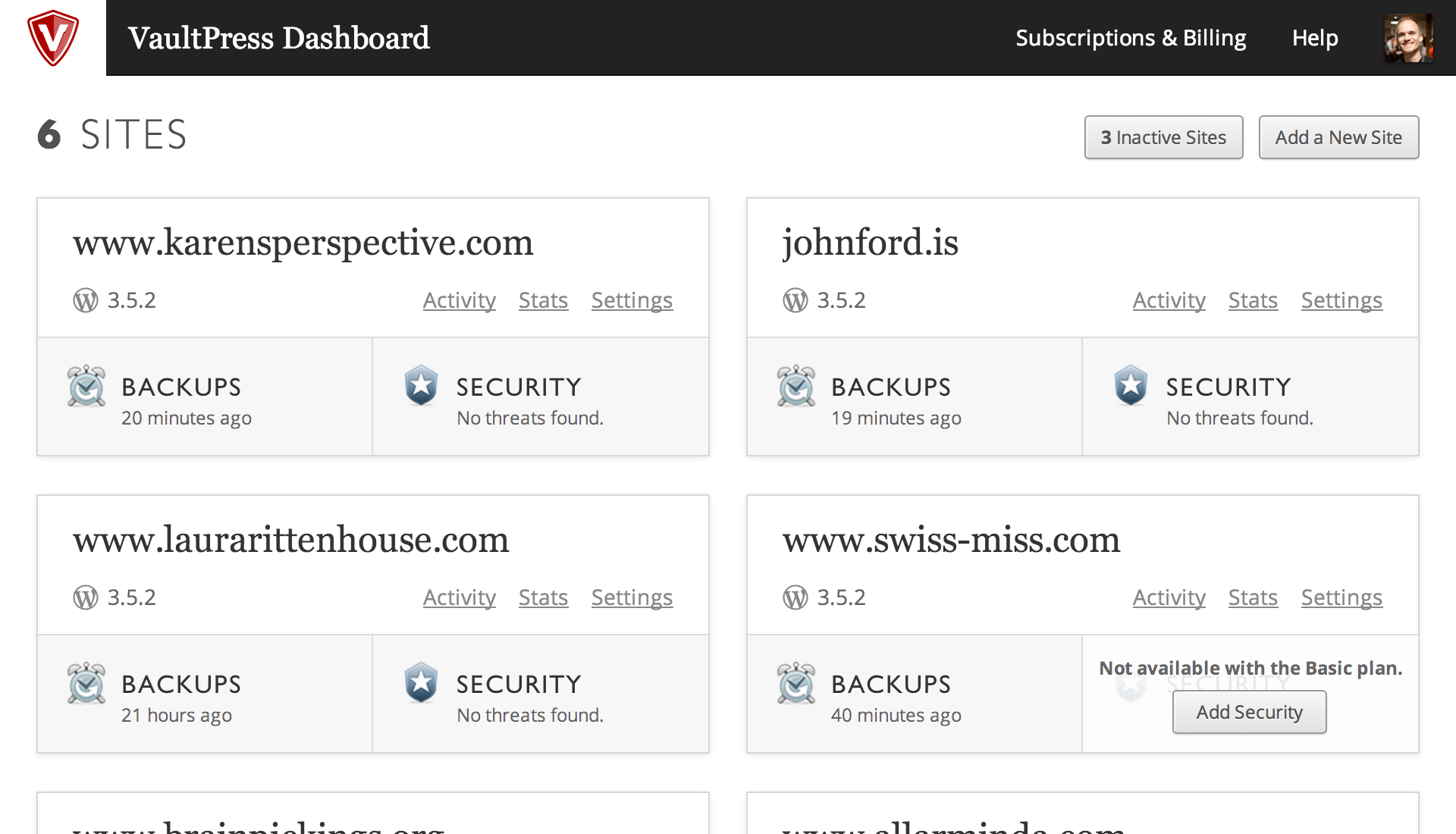 VaultPress is one of the most popular and powerful plugins for the security of any WordPress website.
It provides immense protection against some common security threats like hackers, viruses, host failures, malware, exploits, user errors, etc.
Furthermore, VaultPress also provides security features for individuals, professionals, and agencies. The plugin offers services including backups and restores, site migration, file scanning, automated file repair, and spam defence.
Plugin Features
Monitors activity in real-time, scans entire site, restores backups automatically, reviews and fixes vulnerabilities
Browses entire history, downloads database instantly, uploads themes and plugins
Up-to-date database backup, WordPress optimized backups, FTP/SSH information
Comprehensive security scanning, cleaning of the database and syncing of database
Pricing
3.6

WP-DB Manager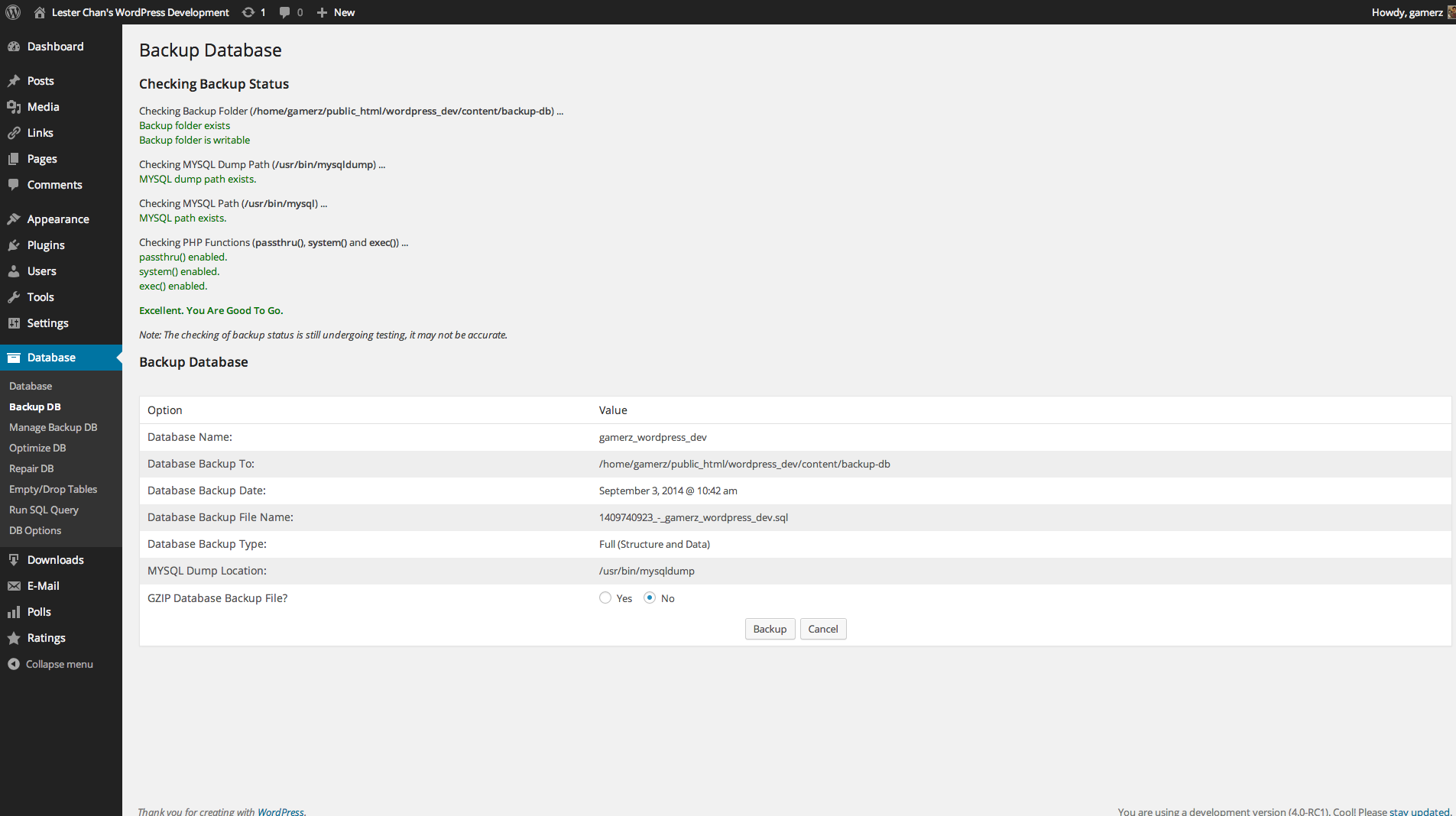 WP-DB Manager is a database plugin that allows you to access your database from the WordPress dashboard.
By accessing the database, you can easily optimize, restore, backup, delete databases and even run queries like drop/empty tables.
Moreover, the plugin also supports automatic scheduling of backup and restore of database files. The plugin provides great support and features that you require once in a while.
Plugin Features
Helps you to get clear details of your database and table names
Backs up your database either in gZIP format or without compressing the database
Manages database as well as backup to stay on top of data whenever in need
Optimizes and repairs the database by executing SQL queries
Pricing
3.7

Optimize Database After Deleting Revisions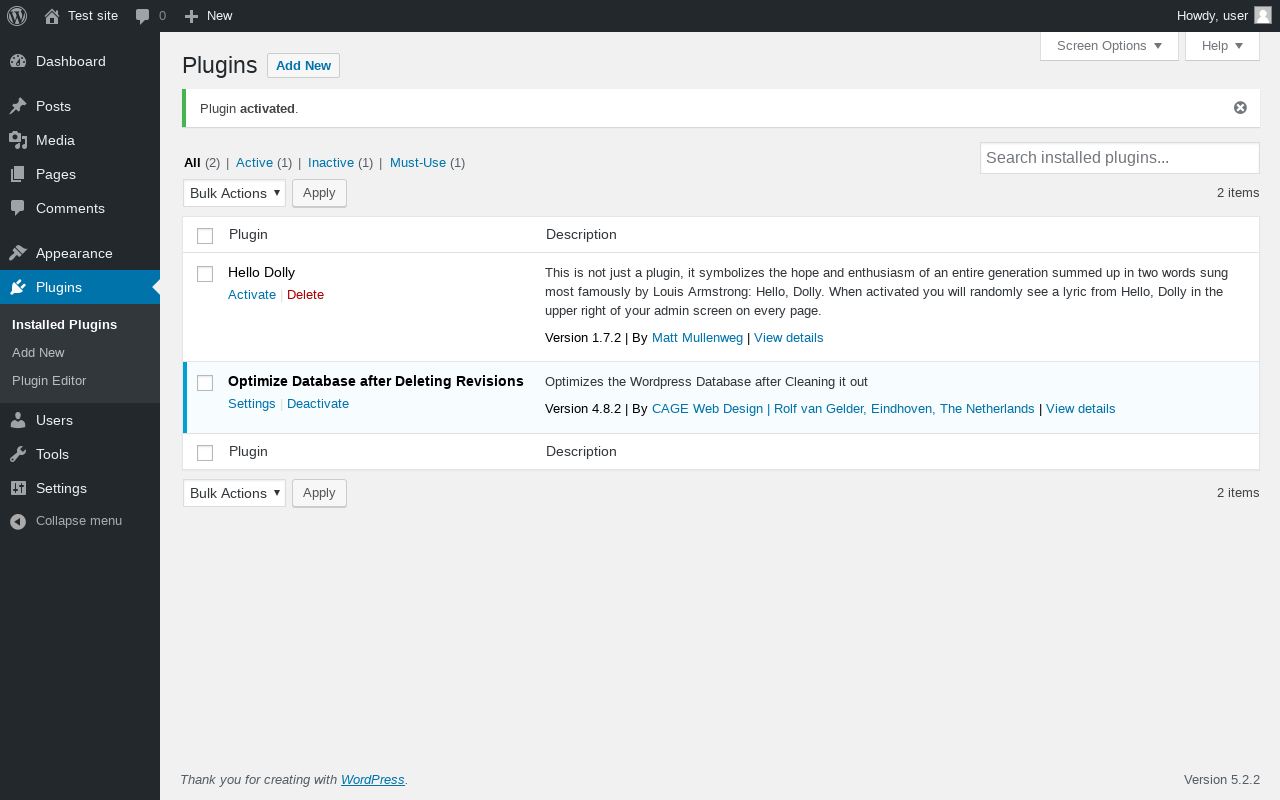 In simple words, ODADR is a one-click WordPress database cleaner and optimizer. Its main task is to delete revisions of any posts, pages, and comments.
The plugin was especially developed to remove unwanted excessive duplicate files and data from the database to keep it safe and optimized.
Moreover, the plugin analyzes the database and offers suggestions on what could be cleaned from the existing database. After analysis, it provides the report of what should be deleted and the count of data that has been deleted.
Besides, if you want to keep the duplicate data it allows you to create a custom field for that revision of data.
Plugin Features
Deletes revision of posts, pages, and comments
Deletes trashed posts, pages, and spam comments
Deletes expired transients, pingbacks, and trackbacks
Deletes unused tags and clears oEmbed caches
Optimizes database tables and optimization can also be scheduled
Offers multisite support which helps in cleaning all sites in just one-click
Pricing
3.8

WP-DB Backup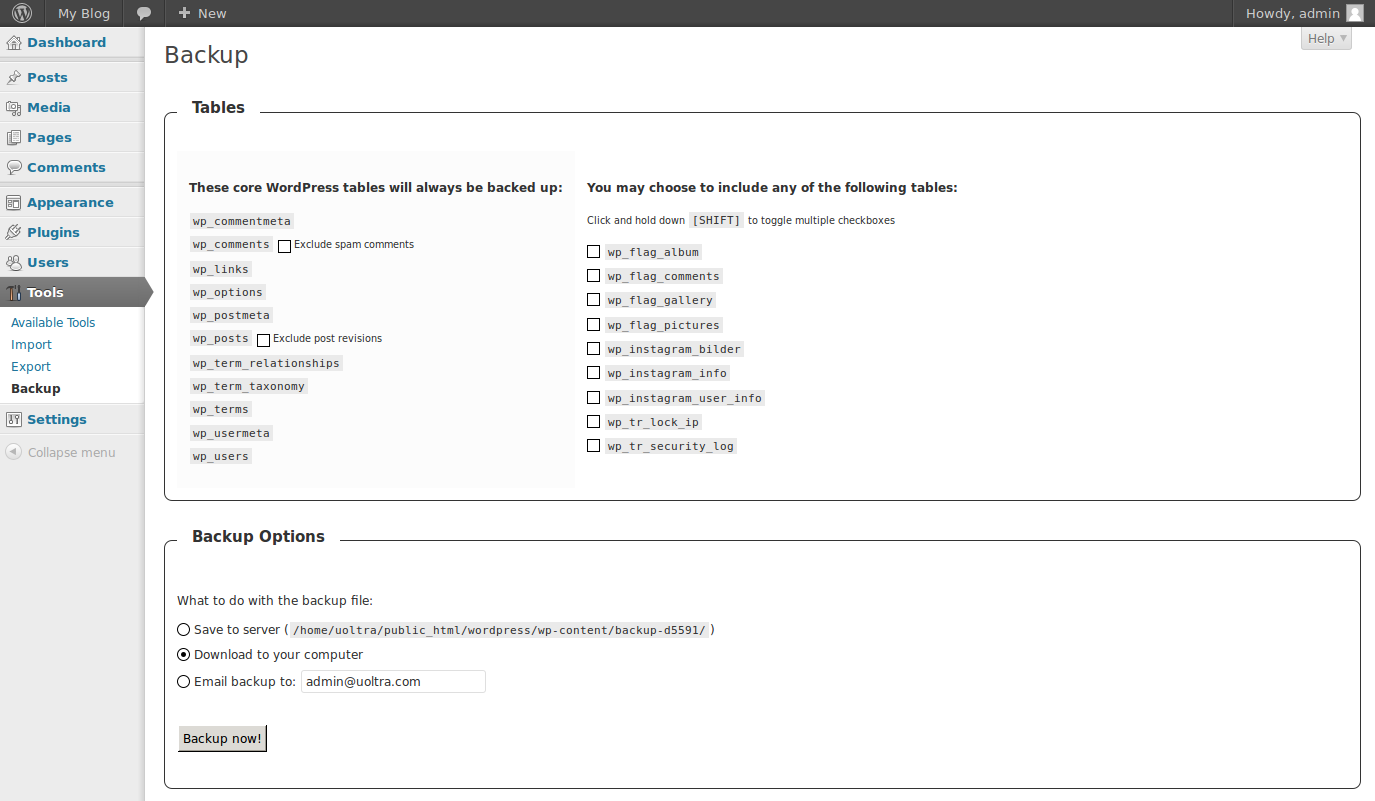 WP-DB Backup plugin helps in backing up and restoring the database in WordPress in just one single click.
The backing up of the database can be done automatically or manually. Moreover, this plugin stores the database backup with safer integrations including Dropbox, Google Drive, FTP, etc.
In addition, the plugin notifies through email after completion of the backup process. The best part, it supports multi-site backups and restoration, and automatically removes old backups once the new one is completed. Also, it includes media files and creates downloadable log files.
Plugin Features
Chooses from 'Complete backup' or only selected file backup
ZipArchive, PclZip, scheduled backup, manual backup, entire site backup
Sets backup interval, multisite compatible, including media files and excludes specific files
Offers Amazon S3 integration, simple one-click restore, FTP and SFTP integration
Creates downloadable log files, sets number of backups, and offers a quick view of server info
Pricing
3.9

WP-Sweep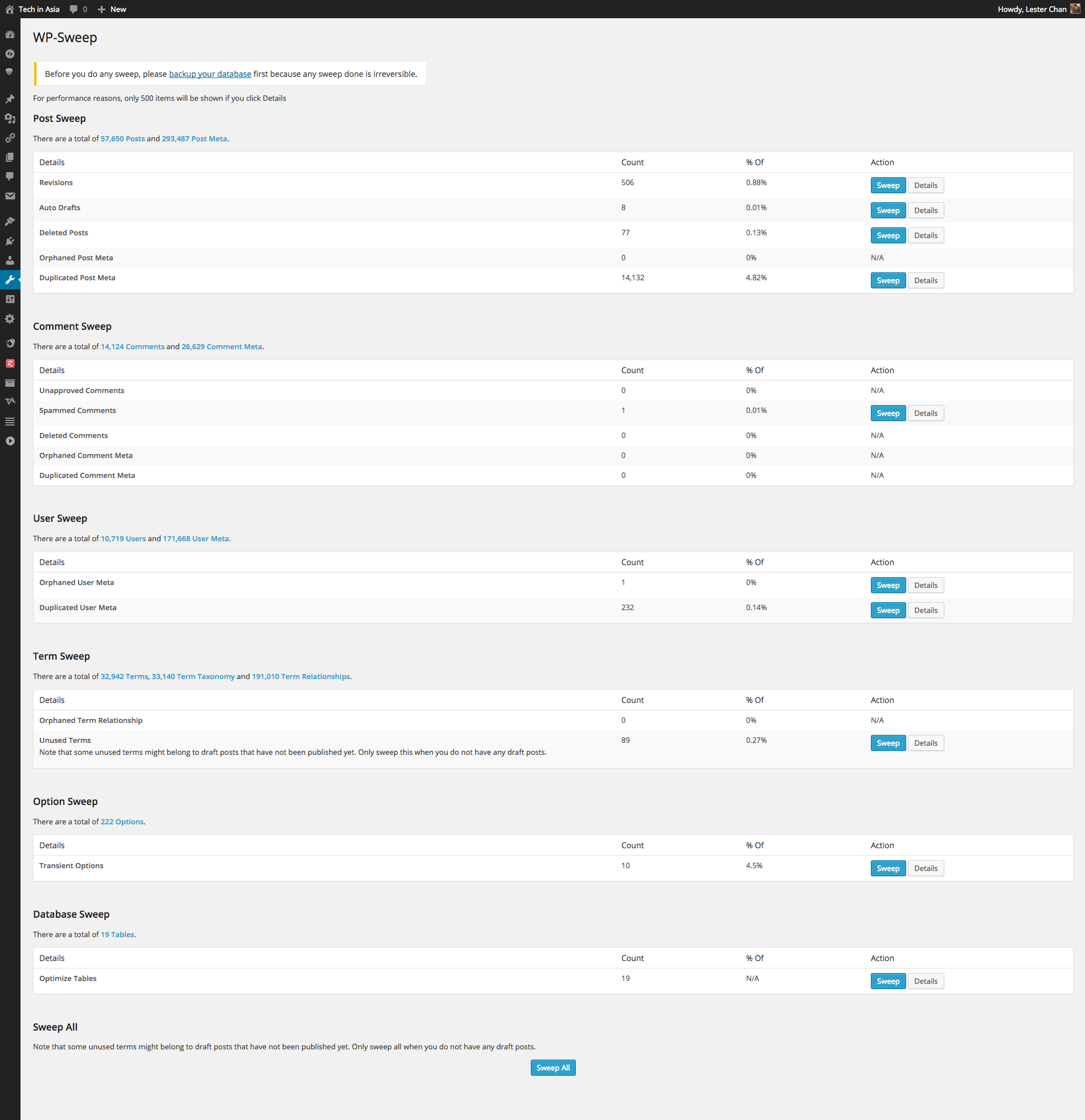 WP-Sweep is the most simple and user-friendly cleaner and optimizer for the WordPress database.
You do not need any technical skills for using WP-Sweep. It cleans and optimizes the database of any website in a few minutes. The best part, a basic user of WordPress can also install and use WP-sweep very easily.
Furthermore, the plugin uses only the WordPress delete function to delete any data. Many of the plugins run direct MySQL delete queries which can create some loss of data. However, WP-Sweep is not compatible with every other plugin.
Plugin Features
Cleans up revisions, auto drafts, deleted comments, unapproved comments
Deletes spam comments, duplicate post meta, user meta, term meta, and comment meta
Orphaned post meta, user meta, comment meta, and term meta
Cleans unused terms, transient options, and orphan term relationships
Optimizes database tables and oEmbed caches in post metadata
Pricing
3.10

Clean Up Optimizer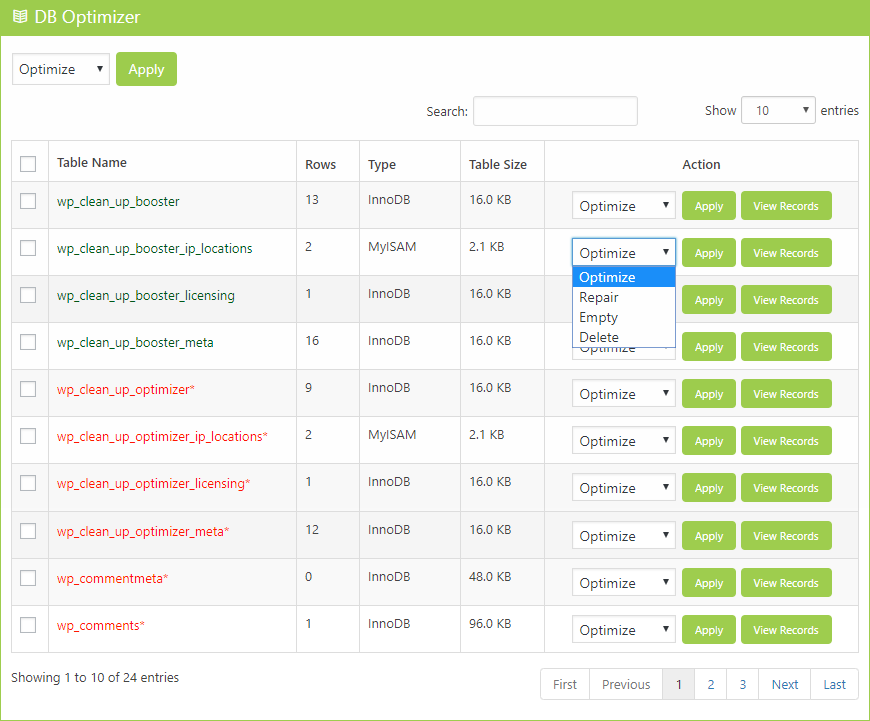 Clean Up Optimizer plugin helps in cleaning obsolete and unused data from the database to optimize and boost the website to the next level.
It helps in increasing the efficiency of the website by deleting obsolete records, repairing corrupt tables, and removing unused spaces.
The plugin also improves the speed of the site by removing unused terms, orphan data, and spam comments. Moreover, it maintains the website performance by removing revisions and eliminating duplicate data.
It gives users the authority to schedule the process of optimizing, deleting and repairing the database tables without logging into PHPMyAdmin.
In addition, it provides extra security to the website from unauthorized users by blocking an IP address, country, and limiting login attempts.
Plugin Features
Provides database optimizer to perform different actions like table optimization, repairing of tables, and deleting of tables
Offers WordPress data optimizer for removing unnecessary data like auto drafts, transient feed, unapproved comments, and orphan comments metadata
Deletes orphan postmeta data, spam comments, trash comments, and temporary cache data from the database
WordPress schedule optimizer for pingbacks, trackbacks, orphan relationships, revisions, unused terms, and duplicated comment metadata
Cron jobs for automatic scheduling, logs to get information about users, notification setup, and message settings options are also available
Pricing
4

Conclusion

The efficacy of WordPress Database plugins depends on their usability. It depends on how long you are active and use your WordPress website.

If you are a beginner, you can opt for free and simple WordPress plugins like WP-Sweep, WP-DB Manager, and Optimize Database After Deleting Revisions.

For more regular and active users who might find their database blowing out, paid tools like WP-Optimize, WP Cleaner Pro, and Clean Up Optimizer are the best options available.

The main priority for online businesses and agencies is the backup and restoration of the database. Tools like VaultPress, My WP Backup Pro, UpdraftPlus plugins are the key options available for these situations.