WordPress is considered as one of the most popular CMS (Content Management System) available, but still, it's not perfect and complete. There are several areas where it can be improved; one such thing is the search area.
The default search functionality of WordPress works properly to some extent, but at times, it does not show relevant results and also works very slow.
Users cannot narrow down the search to particular keywords, and there is no support for custom fields, taxonomies, or post types.
However, you don't have to worry as there are plenty of search plugins available that can solve these problems.
With the help of the search plugins, you can get better search results as well as enhanced user experience. It also helps the users to find articles, blog posts, and contents more quickly, which reduces the bounce rate and increases organic traffic.
But with numerous WordPress plugins available on the internet, it's difficult to choose the right one. In this article, we have listed the top five WordPress search plugins to enhance your site search.
1

Relevanssi

Relevanssi is one of the most widely used WordPress plugins to improve the overall search experience of the site.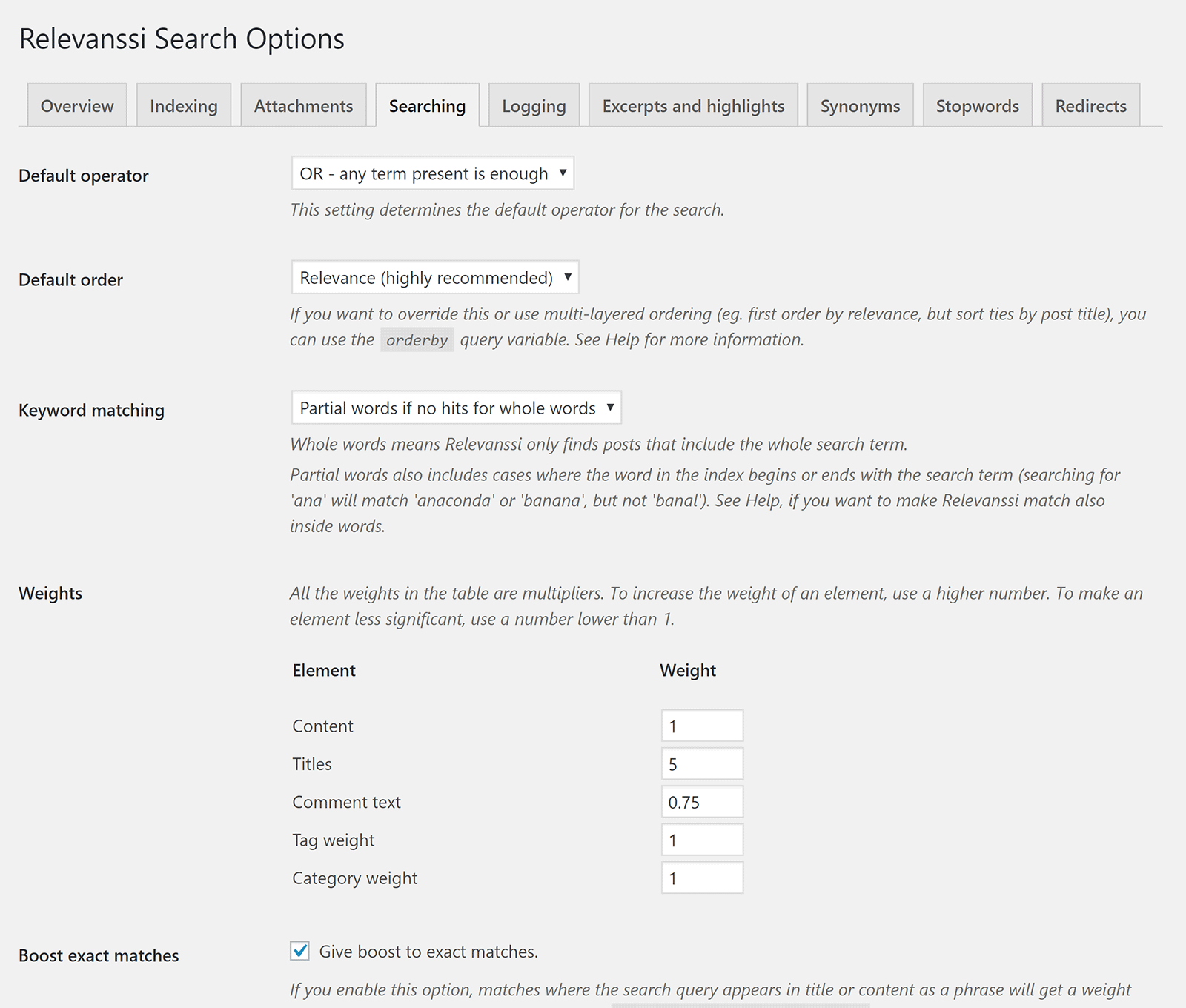 Once you install the plugin, it will replace the standard search feature to a robust engine which enhances the search results.
It allows users to search using keywords, sentences, etc. The plugin sort search results based on relevance rather than date. It is beneficial for someone who is looking for evergreen content on the site.
The best thing about the plugin is that you can search using boolean expressions. Let's say you are searching for "bat and ball", the result will show you content that contains both words.
Alternatively, if someone searches for "beach or island", they will see results that include one of the two words.
You can also use "phrases" searches by including the sentence in quotation marks. For example, if you search for "best WordPress themes", it will show you the results that include only that exact phrase.
There are several features of Relevanssi; some of them are listed below:
It highlights the search term to show where the search result occurred.
The plugin shows search results that consist of comments, tags, categories, and others.
It has a query log which lists all the popular search terms.
It is a multisite friendly plugin, so you can easily use it on more than one website.
Automatically adjusts the weighting for tags, keywords, titles, and comments.
Index custom shortcodes, post types, taxonomies, and many more.
The plugin shows "did you mean" suggestions similar to the Google search.
It also supports multiple languages.
All the features and functionalities listed above are of the free version of the plugin. If you buy it's premium version; you'll get the following additional features:
The premium version provides improved "did you mean" suggestions.
Indexes PDF, Word, and Office attachment contents.
It also indexes user profiles, taxonomy term pages including tags, categories, and custom posts.
Assign extra weight on post types and new contents.
Users can select between OR and AND, + and – searches.
You can also import as well as export settings.
With over more than hundred thousands active installations, Relevanssi is considered as the "go to" option for the website owners for enhanced search feature.
2

Better Search

Better Search is a powerful search plugin which can be used as a replacement for the default WordPress search engine. It provides search results related to the keyword and content of the website.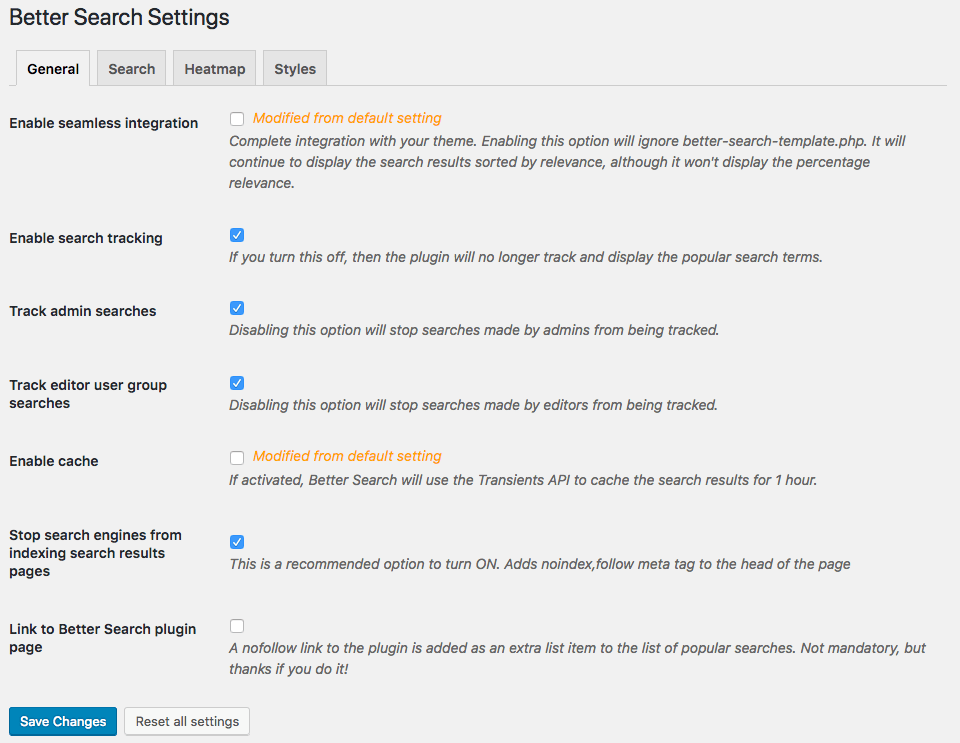 It not only searches through posts, but also pages, custom post types, and others. The plugin allows visitors to search a lot quicker as compared to the other search plugins.
You can also customize the output according to your requirements and needs. Further, you can fine-tune the search results by allowing greater weight to either the title or content.
The plugin seamlessly integrates with any WordPress theme and also has several search templates for enhancing the overall look of the site.
The plugin is packed with advanced features which allow to easily extends its feature set.
It also has a "search heatmap", which lists of the popular searches, as well as the searches from history. You can easily set up the heatmap with just one click on either your sidebar or footer.
There are several additional features of the Better Search plugin, some of them are listed below:
Once you have installed and activated the Better Search plugin, it will automatically change the default search with better search results.
The plugin seamlessly integrates into your WordPress theme without making changes in the custom source code of the theme.
The plugin shows search results based on relevancy. You can also turn off the setting to search in the default method.
With the help of this plugin, you can control the search results by changing the weighting of the titles, and contents. You can also perform a boolean search.
Find out what users are mostly searching on your site. It lists all the popular search keywords on your website in the form of a heatmap.
You can also add your own CSS styles through settings.
It supports all the major cache plugins, including W3 Total Cache, WP Super Cache, and others.
You can also add a list of stop words which will be filtered out when someone searches something on your site.
It is a translation ready plugin, so you can easily translate your search queries in different languages.
The plugin has been downloaded more than eight thousand times and has a rating of more than 4.5. Many website owners are using it as an alternative to the default WordPress search.
3

SearchWP

SearchWP is one of the best WordPress search plugins which easily integrates with any WordPress theme. It is also compatible with popular plugins including Advanced Custom Fields, bbPress, WooCommerce, and many more.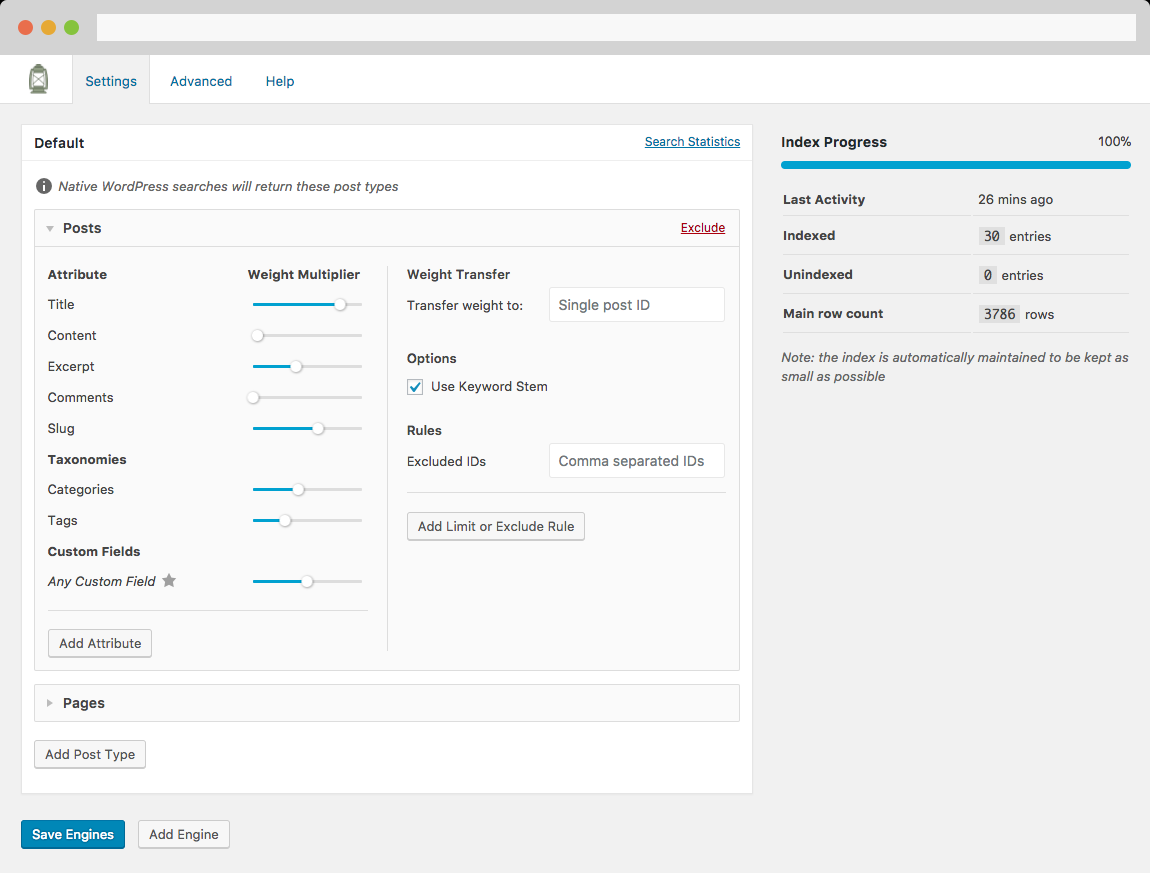 The default WordPress search has only a few filtering options, but SearchWP provides you with much more control over how you can interact with the site.
You can also give some particular weight to the posts, titles, taxonomies, and custom fields. Instead of an exact match, you can use keyword stemming which excludes specific pieces of content.
The plugins support most of the eCommerce plugins and easily integrates with custom metadata, texts, PDFs, and other files. With its help, you can also create multiple search engines within your own site.
There are several additional features of the SearchWP plugin:
You can search for anything from custom fields to shortcodes, etc.
The search results show instantly without any page reload.
It highlights the search query in the results similar to the Google search.
You can also customize the weighting of the titles, posts according to your requirements.
As we already stated above that you could create separate search engines — for example, one search for articles and blog posts, and the other one for eCommerce products.
It also shows related content suggestions similar to Google search results.
It automatically redirects the searches to the specific page.
It has search analytics which shows what the visitors are actually searching on your site.
The unique thing about SearchWP is its extension system to add more functionality. There are twenty-eight standard extensions, two free extensions, and four pro ones.
The price for the standard license for the plugin is $99, which provides one year support for one WordPress site. The pro license is for $149, and it gives access to five sites. If you have an agency, then you can opt for the pro plus license which is priced at $299/year, and it removes any restrictions.
4

Ajax Search

Ajax Search is one of the most powerful and highly customizable search plugins for WordPress, which adds the feature of live search to your blog or site.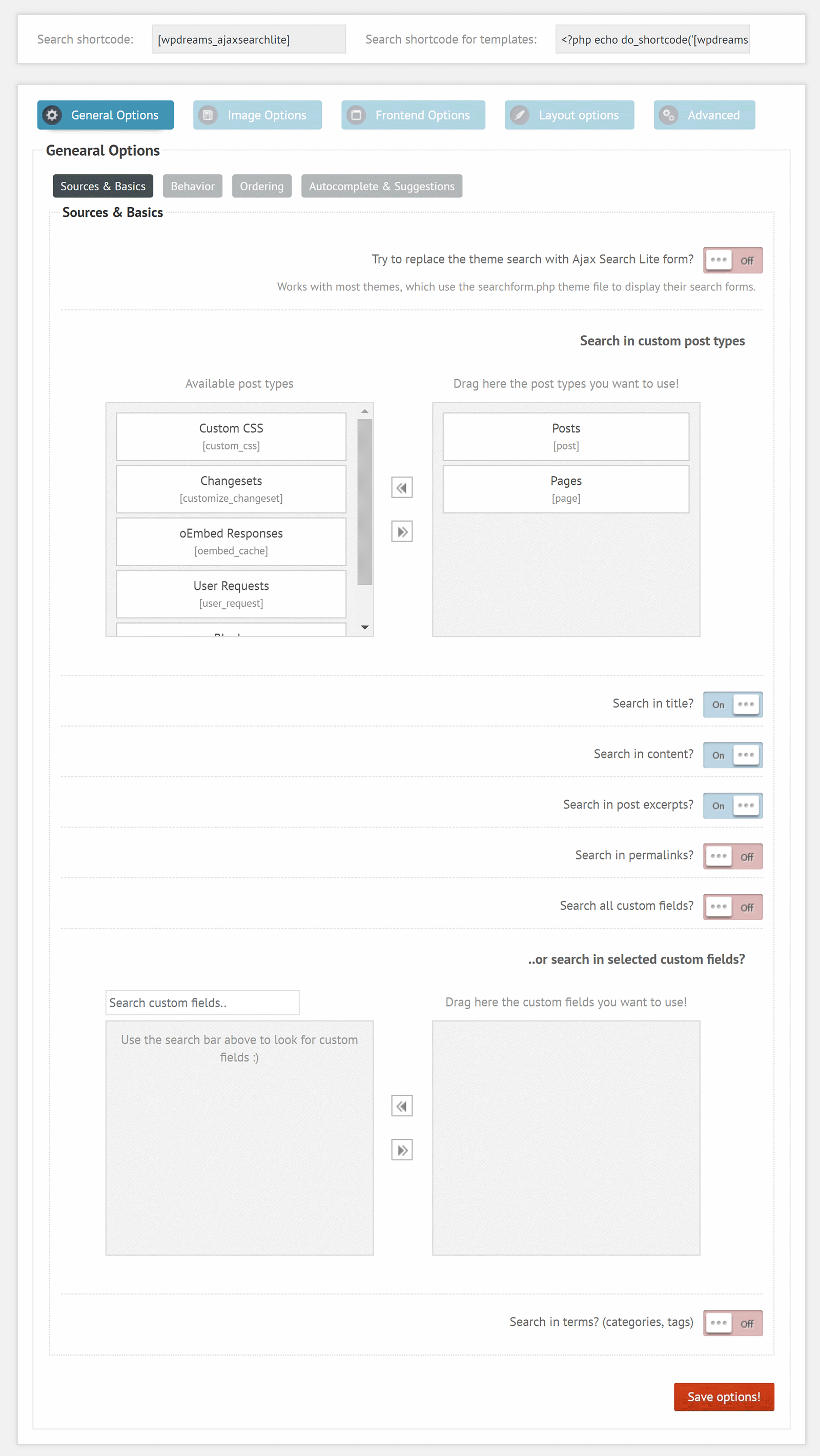 It shows search results in the form of thumbnails as the user type some sentences or phrases. It's lite version is free to download, which offers many amazing features, including custom thumbnail sizes, built-in templates, and one click on and off button.
You can also cache the images to improve the site's loading speed as well as performance. Users can search within posts, categories, as well as custom fields.
It also allows you to integrate Google Analytics to track all the search queries as well as results.
The pro version of the plugin is available at $36 and offers additional support and functionalities including custom fields, filters, taxonomies, and many more.
Users can also search with attachments, and it also provides suggestions and autocomplete similar to the Google search engine.
The Ajax Search Pro offers additional features, some of them are listed below:
The Ajax Search Pro provides multi-instance support, which means you can create as many search instances as you want, each having its own unique code.
It offers more than 100+ pre-defined templates, which can be further customized according to the site's requirements.
It is highly responsive and adjustable image parser to provide the best quality photos in the search results.
The plugin supports any language characters and has adjustable primary and secondary ordering.
It consists of a Shortcode generator to create different layouts and three different widgets.
Multisite support and adjustable search logic.
It shows graphs of the most frequent as well as the latest phrases.
Compatible with most of the themes, ACF fields, mobile devices, and page builders.
Online documentation and Knowledge base is available to help you with the first steps.
It provides six months of online support directly by the developers of the plugin.
Ajax Search Pro for WordPress has one of the most customizable interfaces with more than four hundred options available. If you are looking for an alternative search plugin, then the Ajax Search fulfill your needs and requirements.
5

Ivory Search

Ivory Search is a customizable search plugin for WordPress which allows any number of search forms for your blog or business site.

It has a highly user-friendly user interface which has more than a hundred customizable options that can be enabled with just a single click.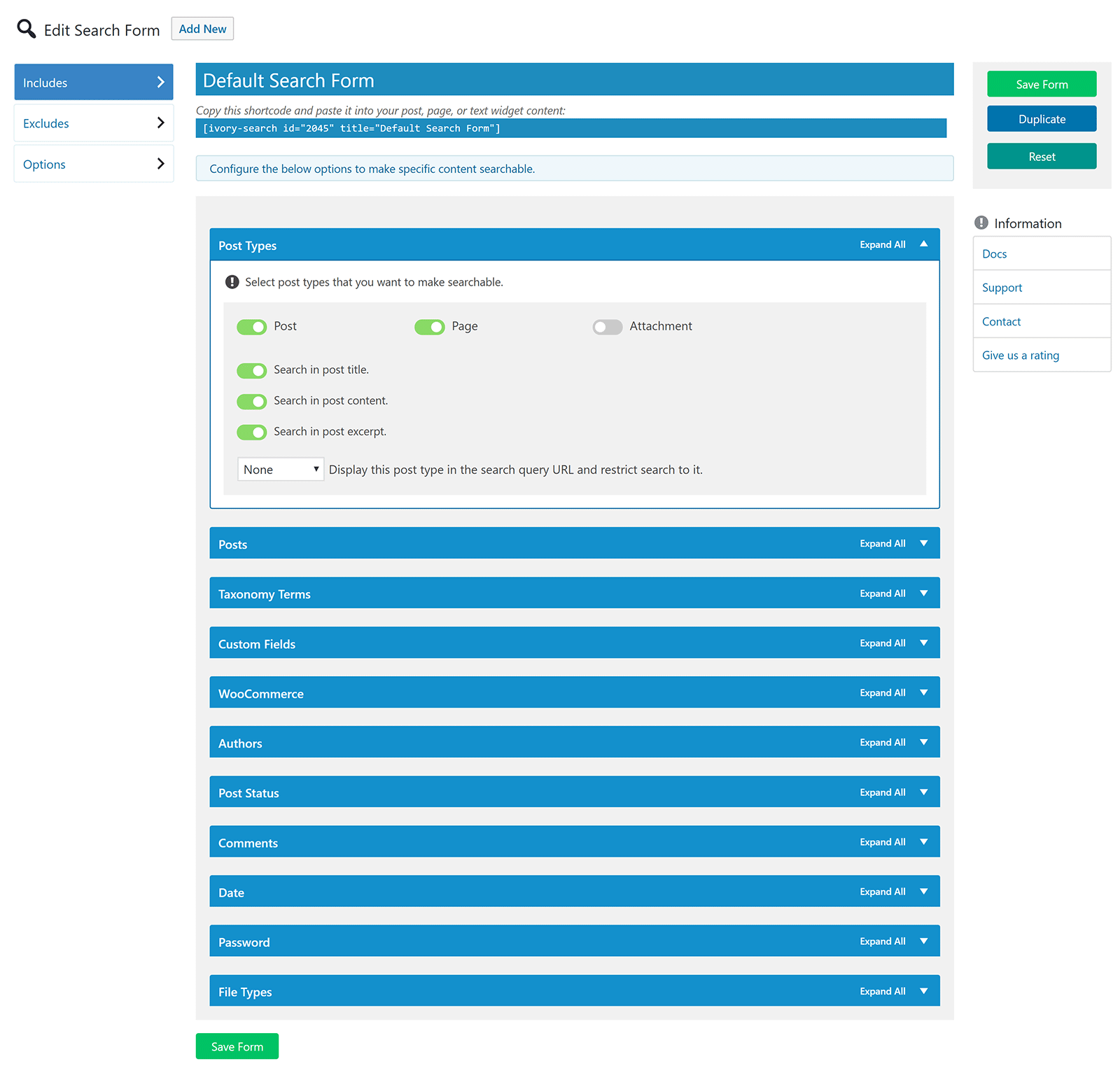 It's free version provides many amazing features that you can't find on any other WordPress search plugins, including searching within password protected contents and posts within a particular date range.
It allows the user to search within blog posts, webpages, categories, taxonomies, as well as shortcodes. It can be easily integrated with many well-known WordPress plugins like WooCommerce, bbPress, etc.
The pro version of the plugin starts at $19.99 and provides features such as searching author articles and excluding some specific posts.
It's pro plus license starts at $49.99 per year and allows visitors to search within images, media files, and others.
Some other additional features of the Ivory Search plugin include:
The plugin allows controlling as well as extend the search by configuring the number of posts to display, highlight search terms, and many more.
You can also perform fuzzy matching, i.e., search keywords in an article that starts and ends with the search term.
It also allows to perform keyword stemming and shows an error if there is an empty search.
The site's owners can also test the plugin on a live website before making it live for the audience.
It also allows ordering search results in ascending or descending order of name, ID, keyword, and others.
You can create unlimited search forms and use them separately.
You can search for anything from post types, terms, keywords, categories, bbPress, comments, file types, and many more.
The plugin also allows excluding specific content from the search.
If you are looking for an alternative search plugin, then Ivory Search can be an excellent option for your site.
Conclusion
The default search engine provided by WordPress is sufficient for small sites, but if you have a large website, then it's difficult for your audience to find blog posts.
The above-listed WordPress search plugins improve the search results by letting you manage the factors used in the search algorithm.
We would recommend you to test the different search plugins by installing the free ones and check the demo of the premium solutions.
That being said, there's no perfect plugin, so make sure to observe all your options and make an informed decision.