Do you regularly schedule events, bookings, appointments, or host meetings or seminars through your website? Well, we both know that without proper organization, these things can get out of hand pretty fast.
Whether you run a fitness blog, a company website or a tech website, being able to display upcoming events with complete information openly is a superb way of establishing yourself as an engaging as well as a reputable brand
Fortunately, with WordPress event calendar plugins, you can make the process of scheduling events, webinars, meetings, seminars, and concerts very easy. These plugins are designed to simplify things when it comes to event management.
For example, you can use the plugin to inform your visitors about an upcoming event, including the venue, date, and time when the event will be taking place. Some other feature-rich plugins can also be used to make hotel reservations, integrate with Google Maps, or submit calendar events and feeds via iCal feed.
As it stands, WordPress calendar plugins are a hassle-free way of ensuring that your events are neatly organized and managed.
Given that the plugins are so many – both premium and free, choosing a suitable WordPress calendar can be a challenge given that they can also impact on your site's speed, responsiveness, security, and overall user experience.
In this post, we will look at the top 18 best WordPress calendar plugins for 2020.
Before we dive in, let's take a look at some of the things you should consider when looking for a WordPress calendar plugin.
What to Consider When Looking For WordPress Calendar Plugins
Features
A good WordPress calendar plugin should allow you to manage your events seamlessly. For instance, it should let you guest list local meets, talks, or other events.
If you deal with ticketing and booking, consider one that has an add-on for this service. Other features worth considering include features such as Google Maps integration and social media sharing.
Responsive design
In this age of mobile, having a website with a responsive design is a must. As such, you need a plugin that will allow you to maintain your website's design responsiveness.
While there are plugins that will hinder you from achieving this, especially on mobile view, such as table-style calendars, it's paramount that you choose a plugin that will enable you to compensate that.
For example, you should consider one that allows tile-view. This will not only ensure that your website is responsive but will also make it easy for your visitors to navigate.
Display elements
Another important aspect to consider is the visual interface. In the end, you want to install a plugin that's engaging, and that offers a range of styles such as list, column, or grid.
Furthermore, you should consider a plugin that offers built-in accessibility elements. This will make it easy for users with disabilities to use it.
With that in mind, now let's look at the best 2020 WordPress calendar plugins
18 Best WordPress Calender Plugins – Reviews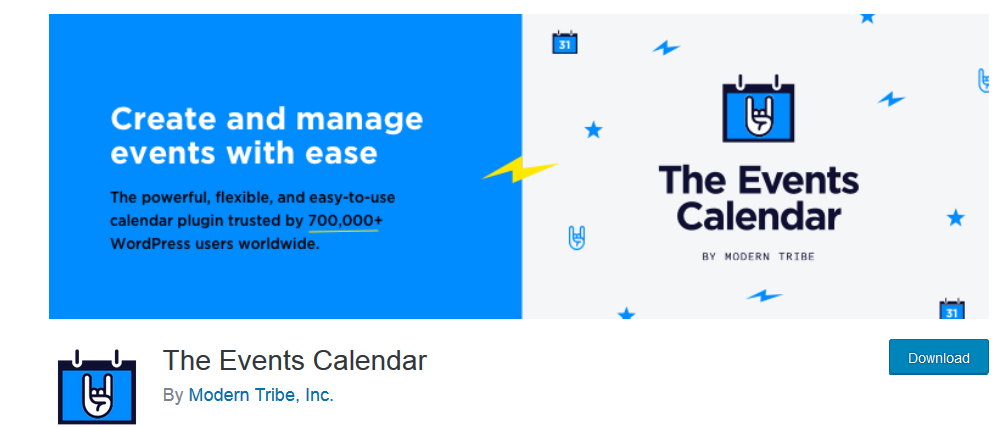 With over 700,000 active installations, the Events Calendar plugin is one of the most used WordPress calendar plugins. What's makes it so popular is its intuitive interface and a wide range of powerful event management features.
The plugin is offered in both free and premium plans. Although the free plan is quite basic in terms of features, it's very functional. It offers some excellent core features. For instance, it has built-in search tools that allow users to search for specific events in the calendar.
What's more, it allows you to post events using three viewing modes. You can also add time, date, event location, cost, and other information pertaining to the event. The Event ticket, for example, which is a free add-on lets you sell tickets as well as manage the attendee.
The premium version, on the other hand, retails at $89 per year, and it adds features such as widgets, additional views, recurring events, and more.
What makes the Events Calendar plugin so usable is the simplistic user interface and settings that let you adjust options such as the style sheet, template, the content, and the number of events displayed on the page.
It also offers settings for CSV files importation, iCal, Google Calendar and Google Maps integration, all while being mobile-friendly. The plugin is ideal if you regularly host events or concerts.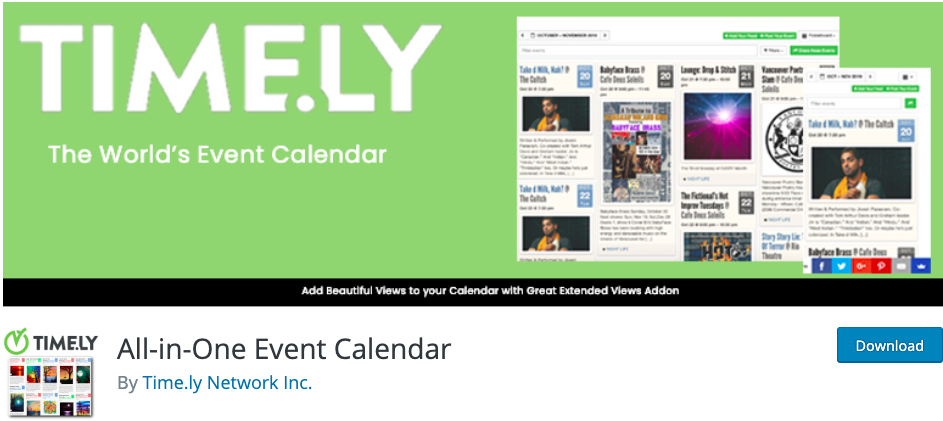 With over 100,000 active downloads, the All-in-One Event Calendar plugin another great option for WordPress website owners. It's offered for free or with a pro license.
The calendar offers powerful features on a simplistic interface, which makes it easy to manage. Some notable features include the Timely Network feature that lets you add events collectively with your network.
Some essential features offered by the free plan include easy sharing and events filtering. For example, you can export and import and let your calendar display on other websites.
What's more, you can display Google Maps and recurring events, even with the free version of the All-in-One Event Calendar plugin. These features are only accessible to premium users in the Events Calendar plugin.
If you would like features such as advanced search and filtering, public event submissions, it is better you opt for their premium plan, which starts at $29 per month. For a ticketing add-on, the price is slightly higher, which is $59 annually.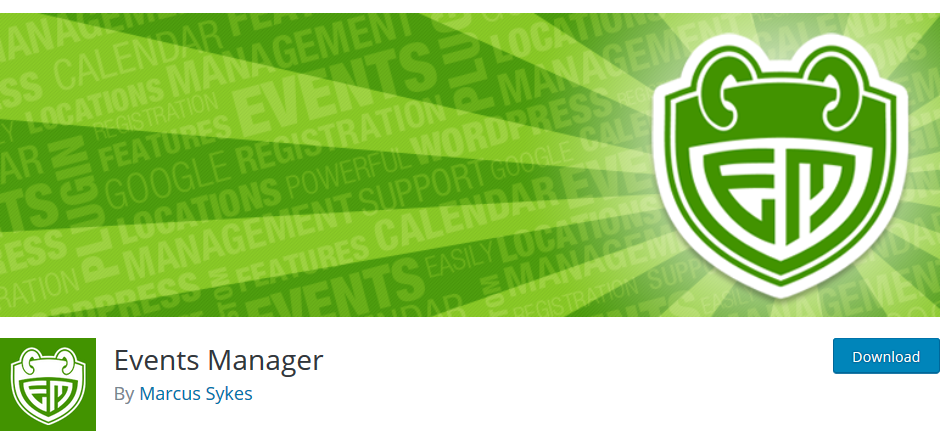 Developed by Marcus Sykes, the Events Manager plugin is one of the most outstanding WordPress calendar plugins. Currently, the plugin boasts over 100,000 active installations. It offers both free and paid plans.
The plugin is designed to provide you with power, reliability, and flexibility. It offers a pretty intuitive interface that allows you to schedule recurring and multiple events. It also supports BuddyPress, hence allowing users to submit group or personal events.
What's more, the Events Manager plugin supports Google Maps integration and lets you manage bookings, multiple ticketing, and pricing. However, to use additional features like PayPal integration and the discount manager, you'll have to subscribe to the pro license.
What makes the plugin so unique is that it allows users total control when it comes to managing their events and also integrates seamlessly with WordPress Multisite. This makes it a breeze for users to create events.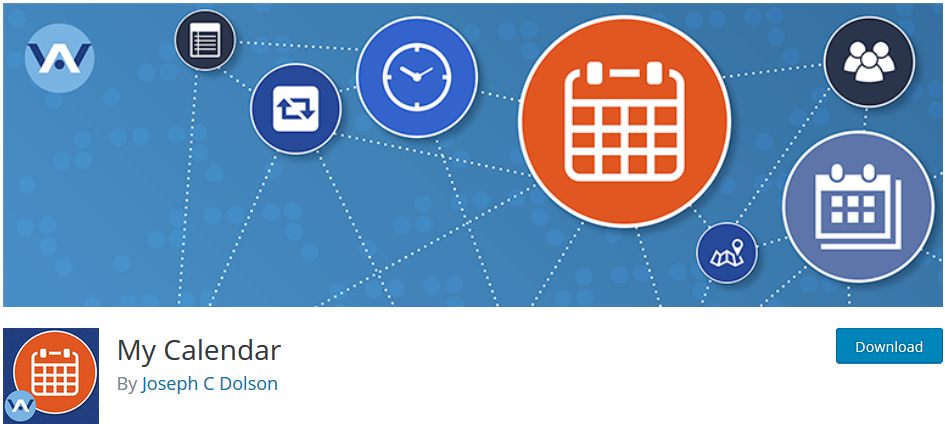 The My Calendar is yet another powerful WordPress events calendar plugin. With over 30,000 active installations, the plugin supports WordPress Multisite and is one of the few options that offer excellent accessibility for people with disabilities.
The plugin lets you schedule recurring events, conduct event searches, add widgets to your site, and display – daily, weekly, or monthly events for your visitors. Furthermore, you can edit customize the calendar to match your website's design by editing the JavaScript and CSS code.
For more advanced features, you can opt to pay for the annual plan that costs around $49 or the permanent license that costs $179. The premium plan allows you to create an event form a post and use the responsive mode.
Apart from that, the premium version allows the participating parties to receive notifications via email whenever new events are created or reserved. The settings can also be adjusted to post the event directly to Twitter when need be.
The My Calendar Plugin is an excellent choice for users who wish to manage more than one site and calendar. The allure with this plugin is that it enables one website to host multiple calendars or multiple websites to host the same calendar via the same WordPress page.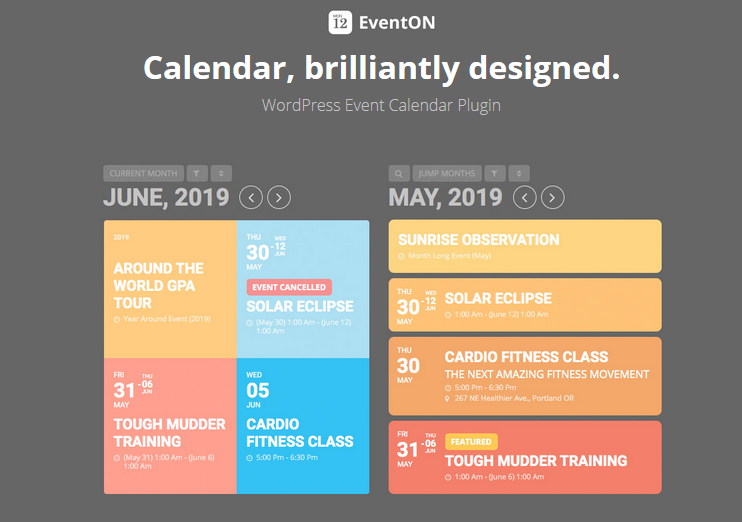 Yearning for a WordPress plugin that will let you design calendar events while allowing you to choose time, date, and address? The EventON plugin is your best bet.
Developed by Ashan Jay, the EventON plugin is one of the best-selling calendar plugins on the Envato market retailing at $25.63 (As at the time of this writing). The plugin boasts over 47,000 active installations and has a 4.4-star rating on CodeCanyon.
Beautifully crafted, the EventON plugin offers a minimalistic take on calendar design, making it easy to configure and promote your events. The calendar allows you to add events images and insert Google Maps and directions into each listing. You can also add colors to your calendar.
Furthermore, the calendar comes with a shortcode generator, which allows you to make it mobile responsive. It also has an appearance editor that enables you to customize it to fit in with your website's design. For calendar displays, you can choose different options such as tile, list, or grid style.
With EventON, you can schedule recurring events or one-time occasions. One great thing about this calendar is that it's searchable, which makes it super easy to find an event.
The thing about this calendar, however, is that you need to purchase the WooCommerce integration to get booking and ticketing features.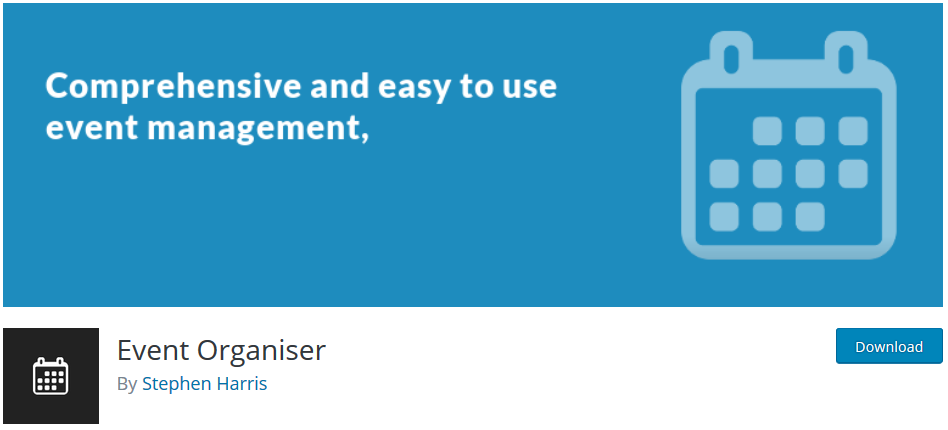 The Event Organiser is another lightweight option that's offered in both free and premium plans. The calendar is created with developers in mind, though it's also easy to use for casual users.
The plugin lets you create recurring and multi-day events and includes comprehensive rules on how often events should repeat. It also offers venue support, including Google Maps integration and its intuitive interface makes it easy to edit the event details.
Beyond that, the plugin includes a number of widgets for displaying your events and some shortcodes for embedding calendars onto your site and for controlling what precisely shows up. For example, whether or not to show the venue filters.
Users can also create pretty permalinks, color code event categories, and add, edit, or delete past events from the backend admin portion. You can also get customizable ticket booking templates with the Event Organiser pro to enable your visitors to purchase tickets or book specific events.
With the paid add-on you also get extra functionality such as integration with popular gateways such as PayPal, Stripe, iDeal, and Pro-Offline. Note that the developers of the plugin used British pronunciation, so when searching for the plugin search for "Organiser" instead of "Organizer."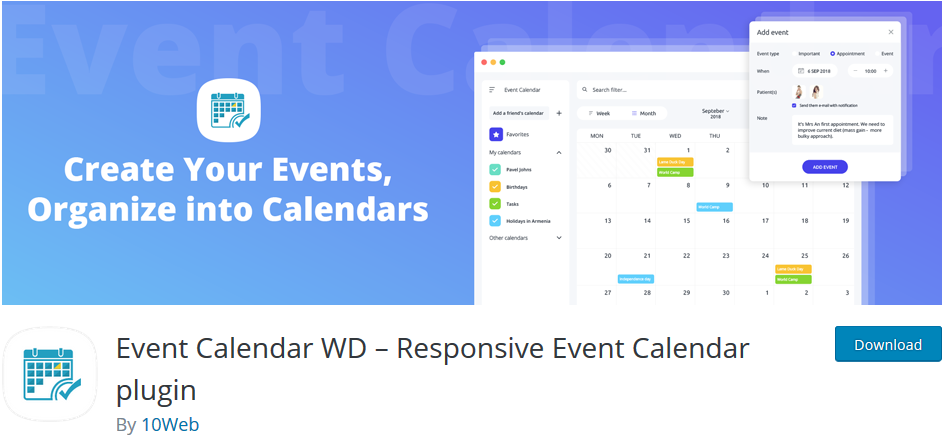 The Event Calendar WD is another effective WordPress plugin for users who need responsive and SEO friendly calendars. With over 20,000 plus active installations, the Event Calendar WD offers a user-friendly interface that allows you to add and manage events on your site.
The plugin is highly flexible such that it allows you to create single-day, multi-day, and recurring events. There is no limit to the number of events that you can create. This means that you can create as many events as you want.
You can also personalize your calendars to give them a distinctive appearance thanks to the various view options, five customizable calendar themes, and the unending list of customization settings.
Apart from that, the plugin is SEO friendly. Therefore, whenever you add an event to your website, it is optimized for better visibility in the search results. Its layout is also responsive to ensure that it offers flawless calendar display across various screen sizes and devices.
The plugin offers more than 14 premium add-ons for various functionalities such as selling tickets online, displaying upcoming events, and events countdown.
Last but not least, the plugin integrates seamlessly with Google Maps making it super easy for your guests to locate event venues.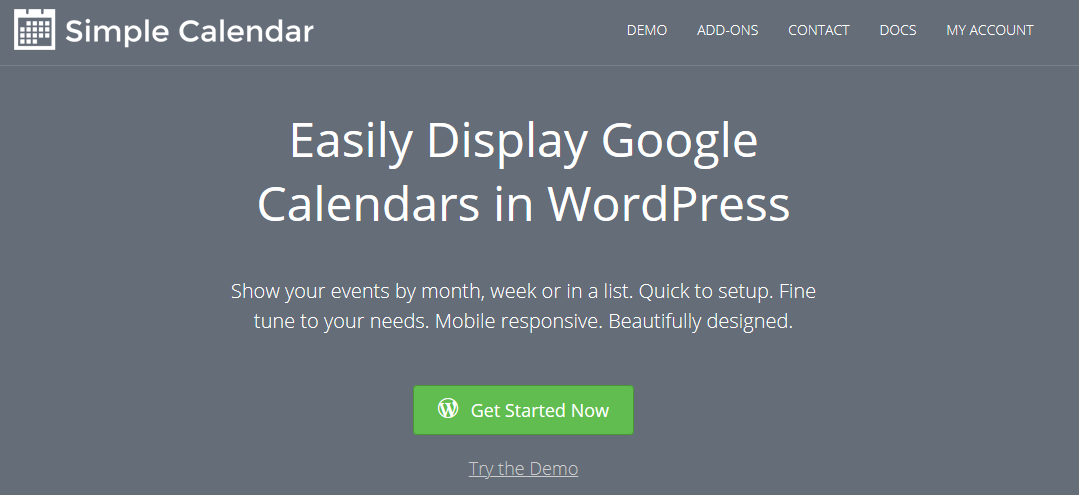 The Simple Calendar is one of the easiest WordPress calendar plugins to set up. Designed by Google, the plugin integrates seamlessly with Google Calendar, allowing you to use it as a feed for your WordPress site.
It also allows you to combine several calendars when need be. The calendars can also be adjusted automatically to sync with the local time zone for international users. Apart from that, it allows you to display events in a list or calendar form.
Another noticeable aspect of the calendar is its elegant design that ensures that it's fully responsive and mobile-friendly. In fact, you can set or create events from your phone app.
Once the events are created, you do not need to keep updating the calendar as it automatically updates itself once a new event is created regardless of whether the event is created from the phone app.
Customization is also very easy since very little coding is needed. For example, you can highlight the events and color co-ordinate them. However, for features such as ticketing, you'll need to use a third-party service.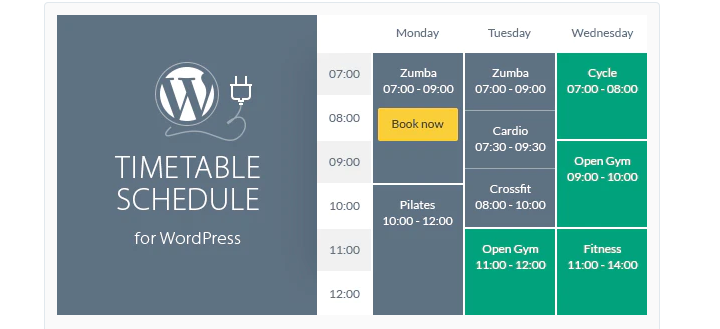 Featuring a modern and sleek interface, the Responsive Timetable is a feature-rich and responsive WordPress calendar plugin. It's perfectly designed to help you showcase events in a flexible manner on different devices.
While it works in a similar way as other plugins in the list, one noticeable feature is its ability to display four events simultaneously in the same time slot. This makes it a great option for breakout sessions or conferences where numerous events happen at the same time.
There's no limit to the number of events you can create with this plugin. Furthermore, you can add custom fields with reservation links and prices.
Another appealing feature is the calendar's built-in Live Editor tool that simplifies the entire process of creating and scheduling an event a breeze. There's also a shortcode for embedding calendars on your website.
When it comes to calendar layouts, the plugin offers three options that you can choose from. You can also choose a style to match your template and your own custom color.
What's more, the calendar has a unique custom feature that allows a pop-up to appear on your website when there is an upcoming event. This feature comes in handy whenever you need to drive traffic to your website. You can, however, customize the feature to fit with your needs.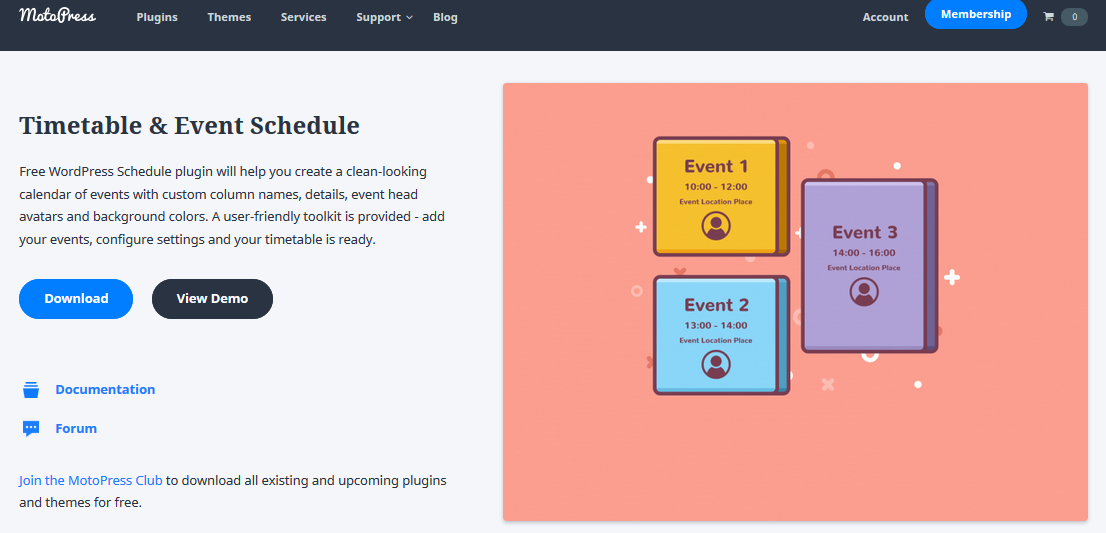 If you run a website that relies heavily on mobile website traffic or where you need to book your clients, then the MotoPress Timetable and Event Schedule plugin is what you need.
Build with mobile responsiveness in mind, this free WordPress plugin is an all-rounded calendar toolkit for timetabling different events such as concerts, conferences, lessons, and gym classes.
The plugin comes with a color-coding system for categorizing and classifying different types of events as well as a shortcode for easy embedment onto your site. The shortcode generator also makes it easy for non-techy WordPress users to customize and set it up.
Furthermore, you can apply language and filters to make the calendar searchable. However, given that multiple calendars are allocated a single ID, finding them is very easy.
Basically, the MotoPress Timetable and Event Schedule plugin allows you to create and schedule your events on a clean looking calendar. Upcoming events are featured via widget, which is paramount if you want to boost attendance.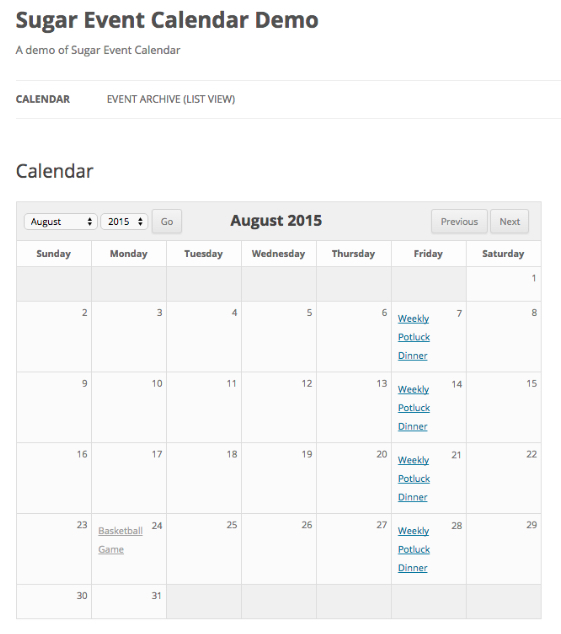 The Sugar Event Calendar is a WordPress event calendar plugin designed to achieve a perfect balance between simplicity and complexity.
The plugin boasts a plethora of features you need to get your calendaring job done and is superbly lightweight to ensure that it conserves your server's resources.
It has an intuitive and user-friendly interface that makes it easy for you to create and schedule one-time events and recurring events automatically on a daily, weekly, monthly, or annual basis.
When it comes to categorization, the plugin lets you assign events based on a specific category or even display a master calendar composed of all categories. You can also set events to occur on a specific day as well as assign start and end times.
One unique feature with the Sugar Calendar is that it is available in 8 different languages, which means it's fully localized. To enhance the user's experience, you can enable the Ajax calendar view.
On the Bottom line, the Sugar Calendar offers a clean, reliable, and streamlined approach of creating and scheduling events on your website.
The Stachethemes Event Calendar is a premium WordPress event calendar plugin that offers a unique approach to the classic event calendar concept.
Featuring a modern design, this WordPress event calendar plugin is fully optimized for mobile to ensure that your events are displayed in an easy to read and navigate manner.
The plugin allows you to add all kinds of details and information about your events such as the directions, location, guest list, weather forecast, and comments sections. You can create different types of events such as single, multi-day, or recurring events.
It also integrates seamlessly with WooCommerce to enable you to sell your merchandise directly from the calendar or import/export .ics files from Google.
One notable feature with this plugin is the ability to allow your website's visitors to add events to your calendar using the front-end.
You can get the calendars in six different views. Each calendar is customizable in design, color, and fonts. Other features include the ability to work across multiple sites and easily share on social networks.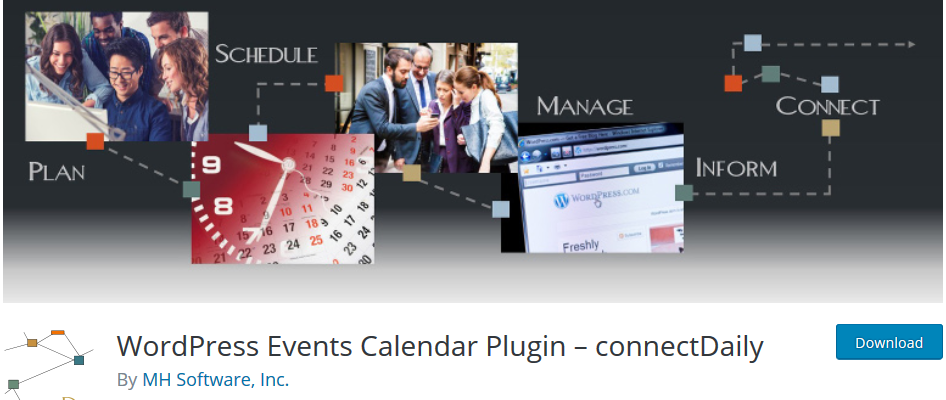 The connectDaily Events Calendar is a WordPress events calendar plugin designed to meet your event management needs.
Responsive and mobile-friendly, the connectDaily events calendar provides a complete event management solution for both casual users and organizations.
The plugin offers a huge feature set such as email and text reminders that notify you when there's a new event or an event that was scheduled.
There is also a public and private event calendar feature that helps define different calendars as well as who is allowed to post an event on each calendar, who is allowed to see each calendar, and who is permitted to approve events on each calendar.
In addition to these features, the calendar offers resource management such that you can allocate and track resources like rooms, people, vehicles, equipment, and other particulars related to your event. This feature helps to ensure that a particular resource is not booked twice.
Other notable features include iCal, RSS, JSV, and CSV data export and import, and social media support that enables you to share posts about your upcoming events and push them to your Twitter account or Facebook page.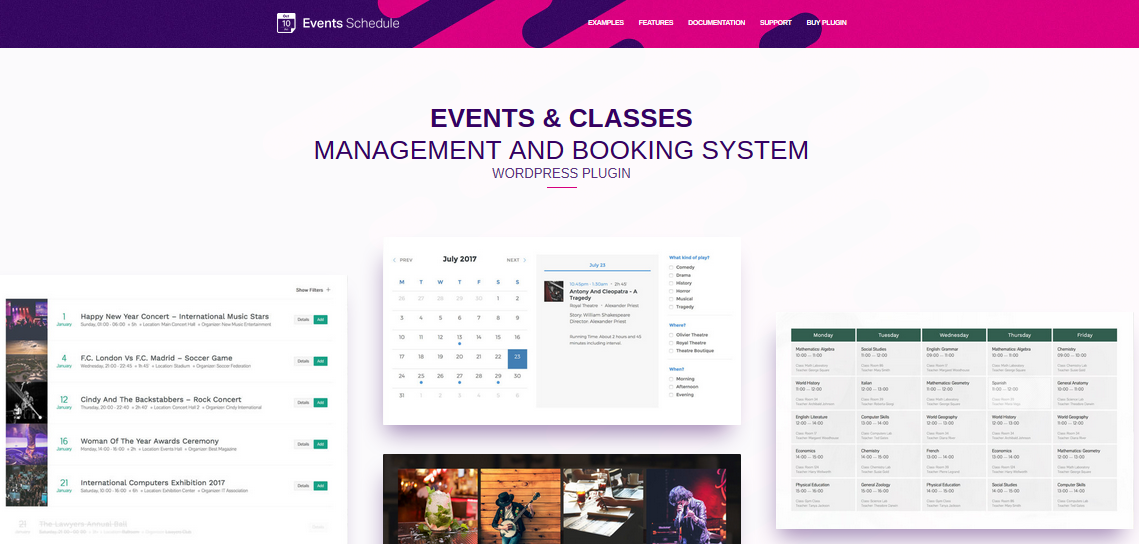 The Events Schedule is a mobile-friendly and premium WordPress plugin for scheduling events. The plugin offers a straightforward way of presenting events to your website's visitors while enabling them to reserve sessions with just a few clicks.
The plugin offers different color options, lists, tabs as well as five different calendar styles. The events schedules are retina ready and you have the option to choose how you want to filter your events.
If you want a more active role when it comes to managing your events, there is a visual schedule builder that enables you to add, edit and delete events when the need arises.
More still, this plugin is compatible with WooCommerce and includes other incredible features such as cross-browser compatibility, SEO optimization, and translation support.
So, whether you run an educational organization, community group, or any other type of business that requires you to schedule events, you might want to try the Events Schedule plugin.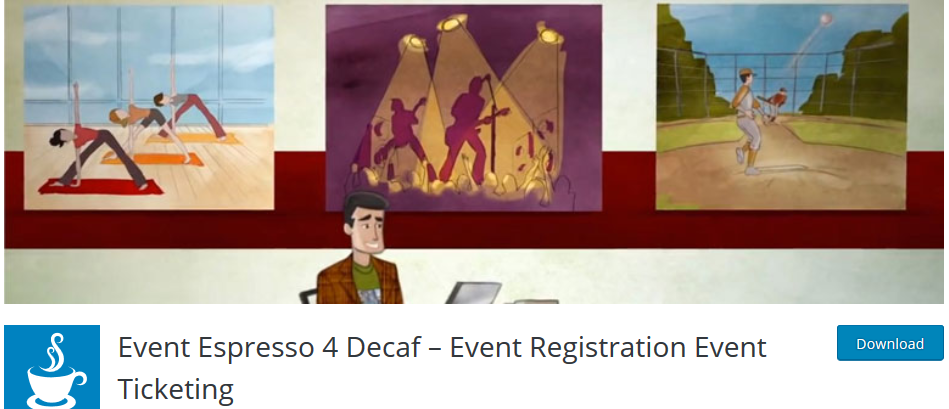 Event Espresso 4 Decaf is a premium WordPress plugin developed to help you create and manage your events from your WordPress admin panel. Its design focuses on people who want to manage ticketing and event registration all from the WordPress dashboard.
Along with that, the plugin supports payments processing via PayPal express checkout, which allows you to collect money in advance so as to cover the costs of the event. Luckily, you do not need to upgrade to a paid plan to use this feature.
It also has a powerful confirmation email system that is used to send custom registration forms, confirmation emails, the payment received, emails, invoices, newsletters, and more.
Its event management system is also detailed and includes features such as Google Maps integration and venue information. Ticketing and tracking are further enhanced by the use of mobile apps.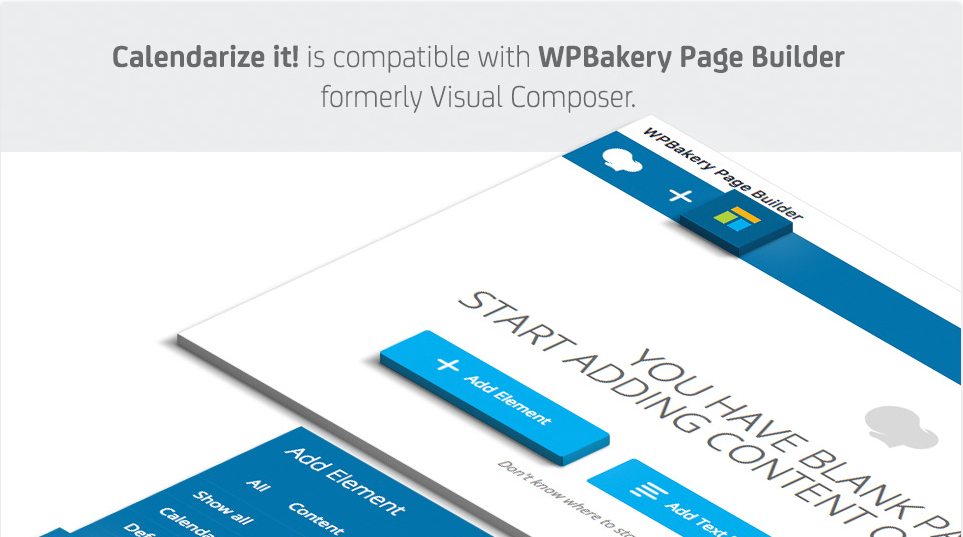 Calendarize it is another powerful event calendar compatible with WordPress. Its feature-rich and offers a flexible solution for creating and scheduling your events.
It has a simple point-and-click interface, which lets you create and schedule events in a matter of minutes. You can choose to create recurring events on a daily, weekly, monthly, or yearly basis. You can also add start and end times.
Customization is also easy and quick with simple drag and drop. There is no need for shortcodes. There are more than 30 content elements and eight predefined templates that you can use to build your calendar.
Furthermore, you have the option to adjust the fonts, colors, and margins using the Visual CSS editor and customize date and time settings based on your region. Venue and event layout customizations are also possible via the built-in layout editor.
The plugin also offers a load of other options such as advanced filter filters with custom taxonomies, upcoming events sidebar widget, Google Maps integration for event and venue page, and dashboard notifications.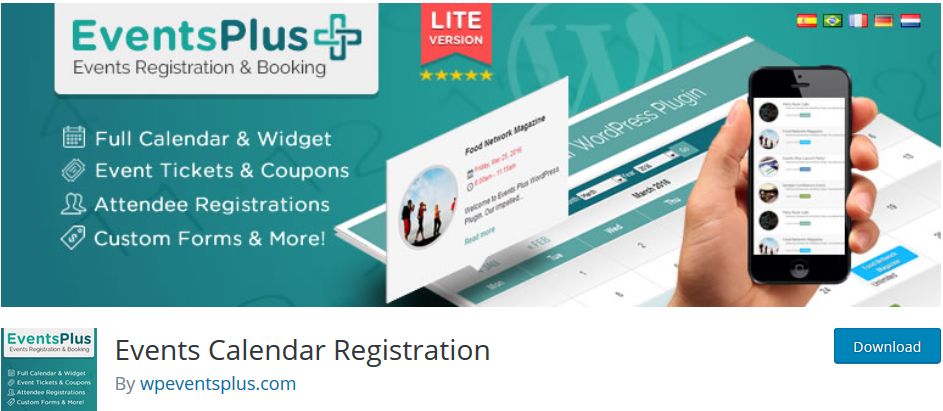 There is no better way to promote an event than through your website. As such, you need a reliable tool to help you with the process and the WordPress Events Calendar Registration and booking plugin does just that.
Beautifully designed, this plugin is coded using the latest techniques and trends to ensure that it's mobile friendly and fully responsive across all web browsers.
With this plugin, you can create and manage events directly from your WordPress dashboard. You can also register events, manage attendees, exports the list of attendees, and create discount coupons.
To create an event list, all you have to do is paste a simple shortcode or use a dedicated widget. You can also add important information and details to your events such as the event location, date, time, and the number of remaining seats for your event.
Beyond this, you have the power to customize the colors and the layout of the events grid. For example, you can set the calendar in such a way that visitors can filter events by name or category. For quick access, all event categories are displayed at the top of the grid.
Beyond this, the plugin allows you to sell tickets. You can create tickets for various prices and time-sensitive coupons. Your visitors can pay for the event tickets via PayPal.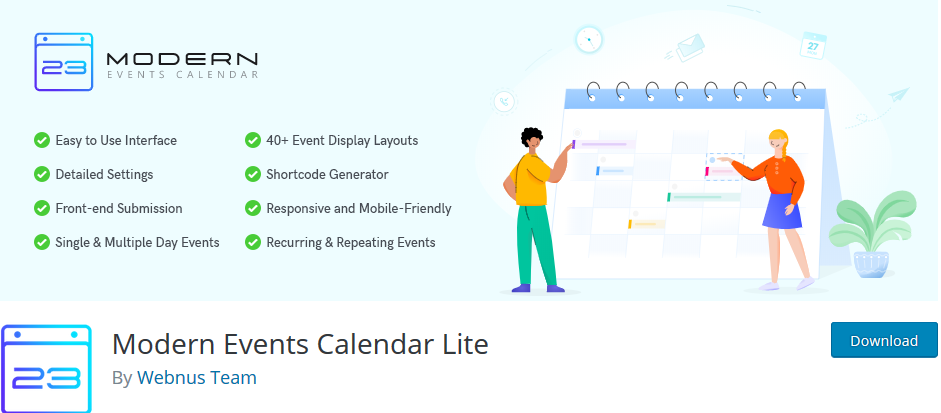 As the name suggests, the Modern Events Calendar is a WordPress events calendar plugin that lets you manage events in the simplest and most modernized way.
It offers a plethora of features with a modern touch to them to enhance the appearance of your website. Creating an event with this is super quick, regardless of the kind of industry your business is based on. Events details can also be imported in just a few clicks.
Beyond that, this plugin offers list and calendar views. There is also an event countdown option. The calendar can also be configured to allow your visitors to book single or recurring events. There is also no cap on when the events have to end.
When it comes to style and design, the plugin offers more than 50 event display layouts with different skins. So you are not limited to choice.
Furthermore, the calendar's responsive design allows your visitors to view it perfectly in all devices. Another thing with this plugin is that it integrates with popular payment gateways such as Stripe and PayPal, allowing you to register attendees and sell tickets on your site.
Wrapping Up
Having a functional events calendar plugin goes a long way into ensuring that your events are completely sold out.
These plugins do not only simplify the event creation and scheduling process but they also go a long way in saving you time that you would have used to email your users back and forth while trying to look for workable dates.
Having said that, it's important for you to consider your needs when you are choosing the best WordPress events calendar plugin.
We hope that you will be able to find a suitable calendar plugin that suits your requirements from the list we've presented you with. Do share your views in the comments section below.