With the buildup of more videos on the internet than ever before, the creation of websites with a majority of videos is popping up now more than ever. That is why we've created a list of the best WordPress themes for videos in 2020.
WordPress and its massive library of themes make this the perfect place for you to create a website with a video background as well. With lots of themes for the right price, there is a setup out there for every creator.
25+ Best WordPress Video Themes – Reviews
Whether you want to build a portfolio site for your video creations or host other people's videos and content on your site, any vlogger, videographer, or media sharing website will like to check out this list we have here.
This list contains the highest quality multimedia and video themes available on WordPress in no particular order.
So let's get started.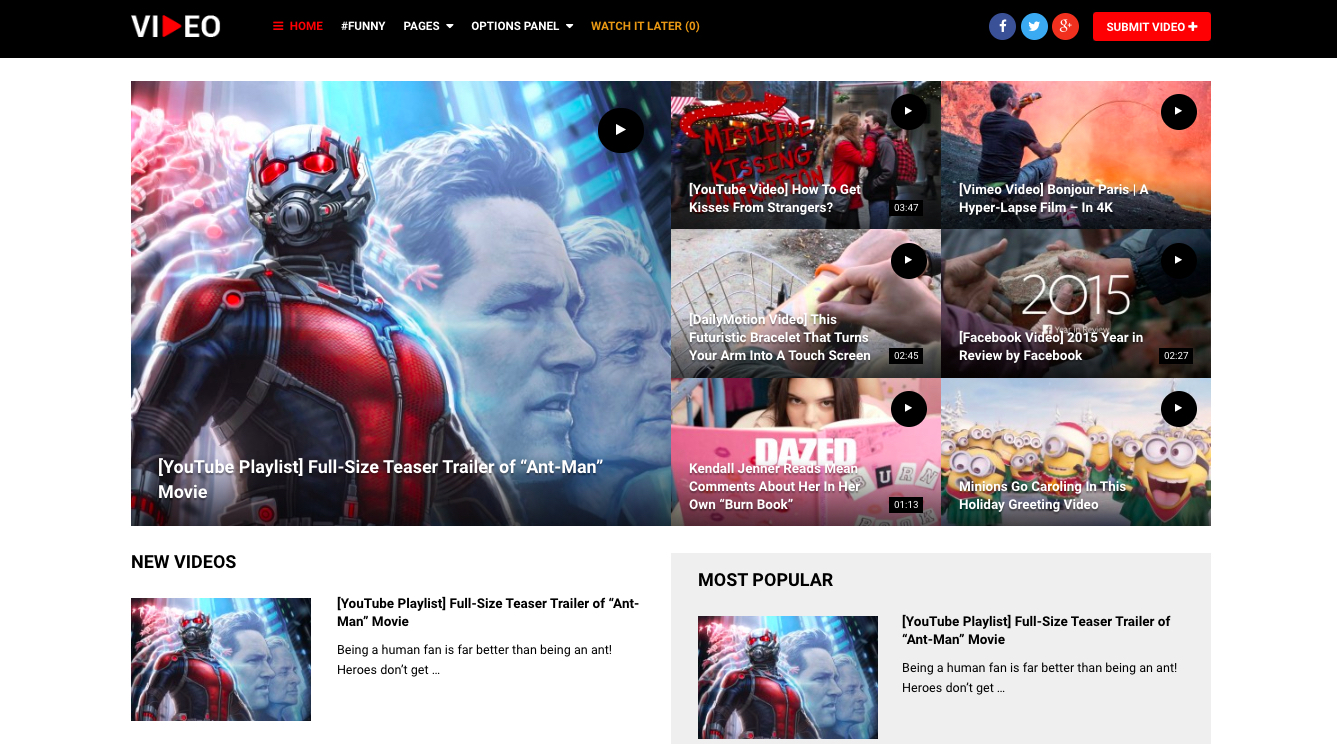 Video is the top-notch WordPress theme for sites that will have a blog with heavy usage of videos. This theme comes with some dynamic features like a like/dislike feature, the ability to create playlists, and more.
One of the best parts about this theme is the ability to integrate it with YouTube to show the view counts of the videos you're hosting. This could be a great way to have some social proof stirred up for the videos you upload.
This theme comes with different homepage layouts and useful widgets to build your site as your own and sidebar easily.
Video is also optimized for speed and SEO ready right from the jump, giving your website a setup that's ready for viewers right from the start.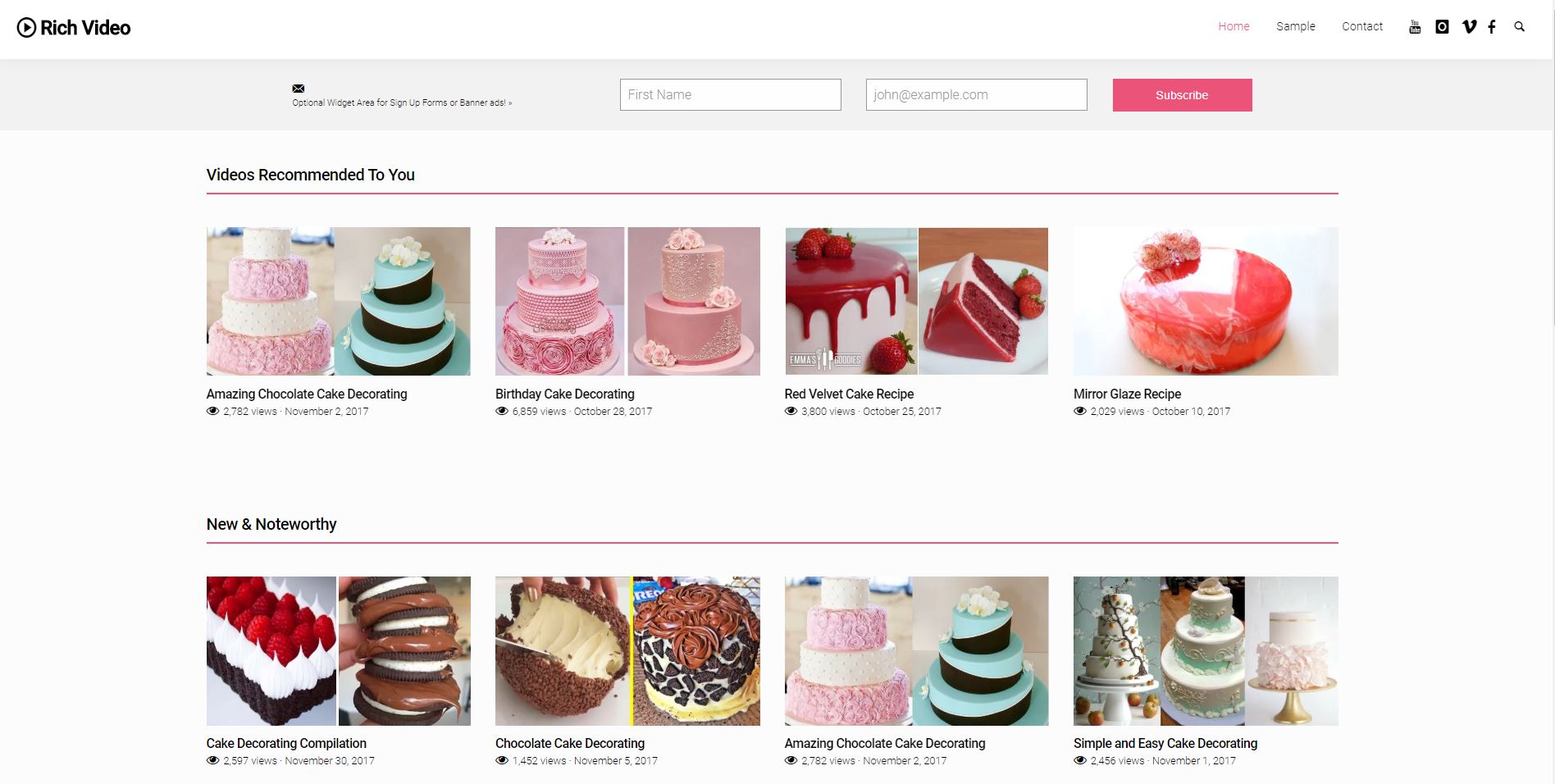 If you're looking for a modern type of theme to run your WordPress site, Rich Video could be the theme for you. It has a modern design and is designed specifically not to have a sidebar.
Taking out the sidebar allows you to display lots of posts on one page, which will immediately allow your viewers to get the content they're looking for. You can change up the videos that show up with special widget areas like featured posts, new videos and more.
Rich Video is a very SEO/Search Engine friendly theme. When it comes to code quality, it can't get much better than this theme. Search engines want to get into your sites and read the code, but if it's hard to understand, they'll leave your page and rank someone else higher. That is why having good code quality with a theme like Rich Video is so important.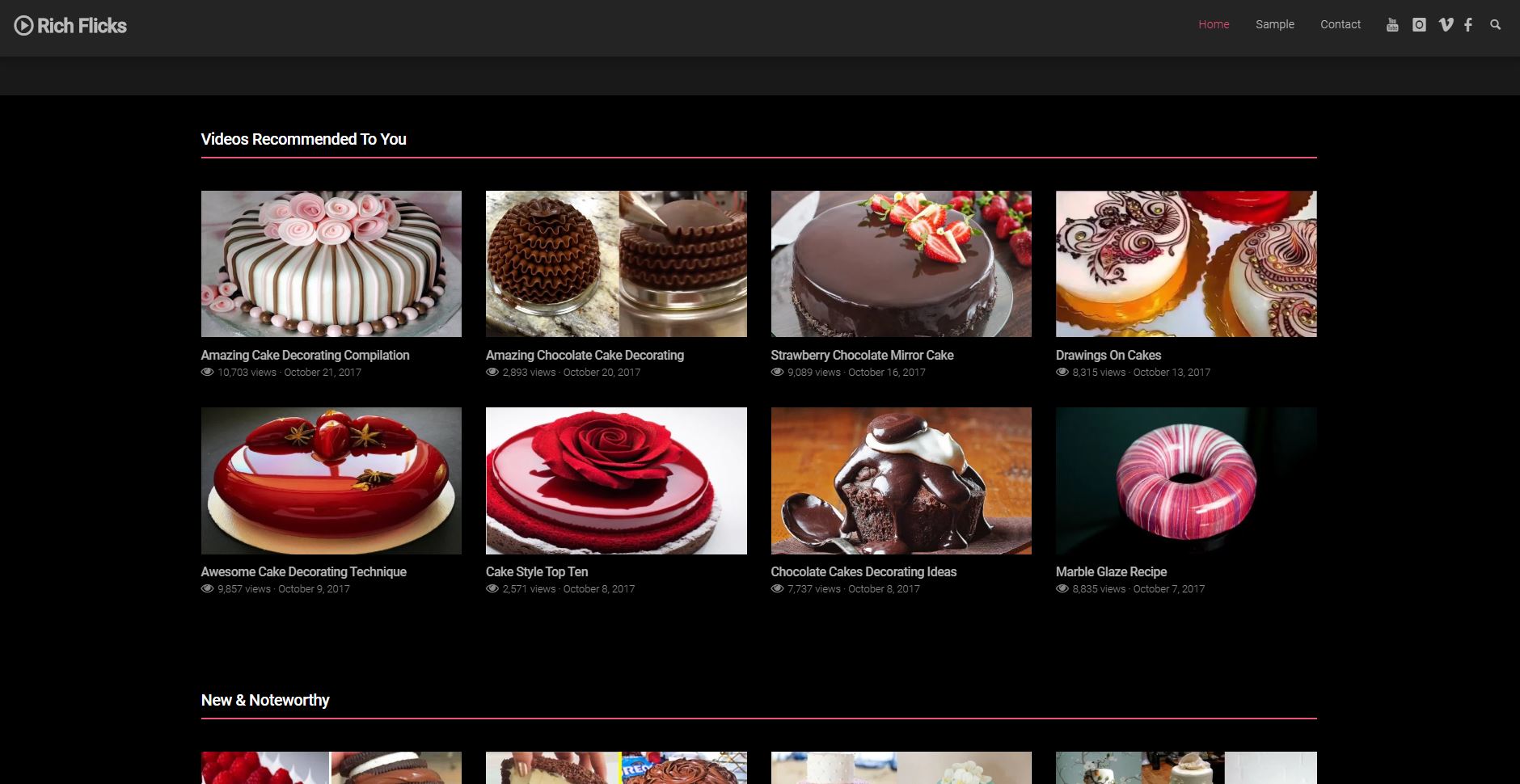 Rich Flicks is a spinoff of the previous theme Rich Video but has more of a dark mode added to it. This might not be the look you're going for, but this version of the theme is inspired by lots of adult entertainment websites and their look.
This gets a high number of videos on the front page and gives you access to things like featured and related content to give you extra page views and help out your whole website.
Widgets are available to be put in lots of different places on the page and have lots of integration setups for you to choose from. The code is set up to be lean and gives you access to top site speeds on WordPress.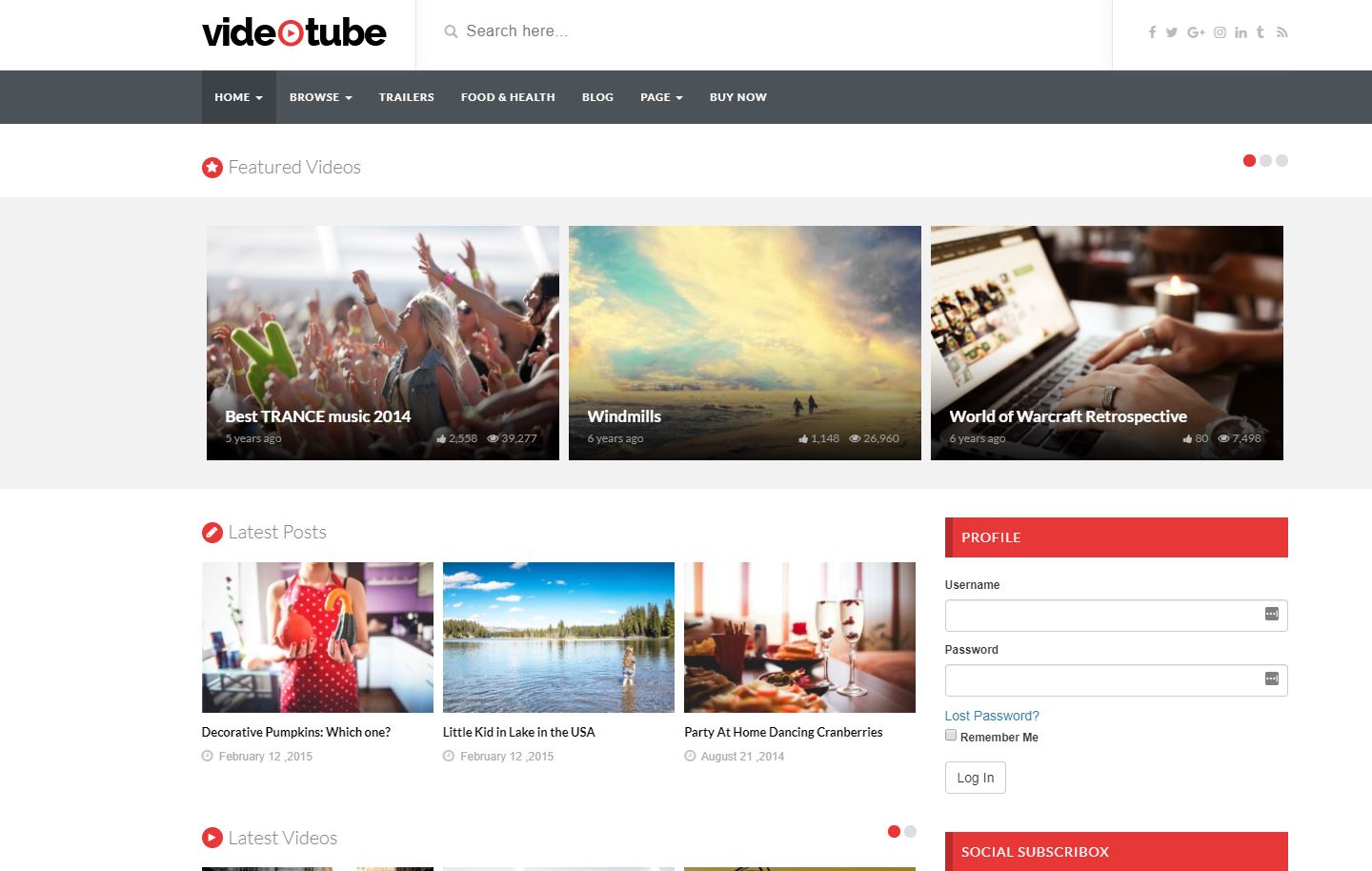 VideoTube is able to give you a fully responsive WordPress website right from the jump with this theme. This theme not only looks great for video and audio streaming but has some awesome features that help ith collecting and posting the content you want on the site.
Whether you're posting videos from the top websites like YouTube, Vimeo, and more or posting original content only on your site, posting and sharing videos using VideoTube is fast and easy.
A bonus feature that could push this theme up your priority list is the ability of your audience to submit their own videos and contribute to the website as well. If you are creating a crowd-sourced content website, this might make VideoTube one of your top themes to try out.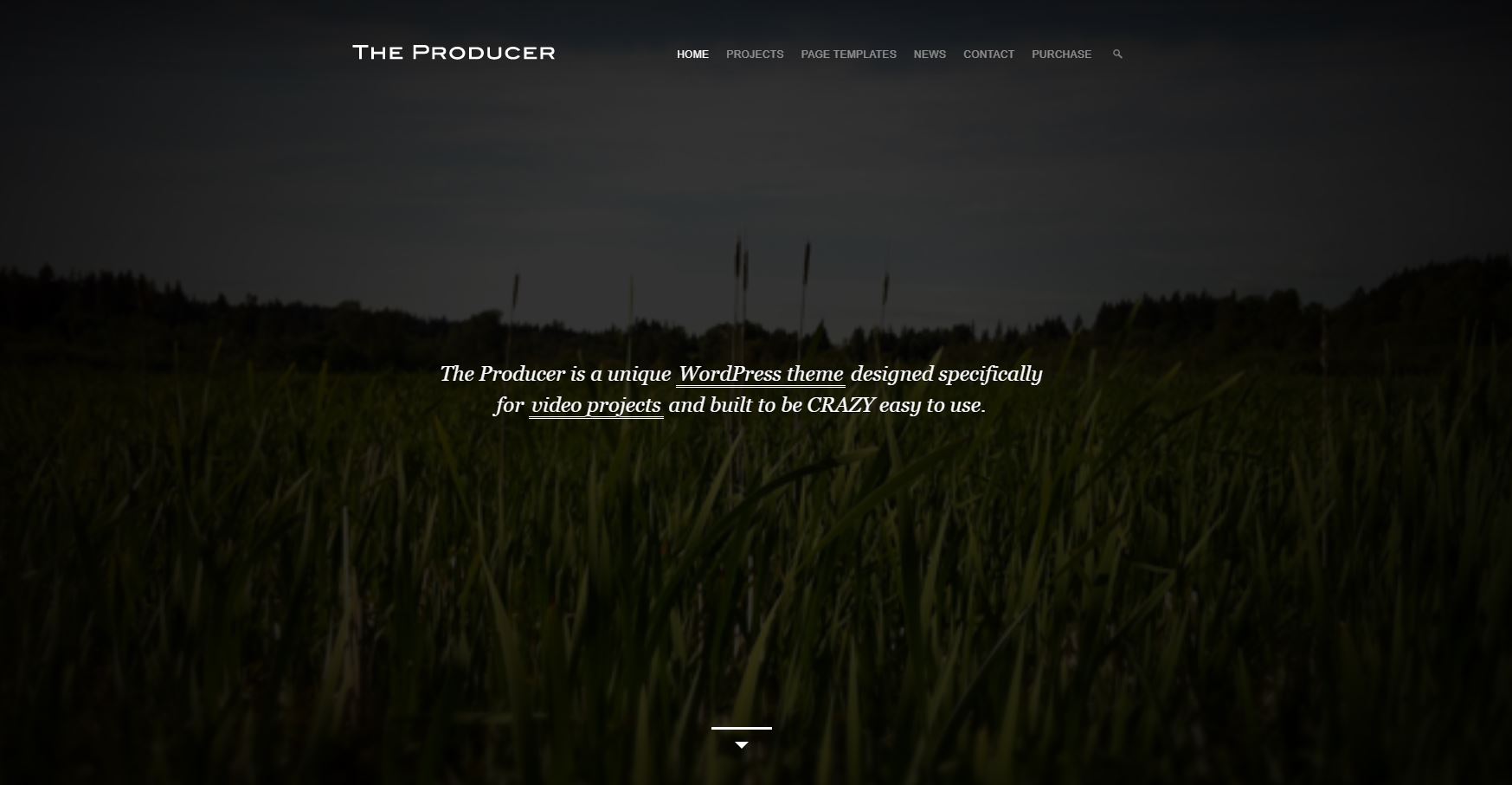 The Producer theme is a special theme for all the independent filmmakers out there. If you're starting a film studio, a production company, or just looking to show off your independent videos, then this is probably the theme you should be using.
This theme not only holds videos but is entirely designed around showcasing those videos in the spotlight.
It has a responsive design so your audience can be sure to enjoy your content no matter what they're watching on.
This theme comes with light or dark skins so you can customize based on the mood of your content. It also has a unique panel effect while scrolling down along with a credit roll effect as well.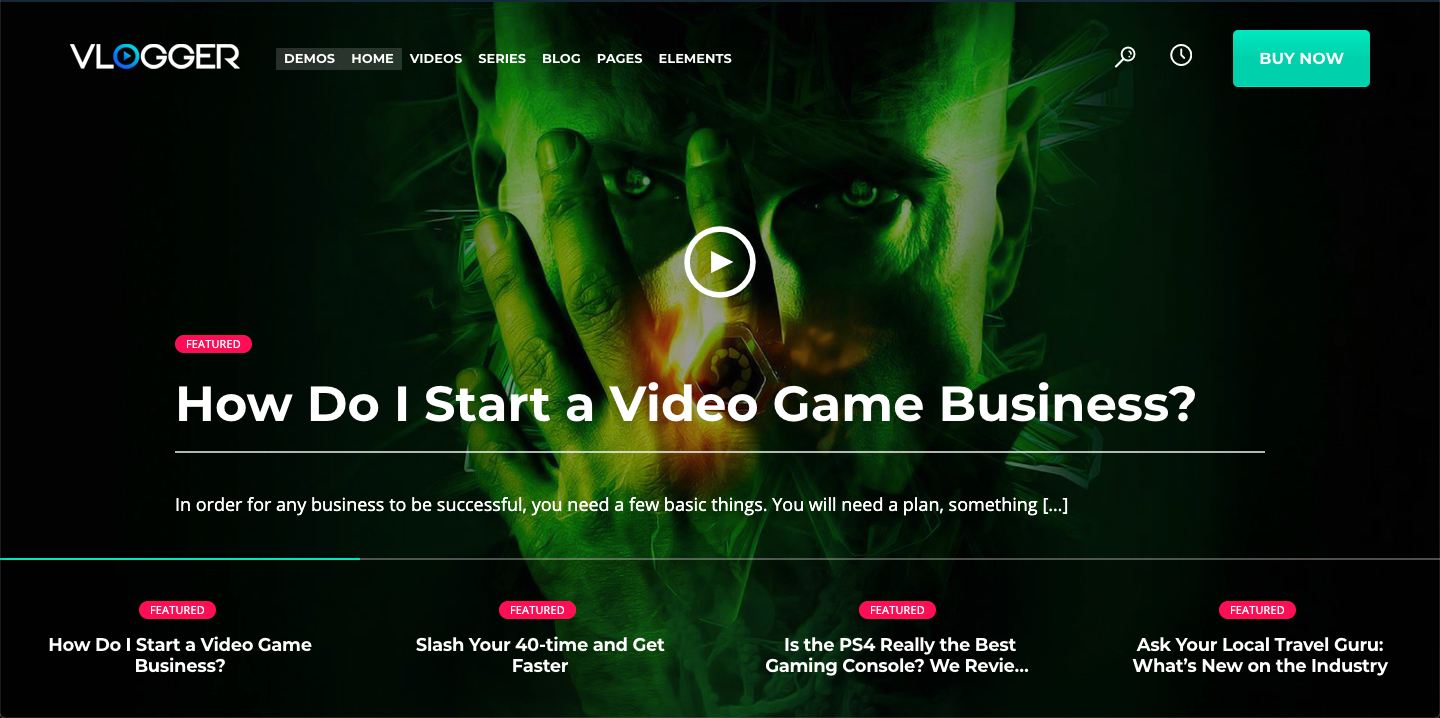 Even though this theme is called Vlogger, it is so much more than just that. Not only is this theme perfect for the up-and-coming vloggers on the internet, but this is one of the most professional-looking themes on this list.
This means if you are a YouTuber or make video blogs, then this theme can work for you. If you also make video tutorials or independent films, show off your content with this. Any kind of video will look great using Vlogger.
With features like social sharing, ability to like posts, number of views and ratings, social proof is off the charts with this theme. It uses the drag-and-drop builder Visual Composer to make things easier on you on the backend so you can customize your site to your liking.
Vlogger also promotes its 12 different widget slots for monetization, so if you're looking to monetize your site at any point, this many ad slots could definitely be a reason to get this theme.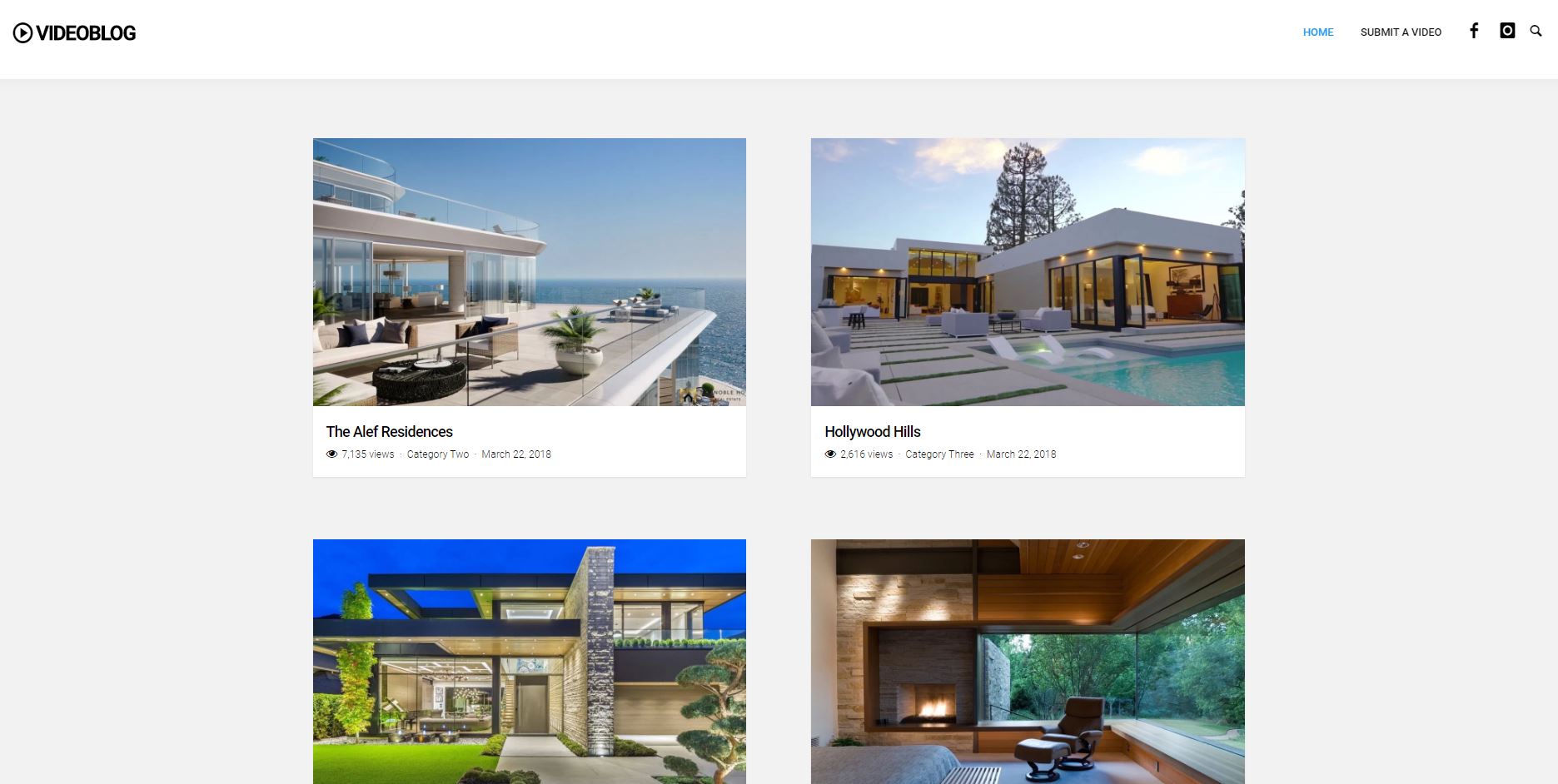 If you're looking for a theme to show of your video blogs, but you want a minimal design so your videos can really pop, then Video Blog is perfect for you. Minimal design is the hot thing nowadays and this theme understands that.
It's fully responsive, so you're able to view the site on your smartphone while also putting it on the big screen for your videos to shine.
With customization, you can change the color design and things like the buttons and your logo to fit with the brand of the site you really want.
Minimal designs are great not just because they look good but also usually because they are simple and fast, which helps you out with SEO purposes.
Search engines love when a site is coded easily so they can check out your site with ease and rank your pages higher.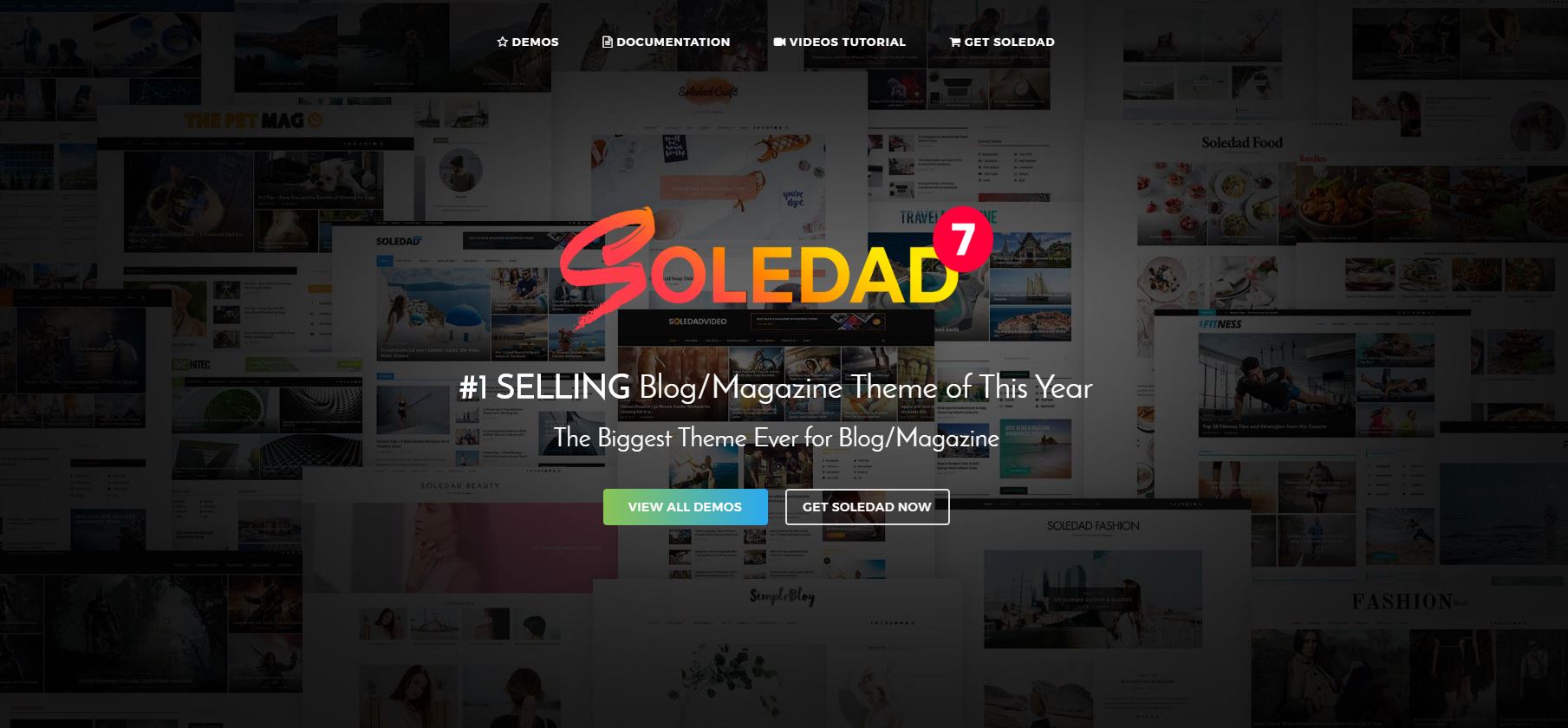 Soledad is one of the most flexible themes on this list. It is an easy to use WordPress theme and can be used for many types of multi-purpose sites on the web.
With a huge selection of demo sites and page templates, you can find the right fit for your video site within a matter of minutes.
Even though this theme brands itself as a blog/magazine theme, it is still one of the best themes out there to use for your video site. It is compatible with Elementor, which is the most powerful live page builder on WordPress.
Site speed is optimized on Soledad as well. Whether you use Google PageSpeed, Pingdom, or GTmetrix to test your site, you should get high grades from the start with this theme.
With over 6000 different site layouts and demos available to you, Soledad will offer you the unique look that your website and video content need.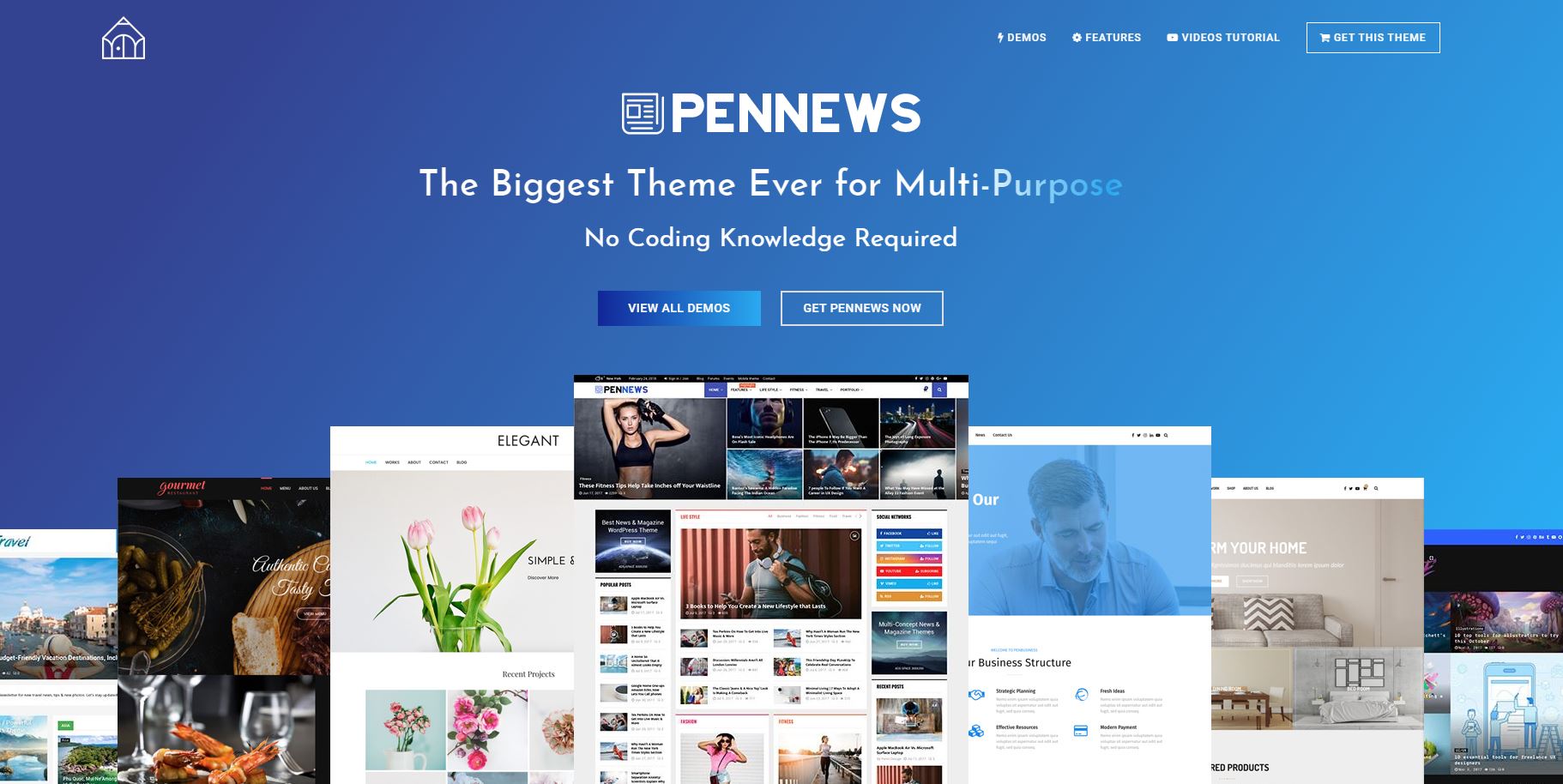 From one magazine style to another, PenNews creates great looking sites for your content and, more importantly, your videos. With its drag and drop editor and 150+ different designs for different niches, every site using PenNews has a unique look to it.
PenNews comes with many premium plugins already added on to it so you can create things like sliders on your homepage and popups for your mailing list with ease.
With 20+ premium plugins and some of them exclusive only to this theme, the limits are endless to the customizations you can put on this site.
PenNews is SEO optimized right away. Created with the help of Google certified experts, whether you need Schema markup or the ability to use Yoast SEO and other SEO plugins, this theme is ready to rank you on the first page from day one.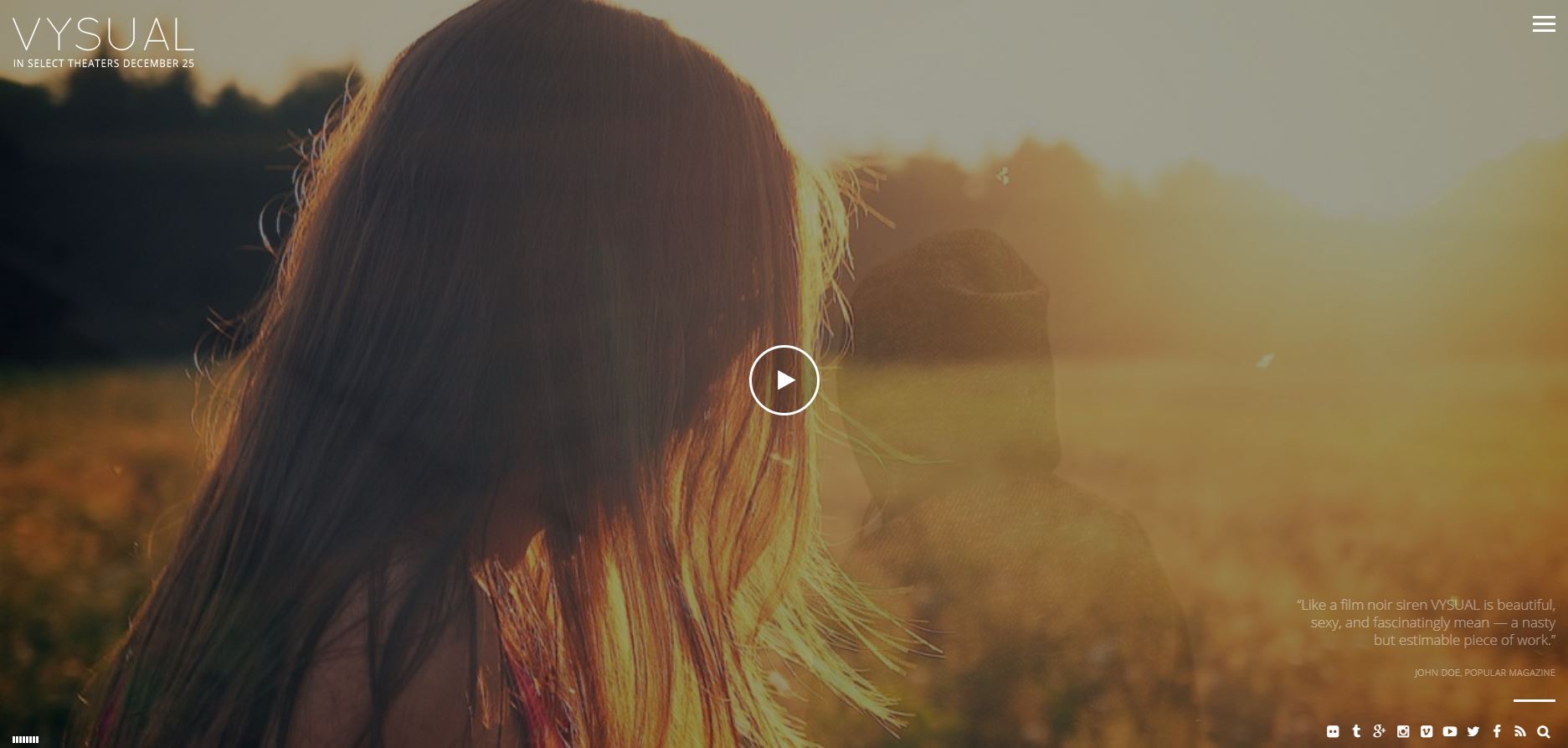 VYSUAL is a premium WordPress theme that is perfect for people marketing their movies and film campaigns. It comes with the ability and support to host YouTube, Vimeo, and self-hosted videos.
You are able to put feature credits in the footer area of your site, which is a good way to show recognition to your team on the movie you made.
With unlimited color options, and an ability to choose a video background or a slider, your site will jump off the page from the first second your viewer lands on it.
VYSUAL also integrates with different post formats and audio players and is able to show off your unique thumbnails you have for the different videos that you want your audience to see.
VideoBox is a clean and modern looking designed theme that is highly customizable. With support on many of the top video sharing websites like YouTube, Vimeo, and Facebook, any content that you post will look great with this theme.
It comes with a popular video tab and carousel capabilities. VideoBox has integrations with WooCommerce, which will allow you to sell products straight from your website as well.
If you have lots of video content and then also want to use sell some eCommerce products as well, VideoBox is the way to go.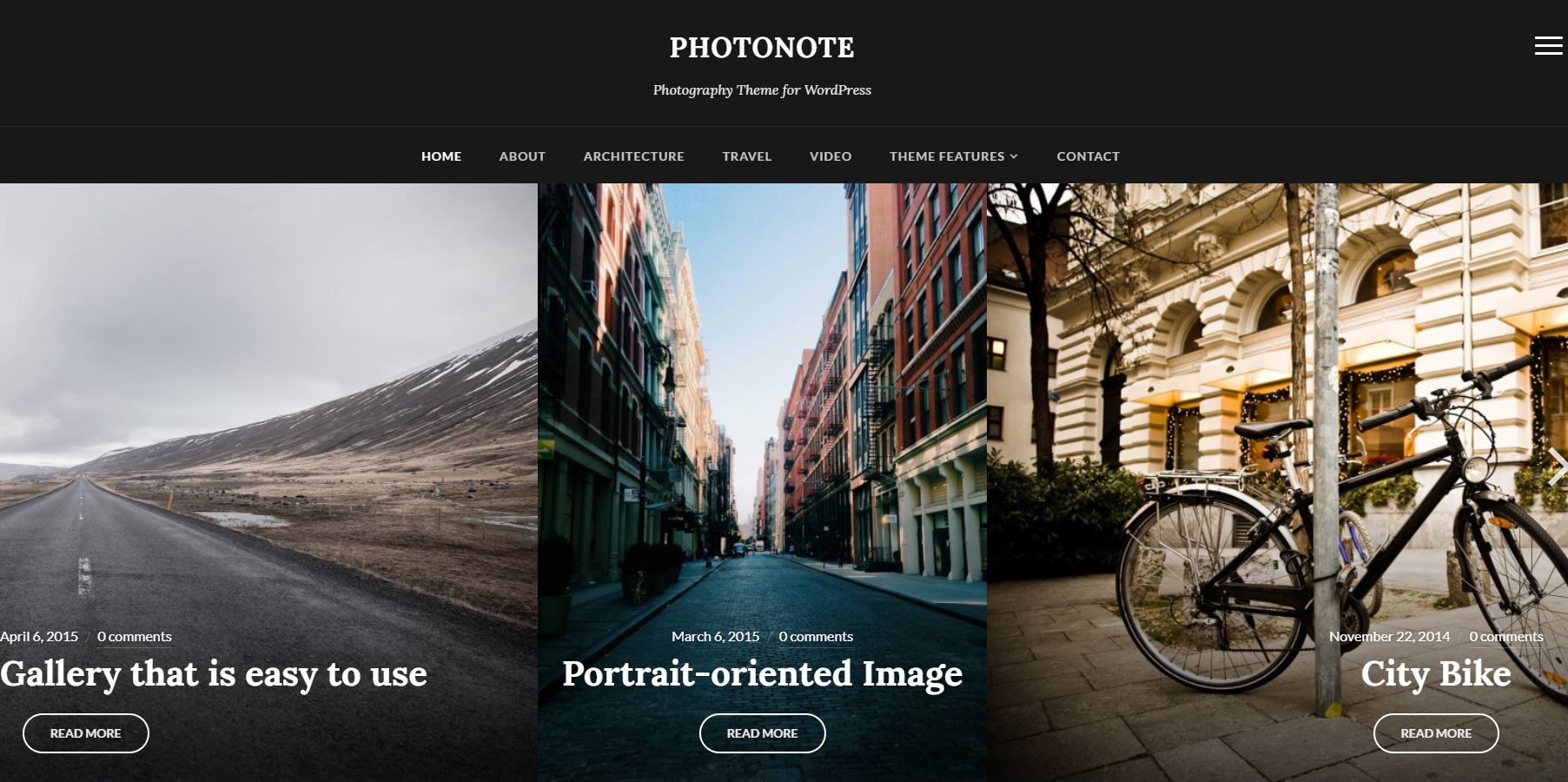 PhotoNote is a theme designed for portfolio websites, specifically photography and video portfolio websites. The homepage has a touch-enabled slideshow that can support images and videos. You can also switch the skins of your site's look between dark and light mode.
The theme comes mobile-responsive ready and SEO friendly code.
PhotoNote is coded using SEO recommended code to help make the most readable and easily read code on the internet.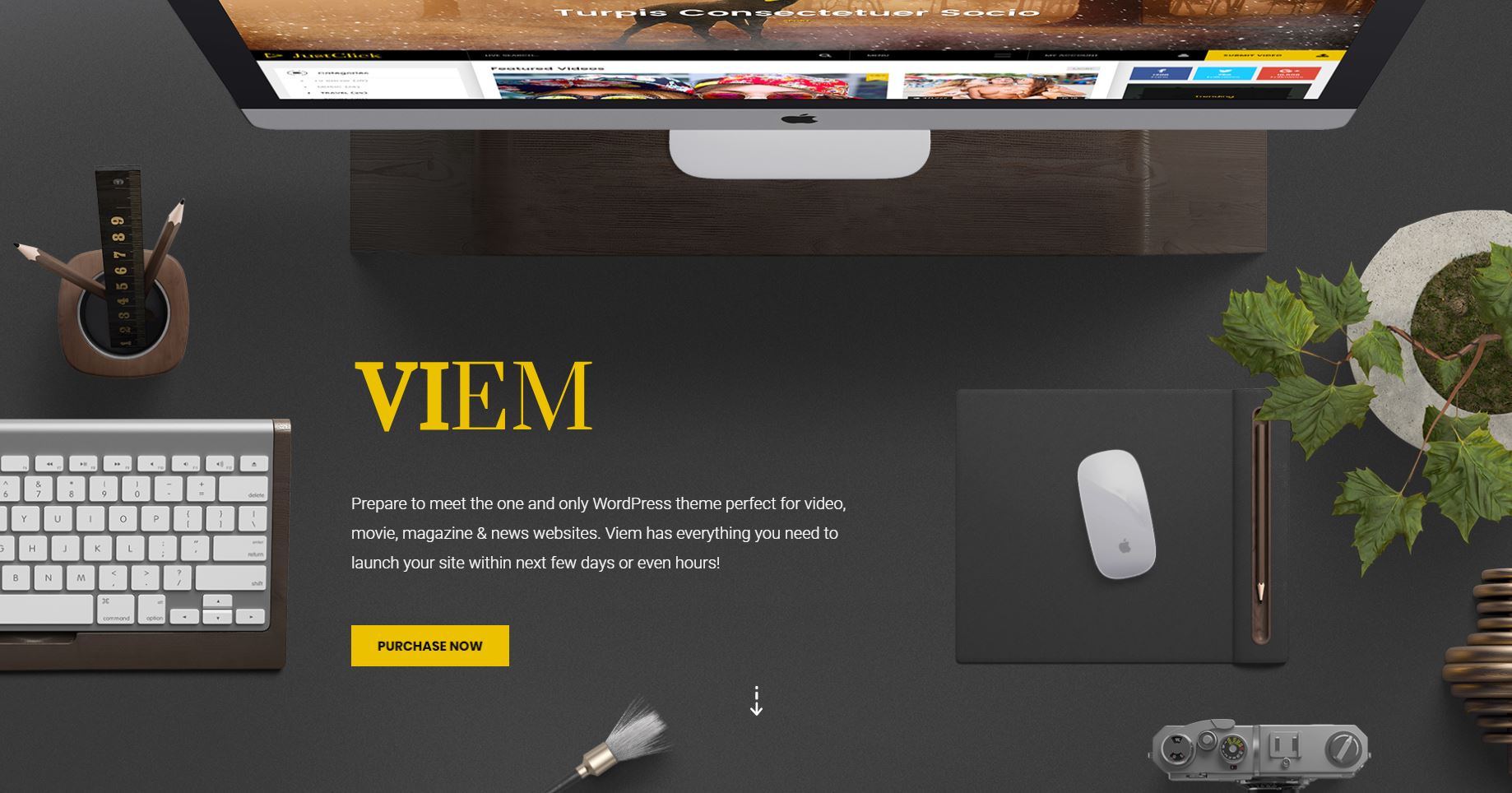 Viem is another great WordPress theme that allows you to share your favorite videos online. Streaming your own video content looks great with their user interface and multiple homepage styles.
This theme includes the popular plugin Elite Video Player, one of the most modern high-end video players available on WordPress. This comes with their own advertising along with integrations with YouTube, Vimeo, Self-hosted videos, and even Google Drive Videos.
They even are upping the ante by including things like YouTube 360 VR and Livestreamin support. So if your film projects include 3d or VR or you're trying to be a streamer, Viem could be great for you.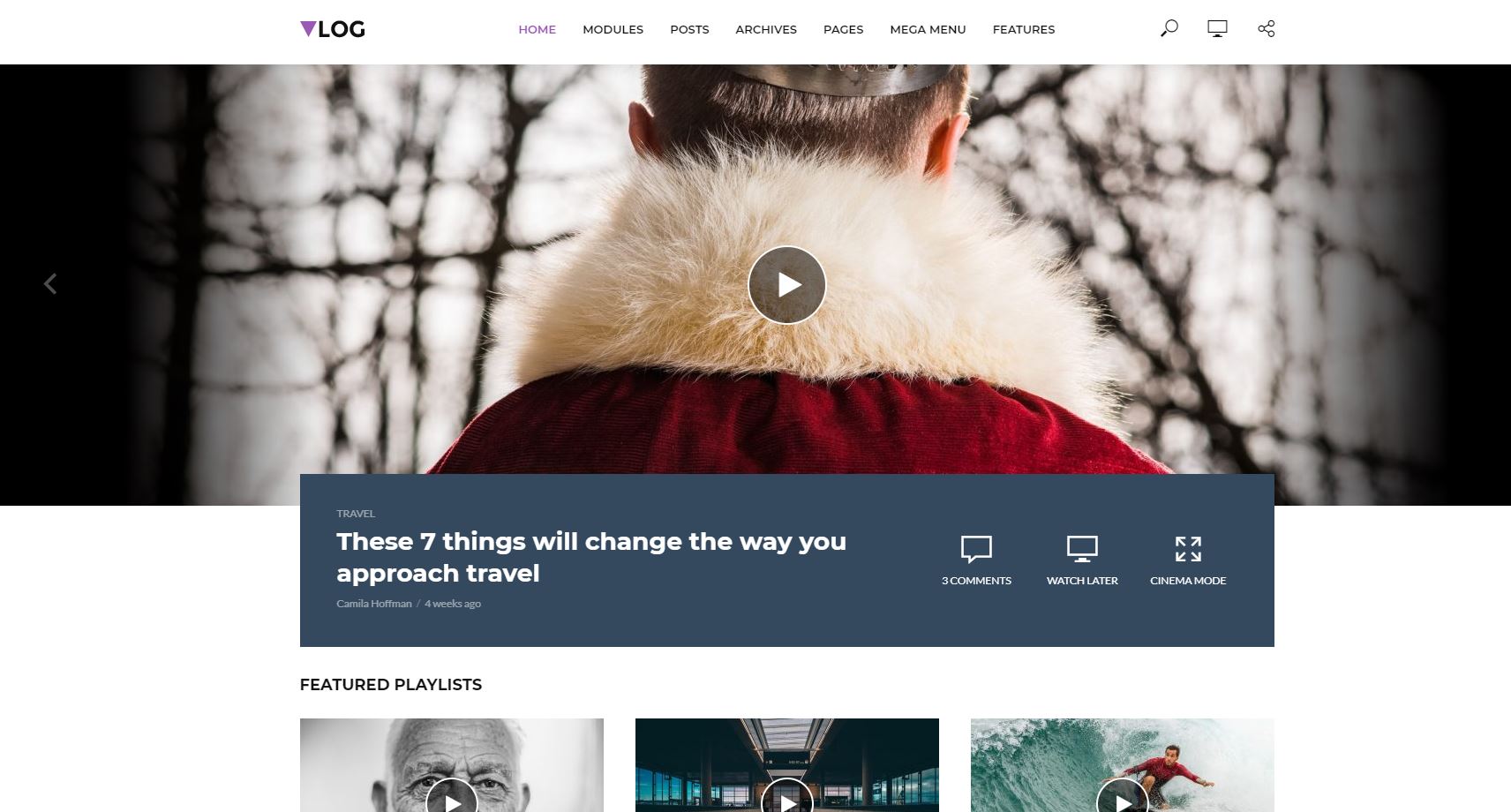 Vlog is a multimedia WordPress theme with a focus on videos. This theme would be perfect for video sharing sites, video blogs, creating a magazine-style video site, or even a video tutorial site.
With integrations on all the major platforms, including Twitch, it will show off your content in a unique way. One of the best options with this theme is being able to group your videos into playlists to offer them to your audience in different ways.
So you can create featured content, or categorize your content to give tutorials in different subjects, you can have a new and noteworthy section and more.
Some extra features are: Watch later and cinema mode, multiple header layouts, built-in social sharing, and more.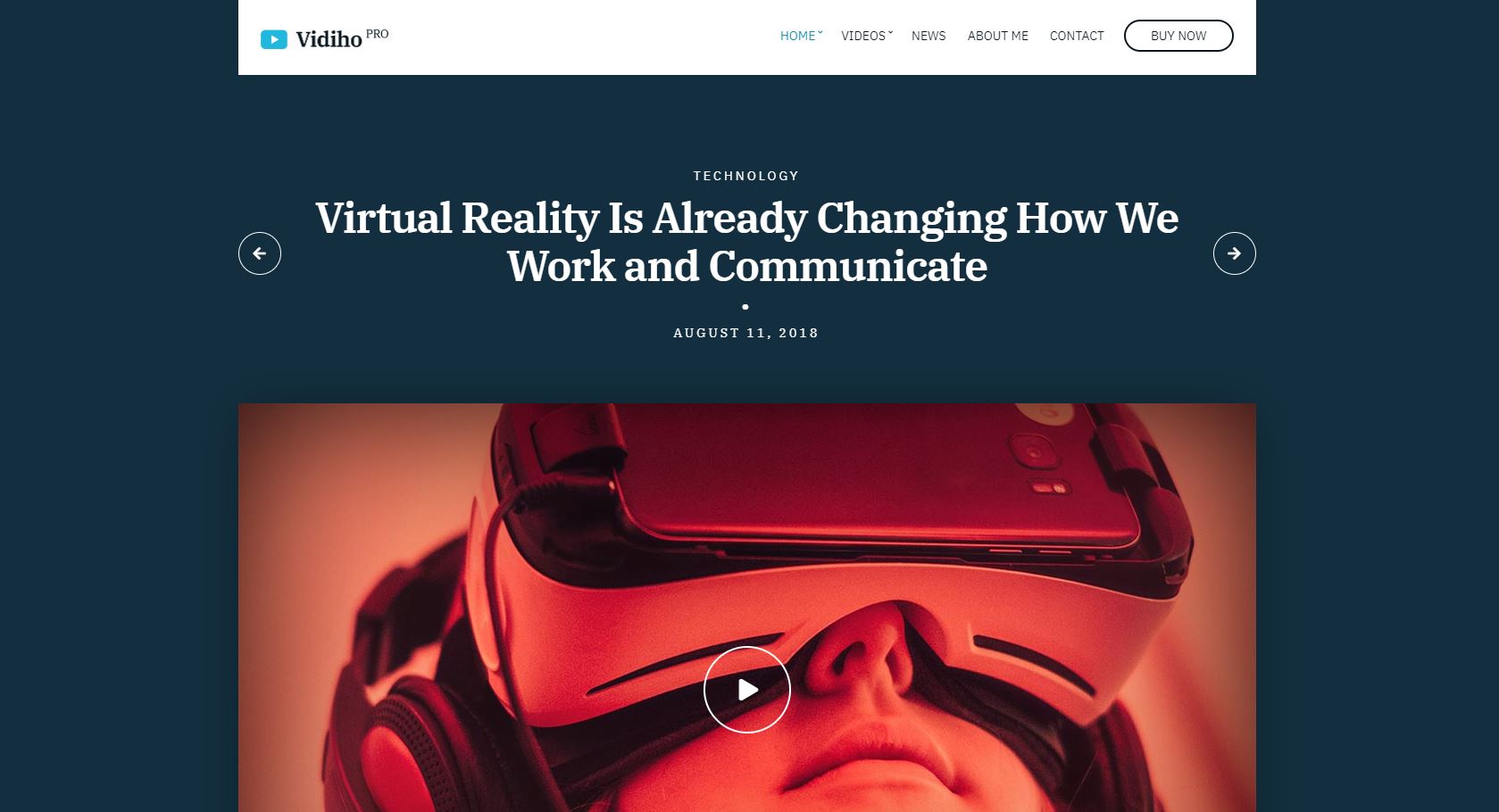 Vidiho is a magazine-style blog theme that has awesome video sliders available for your homepage. Vidiho uses WordPress's built-in video functionality so you can embed videos from the sites that WordPress lets you do already.
Vidiho comes with a myriad of layout options for truly unique websites. You can customize things like column setup to designed content elements for your vlog. They use Elementor so you can adjust things like your page layout more with easy drag and drop ability.
Two factors stand out with the Vidiho setup. They have one-click demo imports available for you if you want to replicate their look on one of their demos sites for your website. The other great thing is how speed optimized this website is. Your WordPress website speed will soar with this theme.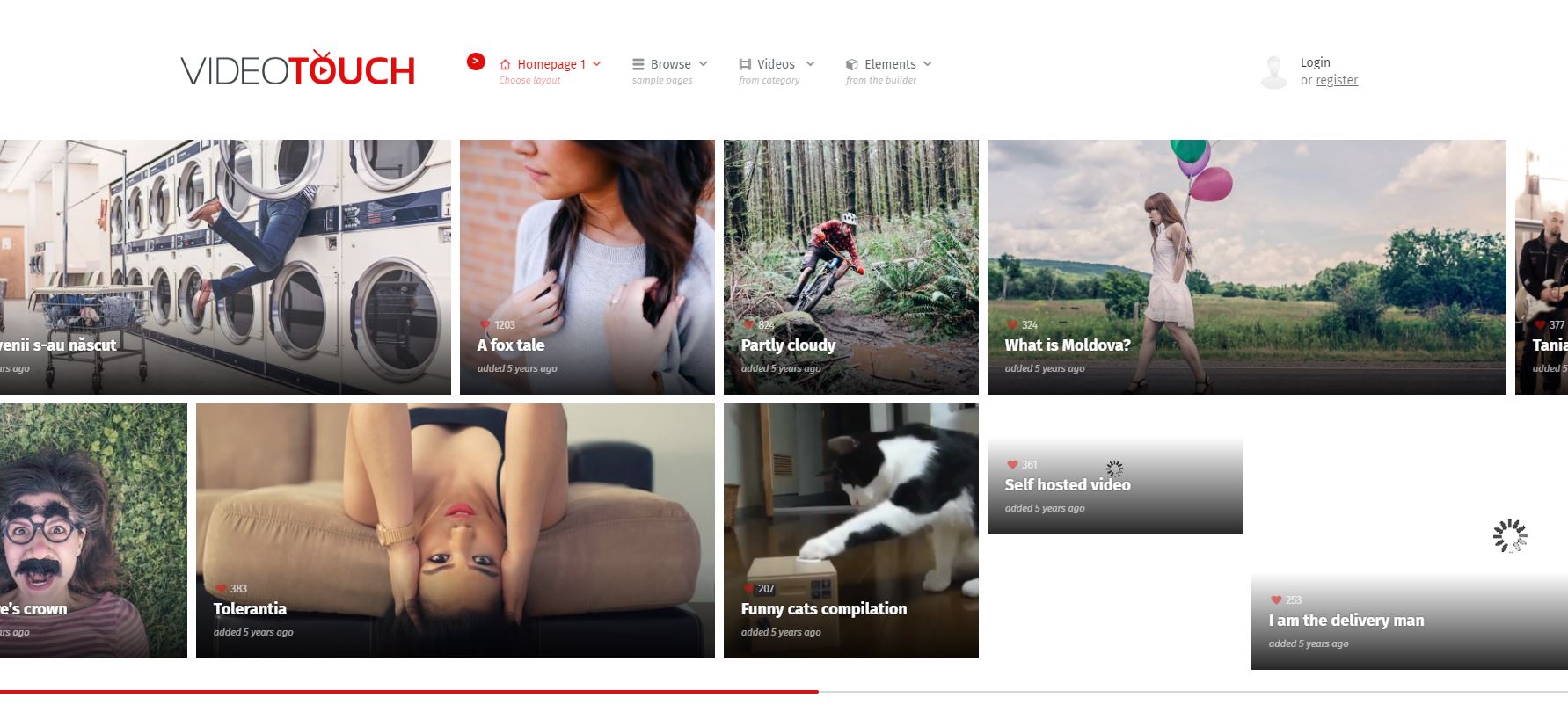 Here's another video magazine WordPress theme that has a clean and unique design.
This theme specializes with lots of videos to display on all your pages. They specialize in having a layout builder so you can build unlimited layouts for your different pages and content.
This theme also comes with the ability to have your audience send you videos via front-end submission. Users can upload their videos without access to the dashboard, including embeds from YouTube, Vimeo, and more.
You also get unlimited headers, infinite color options, custom widgets, and mega menus.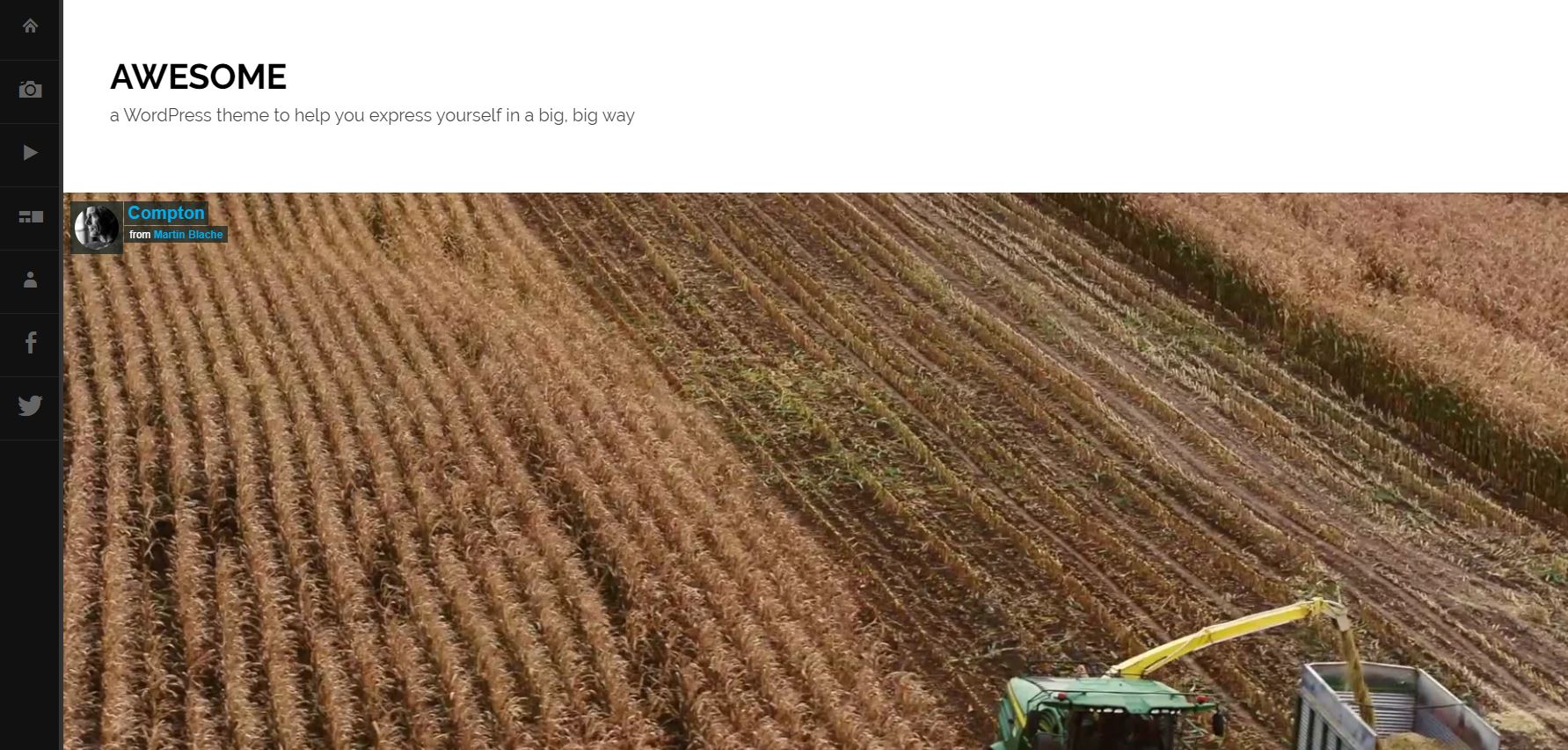 Awesome is a versatile WordPress theme that can help you show off your photos, videos, blog posts, and other content. The flat design with minimal styling allows your content to be the central concept on your site.
This theme shines as a multi-purpose type for your photos, videos, blog posts, or a combination of all the above. The Awesome theme has a lot of "awesome" features.
Some of these features include custom header images, creating slideshows and full-screen slideshows, customizing all colors and backgrounds and more.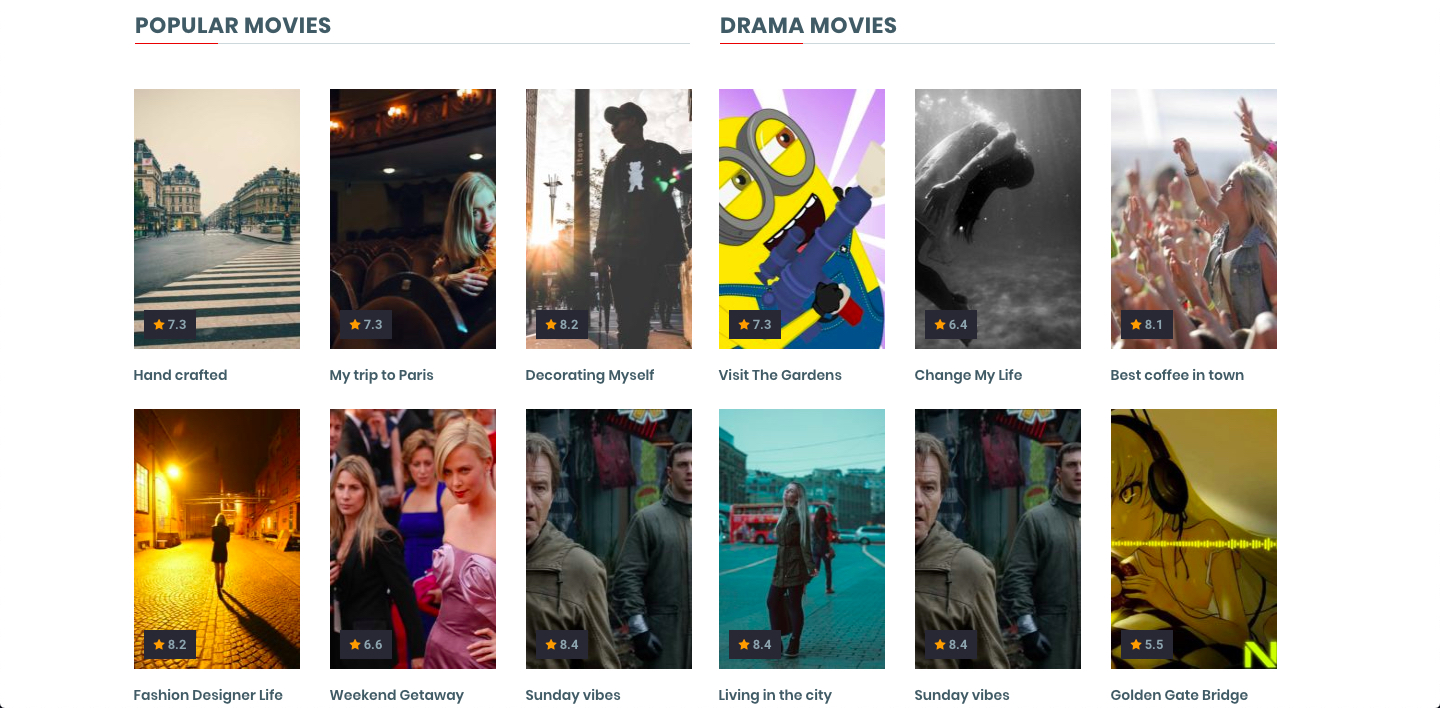 VideoStories is a WordPress Video Theme suitable for Movie or Video Marketers, Affiliate Marketers, YouTubers, Vloggers and more.
The theme comes with 9 experts designed and ready to go homepage variations. It also comes with a drag & drop builder, including the theme for free.
Adding videos is easy with their featured player. You can also even use their IMDB grabber to add movie information to your site with one easy click.
VideoStories is also on the cutting edge of new technology. They have the option to support 360 degrees videos and VR as well.
VideoStories is SEO optimized and uses RichSnippet to create schema markups to get your content seen on the first page of search engines.
With it's a great design and pre-built widgets to allow you to customize, this theme will help you create a site you're proud of.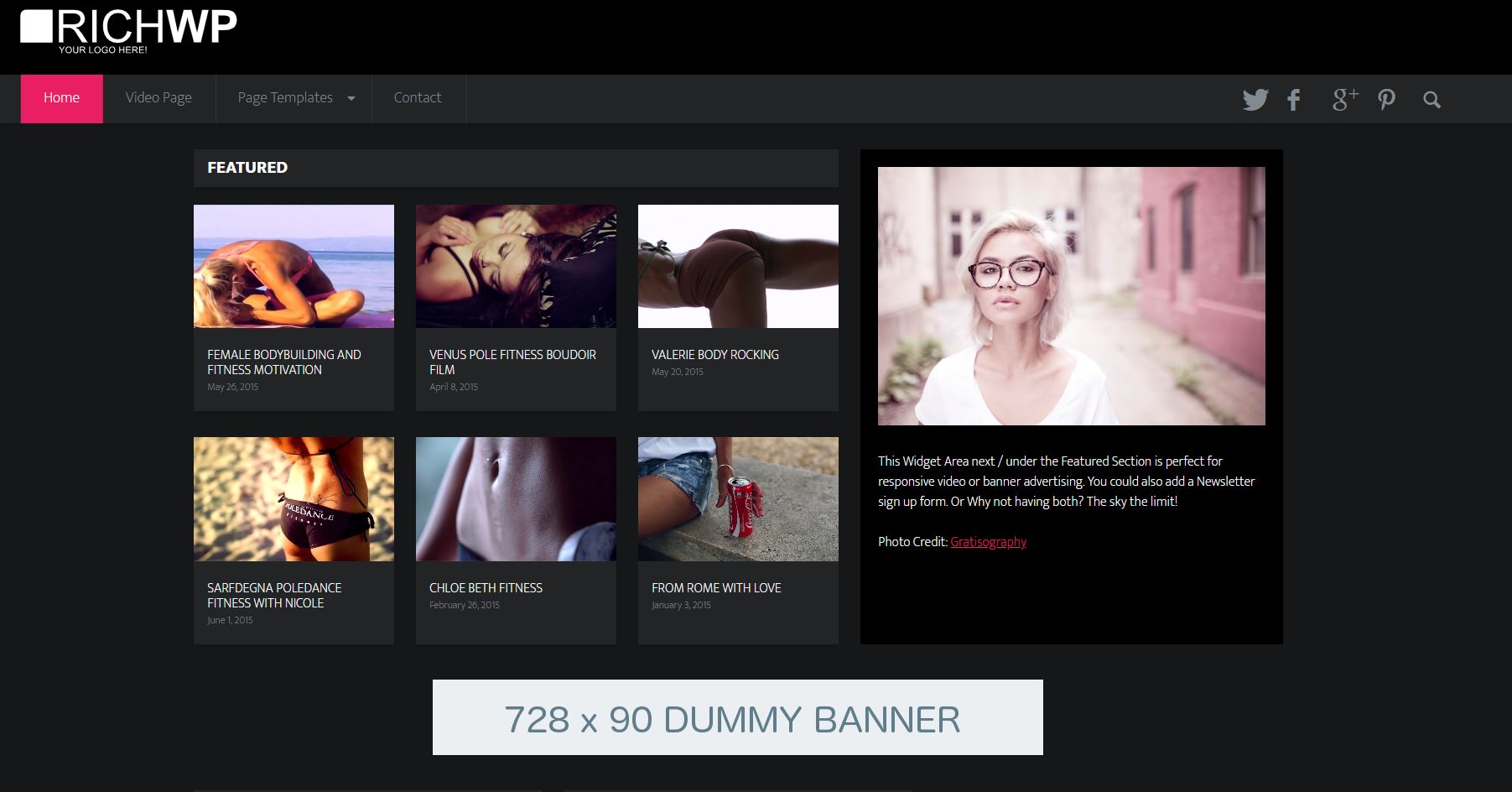 Video World is a video theme that is perfect for video blogs and video sites. This theme is marketed as a new generation video theme and has a more simple and contemporary design.
The dark skin on the site gives a level of stunningness that makes it stand out compared to other themes on this list.
Some of the main features with this theme are embedded support for video, mobile-first design, easy color and logo customization, different styles of menus, multiple widget areas, and more.
Video World is easy to set up, and they even give you an installation and setup guide, so you don't have to worry if you're not techy.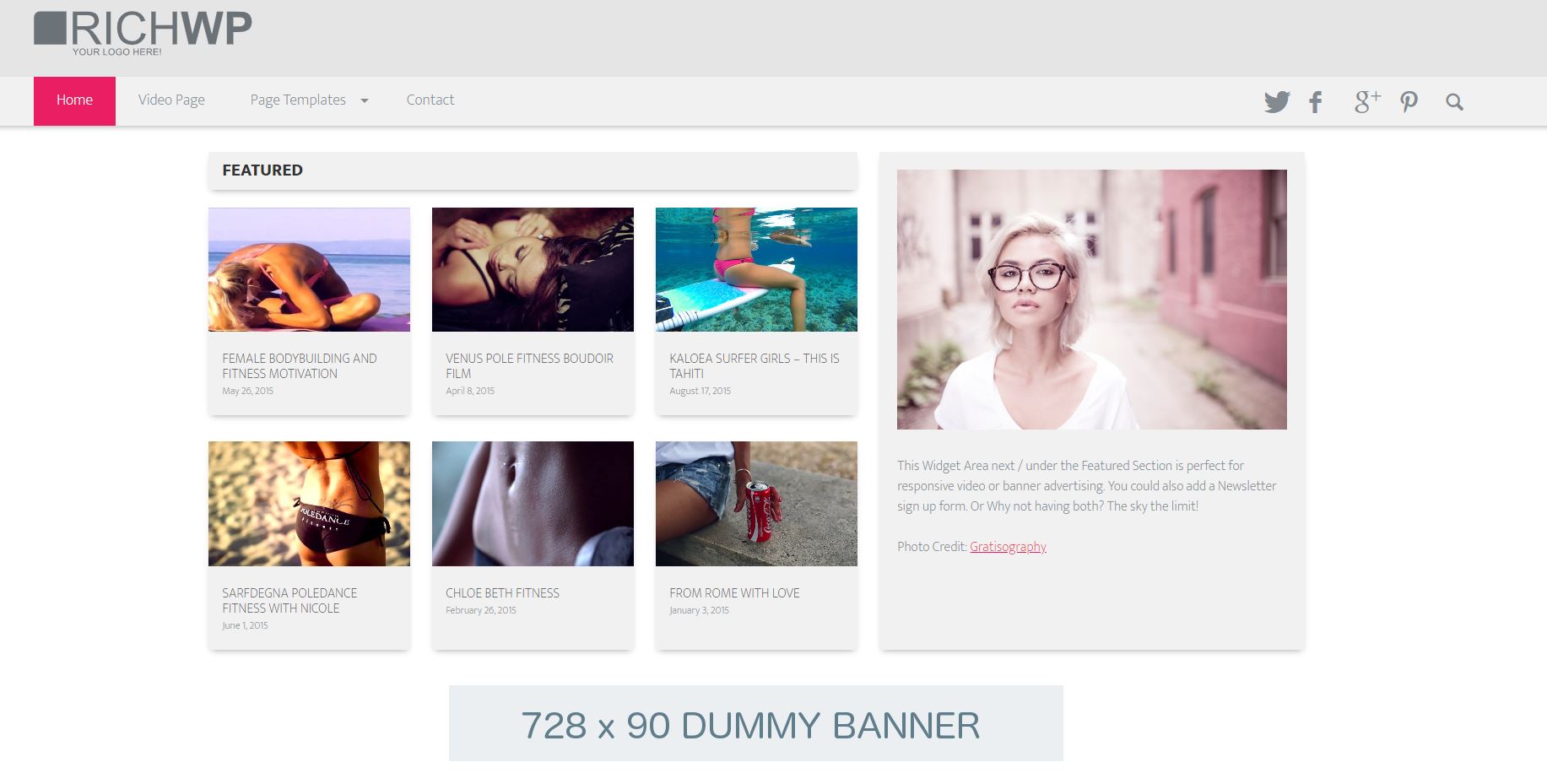 Clear & Clean Video World is actually a light version of our #19 choice video world. Everything is the same except the ability to have a light look instead of dark. Depending on the mood of your site, you might want to have the option to have this one over Video World.
If you create content in more sophisticated categories like weddings, flowers, and niches like this, a theme with a lighter skin like this might be a better option for you.
Just like Video World, this theme comes with lots of features like embedded support for video, mobile-first design, easy color and logo customization, different styles of menus, multiple widget areas and more.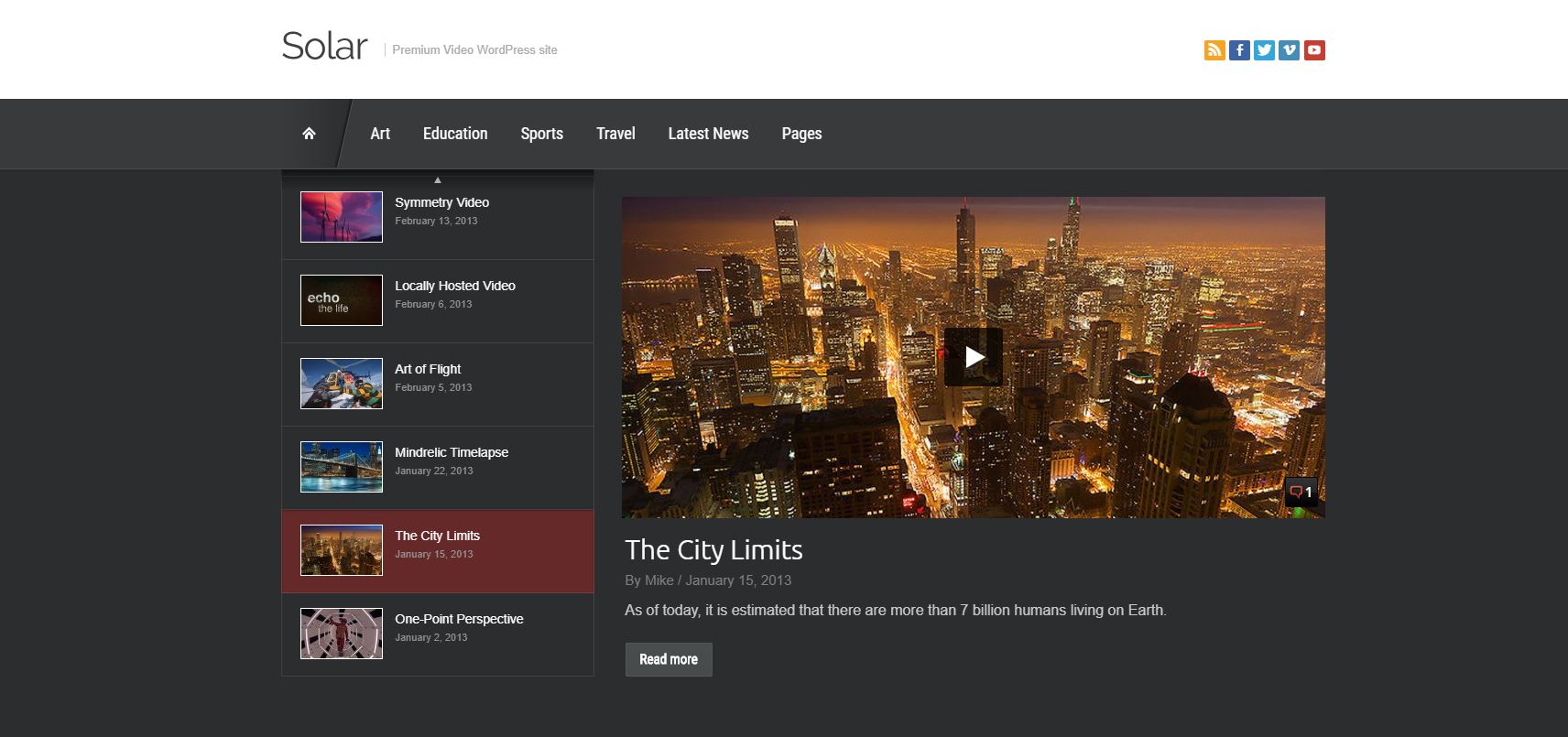 Solar is a responsive video theme that is easy to customize. Every part of the theme includes support for videos, including the featured slider on the homepage.
It is mobile ready with a responsive layout and retina ready for high-resolution displays like the Macbook Pro Retina and iPhone.
Other features include the unlimited color schemes, sidebars, post formats and more. The included home page slider is powered by RoyalSlider. The RoyalSlider is packed with a ton of features and is easy to customize to make your slider on your homepage the main attraction.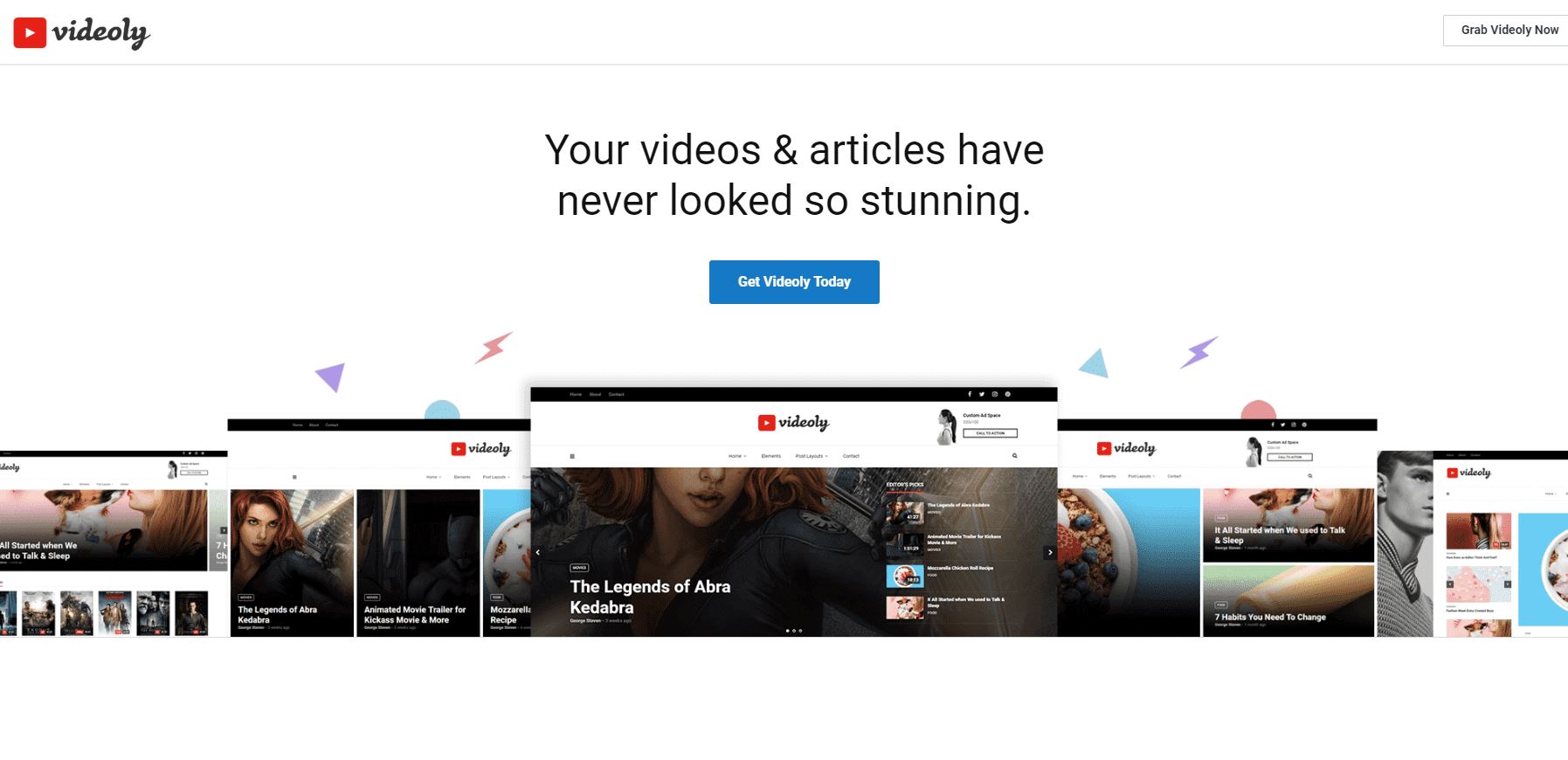 Videoly is a WordPress theme most suitable for bloggers, YouTubers & vloggers. The best part about this theme is that it has nine ready-made templates for you to select whichever look you want for your new site.
With the help of an intuitive page builder (Visual Composer), you can modify your way to change the way the site is displayed without knowing a single line of code. The theme also comes with its own admin panel that will help you customize the look of your site any way you want.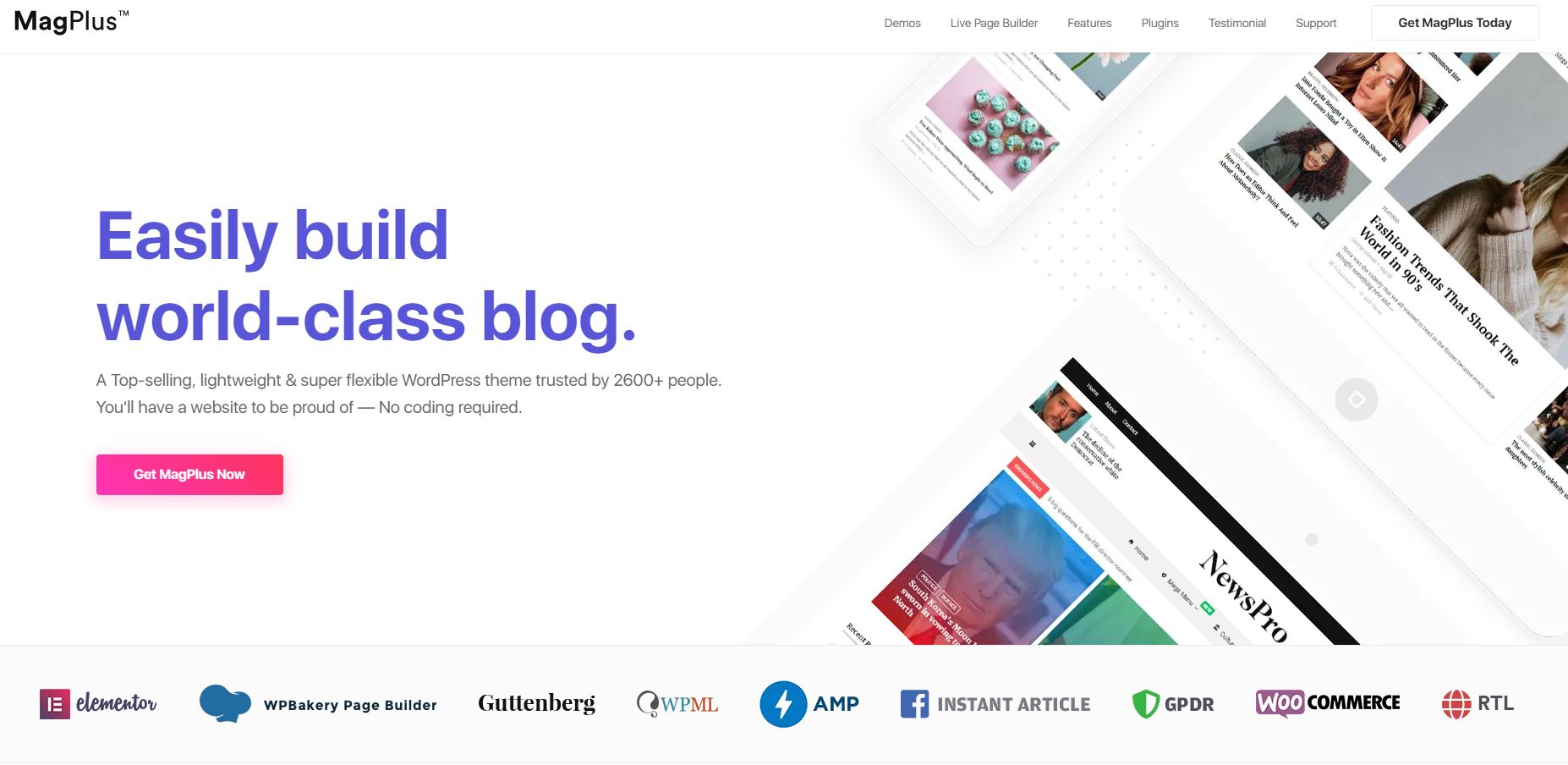 MagPlus is a lightweight and super flexible WordPress theme that comes with 40+ designs and 270+ layouts available to you. This amount of flexibility allows you to create a good amount of different styles for your site, depending on what you're looking for.
Even though there are over 150 elements you can change with this theme, videos will load fast and clear with MagPlus.
This theme is optimized to load quickly, even with a lot of traffic going to it. With extras like 12 different header layouts and 20 slider options, you can always keep your website looking interesting with MagPlus.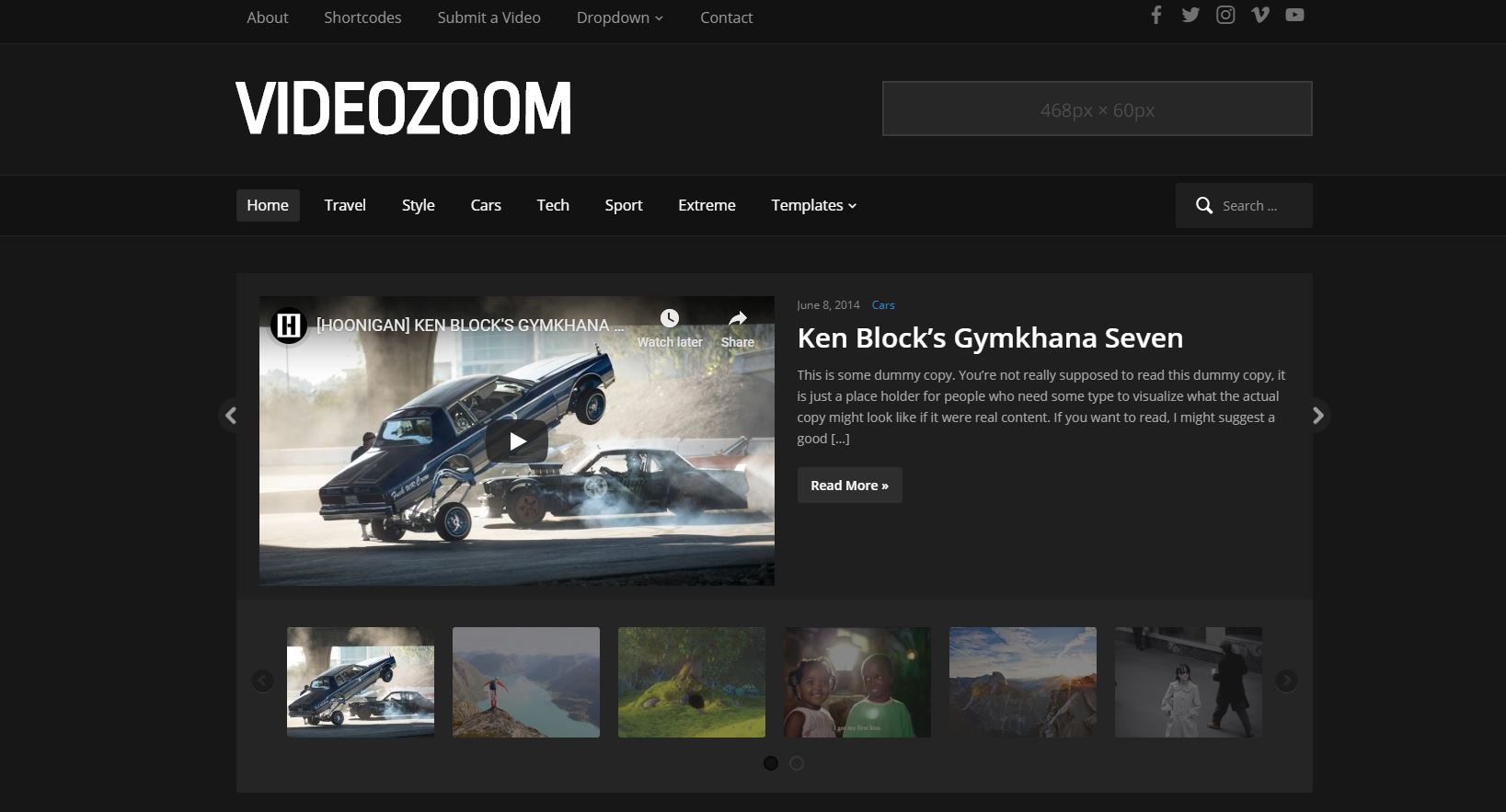 Videozoom is a sleek, elegant looking theme with a content slider and featured videos spots on the front page. Their featured player allows you to embed videos from the big players like YouTube and Vimeo but also lets you upload your own self-hosted videos to play on your site.
With its responsive design, Videozoom sites will look great on mobile devices and tablets, helping your audience find the content they love, and with two skins, you can select whether you'd like your site to have a light look or a dark look.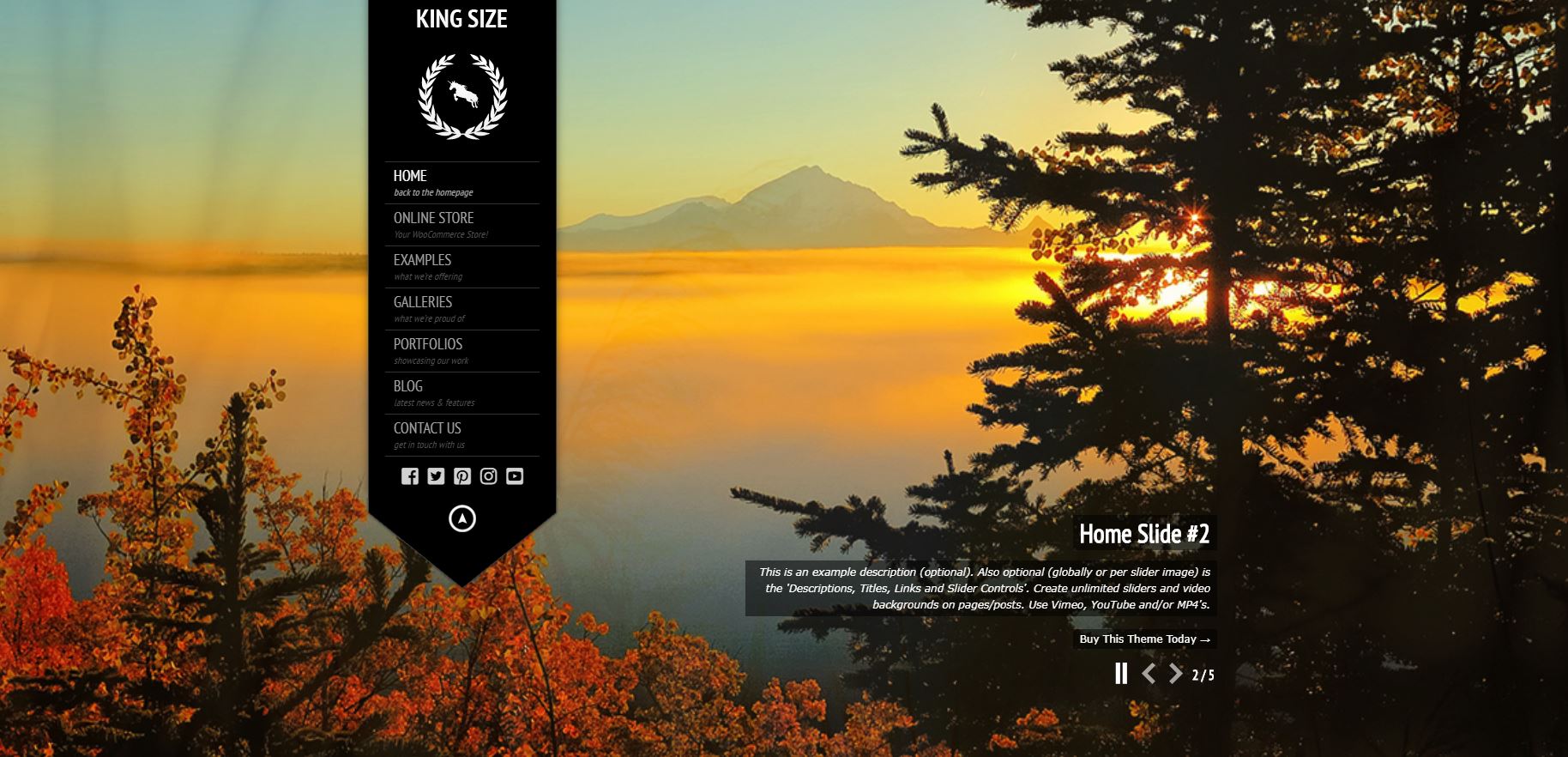 King Size is a theme that allows your content to really do the talking. Instead of your classic homepage with different sections for different videos, your background can stay as your videos or photos you have.
This full-screen background will allow you to show off your content in a grander way than most sites.
This theme also has different galleries for you to flaunt for your audience, along with widgets built into the footer and sidebars.
You can integrate it with WooCommerce if that's what you're looking for and it also comes with the Visual Composer plugin for easy drag and drop page building.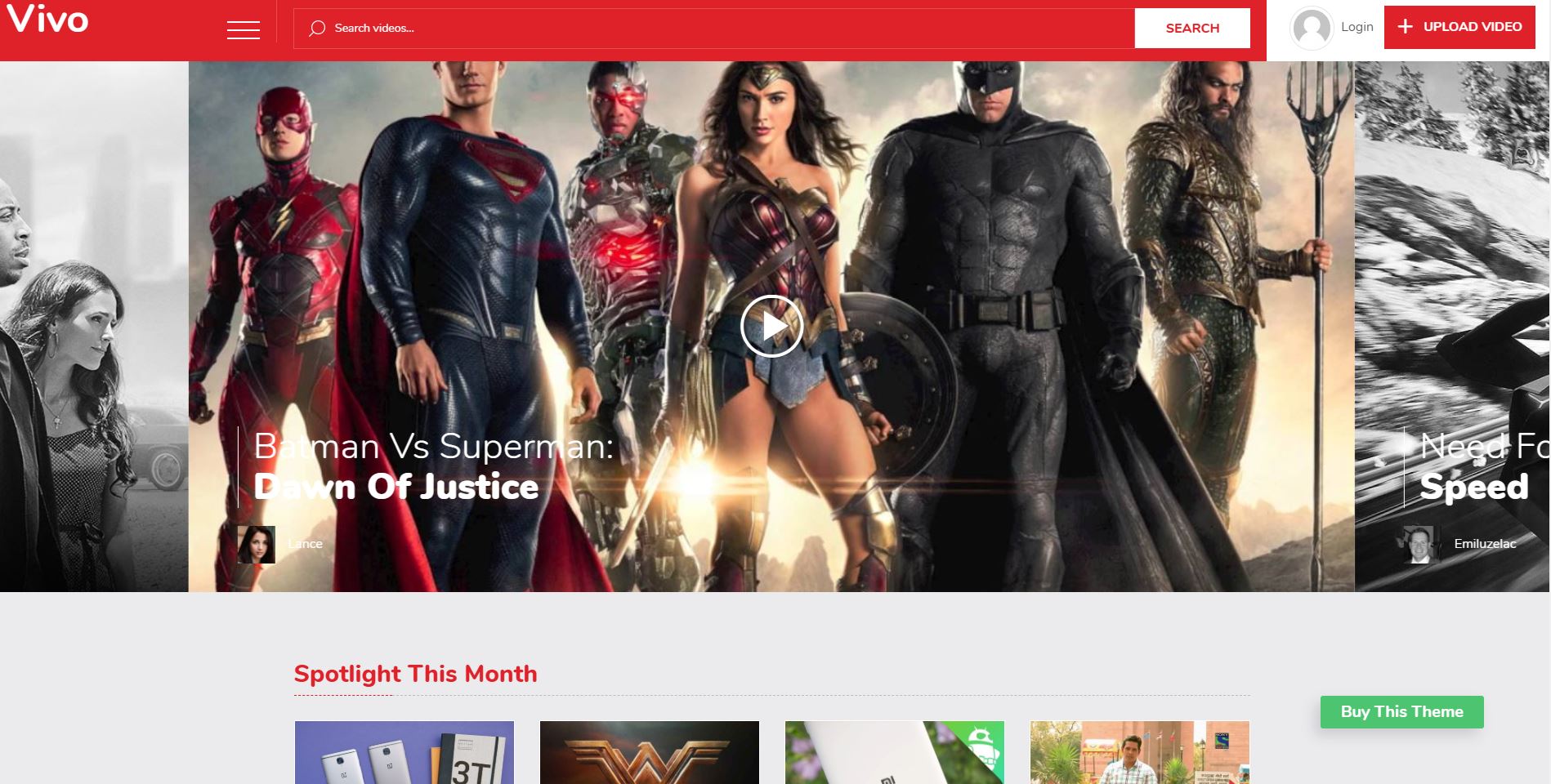 If you're looking to create a video portal website, Vivo Video is the ideal theme for you. This theme allows you to create sites that would mirror only the big guys like YouTube, Vimeo, Twitch and more.
It's flexible and engaging design allows for your viewers to really interact with the content on your site as they seem fit.
You can upload your own videos or embed videos from the sites I mentioned above. It also comes with a flexible slider, integration with YouTube for view counts, support for self-hosted videos, several detail page designs, multiple homepage layouts, and much more.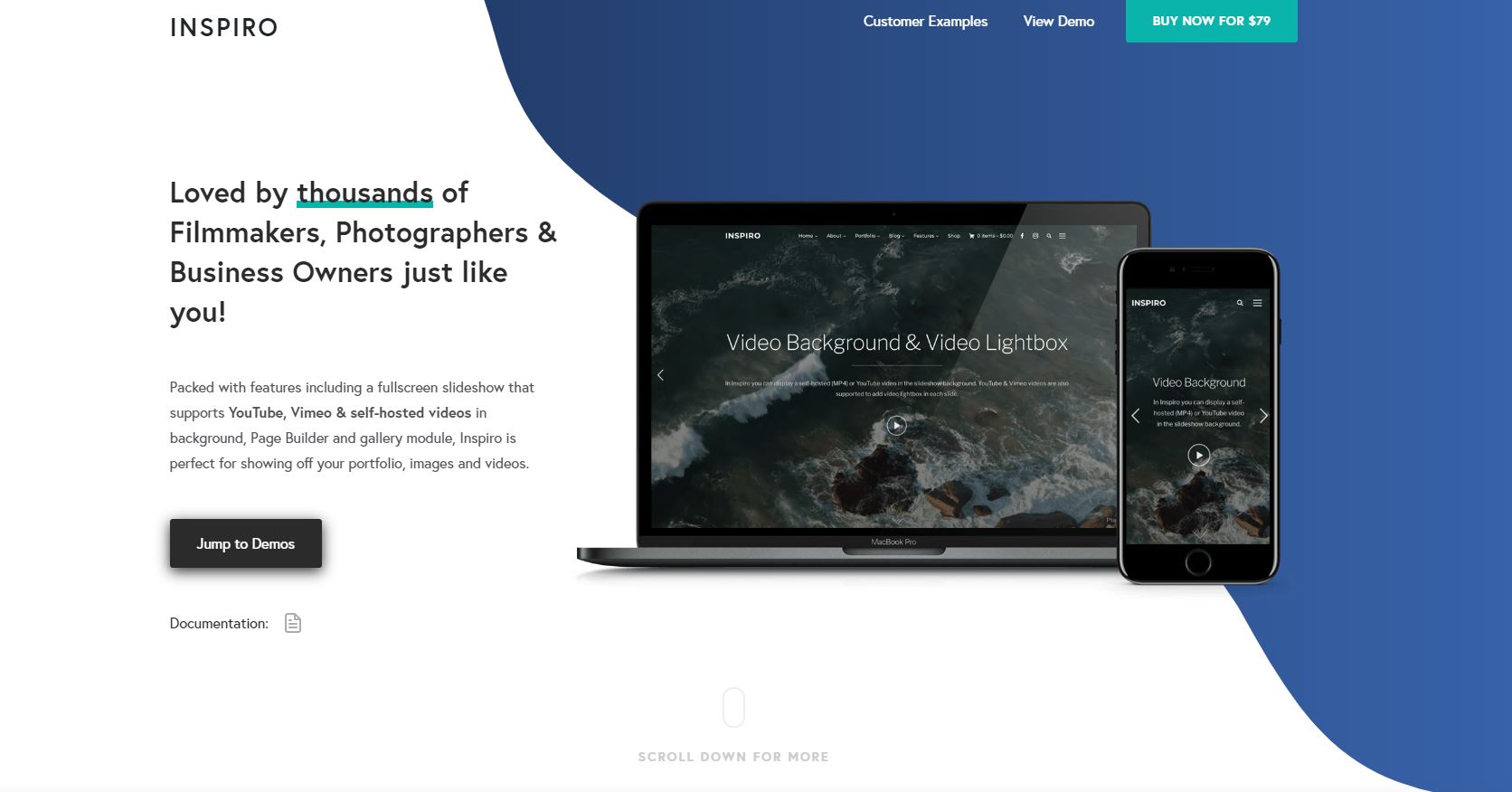 Inspiro is the perfect theme to end our list on. This theme is for the professional in you for your photography and video careers or hobbies. Inspiro has a modern look and is packed with features, including a fullscreen slideshow.
All videos can come from YouTube, Vimeo, or self-hosted, and it comes with a gallery module to really strut your content in front of your audience.
The widgetized homepage and mobile responsive layout also give you lots of options when you're designing your dream site. With seven demo templates to start out with, there isn't much you can't do with this theme.
Conclusion
We hope this article helped you find the perfect theme for your video website. Every site has different needs meaning there isn't one theme that's perfect for every person.
Maybe you need a site to show off your portfolio, maybe you want to market a new movie, or maybe you just want to have a collection of videos to share with the internet.
No matter what, there's a theme for you on this list. Also, don't be afraid to experiment with different themes. Just because you pick one doesn't mean that it has to stay like that forever.
If you have any questions about any of these themes, please be sure to ask them in the comments, and we'll be sure to answer them.