With WordPress powering a major chunk of websites today, it has become one of the most preferred platforms for blogging. Powerful features, exceptional flexibility and open-source nature of the platform allows a high level of customizability, giving the user complete freedom to create their own unique design.
When you are considering WordPress themes for blogging, you need to take into account the design, user-friendliness, color options, technical performance (speed and error-free loading) and several other factors.
While exploring the best themes for blogging, we observed that even though there are free WordPress themes available, premium themes allow more freedom to customize and create.
Buying a premium WordPress theme for blogging not only saves you the time in designing, but you get the top technical performance and exceptional user-friendliness as well.
So, here is our pick of top 25 WordPress themes for blogging –
1

Reader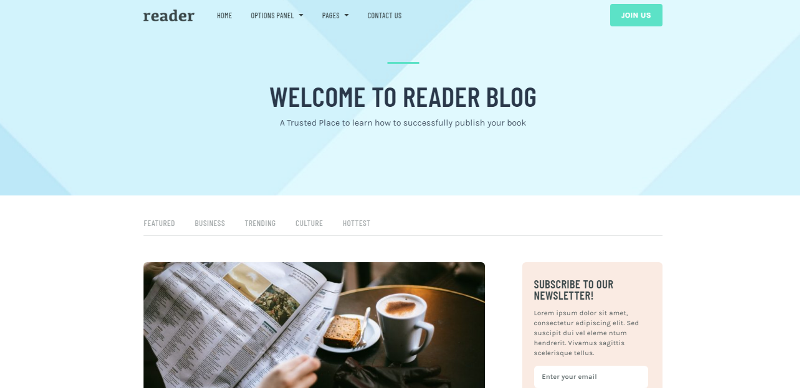 One of the best reader-friendly themes that make it easy to navigate and consume content, Reader offers a great blend of intuitiveness and user-friendly design.
Features – The website theme is responsive and has been optimized for better speed performance (99/100 on GTMetrix). The theme follows Google guidelines and, thus, is good for SEO as well, which might help you gain organic search engine ranking and traffic in the long run. Not only this, it also helps you set up amazing homepage layouts with a few clicks. No doubt, it is one of the best WordPress themes for blogging.
Price – The theme's license is available for purchase for $35 for a single website and $59 for three websites.
2

Gutentim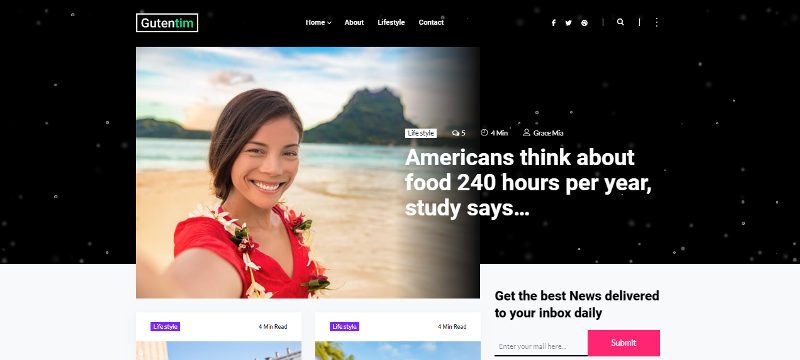 A fine and clean WordPress blog theme, Gutentim allows you to create your own blog design with its page builder. Irrespective of the niche you choose, Gutentim exceeds expectations in every way.
Features – The theme offers pixel-perfect design with clean code – apart from offering a smooth, responsive experience to your readers. Oozing a modern look and blending creativity with great UX, Gutentim offers you several pre-set page designs as well, along with 6-month support from developers. The design is such, you can also choose different widget areas to maximize the visibility of important info or CTAs.
Price – The theme is available for purchase for $19.
3

Neve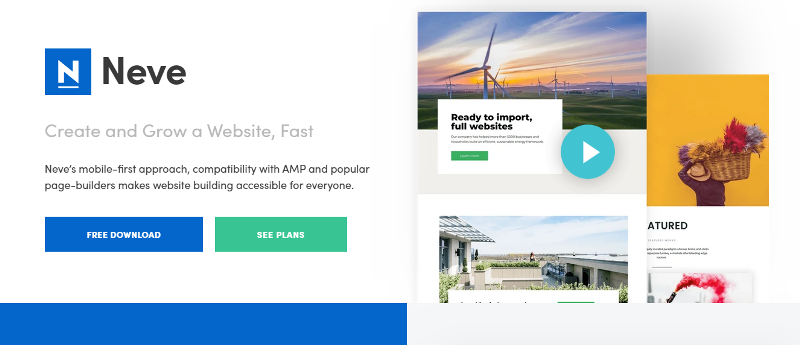 Coded and built with a mobile-first approach, the Neve is a fine AMP-compatible WordPress theme that makes website building easier than ever. With its easy to use website builder, you can finalize great looking websites in a matter of a few minutes. The theme helps you with various page templates and designs to make a beautiful WordPress site.
Features – The theme and all its design versions are lightweight and fast, delivering optimum loading performance. The theme makers release new updates and features on a periodic basis – which means that you'll have access to the latest versions, always! But most of all, it turned out to be one of the themes with very easy setup and usability capabilities. Additionally, we suggest you use stunning featured images to gain maximum traction on your blog page.
Price – The subscription plans start from $27, whereas the lifetime plan starts from $125 approximately.
4

Epilog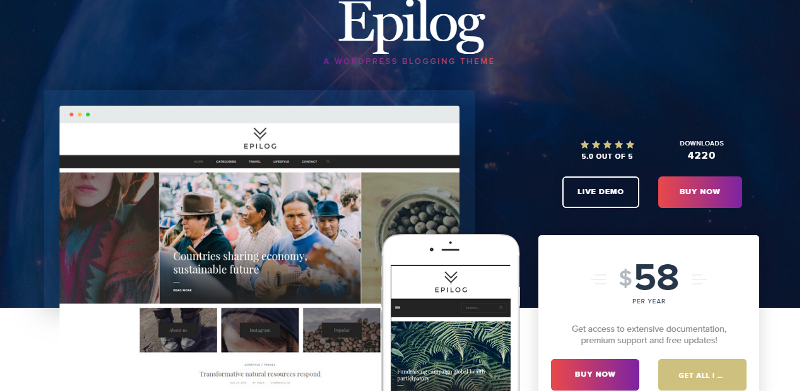 With the aim to deliver only the best code and design for search engines and your users, respectively, Teslathemes has come up with their blog theme Epilog. Being a modern design, Epilog boasts of a bug-free code with superior level performance. The design is promising and would certainly make your user scrolling to the end of the page.
Features – Carefully crafted and intricately designed with only bloggers in mind, Epilog offers a responsive layout, great UI as well as compatibility with several plugins (for blogs). We found the theme holding true to its claim of being load speed optimized and having a light and error-free code. The layout options are too good for setting up an amazing blog.
Price – You can get the theme for $58 for one year.
5

The Core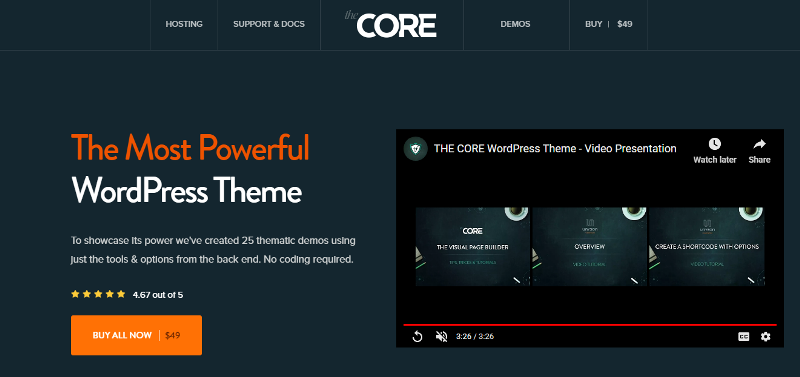 Could there be anything better than getting 25 designs in a single theme? We think not. With the capability to power 25 unique websites with a single theme, The Core is a powerful theme built for individuals with no coding background or knowledge. The theme provides you different layout options to play with styling, google fonts and different color options to create those perfect blog layouts. Need not mention the responsive design as well.
Features – What really stood out for us was that The Core offers 25 different designs to cater to different industries. Apart from the usual error-free code and performance-optimized scripts, the theme provides you with a well thought out structure for your website along with powerful blogging capabilities.
Price -The theme is available for a one time purchase for $49.
6

Risen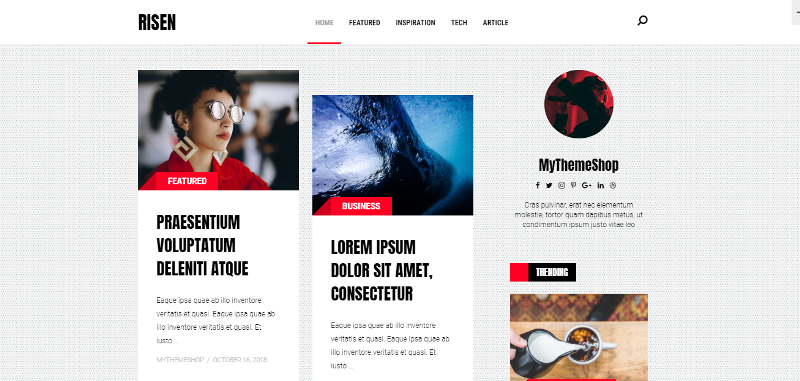 Out of all the themes we explored, Risen turned out to be one of the most aesthetically pleasing, just like it claims to be. This powerful performance-oriented theme is perfect for a heavy blog plan of yours.
Features – The theme offers industry-standard performance with top scores on both GTMetrix and Pingdom for its fast loading. Hence, you wouldn't have trouble while giving your readers the perfect experience and flawless navigation. Apart from that, you get the freedom to build and customize your pages with the drag and drop builder.
Price – The theme's license can be purchased for one website at $35 and at $59 for three websites.
7

Brixton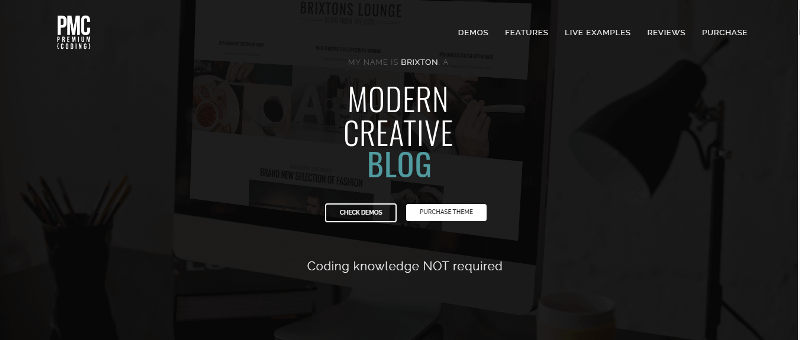 Bringing storytelling alive with its powerful blog design, the Brixton WordPress theme has come up with several new features in its 4th update. Revolution slider, magazine-style design, social icons, and video widget integration are some of the new things and theme features to watch out for!
Features -The theme comes with its own Revolution slider, bringing your pieces of content to life and engrossing the users at first look. With added sidebar for efficient use of real estate and new widget support, we could clearly make out why Brixton has been one of the top-rated and best selling WordPress themes since 2015.
Price – The Regular license for this theme will cost you $49.
8

Didi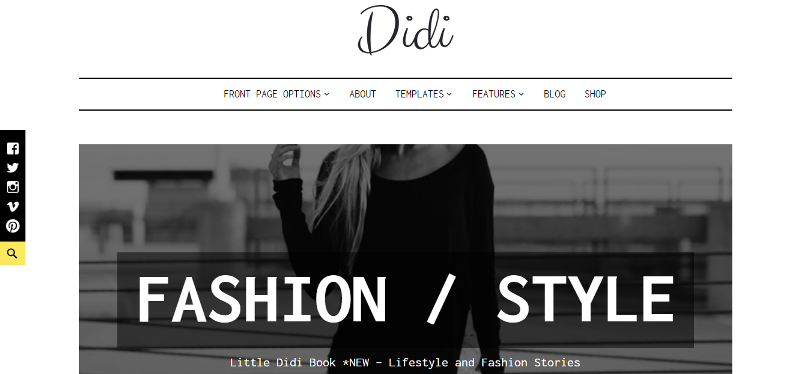 It is rare to come across a theme which focuses on what really matters for bloggers and their readers – the content. Did is one such rare theme that brings focus to the content with a modern and sleek design.
Features – Didi is a WordPress blog theme crafted for lifestyle and fashion niche. Its beautiful typography caught our attention at first glance itself. Its online magazine style flaunts a minimal design that is highly customizable. You can change the alignment, the ordering of the sections, or give your page a whole new unique flow with the page builder.
Price – You can get the theme and 17 more premium ones for $59.
9

Readable
As the name suggests, the theme was built with the aim to hero the content on the blog portal, giving the right importance to pieces of content wherever necessary. The theme is translation and RTL ready for you to build portals in the language of your choice, with ease.
Features – Readable is that one theme that brought in the best of all the other themes together, stitching them together into a lightweight, customizable masterpiece. Powerful and responsive, the theme has a live customizer for you to check the changes in real-time while the code is SEO as well as performance optimized for enhanced user experience and search engine friendliness.
Price – Get Readable and nine more premium themes at the price of $69.
10

Divi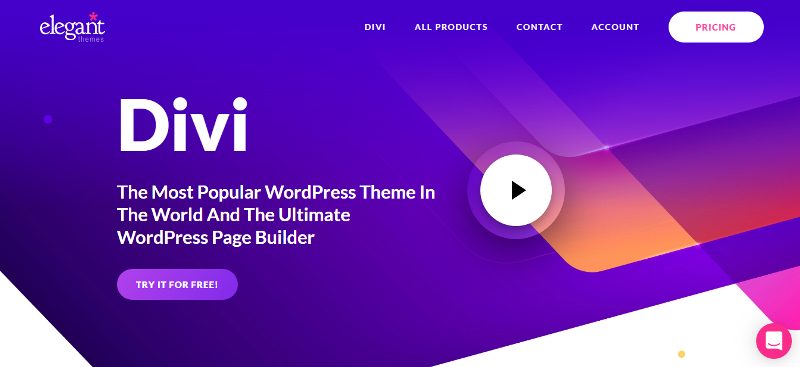 Some themes take designs to a whole new level with their features and Divi happens to be one of such themes. With its visual builder technology, it provides you with a new visual website development platform assisted by WordPress for a better and easier experience.
Features – One of the finest qualities of this theme is its design and its building capabilities. Using Divi, you do not need to put in any coding know how to use a simple drag and drop functionality, which would allow you to create flawless designs. It is an SEO friendly theme with retina ready design.
Price – You can get the theme for $89 a year or at $249 for a lifetime.
11

Astra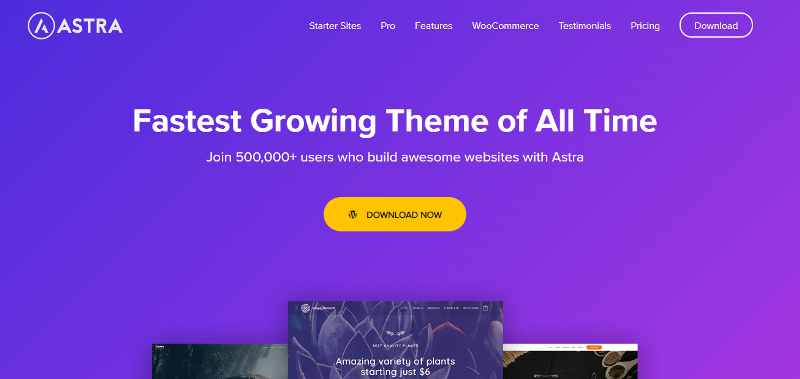 The extremely lightweight and powerful theme, Astra blends speed with great design and coding practices. Not only is it fast and performance-optimized, but it does also give you ample freedom to customize the design for engaging your readers.
Features – After having tried Astra, we found it to one of the most flexible and customizable themes of the lot. Not only does it have several design elements like Pro Menu and different headers, but you can also edit each of these elements, re-align or re-order them for giving a better experience to your readers. The post formats are really good and you can enhance the visual impact on your reader by testing different custom widgets and color options.
Price – License for Astra starts at $59 a year, or you can buy it for a lifetime for $249.
12

Blogging Box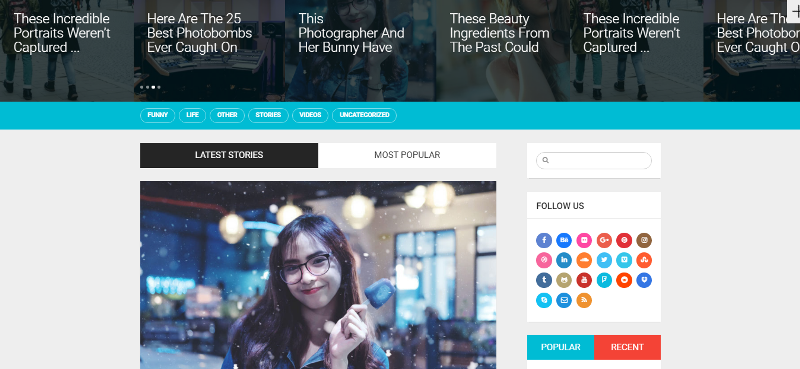 A fluid responsive theme designed with numerous layouts, Blogging Box is the ideal pick for you if you are a blogger with lots of content. The theme is SEO optimized, delivers great performance and offers the custom building for changing the design as per your requirements.
Features – With its different layouts, the Blogging Box theme gives you the freedom to change the theme design as per the niche you choose to work on. The theme is even Adsense optimized for you to run your ads from Google seamlessly, without any hindrances. Apart from that, it has several inbuilt blog designs that can be customized for the best possible look and reader experience.
Price – You can get the license of one website for $35 or for three websites at $59.
13

Jevelin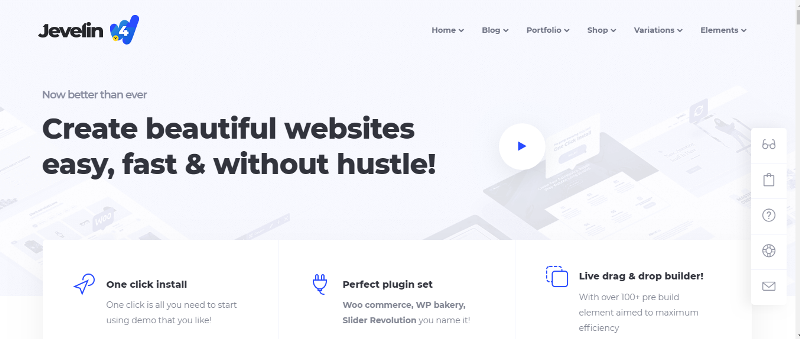 Jevelin is the true multi-purpose WordPress theme, ideal for complex blogging websites that can have videos, market place and a lot more! With supreme performance and design, it was one of the all-rounder themes we stumbled upon.
Features – Jevelin has a variety of website designs and thus, you wouldn't even perhaps need to try building your own website design. With a spectrum of cool designs and powerful plugin integrations like Woocommerce, the Jevelin can function as a lot more than just a powerful blog engine for your readers to consume content and get engaged. Overall, you can use it to create a simple blog or an ecommerce store.
Price – You can get Jevelin for your website for $59.
14

Newspaper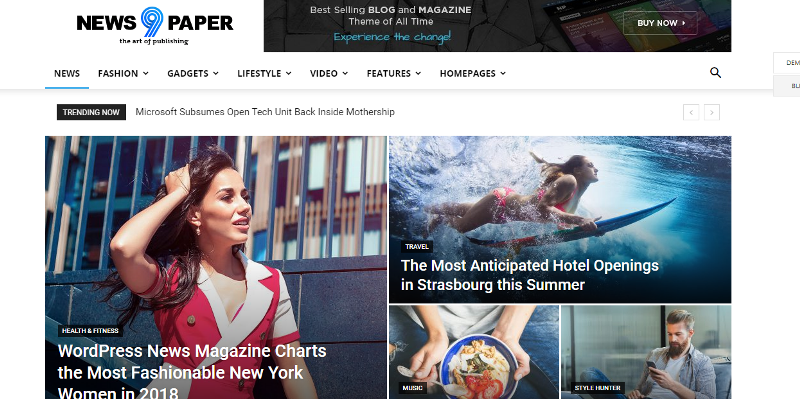 If you intend to run a cool news blog or a gossip blog that intends to keep people updated at all times, you have the perfect news place theme – the Newspaper. With a variety of plugin integrations, it can cater to all types of requirements of your readers by providing them with different content such as text, ads, videos, etc.
Features – The theme has Woocommerce integration, is AMP compatible, SEO ready (support for structured data and schema markup)and supports Google ads. Blazing fast theme, it has several inbuilt designs to use from, which can be customized with ease.
Price – You can use the Newspaper theme for your website by paying $59.
15

Gillion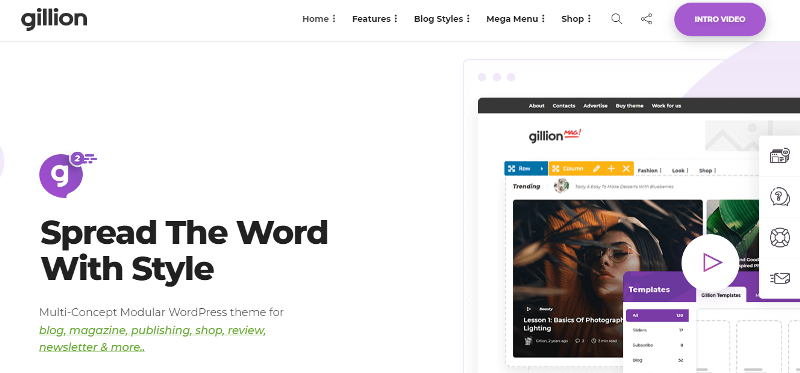 Modular WordPress theme with over 15 design options, Gillion is a great looking multi-purpose theme that can be used by bloggers for its good features.
Features – Gillion offers over 50 blog elements to choose from, apart from providing different post options – text-based or something filled with images. With integrated Woocommerce, you can also use the theme as a marketplace for selling your products by creating an ecommerce website.
Price – The Gillion theme bundle is available for download at a price of $55.
16

Uncode

When we think of Uncode, we think of a theme that takes out the coding from it and the theme met all our expectations. With a powerful frontend editor and a huge library of wireframe layouts, it turned out to be the right theme for any beginner to start off their pilot project.
Features – The WordPress theme Uncode is a multi-purpose WordPress theme that has over 70 pre-designed layouts to choose from, apart from a plethora of sectional designs that allow you to build your own website. It is a pixel-perfect clean theme with one of the finest blog experiences.
Price – You can get the theme for a price of just $59.
17

Soledad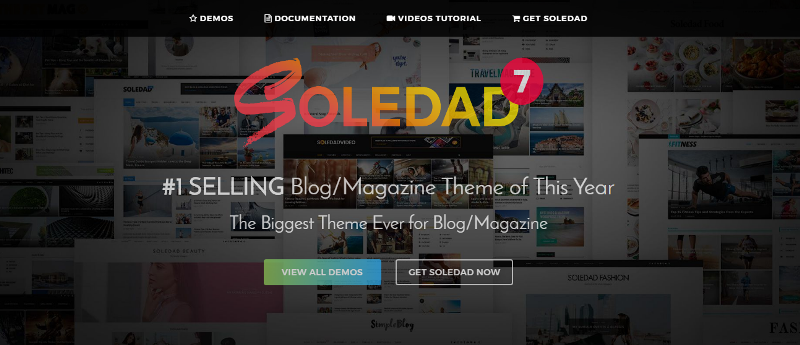 Power of over 6500 web pages and designs rolled into one bundle – yes, we too were overwhelmed with the sheer number and variety this theme, Soledad has to offer. SEO ready, high performance, and beautiful design – Soledad really does stand out of the lot with all its highlights.
Features – With several WordPress plugin integrations and support provided, Soledad is one of the most versatile themes for blogging. What really caught our eye was that apart from being performance and SEO optimized, the theme is WPML and Poly Lang compatible, for offering content in different languages to your users.
Price – The theme can be purchased at a price of $59.
18

MagPlus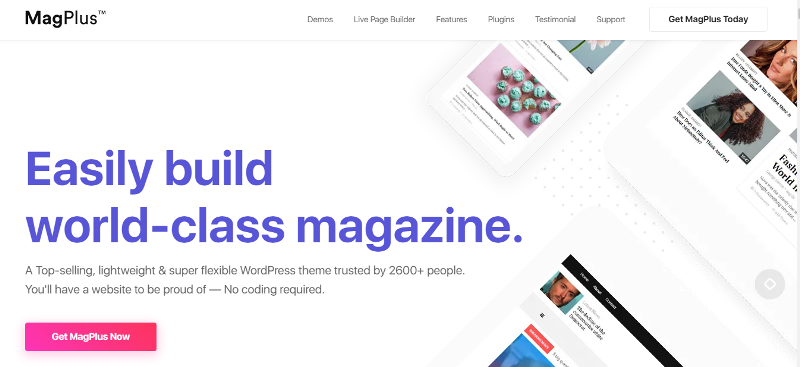 A uniquely built theme with the sole purpose to ease the process of website and theme customizing, MagPlus is one of the few themes compatible with both the top-rated page builders- WPbakery and Elementor. With each element designed with detail to attention after proper thought, MagPlus will amaze you every single day.
Features – One of the most intriguing things about this WordPress theme has been its design and the level of detail. The theme is SEO and performance optimized, which means it will be friendly for both your readers and the search engines. The theme offers over 40 demos and the highest possible level of customization in its design elements as well as structuring.
Price – MagPlus is available for users to download at a price of $59.
19

Writer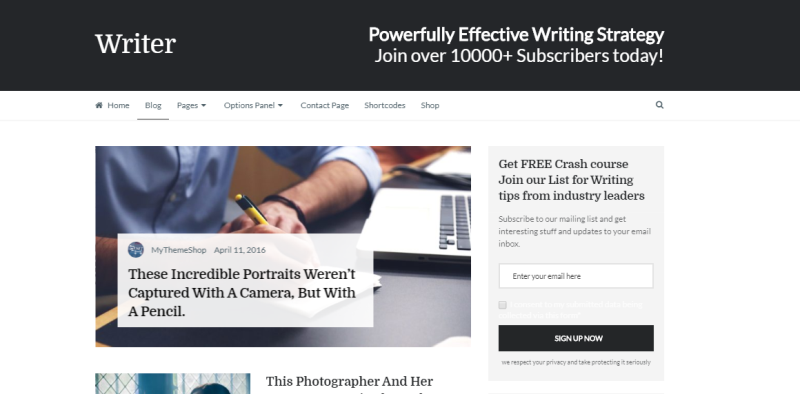 If you were looking to get rid of heavy designs and stick to the basics for a simple and impactful experience, we recommend the Writer. This WordPress theme has subtle color layouts, which make it one of the top preferences of professionals!
Features – With a page size of around 600KB, the performance of this theme is unquestionable. The theme is translation ready, Woocommerce compatible as well as AdSense optimized for you to take your blog to the next level, whenever required. You can use it to create an online store as well as a stunning blog.
Price – You can purchase the theme for $35 for one website and for $59 for three.
20

Everly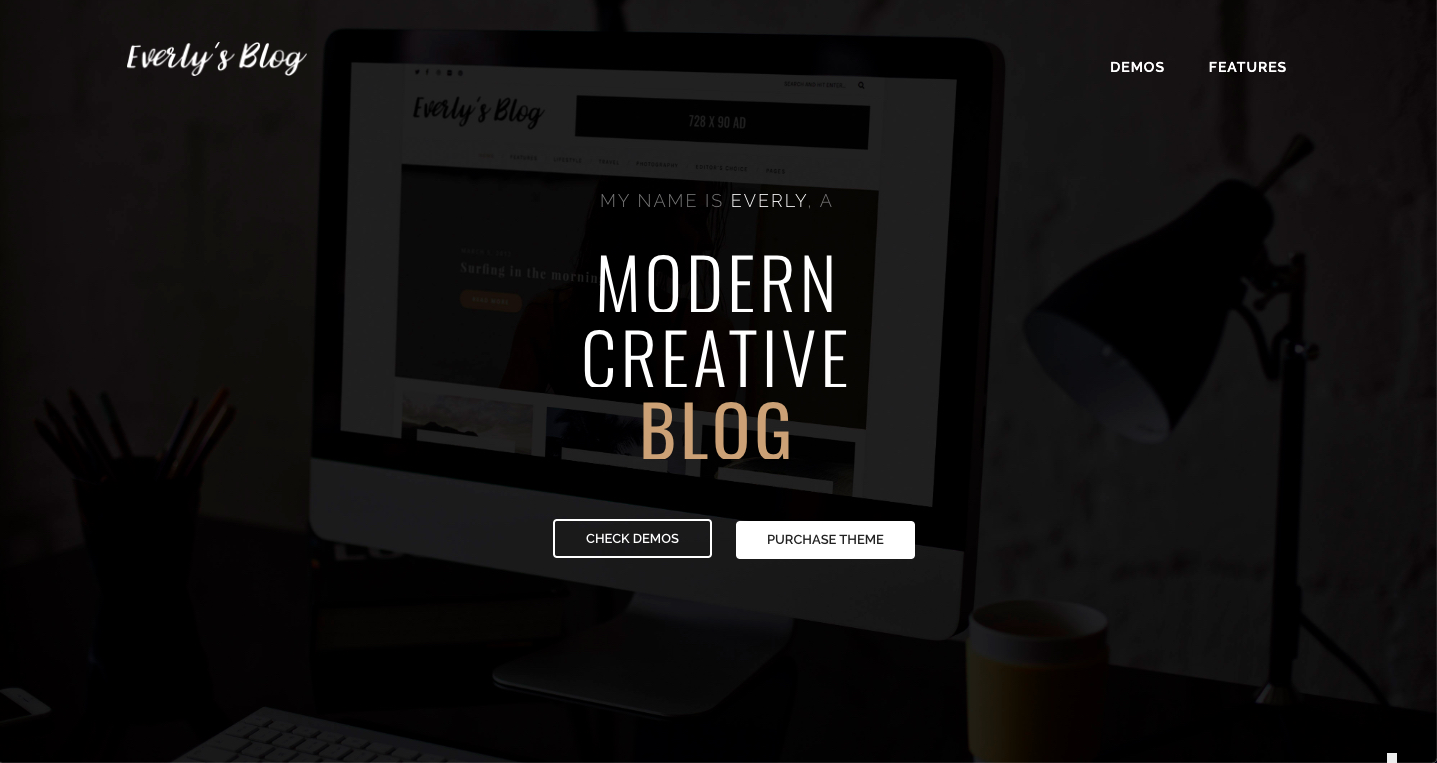 Built with a content-first approach, Everly is a minimalistic theme that keeps it simple to allow your reader to consume the most important element of your website – the content. With a sleek design, Everly keeps it simple, hitting it out of the park!
Features – As it has a content-first approach, the theme has beautiful typography and awesome fonts to highlight content. Apart from that, the theme is SEO optimized, and due to its light design, it provides lightning-fast performance unlike any other theme out there.
Price – The Everly theme can be purchased for $69.
21

Amalie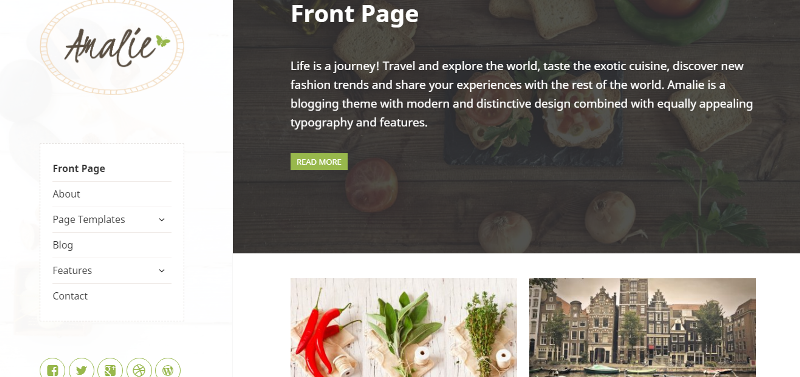 Based on the popular "Twenty Fifteen" theme, Amalie is a carefully designed WordPress theme that brings together simple design and content focused elements together in a unique way.
Features – The theme provides one-click demo support, is RTL ready for multilingual support, are SEO and performance-optimized. The theme is completely responsive and supports several plugins like Woocommerce for turning your blog into a small-time market place as well!
Price – You can get Amalie and 17 other premium themes for just $59.
22

The Blogger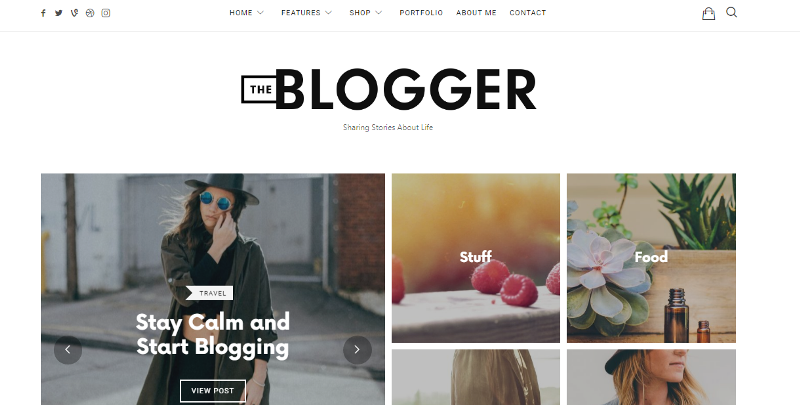 If you want to make your blogging experience enjoyable, simple, and yet engaging for the readers at the same time, the Blogger is 'the' theme to go for. You can customize and change the design as well as a lot more with the live customizer, requiring no special technical support or knowledge.
Features – Apart from the design and content placement experience, we really loved the Convert Plugin that comes for free with the theme, allowing your readers or potential clients to get popups with the product or important notes on notification, helping improve conversions. Needless to say, the theme is SEO optimized and offers superior level performance.
Price – You can get the Blogger theme for $59.
23

Stockholm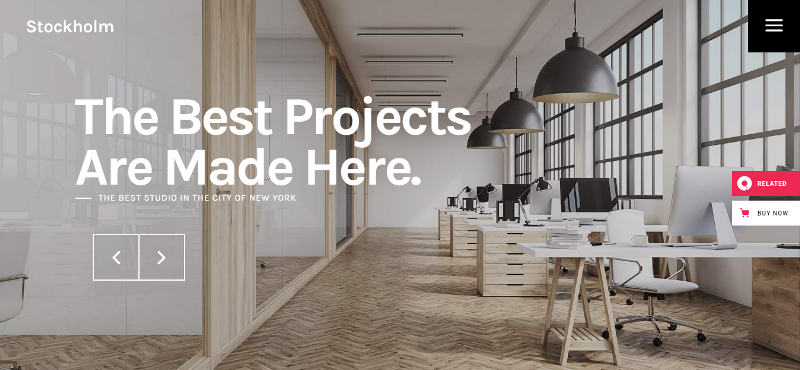 Limitless features and personalized support are what we can think of for Stockholm. Its amazing support eases up the customizing and installation process – something that technical beginners would really love.
Features – Equipped with a drag and drop intuitive website builder, the Stockholm WordPress theme can serve any niche with ease. It is compatible with almost all the popular plugins and offers 40+ unique web page designs.
Price – The Stockholm theme is available for purchase at the price of $69.
24

Foodica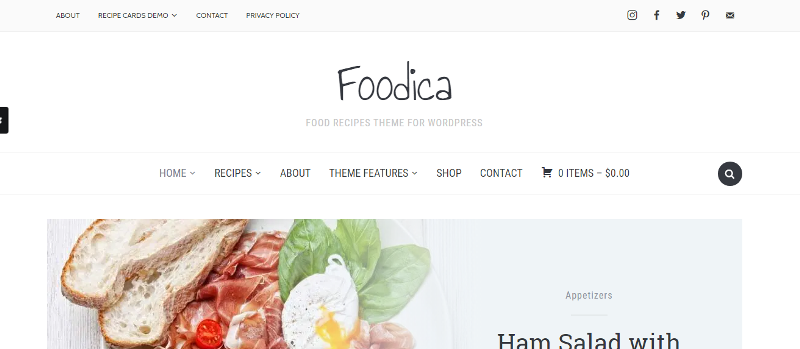 A theme focused on offering the complete end to end solution to bloggers, Foodica has everything you might need – customizable theme panel, awesome font styles, plugin support, and multiple ad spaces for expansion.
Features – The website has ten customizable color schemes, multiple layouts, and plugin support for most of the popular plugins. Even though it is crafted only for the Food bloggers, you can use the blog as a marketplace in the near future, leveraging its Woocommerce integration.
Price – Get Foodica for your blog for $69.
25

Magnus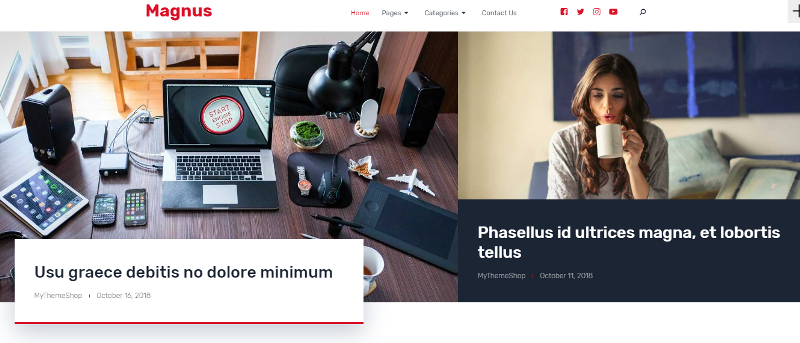 Polished to make your blog stand out, Magnus is an intuitive and intricately designed WordPress theme that offers unparalleled performance. SEO and translation ready, it can surely help you expand your reader base in the long run.
Features – The theme has featured areas to bring focus on your content, has a clean design that doesn't overcrowd the page, keeping the reading experience smooth. The theme has several pre-designed options for you to customize, allowing you to create a completely new design as per your requirement.
Price – Magnus is available for one website at $35 and $59 for three websites.
When it comes to choosing one out of these top 25 blogging themes, you need to consider the niche, the long term plan as well as the experience you are aiming to offer your readers.
After all, your blog doesn't just need to exist out there with a million others. It needs to make an impact and hit the right note with your readers for your blog to become successful.
Which WordPress theme did you find the best? Do share your thoughts in the comments section below.