Facebook has tried to block it. Google also made an effort to defeat it.
But despite these tech-giants trying their best to surpass the use of best ad blockers with most users, its usage is gaining momentum all across the globe.
The reports confirm that approximately 11% of web users use ad blockers to get rid of online ads while net surfing. That is equivalent to 600 million users using internet on both smartphones as well as computers.
It is also observed that the use of ad blockers is increasing by 30% on annual basis, as published by PageFair, an organization that helps marketers to cover up the lost revenue.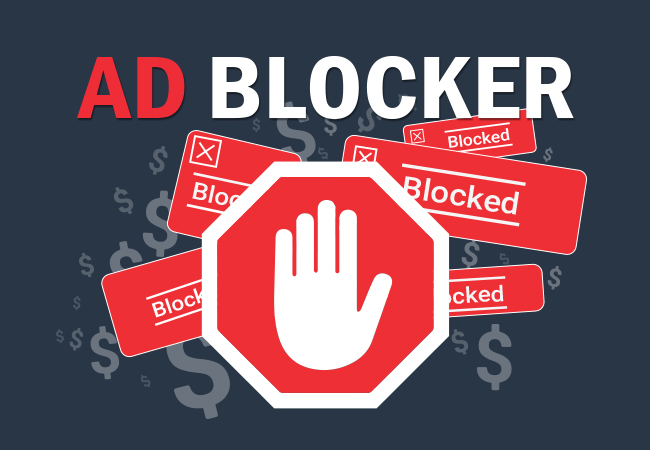 We all understand how important these advertisements are for the survival of the websites, mainly for their revenue generation. We get to surf almost all the websites for free, only because they run ads. If they do not display ads, they would surely be charging some token amount to access the content.
Hence, it's in fact, a good idea to support these websites. But you must have also come across some web pages that are flooded with banners and ads popping up every now and then. Rather than enhancing our browsing experience, it forces us to look for some alternate. That's where ad blockers come into play.
Ad blocker is a buzzing term these days. These are in the form of apps or extensions that removes the annoying ads from the webpage and gives you a more pleasant browsing experience. There are more than a few best ad blockers available that can be used on laptops, desktops, smartphones, and tablets.
Websites look much cleaner when those frustrating ads are removed and enhance the browsing speed as well. An added advantage for mobile users is that your data pack will be less consumed as the ads will not be downloaded by themselves. Lastly, it also aids in protecting your privacy. Through these flashy advertisements, marketers track your browsing habits and in turn, send you even more targeted ads.
Keeping all this in mind, we have compiled a list of 15 best ad blockers for 2018 to help you get rid of those annoying ads. You can use these ad blockers for Android, Chrome, Firefox, Safari and some other browsers as well. If you want to know how to block pop-up ads, check out this guide.
Note: Do bear in mind that some webmasters have turned to anti-adblocker themes to make you disable ad blockers on their website. You should only whitelist websites that you trust and enjoy.
1

Ghostery – The best ad blocker right now

New York-based company named Ghostery has been in existence for years and makes apps and extensions to block ads and tracking tools that invade users privacy. Ghostery is considered as one of the best ad blockers for Chrome, Opera, Firefox, Edge and Internet Explorer. It is also used for Android and iPhone.

Ghostery detects your information on the web that is picked up by the marketers and overwrites it before passing it to the third parties, making it anonymous. If you do not want the same to be shared with anyone, you can do that too. You can simply opt out while running the extension.

The icon can be found at the top-right of the browser along with all the other extensions. You can click on it to see the main window and can also pause the blocker by selecting the available option. Above all, it's free to use. To install Ghostery, click here.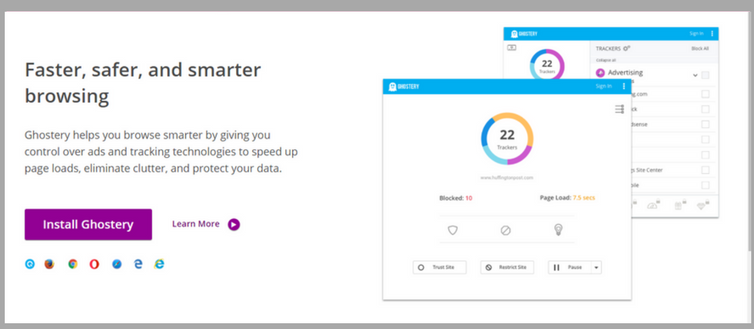 2

AdBlock Plus Blocker

AdBlock Plus is the most popular ad blocker to get rid of online ads. It is a free extension available for Chrome, Firefox, Internet Explorer, Opera, Safari, and Android. Along with blocking ads, it also prohibits tracking and blocks domains that are known to spread malware. It gives you the option to create filters according to your requirement.

AdBlock Plus doesn't function on its own. It only works according to the instructions given by the users. Hence, the filter list plays an important role here. You can either select the options available in the existing filter list or you can create your own list. To install AdBlock Plus, click here.

To learn about the AdBlocker Plus in detail, access the full tutorial.
3

AdBlock

AdBlock is often confused with AdBlock Plus. But both are designed by different developers. It is being used by 40 million users so far. AdBlock works best with Chrome and Safari. Although it is supported by other browsers also such as Firefox, Internet Explorer and Opera. AdBlock asks for a small donation from its users but it's completely voluntary and a small price to pay for the privacy it offers. If you do not want to pay, you can simply skip that option.

It blocks all the advertisements on the internet. You can also block ads on various social media platforms as well, such as Facebook, YouTube etc. Another key feature about AdBlock is that it also strips off the warning message that appears on some web pages that you are using an ad blocker.

AdBlock gives you the option to block everything on the web or if you want you can also create a whitelist for your favorite sites. To install AdBlock, click here
4

Firefox Focus – Ad Blocker for Android and iOS

Firefox Focus is a dedicated ad blocker for Android and iOS. It gives you the experience of more personal browsing. There are times when you don't want any distraction during web surfing. It removes all the ads and tracking cookies, blocks ads instantly from the time you install it. Ideal for people who love simplicity.

Firefox Focus is also known as the 'Privacy Browser'. The private browsing is usually not comprehensive or in an easy manner. But Firefox Focus, being backed by Mozilla, the non-profit, gives you the much-needed privacy browsing experience, and that too for free. To install Firefox Focus, click here.
5

Adguard – The Top Best Ad Blocker

Adguard is counted among one of the best ad blockers these days. It not only helps you to get rid of flashy ads but also gives protection against malware. Adguard removes the tracking cookies and fastens the page loading, giving you an easy and comfortable surfing experience.

Adguard mainly offers a desktop software. It can be easily downloaded to your desktop or laptop. Adguard allows you to block ads everywhere including ads in videos and games. There are numerous filters available, giving you the best filtering quality. It is available for all browsers but best used for Chrome and Firefox. Adguard app is also available for Android and iPhone. To install, click here.
6

Ad Clear by Seven – Ad Blocker for Android

Ad Clear is the top non-root ad blocker for Android. Ad Clear removes the intrusive ads even before advertisers try to spy on your browsing activity. They are the first to block encrypted ads. Ad Clear strips off all the ads including YouTube ads.

An added advantage of using Ad Clear is that it saves the mobile battery, speeds up the page loading time and also protects its users from malware and other phishing websites. To install, click here.
7

AdBlock Pro – Ad Blocker for Chrome

AdBlock Pro is an add-on in Chrome that blocks all the online ads. Whether it's banner ads or those annoying pop-ups, get rid of everything that is being a hindrance to your browsing experience.
AdBlock Pro is highly effective because it works on the filter lists. You have the option of blocking all the ads or just a few. If you want to support your favorite website or a YouTube channel, you can simply add it to the whitelist.

Along with being the most effective ad blocker, AdBlock Pro is also quite user-friendly. In just a single click, it allows you to do so many things such as remove ads for specific sites, access the main menu, create whitelists and filters etc. And not to forget, it's absolutely free! To install, click here.
8

Super Ad Blocker for Chrome

Super Ad Blocker blocks all the online ads including the latest form of advertising. Be it flash ads, rich media, pop-ups, slide-in, malware or any other web annoyance, you just have to download Super Ad Blocker and everything else will be taken care of.

Super Ad Blocker also removes tracking cookies. Thus saving you from the clutches of marketers who are trying to spy on your browsing activities. Its automatic update feature always keeps it updated. Another remarkable feature that it offers is a thorough statistics of the number of ads blocked and also the type of ads.

Note: This extension was taken down because it was distributing malware.
9

AdBlocker Ultimate

AdBlocker Ultimate is another good option if you want to get rid of online ads. It is a free extension available for Chrome, Firefox, Opera, Internet Explorer and Safari. AdBlocker Ultimate blocks ads, remove tracking cookies used by marketers and also blocks phishing domains that spread malware.

AdBlocker Ultimate comprises of numerous filters that offer ultimate protection to its users. Be it pop-ups, YouTube ads, pop-under or any other commercial ad, it disables all types of ads. Unlike other ad blockers, it does not have any whitelist website or advertisers. However, AdBlocker Ultimate lets you switch back to specific ads if you wish to.

Removing all the unwanted ads also aids in increasing the page loading speed and reduces the memory storage. To install AdBlocker Ultimate, click here.
10

uBlock Origin Blocker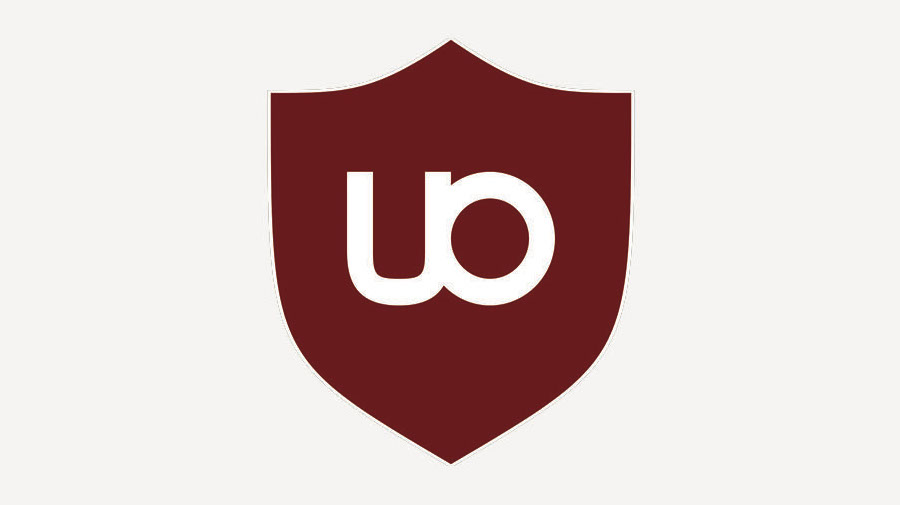 uBlock Origin is a simple yet very advanced and effective tool for ad blocking. It is a free extension available for Chrome, Firefox and Opera Mini Browser. Just like AdBlock Plus, uBlock Origin also works on filter list system. It's two main filter lists viz. EasyList and EasyPrivacy are enabled by default. But users can also create a new filter list as per their requirement.
uBlock Origin conveniently enables ad blocking, disable tracking and also prevent phishing domain that invades your browsing experience. Some other features include dynamic script filtering, a tool that aids in hiding webpage element, an active URL filtering feature and many more advanced features. Its Firefox version has an additional feature which aids in checking attempts made by websites to bypass ad blockers.
In short, if you are looking for an ad blocker with all the advanced functionality and user-friendly option then uBlock Origin is a sure shot. To install, click here.
11

Block This – Good Ad Blocker for Android

Block This is a free ad blocker app for Android that works both on apps and browsers. It disables all types of ads such as video ads, pop-ups, banner ads, audio ads etc. Block This also prevents tracking of your browsing information by the marketers. Its anti-virus feature takes good care of your security as well. Their large list of malware distributors blocks all the unwanted domains that spread viruses.

Block This claims to save approx. 35% of your mobile data as the unwanted ads do not get downloaded by themselves. It also enhances the browsing speed and battery usage to a considerable extent, allowing its users to go through the web content which otherwise gets buried under the advertisements flooded all across the internet.

To download Block This and view the how-to guide, click here.
12

Simply Block Ads – Ad Blocker for Chrome

As the name suggests, Simply Block Ads is very simple for anyone to use. This is a free extension and is considered as one of the most promising ad blockers. Unlike other ad blockers that allow you to customize it by creating whitelist, filters etc which makes it all the more complicated, Simply Block Ads has no such critical features.

All you need to do is install the extension and you are good to go with all your ad blocking needs. It runs ad blocker protocols on all the websites that you visit. You just have to select the option to turn it on or off. No other customization is required. This is the simplest ad blocker we came across.

Simply Block Ads blocks all types of ads such as banner ads, YouTube ads, pop-ups and a lot more. Its interface is self-explanatory and easy to use. Doesn't even require any usage guidelines. Being the lightest option available in the market, just 477kb, it saves a lot of your memory space as well. So far, it has been used by one million users. This itself can vouch for its performance.

The only disadvantage it has is weak customer support. The only option to contact them is to fill out a text box mentioning your concern and wait for their revert. Unlike other ad blockers, it does not provide live chat or direct email facility.

Note: This extension was taken down because it was working against Chrome's latest ToS.
13

Opera – Inbuilt Ad Blocker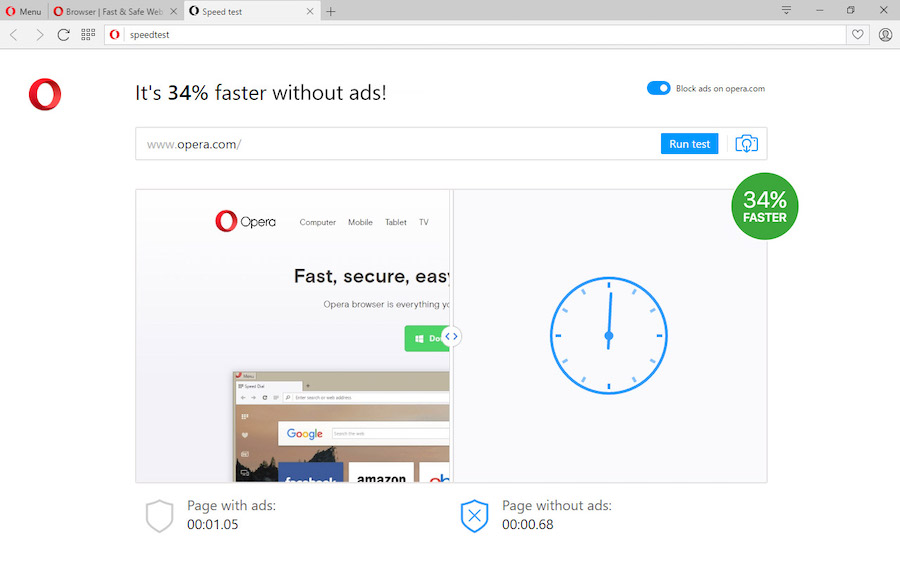 Opera is a web browser that has an inbuilt ad blocker. No hassle of installing the extension or add-ons. Just download the Opera browser and you are good to go. All you need to do is turn on or off the ad block settings in the browser. Thus giving you the option to unblock your favorite site just by the single click of a button.
Opera block the ads as soon as you request to load a certain webpage. Thus, loading the page much faster. Opera claims to load the web pages 90% faster when the ad blocking feature is turned on. It's way better than the Opera browser when combined with other ad blocking add-ons. Opera also shares the statistics as to how many ads have been blocked.
In a nutshell, Opera offers a wide variety of features apart from ad blocking. Some of the remarkable features include Messenger, disabling tracking cookies, free VPN, battery saving, news reader, Currency and time zone converter and a lot more.
Although Opera is not as well-known as Chrome or Firefox but has gained popularity in recent years. Opera is also available for Android. Download Opera Mini Browser for Android which has the similar features as the Opera. To download, click here.
14

DNS66 – Ad Blocker For Android

DNS66 helps you to block ads on Android devices. As the name suggests, DNS66 uses the DNS to block domains and ads and also gives you the option to add more DNS servers. Although at first it might seem little complicated but do not panic. Its usage is quite easy.

In the setup option, you can choose which DNS servers to block and which ones to allow. You can also select the apps that you wish DNS66 to be enabled for. This complex looking ad blocker can be configured in just three simple steps viz. start, run and install. To install, click here.
15

Netguard – Ad Blocker For Android

Netguard is another exceptionally good ad blocker for Android. It's simple yet advanced features enable you to block all kinds of online ads. You can customize it by adding the apps and web pages to the list and then choose which ones to allow and which ones to block.

Netguard aids in reduced data usage, increased battery usage and also protects your browsing pattern. It also has a new application notification which gives you the facility to directly allow or block that application. You can also change the theme and color of the app. It has five different variants available.

There are some other considerable features such as multiple device users support, tethering support, optionally block when roaming etc.

This is the only no-root firewall offering these features.

To install, click here. It can also be downloaded directly from Google Play Store.
Conclusion
Marketing is actually beneficial on both ends- for the marketers as well as for the consumers. But nowadays due to excessive use of different marketing tactics, it's becoming all the more annoying. Hence some of these best Ad Blockers have become a necessity rather than being an option.
Web surfers can change the whole picture of how the internet runs. Eventually, marketers and content creators need to think about their target audience's preferences before bombarding them with all possible forms of advertisements. Rather than flooding the web with unnecessary ads, they should use the strategies that give satisfactory web experience to both the consumers and the marketers.
These are the 15 best ad blockers for 2019 carefully chosen by our team. Choose the one that best suits your requirement. Get rid of those unwanted ads and have a hassle-free browsing experience at a much faster speed. if you know about any other best ad blocker that we have missed out or if you have experienced any of the above-mentioned ad blockers, feel free to drop us a comment.