Congratulations, you just installed WordPress on your server. But, are you ready to start posting content on your shiny new blog?
We don't think so.
Even though it seems that WordPress has all the features imaginable to run and manage your blog or website, you'd be surprised at the number of things you need to do before you can call your blog "ready".
Don't be disheartened. You don't have to spend countless hours searching the interwebs to determine all the things you need to do. Just follow the steps we've outlined in the post below, and you'll be ready in no time.
Below, we've discussed and outlined 50 steps, settings, things, whatever you'd like to call them, that you should absolutely do on your website before you post anything. The steps are not exhaustive by any means, but they will give your blog a solid foundation to stand on.
The 50 steps start just below, and we've discussed what needs to be done, why it needs to be done, and how it should be done, for each step.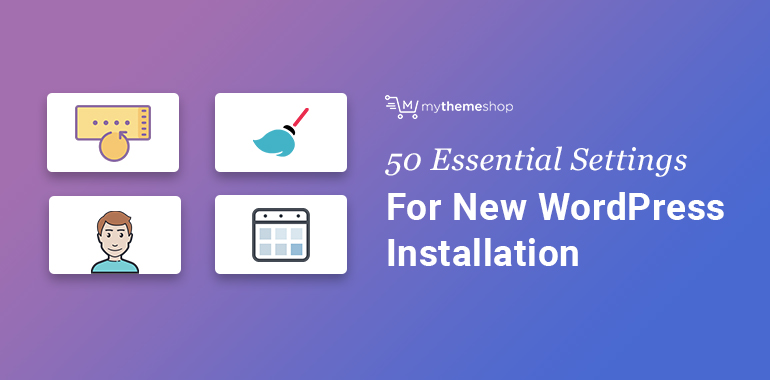 To better organize this post, we've divided it into 3 sections.
The basic and intermediate settings will be easy for most people, while the advanced settings might be intimidating as they usually will deal with editing theme files and adding a bunch of code to them. Follow the golden rule, if you don't feel confident about it, don't attempt it. Better, ask us for advice in the comments.
Also, note that we've just outlined the "how" part of the equation. If we included details for each step, this post would have turned into a small book—which we wanted to avoid.
With that out of the way, let us begin with the basic settings.
Basic Settings
The basic settings are the ones that you should take care of immediately after installing WordPress. These settings are simple but important. The best part is that they are easy to do, even if it is your first time using WordPress.