If you begin tracking your tasks, it would become fairly easy for you to manage them. You could either automate most of the tasks or, you could end up doing them yourself.
Either way, it would be more productive as you would be able to pay attention to all of them on the basis of their priority.
Here's how I come up with my tasks. You might have your own way to do it, but this one really works great for me.
Just grab a piece of paper and write down your business objectives. Once, your objectives become clear, they'll naturally flow in the form of tasks.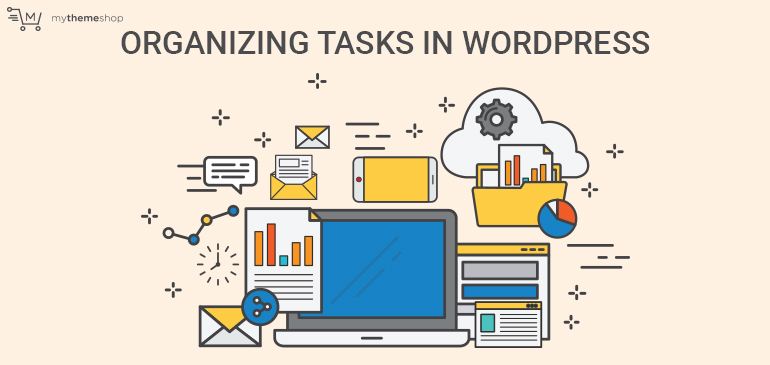 It's just logical, you first decide what you want and follow it up with how you'll get it.
1

Done with objectives and tasks? The next critical step–track

Now, the conventional step that follows planning is execution. But, it's very easy to lose the handle of tasks when you're not tracking them. Tracking is the key to perfect execution.

Well, there are platforms like Asana and Trello then why WordPress Tracking Solutions?
Great question!

While there are some awesome project management tools like Asana and Trello, none of them really work out for WordPress.

People are increasingly looking for in-house WordPress solutions to make their lives easier.

I can support this argument with some really popular WordPress offerings like the Editorial Calendar and the MailPoet WordPress plugins.

What do you think really works for them? Are they providing functionality that other applications fail to provide? Perhaps not.

For example, if Google Docs/Sheets can be great for tracking, then why are people up for plugins like EditFlow and CoSchedule?

Why not simply create an editorial calendar on a Google sheet?

It is because these other products mentioned above work within the WordPress dashboard and help keep everything in one place.

None of these really were revolutionary in terms of their offerings. They clicked with people simply because they offered to do some painful work straight out of the WordPress dashboard.

That is, they are right where you are most of your day–inside the awesomeness that is the belly of your WP beast.

You don't have to switch windows to go to them. You just save whatever work is at hand and move on to do the jobs that would otherwise require you to open more browser windows.

Most people begin blogs all by themselves.

But, eventually, they reach a point where they need to hire more people like the WordPress web designer, developer, and marketing manager to manage the growing tasks.

If you're a freelance developer/designer, you probably already have a dozen projects to track and handle all by yourself.

Whether you're going at it solo or you're working with a team, I hope that you find these tools useful in taking care of your business.
How to keep track of WordPress tasks?
1.1

Orbis

Orbis takes your WordPress site and transforms it into a full-blown project management system. Once you install it, you will see options like Projects, People, and Companies inside your dashboard.
How does it work?
Adding Projects
Creating projects is just like creating a normal WordPress post or page. You can give it a name and add the description in the body.
You won't see anything different from a standard WordPress experience until here.
But once you scroll down, you'll see a full section about project specifications. Every project has different parameters. Understanding this aspect, there's a provision to add custom fields.
Orbis IDs are assigned to the projects as you publish them.
Adding People
Adding people is also similar to creating your regular users. But as this plugin is meant for collaboration and task management uses, you'll see fields for the phone number and the LinkedIn profiles.
Again, you can add custom fields if the default form doesn't feel enough.
Adding Companies
Adding companies is also very intuitive.
How does the collaboration really happen? Once you've published your projects, you can discuss it with the rest of the team and track the project's progress through comments.
Is Orbis for you?
If you're a WordPress freelancer, you might find Orbis useful. Not so much if you're a blogger but if you take up design and development customization projects (and probably work in a team), Orbis is definitely for you.
1.2

TaskFreak!

TaskFreak! is a friendly WordPress task management plugin. It lets you create tasks and control access smoothly.
How does it work?
Adding projects
Once you install the plugin, you'll see a new menu item "TaskFreak!". Under that, there's a project sub-item that lets you add projects.
A project can take any of these statuses:
Draft
In Progress
Suspended
Closed
While setting up a project, you can assign any of these progressive stages to it.
Another important point is access control
TaskFreak! lets you decide who gets to access your projects, create new tasks, post comments and moderate projects.
You have the absolute control in streamlining your projects and tasks.
Adding tasks
Once you've created a project, you can create a page about the project. You'll have to include the shortcode into its body.
When you view the front-end of such a page, you will see 3 tabs: Projects, Tasks, and Updates.
You'll also see an add task option. Just click on it and you're set to add new tasks to the project.
As you can see, you get to assign the task to a co-worker, set the priority and pick a deadline. There's also a neat feature of adding relevant attachments.
Is TaskFreak! for you?
Yes. No matter what kind of WordPress projects you handle, TaskFreak! will take all that you throw at it.
What I like best about the plugin is that adding and assigning tasks is a breeze. Thanks to its seamless integration with WordPress user roles and more.
1.3

CollabPress

CollabPress lets you add projects, tasks and task tracking features to your WordPress site. You can use CollabPress to manage unlimited projects right from your dashboard.
CollabPress shows around 60k downloads.
The first thing that you'll notice (and probably love) about CollabPress is its visual approach. Once you activate the plugin, you'll be able to start adding projects.
How does it work?
Adding projects
Just click on the CollabPress menu item, and you'll be able to create a new project. Other than the name and description, CollabPress lets you add users at this point.
Adding task lists
If you don't want to set out with creating tasks directly, you can create task lists. And then go on to create specific tasks according to the list.
Adding tasks
Adding tasks is pretty straight-forward.
As you can already make out from the screenshot, you just have to fill out the name and description of the task.
You can then set a due date and priority.
And there's a useful feature here-you can choose to notify the user who is being assigned the task. It comes around like a friendly feature that you'll only expect in a well-thought-out plugin.
Tracking Progress and Collaborating
Once you've set up tasks and assigned them, you can click on the Calendar tab on the CollabPress dashboard, and you'll see all the tasks. Simply click on a task, and you'll be able to view its status and leave comments.
You can notify the assignee about the comment so that he/she can respond to it.
Is CollabPress for you?
Yes. CollabPress is great for managing teams of any size easily. If you work all by yourself, you can assign tasks to yourself. And monitor them closely using the plugin's intuitive dashboard.
1.4

WP Project Manager

WP Project Manager lets you create projects, to-do lists, milestones, invoices and more. It's easily one of the best and most robust tasks tracking solutions for WordPress.
How does it work?
Adding projects
Creating projects is very similar to CollabPress. In addition to the basic fields, you get an option to notify your teammates about the new project. This can be great if you work in a team and launch new projects often.
Creating To-Do Lists
Just name your task list and you're good to go. Also, if you define milestones in your project, you can use them here.
Creating Milestones
Milestones are great for tracking the progress of a project. WP Project Manager lets you create milestones for each project.
You can assign deadlines to each milestone.
Adding Messages
If you look at the other task tracker options that are discussed here, you'll see that most of them collaborate through comments.
WP Project Manager takes this a step further-it comes with a full inbuilt messaging system. You can use it to send messages to a user/group of users notifying them about important updates to the tasks and projects.
Depending upon the level of communication that you need, you can find this feature pretty useful. You can also add attachments to the messages.
All the attachments are also accessible from the files section of the dashboard.
Add-ons
There are several paid add-ons that let you extend the functionality of the plugin. However, even if you use just the basic free version, you'll have a neat task tracking system in place, inside your WordPress site.
You can get WP Project Manager to create subtasks and invoices using its premium add-ons.
If WP Project Manager for you?
If you're looking for a handy way of keeping track of practically everything that you do, you will enjoy using this plugin.
Although there are some great features packed into the plugin, if the calendar view was included in the basic version, I would have loved it even more.
Definitely deserves a shot, do try it out.
1.5

Project Panorama Lite

Project Panorama Lite lets you create and track task completions using beautiful visual bars.
If you look at the WordPress task tracking solutions that I listed earlier, you'll see that all of them are geared at getting the work done.
This one is designed more towards viewing and sharing the task progress along with the clients.
How does it work?
Adding projects
While adding a project, you can add milestones and set the start and end date. If you've signed any non-disclosure agreements or any other important documents, you can list them right while creating the project (the documents tab lets you do this).
You can also create posts and schedule them using the calendar view. Just navigate to the appropriate date cell and click on the add new post option.
While this feature is certainly not the reason you'll get this plugin, yet you can use it if you want to publish or schedule quick updates about your projects.
Adding Milestones
Project Panorama Lite lets you create up to 3 milestones. Since milestones mark the achievement of a significant phase in a project, this plugin lets you split up the project percentage-wise and distribute it amongst the milestones.
Where the basic version falls short
There's no way to create and assign tasks. Essentially, you are only creating projects and monitoring them on a very macro-level.
Although if you have dozens of projects that you would like to track percentage/milestone-wise, then you can get great mileage from this plugin.
Is Project Panorama Lite for you?
Depends…
If you work all by yourself and you're only looking to track the completion stages of your various projects, you can make some nice use of this plugin.
A sidenote about the premium version
The premium version of this plugin comes with many bells and whistles. You can get it to create and monitor tasks and use a whole suite of team management features.
I wish that there was a tad more functionality in the lite version.
You can check out the paid version here.
2

Wrapping It Up

I just walked you through 5 of the most discussed WordPress task management solutions. If you asked me to pick just one or two, I'd surely choose CollabPress or WP Project Manager.

Both these plugins cover your task-management needs fully. There's a sleek communication system in place for collaborating with the teams. WP Project Manager has a full messaging system while CollabPress allows comments and notifications.

All in all, these 2 project management plugins definitely stand out.

While these solutions aren't the best that they can be-they surely show promise.

Do try them out and let me know how your productivity improved. Already using some of them? How's your experience so far?