Want to find the best themes to use with the Elementor plugin? You are at the right place.
Since Elementor is getting so popular, lots of different themes and templates have come out to support it.
In this post, we've put together the 25 best themes for Elementor that you can use on your WordPress CMS in 2020. There is a theme for everyone here whether you're looking for a free theme, paid theme, design-friendly, business-related, or any other niche.
Let start from the basics.
What is the Elementor Page Builder?
Elementor is one of the top page builder plugins on WordPress. It's a standalone plugin that allows you to build websites and landing pages without using the WordPress editor.
Every aspect of your website becomes customizable ranging from the text, images, posts, and more. It also includes specific features if you're planning on creating a stunning sales landing pages.
Another important feature from the Elementor plugin is the ability to connect with third-party services for analytics, marketing and more to help out your website.
25 Best Themes for Elementor
Since Elementor is so popular, almost all themes, free and paid, are compatible with it. The themes in this list are made specifically to work with Elementor and that's why we recommend them so much.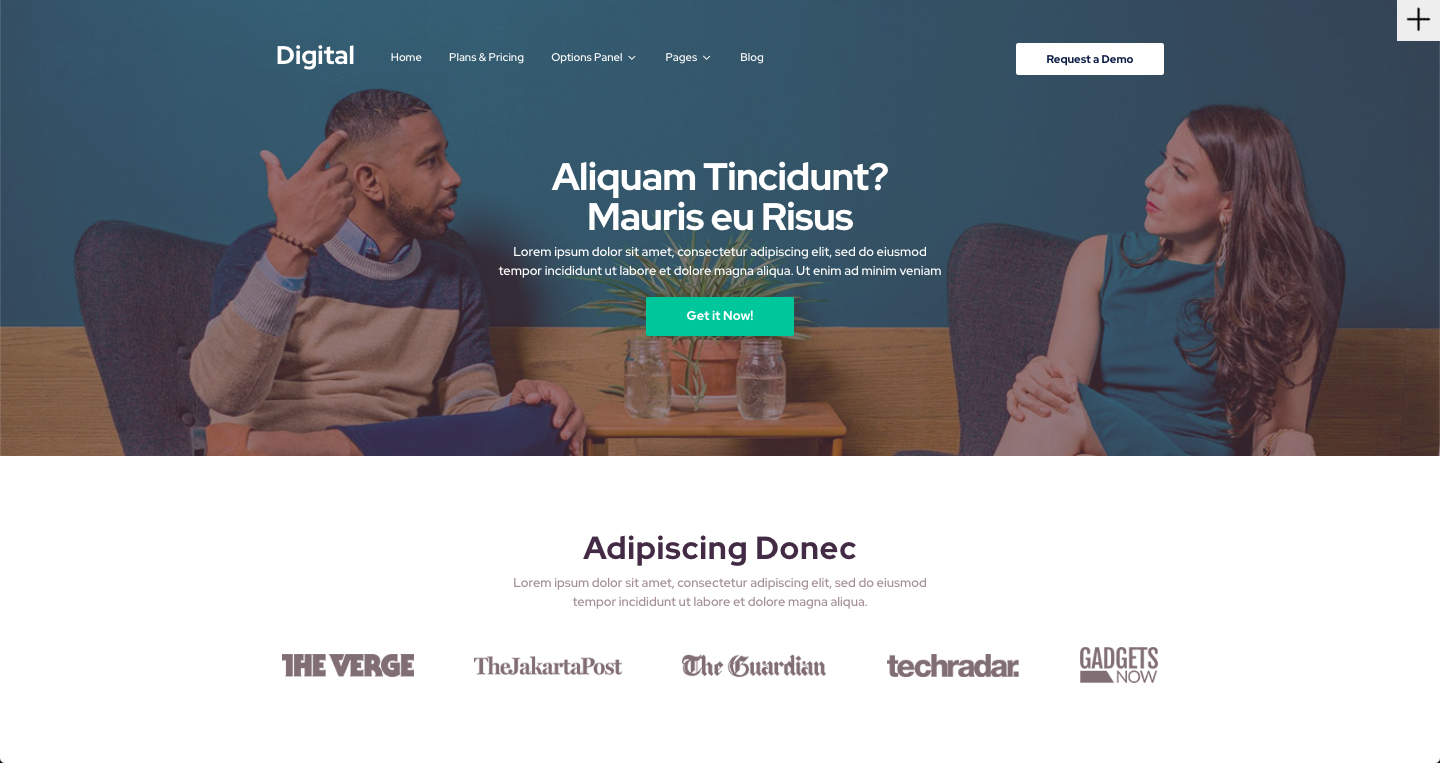 If you want to make a significant mark on your digital presence, Digital is the perfect elementor theme for you. As the name suggests, Digital theme comes equipped with 9 homepage, 3 blog page, and 3 pricing layouts.
Since we all know that Google prefers a clean coded website, at MyThemeShop we make sure that all our themes are SEO ready. Using Digital, you can be assured of gaining high rankings in the SERP as you'd have to mainly focus on the On page and Off page SEO.
It is a perfect theme for entrepreneurs, freelancers, and anyone who wants to make an impact online. The theme is fully compatible with the elementor plugin and also Adsense optimised for generating those extra $$.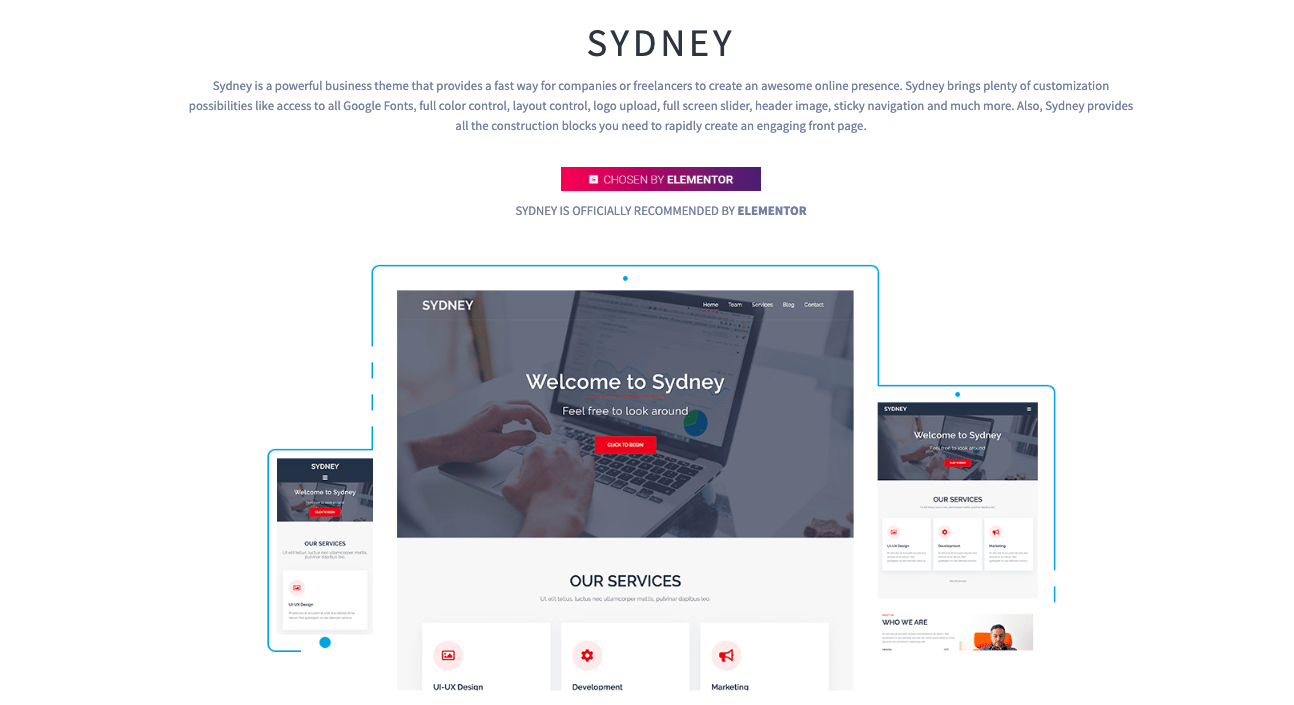 Sydney is a business theme that allows business owners and freelancers to create a website super quick. It's fully compatible with Elementor and gives you more customization options like color and layout control and Google Font availability.
Having header images and sticky navigation can really make your website pop and Sydney also gives you the ability to create that engaging front page that will really set your business apart from others. Certainly, it is one of the best elementor themes for your WordPress website.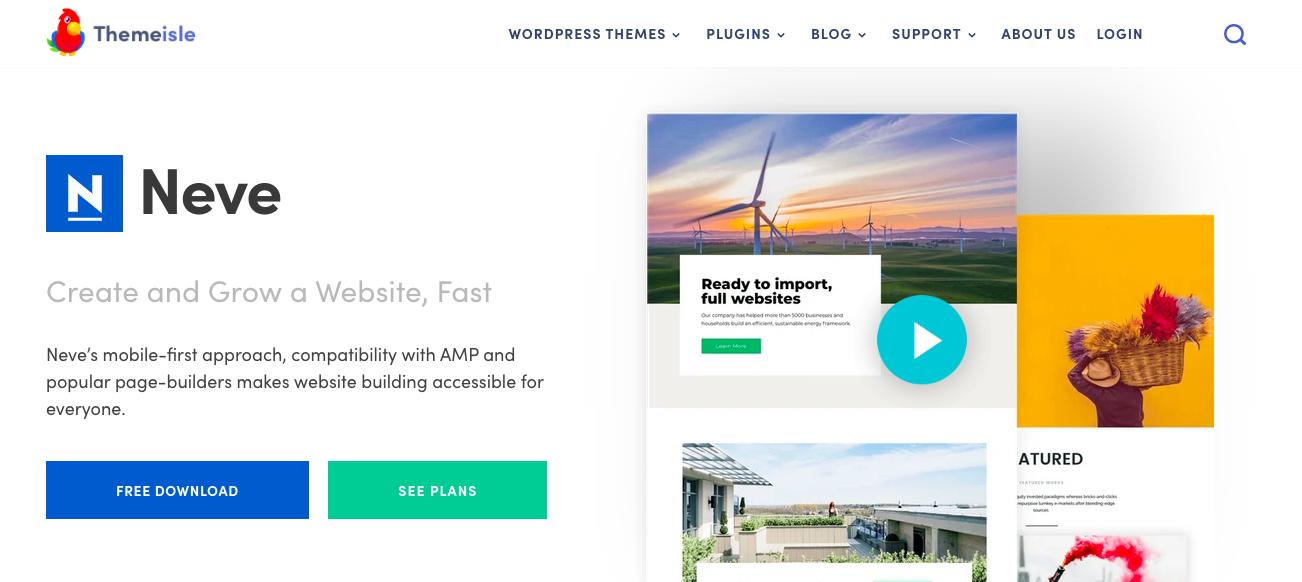 The Neve theme takes a mobile-first approach to the design of your website. The theme is lightweight and fully-responsive which makes SEO ranking easier in the long run.
Neve's developers use Elementor themselves, so the theme already comes with an easy way to install Elementor into it during the import process.
This is a perfect theme for those with little tech experience but wanting that professional look.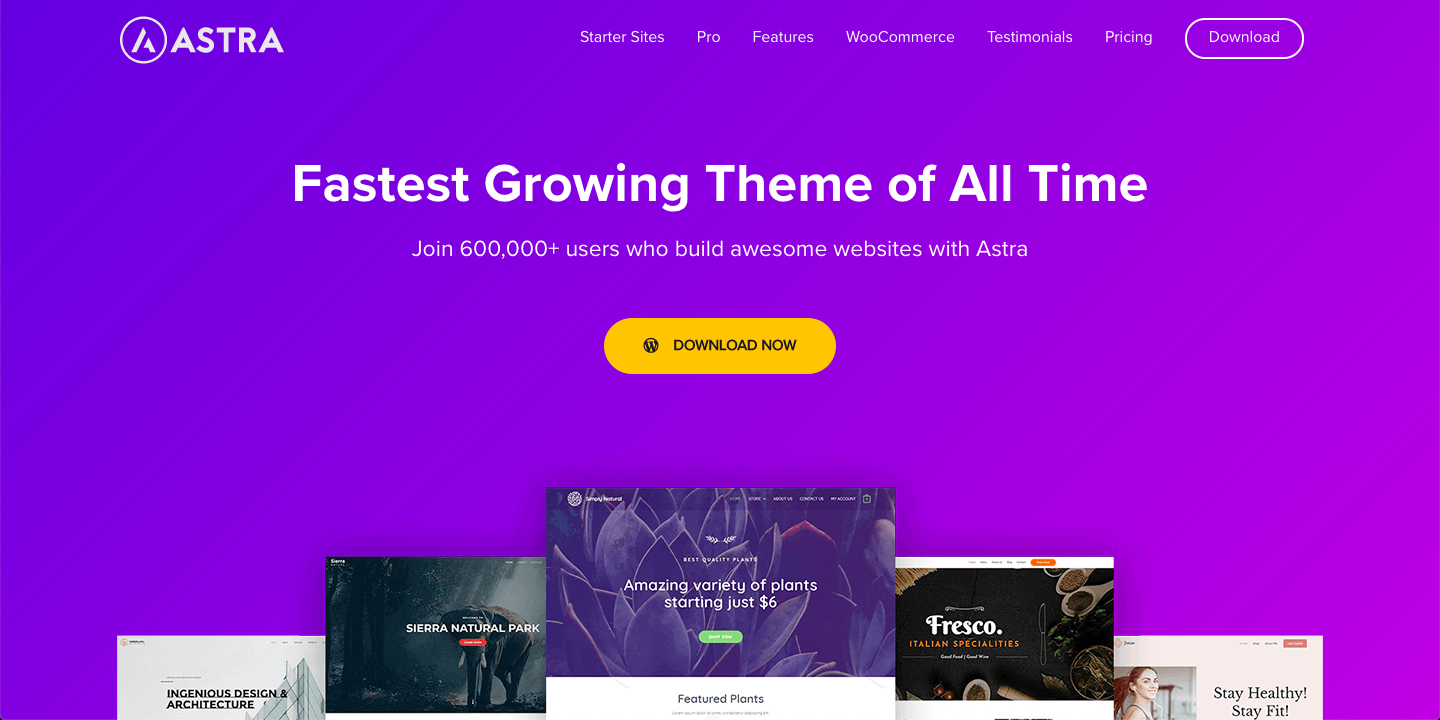 Astra is a fully-customizable theme that fits well with the blogs and portfolio websites out there. One of the lightest and fastest on this list, this theme keeps speed and SEO rankings at the top of your priority list.
There are also lots of other opportunities with websites using Astra that involve creating websites for businesses and even WooCommerce storefronts if that's what you're looking for. With lots of integration abilities, you can do lots of different things with this theme.
One of the best thing about Astra is its huge library of demos that allow you to just import into your site. Once you import a theme you like, you'll be able to customize it any way you want to create a stunning looking site while knowing it will work well.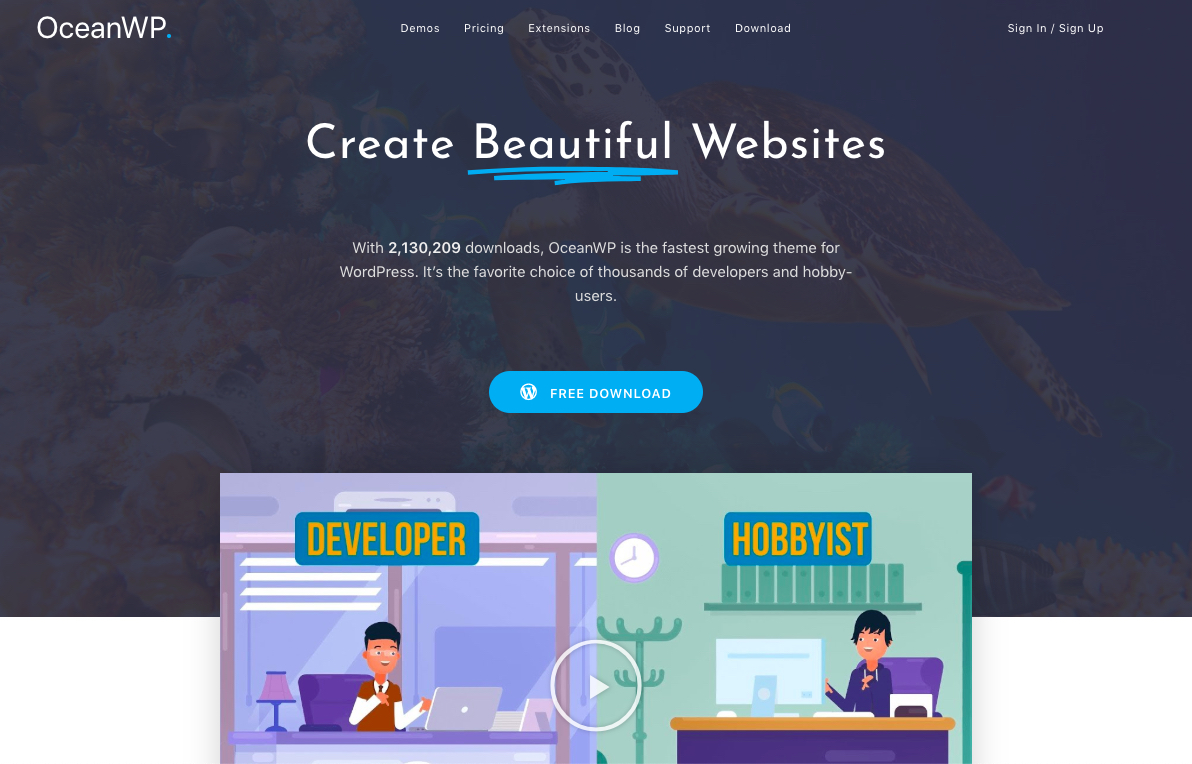 OceanWP is one of the most popular options on this list. Whether you're looking for a small or large site, this theme can work well for you. Just like Astra, OceanWP comes with loads of demos that allow you to import any kind of look you'd want for your site.
One of their main focuses is their loading times on pages and built-in SEO features, so if you're looking for a fast and SEO friendly site, this might be the option for you.
One special aspect in OceanWP is that they offer unique Elementor widgets that help you create different layouts and content on your website. This could mean adding different features to your blog posts, images, and any other things you might add on your site.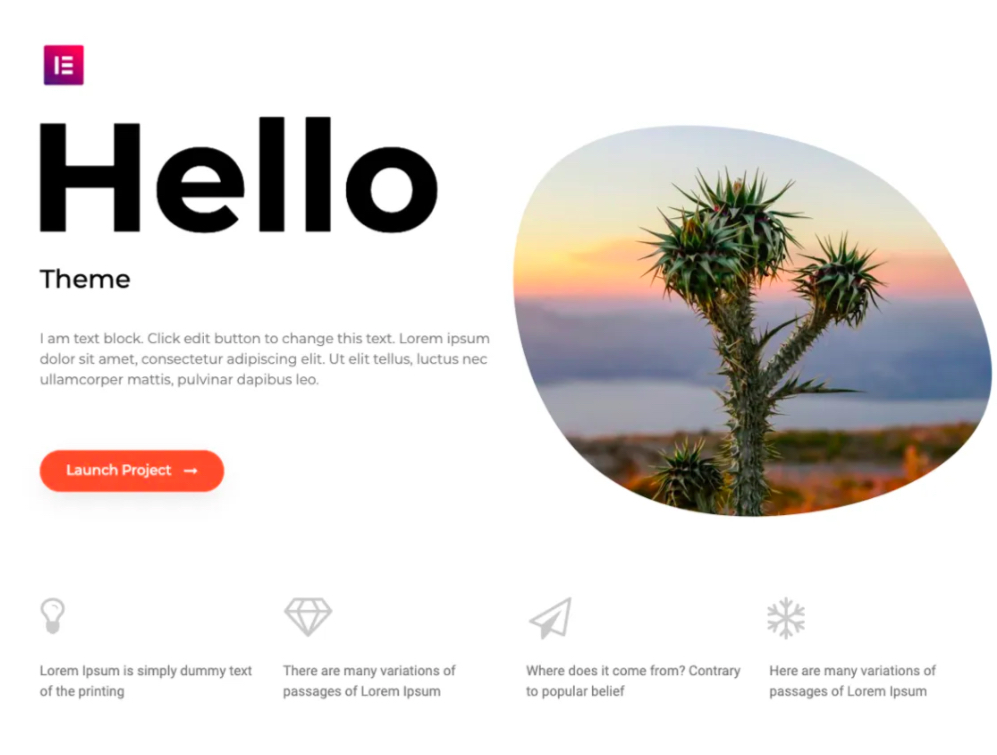 If you're looking for something very minimalist, this is the theme for you. The Elementor team actually created this plugin for those that just want a simple one-page site.
Out of the box, the Hello theme gives you perfect compatibility with Elementor and the developers focus on this theme themselves so all the updates would work perfectly with it.
The positive side of a very minimalist theme is that it's perfect for landing pages and sites that focus on fast pages. Every millisecond counts with conversion rates, so a minimalist site could be great for you.
If you're looking for a site to host your portfolio or blog, Rife Free is the perfect multi-purpose theme for you. It comes with seven ready-to-use demo layouts that you can import into your site.
Rife also comes with some higher-level features like mobile sliders, mega menus, and bricks galleries. Over 450 customizable options come with this theme, along with the ability to edit using Elementor.
If you have a creative mind or need to show off your photos, music, or writing, this theme, along with also the extensions and demos, it offers, would be the ideal choice.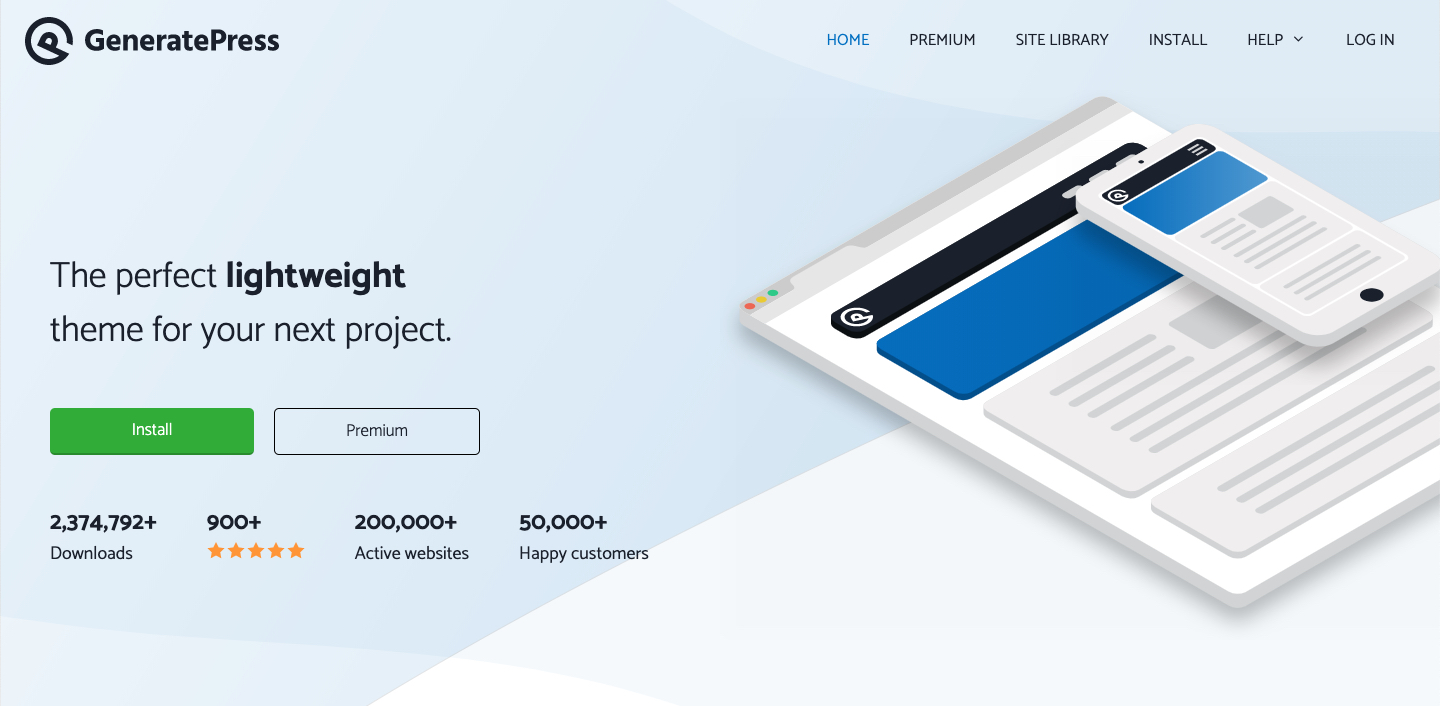 GeneratePress's major call is being high on their coding and accessibility standards. They want to make sure that your site stays safe and secure, along with allowing anyone to come to your site.
Some of their key features include controls to customize layout features like padding, sidebars and more, ten demos to test out with Elementor, and of course, high speeds with the special coding.
One extra aspect of the accessibility focus is that this theme adapts well to whatever your viewer is using to view your site. This means if they're on a computer, phone, or tablet, the site will look great for them no matter what.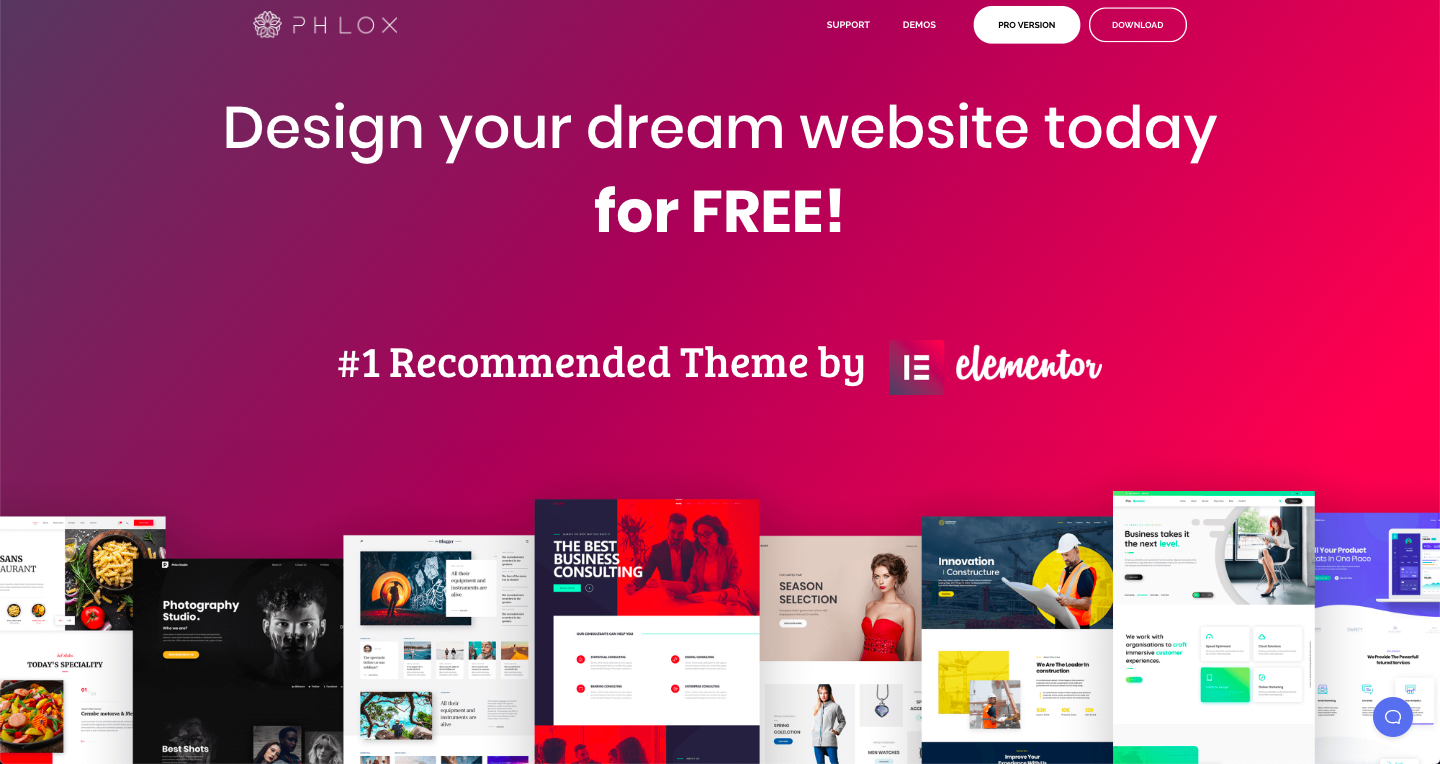 Phlox is one of the most modern-looking options on this list. Whether you have a blog, agency, news site, or WooCommerce storefront, the sleek look of this site will set you apart from others.
Phlox has 30 exclusive Elementor elements built into the theme, comes with many demos and page templates and has ways to help you create your dream page without doing any coding whatsoever.
One of the best things about Phlox is its library of advanced elements. You can add things like testimonials and Google Maps to your site with the click of a mouse. This is perfect for helping outline your business' features and create an easy way to get new customers.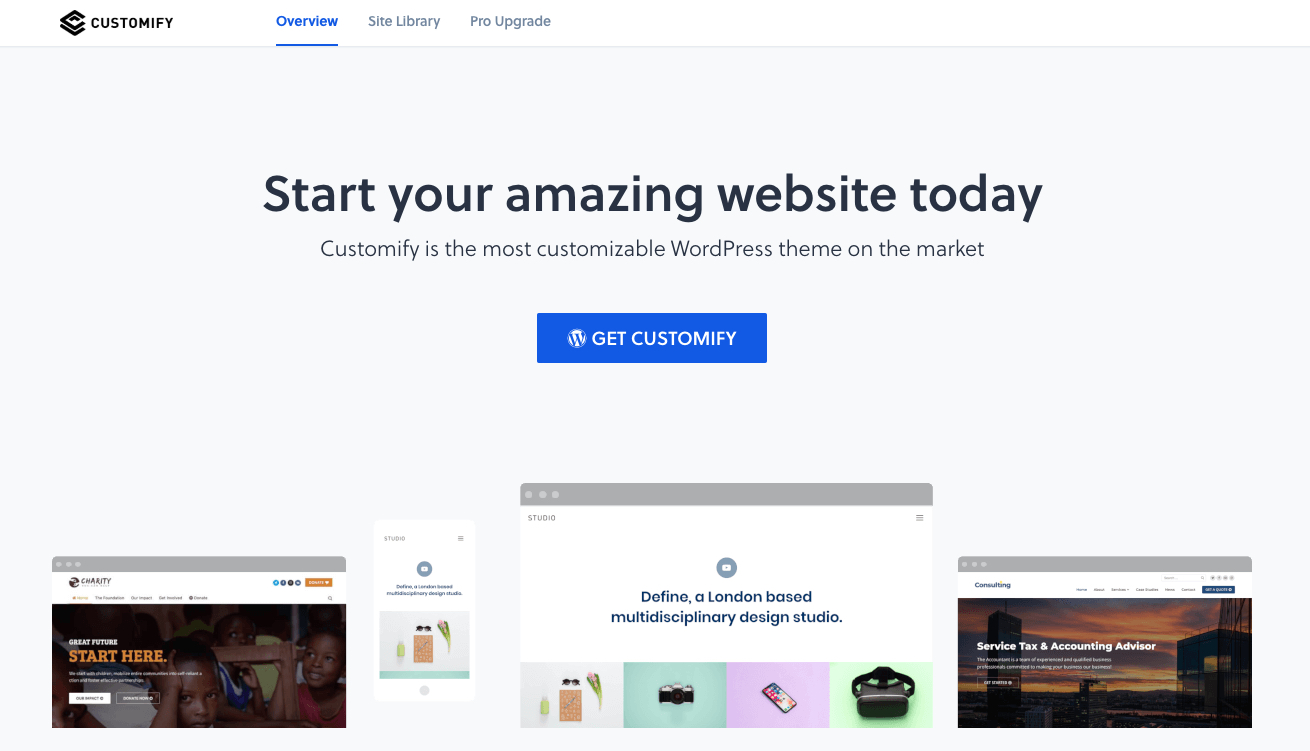 If a theme has custom in its name, you can probably guess what their focus is on. Customify focuses heavily on customization for your site. You get extra things like a header and footer builder with this theme, along with making other visual changes all over your site.
With five demos built with Elementor, you can seamlessly create pages that will drive your website to success. The extra customization features will allow you to tweak almost anything on the page, making your site stand out in the crowd.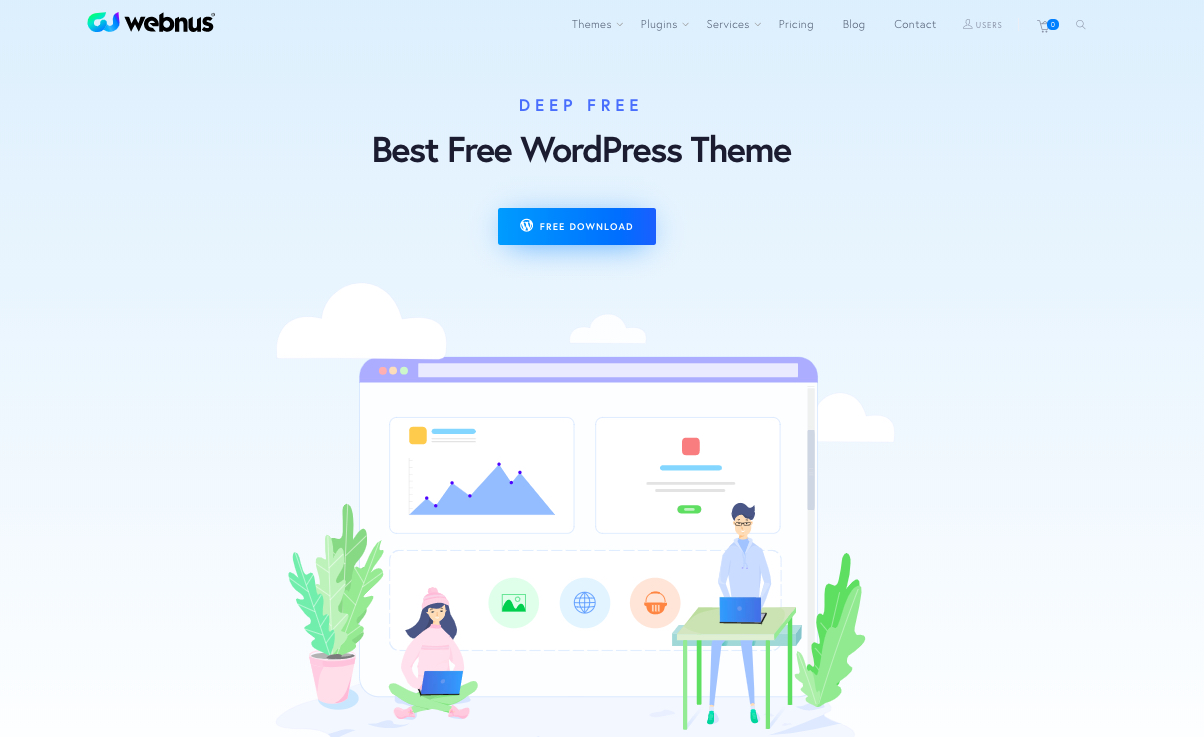 One of the most talked-about Elementor compatible themes is Deep. This theme comes with a lot of features specifically made to help Elementor users do what they want with their site.
Creating a mobile-friendly and responsive site is simple with this theme and it also comes with a powerful header and footer builder. You can also customize layouts, backgrounds, and even the menus to create a user-friendly experience.
When it comes to creating sites, there's virtually nothing Deep can't help you with.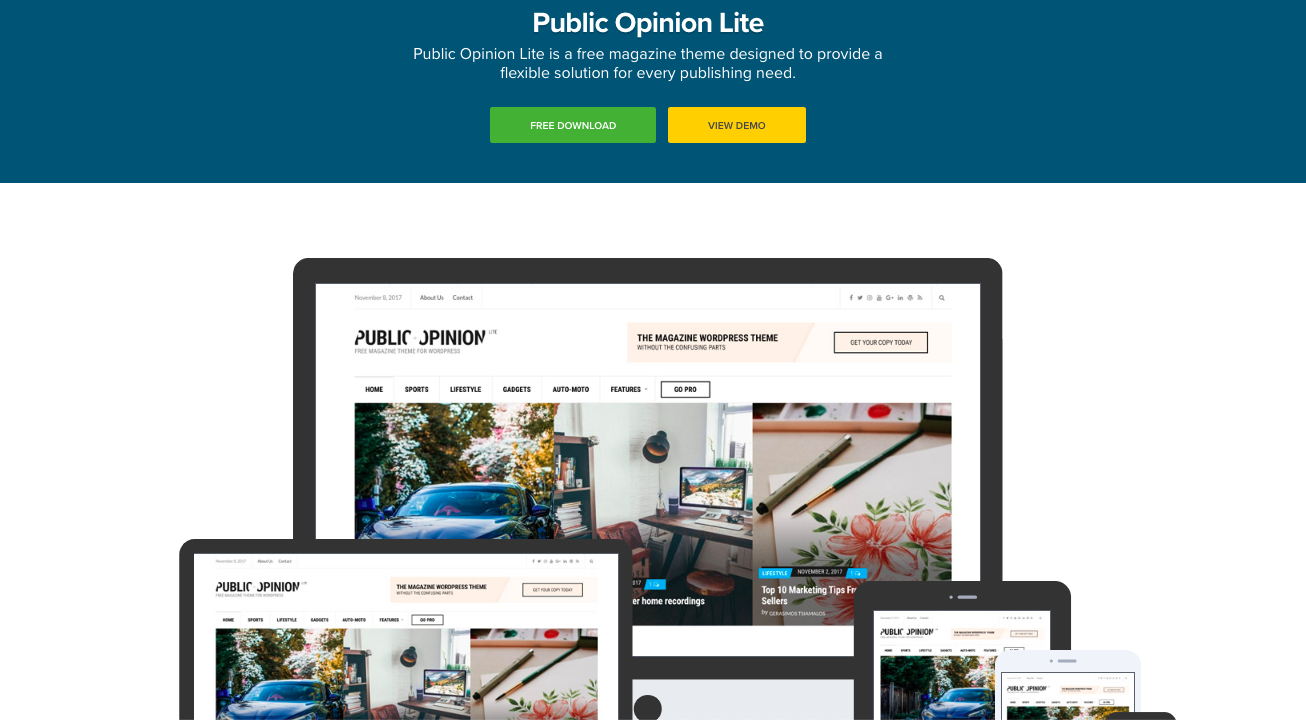 Magazine style themes have been becoming really popular over the past few years and Public Opinion is one of those. If you have lots of content to add to your site then Public Opinion could be the right style for you.
This theme gives you many ways to organize your content and articles throughout your site, along with a dynamic front page that will get your viewers to read lots of content.
Within the theme, Elementor is there to customize each and every section of your website with ease to create a great user-friendly content site for your business.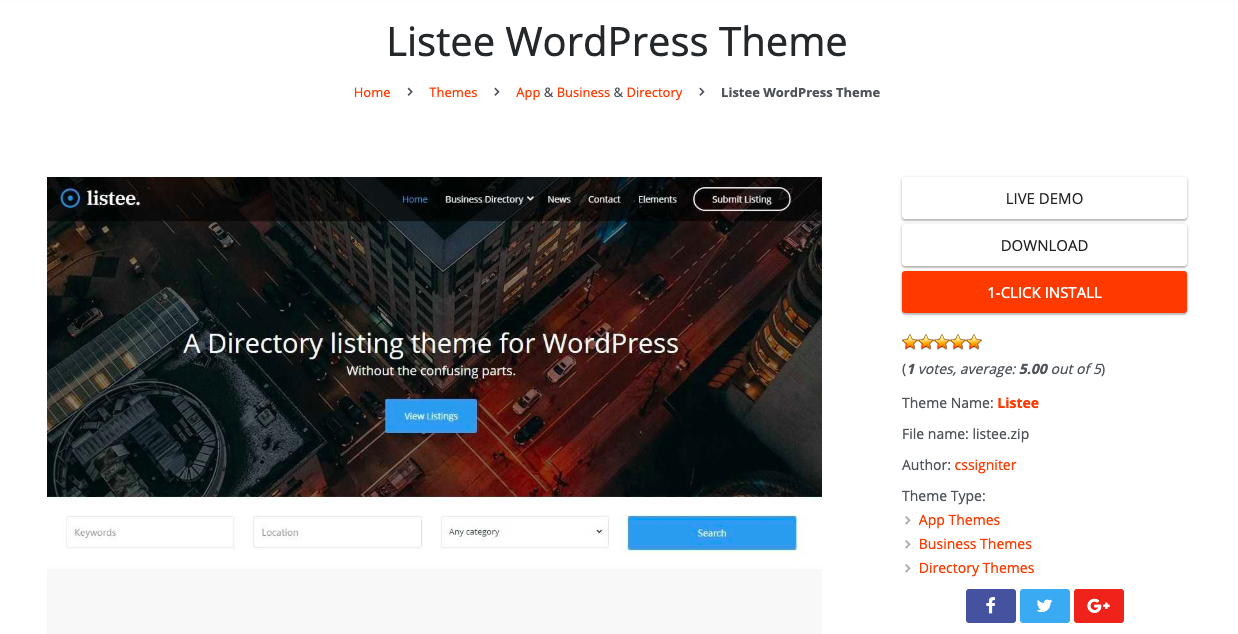 If you're looking to build a business directory, Listee would be the option for you. This theme has search options that allow users to filter through the listings on your site for their needs.
There is also a front-end submission form for users to input their submissions to end up in the directory — a very niche theme but perfect for people looking for exactly this.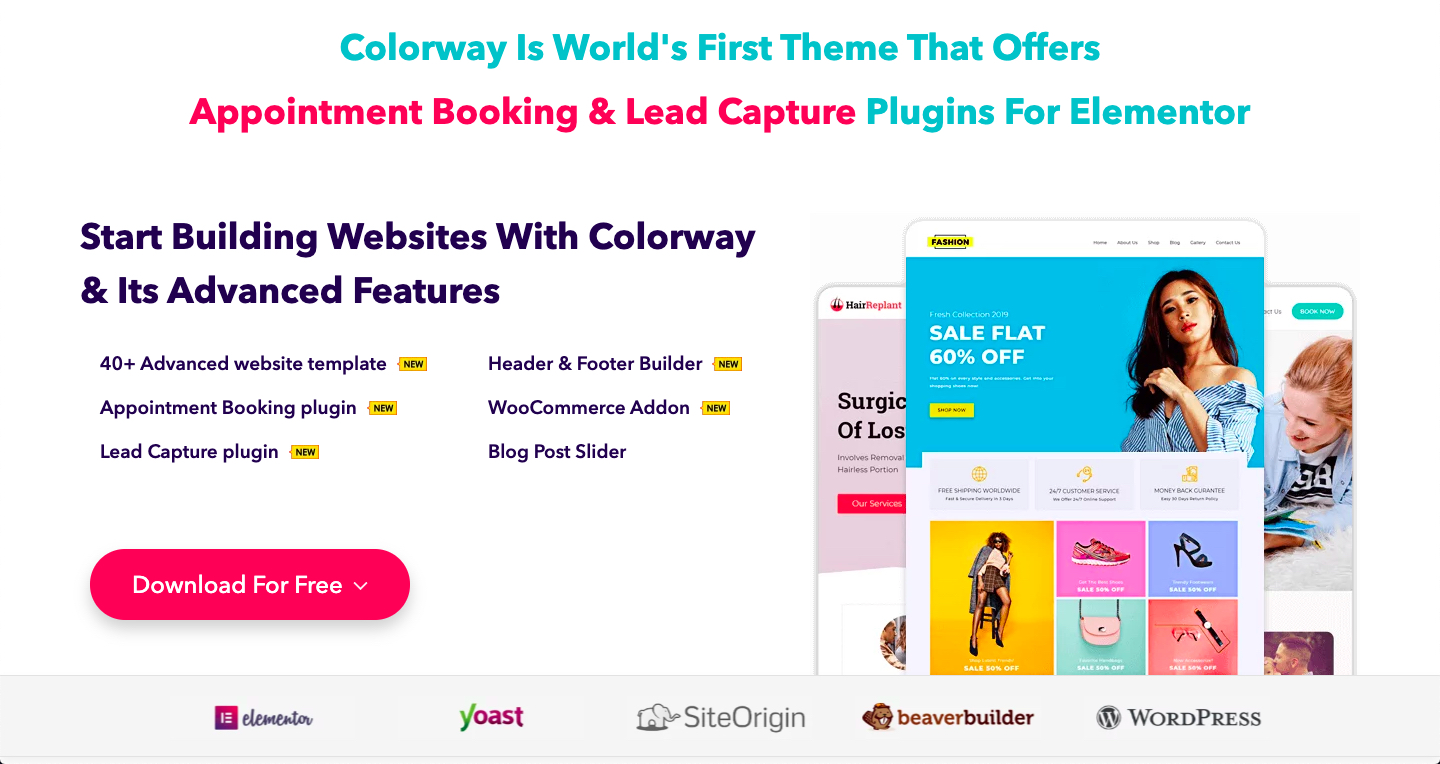 ColorWay is a theme built specifically for eCommerce, restaurants and local businesses. Infusing lots of colors into the page, you'll have a special design if you choose this theme.
It comes with lots of pre-built templates that allow you to design your own color scheme into it. It also comes with extra elements like sliders, multi-column areas, boxed & full-width layouts and more. This makes it a top rated elementor themes for 2020.
The live customizer is the best part though. You are able to customize everything on the page and see it change in real-time so you can decide if it's worth keeping or changing back.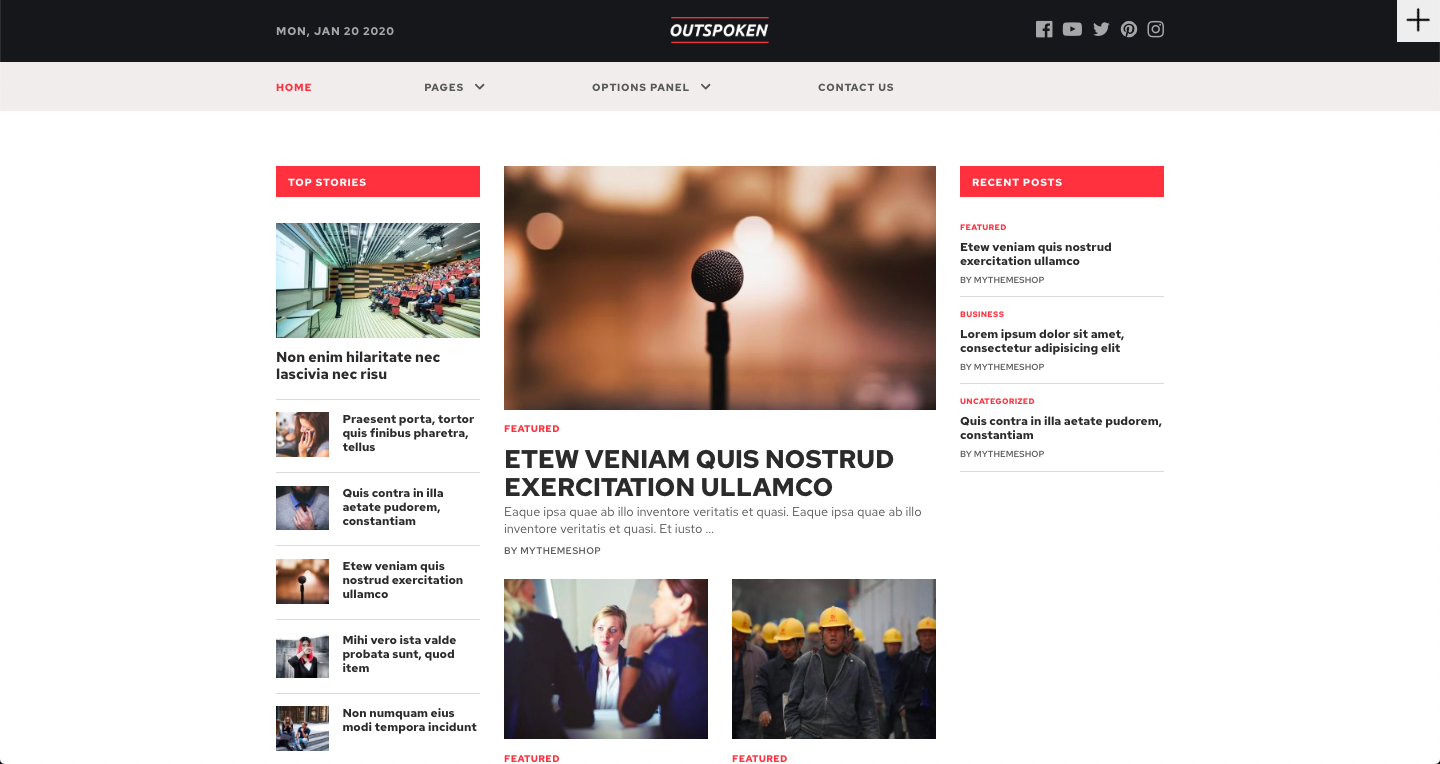 If you are looking for a perfect magazine style, fluid responsive WordPress theme, Outspoken would be the best choice for you. You can easily play with the multiple blog and header layouts that would give an astonishing design feel to your website.
Some other features include the full customizability with Elementor and how SEO friendly it is. The clean and optimized source code allows Google and other search engines to cleanly search your site and rank you where you should be.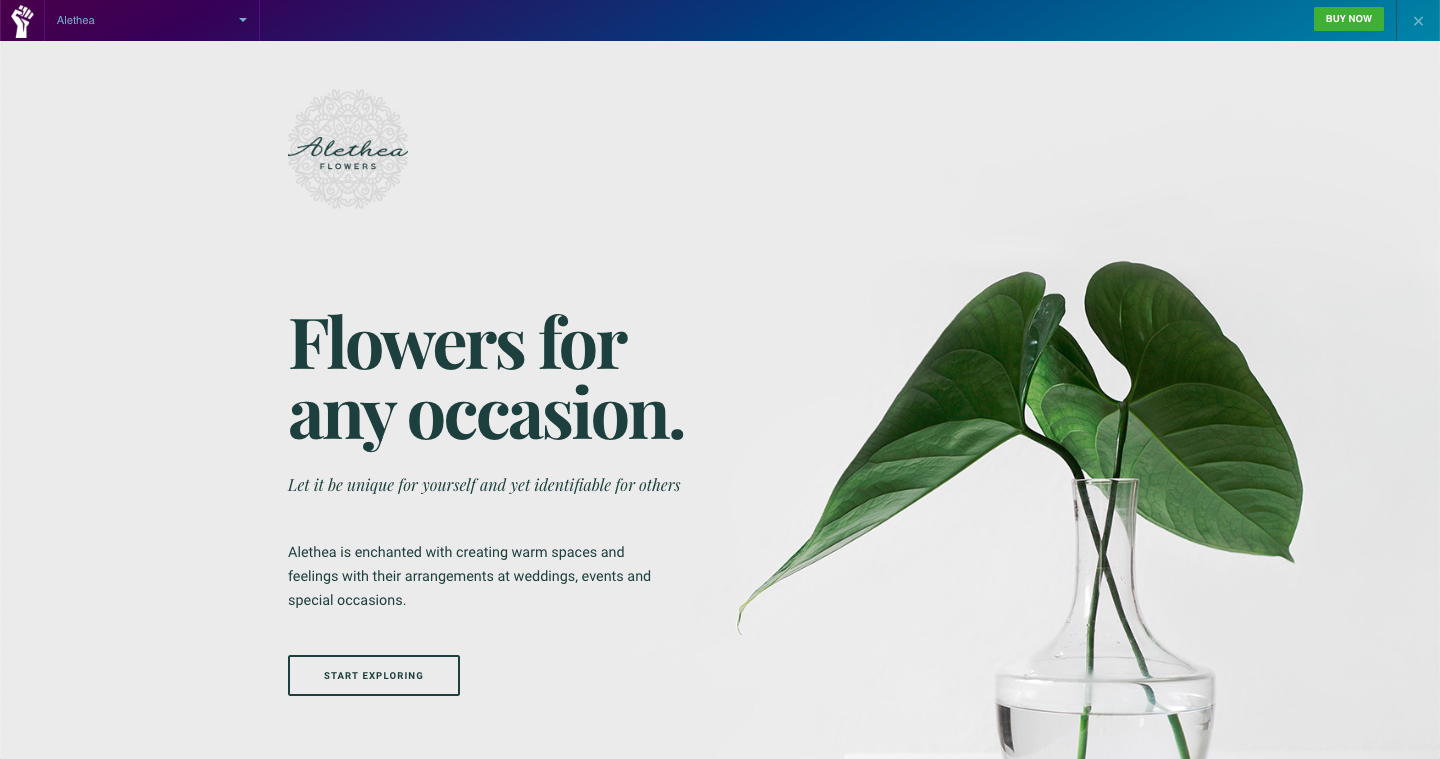 Alethea offers a little bit of style and elegance to any webpage you create using it. If you need a business website that revolves in spaces like weddings, flowers, nurseries and more, this would be a good theme for you.
Elementor will allow you to customize lots of layouts to create a beautiful and flexible design that your customers will love.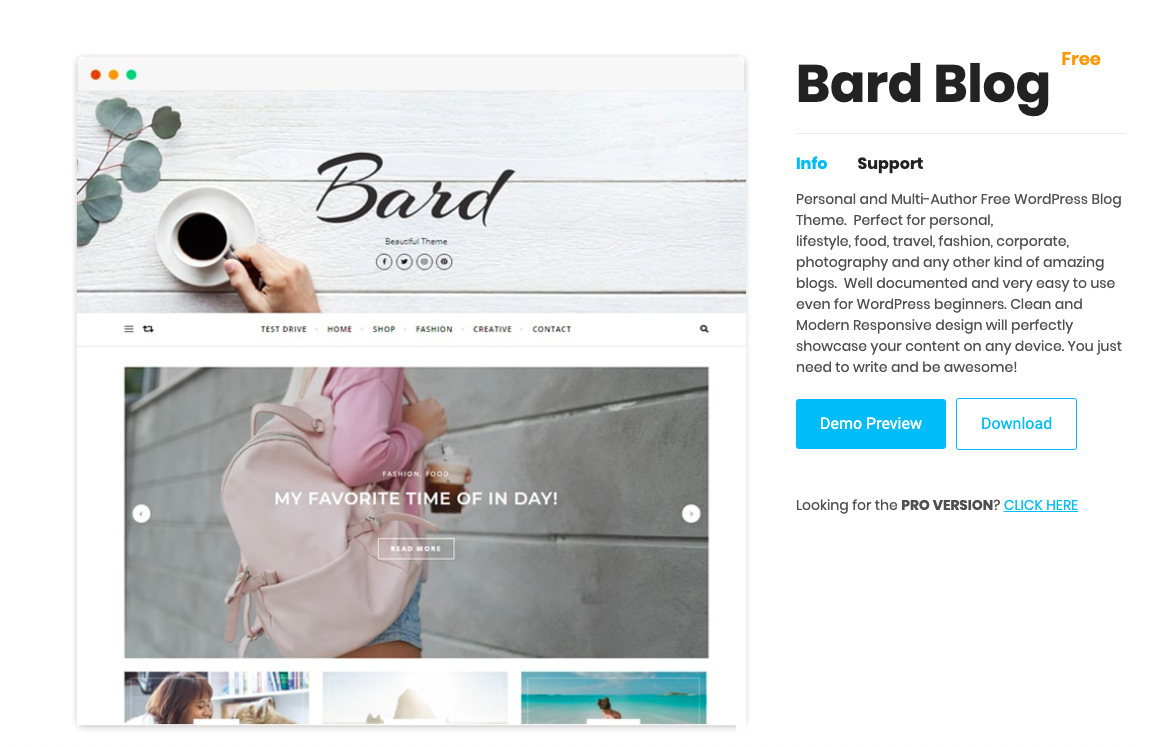 If you have multiple writers on your site, this theme highlights that and allows your site to thrive for each writer. Bard comes with lots of features that would help any blog style website grow.
It also comes with some pre-built demos that you can import and different styles and layouts like changing the sidebar location and boxed and wide viewing styles.
With the demos, you can install any of them that fit your needs and just click on it to create the style of your website in an instant.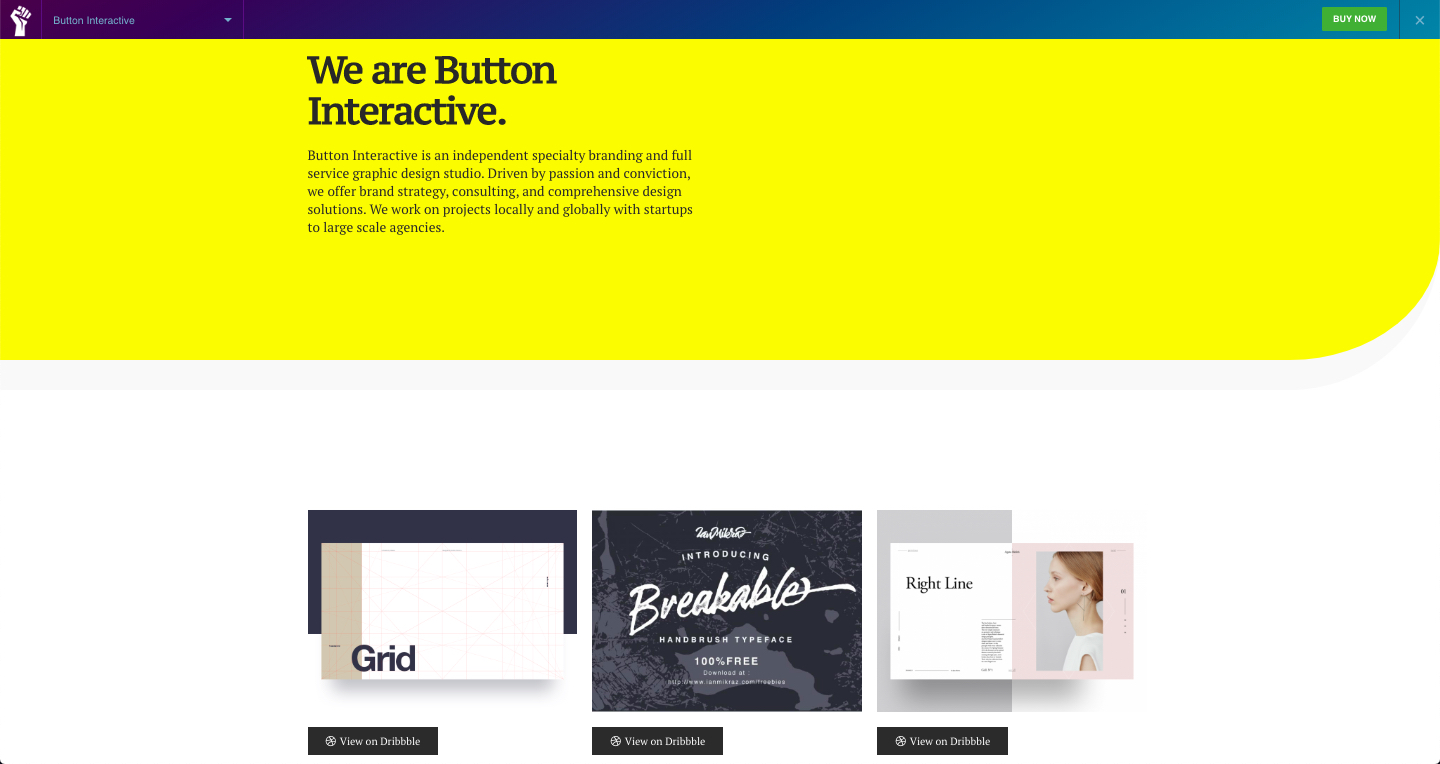 Button Interactive might be one of the most simple themes on this list but that might be what you're searching for. This theme is made for you if you like bold colors and crisp typography.
You can add image galleries, testimonials, team members and more. Everything is easily customizable and can be implemented with Elementor very easily.
On their site, they have lots of different designs that have been made using Button Interactive to drive your inspiration and help you design your own site, which is very helpful.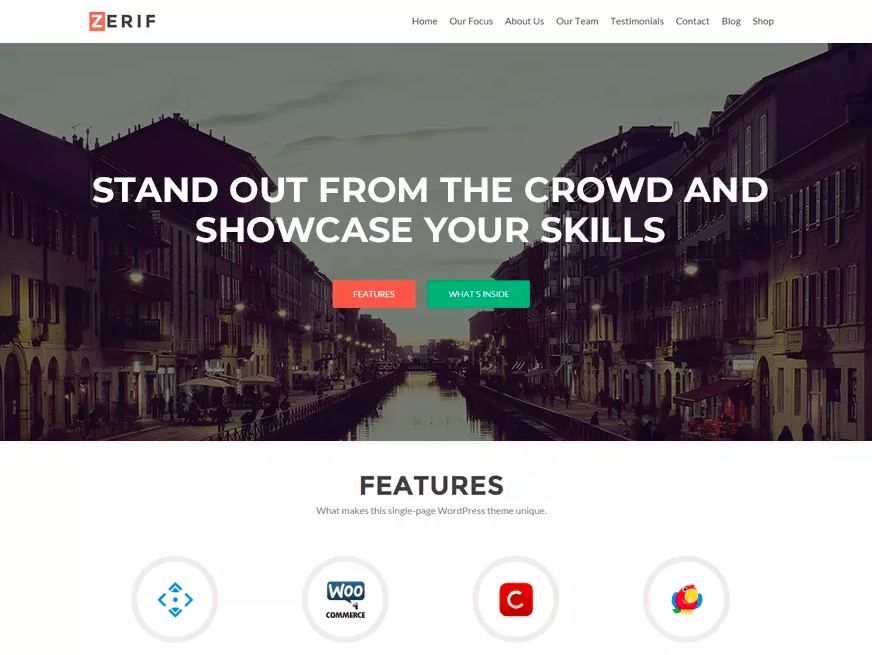 Something that's gaining more and more popularity with websites is the ability to create one-page layouts. Zelle is one of the best options for one-page layouts with Elementor.
You can easily customize every design element on the page and even allows you to create multilingual websites with translations so if you have a global grand, this could be a great theme for you as well.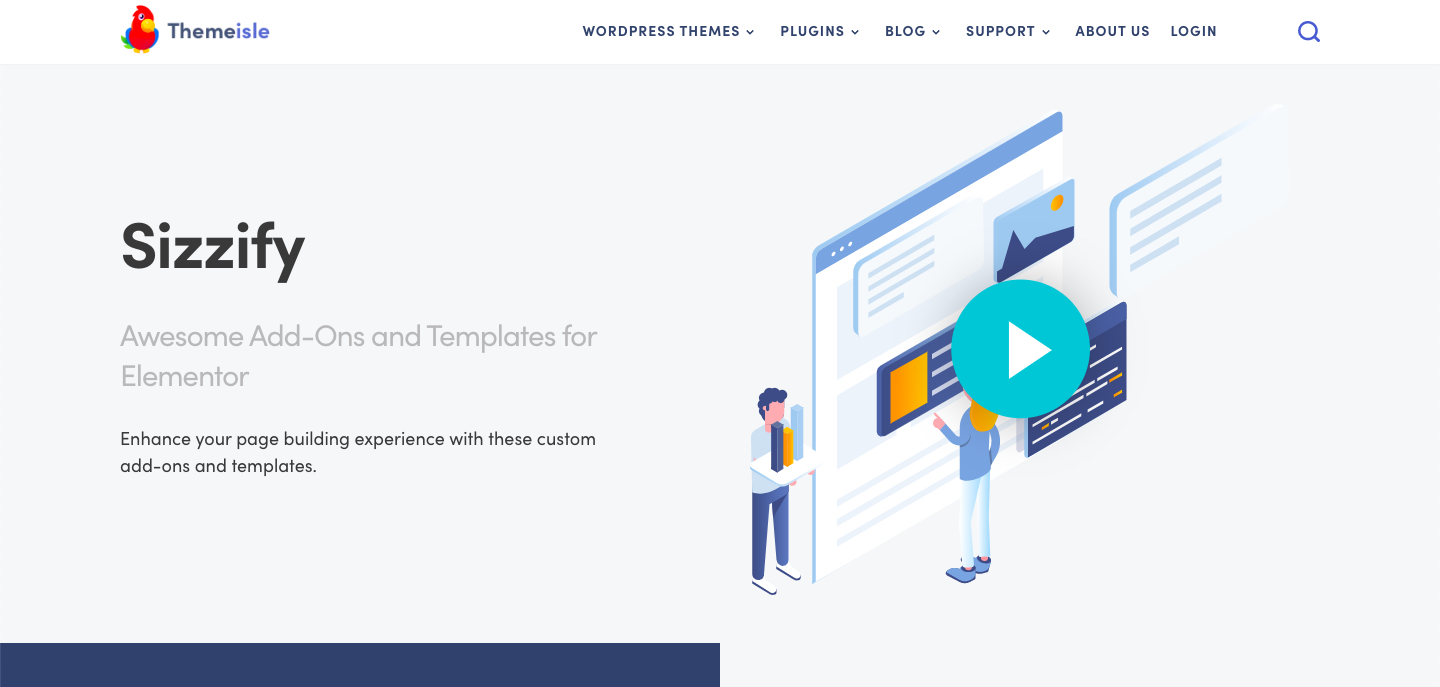 Sizzify is an interesting setup on this list. It comes with 20+ custom page templates that can be imported into your site, but it's not a theme. So if you have a theme you like already but want to spice up your page in a certain way, you can definitely use Sizzify.
Sizzify also comes with custom add-ons that you can use for your sites like lists of services and a grid for your blog posts. With Elementor and Sizzify, the ability to customize your site would be endless.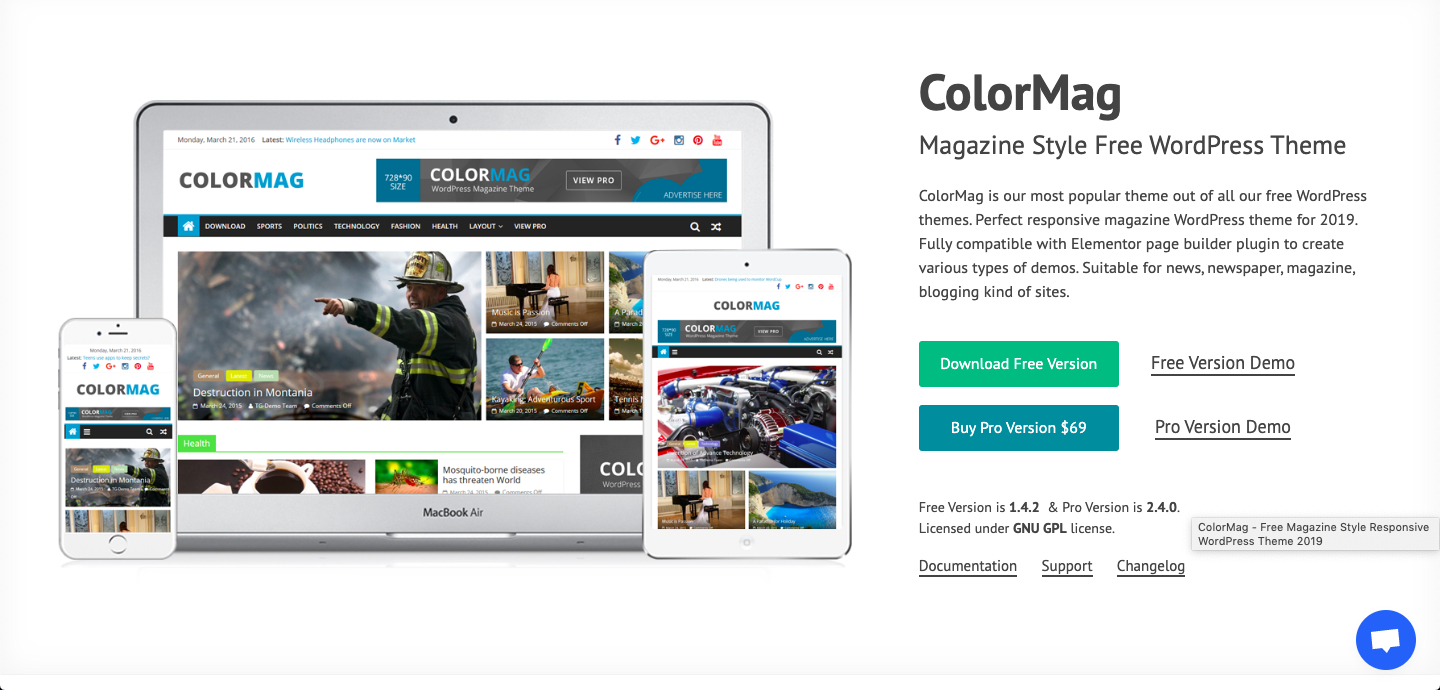 Another magazine theme makes it on this list. ColorMag is one of your best options when it comes to putting lots of content onto your site in an organized and design-friendly style. This theme has a fully responsive design and comes with lots of customizable features to go with the magazine-style.
Just like lots of others on this list, ColorMag comes with a demo importer, which allows you to bring in many of the already made demos and make them your own. They also promote their 15 different widget areas on each page, which means you'll have lots of room to put content and widgets wherever you would like.
For the last few themes, these are paid themes. If you're willing to put it a little money, these themes can help take your site to the next level.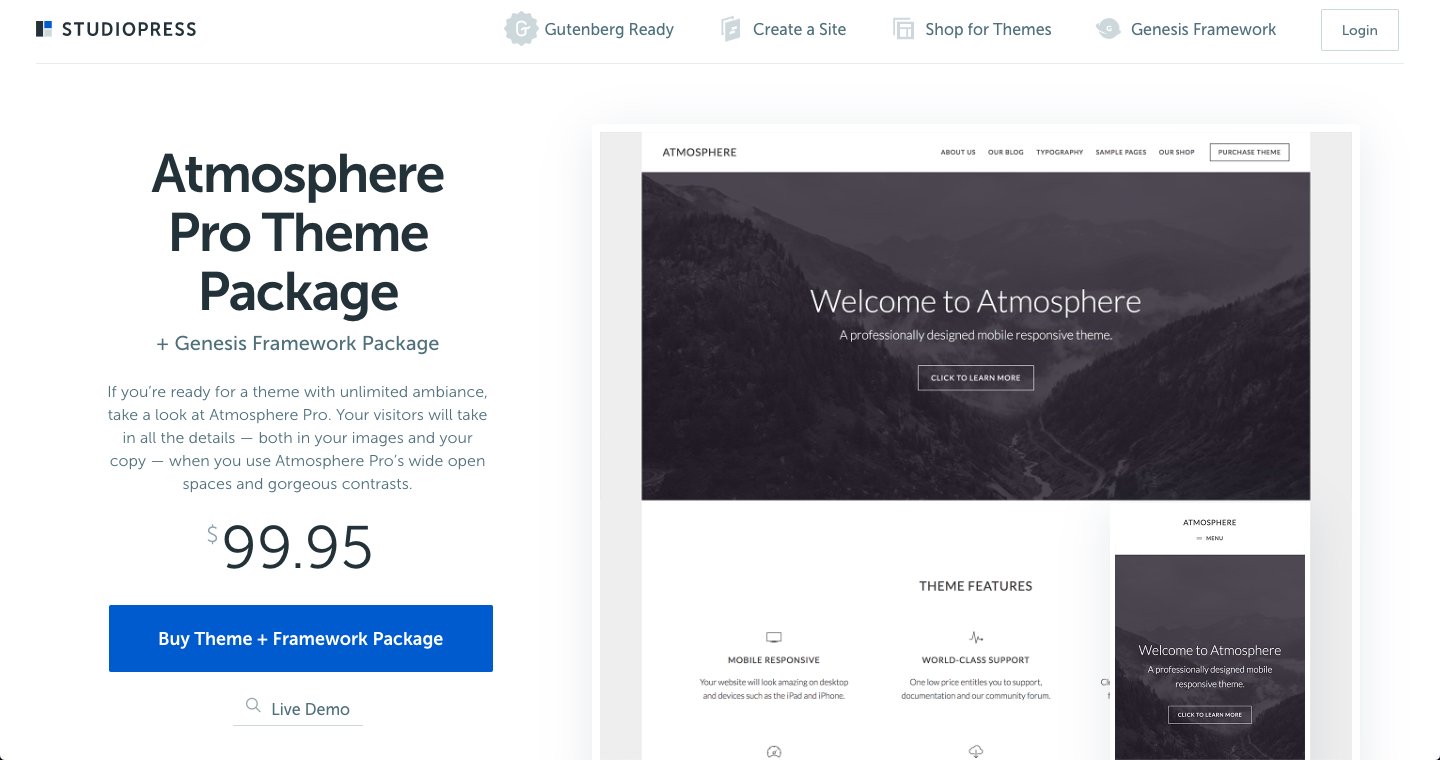 Atmosphere Pro starts off our paid list with its use of wide-open spaces and contrasts for both your images and copy on your site. Besides the things the free themes give you like customizer and widget areas, this pro theme allows you to use the Genesis Framework which is one of the most sought after Frameworks on WordPress.
This gives you the highest class of mobile responsiveness, eCommerce availability, and SEO boosts on WordPress which could make your conversion rates skyrocket on your website.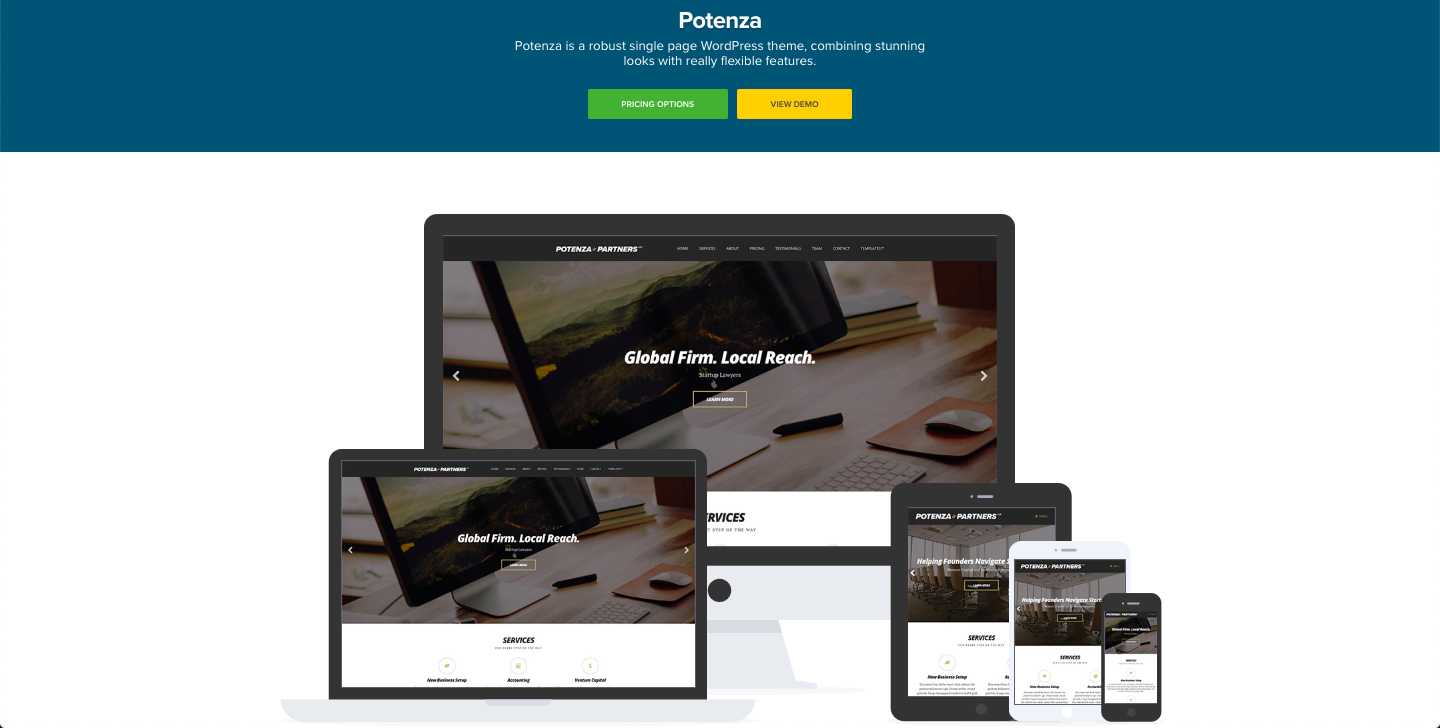 Potenza is another theme on this list that specializes in single page sites. Elementor accessibility allows you to easily drag and drop elements wherever you want on the page while also changing layouts and adding widgets on the homepage.
You can create custom backgrounds and animations, and it also comes with parallax scrolling and an image slider. This theme is very beginner-friendly and is very easy to set up.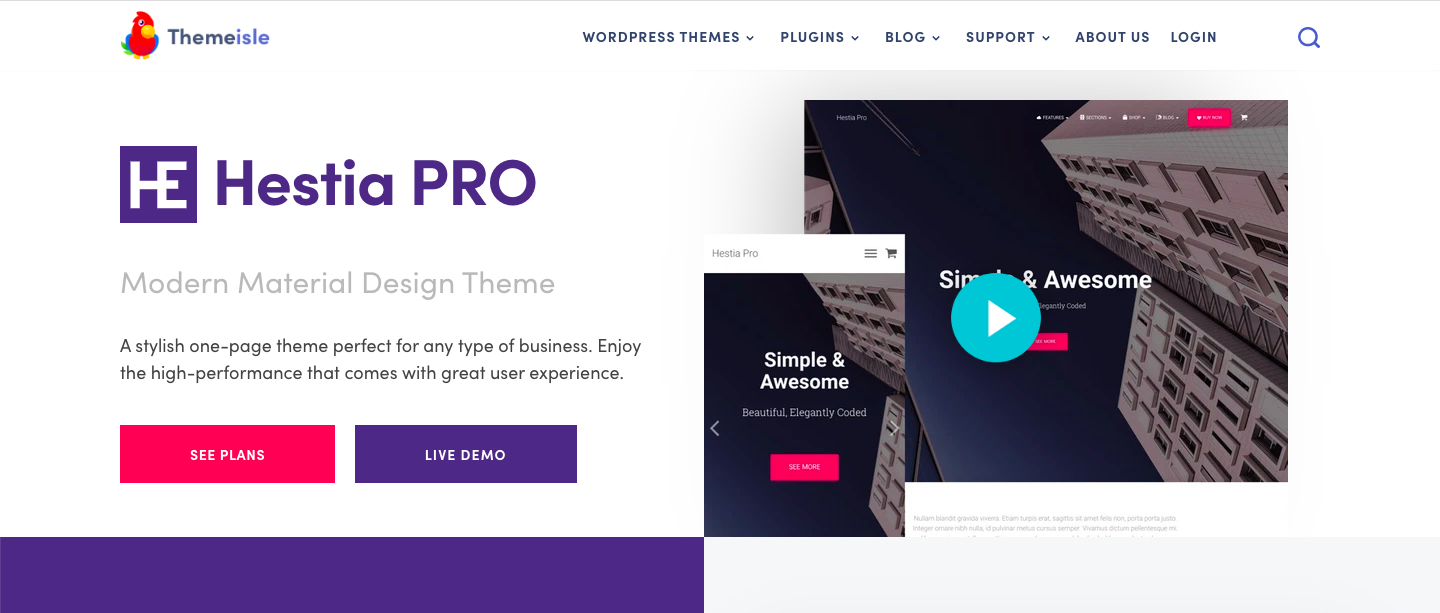 If you want to pay a little extra to get one of the most modern-looking one-page sites on the web, then look no further than Hestia Pro. Using Elementor, Hestia Pro can create that business site for your agency or local business, or it can help you create that WooCommerce site you need.
This multi-purpose theme has no shortage of features that can help you and it's also very lightweight and fast, which is great for SEO.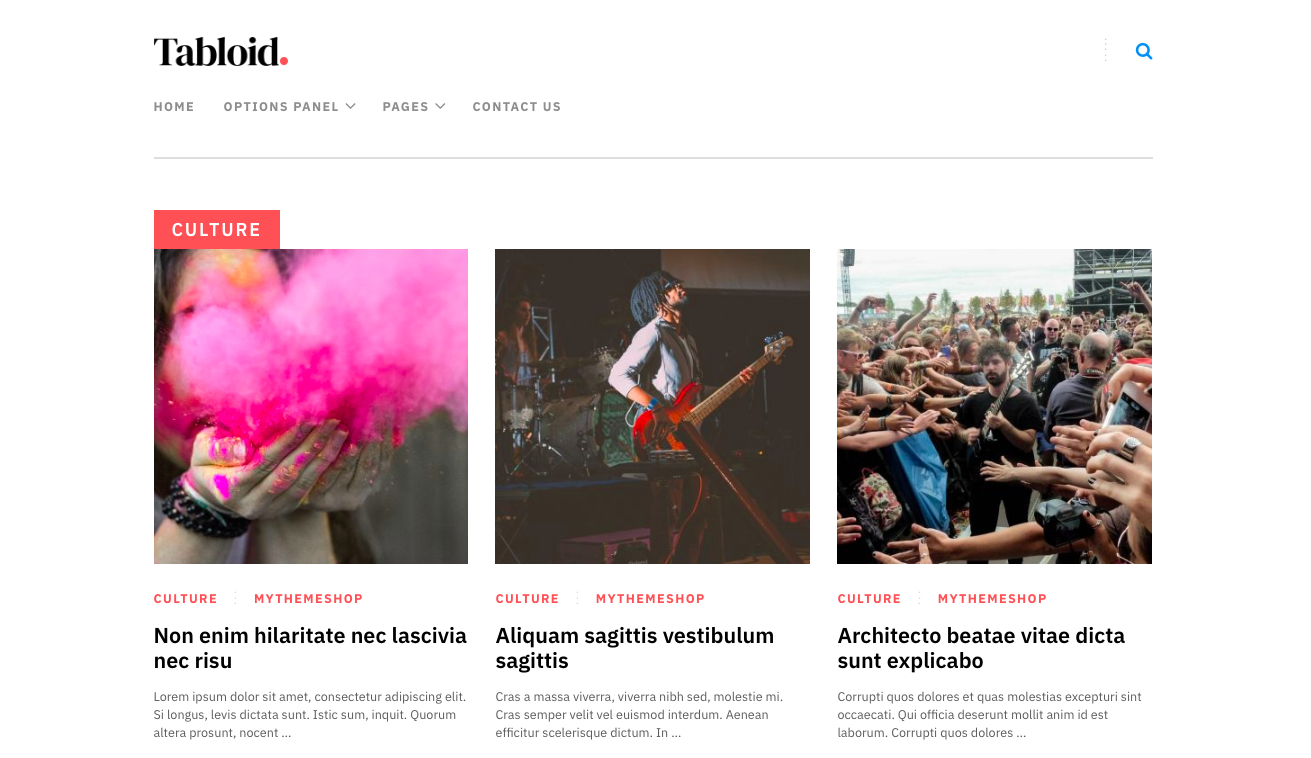 Tabloid is another MyThemeShop theme that works perfectly with the health, wellness and lifestyle niches. If you have a business that fits in with this category, then this may be a good theme for you.
In these types of niches, simplicity is everything. Viewers want to be able to focus on the essentials on your website and Tabloid lets you do just that.
Because it's developed by us, it means you get the highest class of mobile responsiveness, multiple header and blog layouts, and SEO boosts on WordPress, which could really help your business' bottom line.
Conclusion
We hope this article helped you find the perfect Elementor theme for your website. Every site has different needs meaning there isn't one theme that's perfect for every person.
Also, don't be afraid to experiment with different themes. Just because you pick one doesn't mean that it has to stay like that forever.
If you have any questions about any of these themes, please be sure to ask them in the comments and we'll be sure to answer them.