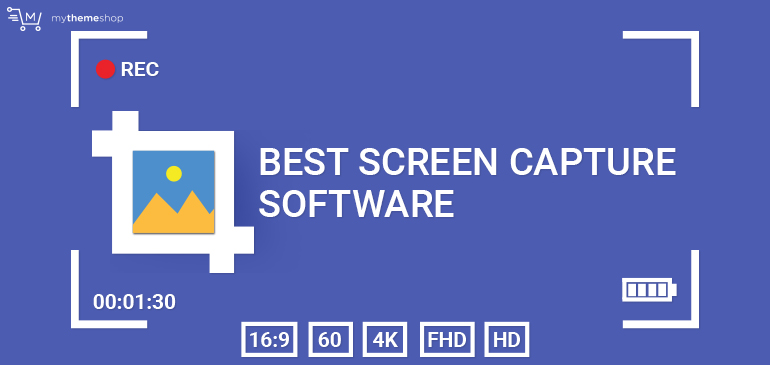 Videos are an excellent tool for a variety of uses. You can use video to share tutorials, record product reviews or create online courses.
Screen recording software come with many different features. Some can record your screen, your webcam video and even record audio.
If you haven't researched screen recorders before, let us tell you, it's not an easy task. You may read about a software, download it, find out about its limitations and start again.
How To Choose A Screen Recorder
The best way to choose a screen recorder is to start defining what your needs are. A screen recorder might have hundreds of features and still not be useful to you.
Start by answering the following questions.
What length would your average video be?
Are you recording games, tutorials or something else?
Will you record audio? From your computer or from an external source?
Are you fine with a watermark on your video?
Do you have special requirements, like high frame rate capture?
Do you need annotation support?
What kind of editing do you do? Basic or detailed?
What formats do you want to save your work in?
Is saving directly to YouTube or other cloud storage something you want?
How much are you willing to pay?
What level of complexity can you handle with a software?
Answering these questions will help you define your requirements better.
Now that you have defined what you are looking for, let us take you through our review of 22 of the best screen capture and recording software.
These software have been reviewed extensively based on similar questions that we asked above.
1

TechSmith Camtasia Studio

Techsmith's Camtasia Studio is an all in one screen recording and editing suite.
Camtasia Studio can be used by hobbyists and professionals alike. Its capabilities include recording the screen, recording the webcam, editing video, editing audio, adding transitions and animated callouts.
It also features comprehensive editing features. You can cut, join and render the video based on various options.
Camtasia Studio costs $200.
Pros
Powerful screen capture capabilities
Professional editing features including green screen, callouts, and transitions
Built in extensive media library
Export to MP4, WMV, MOV, AVI, M4V, and GIF
Export project files to continue editing elsewhere or share with other people
Various mouse effects (sounds, clicks) to make the video look realistic
Multi layer editing with timeline capabilities
Cons
Expensive compared to other software
In the free version, videos are watermarked
2

Atomi Active Presenter 6 – Full-Scale Screen Recording and Tutorial Creation

Atomi Active presenter 6 is a strong contender in the screen capture and recording space.
The software is designed mainly for e-learning and course creation, but with its features, anyone can use it for screen recording and similar purposes.
Similar to other software listed here, Active Presenter is also based on a freemium model. Its free version has most of the necessary features for basic screen recording.

It's editing capabilities are a powerhouse. No other software mentioned here comes close.
Even in the free version of Active Presenter 6, you can:
Record videos of unlimited length
Edit videos with cut, speed up/down, blur, volume adjustment
Edit with multiple layers (only software that allows this in free version)
Full annotation capabilities
Export to MP4, FLV, WebM, AVI, WMV and MKV formats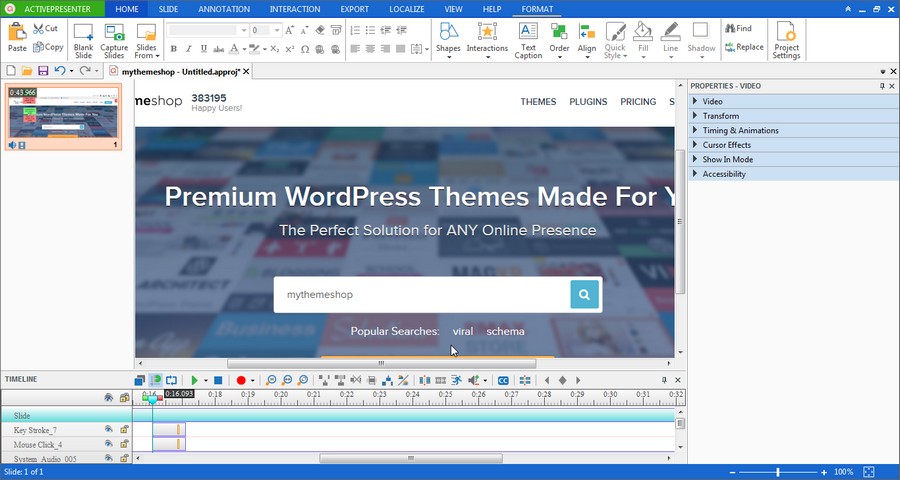 Active Presenter 6 pricing starts at 0 (free) and goes upto $299 for the professional edition. You can compare the different versions and buy Active Presenter on their website.
Pros
You can create interactive videos, quizzes and include interactivity with various branching logic with Event based actions and Javascript (Professional edition)
Export Videos to HTML5 (Professional Edition)
Full Learning Management System Capabilities (LMS) with tracking (Professional edition)
Export to PowerPoint, Word, Excel, Adobe PDF, and HTML (Standard Edition Onward)
No limits to recording time even in free version
Full editing capabilities even in the free version
Lossless video recording
Record system audio and microphone simultaneously
Customizable hotkeys for all capture features
Cons
No commercial license for videos in the free version
No direct online uploads to YouTube or other video hosting sites
3

Bandicam – Gaming and High Frame Rate Screen Recording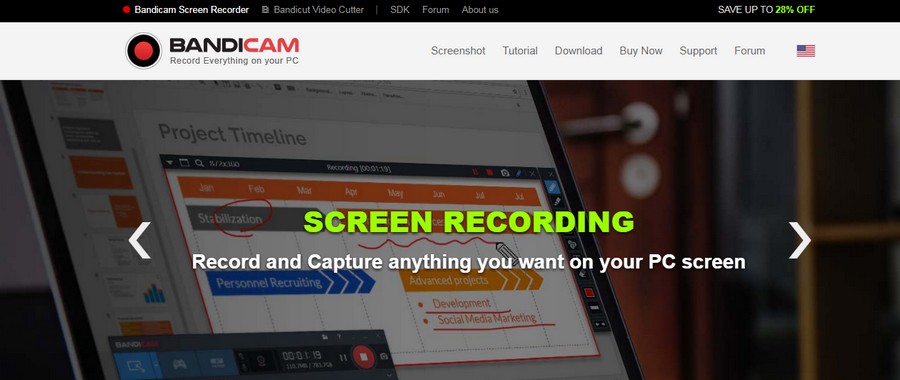 Bandicam is a great screen capture software for advanced users. It's not designed for absolute beginners but with a little tweaking, everyone can use it.
Bandicam is designed to capture your screen, game recording, webcam and even an HDMI capture device. The initial interface can look scary to some people, but it's well organized.
Apart from screen recording, you can also record audio. Screen annotation options are available as well which is great for video tutorials.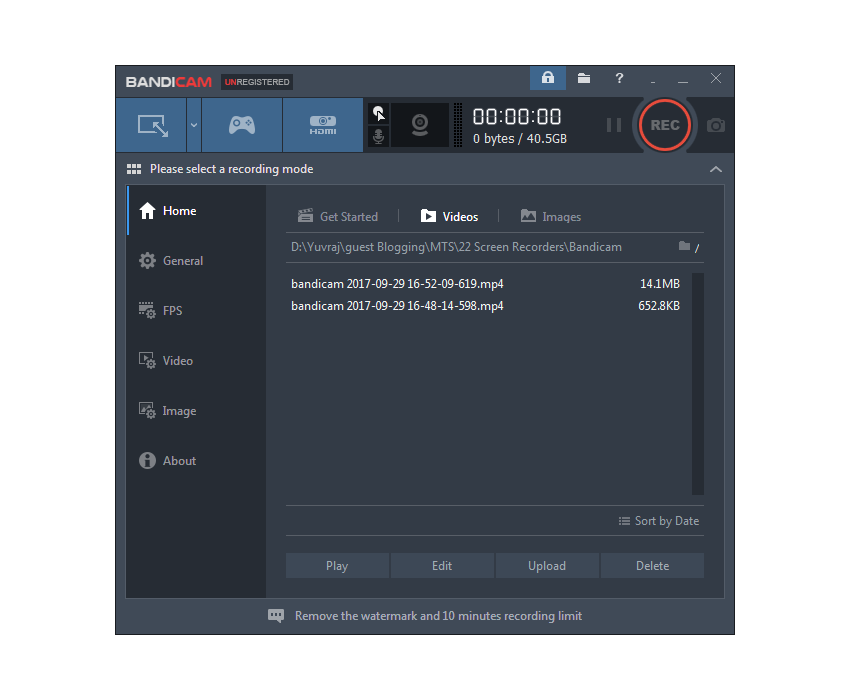 Advanced users can also customize the encoder and the frame rate with which you want to record and save the clip. Bandicam supports a maximum capture framerate of 144fps, which is amazing.
Bandicam license starts at $39 for a single PC. You can purchase the license here.
Pros
Encoding and framerate control
Max frame rate of 144fps
Screen annotation supported
Upto 4K UHD resolution supported
Capture IPTV, Smartphones, and Game Consoles
Watermarking and webcam overlay support
Mouse effects supported
Cons
No editing capabilities (you have to download a different utility for that)
Only MP4 and AVI formats are supported for export
Free version supported video of 10 minutes only
4

Ice Cream Screen Recorder – Feature Rich Screen Capture Software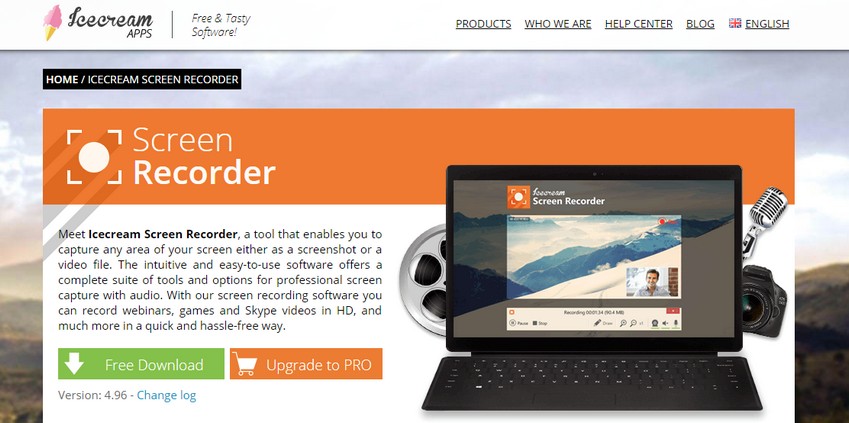 Ice Cream Screen Recorder is a feature-rich screen recorder that lets you capture video and screenshots.
Ice Cream Screen Recorder has a decent feature list. You can record your screen, system audio, and microphone. You can also overlay your webcam on the screen while recording it.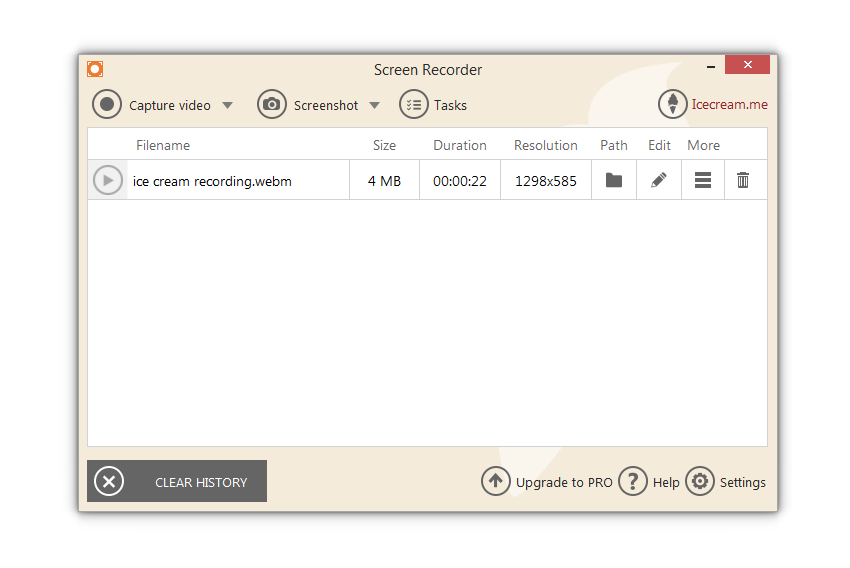 Apart from that, you can also draw on the screen while recording. This is very useful for creating tutorial videos. You can draw different shapes, arrows or even erase a created shape.
The Pro Edition for Ice Cream Screen Recorder is only $29.95 for two computers. You can purchase the license here.
Pros
Decent features even in free version
Records in 25 fps
Multiple annotation options
Available for both Windows and Mac
Watermarking and webcam overlay supported
Follow mouse feature allows you to capture a small resolution video on a large display
Hotkey overlay supported. Shows the key combination you press in the actual video
Cons
Exports only to WebM format or YouTube in free version
No editing capabilities
No commercial use of videos in free version
5

iSpring Free Cam – Free Unlimited Screen Capture with Editing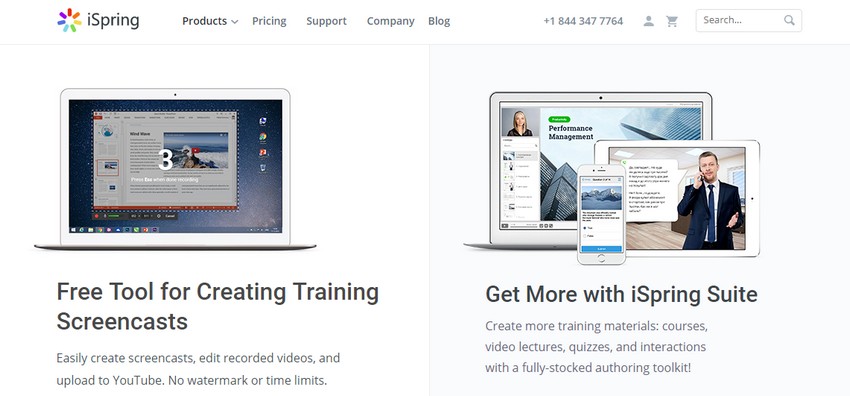 iSpring Free Cam is a completely free screen recorder with no limits. It has a simple user interface and very little settings to fiddle around.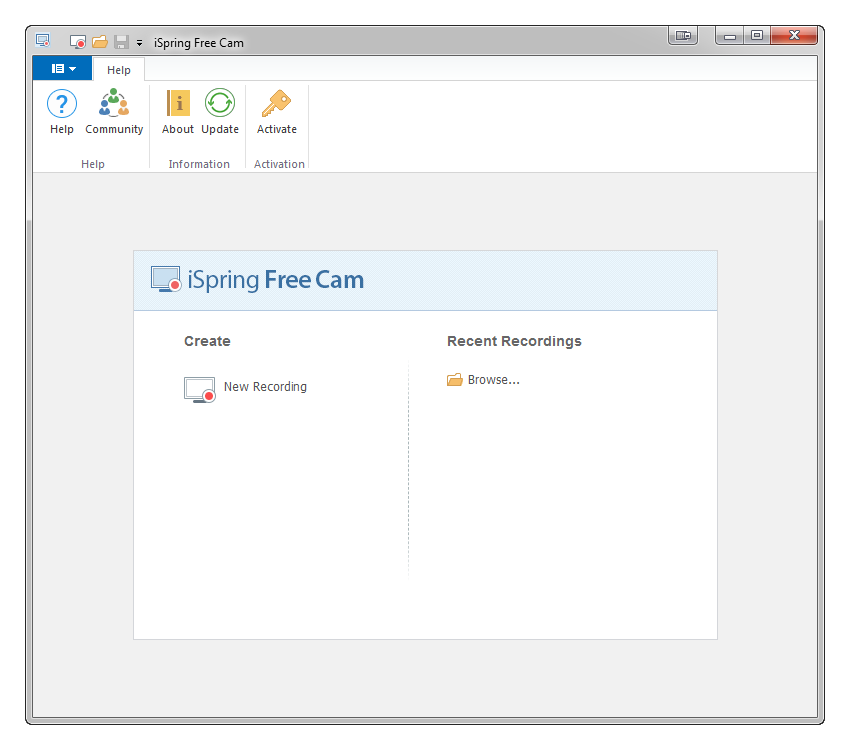 Once you click the record button, a frame is drawn around the screen which denotes the area that will be recorded. You can easily resize this frame or enter your custom dimensions for recording.
You can use the F9 key to start and pause the recording and the Esc key to end the recording. To discard the recording, you can press F10. These keys are customizable as well.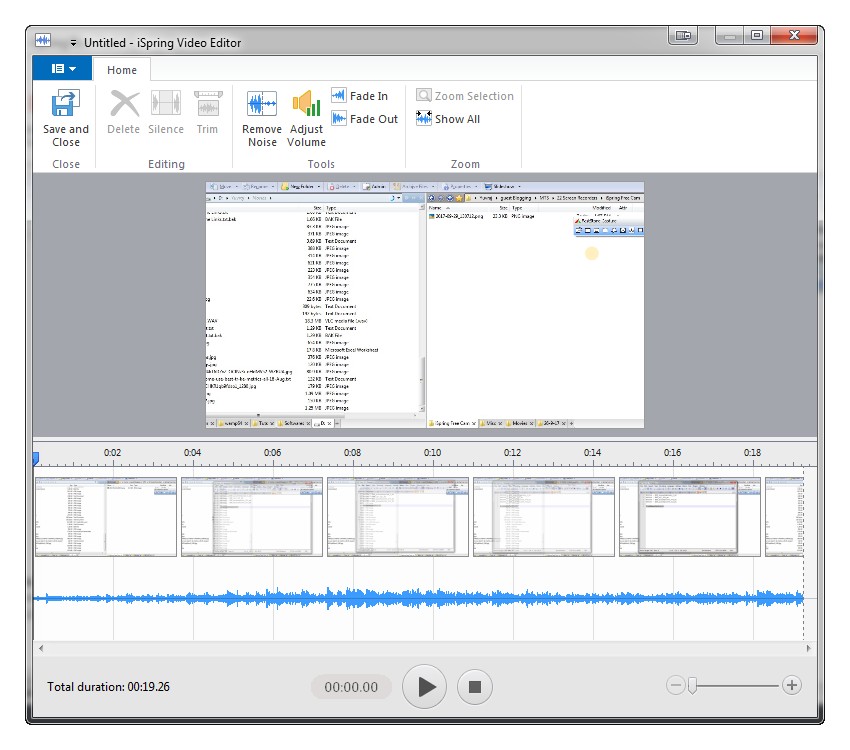 iSpring Free Cam also has powerful audio editing capabilities. You can reduce noise, fade music in or out and adjust volume as well.
Pros
No limits on recording
Decent audio editing capabilities
Completely free software
In built video editor with cut and join features
Upload videos to YouTube directly
Enhance, suppress or mute audio in parts of the video
Cons
Export options limited to WMV and YouTube
Recording frame rate is only 15 FPS
6

ScreenPresso – Simple Screen Capture Software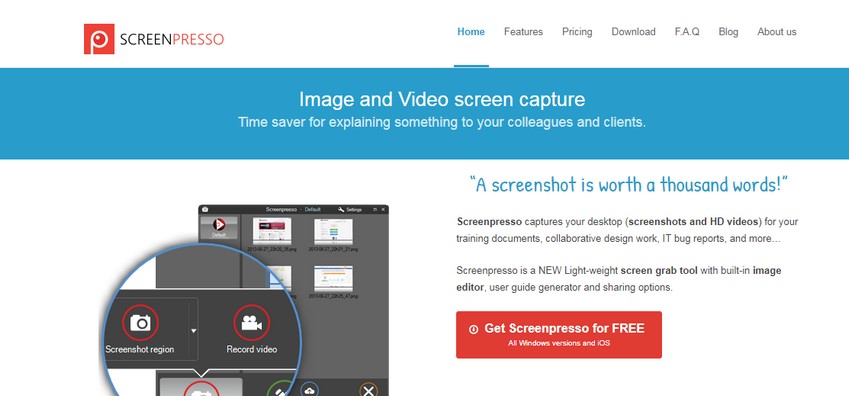 Screepresso is a simple screen capture software. After downloading the setup, you can install it or run it as portable software.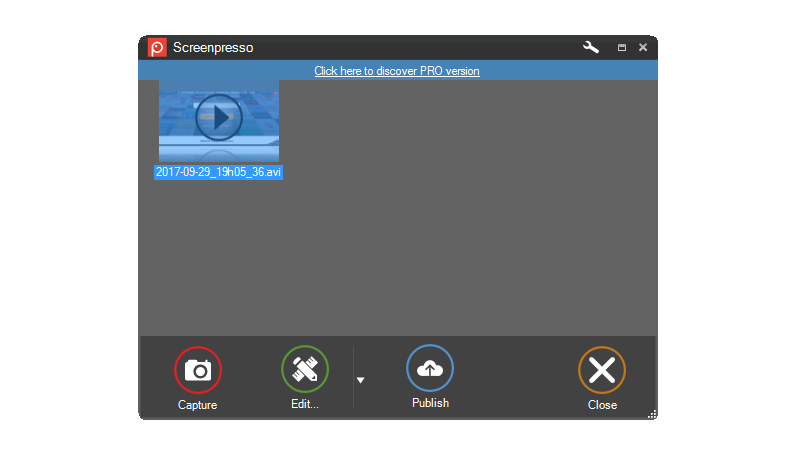 The interface is pretty straightforward. Press the capture button to capture an image or the screen directly. Screenpresso works in the background, and there are no toolbars on the screen.
Screenpresso Pro starts at 28.89 Euros per license. You can buy the Pro version on their website.
Pros
No Limits to screen capture
Multiple Export Options (required external software download)
Built-in sharing options to ScreenPresso Cloud, Google Drive, Dropbox and Onedrive
Free cloud storage on Screenpresso Cloud (no registration requested)
Capture Android devices with Android Center (Android 4.4+ only)
Can be run in portable mode
Corporate deployment-ready software with policy options to disable certain features
Cons
Windows only
No annotations
Captures are watermarked in free version
7

CamStudio – Free And Powerful Screen Capture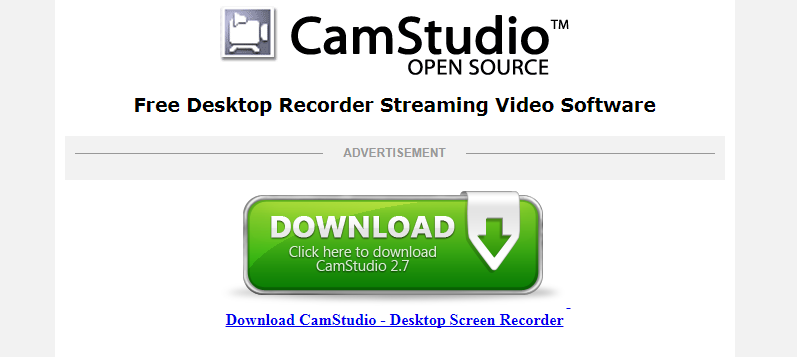 Camstudio is a completely free video recorder. It's a tiny software with excellent capabilities for free software. CamStudio can record your screen and save the output in Flash (SWF), MP4 or AVI formats.
You have a choice of few codecs to encode your videos with. You can control the frame rate you want to record on. But the actual framerate will depend on the hardware you use.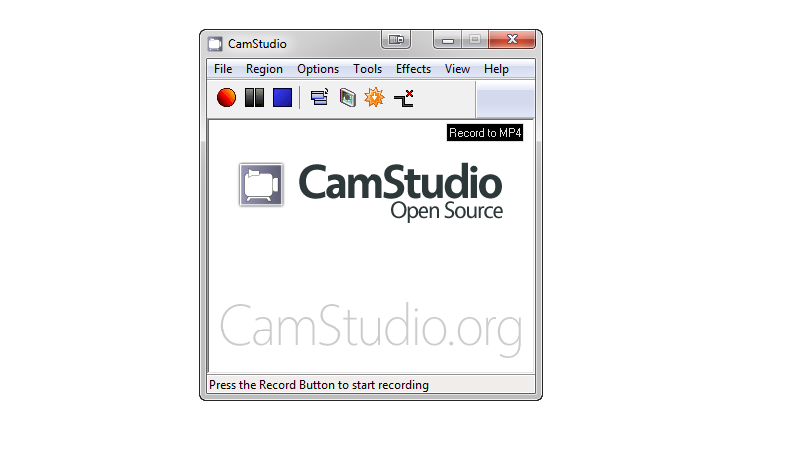 You also have annotation capabilities, mouse highlight features, and audio recording. The performance is fast and does not use much system resources.
Pros
Completely free
No limits on recording
Annotation and title capabilities
Commercial license for all videos
Lossless capture with CamStudio's own codec
Webcam overlay supported
Cons
Not updated in years (last update 2013), still works great
Ad-supported, prompts to install browser toolbars and antivirus upon install
Video capture is not the sharpest
8

OBS Project – Open Source Broadcast and Desktop Capture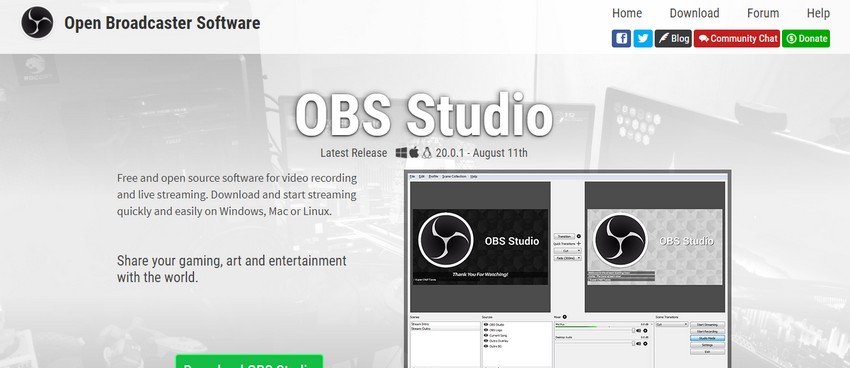 The OBS project (Open Broadcast Software) is a screen record and broadcast utility. It's an open source software and supports Windows, Mac, and Linux.
Since OBS is open source, there are no free or premium versions to choose from. You get all the recording and broadcasting features without limits.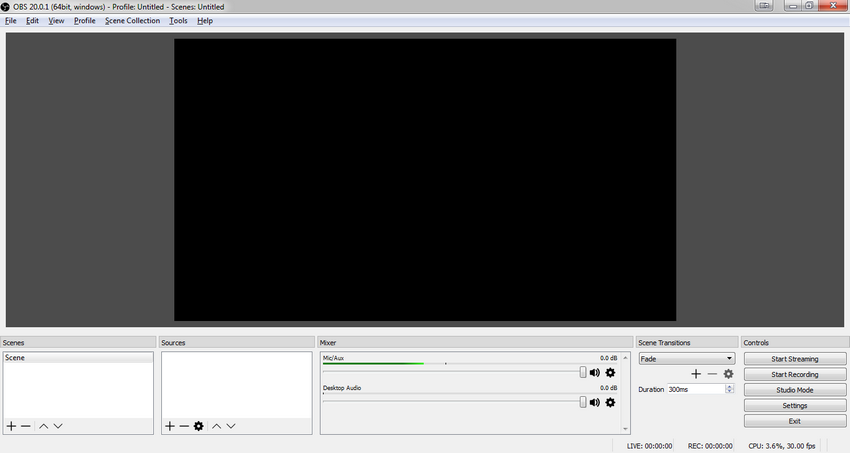 The interface is a little complex and hard to setup at first. We spent a few minutes to understand why we couldn't record anything. We then figured that we had to add a source to record the video from. Recording began immediately after that.
Pros
Open source software
Completely Free
No limits on recording
No watermarks on vidoes
Built in audio mixer to mix sound from multiple sources
Video filtering with chroma key, image correction and image masking
Supports Twitch, Hitbox, and YouTube Gaming for streaming
Cons
The interface can be hard to understand
You have to tweak settings to record in the best quality (OBS does have an auto setup for this in beta)
Since this is a recording and broadcasting software, there are no advanced editing features like in other software
9

Apowersoft Screen Recorder Pro – Screen Recording With Powerful Export Options

Apowersoft screen recorder is a powerful and comprehensive screen recording and editing software.
The complete software package has two parts, the recording software, and the editing software. Even if you only install the recording software, the editing software can be installed directly from the recording software at the click of a button.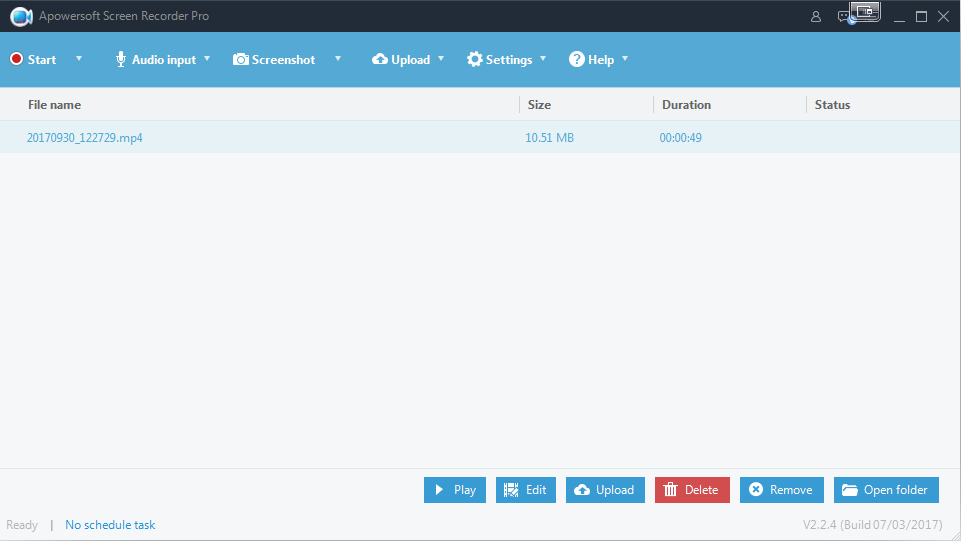 Apowersoft has all the features of a good recorder. You can capture regions, full screen, around the mouse or even dual monitors. You can also capture webcam and audio. The audio can be saved in MP3, AAC, OGG, WMA, WAC or FLAC formats.
Apowersoft has many other products which can be purchased as a bundle or individually. The license for pro version for professional use starts at $39.95 per year and can be purchased here.
Pros
Comprehensive video recording features
Video Output in MP3, WMV, AVI, MOV, FLV, MPEG, VOB, ASF and GIF formats
Excellent editing options with free addon
Webcam overlay supported
Real-time annotations supported
Scheduled recording
Direct sharing to YouTube, FTP, and Showmore.com (10 GB free storage)
Cons
Free version limited to 3-minutes recording and 1 minute rendering for the editor
Free version outputs watermarked videos
Free version has too many pop-ups asking for upgrade
10

Chris PC Screen Recorder – Record Your Screen At High Framerates

Chris PC Screen Recorder takes a minimal and simple approach to screen capture and recording. The interface is small and simple. You can record a specific region or fullscreen. The trade off is that it lacks some advanced features like webcam overlay, panning with the mouse and advanced audio capture.

The pro license costs $29.99 and can be purchased from their website.
Pros
True framerate control. Recording frame rate is not cut down like other recorders
Decent video editor to cut out sections and join them
Hide the cursor while recording
Video watermarking available
Supports recording gameplay
Cons
Doesn't have advanced features which might be required for professional work
Only captures upto 10 minutes with watermark (in free version)
No annotations
11

Movavi Screen Capture Studio 8 – Limited Free Version Desktop Recorder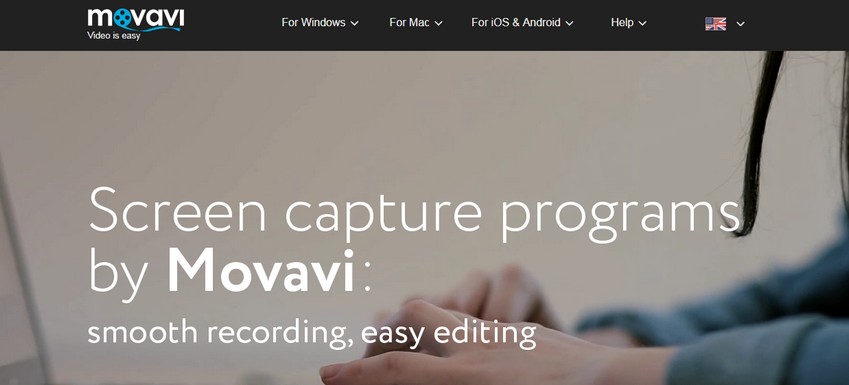 Movavi Screen Capture Studio 8 is a feature-rich screen recorder. You can use it to record the screen or take screenshots.
The software has good recording features like webcam recording, audio recording etc. However, there are severe limitations in the free version. Due to these limitations, we would recommend that if you decide to use Movavi Screen Capture Studio, you should buy the full version.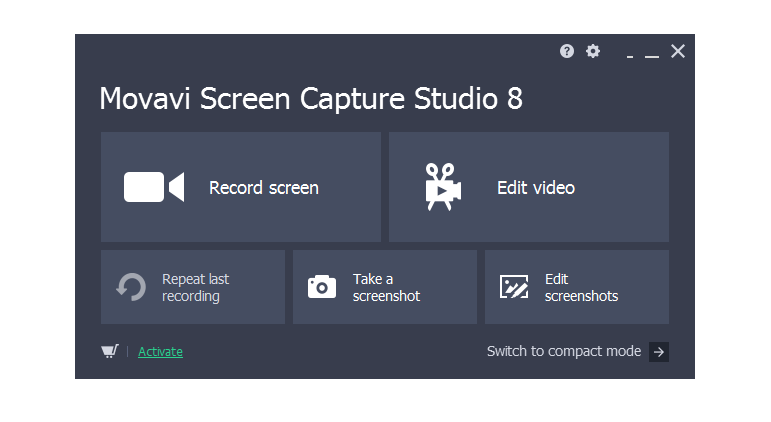 The full version has excellent editing features like cutting and joining videos, applying filters, annotations, cropping and more.
The premium version for Movavi Screen Capture studio starts at $59.95 and can be purchased from their website.
Pros
Moderate recording features
Clean and flat UI
True Frame Rate Capture
Export to MP4, GIF, AVI, WMV
Windows and Mac supported
Video editing features with cutting, transitions, and overlay support
Upload videos to YouTube directly
Callouts, mouse, and keyboard action highlight is supported
Cons
Only a seven day free trial
Un-acceptable watermark in the free version (big red text in the middle of the video)
120 seconds limit in the free version
12

EzVid

EzVid is a simple video and screen capture software. It has the capability of recording your screen, recording audio from a microphone along with editing options.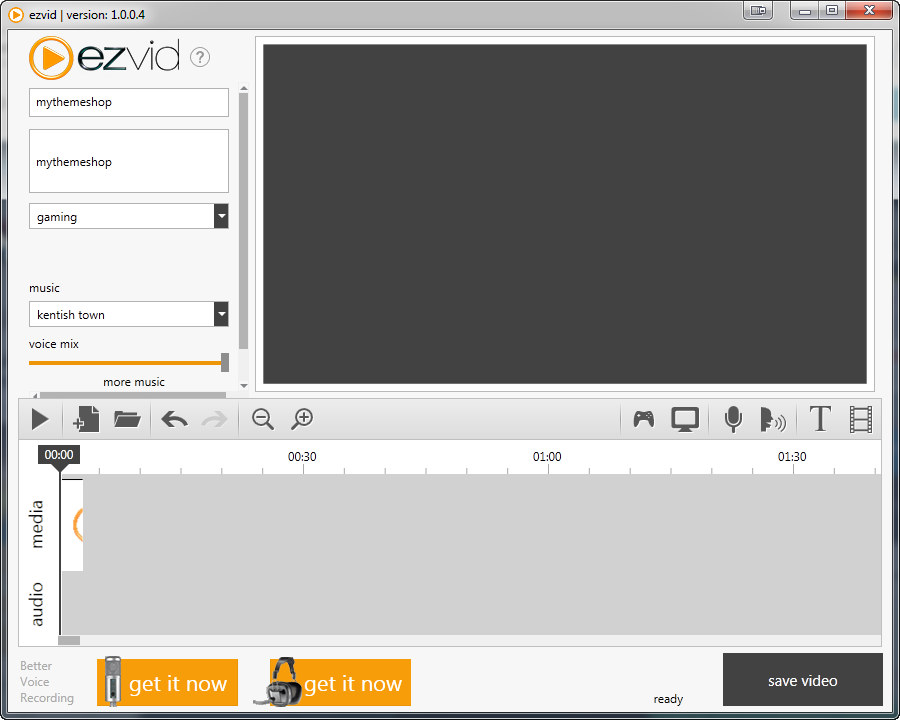 EzVid has a reputation for being buggy, and we experienced a few crashes as well in our testing.
Pros
Decent video recording
Basic editing features built-in
Real time annotation support
Direct upload to YouTube supported
Designed for multi core CPU's with high performance
Cons
Can't export videos to your hard drive, only upload to YouTube
Can't record without background music, which has to be removed during editing
13

Hyper Cam – Easy and Free Screen Recording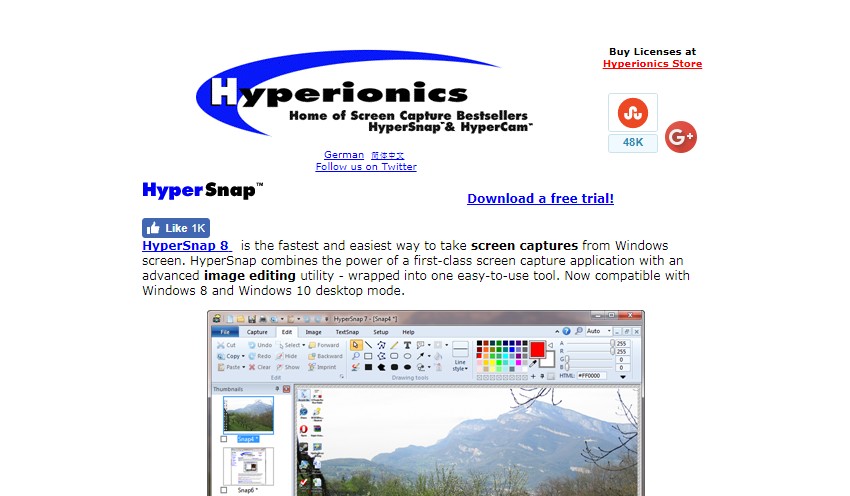 HyperCam is a free screen recording utility by hyperionics. The setup is small and installs in just a moment.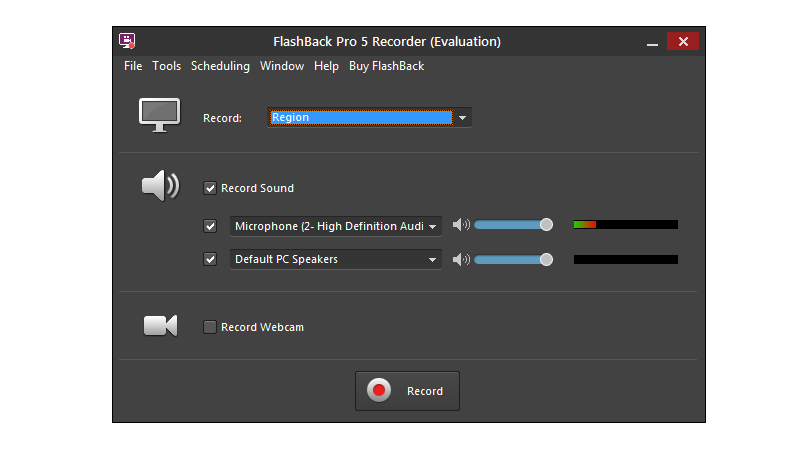 The interface is pretty simple. Choose an area or a window to record. Set up hotkeys to start, stop and pause the recording. To start the recording, hit the record button.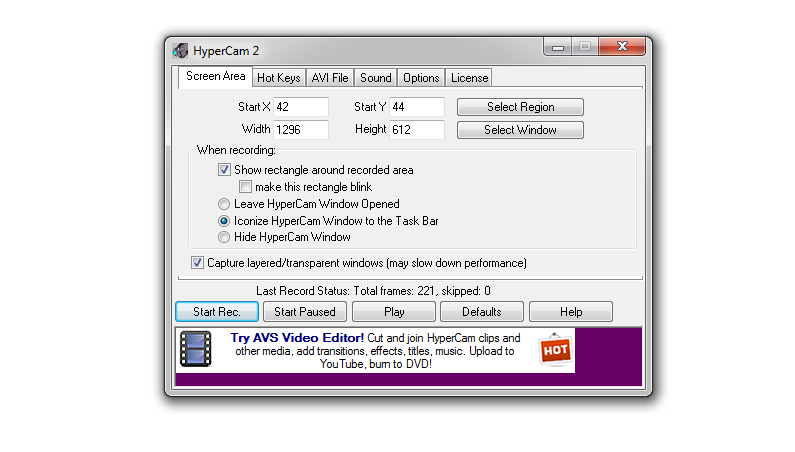 The Hyper cam window will minimize automatically, and the recording will start. Press the designated hotkey to stop or pause the recording.
Pros
Completely free software with no limits
Excellent capture quality with smooth framerates
Highlight mouse feature
Basic annotation support
Frame rate and capture quality support
Cons
No annotations
No editing features
Exports only to AVI format
14

Flashback – Screen Capture With Powerful Editing

Flashback is a screen recording and editing software created by Blueberry software. Flashback comes in 2 versions, Express and Pro.
The express version is a free screen recorder. You can use it to record audio, video and webcam without limits or watermarks. The express version does not have any editing capabilities. It also exports video in fewer formats than the Pro version.
The Pro version has similar recording features but also features a full-blown editor. The editing capabilities are quite advanced. You can add multiple types of annotations, crop, rotate and blur video. Effects, transitions, and watermarks are also supported. The Pro version can also export video in MP4, AVI, SWF, QuickTime, GIF and EXE formats.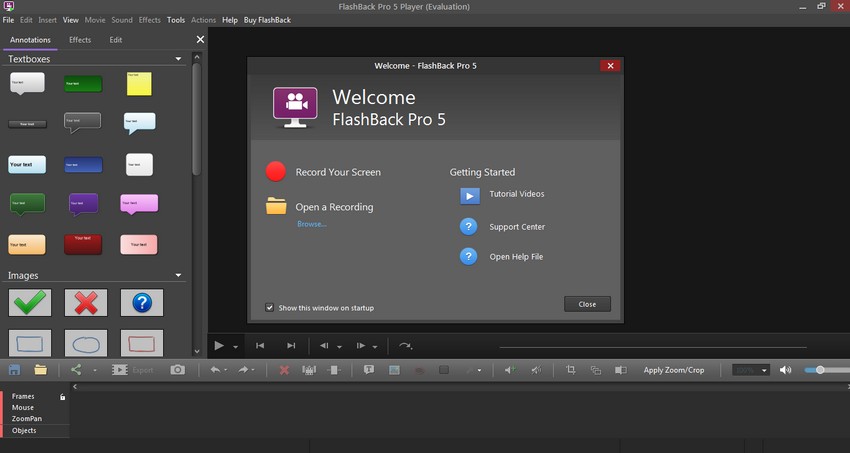 A detailed comparison of the Express and Pro version is available on their website. License for the Pro version starts at $49 and can be purchased here.
Pros
No limit recordings (Express)
Excellent editing and export features in the Pro version
You can request 30 day trial of the Pro version
Real time annotation support
Direct upload to YouTube and FlashBack Connect
Scheduled recording supported
Mouse follow supported
Cons
Limited export formats in Express edition
Free version has zero editing options
15

Screencast-o-matic – Easy Screen Recording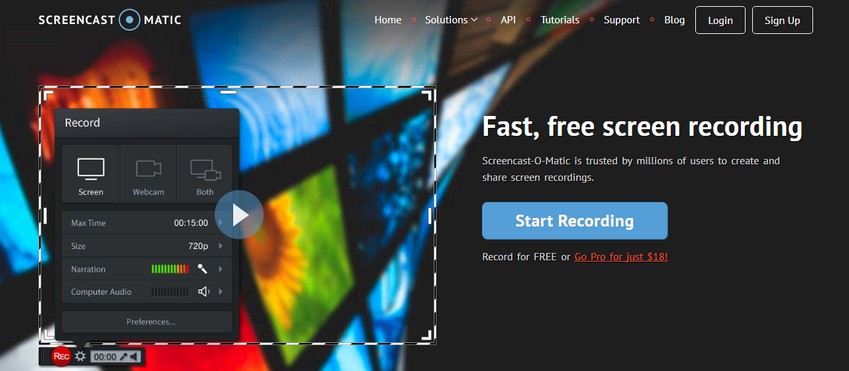 Screencast-o-matic is a small and lightweight screen recorder. The user interface is simple to understand. You can record your screen, your webcam or both at the same time.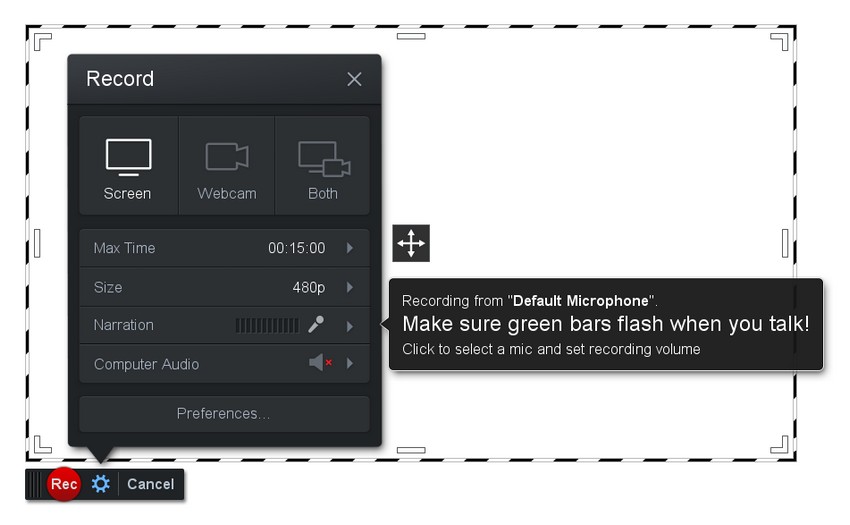 You can select recording dimensions from a few options like 480p, 720p and so forth. The software does not have the feature to set custom recording dimensions.
The pro-edition for Screencast-o-matic starts at $18 per year and can be purchased here.
Pros
Upload to YouTube directly
Webcam overlay
Screencast-o-magic cloud hosting for storing videos
Add captions and speech to text
Private video hosting solution (Pro version)
Real time annotation and zoom support (Pro version)
Cons
15 minute limit in the free version
Videos are watermarked in the free version
No annotation or editing in free version
Cannot define custom dimensions for recording
16

GoPlay Editor – Professional Video Editing And Screen Capture

GoPlay editor is an excellent screen capture software with professional editing capabilities.
You can record your screen in full-screen mode or custom dimensions. You can also specify the quality of the video and the frame rate to record it in.
Other recording features are pretty standard in GoPlay editor. The editing capabilities are where GoPlay editor shines.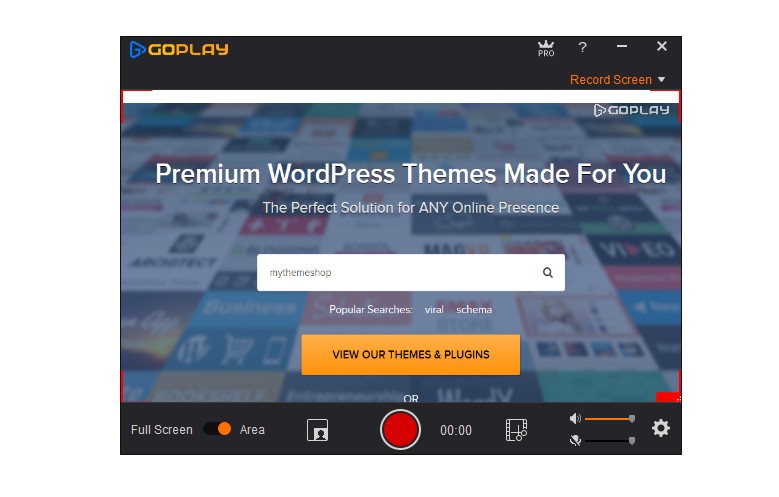 The editor is designed professionally with time-line like capabilities. You can import multiple media including video, images, and audio. You can cut, crop and transform video from the editor. Adding transitions between videos is supported as well.
Basic audio editing is also available. You can adjust levels, and fade in and fade out audio.
Pro version does not have the limitations mentioned above. Licenses start at $15.90 per year and can be purchased on their website.
Pros
Video recording with quality and FPS control
Excellent Editor with titles, transitions, and video slicing support
MP4, AVI, FLV and MOV export
Available for Windows, iOS and Android
Upto 60 FPS capture supported in 4k resolution
Multi layered editing support
Cons
You can record for 10 minutes, and export a 5-minute video
Videos are rendered in 720p with a watermark (however, our test clip did not have a watermark)
Multi-monitor is broken in the latest version. Only a frozen screen is recorded if you move the recording area to a second screen
17

Showmore – Web Based Screen Recording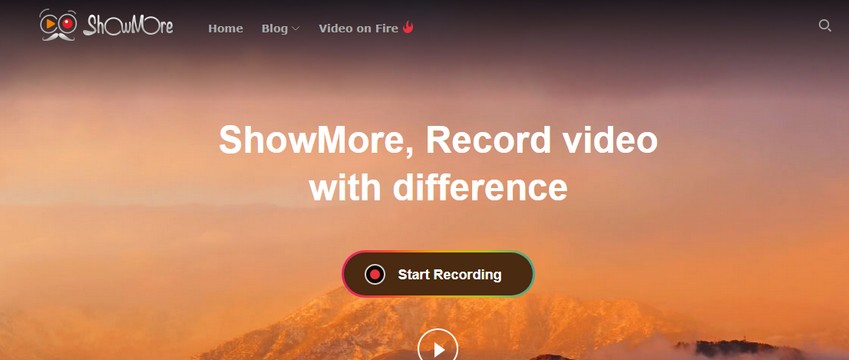 Showmore is another screen capture utility by Apowersoft. The setup is some-what web-based. You trigger the screen capture by going to the ShowMore website but you also have to download an offline client.
Showmore has basic capture functions. Audio recording, webcam capture, and custom dimensions are supported. You can also change quality parameters and fps in the settings.
You also get basic annotation features. You can draw shapes, lines, arrows, paint over an area or even write text on the recording screen.
Pros
Upload to YouTube, Vimeo, Google Drive and Dropbox is supported
No limit to recording time
Export to MP4, WMV, AVI, MOV, FLV, MPEG, VOB and ASF formats is supported
Completely web based recording
Real time annotation support
Free cloud storage to save videos
Cons
No way to trigger a capture offline
For editing, another addon is needed
18

Wink – Create Interactive Screen Recordings

Wink is small freeware screen capture utility that is specially designed for creating tutorial videos.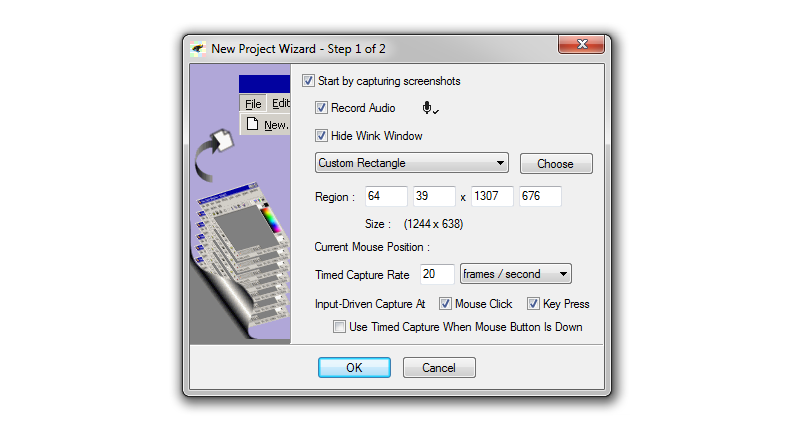 It's a lightweight software that record videos as individual frames. The advantage of using Wink is that exports videos to flash. With Flash, it is possible to create interactive videos.
Wink is completely free.
Pros
Completely free software with no limits on personal and business use
Export to HTML, EXE, SWF, PDF
Create interactive videos
Available for Windows and Linux (x86 only)
Frame by frame editing support with callouts and cursor editing
Cons
UI is a little outdated and difficult to understand
Interactive videos require Flash, which is not an industry standard
19

VLC Player – Media Player With Screen Capture

Yes, one of the most popular media players out there can capture your screen as well.
Screen recording in VLC isn't enabled by default. To see it, go to the "View" settings and click "Advanced Options". Once enabled, you will see another toolbar enabled just above the play controls.
To start recording, Go to "Media -> Open Capture Device" (or press Ctrl + C).
In the settings that appear, select "Desktop" in the capture mode.
Once you hit play, you will see that your screen is shown in the play window. Press the record button and minimize the window. Now whatever you see on the screen is being recorded.
VLC player is open source and free.
Pros
Completely free and open source
Good quality video recording
No limits on recording time
Built in streaming support
RAW format recording supported
Cons
No editing abilities
Can only capture the entire screen
No annotation capabilities
20

Fraps – Benchmarking and High-Quality Video Capture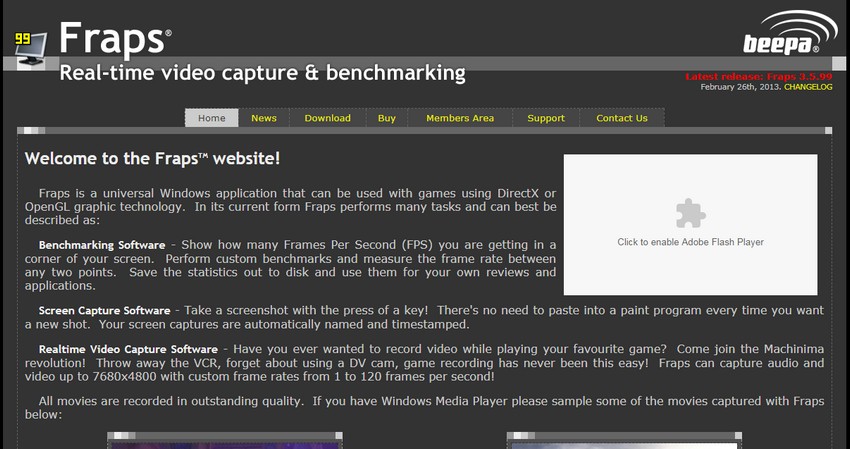 Fraps is a benchmarking and video game recording software. Since it's designed for recording games, there is no screen control or any editing abilities.
On the plus side, Fraps captures videos in exceptional quality.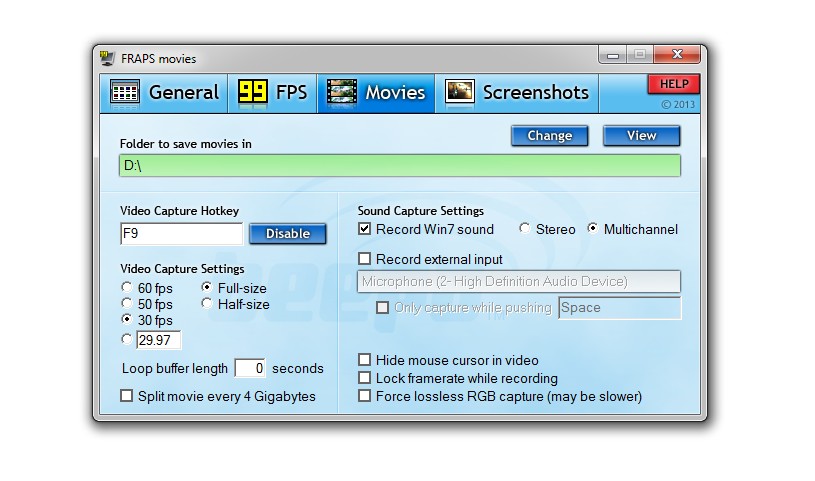 Using Fraps is pretty simple too. Download and install Fraps from its website. In the video movies section, set a recording path and a hotkey to start capturing.
A license for Fraps costs $37. You can purchase your copy from the Fraps website.
Pros
Records in extremely high quality
Live framerate display for benchmarking
7680×4800 resolution and up to 120 FPS supported
Scheduled screenshot capture is supported
Cons
No editing abilities
30 second limit in the free version
21

Fast Stone Capture – Powerful Screenshot and Video Capture

Fast Stone Capture is primarily a screenshot taking software, but it has powerful screen record features as well.

Once you install Fast Stone, you can see the various features it offers. To start recording press the video icon on the small toolbar.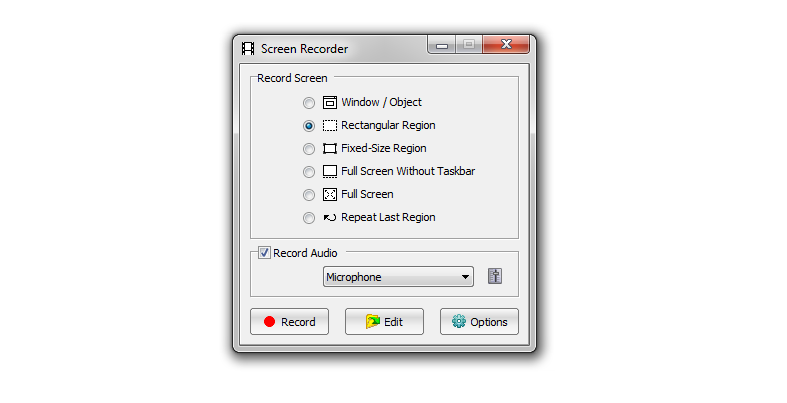 You can choose to record a portion of the screen or the entire screen. Recording audio is also supported.
After recording, you can also edit the video with the built-in editor. You can cut out sections of the video and add annotations. You can also freely draw on the video in any way you like.

Fast Stone Capture's lifetime license costs just $19.95. You can purchase a license directly from their website.
Pros
Feature-rich screen capture and recording
High-quality video capture
Extremely Cheap
Supports 4K monitors for capture
Cons
Exports in WMV and GIF formats only
No built-in media library for editing use
22

Tiny Take – Screen Recorder With Cloud Storage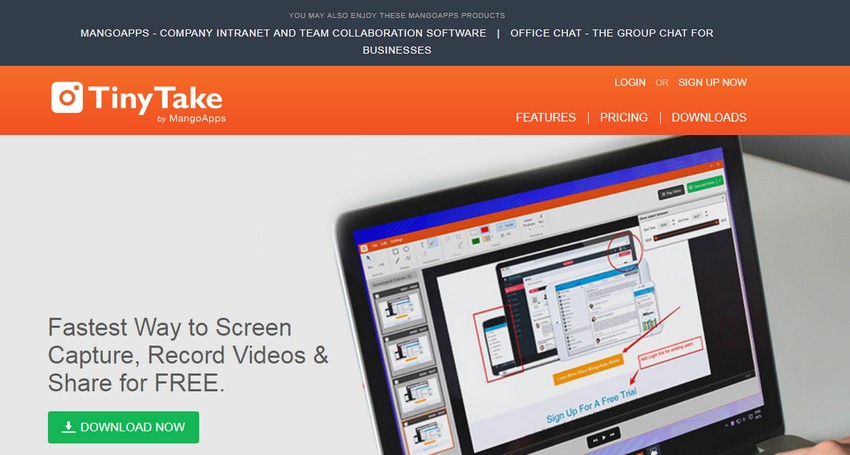 Tiny Take is a screen grab tool for quick and short videos. Tiny Take can capture screenshots and videos from your screen or your webcam. However, webcam overlay is not supported.
After capturing an image or video, you can annotate the video with a built-in element library. Note that annotation is not available in the free version.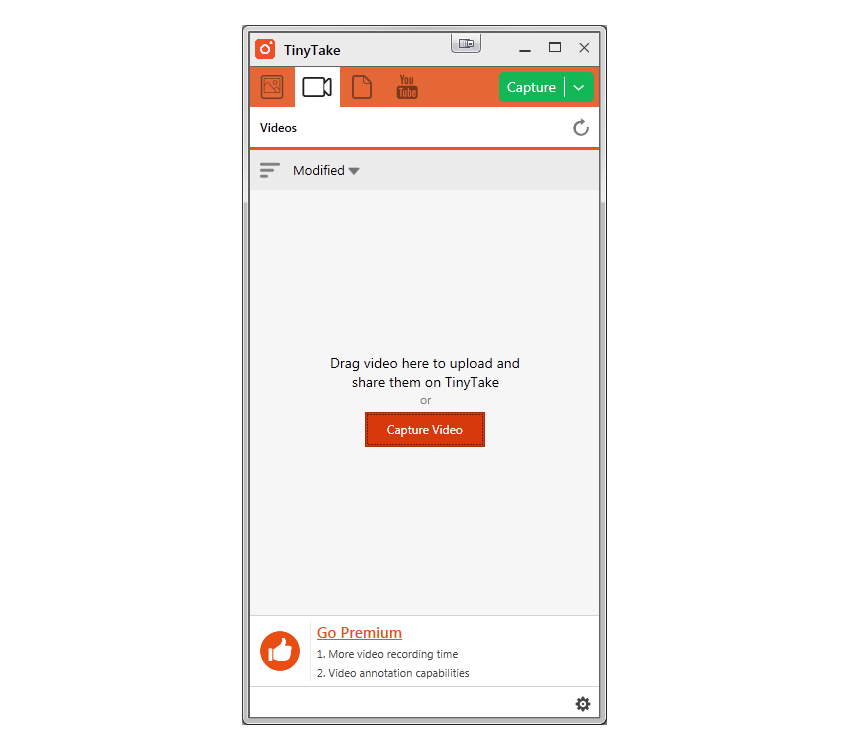 Tiny Take's weekly pass starts at $9.95. There are plenty other licenses to choose from. You can check out the comparisons and purchase a license directly from their website.
Pros
Sharp video capture
Direct upload to YouTube
2GB Tiny Take cloud space when you create an account
Annotation support after capture (Pro version)
Others users can view content on Tiny Take cloud without creating an account
Cons
Free version limited to 5 minutes recording
No annotations in the free version
Only MP4 exports
23

Final Thoughts

In our opinion, if you are a professional, Camtasia Studio is one of the best investments you can make for screen capture and editing. It's an all in one package with excellent features.

If you create online courses, Atomi Active Presenter has no match. If you intend to make money with your content, buy one of the premium versions.

The export options, annotations and powerful editing are well worth the money.

If you are just starting out and don't want to invest, then there are plenty of free screen capture software that we have already discussed above. Just make sure to check the pros and cons of each before selecting one.

We hope that this comparison was useful for you. If you think there are some other software that we should include in this comparison or any other features that we should compare, then let us know in the comments section below.