There might be several reasons why you might want to clone a WordPress page.
Maybe you want to change the look and feel of your existing page or you might want to refresh the content altogether.
You can simply 'copy and paste' the content and save it in a .doc file or you can keep it in a draft for a while. But what about SEO optimization and other things that gets hurt?
The optimal way to get rid of this problem is to clone the WordPress page and try all your experiments there without disturbing the actual page.
In this article, we'll discuss four methods on how to duplicate/clone a page/post in WordPress.
Stay tuned!
Reasons to Duplicate a WordPress Page/Post
Here are a couple of reasons why a WordPress user would consider duplicating a page/post.
1) You Need Similar Pages
While dealing with a large WordPress site, often you have to create similar pages again and again.
Creating a new page and doing everything from scratch consumes a lot of time. Having a plugin to automate all the process is always great and saves you lot of time.
2) Risky to Edit Live Pages
For instance, you might want to make changes on the page which receives good search traffic but you are not sure about the change.
In this case, you can duplicate the main page and make all the changes on the newly created page. Once you've finished all the changes you can apply the changes to your final page.
4 Methods to Duplicate Page/Post in WordPress
We have listed four methods to clone a WordPress post or page of which three methods are by using a plugin and one last method is without using any plugin.
Let's get started!
Method 1: Using the Duplicate Post Plugin

Duplicate Post is a great free plugin with 3 million+ active installations. With this plugin, you cannot only duplicate/clone your WordPress post/page but also add customizations. You can also add roles and restrict people who can duplicate/clone pages on your site.
Cloning or duplicating a post or page with Duplicate Post plugin is super simple. Here's how to do it.
Step 1: Head over to the WordPress plugin repository and type in the plugin name in the search bar or get it here.
Step 2: Install & activate the Duplicate Post plugin.
Step 3: From the left navigation menu, go to the Pages -> All Pages.
Step 4: From the available pages, hover on any of the pages and now you'll have two new options – Clone & New Draft.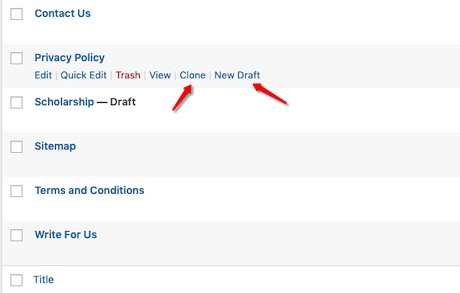 Clone – Click on the Clone option to copy the exact same page in your WordPress site.
New Draft – Click on the New Draft option to copy the same page and also open it in the post editor. If you want, you can start editing the page and save it later in the draft version or publish it.
NOTE: Similarly, you can repeat the process to duplicate or clone posts in WordPress.
Customizing Page with Duplicate Post
Go to Settings -> Duplicate Post in the left side on your navigation menu.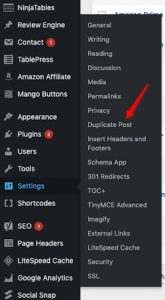 The Settings is further divided into three tabs.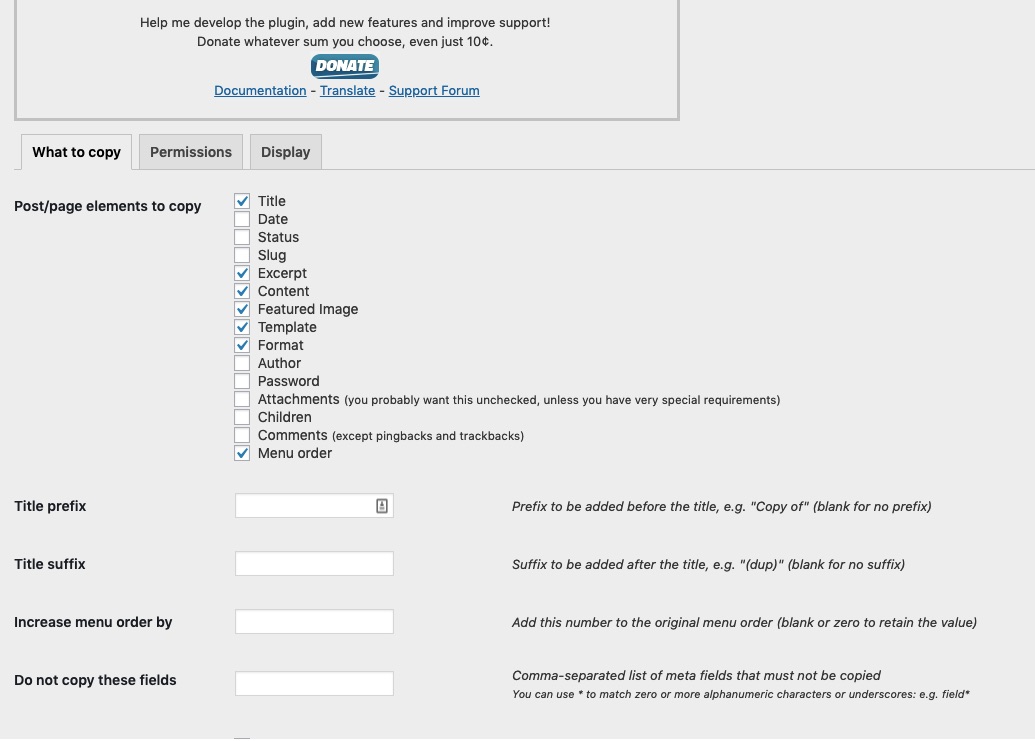 The first tab is all about what you want to copy while duplicating a page. The default settings are perfect for most webmasters. However, if you want, you can play around with the newly available options.
In the second tab, you can decide the roles for who have the rights to clone or duplicate a page on the site.
The third and final tab is all about where you want to display the post links that are cloned.
After you finish all the customizations, scroll all the way down and click on the Save Changes button.
Method 2: Using the Duplicate Page and Post Plugin

Duplicate Page and Post is similar to that of the Duplicate Post plugin. The plugin is easy to use and is frequently updated.
You can quickly duplicate page and post by making sure that nothing else get changed while duplicating or cloning the page.
Follow the steps outlined below to clone a WordPress page in seconds.
Step 1: Go to the WordPress plugin repository page and type in the plugin name or get it here.
Step 2: Install & activate the Duplicate Page and Post plugin.
Step 3: Now, go to Pages -> All Pages if you want to create a clone of any of the pages.
For cloning a post go to Post -> All Posts.
Step 4: Hover on any of the page or post which you want to clone. You'll see a new option "Clone Me" click on it.

Step 5: Finally, you'll see a copy of the page in a new editor where you can make new changes and save it in the draft or publish it later.
Method 3: Try The Post Duplicator Plugin
If for any reason you are not comfortable using the plugins mentioned above, you can try out Post Duplicator plugin.
The plugin more or less does the same job of cloning and duplicating your WordPress pages and posts.
While duplicating the page or post this plugin will take care of the custom field and custom taxonomies.
The process of duplicating the page is also similar. After you install the plugin, on hovering you'll see a new option of "Duplicate Page." Click on that option and instantly your page will be cloned.
Method 4: Duplicating/Cloning WordPress Page/Post Without a Plugin
If you don't want to load your WordPress site with unnecessary plugins, here's a great way to duplicate pages without using any third-party plugins.
While writing a post in WordPress, you have two options – HTML & Text.
Here we'll make use of the HTML option to quickly replicate the important pages without using any plugin.
Step 1: Open up the page or post which you want to duplicate.
Step 2: Go to the HTML code section in the top-right corner of the editor.
Step 3: Press Ctrl + A and copy all the content present on the page with Ctrl + C.
Step 4: Next, create a new page or post and open up the editor.
Step 5: Finally, press Ctrl + V and paste the code and hit Publish.
With this method, you can quickly duplicate any page without using any plugin.
Keep SEO in Mind While Duplicating
Often, while duplicating, we tend to forget that we are copying the content from one page to another.
If you forget to remove or modify the copied content and publish it, Google will consider it as Duplicate content – two pages with similar content and might hit you with a penalty.
So, always be cautious while performing this activity.
Conclusion
While managing WordPress sites it's better to take help of the plugins and automate the tasks as much as we can.
I hope the methods listed here would surely help in solving your problem.
Apart from that, if you have any more doubts related to this topic, feel free to drop a comment below and let us know.
Which is your favorite method to clone WordPress pages? Please mention in the comment section below.