The digital world is quick. Options are plenty, and the world waits for no one. If you do not have an effective workflow or an automation system for your website to retain a potential customer even when your employees are not looking, then the chances are that you might lose out on valuable user engagement.
Live chat takes away this inconvenience — it acts as a go-to for users who arrive at your site and have questions about your products or services that they want to be answered immediately.
This can be for various reasons — they might not have enough time frame to wait for you to get back to them, or it's simply because your business is available for correspondence when you are not.
With a live chat set up on your WordPress site, you do not have to worry about these things. A user lands on your website has questions, sees the live chat plugin, and writes a message, and you, who in some probabilities could be working remotely, would get their message. You can take the messages from there.
Reduces support costs
One of the reasons why live chat plugins for WordPress have been growing in popularity — with several developers coming up with new plugins, is that once you have an excellent live chat system set up, the cost of customer service reduces to a great extent.
In a traditional support room, a single customer service agent can only handle a single phone call or a message request at a time. On the other hand, live chat plugins for WordPress turn out to be much more efficient.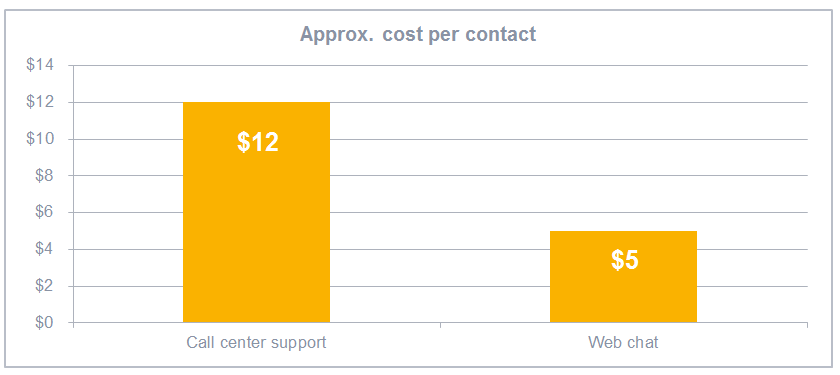 A report by Telus International stated that customer service agents could be involved in as much as six simultaneous supports, which increases the efficiency of your company. This happens through the several automated tasks that these plugins offer.
With multiple chats taken care of, you will have lesser people in your team, which will effectively bring down your operation costs.
Live chats are also much cheaper than the traditional call service, as it is integrated into your WordPress site in a native fashion.
Enhanced user experience
We're also questioning: why such a feature is important for your users? When users are browsing your website for products and features, and have a question about it, then it would be quite tedious to make a call and wait for someone to answer it, worse if no one answers it.
If you have a WordPress chat plugin active on your site, then you can let them use it on the website. Depending on the nature of the query, the WordPress live chat plugin will direct them to the specific chat support team.
Also, once you are talking to a user, you have more chances of having them turn into potential customers. You will have more ways of communicating with them and explain what you have to offer and how exactly can you help them with whatever they are looking for.
You can then collect information about them and then turn the information into leads.
Customer satisfaction
By providing an all-round experience to your customers, you can ensure that they have little chances or reasons to not use the 'close tab' button and head over to another competitor website.
Live chat does have a high impact on customer satisfaction levels. According to a report by eDigital, the customer satisfaction level on live chats was 73 percent, compared to 61 percent for email and 44 percent for the phone.
Customer satisfaction also increases because you have a better, one-on-one way of interacting with your visitors. You can take your time to explain to them the problem they have, and if they have a question, then you can respond to them immediately.
On the other hand, if your WordPress site does not have a live chat feature, then you would have to resort to the traditional way of responding to emails or taking phone calls. This will consume a lot of time and resources — something which you otherwise don't have to think much about if you have a WordPress chat plugin installed on your website.
If you have to make the best out of your business and have a nice customer-engagement rate and a lower bounce rate — which tends to happen when your visitors do not find the answer to their questions — then having a robust live chat plugin for your WordPress website is your best bet.
If your competitors have not yet installed a live chat plugin, then you have a good chance to stand out from the competition. When you stand out, you convert; when you convert leads into clients and customers, your business grows.
Now that we know how a good chat plugin for WordPress can do wonders for your business let us look at the 19 best WordPress live chat plugins that are out there.
Best WordPress Live Chat Plugins – Detailed Reviews
WordPress powers a significant portion of the internet. Due to its numerous customization options, it is not a surprise that people are flocking to WordPress to build a website for their business.
With so many websites in operation, numerous plugins cater to the support needs of these websites, including WordPress live chat plugins.
When it comes to the best live chat plugin for WordPress, LiveChat is one of the oldest and the most prominent names. It has been around for some time, and it's great providing support to your visitors.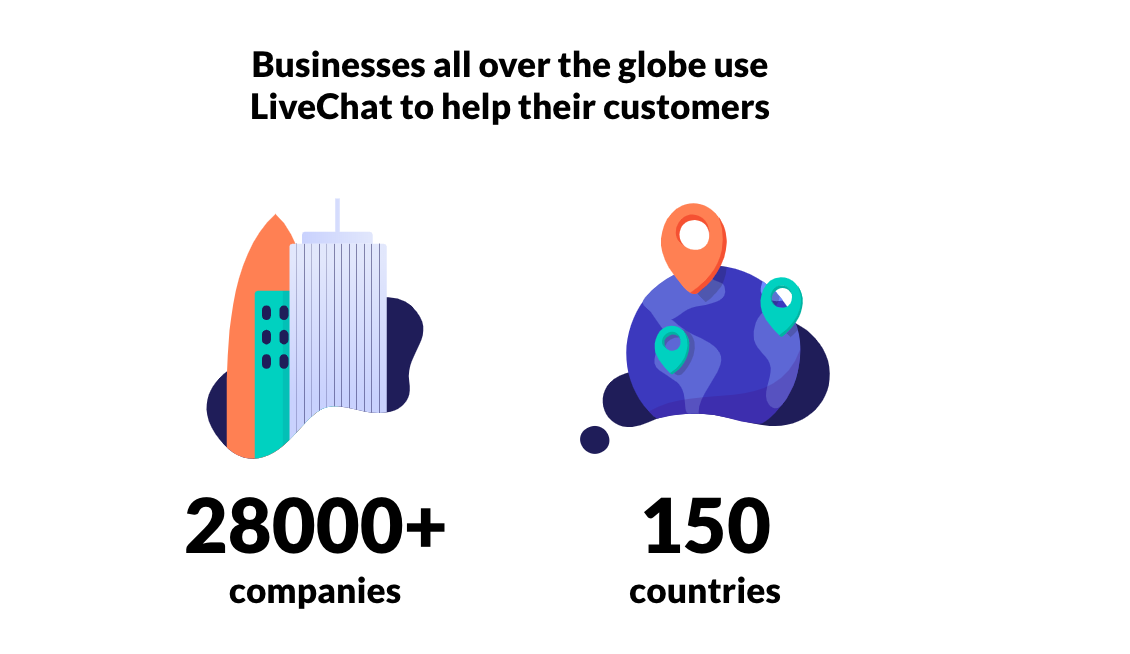 Features
Outsource your chat needs to a team of agents.
Send a friendly greeting to approach an engaging visitor.
Use pre-written, stock responses that provide quick and consistent support.
Watch as customers type to prepare your responses more rapidly.
Monitor chat agent efficiency, user behavior, and sales.
Integration with Salesforce or MailChimp for lead generation.
Manage design, functionality, and usage — from any device.
With so many benefits, LiveChat has gained a lot of clients over the years and continues to be one of the best options for having a live chat feature on your WordPress site. It has a good support team behind it, which will take care of all the possible queries that you might have.
Pricing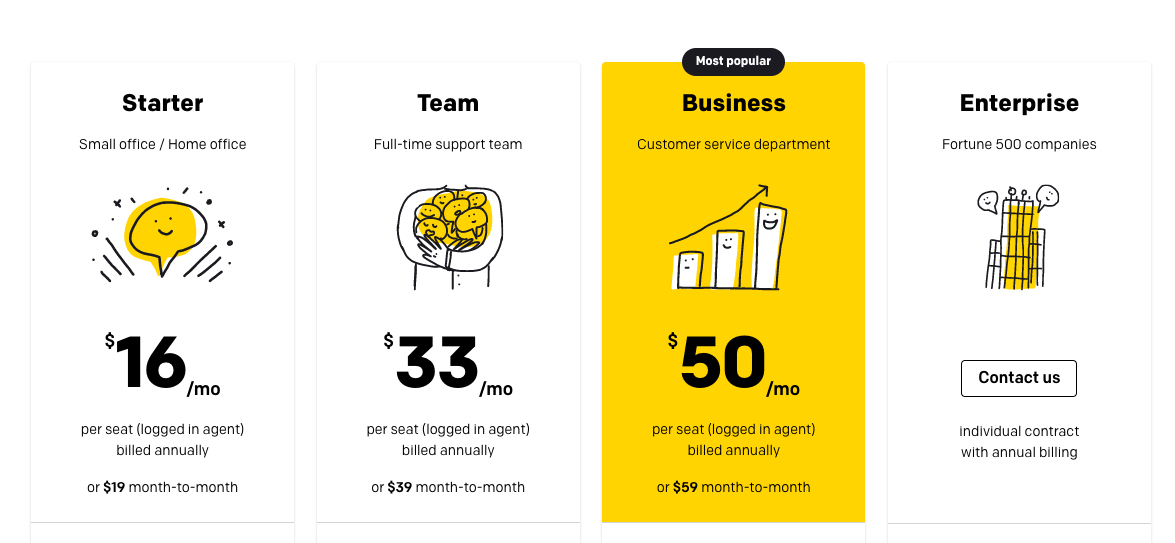 LiveChat comes with a free trial, after which you have to pay $16 per month for a starter plan, $33 per month for a team plan, and $50 per month for a business plan. You can choose these plans depending on the need and functionality of your website.
Kayako is a full-service help-desk that was developed in 2001, which makes it one of the oldest in the support business. It has all the features that you need in a good WordPress chat plugin.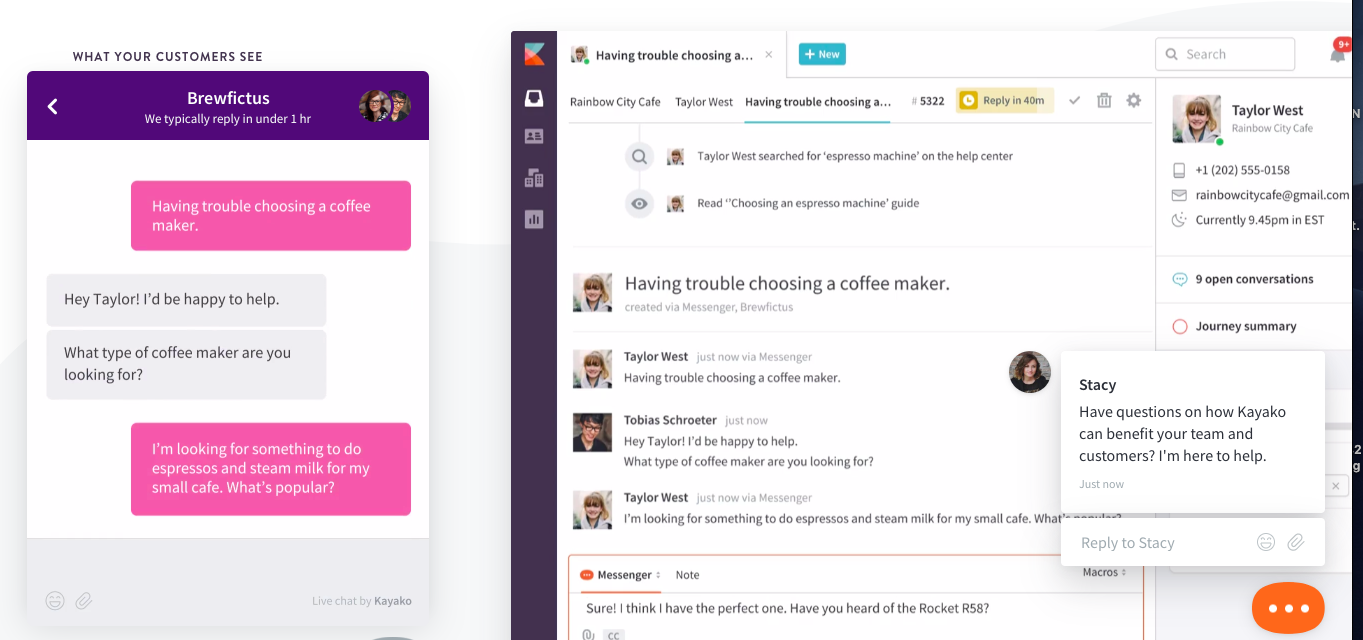 Features
Consolidated inbox for effective communication.
User history for providing effective support.
Multi-channel support across platforms.
Self-support options when your team is unavailable.
SEO support to understand user searches and behavior.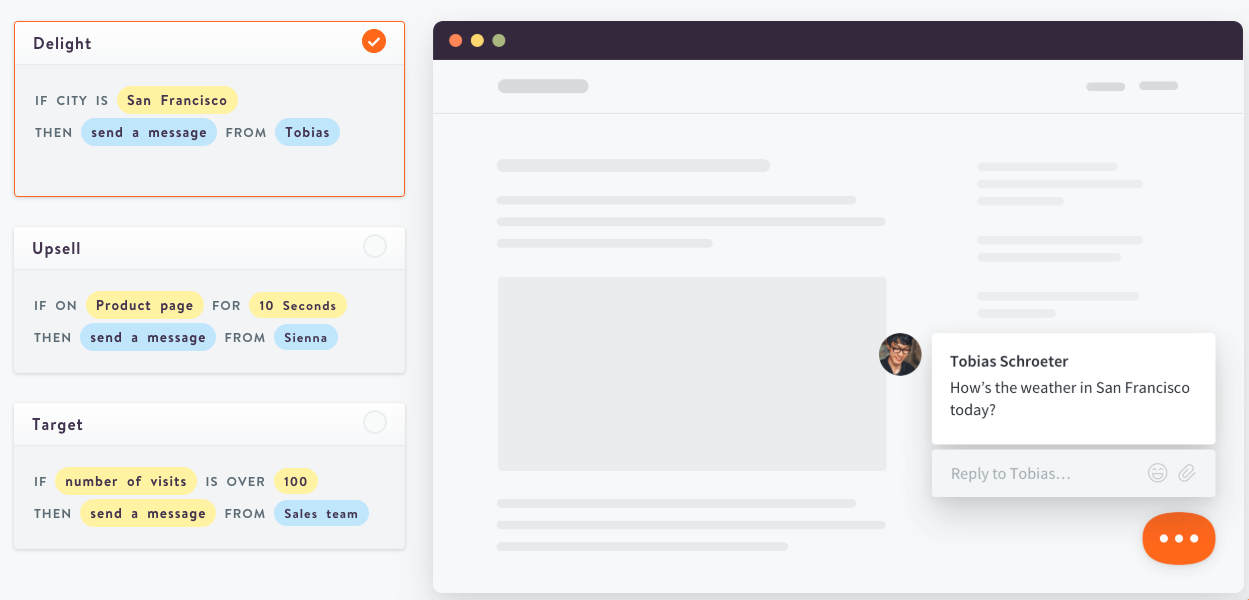 Kayako has gained great popularity with so many features.
Olak started around 2009 and is designed to make it easier for customers to talk to each other in real-time. The team at Olark happens to be geographically diverse, which just shows how remote teams are also capable of working together.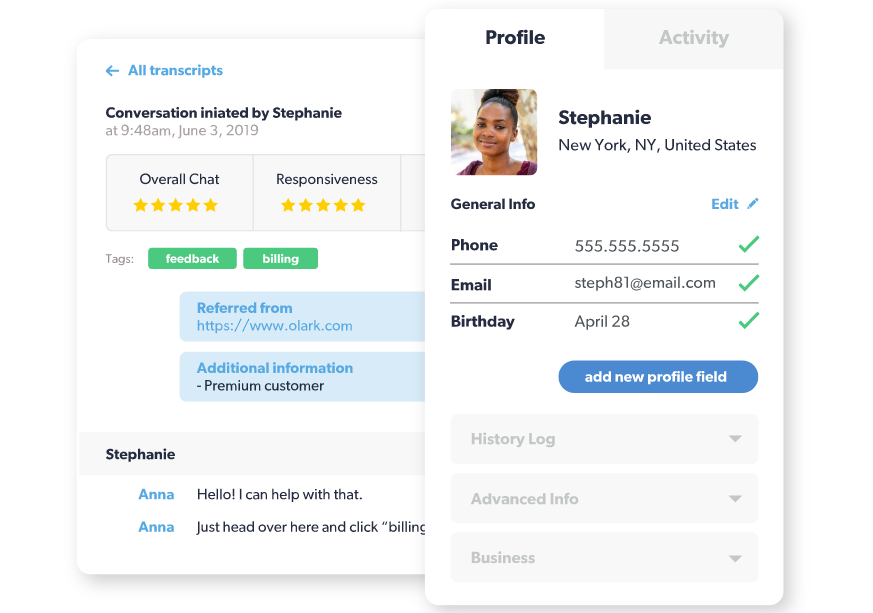 Features
Integration to a wide variety of business software.
Automation of messages for effective communication.
Save transcripts from knowing more about the customer experience.
Actionable dashboard with data on visitor engagement and satisfaction.
Power-Ups such as Co-Browsing that let you watch visitors; insights and translation.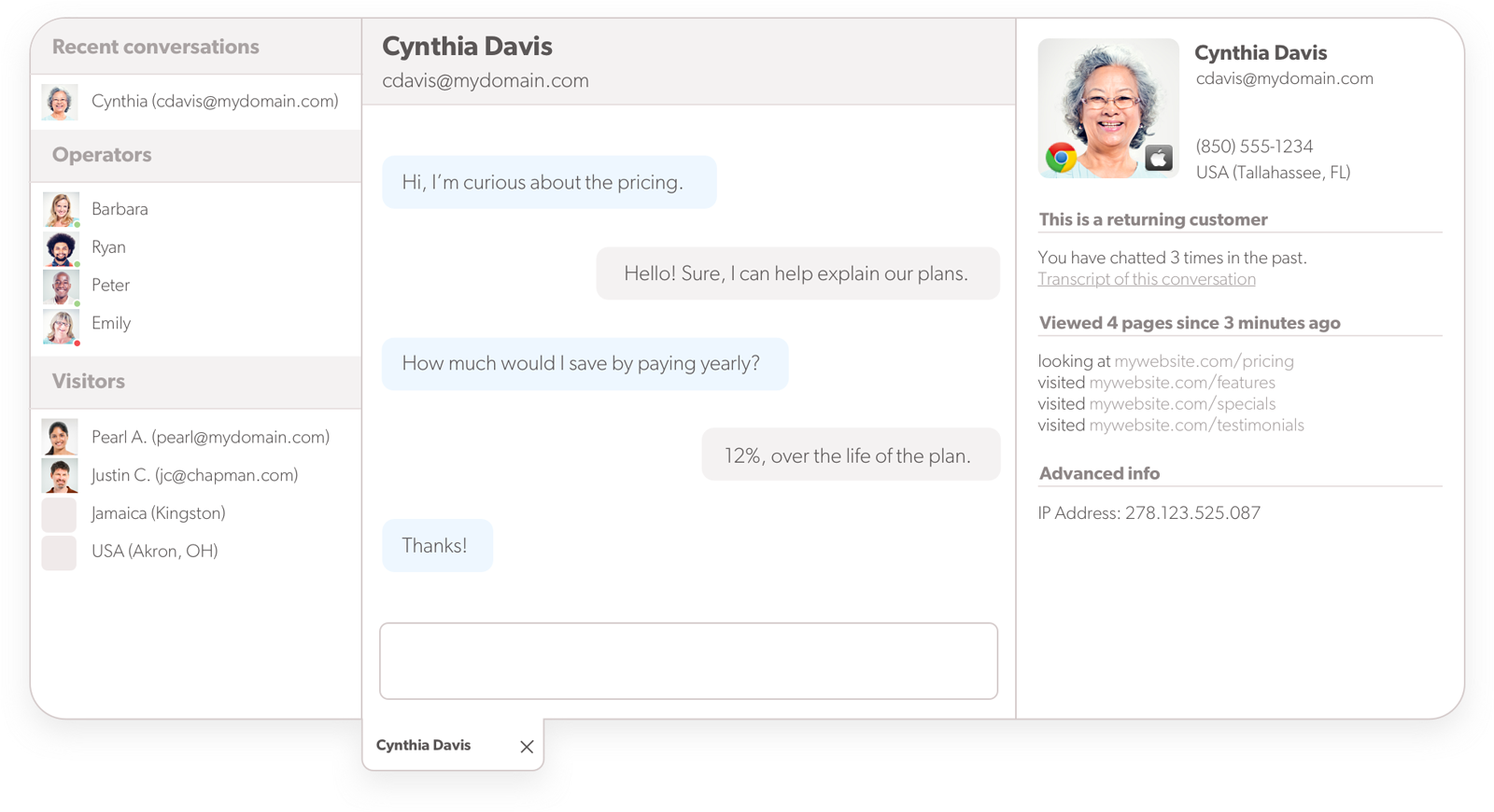 Pricing
Plans for Olark start at $17 per month per agent. For one year, the price is at $15 per agent, dropping to $12 per agent per month if you opt for a two-year plan.
WP-Chatbot is one of the freemium plugins that are available for WordPress. It lets you enable Facebook messenger chat to your website for an advanced support functionality. With this plugin, you can keep the chatbox on your website, which links directly to Facebook.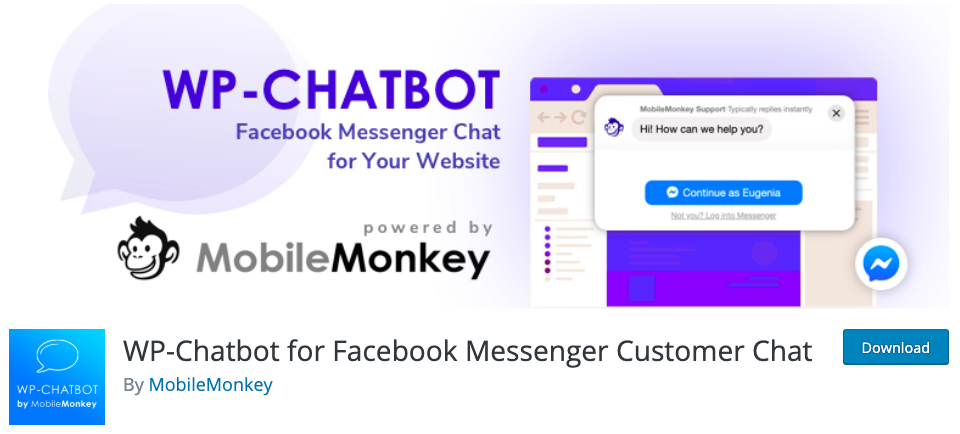 Features
The free version, which lets you explore the basics of this plugin.
Demos provided for a wide variety of website customizations.
An image-friendly plugin that helps clarify bugs and visual errors.
It can be programmed to be used by a human or a bot.
It comes with preset custom greetings that you can display.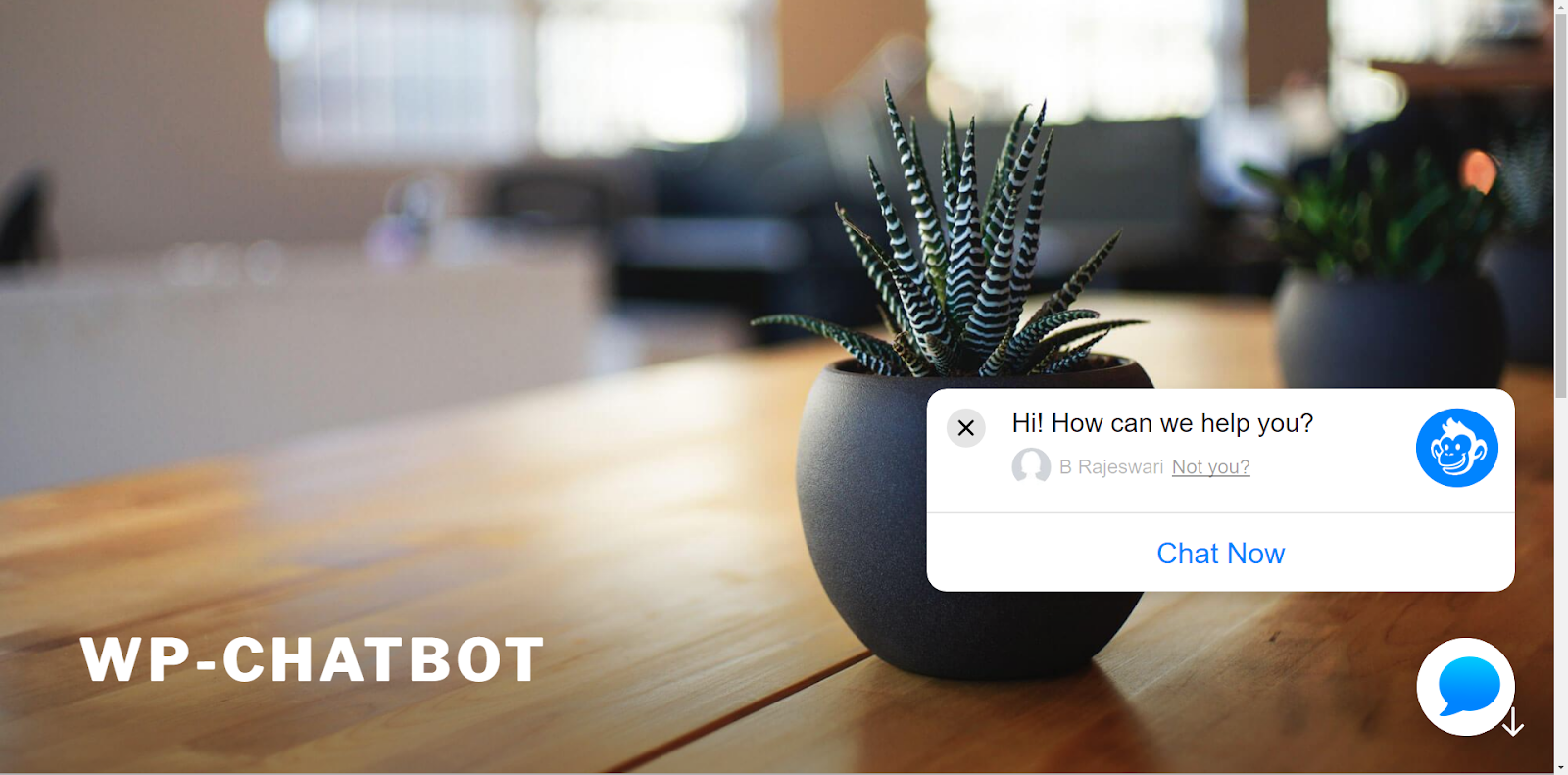 The selling point for this plugin, however, is Facebook integration, as it lets users explore the functionality of the website while they are still logged in.
Acquire is a freemium live chat plugin for WordPress which is much easier to integrate into the website and is quite compatible with both paid and free themes on WordPress. You can quickly interact with a customer and help them make a decision with their purchase.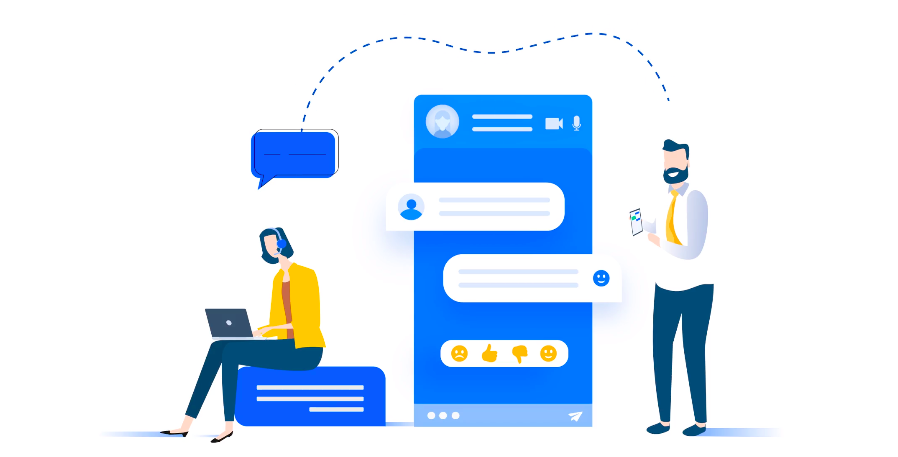 Features
Monitor all traffic to initiate a chat.
Set up shortcuts and ban visitors.
Look at the purchasing journey of your customer.
Answer common questions with auto-messages.
Chat, phone, video, and co-browsing — all in one.
With Acquire, you also get access to a modern user interface which lets you effortlessly guide through the many layers inside the WordPress chat plugin.
Pricing
The pricing for Acquire starts at $300 per month plus $40 per agent for the basic plan. The advanced plan is at $950 per month, plus $50 per agent.
Support Board is another premium WordPress chat plugin that is available on CodeCanyon. While the plugin also works as a support desk, it also provides solutions for live chat.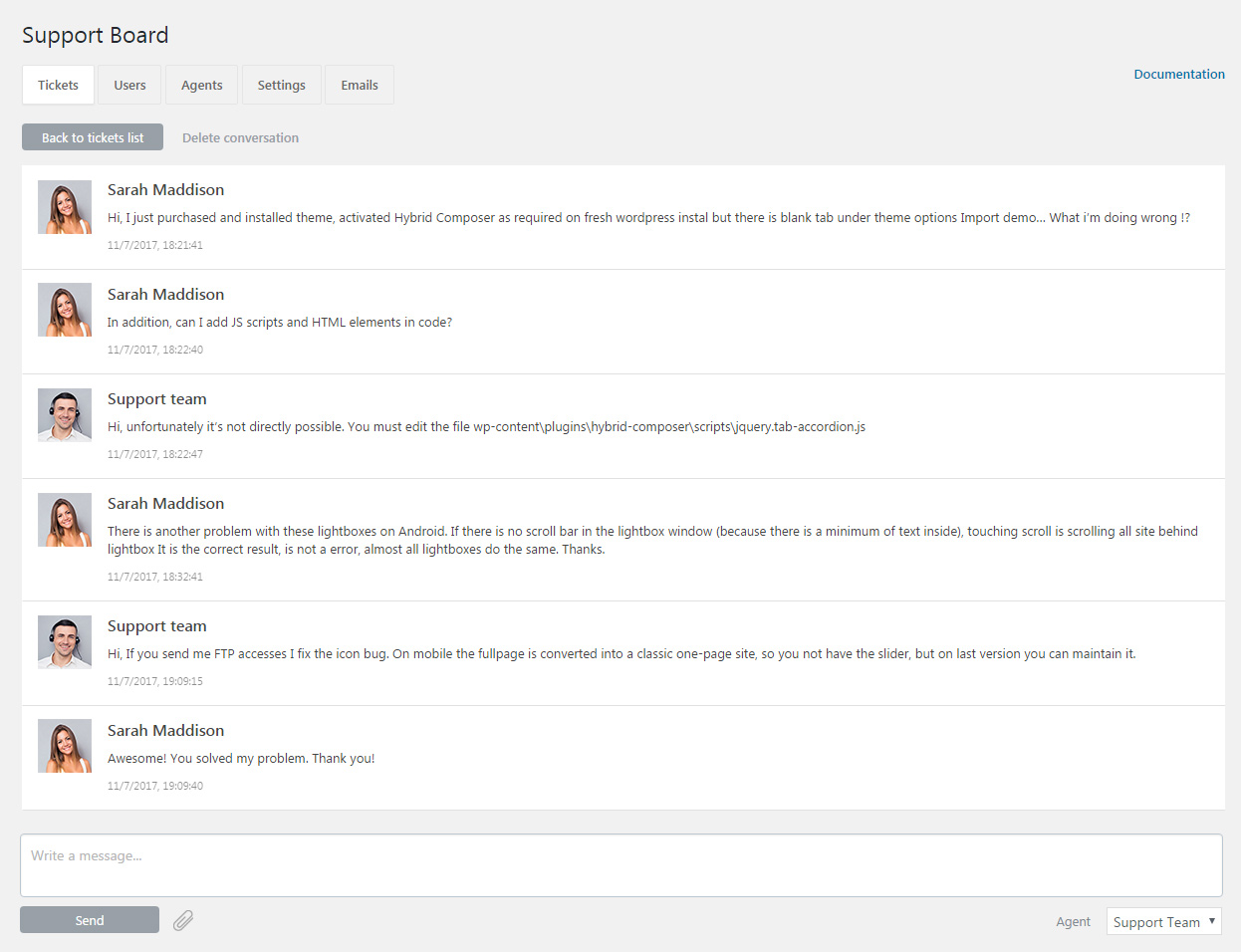 Features
Customize your live chat experience with custom, designs, layout, sounds, and messages.
It comes with a support portal, binding live chat assistance.
Multilingual chats for serving diverse clients.
Save the user base from retaining customer information.
Custom notification messages on Facebook or WhatsApp if your support agent is away.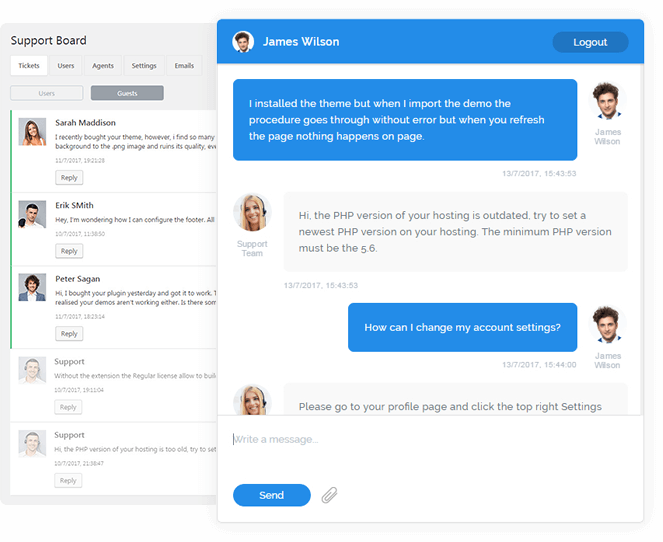 Pricing
The pricing for Support Board starts at $30 for a regular license which comes with six months for support. You also have the option to extend the support to 12 months by paying an additional $9.38.
With extended support, you can be assured that all your queries about the plugin are met effectively.
With features such as smart support, chat notes, and canned messages, working around the Support Board is quite easy and fun — something that you will realize when you use this plugin.
REVE is a multi-channel and cloud-based chat support that comes with real-time support for visitors across platforms and apps. It delivers excellent customer service experience along with high sales conversion.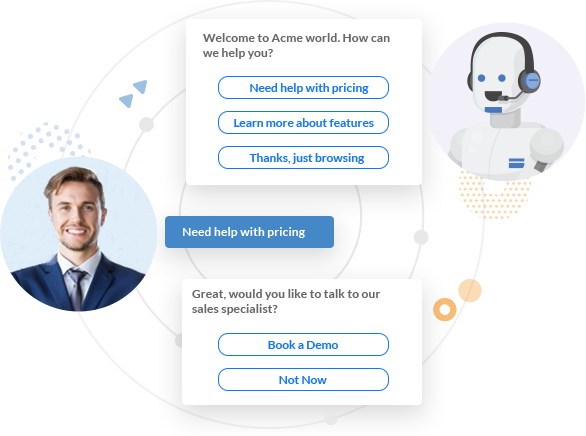 Features
Live customer engagement tools to deliver a personalized experience in real-time.
AI chatbots that can keep your customers engaged round the clock.
Chat API and SDK for enhanced integration across platforms.
Creating predefined responses for the common queries that people have.
Visitor analytics for deeper insight into the customer's journey and profile.
Queuing feature so that visitors know that the support team is busy.
Assign tags for navigating through conversations.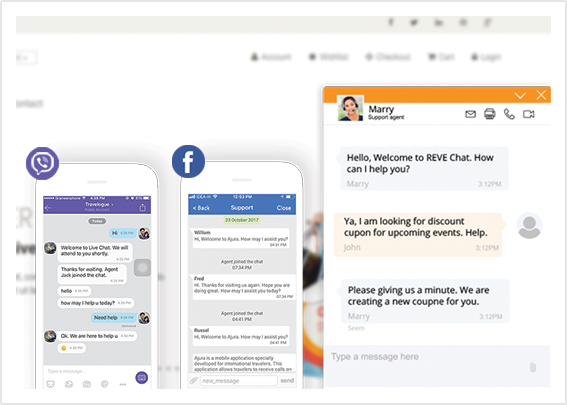 Pricing
REVE Chat comes with a 14-day free trial. After that, the plans range from $15 to $50 per month. REVE Chat is a popular name in the online chat-support community. Its support team will never disappoint you, so feel free to hit them up if you have any questions.
HubSpot is a free WordPress chat plugin that comes with a host of features and has several free options. It gives you the option to integrate real-time communication lead conversion, and personalization — all at the same time.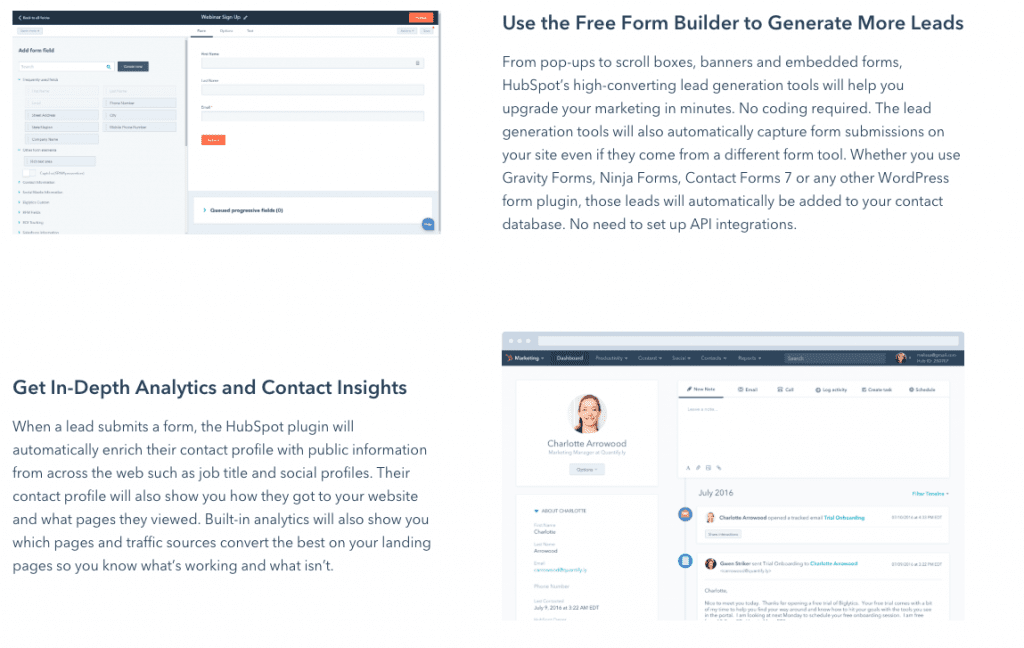 Features
A collaborative team inbox lets you work with ease.
Freeform builder to generate more leads.
In-depth analysis and contact insights.
Analysis of behavior, customer profiles to gain more conversions.

The interface of HubSpot projects all the buyer personas for an enhanced brand experience. It also has several form fields that you can use to know more about your visitor or customer.
Tidio is one such plugin which has some great resources as a free version. It is recommended for teams that have a few members but want to test the product on a scalable level.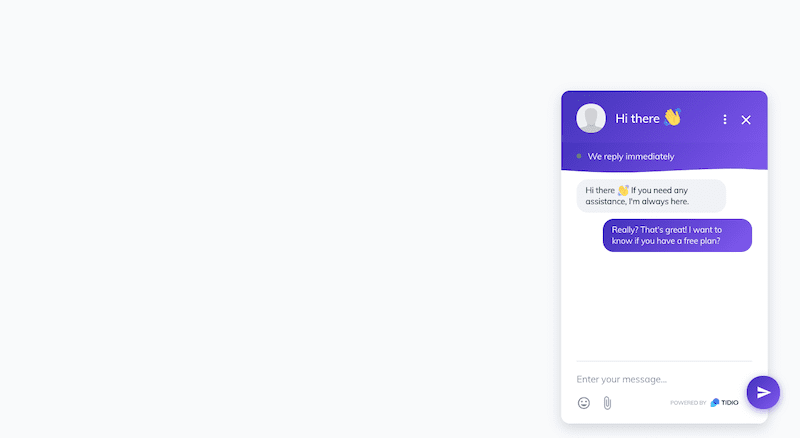 Features
Customize live chat to match your brand.
Have a bot to take care of conversations and chats while you are offline.
Integrate Facebook messenger an email, so you don't miss out.
Integration with business tools like GetResponse, MailChimp, and Salesforce.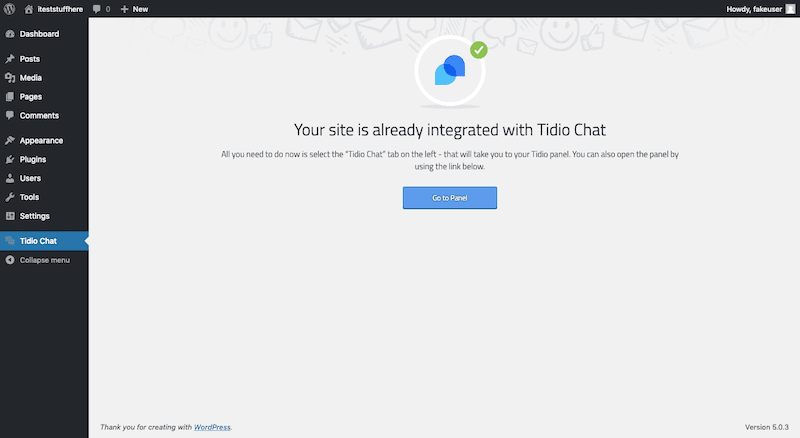 Pricing
While there is a premium version available for Tidio, the free version can do most of the job. However, if you want extra features, then you can opt for plans that start at $15 per month.
Formilla is one of those WordPress chat plugins that is extremely user-friendly. It has amazing support for mobile so that your visitors do not have to compromise the features while browsing your website on their mobile devices.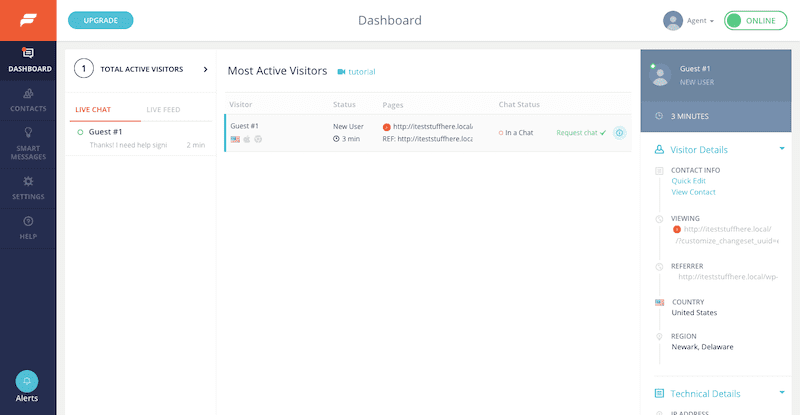 Features
Ability to customize the design of the chat widget.
Creating smart and automated responses targeted to different visitors.
Watch for live chat messages and respond to them.
Manage agents, transfer chats, and send out broadcasts to look for support personnel.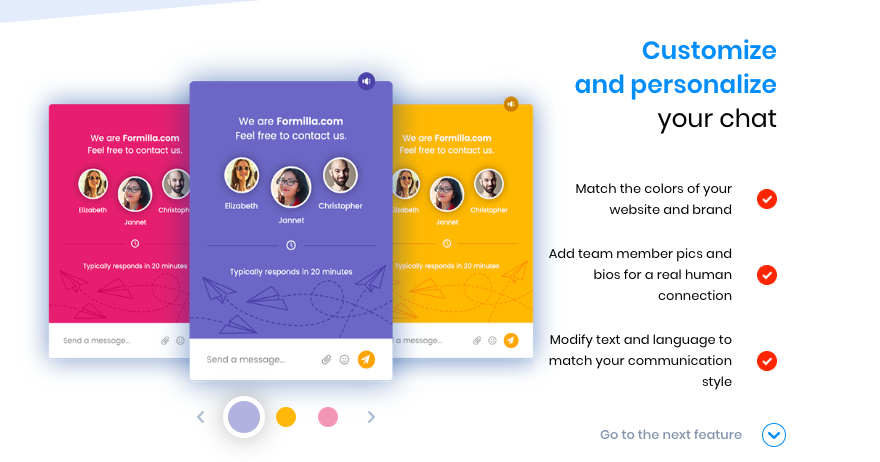 Formilla works with a lot of data from your users while you interact with them. This way, you build their profile, which in turn helps you work up those acquisition and retention rates.
Pricing
While the free version does a decent job, you always have the option to upgrade to a premium plan, which starts at $11.99 per month and goes up to $19.99 per month.
Considering the prevalence of Facebook across networks, it is important to have a plugin that integrates well with it and helps your visitors use the live chat feature through the platform. The NinjaTeam Facebook Messenger chat plugin for WordPress does the same thing.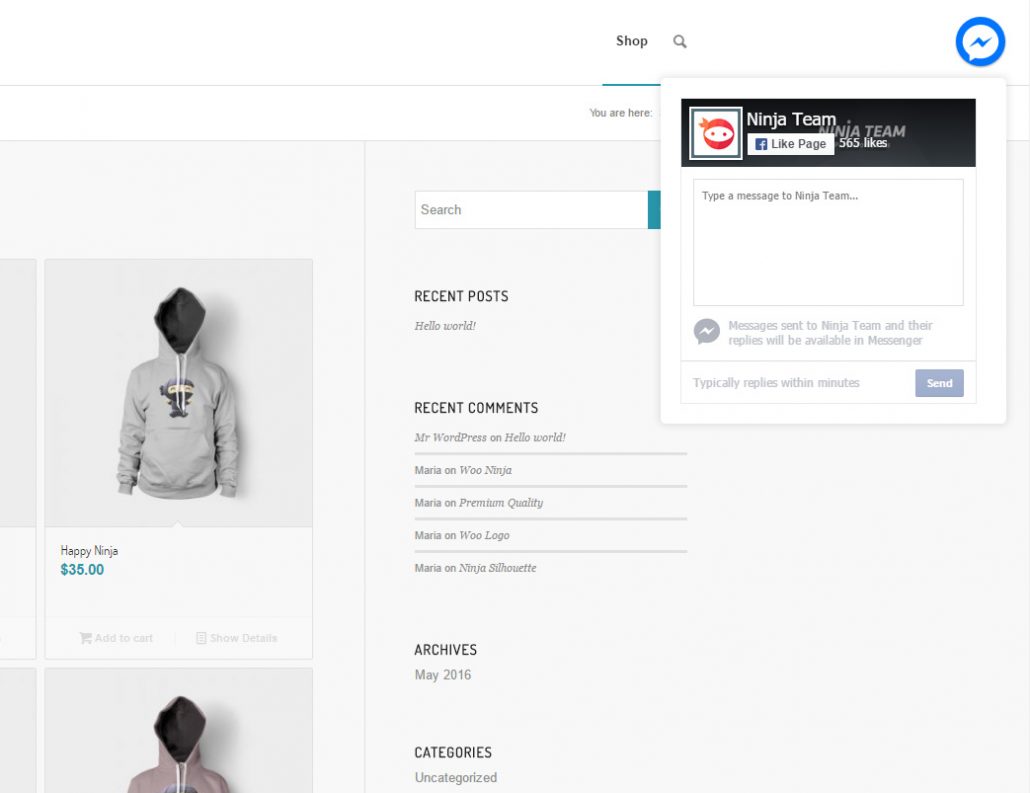 A good Facebook plugin prevents the hassle of providing personal details to the chat plugin — something which a lot of users appreciate since anonymity happens to be key.
Features
Make an AI platform using Facebook's bot technology.
24/7 auto chat support.
Avoids the traditional ticket system.
Easy to integrate.
Saves a lot of time with automated responses.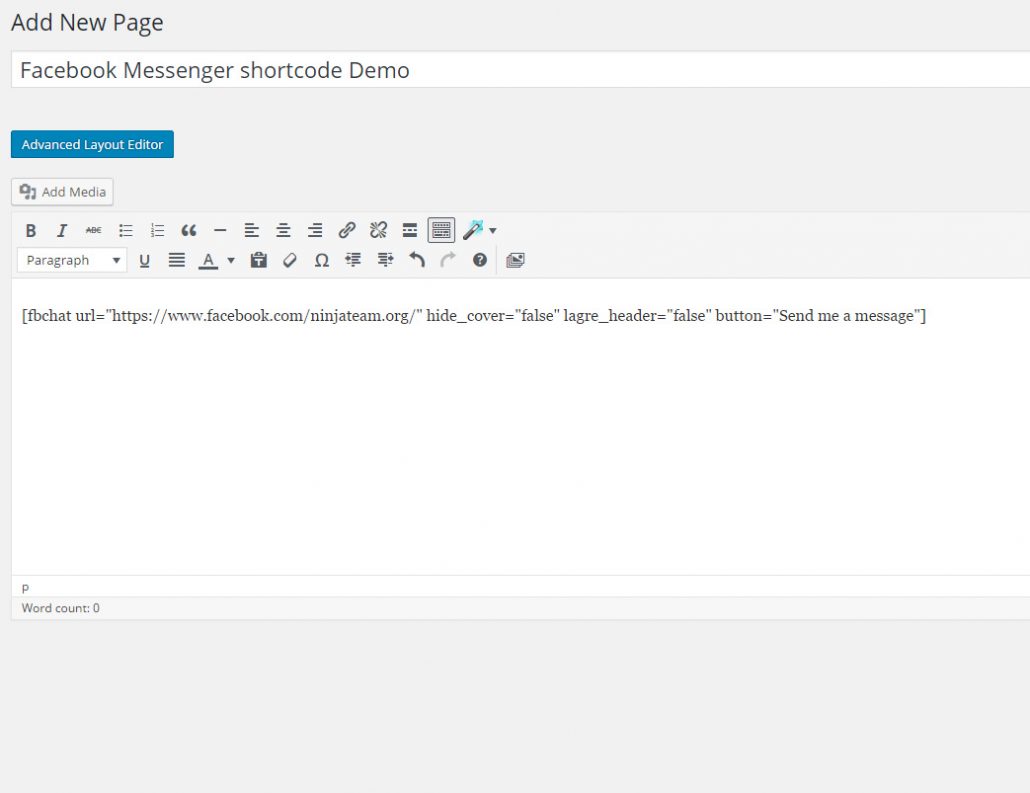 However, there is one catch with this plugin — it takes your visitors away from your site. You can prevent this if you manage to program your plugin in a way where most of the questions are answered through the bot.
Pure chat lets you speak to multiple visitors at the same time so that you can solve due queries at the same time. When you go offline, you can decide exactly what you have to display on your widget.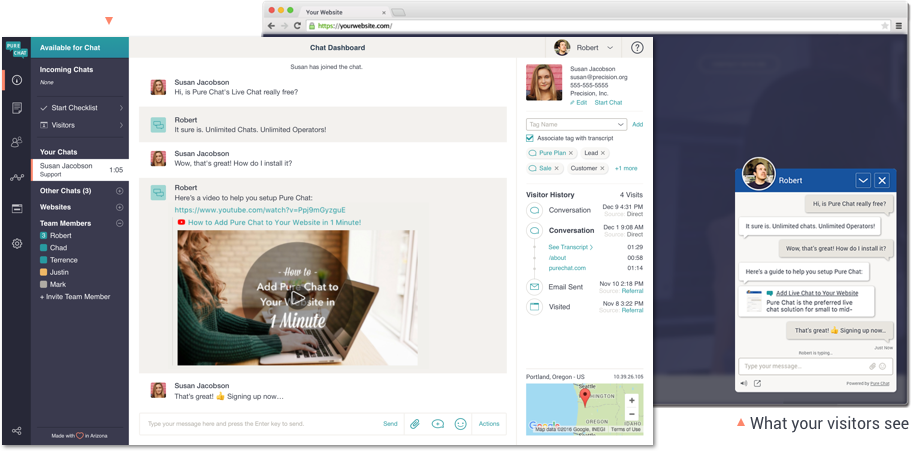 Features
Engagement hub with multiple contact options.
Availability of ready-made answers.
Send SMS notifications.
Have support for real-time analytics.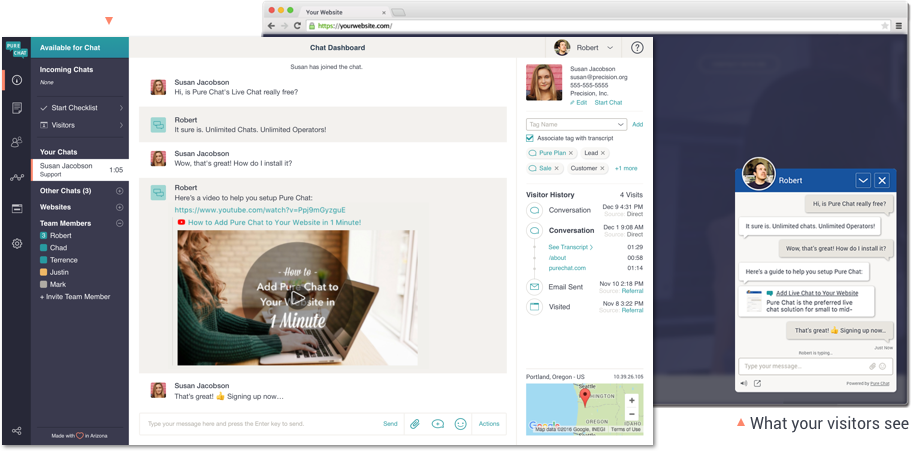 Pure chat is compatible with iOS and Android mobile apps, so it's easier to manage the application on the go.
Pricing
Pure chat comes in three versions — free, pro, and growth. The pro version costs $79 per month, whereas the Growth version comes at $39 per month.
If you are running a community, a forum, or a social networking site, then iFlyChat is a WordPress chat plugin that you could look into. It lets you chat with people privately or in a chat room.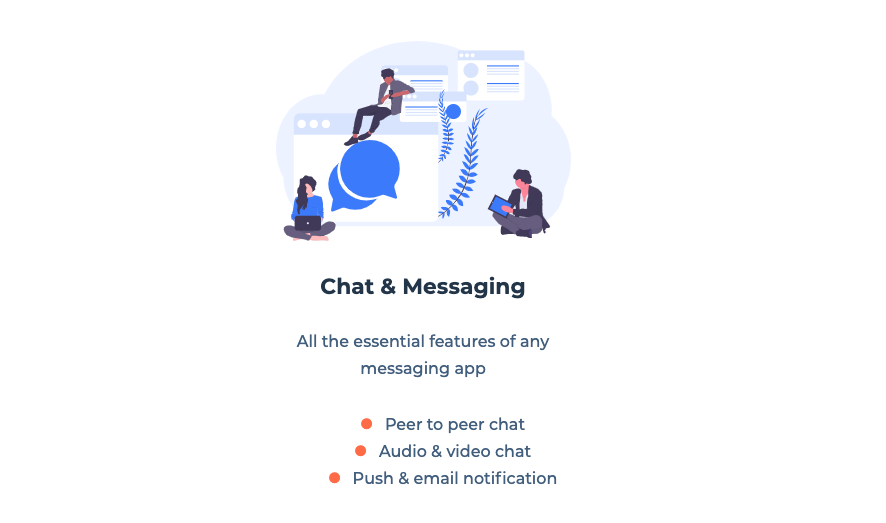 iFlyChat WordPress plugin also has an advanced design that will engage your users further, since the platform is more interactive.
Features
Syncs well with social networking and dating apps.
Works by using JS, CSS, and HTML.
Users can choose to chat anonymously.
Configure plugin and provide support for any service or product.
Automatically encrypt chats with SSL.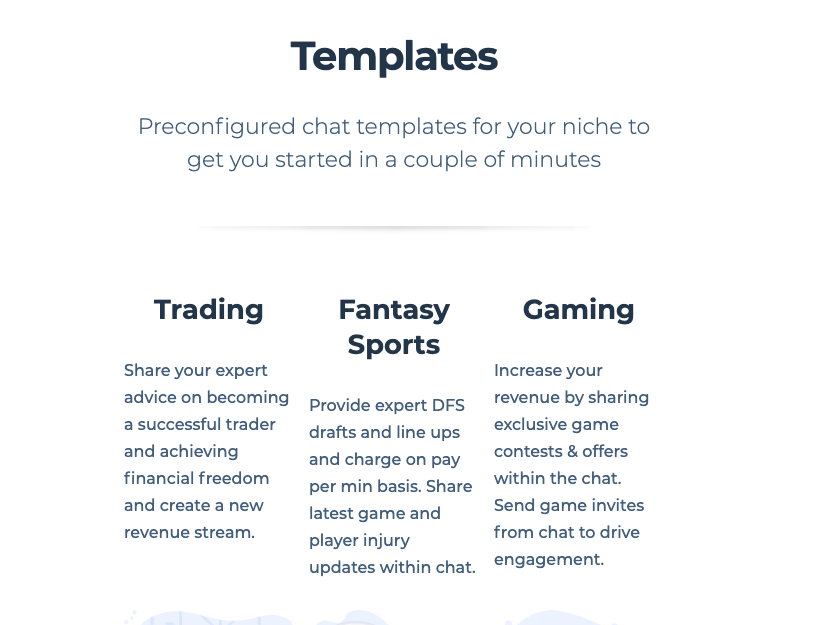 Once you install this WordPress chat plugin, you will need to have an API key. Being a cloud-based chat, you won't have to use any additional software with this program — now, that's an extra benefit.
Pricing
iFlyChat has a Basic, Professional, and Business plan — priced at an annual rate of $44, $179, and $899 per month.
Considering the user base that WhatsApp has, one cannot stress enough about having a chat system for WordPress which runs around WhatsApp. With this WhatsApp chat plugin for WordPress, you will get access to real-time WhatsApp conversations so that your customers can always have access.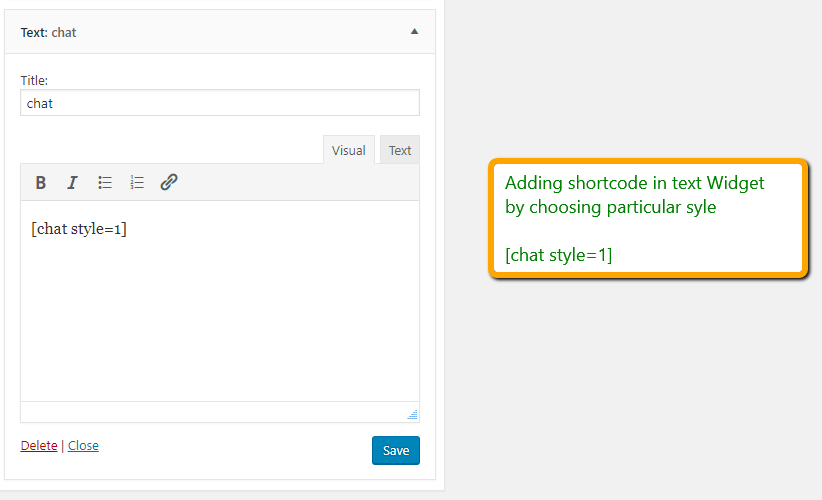 Features
Easy to integrate into the website.
Group chat feature available.
Option to add your own image.
Access to analytics for enhanced trackability.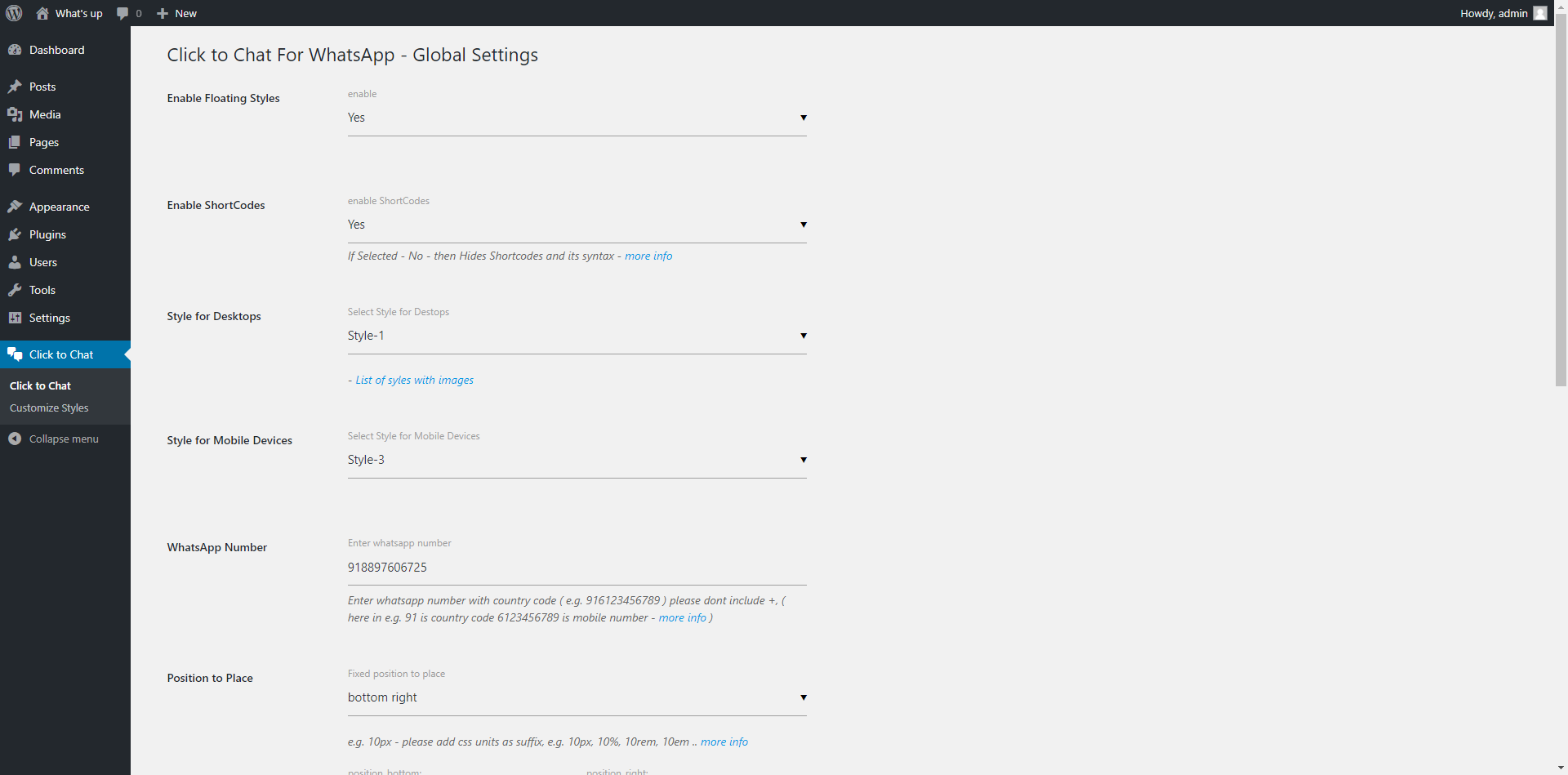 Having good customer support adds value to your website — something that you will be using in the long run. Click to Chat for WhatsApp Chat WordPress plugin lets you do just that.
Pricing
The free version of Click to Chat for WhatsApp Chat comes with a host of new features. However, if you are looking for more features, the paid version of this plugin is also available, starting at $19.
Wise Chat WordPress plugin focuses on social networks and how user engagement can be increased with the aid of real-time chat options. With this plugin, you get the option to run several chats on the same page.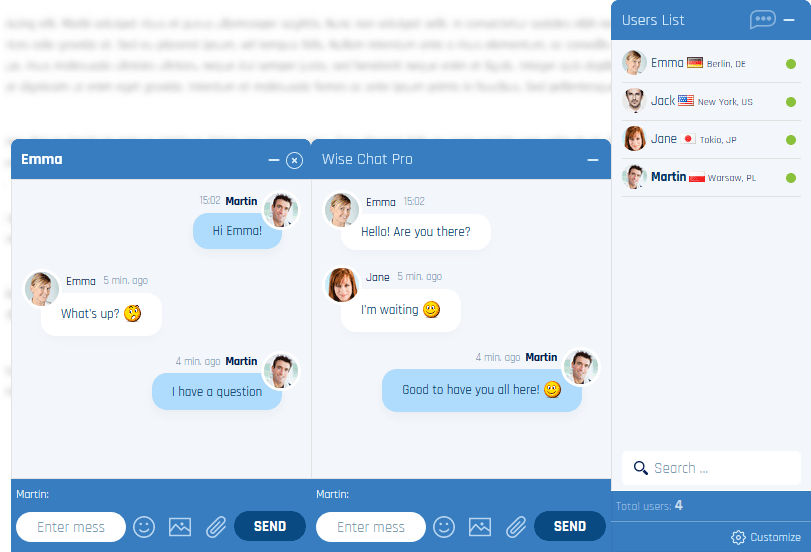 Features
Easy to install with a widget, PHP function, or shortcode.
Convert chat rooms into private chat rooms with a password.
Three simple themes to style up your chat interface.
Ability to use the chat anonymously, or with a custom name.
Moderate chat, filter images, and ban IPs.
Wise Chat for WordPress also comes with other features such as detecting Twitter hashtags and converting them to links. You can also back up messages from a single chat room and export it into a CSV file.
Pricing
Starting at $40, The pro version of this plugin comes with an added feature, free update, and support.
Soch plugin for WordPress is easy to customize. It can add some great benefits to the support function of your WordPress site. Besides, this WordPress plugin also comes with the option to integrate multiple social networks to the platform.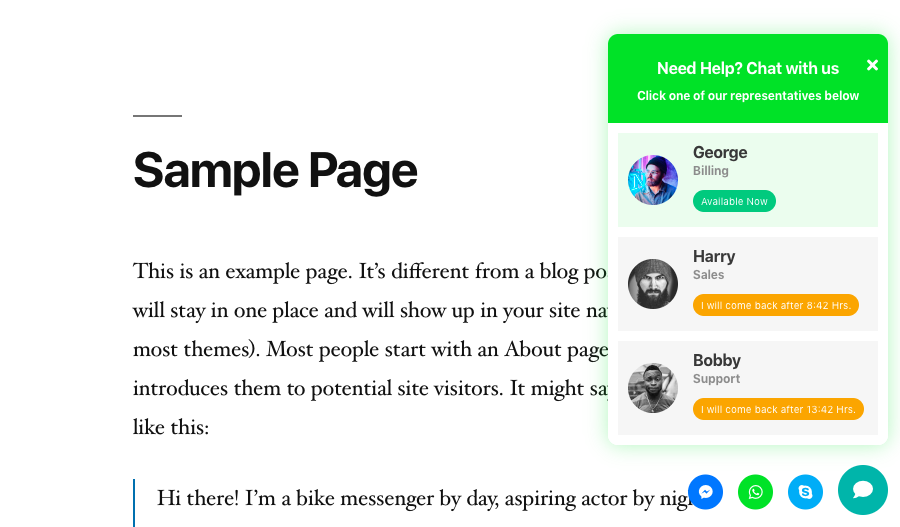 If you run into any trouble while setting it up, then you can always fall back on its extensive documentation which explains the features of this plugin and helps you with setting it up.
Features
Support for WhatsApp, Facebook, Messenger, and Skype.
Supports multiple accounts, lets you set time availability.
No need to code or perform advanced tasks.
Users can get quick replies through live chats.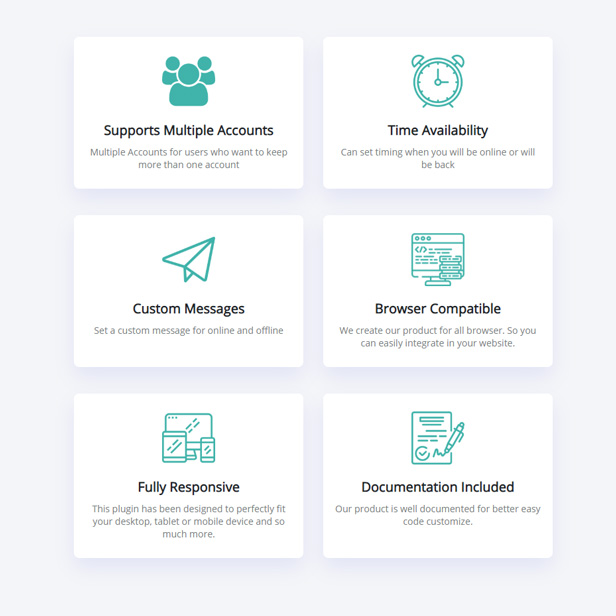 Soch for WordPress starts at $14 and comes with free future updates and extended support from the plugin's author. You can choose the paid plan depending on the usage of your website — the traffic, and the kind of support that you need on your website.
With All-in-One support Button WordPress plugin, you can offer several support options to your websites that are connected through multiple social media platforms. It offers a chat option that is applicable across multiple platforms.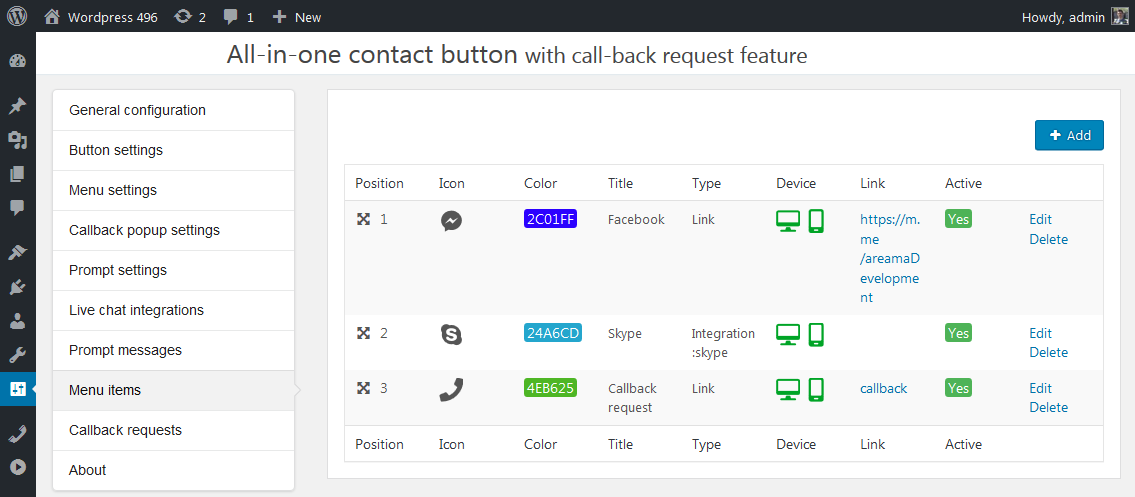 Features
Connect Facebook, WhatsApp, Skype, and other social media platforms.
Compatible with WooCommerce.
Extensive customization features for enhanced back-end experience.
Support for both desktop and mobile users.
Change themes, buttons, alignments, and more.
Choose what is to be displayed on the menu.
Request a callback option for visitors.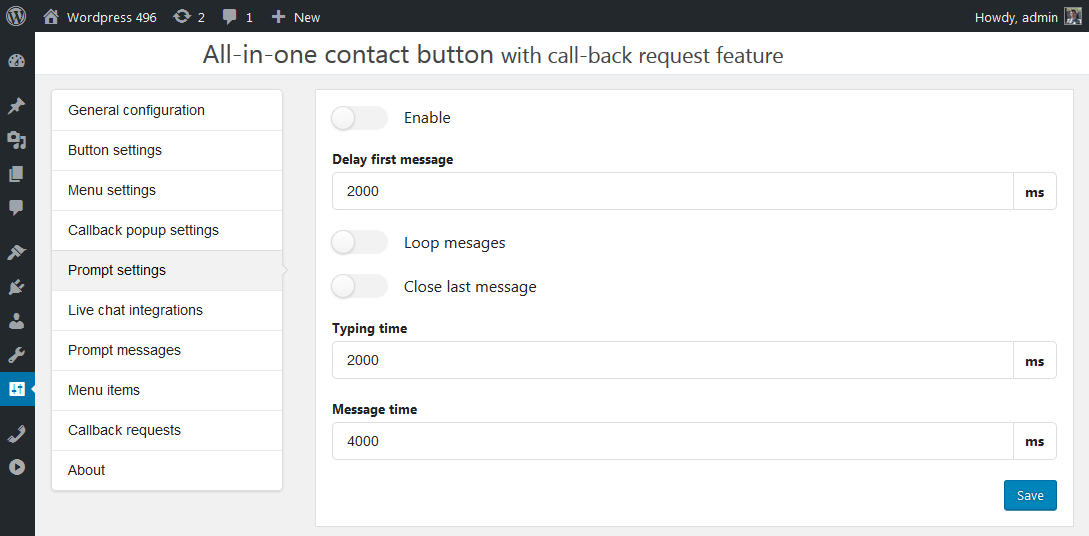 With so many features packed, this WordPress plugin is a powerhouse for all your WordPress live chat needs.
Pricing
The plugin is offered on Evanto and is priced at $19, with free support and documentation, and everything else that you will need to set up this plugin.
Zendesk is a popular name in the support community. Zendesk Chat WordPress plugin works with all major browsers and is available in 40 languages. You also get to monitor visitors while engaging in multiple transactions through the dashboard of the plugin.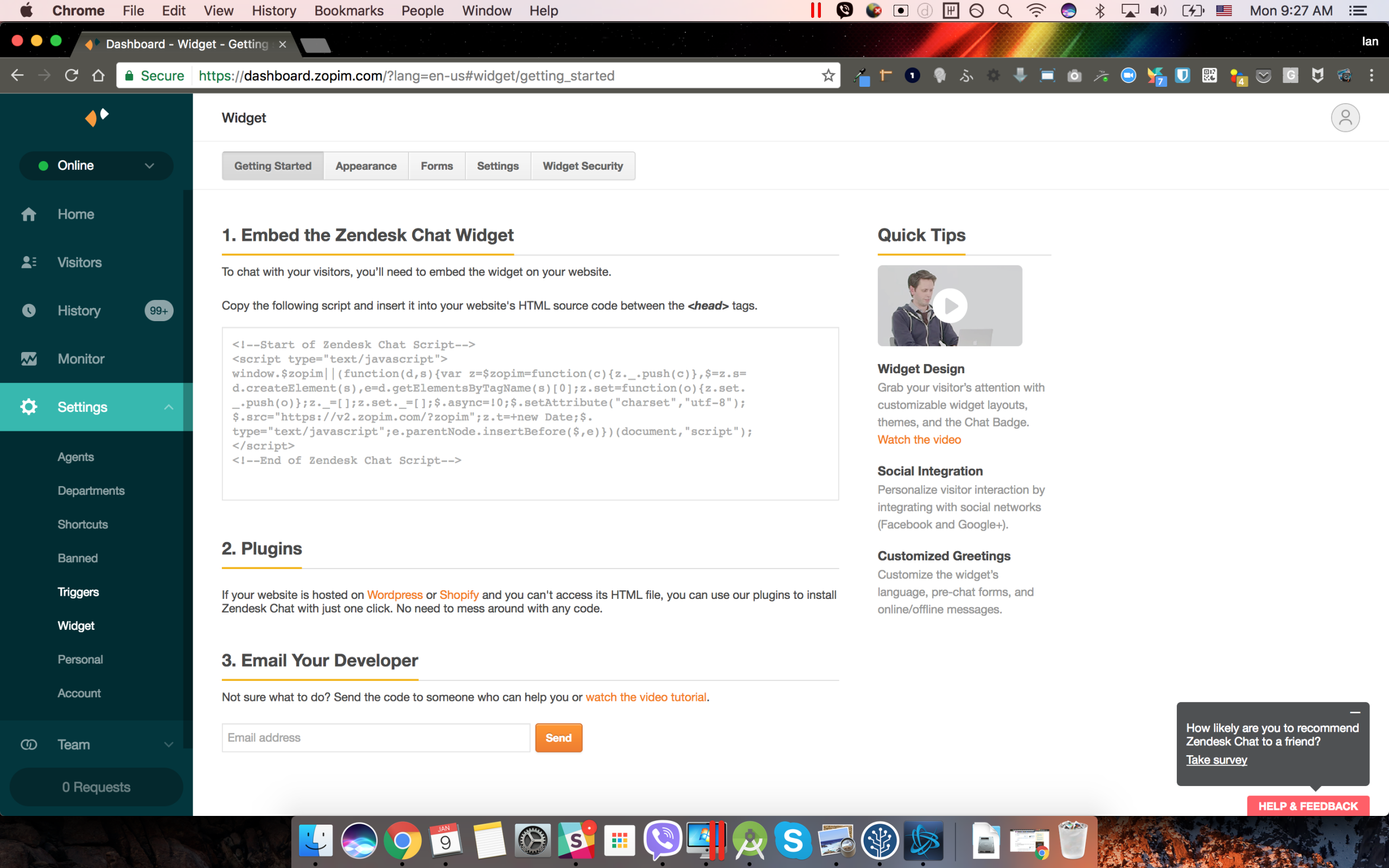 Features
High compatibility across platforms
Transfer chats among team members
Track conversions that tend to happen through the chat
Access common dashboard with intuitive data
Maintain chat records for future reference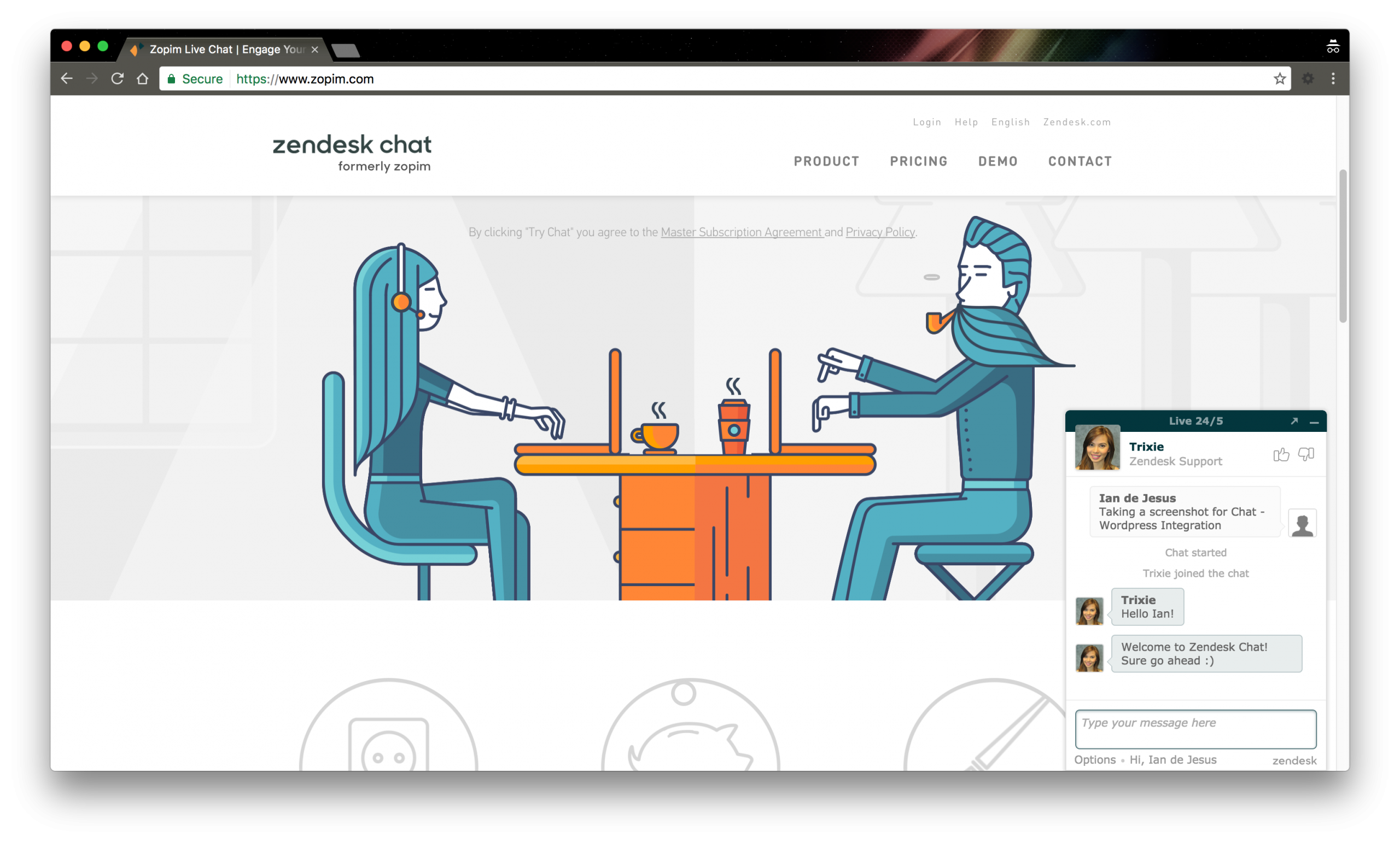 Zendesk Chat is one of those plugins that can really help you address most of your support needs for your WordPress site. The support team behind Zendesk is also great, so if you have any troubles while setting up this plugin, they will surely help you out.
Pricing
The premium version of this plugin comes with even more features than the free one. The price starts at $70 per month.
Now that we have approached the end of this list, it is time to add another WordPress chat plugin, which is quite resourceful and does the job quite well. With a modern chat interface, Chatwee for WordPress could just be the thing that your site needs.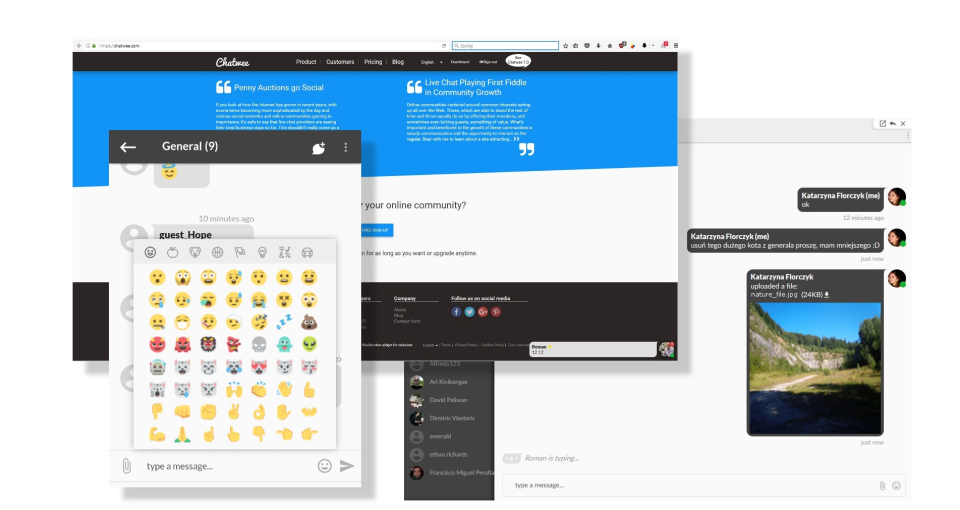 Features
Extensive widget customization that includes a drag and drop interface.
Multiple chat rooms to bring in diversity in conversations.
Mobile ready social chat box so that your visitors are always connected.
East to install widget through HTML code.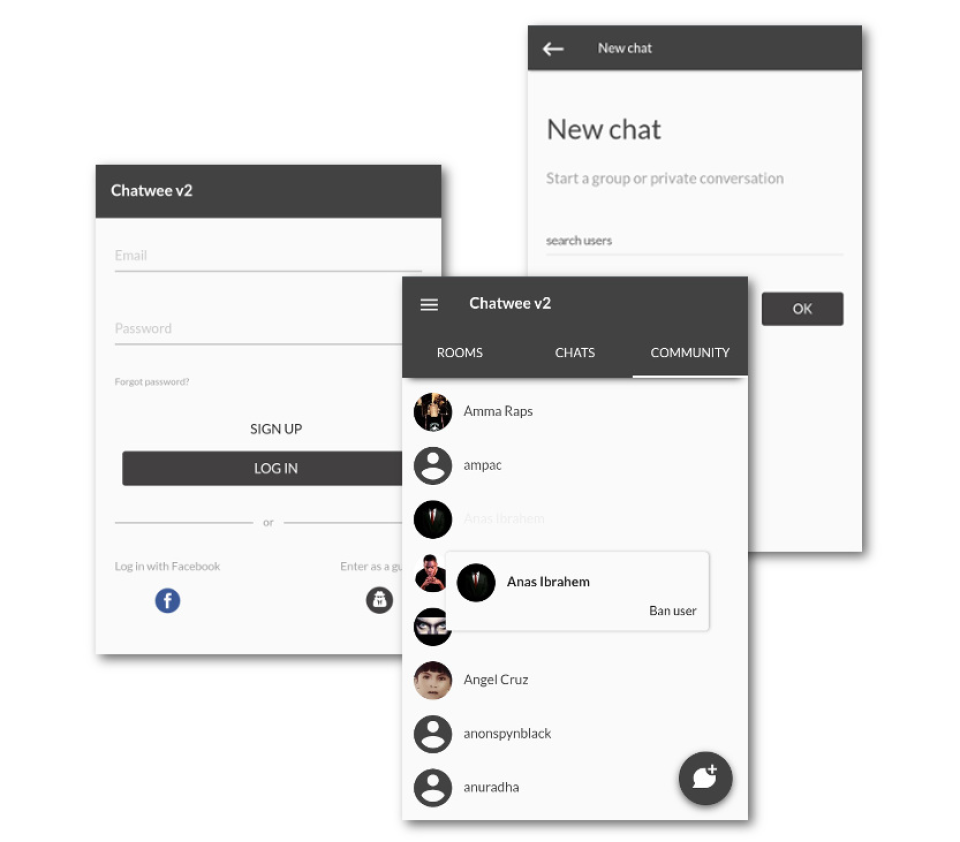 Pricing
Chatwee also comes in Standard, Pro, and Ultimate plan, starting at $19 per month, $29 per month, and $69 per month.
Conclusion
With so many WordPress live chat plugins, you have the option and the empowerment to expand your user base and engage more with your customers.
All of these plugins come with good online support, so if you run into any trouble while setting them up, you can always get to the support team, and they can help you out.
With an excellent live chat plugin for WordPress running on your website, you can ensure that your visitors do not have any trouble finding out the information they want.
You can integrate these plugins to any of the web pages on your website — you get support wherever your visitors are on your site, day and night. Even if you are away, you can set up automated responses.
With customer satisfaction on the rise, your engagement rates are bound to increase — something which will add significant benefits to your online presence. It is always disappointing when the support team does not get back, so having a useful support plugin for WordPress will ensure that this does not happen.
Like we mentioned at the beginning of the article, live chat for websites holds a lot of advantages over the traditional means of communication. It saves time and effort and builds a support ecosystem, which is much beneficial for visitors.
Considering the high level of competition that online businesses are facing these days, it is essential to get a WordPress chat plugin that addresses all these needs.
So what are you waiting for? Go, get these chat plugins for WordPress now!