Setting up a professional and functional real estate website isn't as challenging as you may think. In fact, if you have the right resources and tools at your disposal, it can turn out to be an incredibly easy task.
A professional real estate website can help you attract quality leads and simplify your sales process, which may go a long way in helping you grow your business.
That said, this will be a step-by-step guide to setting up a professional website for your real estate business.
1

Understanding IDX and MLS Compatibility

Before we get to the steps involved in building a real estate site, let's give you a quick overview of the IDX and why your site needs to be compatible with it.

IDX refers to Internet Data Exchange, which is basically a software that most realtors and brokerages use to display frequently updated property listings on their website.

The MLS, on the other hand, means Multi Listing Service. This is a service that helps brokers to be on the same page with respect to the appraisals, offers and compensations. The main purpose of this tool or service is to help brokers and realtors close more deals.

The reason it's crucial for a real estate website to be compatible with these two tools is that if it's not, your site would be pretty handicapped as far as the overall functionality and getting leads is concerned.
2

Getting a Domain Name

Now that you understand the importance of integrating the IDX and MLS with your website, let us get to the first step of building a real estate website, which is getting a good, relevant domain name.

Ideally, you would want to get a domain name that's both relevant to your industry (real estate), and helps you stand out as a brand. Avoid domains with numbers or hyphens, unless the numbers make sense in the domain name.

Now, we know there's some hype around the extension .realtor, as it seems to represent the real estate industry perfectly. However, you must remember that the common people, including your potential customers, are only used to the .com extension. You ending up losing customers as they type .com instead of .realtor in their address bar is very real.

Although you may have far fewer options in .com than in .realtor, the former is definitely what you would want to stick to, unless you're absolutely sure going with the latter will be advantageous for you and not make it difficult for your customers to find your website.
3

Choosing a Hosting Plan

After you have got a good domain name for your real estate business, you will need to buy a hosting plan to host your website on the internet. As most real estate websites won't be getting tens of thousands of visitors anyway, a good, reliable shared hosting service may turn out to be more than enough for your needs.

We would highly recommend SiteGround's shared hosting plan; SiteGround has managed to offer an incredibly high uptime and a great speed consistently. If you don't already know, uptime refers to the site being online. So, of course, if your site keeps going offline every now and then, your potential customers visiting the site would get an error and may not come back, making you lose valuable business.
4

Setting Up Your Website

Once you have got both the domain name and the hosting plan, you will have to install a Content Management System (CMS). This is basically a platform for your website that will allow you to upload and manage its content.
4.1

Installing WordPress

Unless you're an experienced real estate agent with very specific, custom needs that demand one of the more traditional CMS options, WordPress will turn out to be your best bet. It's not only the easiest CMS for a real estate website (or any other type of website for that matter), but also the most effective when it comes to optimizing your site for SEO.

WordPress also offers a lot of flexibility, allowing you to customize things to a great extent, without even having to bother modifying the code in any way. Similarly, it's also the most beginner-friendly CMS out there, so if you're building a website for the first time, it's an absolute no-brainer for you.

Most importantly, WordPress offers plenty of plugins that makes setting up a super functional and professional real estate website a breeze. It also takes a lot of challenge out of managing your real estate website, which can otherwise be very demanding.

To install WordPress, log in to your cPanel from your hosting account, and scroll down to the CMS options. Click on WordPress, fill the required basic details, and click Install. WordPress will get installed on your site in less than a couple minutes.
4.2

Picking a Real Estate Theme

During the installation, however, you may be asked to choose a theme. You can choose any random theme at this point, as you can always change it later once WordPress is installed.

You just need to hover your mouse to the Appearance menu on the left, and click on the Themes option. Then click on Add New Theme, and you will be taken to a page from where you can search for themes and install the one you like.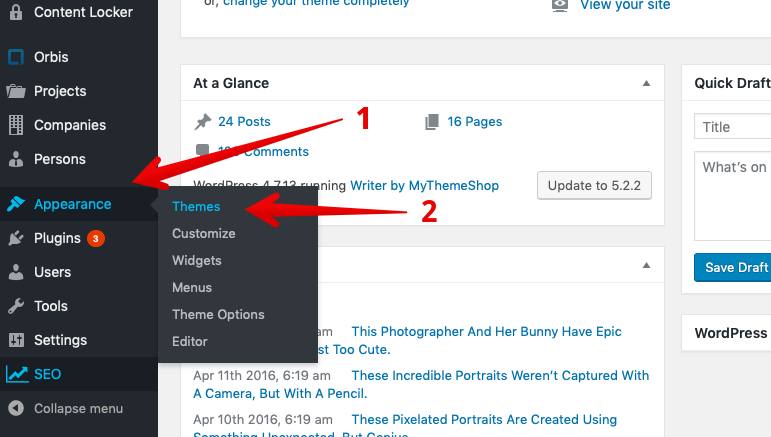 Now, as you're building a real estate website, you need to put "real estate" in the search bar and hit 'Enter'. This will instantly pull up tens of themes specifically designed for real estate websites. You can pick the one you like, but make sure it looks professional enough to represent a real estate business.
Of course, a better alternative would be the real estate themes here at MyThemeShop, as they are much more sophisticated than the basic ones you would find on WordPress.
To use a theme you bought or downloaded from MyThemeShop, you simply need to click on the Upload Theme option after clicking on the Add New Theme option. Then choose the downloaded theme stored on your computer, and you will be good to go.
5

Getting the WP Real Estate Pro – The Most Important Step

Well, the reason it's the most important step is that it's what is going to help you build and manage a functional real estate website with multiple property listings. It would make adding and managing the property listings a stupidly easy process, and you wouldn't need the help of any professional website designer or programmer.

Apart from that, you would be able to customize your site and the listings as much as you want, while also being able to integrate them with Google Maps with a few clicks. Being a powerful, complete solution to managing a real estate website, it supports IDX and MLS as well, helping you automate things to quite an extent, making it even easier for you to manage the site.

The WP Real Estate Pro plugin will work just as well no matter what WordPress theme your site is using. Let us take a more detailed look at some of the plugin's main features below.
5.1

Feature-Rich Map Integration

While many real estate websites have Google Maps integration, it usually serves just as a reference for the location of the properties being listed. The Google Maps integration feature with the WP Real Estate Pro, however, is well beyond being just a reference.

It has many features that make the map integration much more functional and useful for the customers. First of all, it displays how many properties have been listed for sale in different areas, by clubbing them together. The below image explains what we mean to say here.


You can also see the Blue icons, which are individual listings from different areas. Once you click on any of the numbered circles, it will expand the map and more blue icons will pop up.
Clicking on any of them will pull up the property's image, as you can see below.


The listing image that would pop up is further clickable, and clicking on it will directly take the visitor to that particular listing's page.
Furthermore, the visitors on your site would even be able to click on the My Location button at the top-right part of the map, and find how far they are from the location of different listings. You can see how it would look like below.


Similarly, there's a search bar integrated right into the map as you can find on the top-left corner of the screen. We searched for Orilla, USA, and it instantly took us to that location on the map and we can also see a listing located near to it.


5.2

Advanced Search Feature

Right under the super functional map feature, you would find an advanced search bar. It lets visitors choose whether they want to search for houses to buy or rent. Of course, if you're someone who only offers either of the two, you can easily remove the other option.

Then right below the "Buy" box, there's the "Type" box that lets the visitors choose whether to search for houses or land as well. Again, this is something customizable as well, and you can remove the Land option if you don't have any land listings on your site.

Then there's the Min Price, Max Price, Min Beds and Max Beds. Finally, there's the main search bar where a potential customer can search for a particular location by address, suburb, region, zip or landmark. Furthermore, they can also simply click on the map icon at the end of the search bar that automatically detects and enters their current location.

Below we have put some information into the search bar.


Hitting the Search button would take us back to the map, where we would see the listings based on the requirements we put into the search bar.
The search bar experience is definitely something that would please potential customers, as they will be able to find exactly what they are looking for quickly, accurately and without having to browse around at all. This alone will help you stand out from your competitors that make their visitors search and go to different menus to find the listings they are interested in.
5.3

Related Listings

Do you need a foolproof way of making potential customers engage with other similar listings when are about to leave your website after checking out only one of them? Well, the WP Real Estate Pro's related listings feature has you covered.

Whenever a visitor on your site is viewing a particular listing, they will also find other similar listings at the bottom of the page. So, in case they don't like what that particular listing, they can simply click on any of the listings at the bottom and check out that listing instead.

Imagine how many potential sales can it save for you!
5.4

Comparing Listings

Being able to show related listings to your potential customers is great, but how about letting them compare different listings they may be confused between? Yes, the WP Real Estate Pro allows your site's users to do that as well.

They can simply add all the listings they want to compare, and a dedicated page will be created just for them, displaying all the important information about the selected listings side by side. This would make it so much easier for them to choose the perfect house based on their needs and preferences, and just as easy for you to close the deal.
5.5

Beautiful Galleries

You can upload multiple images for each listing, allowing you to make it as appealing as it possibly can be. It would show the first image as the featured image, so you can put the best or the most attractive image as the featured image of the listing to make more potential customers click on it.

But that's not all. There's even a feature that allows you to have a small tag at the lower-left part of the image. You can put anything that reflects the current status of the listing at that time, or anything else that you think would be useful for the people interested in the listing.

This can include tags like "Under Offer," "Sold," "Premium," or even other more unique tags like "Quick Sell," "Value Buy" and more.
5.6

Agency Listings

Many realtors work with multiple other real estate agencies. But it can be very difficult to create different agency listings on your site, or associate any of the listings to individual agencies or brokers.

Not with the WP Real Estate Pro though. Even someone who hasn't set up as much as a personal blog will be able to easily create and manage agency listings on their real estate site. What's more, you would also be able to have the individual brokers associated with those agencies under the same feature.

Similarly, you would be able to associate each of the listings on your site to the particular individual agencies or brokers that you have featured on your site.
5.7

Agent Pages

If what we said above wasn't enough, let us tell you that you can also create custom, dedicated agent pages on your site using the WP Real Estate Pro.

Apart from the contact details, you can put some important information about the agents. Clicking on any one of the agents listing on the Agents page would lead the visitor to their dedicated agent page, where they can find all the information about that particular agent.
5.8

Amazingly Customizable

One of the most important requirements of a real estate website is being able to customize it. The last thing a real estate agent or agency would want is a generic real estate site that fails to stand out and gets lost in the sea of basic, unappealing real estate websites out there.

And that's precisely where the WP Real Estate Pro's amazing customizability comes in. It allows the users to make the listings look exactly how they want it to, without having to tweak the code in any way.

The plugin's interface allows a lot of customization, and you will be able to decide on every single thing about your listings, the pages you can create using the plugin, and any other elements that you can create or manage using it.

Furthermore, it comes with a long list of custom widgets that you can easily put in the areas of your site that support them. These widgets include recent listings, the listings that are the closest to the potential customers' current location and more.

Similarly, there's also a feature that lets you put important information into each of your listings. This is something that has been designed to drive up the conversion rates, while preventing customers from quitting your website due to not finding the important information they would like to know about without wasting a lot of time.

And to make your life easier, this plugin lets you export all the settings and customized preferences so that you can use exactly the same settings for your other real estate websites. You can install the same settings when you use this plugin on multiple websites.
5.9

Tons of Other Features

Here are a few of the other cool features the WP Real Estate Pro offers:
The plugin also allows you to accept payments right from your website, and supports PayPal and Stripe as the payment methods. Users looking to list their own properties on your site to attract customers can pay using any of these two payment options to do so.
The plugin uses perfectly clean and secure code, making your site load faster (which would make your site rank better in the search engines) as well as secure so that your customers and users can make payments without having to worry about security issues.
Besides accepting payments, WP Real Estate Pro also lets you set up membership plans so that users looking to post multiple listings to your site and want them to stay there for more than a month can buy them. You would be able to set up plans with recurring payments, so that you can make the users pay you every month without having to make manual payments, which too would increase your conversions and sales.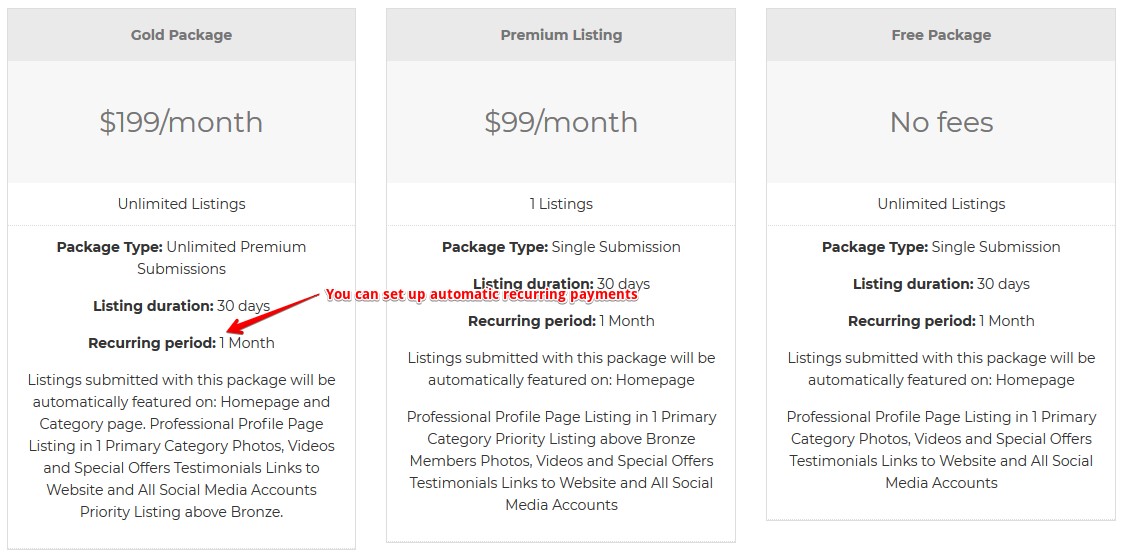 Potential customers being able to shortlist the properties they like and view them all later to narrow down on one.
The built-in IDX support would allow you to import all the MLS listings automatically, helping you get around the tedious process of importing them manually.
If you're a developer that would like to extend the functionality and features of the WP Real Estate Pro, you can easily do so, thanks to the built-in template system and filters
5.10

The Free Version

Some of the people reading this might want to test the plugin first before buying it. And for them, we have the WP Real Estate, the free version of the plugin.

It's fairly limited in terms of its functionality and lacks some very important features that the premium version offers, but it will give you a feel of how the WP Real Estate Pro would work.
6

Other Plugins

Apart from the WP Real Estate Pro that will be the heart and soul of your real estate website, you may also want to install other plugins depending on your needs. Here are some of our recommendations:
The Yoast SEO plugin: For SEO of your real estate site
Akismet: If you want to have a blog section (which is recommended if SEO would be an important component of your overall traffic) – and allow comments – this plugin would protect your site against comment spam
Google XML Sitemaps: Installing this plugin would make it easy for Google to crawl and index your site, as well as pave the way for quicker indexing of your new posts and pages
Contact Form 7: It would allow the visitors on your site to contact you right from your website
Google Analytics: Installing Google Analytics on your site would not only make the Yoast SEO much more functional, but also let you access important details that would help you make important decisions with respect to growing your site
That's Pretty Much It!
By this point, your site will be pretty much up and running, functioning like a clean and professional real estate site that could be customized in as many ways as you like.
Finally, to get some initial traction on your site, you can list your site in online real estate directories, create social media profiles for your site and issue a couple press releases. Of course, you would eventually want to take it to the next level by coming up and implementing effective SEO strategies and doing in-depth keyword research.