Shopify is one of the easiest ways to start an online store and sell products worldwide.
One of the toughest decisions on Shopify is choosing between the hundreds of apps that are available for you. That is why we have created this post covering the best Shopify apps to solve different purposes in your store.
We have curated a list of 50 must-have free and paid apps for your Shopify store. These apps will help your products get seen more on the web, promote your store, sell your products, help you with shipping and returns, and much more.
We've broken this post down into eleven categories, so if you are looking for specific functionality, you can skim through that category to find what you need.
Now, some of these categories could have free options, paid options, or a mix of both. We will specify the pricing and the best use for the app in each.
Let's get started!
Shopify Apps for Fulfillment
Shopify store owners have to have a place to source their products. A great app that helps you find and source your new products can really jumpstart your business.
Here are a few apps that can help you with that: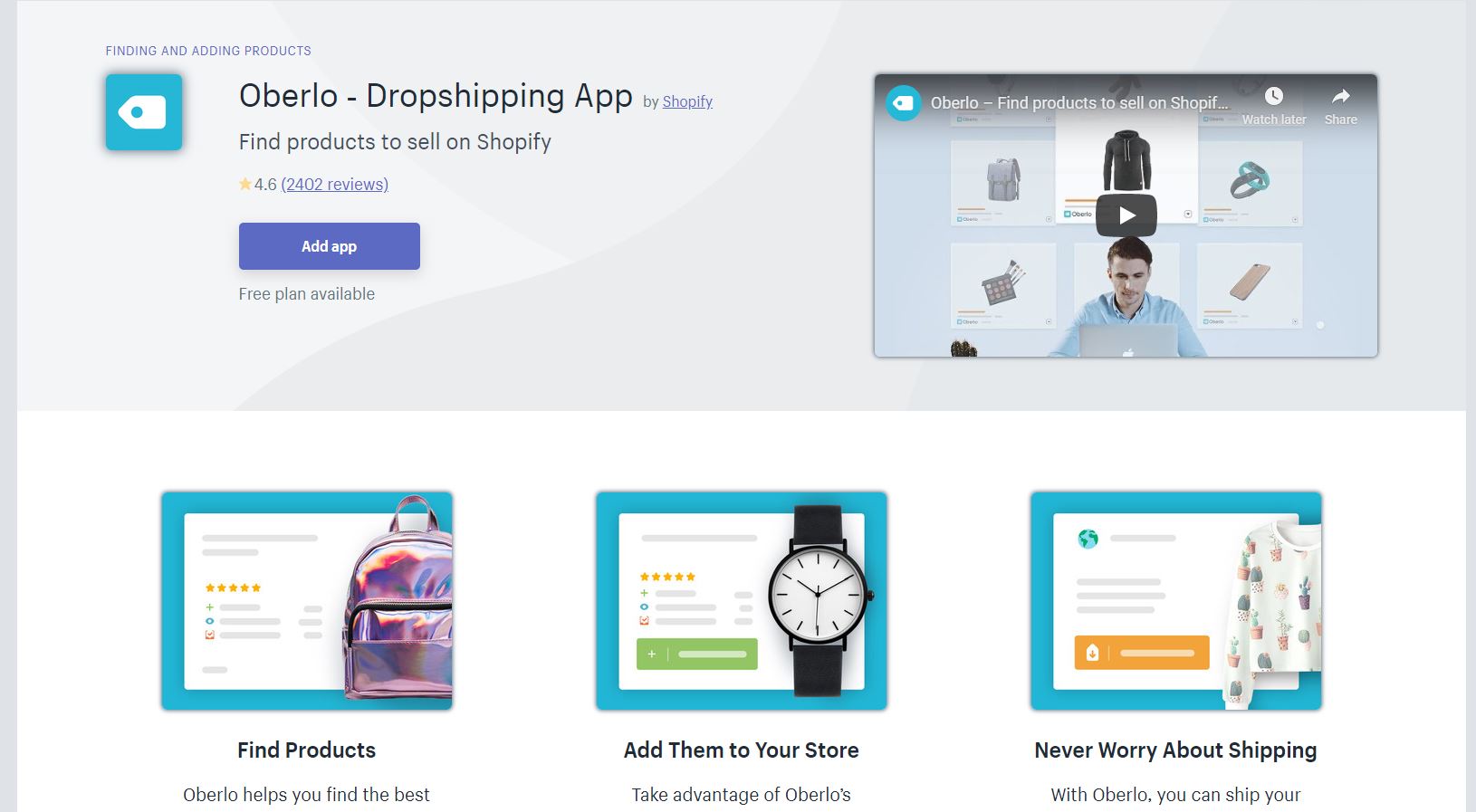 Oberlo is one of the top-rated apps at allowing you to add products to your store and dropshipping them straight to your customers.
You can select products from AliExpress and Oberlo Marketplace from where you can list products on your Shopify site with a few clicks.
Oberlo fulfills orders for you, customizes products, and connects with your existing products. Oberlo is free to install and use until you add either 500 products to your store or reach 50 orders a month. After that, you must upgrade to a paid plan.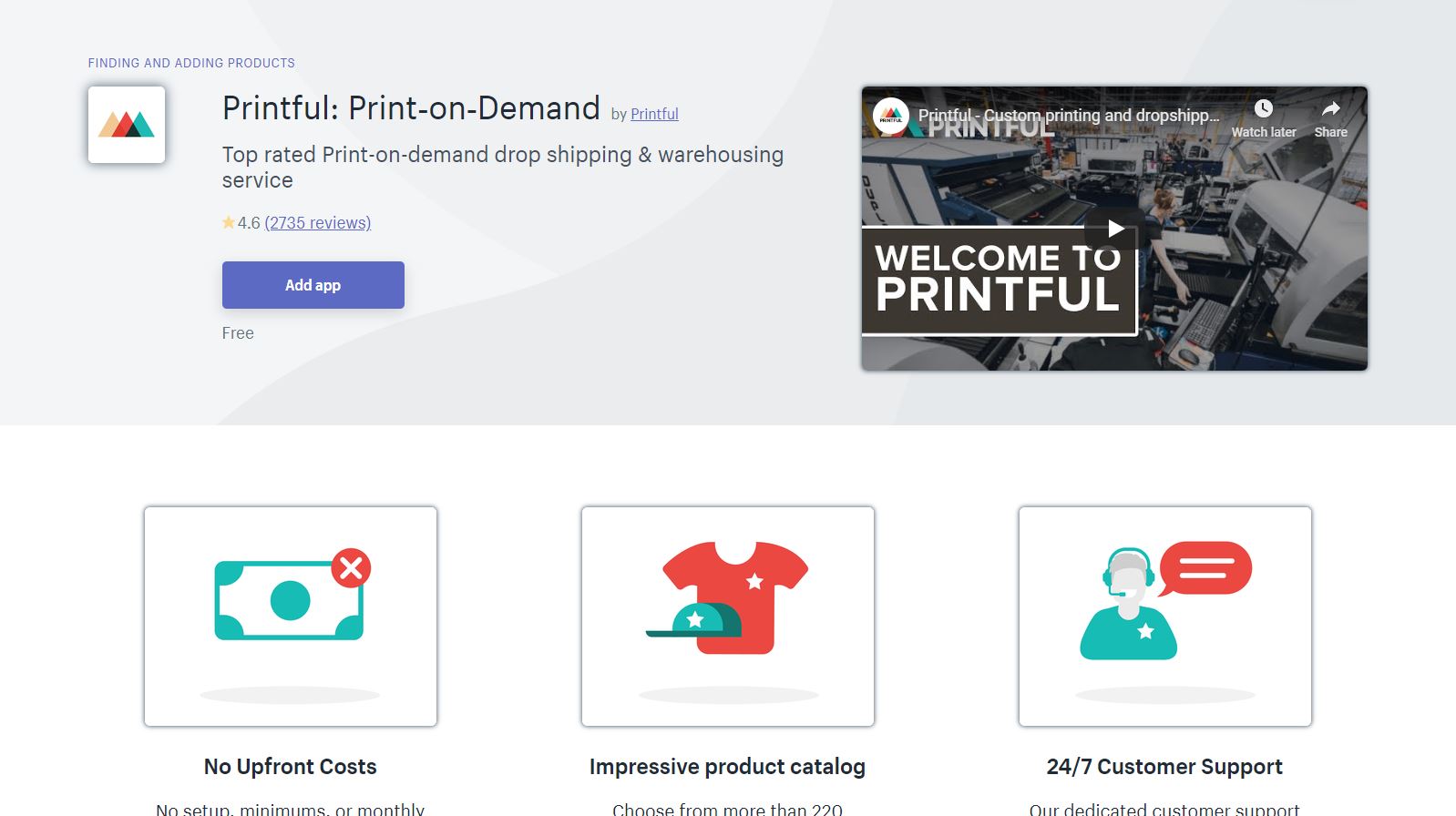 Printful is a print-on-demand fulfillment center that gives you the opportunity to sell any kind of products that can be printed with whatever design you would like. You can create designs for shirts, socks, totes, canvases and more.
Once you connect your site to Printful, if anyone orders the products, they collect the order, print the item, and send it to your customer without you ever having to look at the shirt or whatever kind of product it is. This is a great way for a big brand to make sales without going through the hassle of buying hundreds of shirts or phone cases and having a physical inventory.
Depending on what you sell, Printful makes a percentage (often less than a dollar) on the items you sell. So they only get money when you make sales, which means you don't really have to think twice about installing and using this app.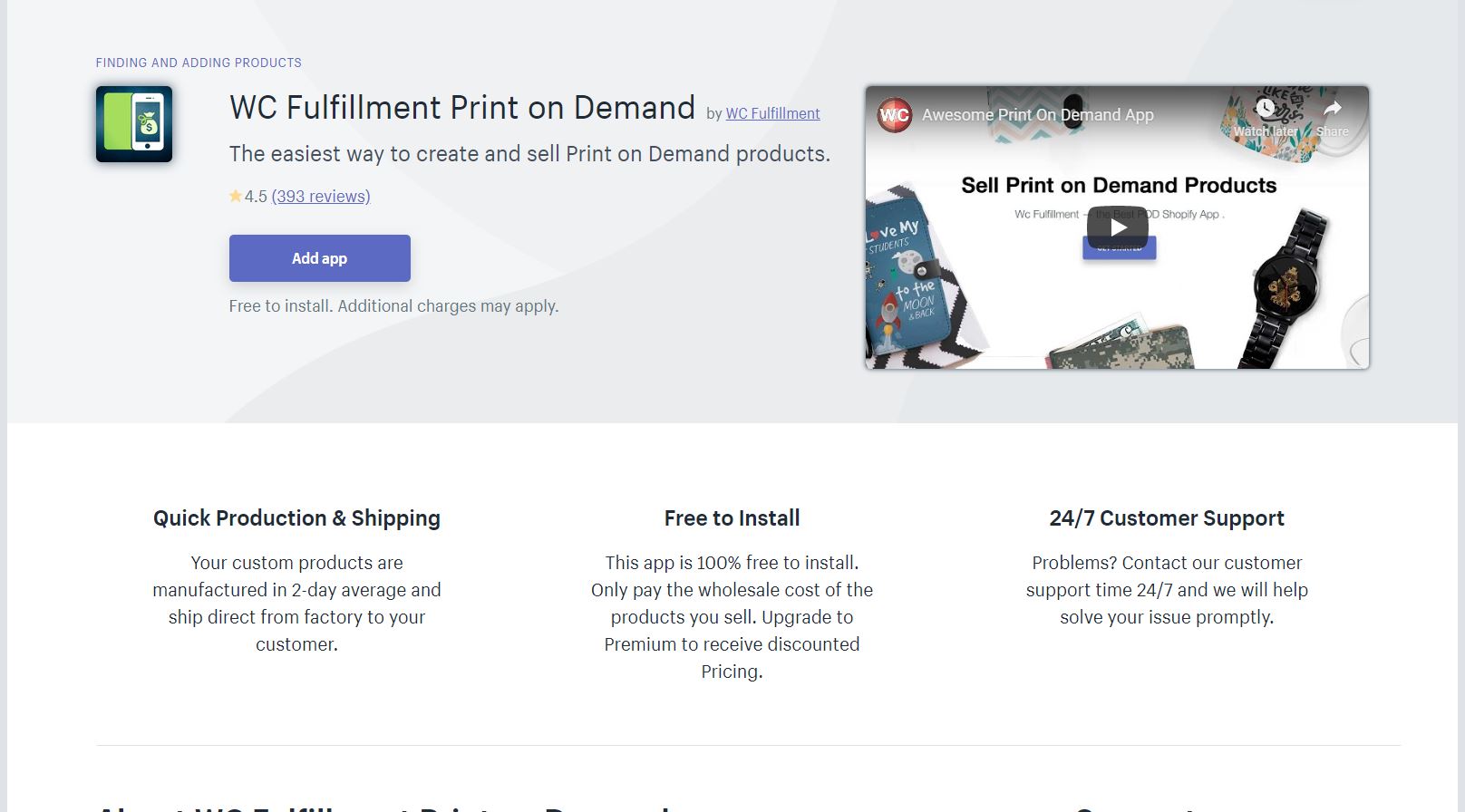 WC Fulfillment is a second option like Printful. There are a couple of different print-on-demand apps out there and we've learned that each one has different products.
You might want to do T-Shirts through one supplier and hoodies from another. The material or price could be better for certain vendors.
These apps give you the opportunity to do that, and just like Printful, WC Fulfillment handles everything pertaining to the order. They supply the product and ship it to them and even send them tracking push notifications, so the customer knows when they would receive their order.
One difference between WC Fulfillment and Printful is that WC Fulfillment gives you the option to pay $9.99/month to get a cheaper rate on their products. For example, their Unisex T-Shirt costs $19.49 on the free plan and $15.99 on the premium plan. Obviously, this comes down to if you make enough sales to offset the costs. You'll have to crunch those numbers and see which option is best for you.
Shopify Apps for SEO
One of the most common ways people find products online is through search engines. Even if they find out about a product in using social media or other references, the very first instinct is to Google it as well.
Ranking on the search engines is more important than ever before.
These are some apps that can help you get on that first page: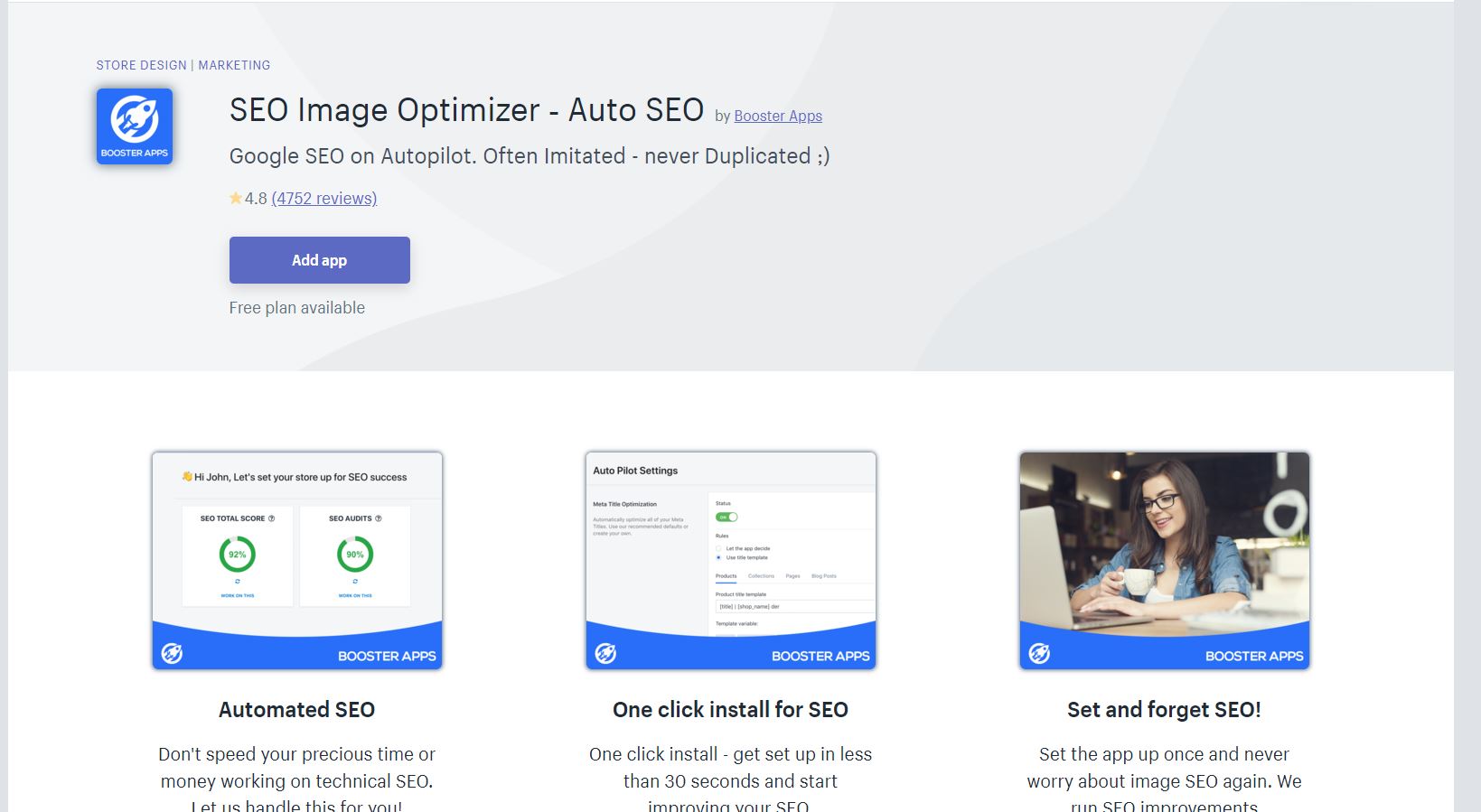 Google is one of the best ways to get traffic to your Shopify store. Google Images is a big part of the traffic that you can get from the search engine.
Just the unboxed Shopify site doesn't have a way for you to optimize your images for Google Image Search.
With SEO Image Optimizer, you can add alt tags to your images. This helps them rank better in the images section of Google and sends you free traffic. As a free app, it can't hurt to spend a little time to get this traffic flowing in.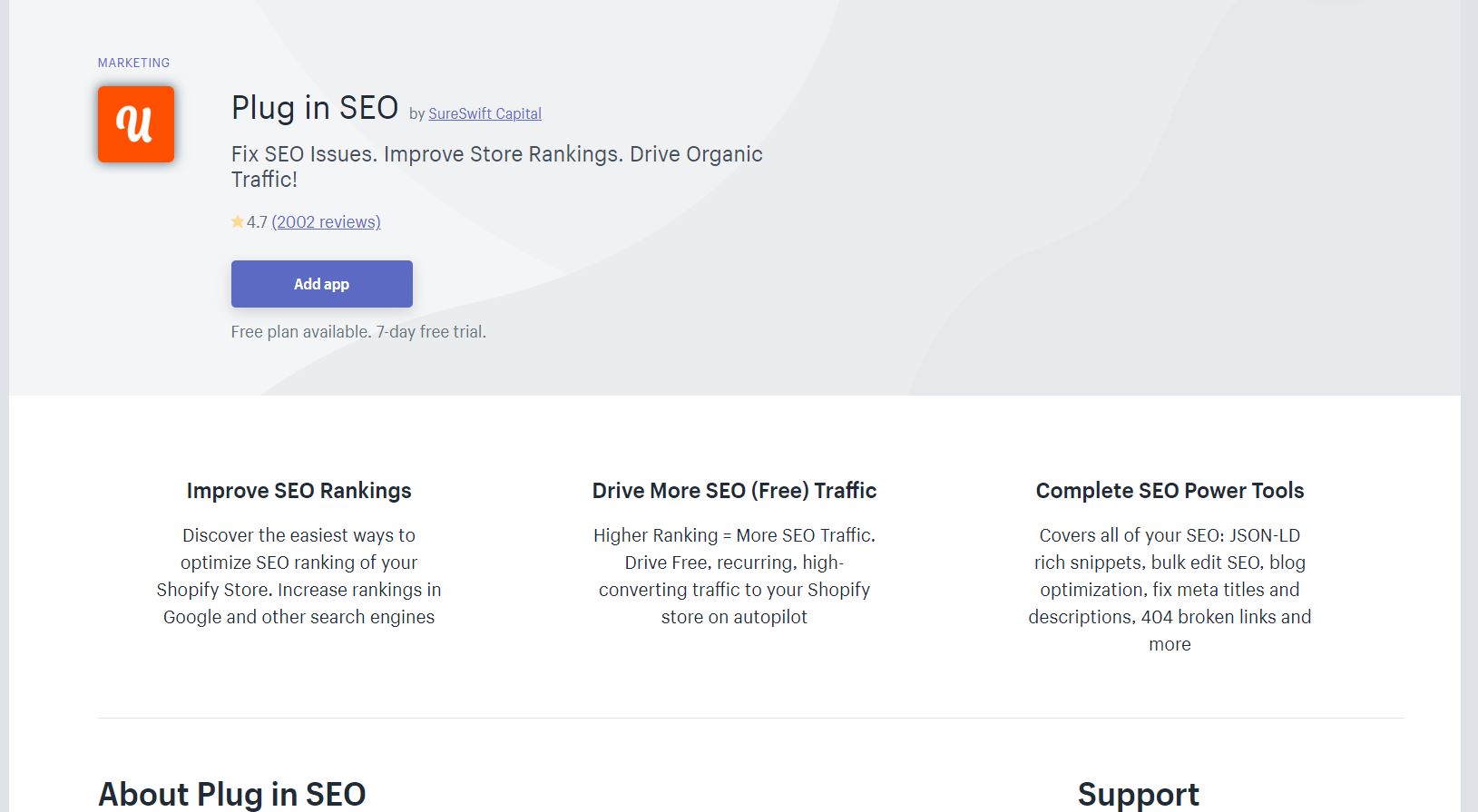 SEO on your Shopify store isn't the easiest thing. Luckily, this app is basically like an assistant to your search engine optimization goals. It tells you when you have a search engine ranking problem and how to fix it. Of course, another reason why it makes this ranking is that it's free!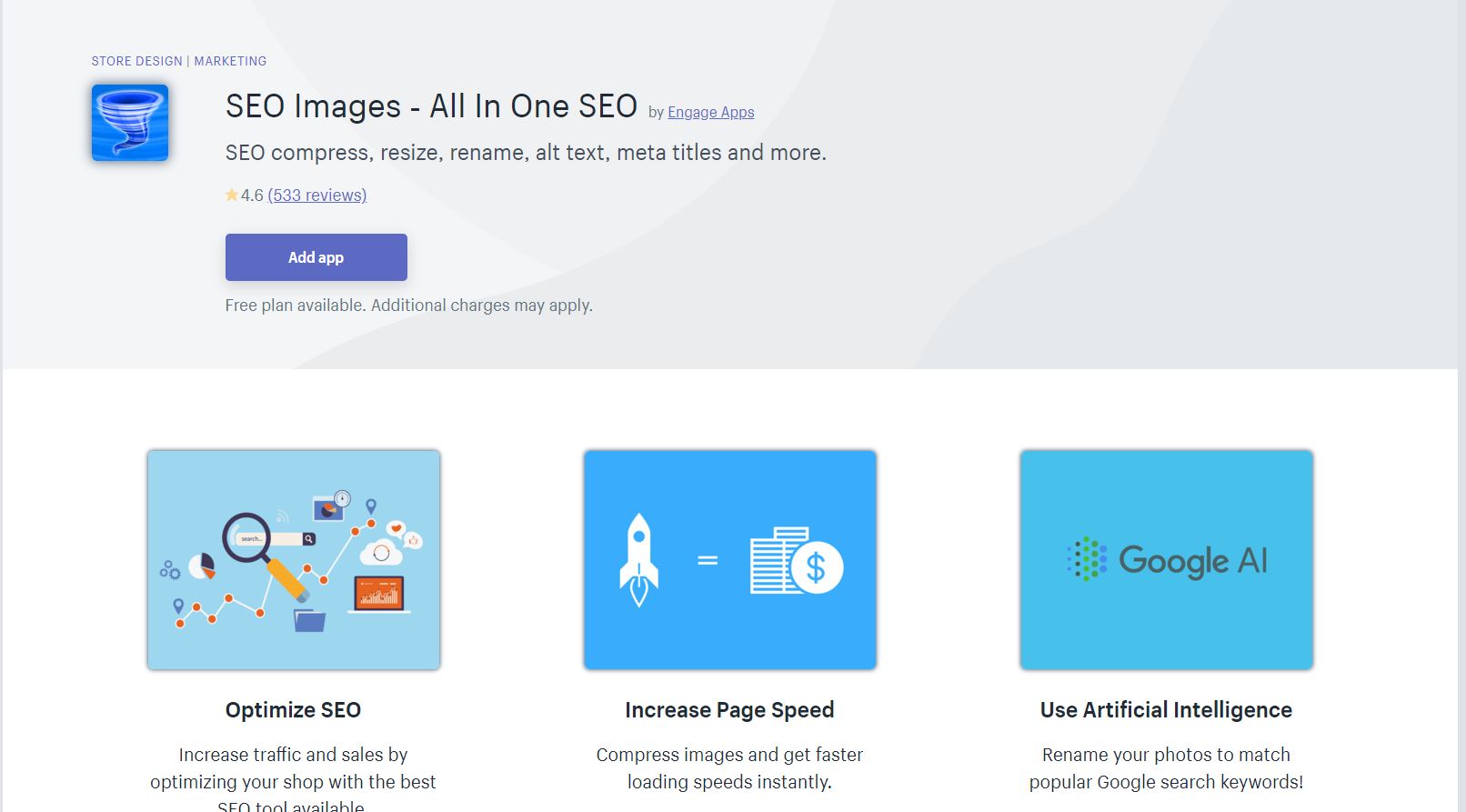 The app we mentioned that also did SEO for images was really for allowing you to alter your alt text for better rankings. This app allows you to compress, resize, and back up your images along with the SEO things you need as well.
Compressing your images allows your Shopify site to run faster and load easier. They have a free plan that comes with everything you need. You can also upgrade your plan if you have a lot of photos on your store.
Shopify Apps for Social Media & Content
After search engines, the next best way to get traffic is through social media and content creation. Displaying your products that you and your customers love to the world will help bring lots more traffic to your site and hopefully increase your sales.
Here are some apps to help your social media game: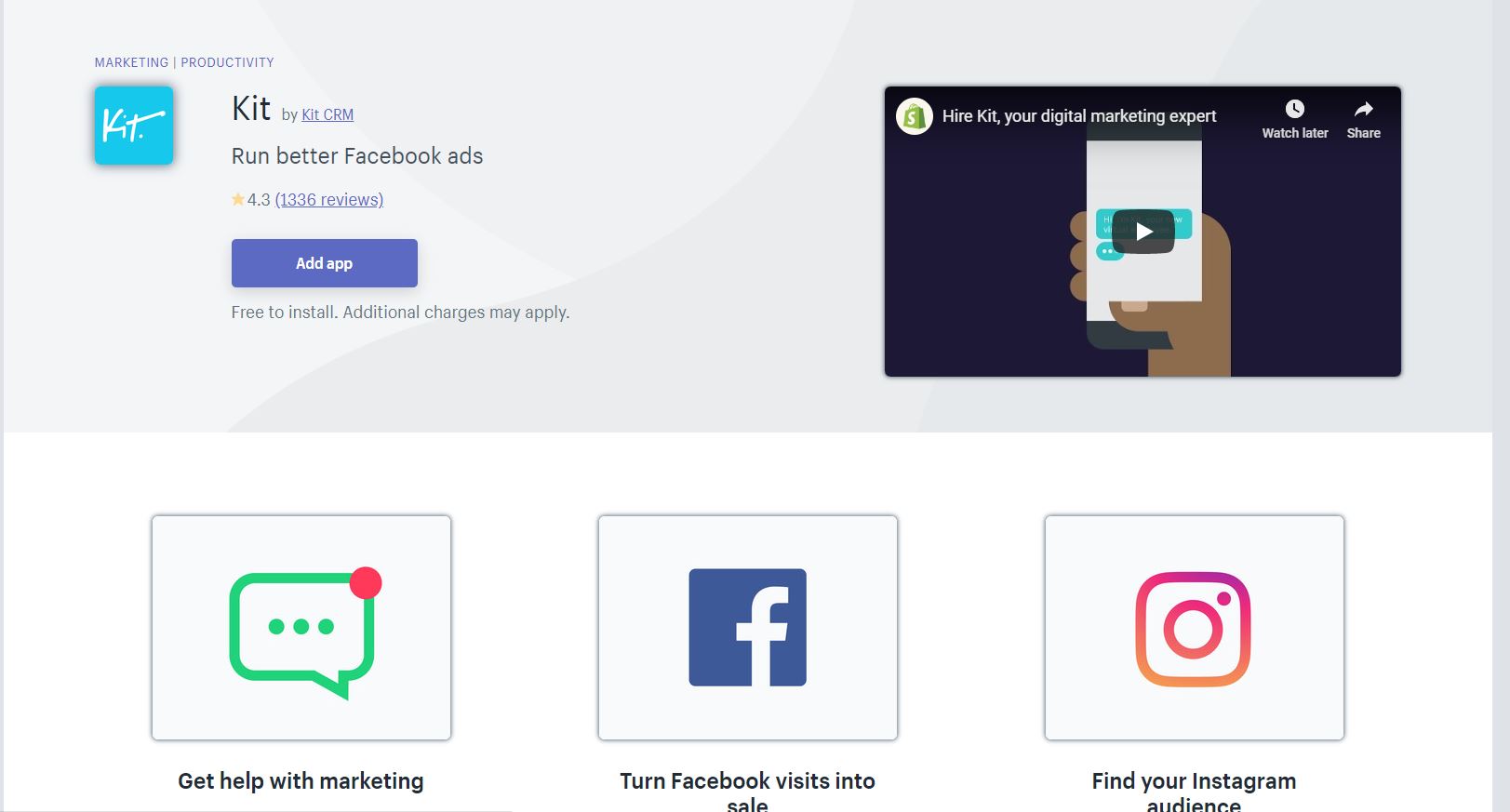 Taking a jump into paid advertising can be scary. Kit is a "virtual employee" that helps manage these paid marketing campaigns for you for free. Once you install the app, all you have to do is send a few messages and go through the chat and Kit will help you with the ads you want to run – social media ads, retargeting etc.
This app is free to install and you'll only be charged by Facebook or Instagram for the ads you're running. This is a charge that you would be incurring anyway using these platforms.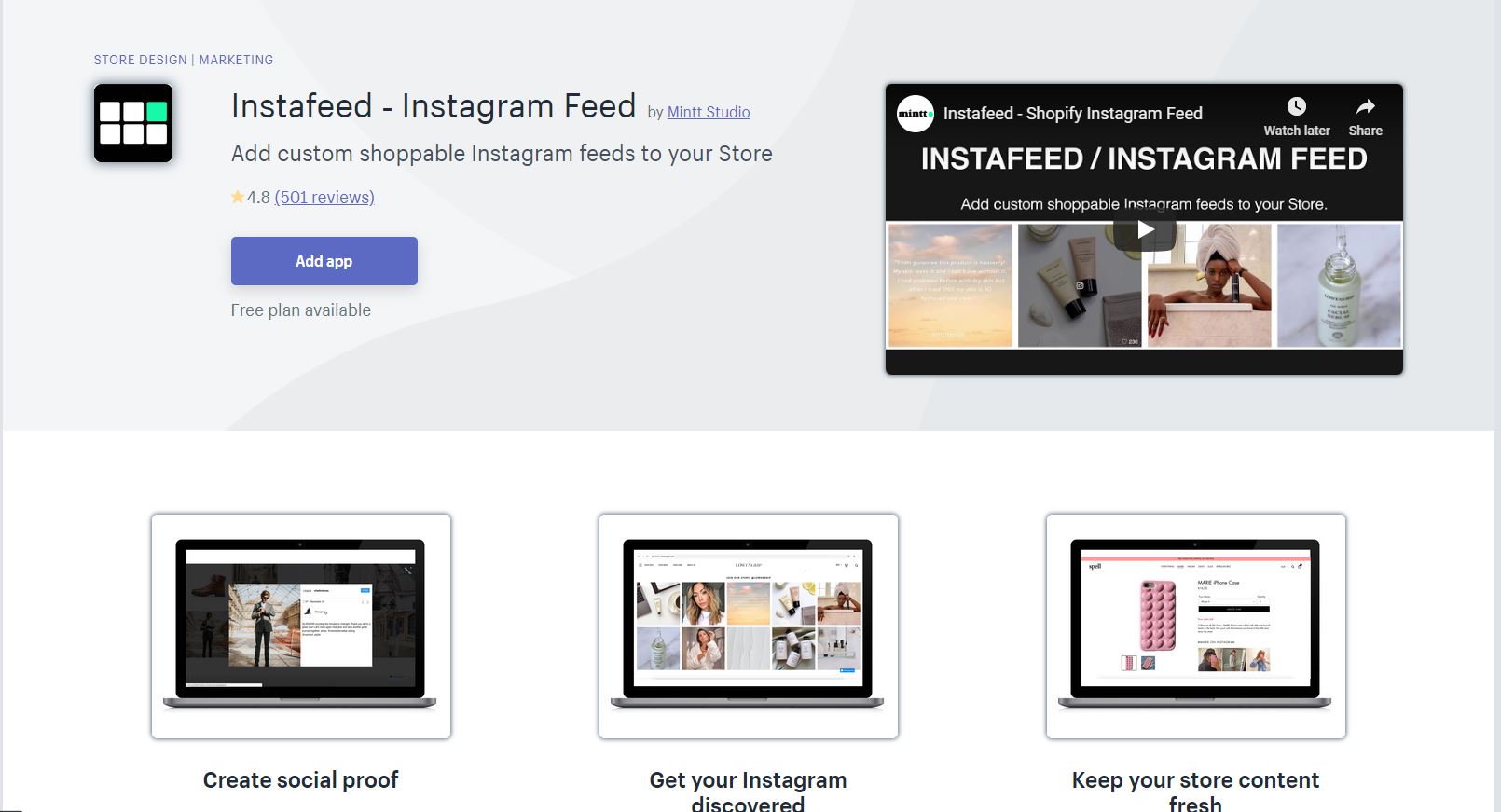 Word-of-mouth marketing apps and social media can have a big influence on a customer buying a product. If your new customers see other people using your products and your social media content, they might be more inclined to make a purchasing decision.
InstaFeed has lots of different ways for you to show off your Instagram photos so you can turn your ecommerce business into a gallery.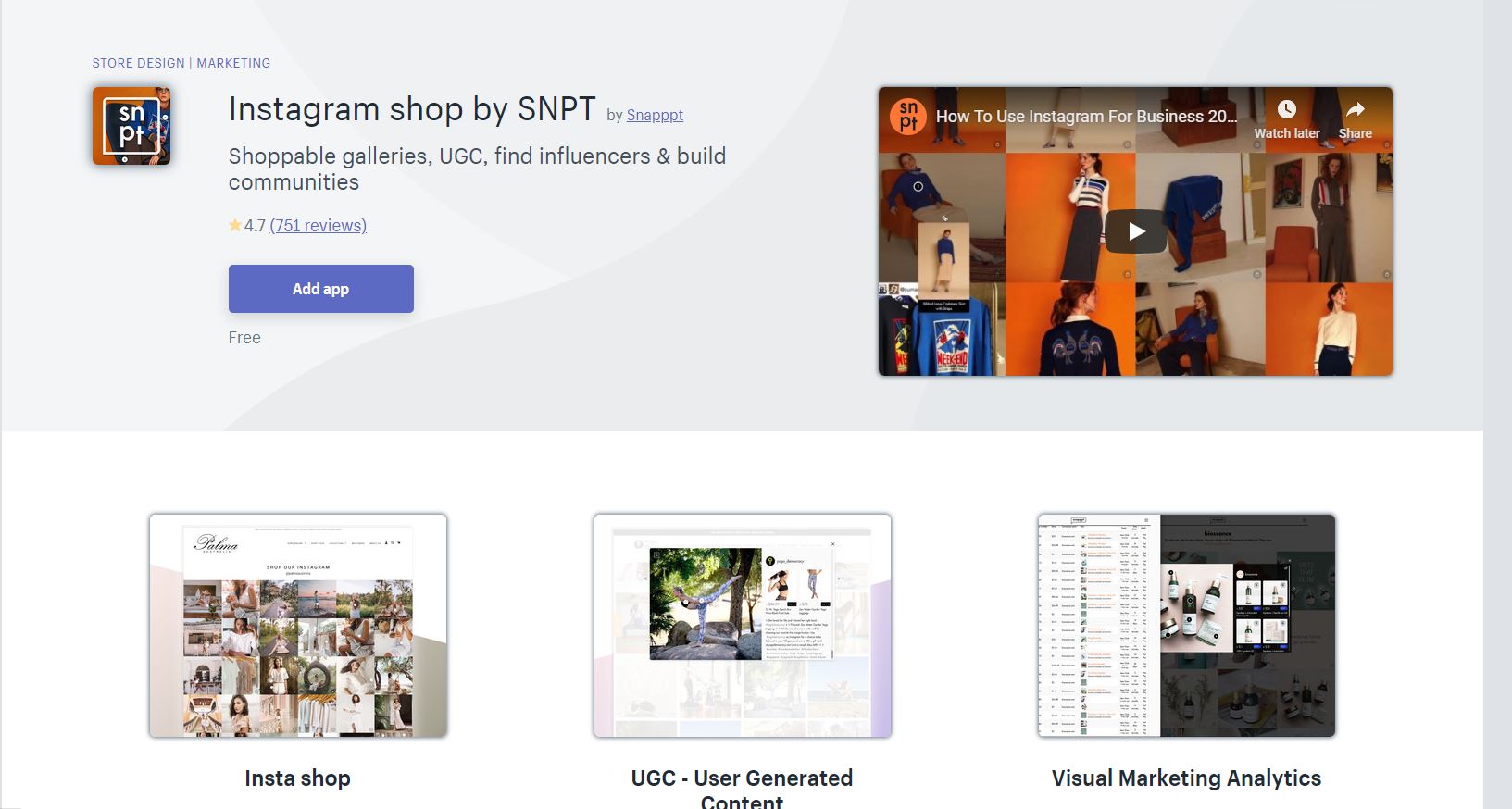 Do you have an Instagram feed where people are always asking where they can buy your products? With this app, you have an Instagram link in your bio that takes users to another shop that looks like Instagram but has all the links for the products, clothing, art, or whatever it is right in the picture.
All the user has to do is click on the item they want to purchase and it takes them to your Shopify store or wherever it is on the web.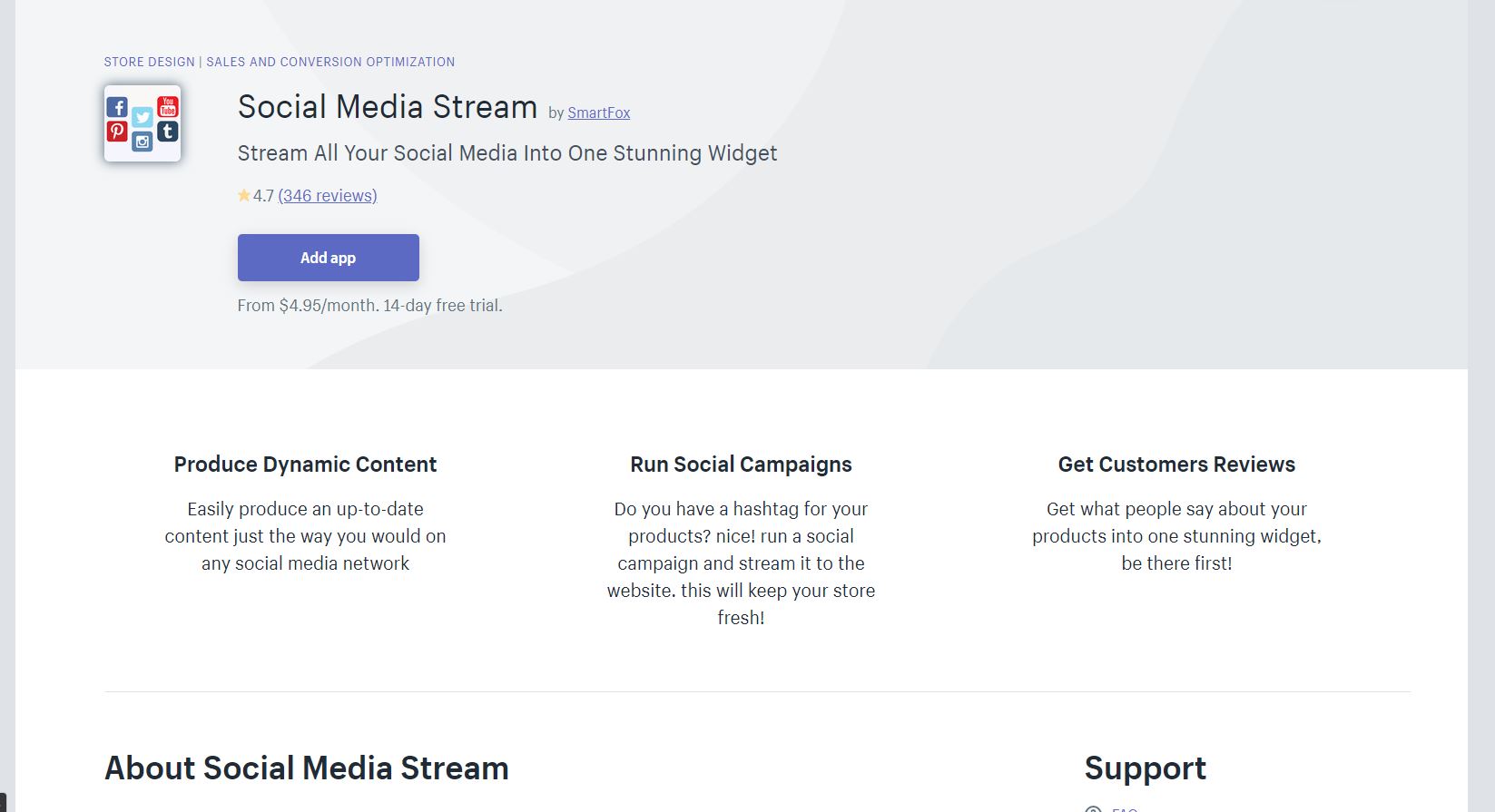 Maybe you have content on other sites than just Instagram. Social Media stream allows you to show off the content that you have on Facebook, Twitter, Instagram, YouTube, Pinterest all together in one widget on your store.
Customers can also follow and like the accounts from your store as well. The minimal account allows you to have one stream with all your content on it and updates every 24 hours.
Depending on your plan, you have an unlimited number of streams and almost a real-time refresh rate. Depending on your social media needs, you can get whichever plan you believe is needed.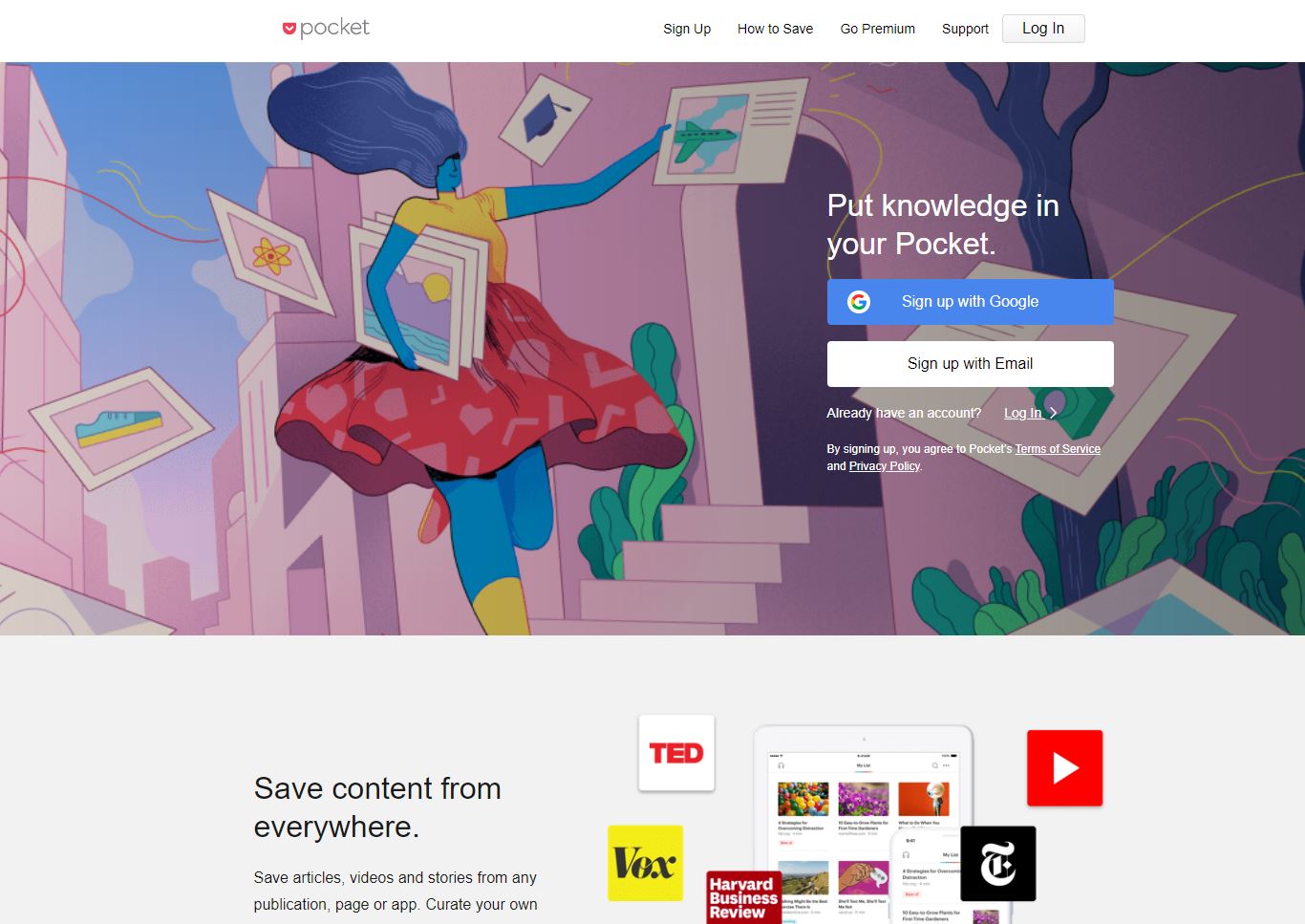 Pocket is more of an extension on your browser than a Shopify app but it still helps if you create content for your Shopify store. This allows you to save content you find on the web and easily find it later.
This way, when you're looking for more things to write for your store, you can hop over to your Pocket and find the content on your favorite topics and get it for free.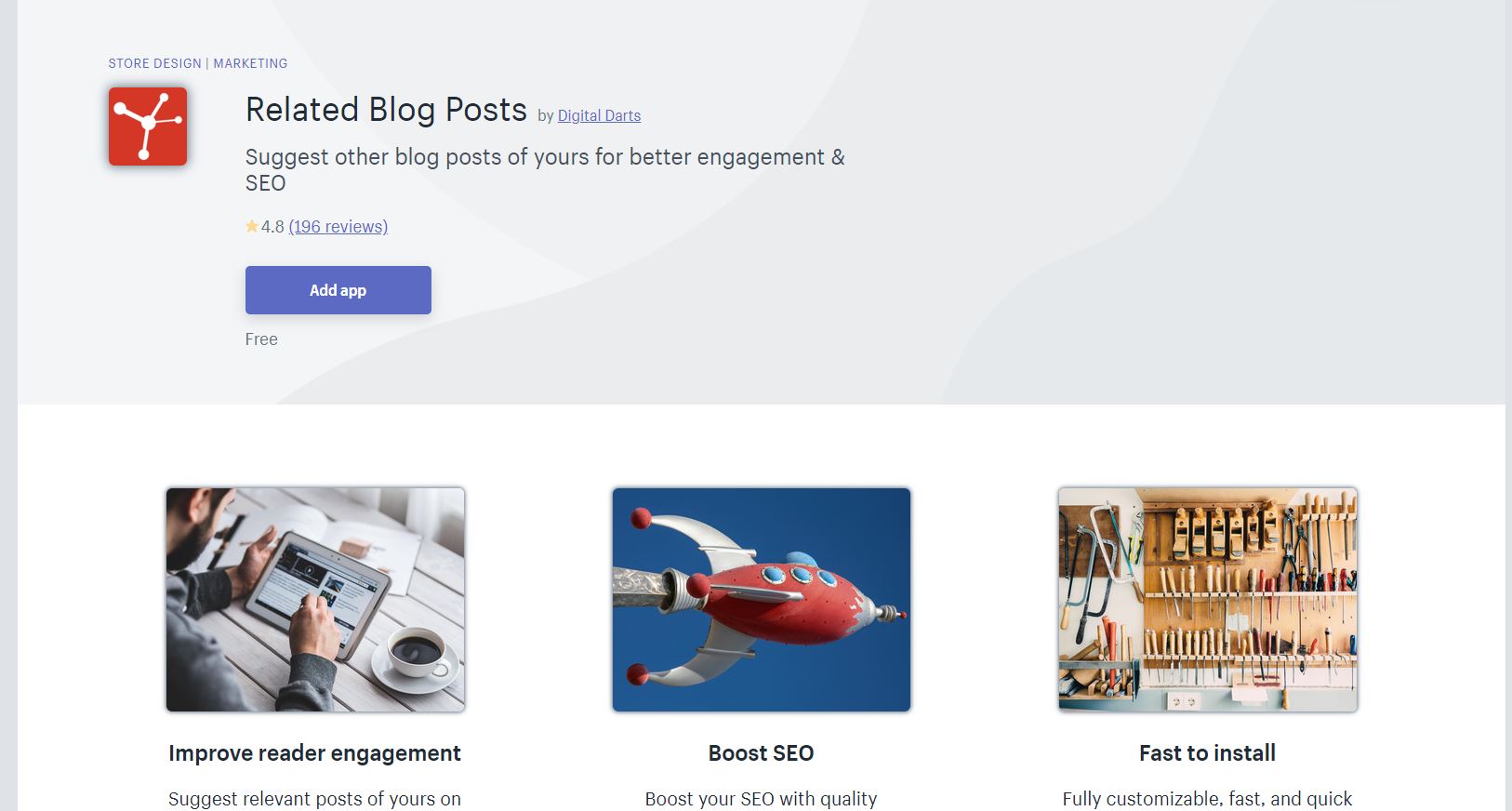 If your Shopify site has a blog, one of the best ways to increase time on site and readership is to promote your other blog posts to your reader. That is what this app does.
Related Blog Posts suggests articles that the viewer might want to read based on the article they are already reading on your site. They have customization options so you can decide how many posts you want to show off and more.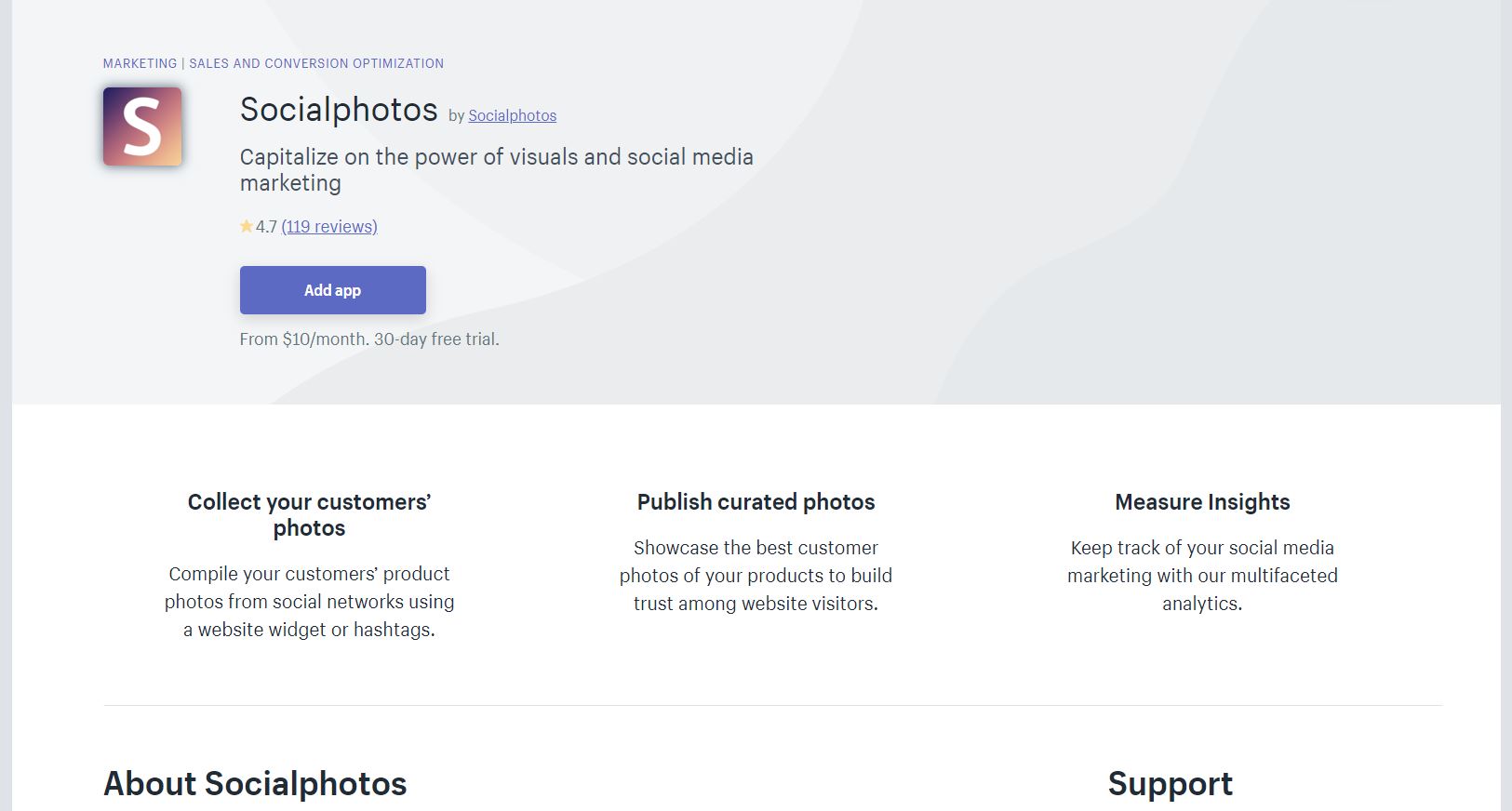 Socialphotos is an app that helps win customer confidence by showing off customers that have promoted your products using social media. This doesn't have to be paying influencers to promote your product pages. Any time your customer puts product reviews of yours on the web and says they like it, you can show it off with this app on your store.
This app tracks hashtags and usernames that get tagged and collect the photos for you. So if you have a big brand, you can just log in to see what posts have been made about your company.
Shopify Apps for Email Marketing
Email marketing will make up most of your repeat customers and eventually become your biggest moneymaker if you do it right. These apps can help you on your way to loads of returning monthly income.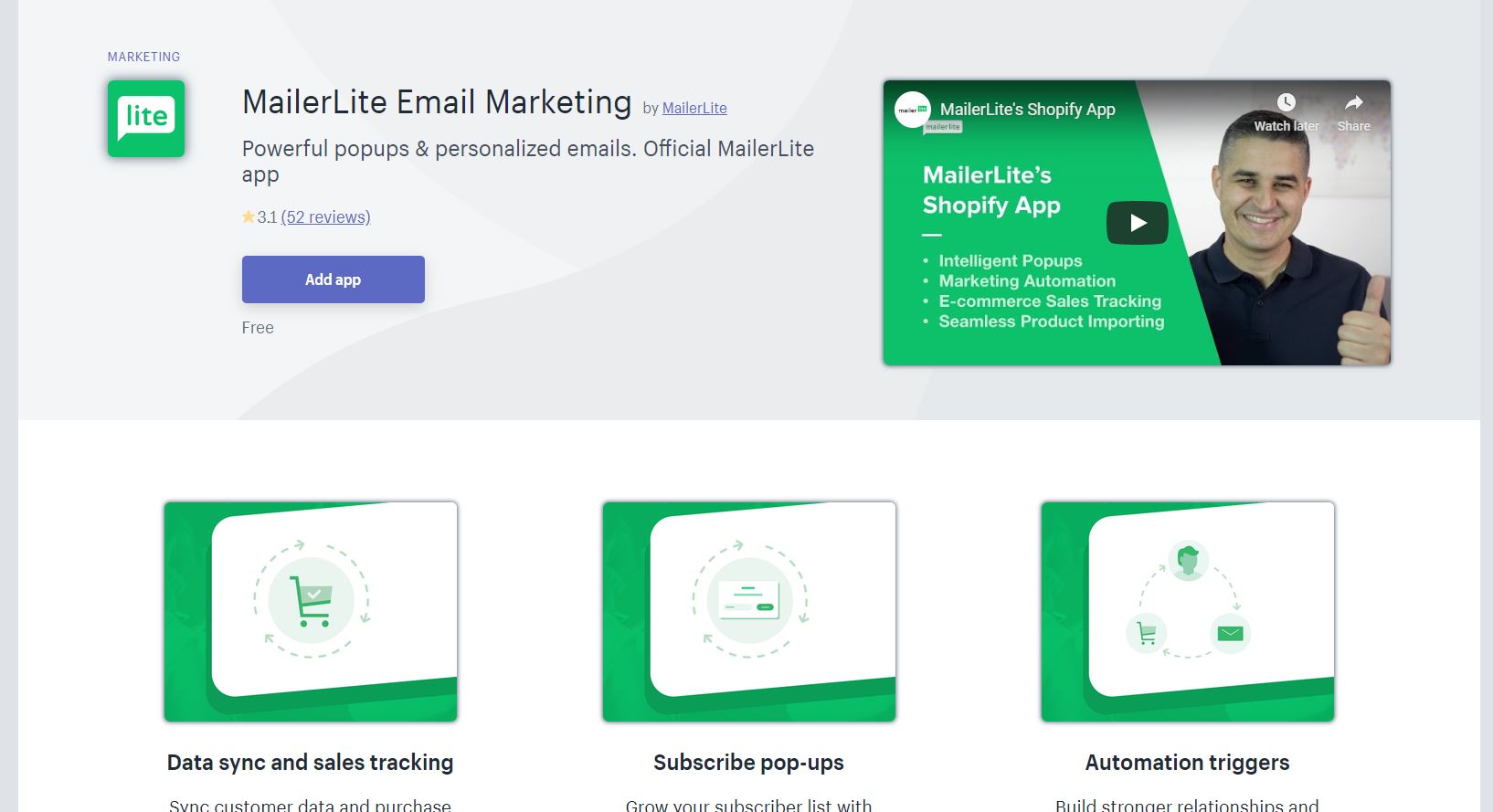 MailerLite is used by 550,000+ small businesses and their forever free plan makes it easy for small ecommerce store owners to get used to email marketing without having to invest a lot of money to learn how to do it.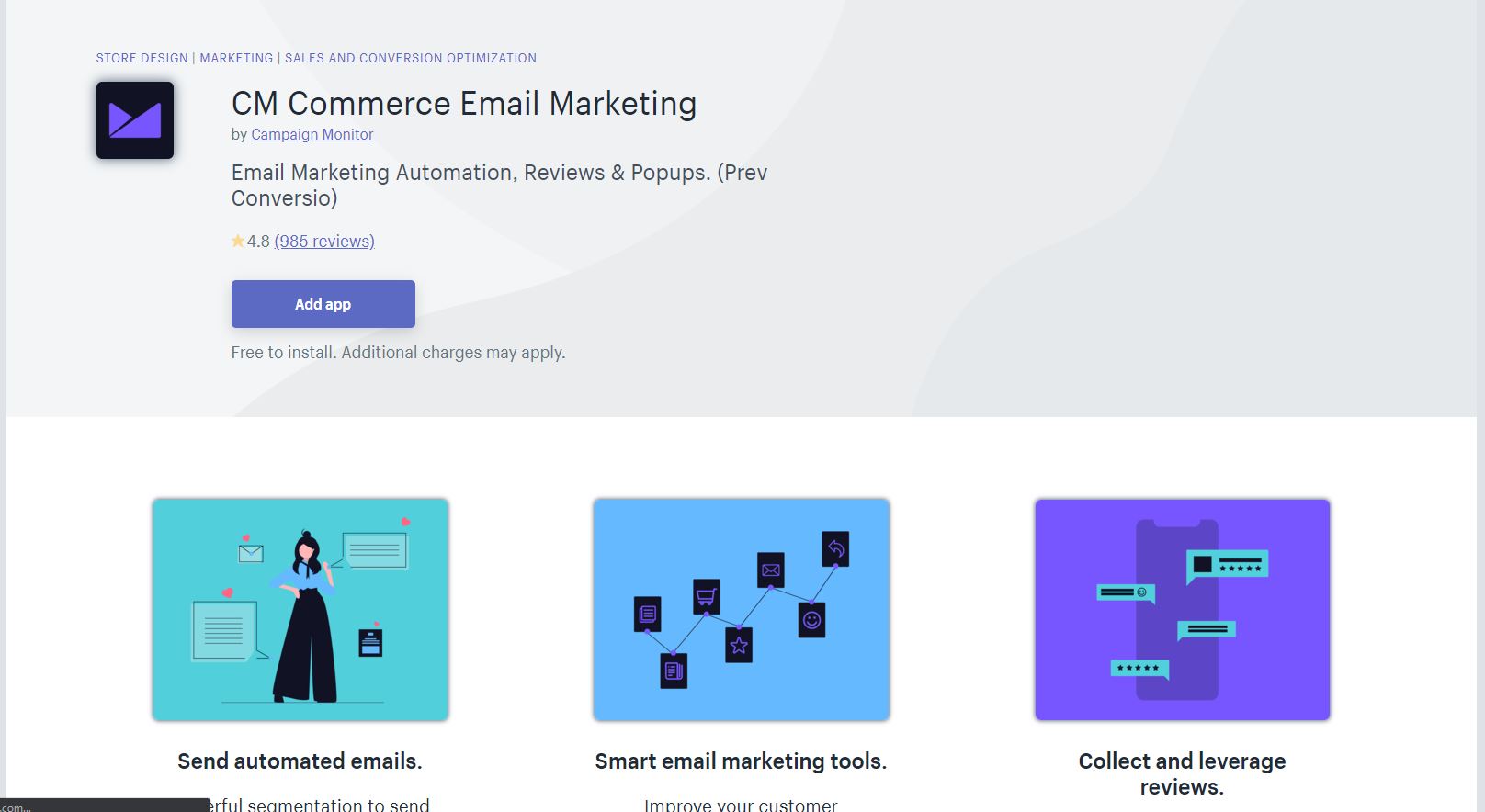 CM Commerce is an email marketing automation from the Shopify app store that sends different kinds of email campaigns to your customers and viewers based on your automation settings. One of the most popular settings is the abandoned carts option.
This is when someone adds a product to their cart but leaves the site before purchasing. This is called cart abandonment and the app can email them automatically telling them to come back and purchase their product, which leads to more sales.
CM Commerce also sends receipts to your recent buyers and you can send discount codes and other things on the receipts that could entice them to come back and purchase more from your store later.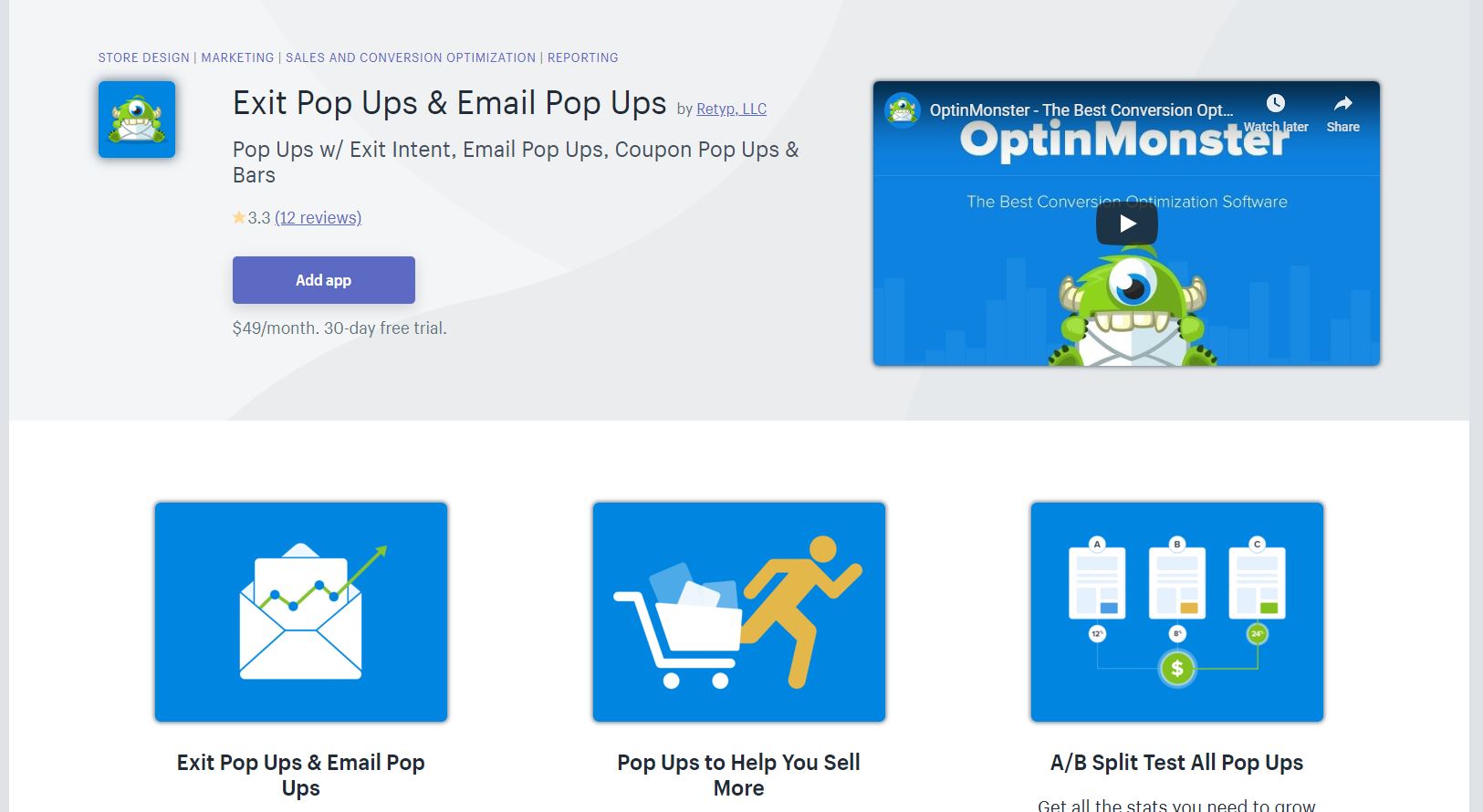 OptinMonster is one of the top options for any company when it comes to building an email list. They have pop-up boxes, scroll boxes, floating bars, and they are popular for their exit-intent pop-ups.
OptinMonster can also display certain pop-ups based on where the customer experience is on your site. If you have a clothing brand and your customer is in the shoe section and tries to leave, a coupon specifically for shoes can pop up trying to get them to stay and purchase.
OptinMonster is user-friendly and only has a paid plan.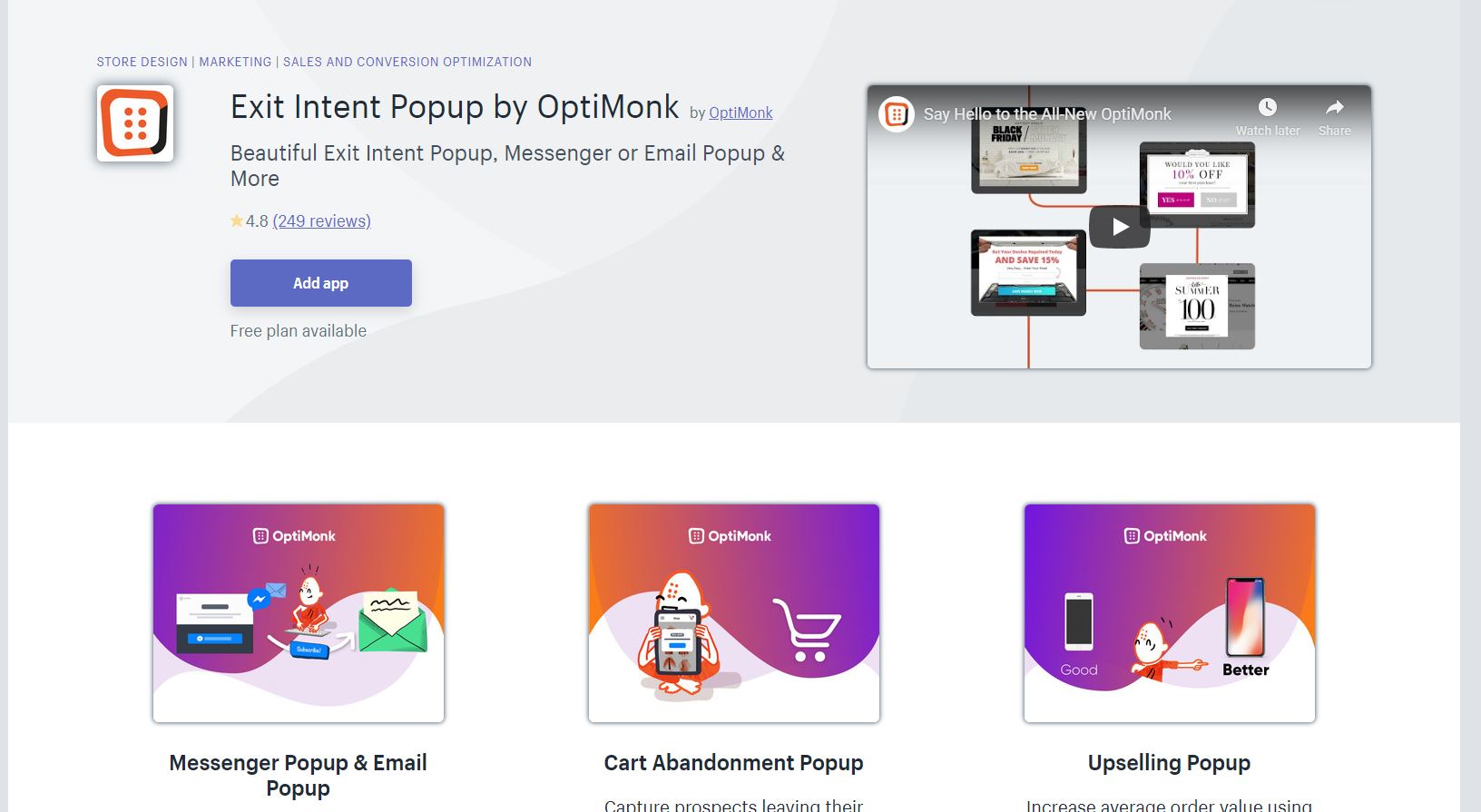 OptiMonk has all the features you could need to build an email list. Their exit-intent popups can help recover a lot of leaving visitors and create more money for your store. OptiMonk also allows you to integrate your pop-ups with Facebook messenger which can create an entirely new sales channel for your store.
Shopify Apps for Customer Service
In a world where customers want things done simply and quickly, customer service is more important now than ever before. Customers want to be able to speak to someone when they have any questions about your products.
A prompt reply is tough, but here are some apps that can help you combat this: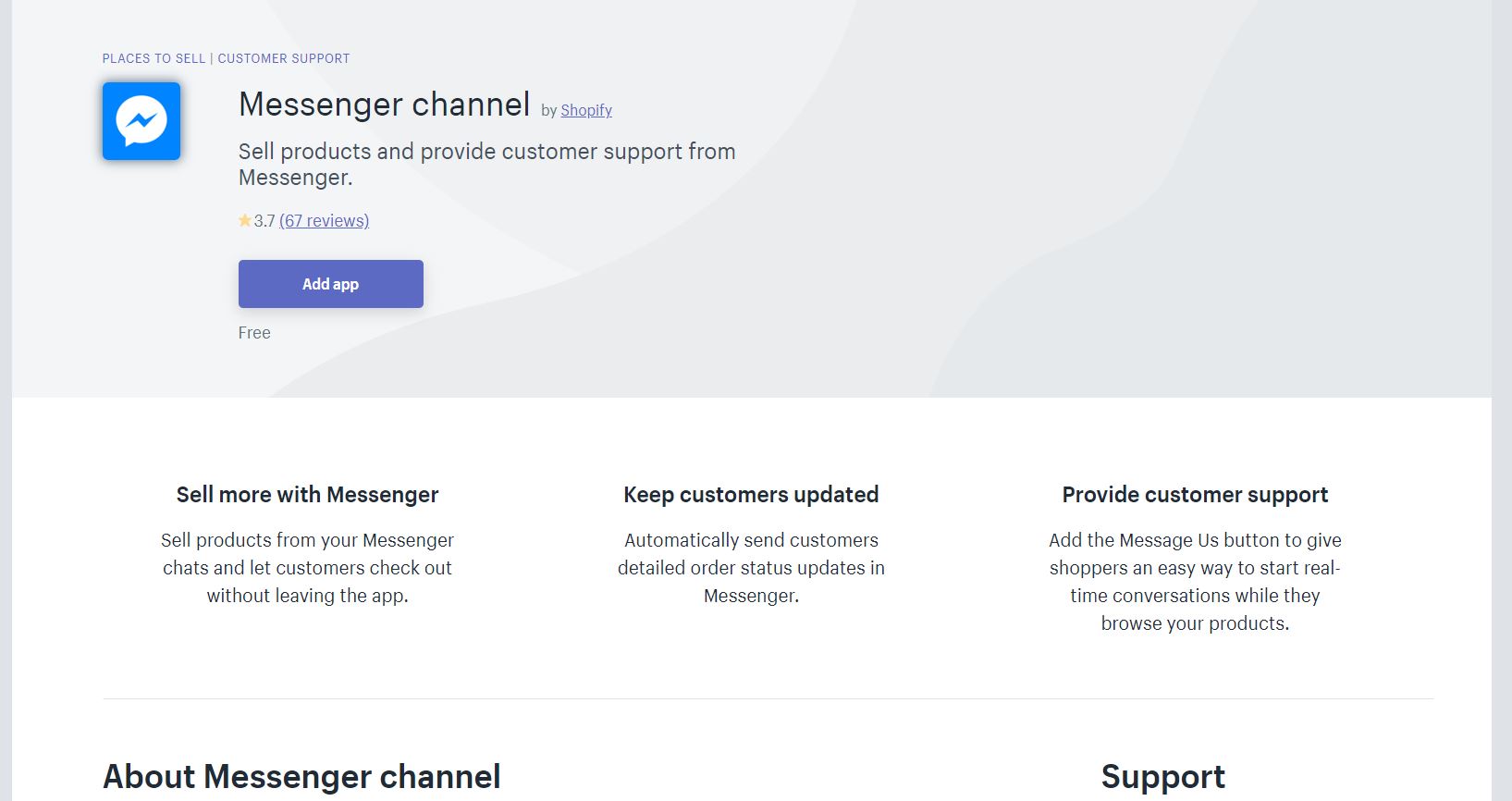 Messenger is a Shopify developed-app that allows you to talk to customers while they are surfing your site. If a customer has a question, they can simply ask it in the bottom right corner of their screen and you or one of your support members can answer to help them.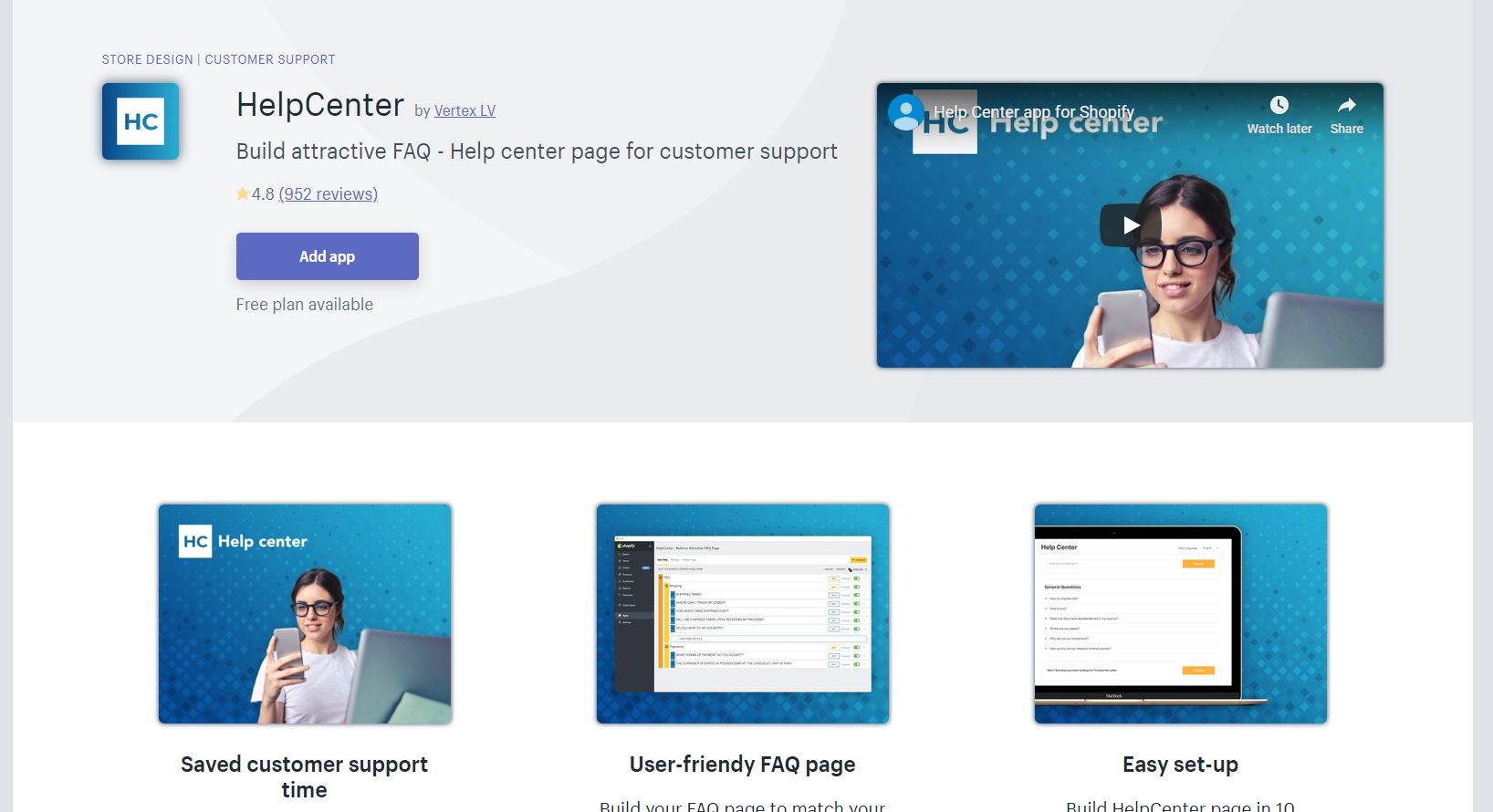 Shopify has the ability for you to create pages for frequently asked questions.
HelpCenter creates a searchable FAQ page and you can customize it the way you want it. You can add sections, categories, articles and more to help answer questions that your customers might have so they don't have to ask you for support or, even worse, leave the page.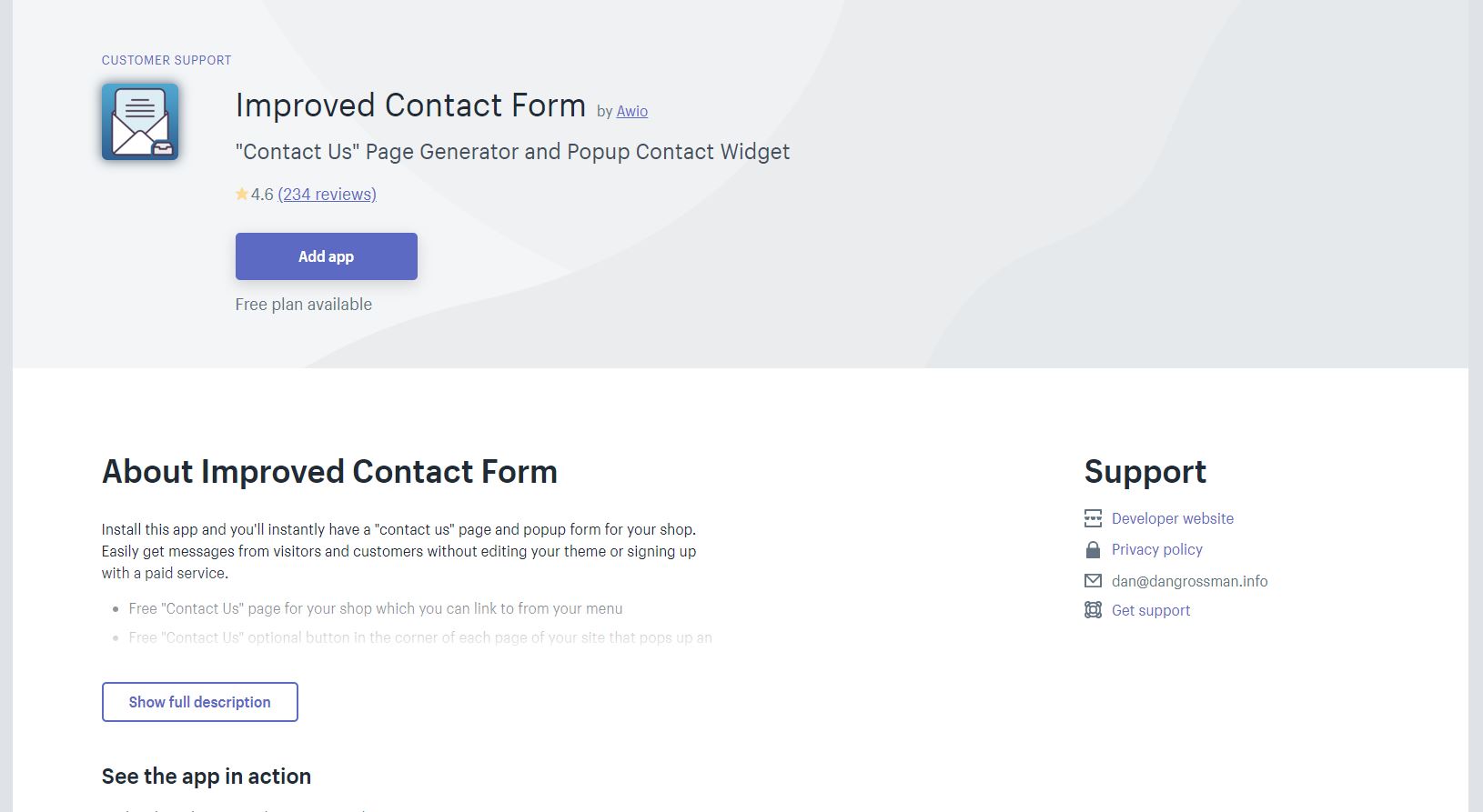 Sometimes a live chat isn't always needed. A contact form can be an easy way for your customers to get the responses they need without you having to be at your phone 24/7 to answer their questions.
This contact form allows you to see analytics of where the user asking you a question has visited on your site and the ability to answer questions to solve their needs.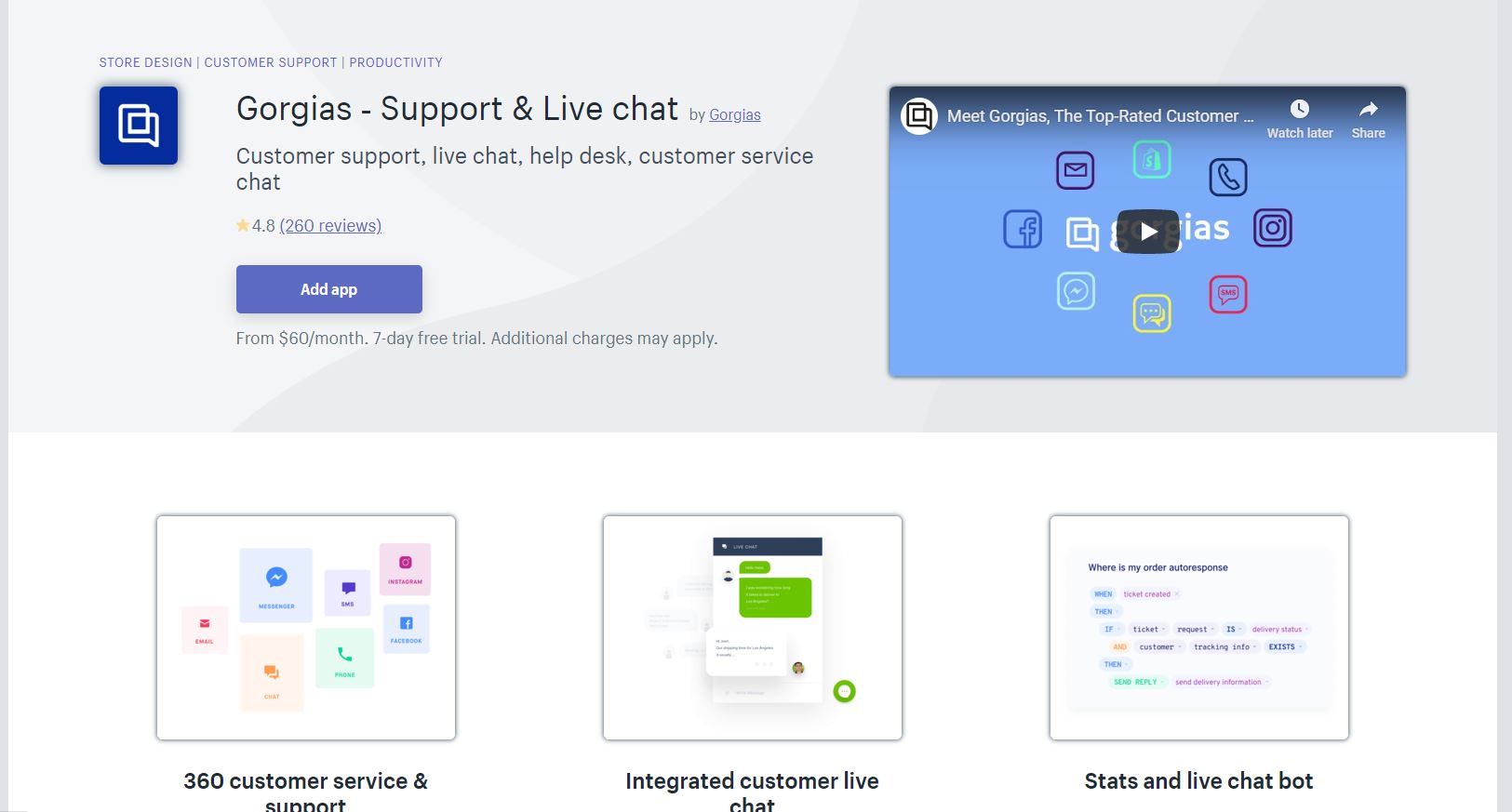 If your Shopify store is growing, there will come a time where just a live chat or FAQ page isn't enough. That's when it might be time to add something like Gorgias to your site. Gorgias is a customer support app that has options for email, live chat, phone, Facebook messaging and integrates with other apps on your store as well.
This app streamlines your support tickets and you can also create automated messages to answer questions for you. Once you have lots of requests a month, this might have to be an option to help your store stay right.
Shopify Apps for Media & Images
Bad images on your site can make all the difference between a website visitor and a customer. These apps allow your images to look the best and make life easier for you.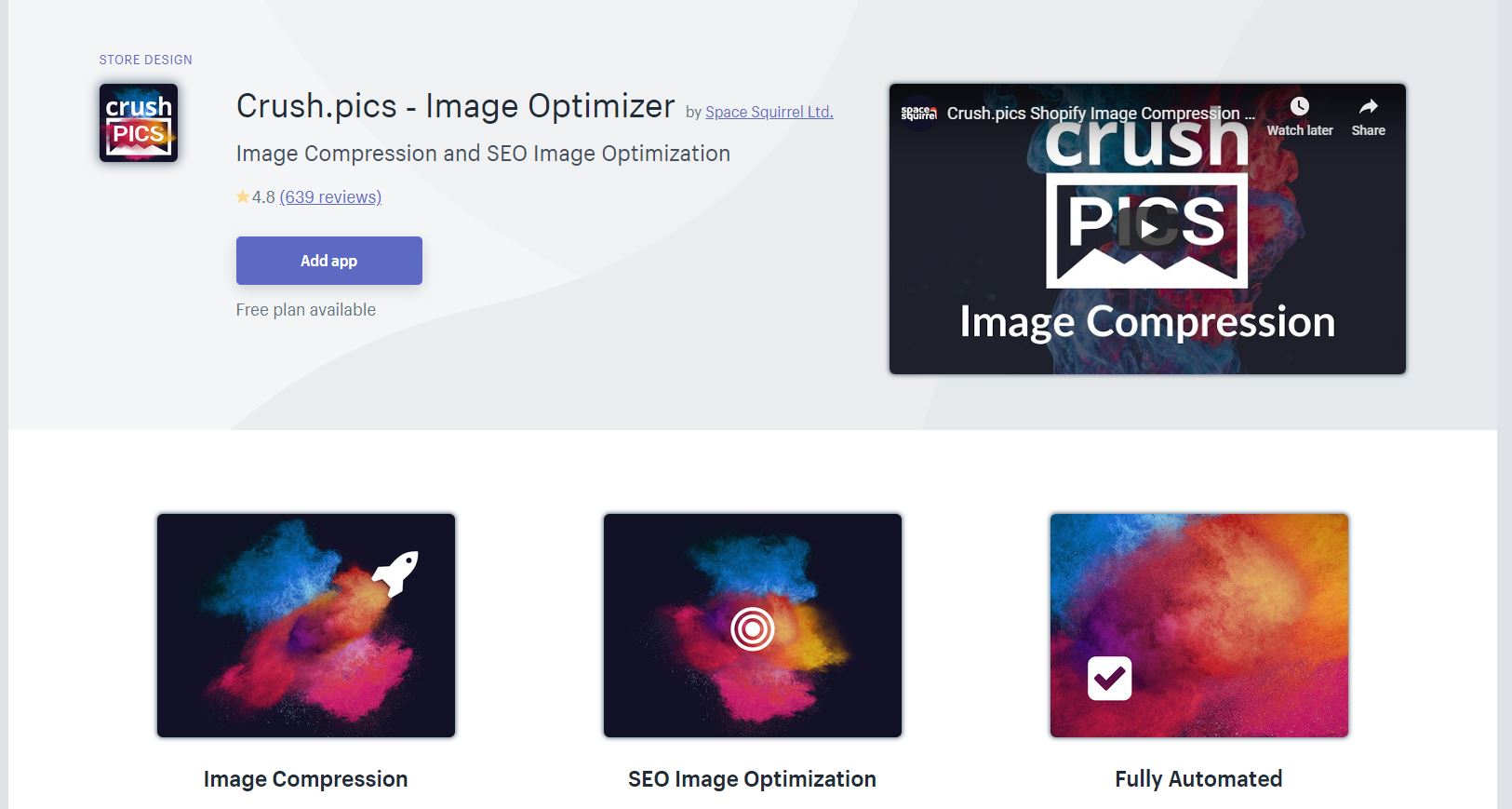 High-quality pictures of your products have a downside. They take up a lot of space and can slow down your site. This app compresses the image to a size that keeps the quality great and decreases the chance of it slowing down your site.
Images are very important for a Shopify store, but what's even more important is site speed. With Crush.Pics, you can have both.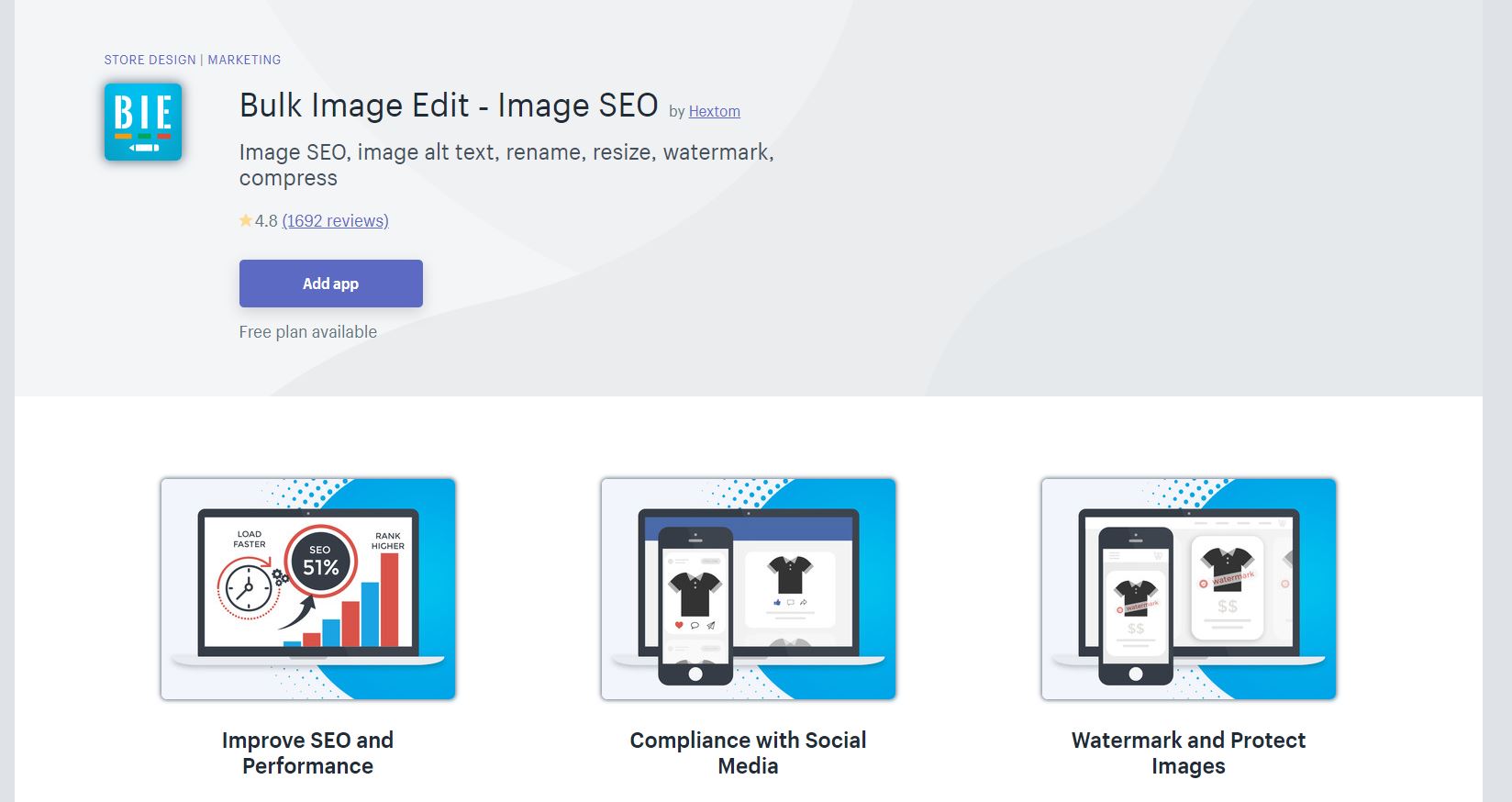 There will come a point on your Shopify store's lifetime where you'll have hundreds of pictures on the site. You might need to edit lots of these photos for a number of reasons. You might change a logo or title name, resize to match a different theme or more.
This app allows you to do just a couple of clicks to change all those pictures instead of doing the same clicks for each and every picture.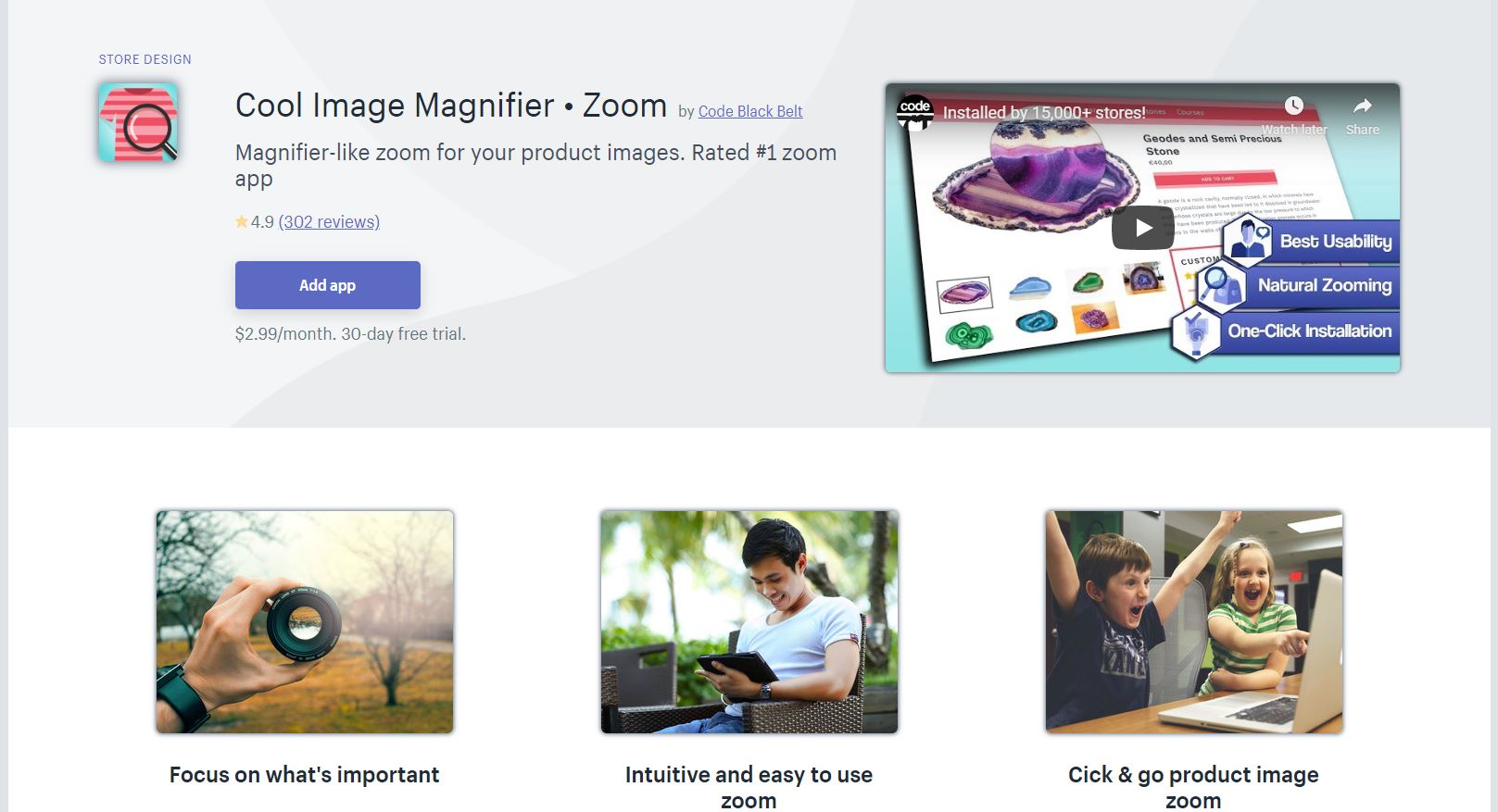 Sometimes customers want to be able to see a product and zoom in on certain aspects. This app allows you to do just that. Showcase your products and what's important about them with a perfect zoom.
Shopify Apps for Shipping & Returns
If there is one thing in your business you don't want problems with, it's the shipping of your products. The more seamless this process is, the better. These apps should help out in shipping your products and those pesky returns you might get.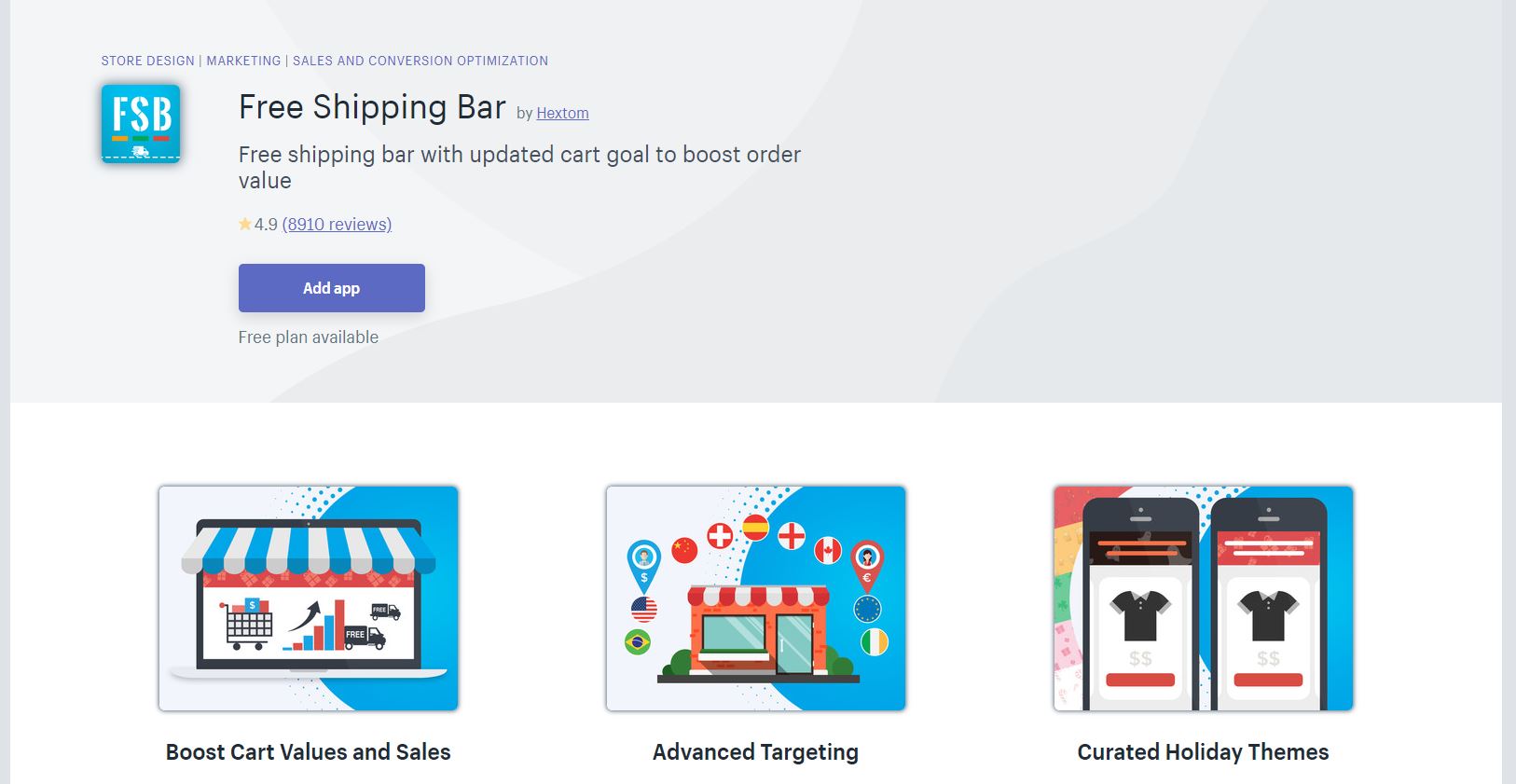 This app doesn't necessarily help with shipping, but it does entice your viewers to add more to their cart in order to get free shipping. This bar allows you to display the offer that will give your customers free shipping. Adding this app should increase sales overall for no extra cost to you.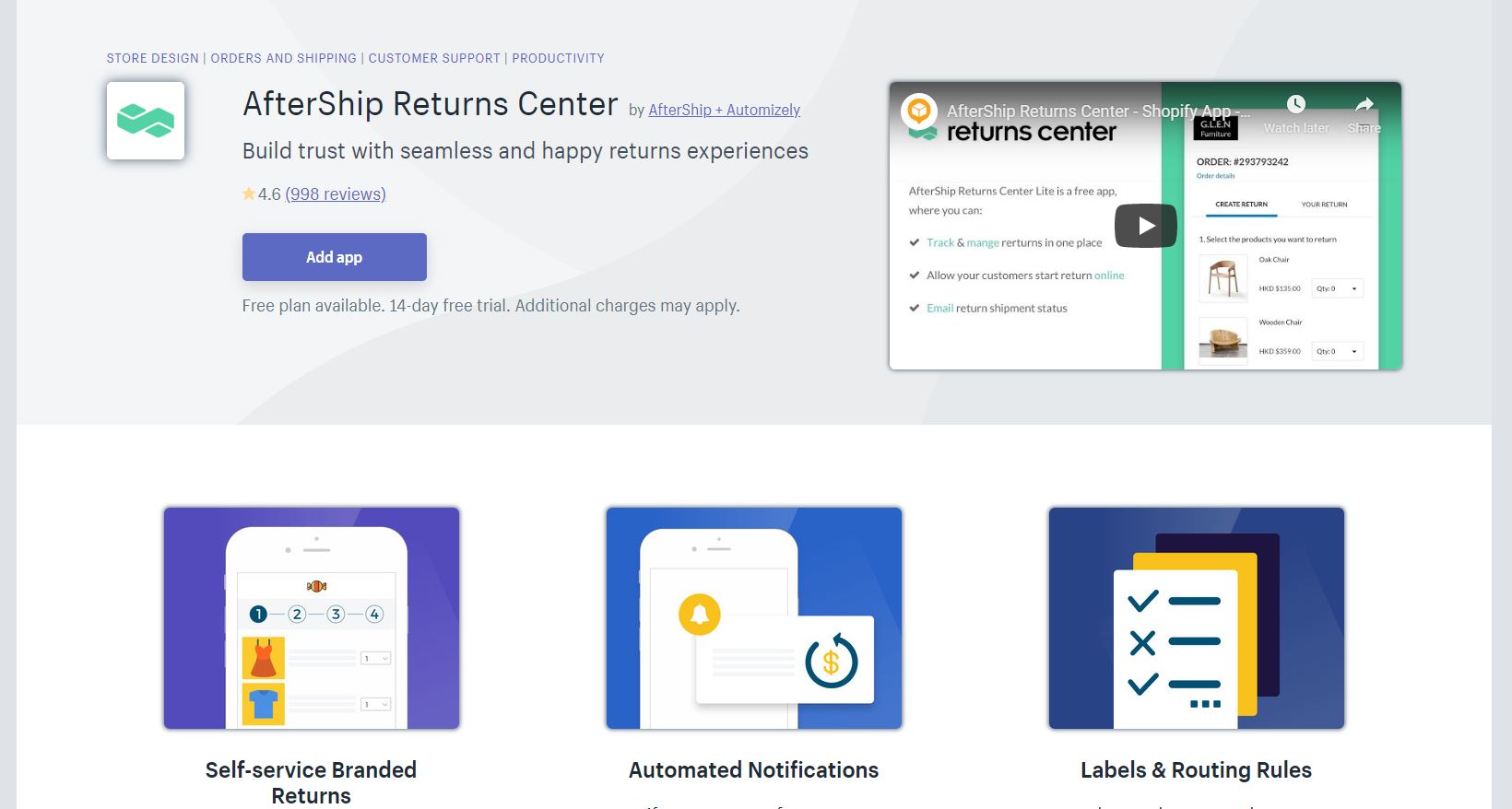 Even if you do everything else right, sometimes a customer will just want to return a product. With AfterShip, the process is simple. They give you a return center and address that lets customers submit returns with a couple of clicks.
The app is free to install and they handle the process for you for your first five returns a month. If you have any more on the free plan, its $2 per return. If you upgrade to a paid plan, it is fifty cents per return.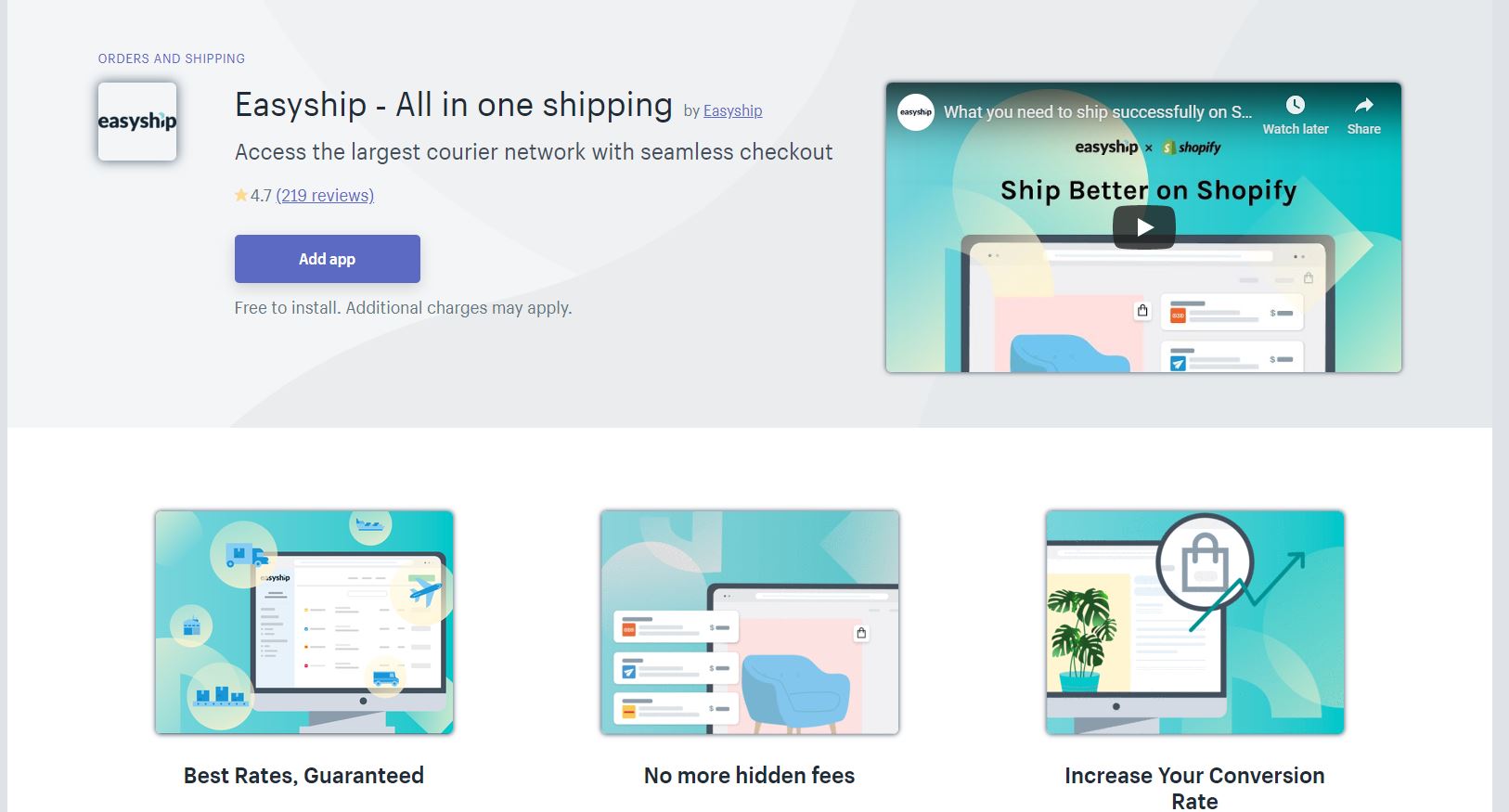 Easyship gives you and your customers flexible shipping options for them to choose from. You get competitive rates for local and international shipping and it provides you with the cheapest and fastest couriers in the country.
Easyship also syncs your orders and print labels in one click and updates them as they are fulfilled with the tracking number.
Shopify Apps for Reviews & Trust
Reviews and trust icons can make a big difference on whether people will purchase something on your website or just search it and go to another site. These apps can help create that trust factor that your site needs to make a sale.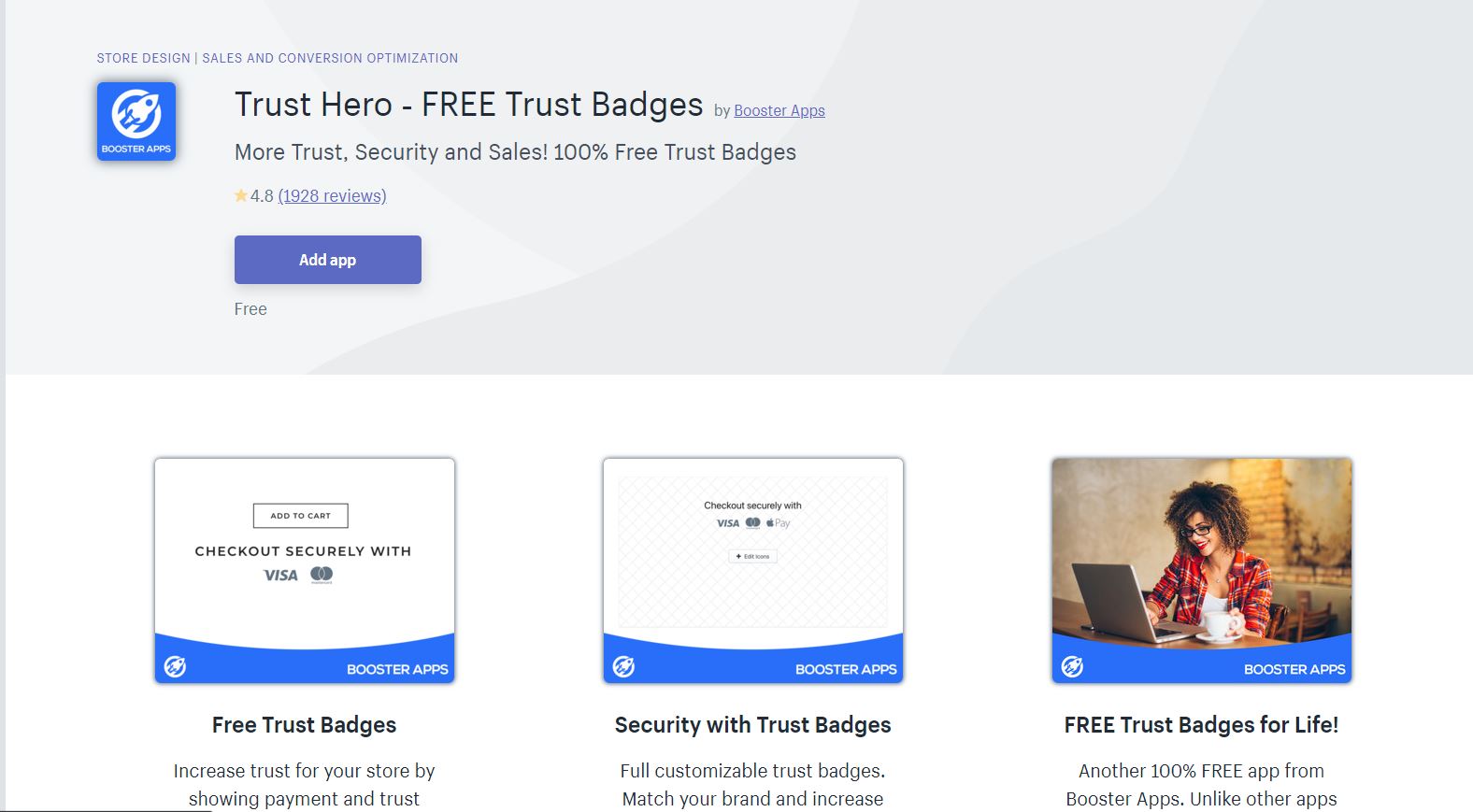 People are still very careful when buying things online. Trust Hero shows your customers that the checkout is secure and your Shopify store can handle Paypal, Visa, Mastercard, Apple Pay and other payment systems.
Adding trust badges will increase your sales and this app is free to install.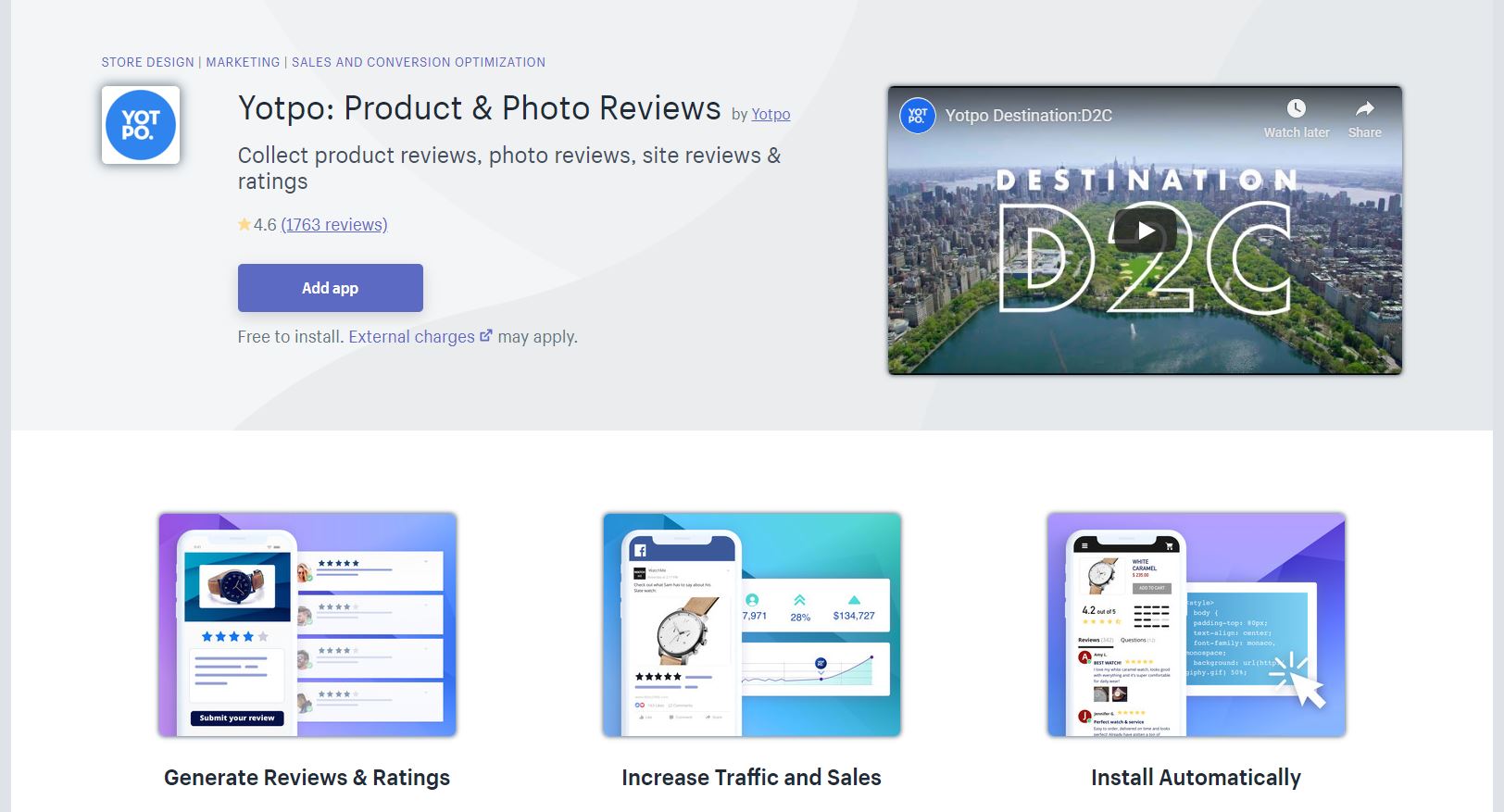 Customer reviews allow stores to have more social proof, which can influence the buying process of your customers tremendously. YotPo is the #1 app to help you get more reviews for your site, which will drive more traffic and help you increase your conversion rate.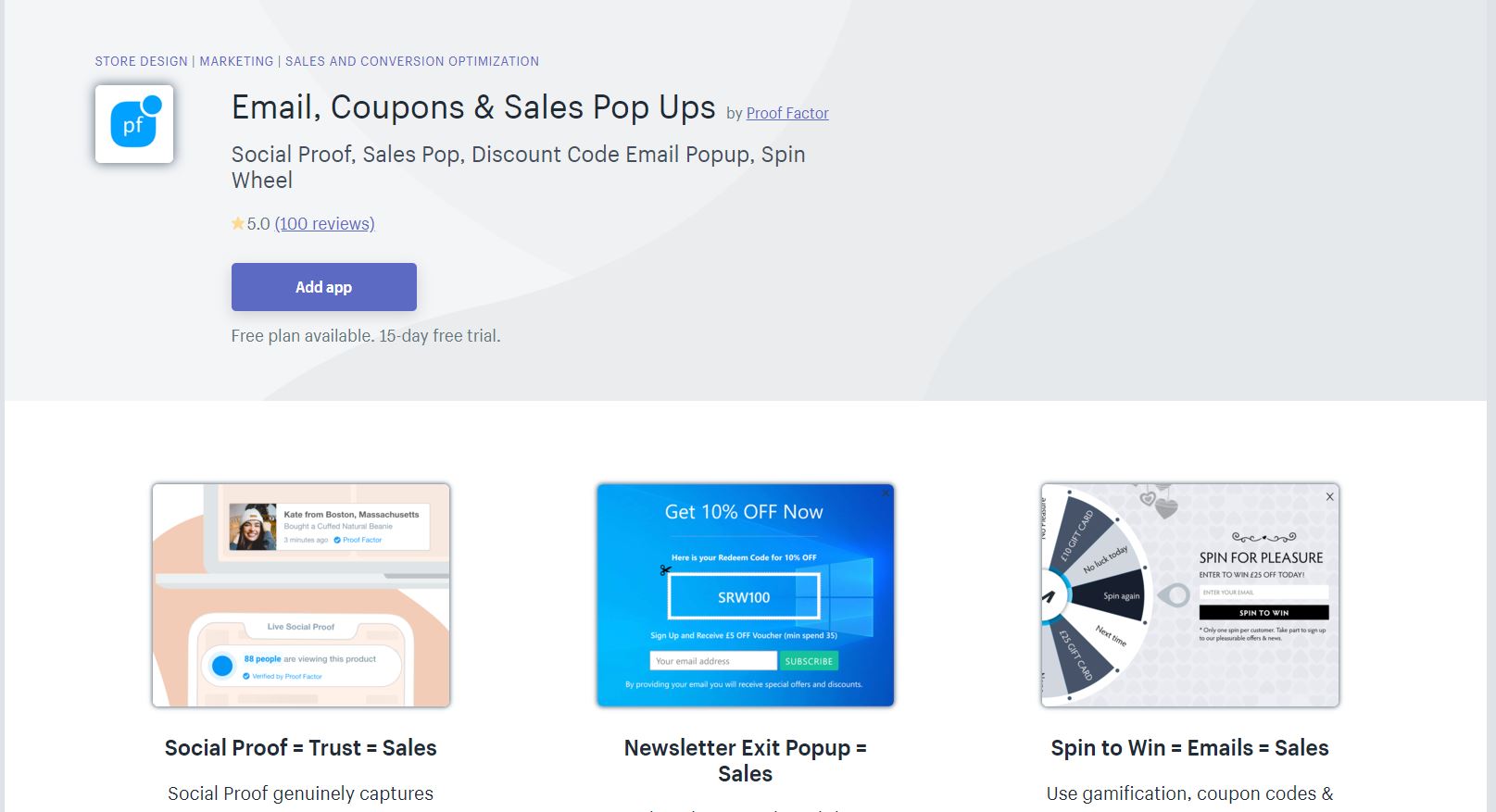 TrustPulse leverages social proof by showing a small popup of what other users have bought or looked on your site. It tracks events in real-time, targets customers and shows related products to boost sales. The best part, it is easy to setup.
TrustPulse is free for the first 500 sessions on your site. After that, the plans start at $4/month for 1,000 sessions and scales up from there.
Shopify Apps for Rewards & Referrals
We've mentioned that word of mouth is a big factor in deciding whether your site will be a big hit or not. These apps promote word of mouth rewards and referrals to help skyrocket your traffic and sales.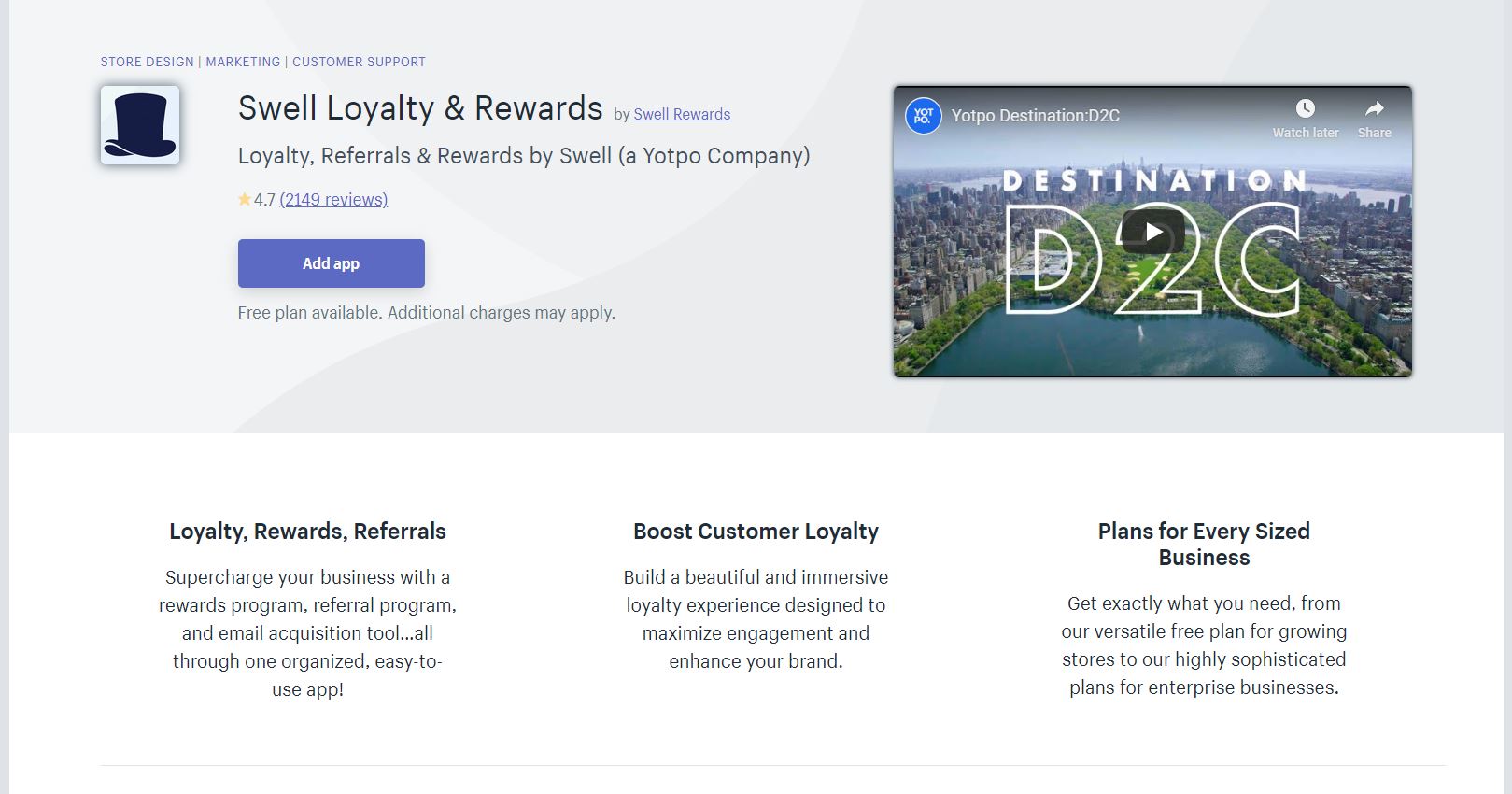 Swell is one of the best referral program apps and allows you to give your customers rewards for writing reviews or referring customers to your store. You can also reward them for sharing on social media and making purchases.
This app basically allows you to create a loyalty program for your Shopify store. It integrates with a lot of Shopify apps along with Facebook, YotPo, Hubspot and more.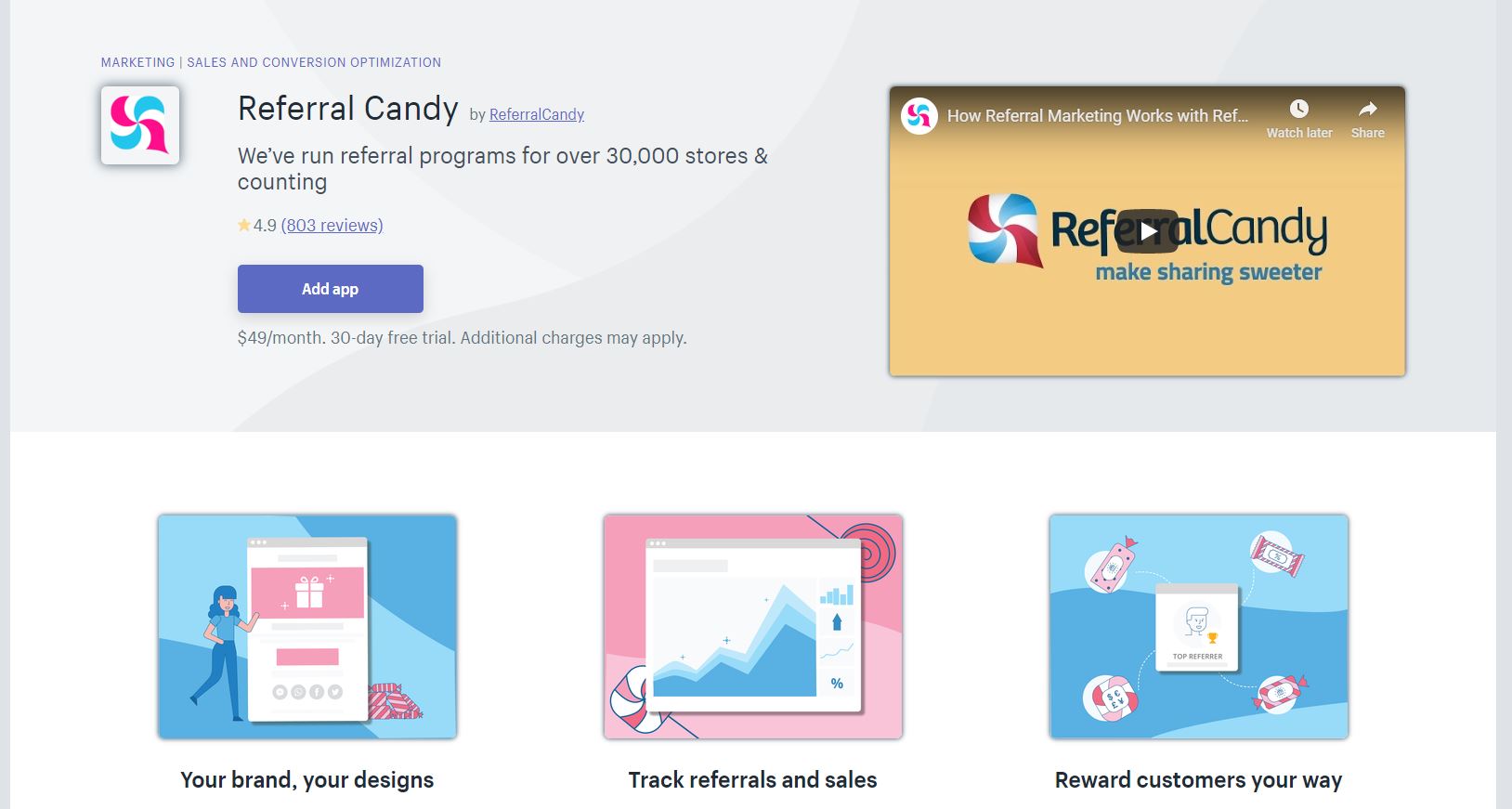 ReferralCandy is another app that allows you to incentivize your customers to share your store with their friends. There are lots of different ways to give rewards to such customers.
Once again, this app integrates with marketing tools like MailChimp and automatically delivers rewards to the customers who participate, so you don't have to. It is a paid app with a free trial, so maybe start out with Rewards and Referrals and upgrade to ReferralCandy when ready.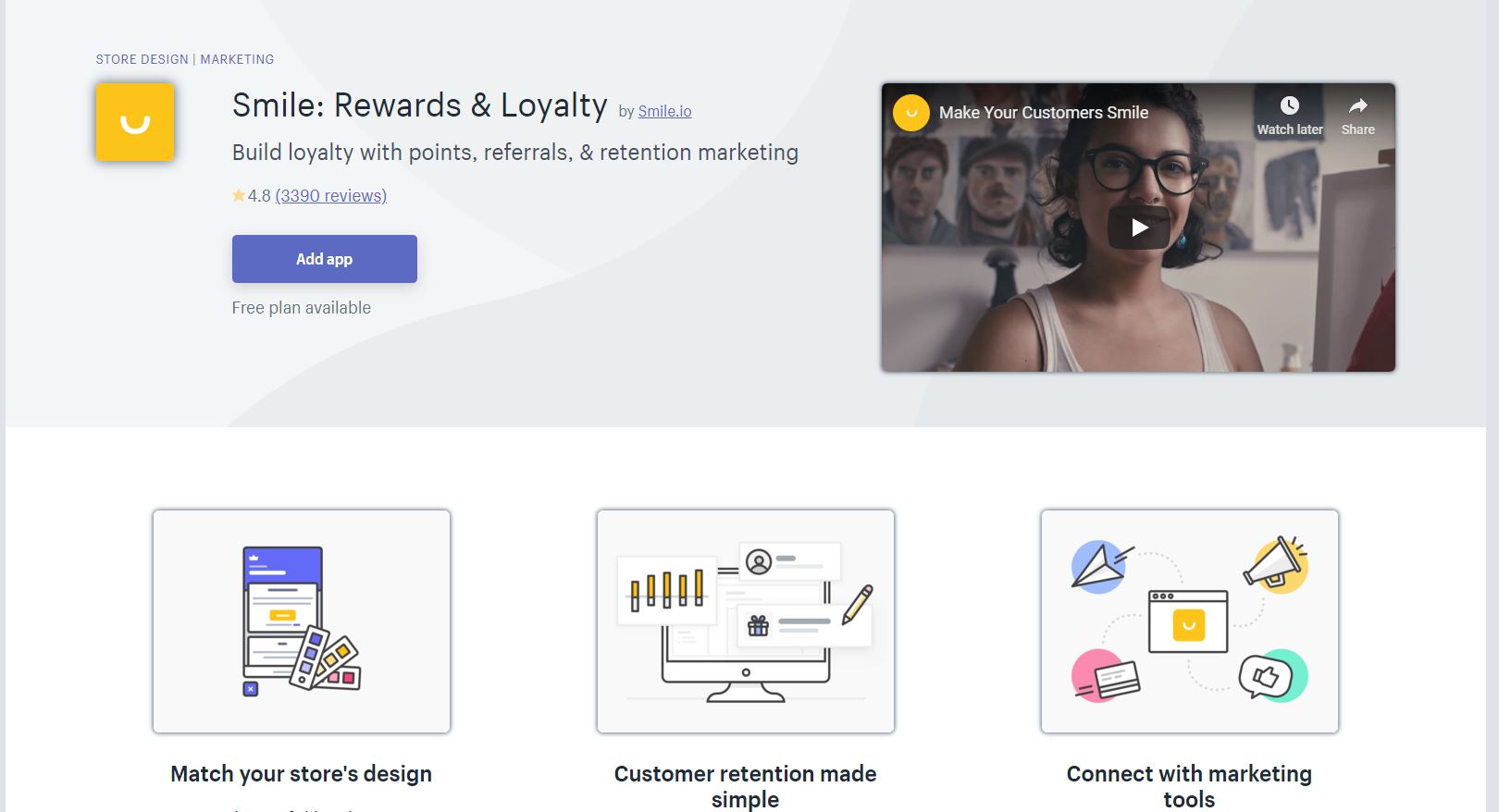 Loyal customers can make a big difference when it comes to customers sticking with one brand. With this app, you can create a customer loyalty program that entices customers to become VIPs of your brand and make repeat purchases on your Shopify store.
The free plan has all the basic features and then the upgraded plans have even more ways to reward customers, customizability, and doesn't come with the Smile.io branding.
Shopify Apps for Upselling
The hardest part of running a Shopify store is getting a customer on the site. Once they're on your site, you want to make sure your sale is as high as possible. Here are some apps to help you achieve that.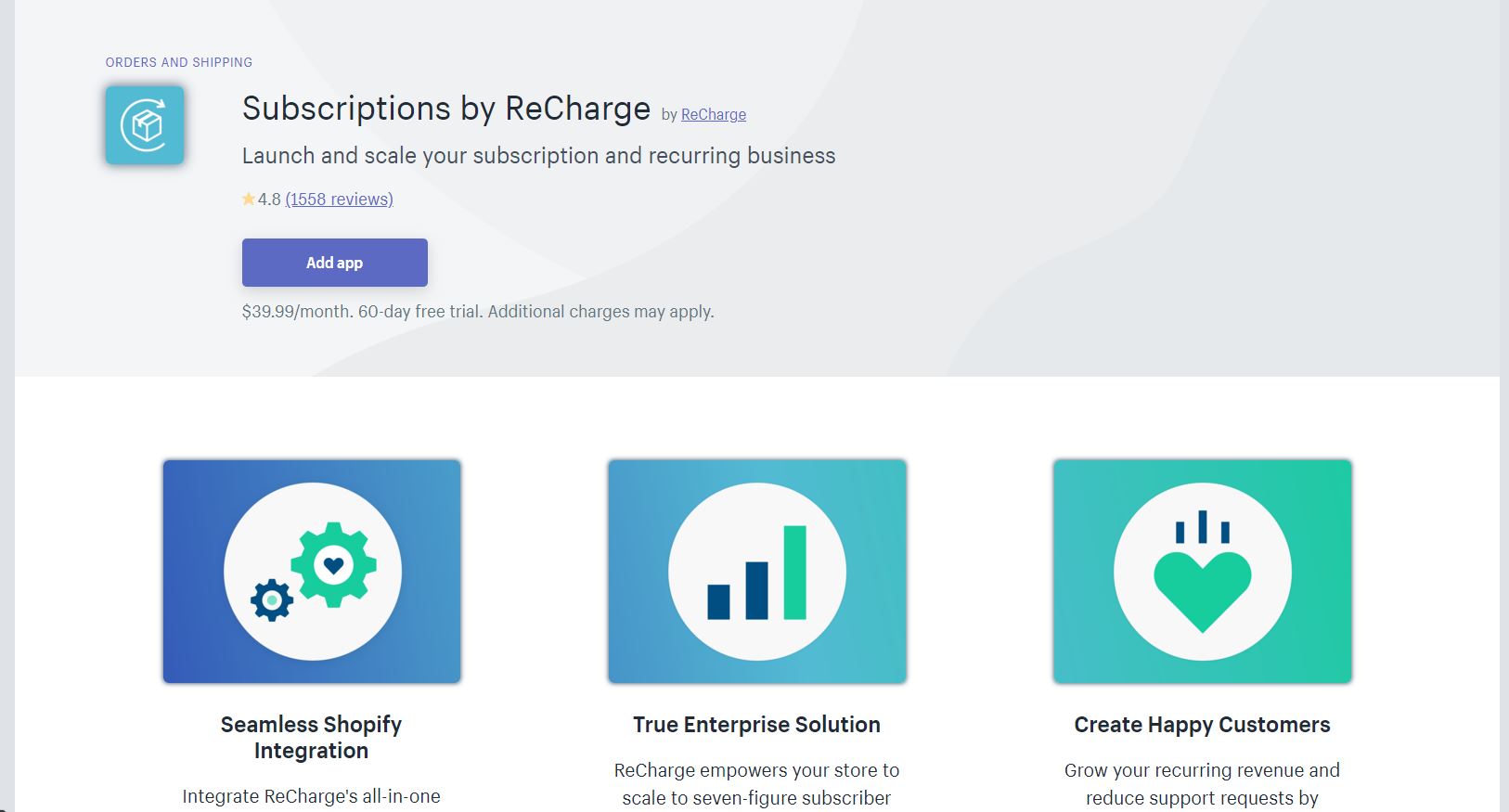 If you have a store for people that buy things every month or a few times a year, you might want to think about opening a subscription company. With an app like ReCharge, the tech side of rebilling them every time will be taken care of.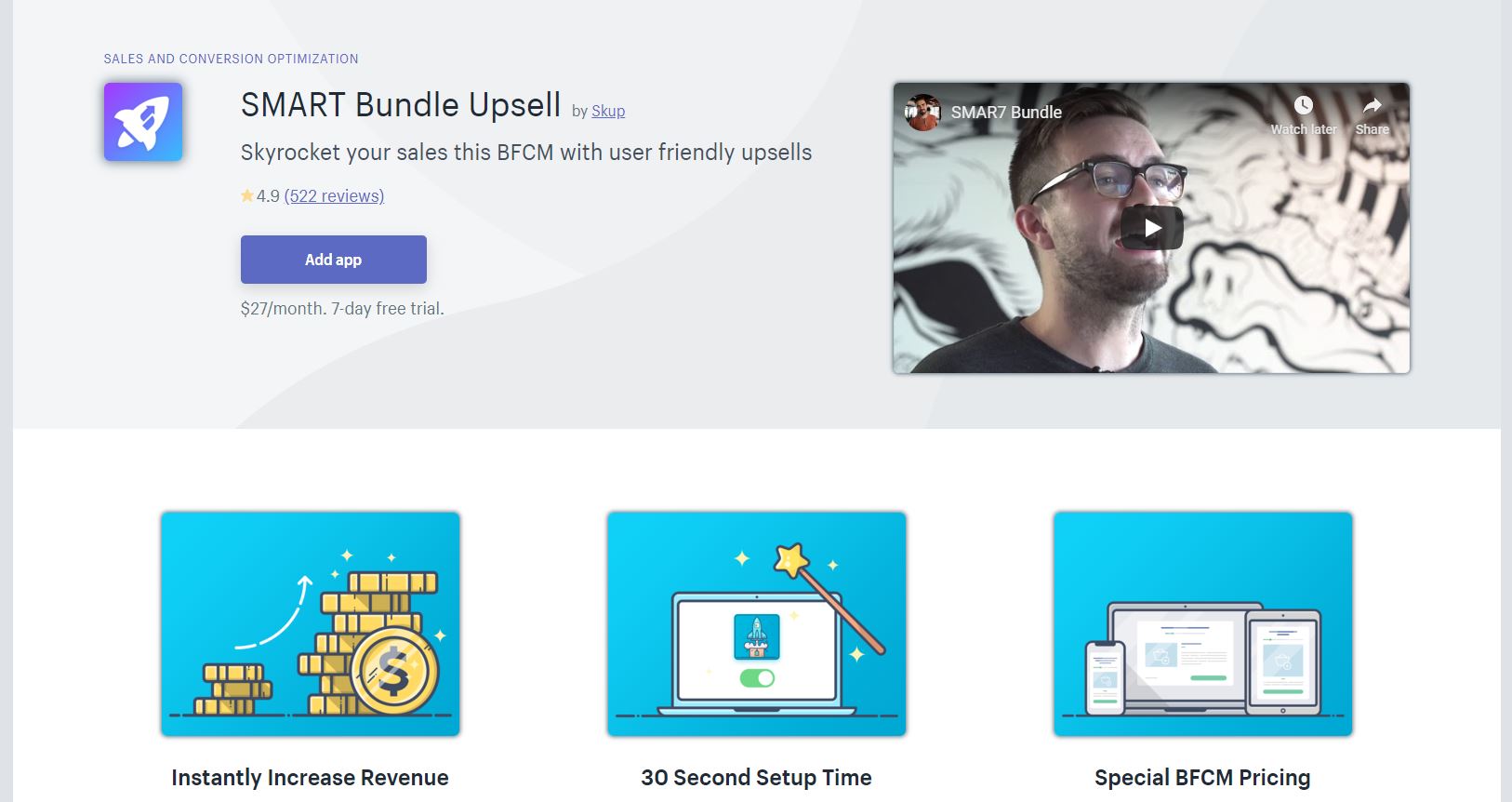 Bundle Upsell allows you to upsell items that are similar or equal to the products your customer is already buying. If they are buying a plant, maybe they want two others like it. If they are buying a bow for one daughter, maybe they want another bow for their other daughter.
With this app, you can customize the way the items will be shown to the customers and generate more money and higher average order value for your store.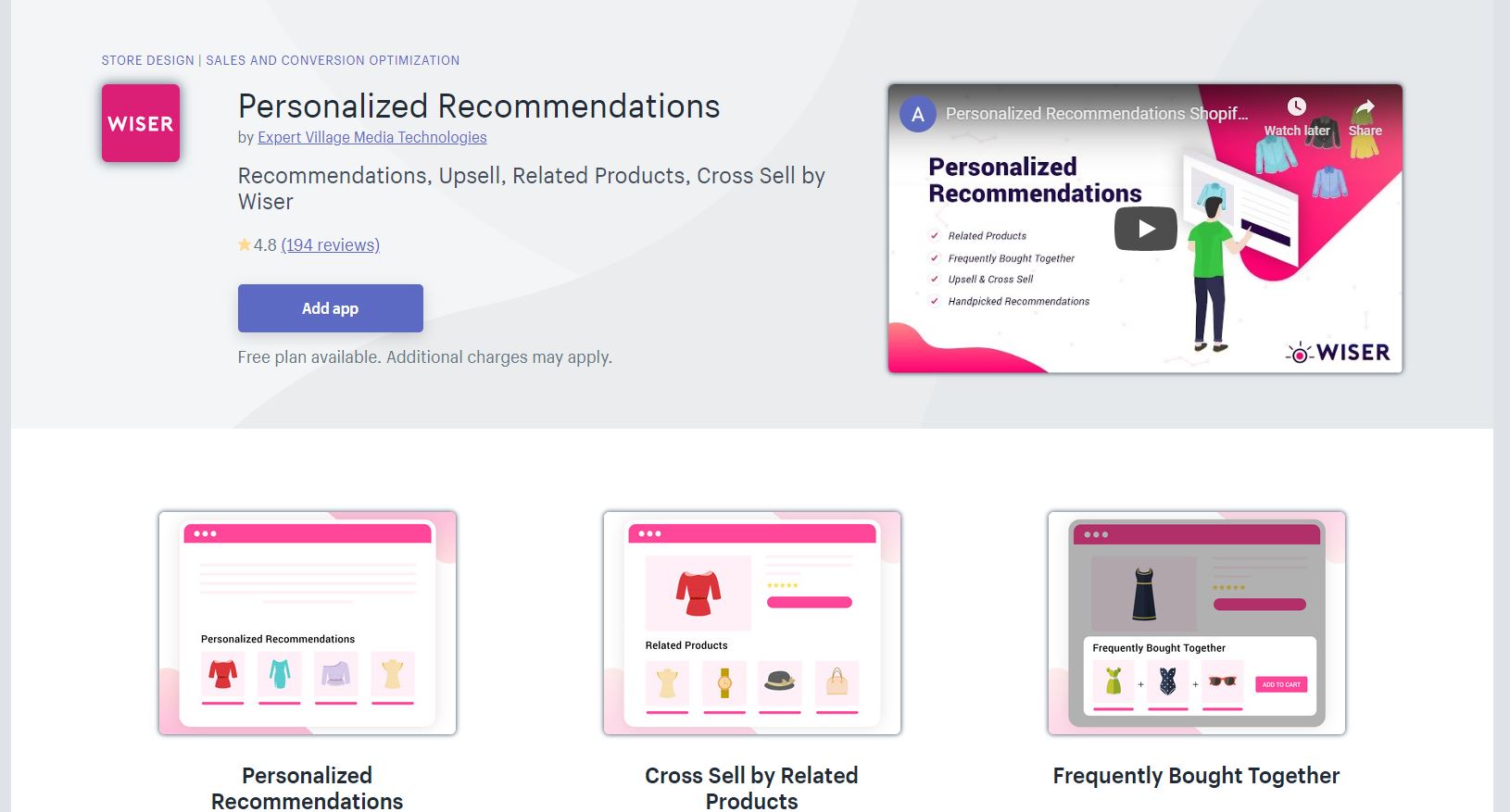 Personalized Recommendations tracks your customers' actions and what they are clicking on and gives them product recommendations. The app analyzes the shopping experience of your customers and doesn't cost you anything unless people buy extra from you.
It is really a great way to engage with the user and generate more sales.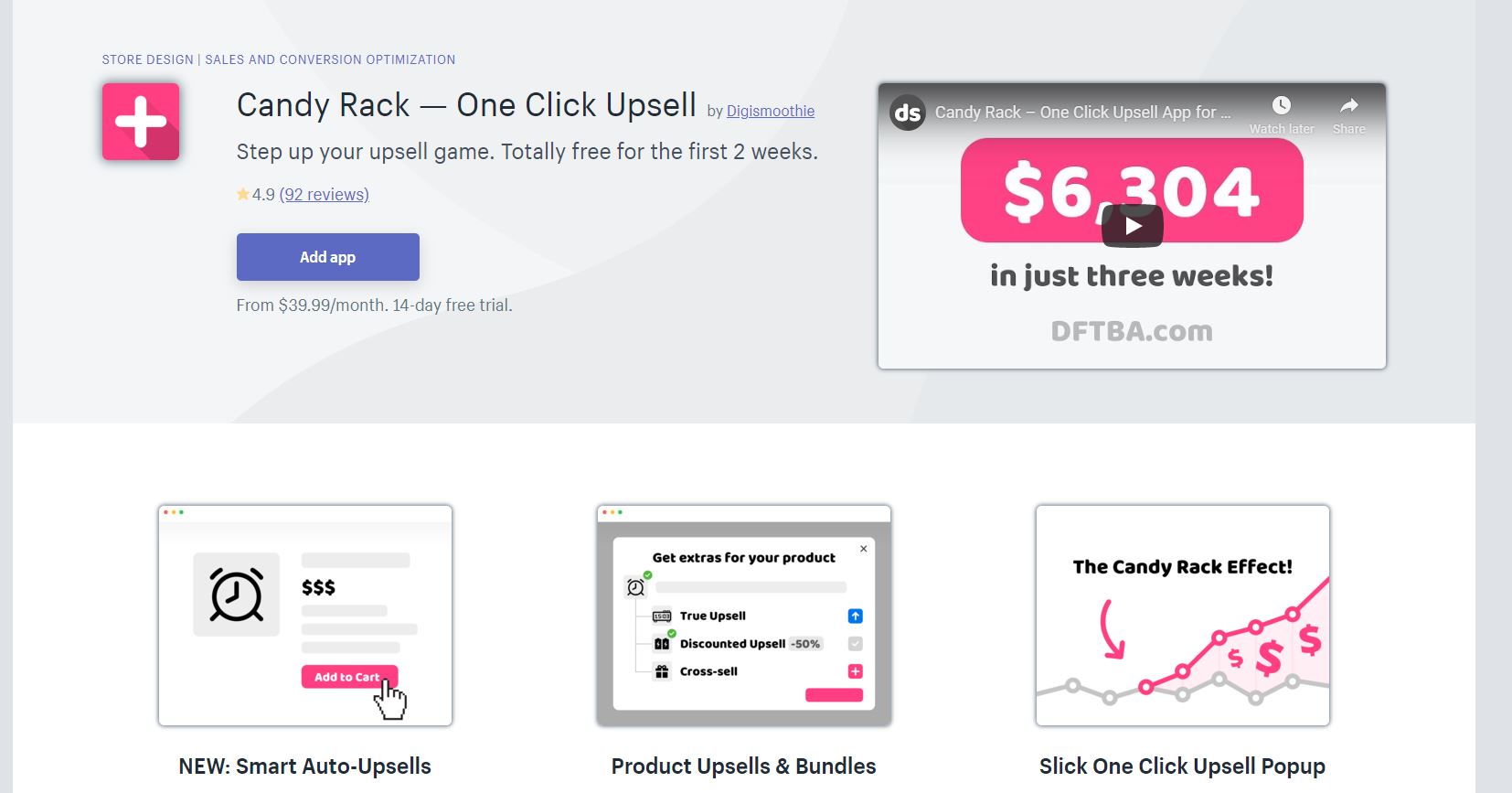 Candy Rack allows you to create opportunities for customers to buy things as they are about to check out, just like at your local grocery store. Create product upsells, cross-sells, and bundles that you design yourself or go with the predefined ones.
The one-click option allows them to see something and just click one button to add it to their order, which is super simple and easy on your customer to increase your average order.
Shopify Apps for Miscellaneous
There are multiple other functionalities that are needed in every Shopify store that don't necessarily fall under the categories that we listed above. Here are some apps to help you out if your business needs them.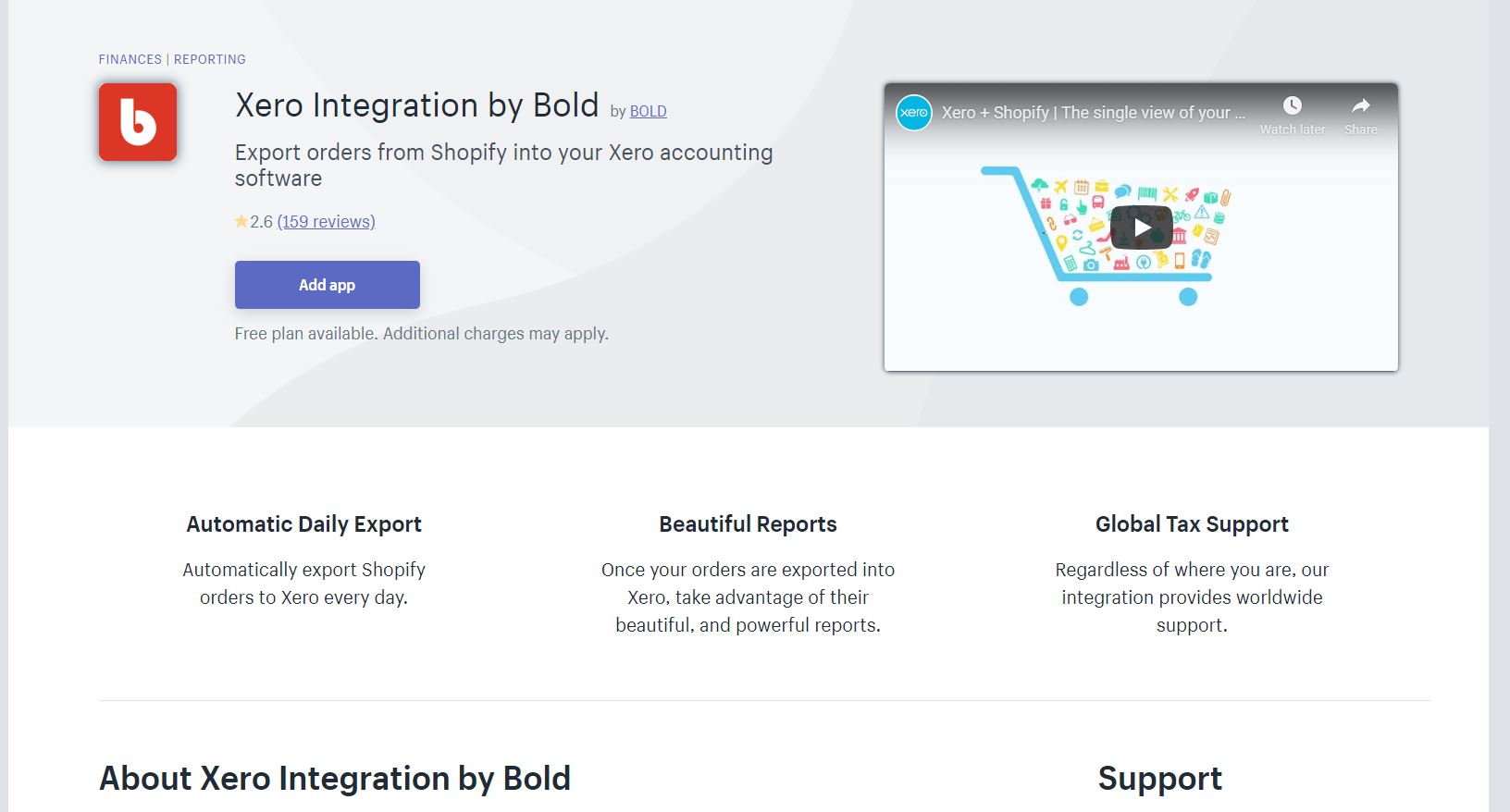 We all want to make sure we're careful when it comes to our accounting. Not only do we want to track our revenue and expenses, but we also want to track how much we should be putting away for taxes. Xero can help you with that.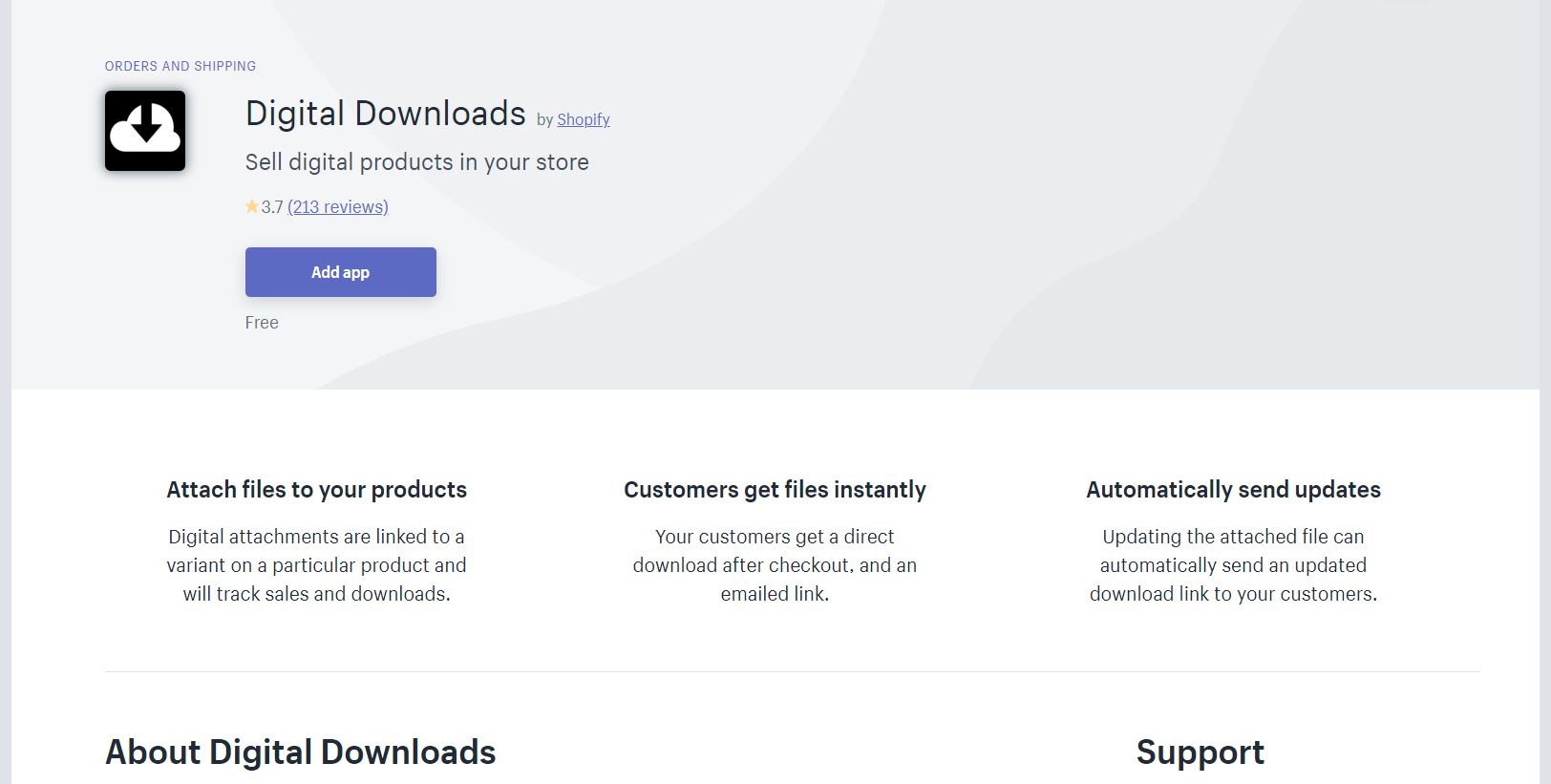 Shopify created this app to sell digital products on their platform. If you sell digital products and need them delivered for you, this app can take care of it. It gives the customer a direct download link right after the payment is complete so they can get started with your content, music, or anything else you might want to send them digitally.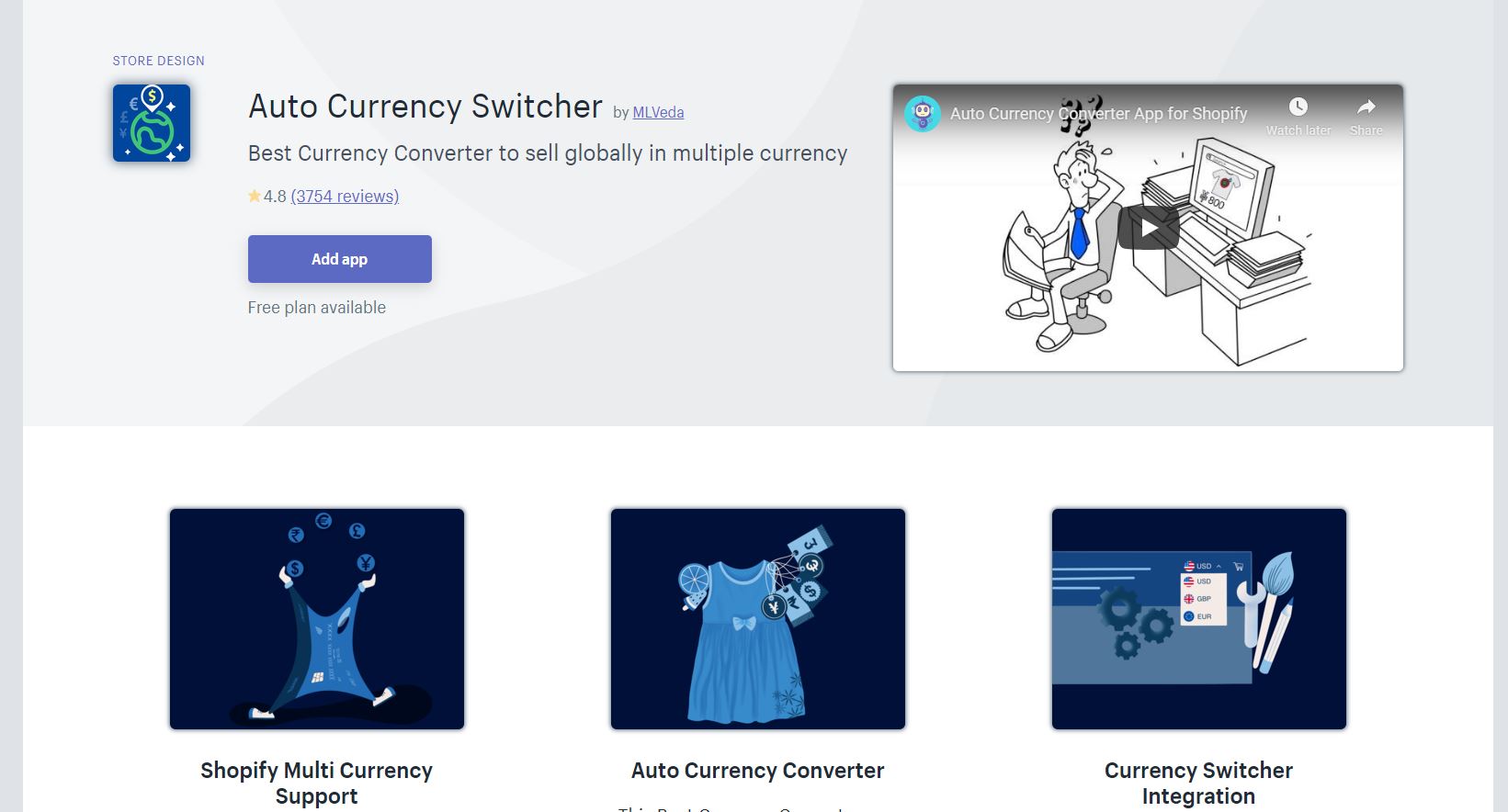 This app converts the currency on your site to the currency of the customer's location based on Geo-Location based country detection. Customers have the option to see the prices in their local currency or the default currency which is mentioned on your store.
Conclusion
We hope this article helped you find the best Shopify apps for your store. Depending on your business, you need different apps, which is why we created such a vast list.
If you have any questions about any of these apps, please be sure to ask them in the comments and we'll be sure to answer them.