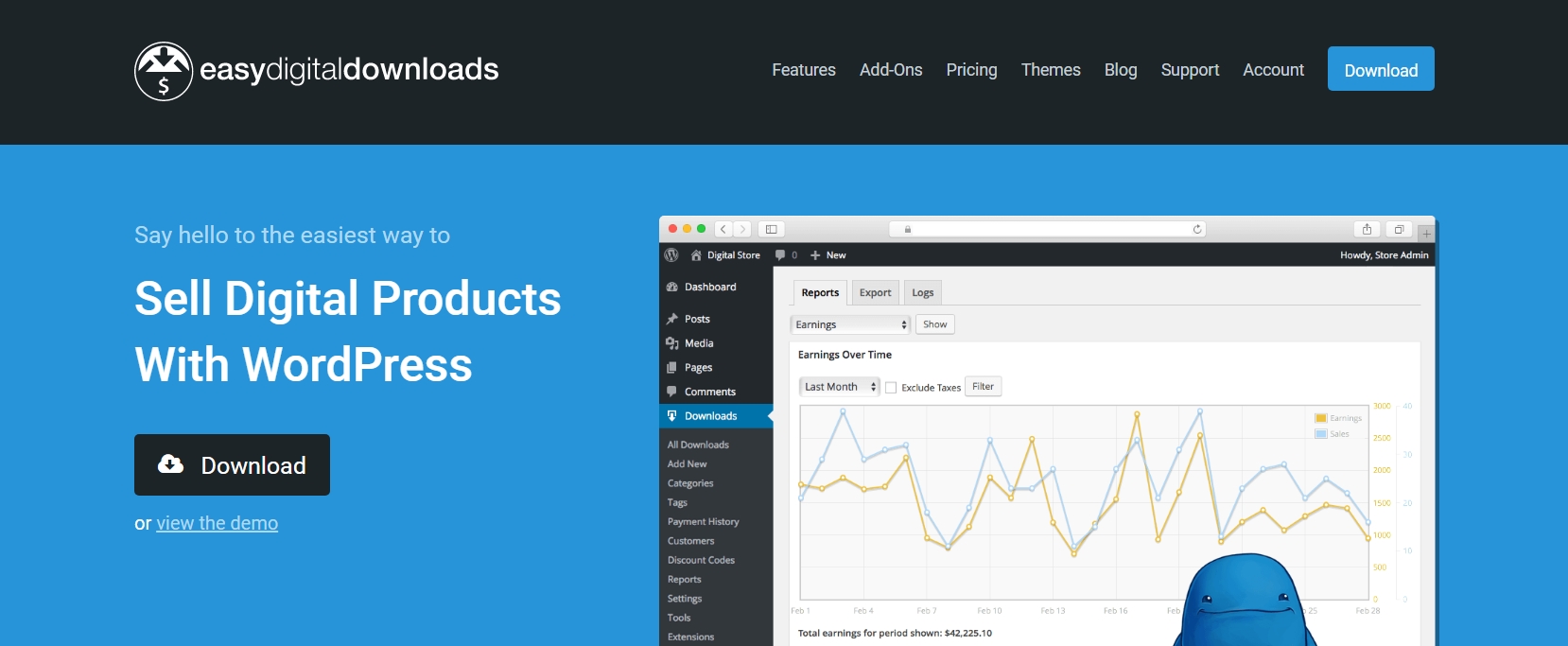 EasyDigitalDownloads is a WordPress plugin that turns your site into a digital product store – think WooCommerce for digital goods. Today, we're going to look at why you would want to sell digital products, and how EasyDigitalDownloads can help you.
1

Let's start with a broad overview:

2016 marked the point where more people bought products online than in person. It's hard to beat the convenience of online shopping!

While this may be bad news for "bricks and mortar" stores, it has opened up a world of opportunity for entrepreneurs. Running an "e-commerce only" business offers a range of benefits for sellers:
Building an e-commerce site is much cheaper than setting up a "real world" shop.
There's no need to pay a lease on a store.
No need to pay through the nose for a prime location – a choice which makes or breaks brick-and-mortar stores.
You don't have to invest a fortune on attractive displays.
You can even eliminate the cost of warehousing your goods (through drop shipping).
Automation reduces the amount of work to generate business and fulfill orders.
Of course, there's no need to convince you that "e-commerce is a real thing". It's such an indispensable part of our lives today. But what about digital products?
2

Digital Products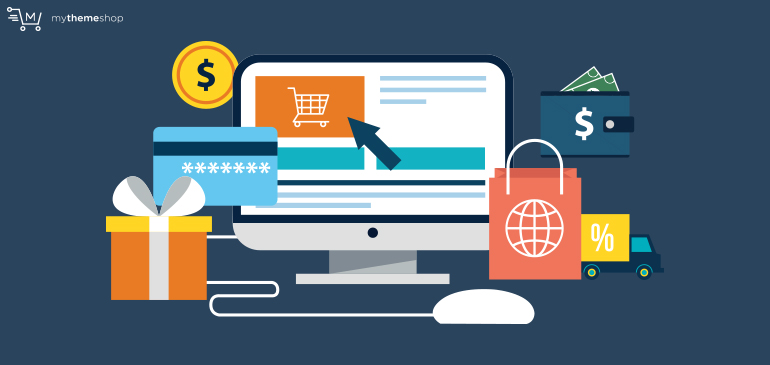 The Internet has also redefined what we mean by "products". In the past, products were physical goods – solid objects you could weigh and put in a box. Today, digital goods are a viable option – as long as it provides value, people will pay for data. They're essentially buying electrons.
A few decades back, the very idea would have been dismissed as pure sci-fi. But digital goods are everywhere today. From the apps on your phone to the music and video you consume every month, digital products account for a decent slice of today's spending.
Even conservative industries such as publishing and sheet music are moving towards digital distribution channels – according to Author Earnings, almost 50% of adult fiction book sales in 2015 were digital.
The economics of digital products is totally different from physical products. It costs money to build and store physical products before they are sold and it's hard to predict demand for a new product before it hits the marketplace.
Producers often make too many products, or too few. Both are disastrous. If you can't sell all your inventory, you take a loss. If you make too little, your customers will buy a competing product.
This makes it quite hard to bring a new product to the market – you have to convince investors to put up the seed capital to make your stuff in the hope of turning a profit.
Storing products is expensive, warehouses are there to make a profit, too!
Retailers take a big risk on new product lines. They rely on the discounts they get from bulk orders to turn a healthy profit. But what if the product fails to catch on?
This situation has had a stifling effect on innovation. The physical product market is dominated by huge companies, and they're very cautious about taking risks with new product lines.
This is the main reason why it's so hard to turn a great product idea into a profitable income stream. There are too many hoops to jump through, too many risk-averse executives to impress and mollify.
Digital products present a great opportunity to creative people, niche experts, and the recently inspired. When you sell digital products, there are no expensive mass production and storage costs.
There's no need to convince retailers to take a risk on your "next big thing". And you don't have to clutter your garage with a bunch of junk that will never sell!
The development costs are relatively minor, compared to physical products. That's not to say they're non-existent, customers demand quality, so you'll have to invest some time or money in producing a polished product. But there are plenty of tools to speed up the process and reduce the costs along the way.
Delivering products is extremely cheap. All you have to pay is the cost of hosting files and delivering them over the Internet (bandwidth charges). Compared to the revenue from selling your products, the costs of delivery are virtually nothing.
So far we've discussed digital products without really defining them. There are many different types of digital products – literally, anything that can be stored in a computer and has some value to a customer can be considered a digital product. That said, let's take a look at the most popular types:
2.1

Software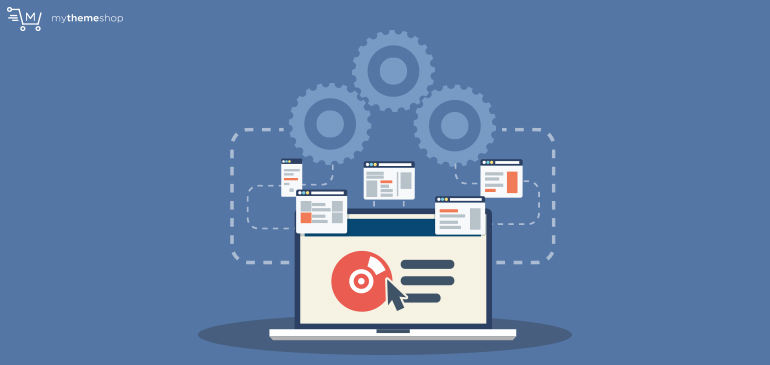 A software is the original digital product. It's been a great money earner since the earliest days of commercial computing. Back then, only large corporations and governments had computers, and they had very specific needs.
Today, a huge portion of the world's population owns computing devices. Whether it's a budget smartphone or a high-end PC. All of these devices require software to function.
Software covers a wide range of products, from addictive mobile games to expensive factory automation systems. They're all digital products, some take years to code, and others are thrown together over a weekend.
2.2

eBooks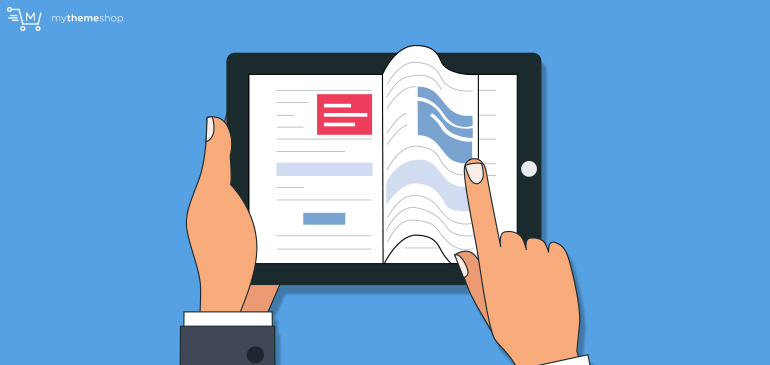 When Guttenberg created the printing press, his invention changed the world. Books were once ultra-luxury products for the super-rich. Almost overnight, they were within the reach of the common man.
As people learned to read, the demand for books increased until it became a huge industry. Jobs were created and fortunes were made on the back of this one invention.
eBooks are a natural progression, and they're every bit as revolutionary as the first printing press. For the first time, anyone can publish a book.
There's no need to send off your manuscript to snooty editors and endure years of rejection letters. If you have a keyboard and a few original ideas, you can write and publish a book.
Consumers love eBooks because they're more convenient than clunky masses of paper. You can carry hundreds of them at a time, and there are reader apps for most mobile devices.
2.3

Creative Assets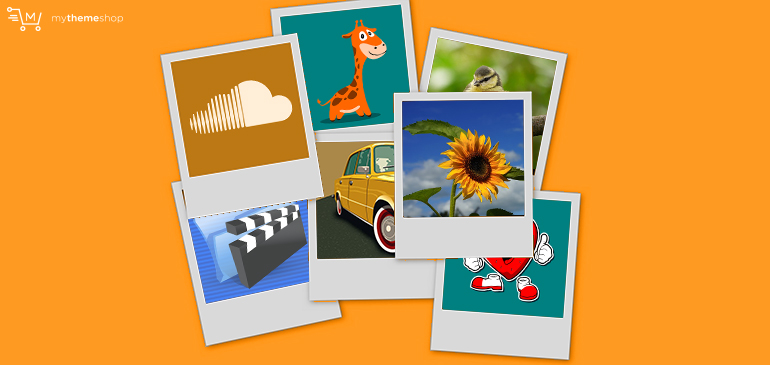 In the early days of advertising, getting a sign or poster made was pretty expensive. You had to hire a team of artists (or photographers), graphic designers, and so on. Today, you can get an ad made for as little as $5 (it may not be the best ad in the world, of course). How is this possible?
The answer is stock creative assets. Stock assets are images, photos, vector files, and other elements that designers can "cut and paste" to make a new piece fast. There are millions of assets to choose from, so good designers can still exercise their unique "flair."
Asset creators benefit, too. Instead of getting paid once by a single client, their work can turn into an ongoing income stream that lasts for years.
Photographers with GBs of old unused photos can turn them into a hands-free income stream.
2.4

Music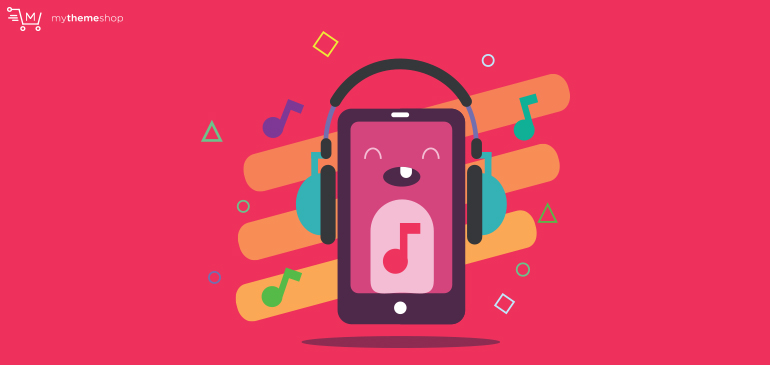 The iPod had a huge effect on the music industry – and probably shortened the lives of a few music industry fat cats.
For independent musicians, it's been a blessing. Digital music distribution has launched the careers of more than a few artists. And the ability to self-publish their tracks means they don't have to hand over a huge slice of their revenue to a greedy corporation.
2.5

Training Materials (Text, Audio, and Video)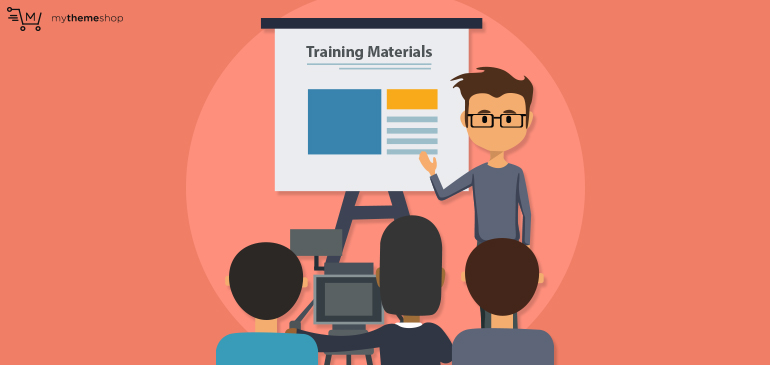 Training has always been a huge business. We live in a highly technical world, and gaining the right skills are essential if you want to advance your career. Learning new skills used to require a big commitment, it was expensive and time-consuming.
The internet made it possible for learners to dictate their own terms. They can study where they want when they want. It also reduced the costs for training.
The economics of digital products means that trainers can sell their knowledge at a lower price point and still return a handsome profit.
While professional training continues to be a big profit maker, there's a growing demand for all kinds of knowledge, from hobbies (like gardening or origami) to income generation, health and fitness advice, life skills, and much more besides.
2.6

Web Elements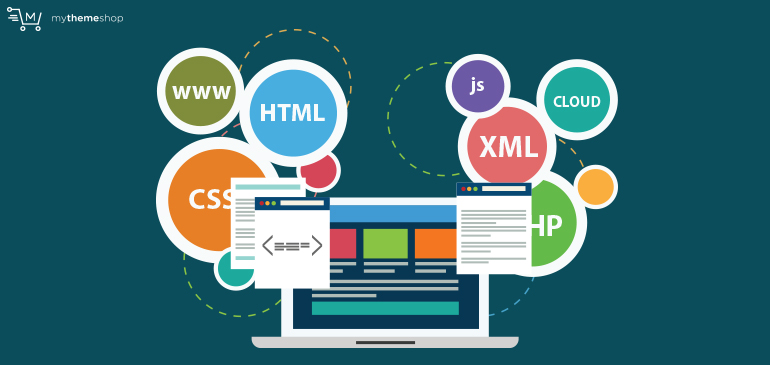 Building a website from scratch is very time-consuming. Hardly anyone does it these days. Instead, they build websites from a huge range of pre-built pieces such as CSS frameworks, JavaScript libraries, themes and plugins. Many of these components are free, but there's a very large demand for premium components.
This has created a big market for technical and creative individuals. If you have the right coding or design skills, you can build a very healthy business selling web components.
We've really only scratched the surface here. The term "digital product" covers a vast range of items, just like the term "physical product".
They all share one common feature, they're delivered in the form of data, encoded as electrical pulses and shipped through a wire.
2.7

The Challenges of Digital Products

If we've painted a rosy picture of digital products, we should point out that they come with their own set of challenges.

True, you can sell and deliver your products anywhere in the world, at any time (even in your sleep). But there are some practical considerations:
You still have to process payments.
You have to ensure that paying customers get their products fast.
You have to prevent non-paying customers (AKA thieves) from getting their hands on your product.
You have to provide customer support.
Some people will refund, you have to accept it, and deal with it quickly.
Ideally, you want to automate the process as much as possible. There's no need to manually process each order. It's painstakingly slow, and customers expect fast service.
You have a couple of options. You could join a digital product marketplace, or you can sell the products on your own site.
2.8

Marketplaces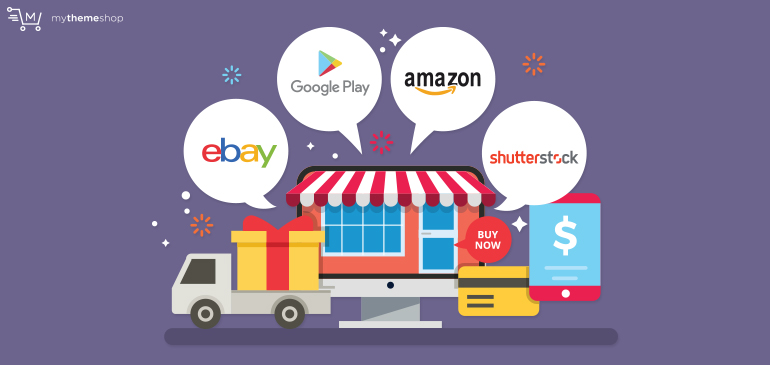 As digital products have become more popular, marketplaces have popped up to serve the demand. For eBooks, you have Amazon's Kindle store. For stock images, there's Shutterstock. iTunes dominates the music world, and Google Play is the go-to source for Android apps.
As a seller, there are some advantages to selling through a busy marketplace, there are some downsides too. First, here are some advantages:
There's a large audience of potential buyers.
You don't have to set up payment processing.
Delivery is handled for you.
These are great benefits! But, as with all things, there are some drawbacks too:
There are hundreds or thousands of competing product sellers fighting over the same set of customers.
The markets take a large share of your revenue.
You often have to provide full customer support.
For these reasons, the idea of selling digital products through your own site is quite attractive. But it's not easy to build your own product delivery system from scratch! That's why plugins like Easy Digital Downloads exist.
3

What Is EasyDigitalDownloads?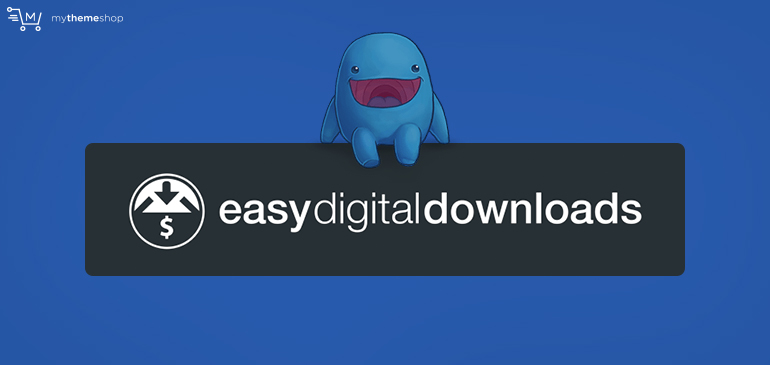 As the name suggests, EasyDigitalDownloads is a free WordPress plugin that makes it easy to sell digital downloads on your site. Simple names are often the best.
EasyDigitalDownloads (or EDD for short) allows you to use your existing WordPress skills to create download pages for your digital products. Creating a new product page is just like adding a regular WordPress page – with more options. If you prefer, you can insert "buy product" links into your existing content with custom shortcodes.
You can create multiple versions of your files (such as "basic" and "super deluxe") and sell them at different price points.
The core plugin also gives you the ability to create special deals and offers, with coupon codes. You have a wide range of control – you can set a start date and end date for your promotion. You can limit the number of times a coupon can be used. And you can restrict the number of times a single user can use a coupon.
You may want to offer a percentage based discount or a fixed fee one, EasyDigitalDownloads can handle both types with ease.
This degree of control makes it easy to tailor an attractive offer to your ideal customers.
The free plugin also includes fairly decent analytics and tracking. You can monitor sales and download usage across the boards, and drill into individual customer accounts to monitor their performance.
It also has a built-in shopping cart and integrates with PayPal. You can set your own "terms and conditions" which customers have to agree to when they make a purchase.
You can set taxation rates for different countries and regions, and EasyDigitalDownloads will set the right price for your customers. It will track all the tax information for you, reducing your accounting headaches.
Digital products and affiliate marketing go hand in hand, and EasyDigitalDownloads is designed to integrate with AffiliateWP.
If you're not familiar with affiliate marketing, the idea is simple. You invite other people to sell your product for you, in exchange for a commission. If someone sends you a customer who buys a product, you pay them a commission. Otherwise, you pay nothing.
The appeal of affiliate marketing is the ultra-low risk – if you don't make a sale, you don't have to pay out a single penny. For your affiliates, referring customers to you can be much more profitable than measly ad revenues. So it's a win-win proposal.
The whole process is streamlined and automated, from purchase to delivery, to paying your affiliate partners.
4

Add-Ons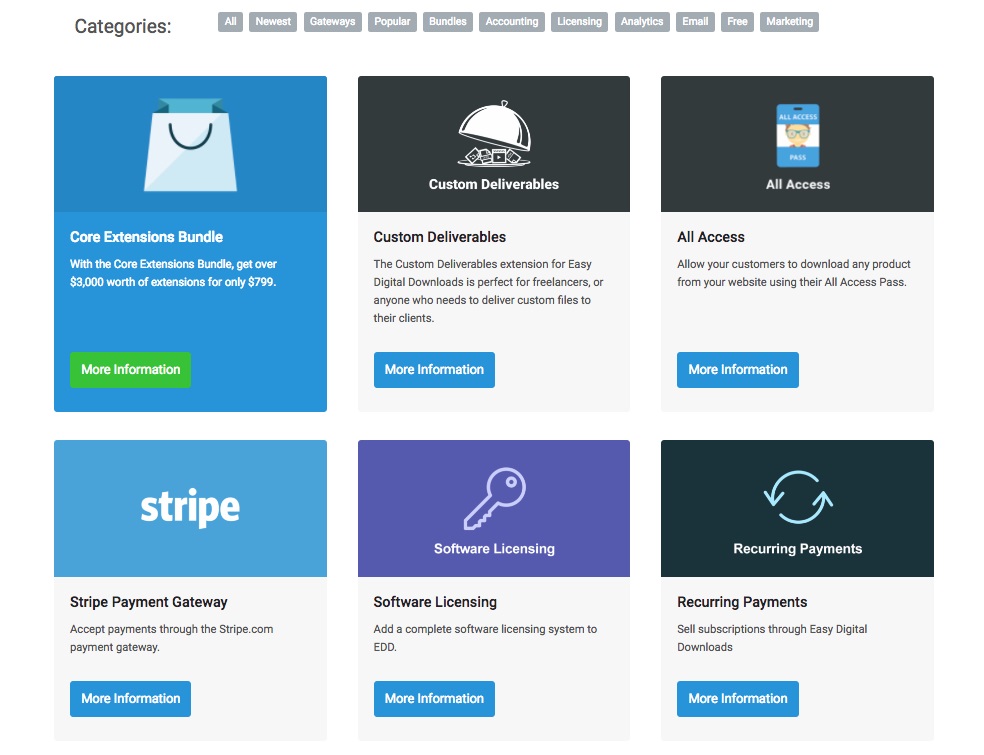 The core plugin ships with a decent set of features, but you can add more features through add-ons. You can code your own add-ons (which is time-consuming) or buy one from their marketplace.
Of course, this is how the company generates revenue.
In fact, the EDD add-on catalog is a digital product marketplace in its own right – most of the add-ons are created by third parties. The company reviews them to ensure they're secure and offer good value.
There are over 250 add-ons in the marketplace at the moment, and the number will continue to grow. Each add-on extends EDD's functionality, allowing you to add sophisticated features to your site.
Here are a few of the most popular add-ons:
1. Software Licensing
If you sell software, then piracy is a real risk. There are several licensing systems that are designed to ensure only authorized users can use your product.
The Software Licensing add-on integrates with the most popular licensing systems, allowing you to automatically deliver a license key to a new customer when they download your product.
2. Recurring Payments
The recurring payments add-on makes it easy to turn a one-time purchase into an ongoing revenue stream. This is ideal for training websites – if you have a large catalog of materials or are delivering an ongoing course, your subscribers will stay with you for months or years!
3. Alternative Payment Processors (such as Stripe)
Paypal was one of the first payments processors that made it easy for anyone to do business online.
Today, they face stiff competition from the likes of Stripe. Stripe and its ilk offer competitive processing fees and a simpler deal – ensuring you get to keep more of the money your customer hands over!
4. Mail Delivery Integration
Email marketing is a powerful way to generate more revenue from your existing customers. There are many email delivery services (including MailChimp, Aweber, and Sendy). The Mail Delivery add-ons make it easy to add new customers to a mailing list during the checkout process.
It's impossible to review every add-on in a single article. Suffice to say that you can implement virtually any feature you need using an existing add-on.
5

Themes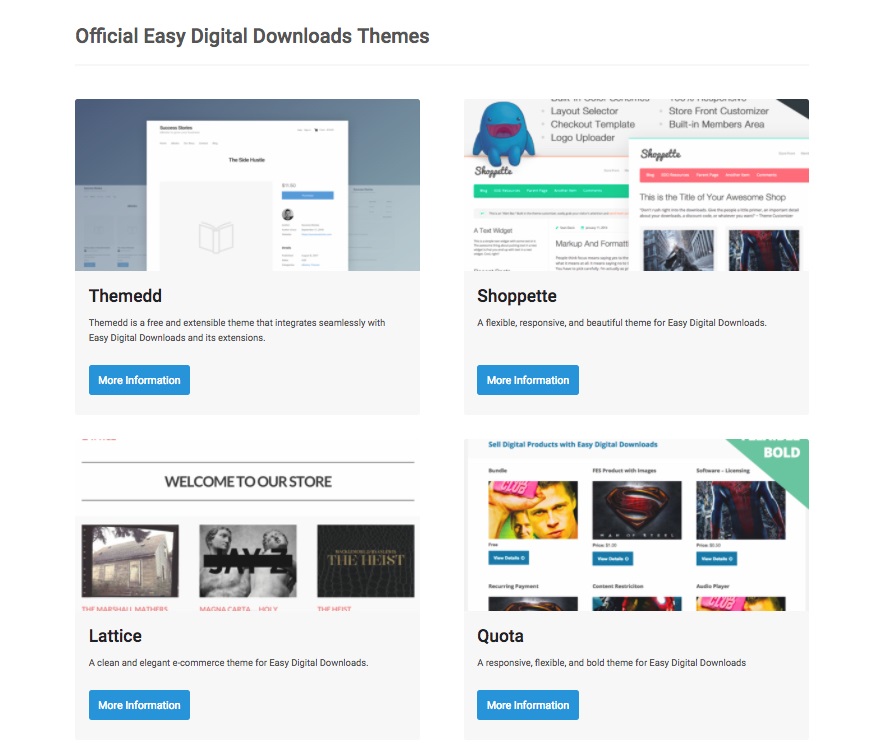 EasyDigitalDownloads also has a themes marketplace – these themes are designed for different industries and cover the most common types of digital product store. Of course, EDD is theme-agnostic (it will work with pretty much any WordPress theme).
6

Pricing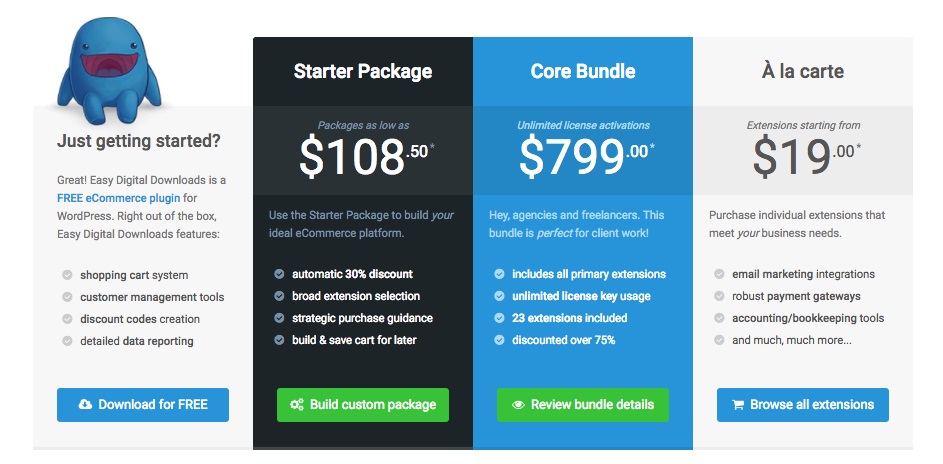 The basic plugin is completely free, in the fullest sense of the word. The code is open source, so you can freely peek at it without feeling pangs of guilt.
The free features are pretty compelling, and if you have modest goals, it may be enough.
However, EDD's creators have to keep the lights on one way or another! That's where the add-ons, themes, and packages come in.
If you only need one or two add-ons, you can buy them individually through the market. Prices range from $19 into the hundreds (for more advanced add-ons, naturally).
An alternative option is to buy a bundle of add-ons in one go. There are 2 bundle options:
The Starter Package gives you a 30% discount on the add-ons you select. There's a "strategic purchase guidance" form which helps you to pick the add-ons you need. The actual price depends on the add-ons you select.
The Core Bundle gives you an unlimited license to use all the primary extensions for $799. If you were to buy them separately, it would cost $1514 – and you would only be able to use them on a single site.
The Core Bundle license allows you to use them on as many sites as you want, including client sites.
Add-on support is only available to customers with a valid license key for the add-on in question. In other words, if you don't buy an add-on, you can't get support for it.
Support for the main Easy Digital Downloads plugin is completely free for all users.
7

Do We Recommend Easy Digital Downloads?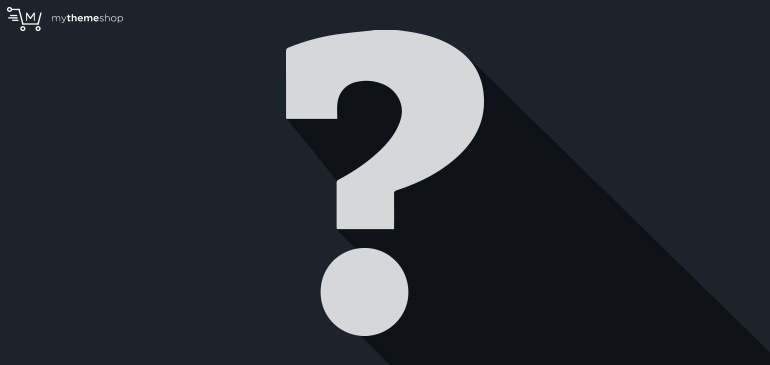 EasyDigitalDownloads is a solid product, and the free plugin offers plenty of functionality out of the box. If you need more features, you can add them using add-ons.
With so many available options, it's unlikely you can't find what you need. If that does happen, the core plugin has an extendable API – you can code the features you need (or pay someone to do it for you).
Selling digital products on your own site puts you in full control of your business, and it means you keep more of the money. EDD makes it much easier to get started.
You'll also be fully responsible for marketing your products – at the end of the day, if you don't know how to sell online, your products will just sit there, gathering dust.
That said, there are hundreds of profitable sales channels for online products, and it isn't hard to get started (a number of web hosts provide free advertising packages to new customers).
If you're unsure about selling digital products then you may want to test the waters in an online marketplace. Put together a "Minimum Viable Product" and test it to see if the fishes bite.
If you pick up a few sales in a busy marketplace, it means your product has merit and the demand exists. EasyDigitalDownloads will help you to build a strong profit stream that you control.