As WordPress has grown in popularity, the need for easier ways to implement certain functions became necessary in order for the CMS platform to continue to expand. One such function that many people wanted was the ability to easily create a forum within their own website.
Thus, the bbPress plugin came into existence.
bbPress has many great features, but one that some would like to implement is the ability to replace the traditional comment area under a blog post with a bbPress forum.
As luck would have it, doing so is rather easy.
Is Replacing WordPress Comments with bbPress A Good Idea?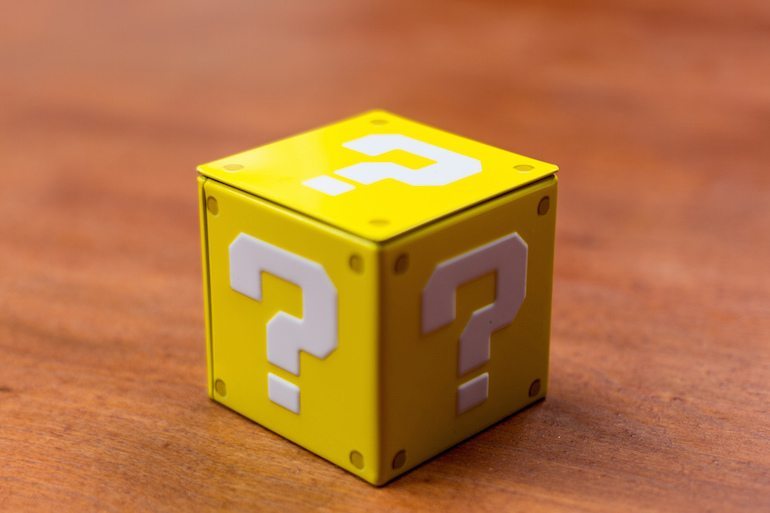 When it comes to changing the commenting structure in WordPress, everyone and their mother seems to have an opinion on whether or not it's a good idea. As that is the case, some people wonder if replacing the comments in a blog post with a bbPress forum is worth it.
Truth be told, there can be some benefits to doing this.
Why Use bbPress for Comments?
The biggest reason for doing this would be if you were trying to create more interaction on your blog or a certain post, in general. 
Another reason to at least try it out would be if you were going to be hosting an AMA (Ask Me Anything), as the forum structure is designed for that type of question and answer discussion.
Both of these can help you build your WordPress blog's following or an online community that's all your own. Pretty nice upside, yes?
There are a few steps you need to take before you can add a forum to the comments, but it's not as difficult as you may think.
How To Implement bbPress As Comments in WordPress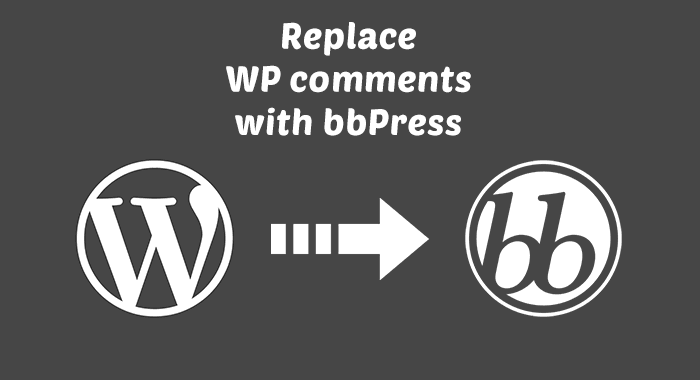 Before you can use bbPress as your commenting structure, you will first need to install and setup bbPress.
You don't need to go crazy with creating a whole bunch of forums (unless you want to), so just create one for now that you can use for your comments.
Now that you've set up of bbPress, you can get to change out the comments for a forum.
The easiest way to go about do this is to use the bbPress Topics for Posts plugin (free).
You can download it from the WordPress Repository or do a simple search for it in the backend of your dashboard by going to  Plugins → Add New and then entering the terms in the search bar.
Download and activate the plugin to get started. Next, navigate over to Settings → Discussion and scroll down the page a bit until you see this:

Next, check the box marked Create a New bbPress Topic and select the forum you created for this purpose.
Now decide how you want the post to show the forum:
Entire Topic
Replies Only
Only a Certain Amount of Replies
A Link To the Topic
Save your changes and you'll now have your designated forum appear under your posts.
From here on out, every time you create a new post the plugin will also generate a new Topic within that Forum and that new Topic is what will be displayed.
However, if you would prefer to use this type of layout on a case by case basis, then that is pretty easy to do as well.
Instead of going through the steps above, you should let them be (don't check any boxes).
When you've finished up writing a post, select the tab near the top right corner of your post Editor named Screen Options. In this drop-down menu, you will find a checkbox marked Discussion. Check the box and then scroll down near the bottom.
You should now see this new option: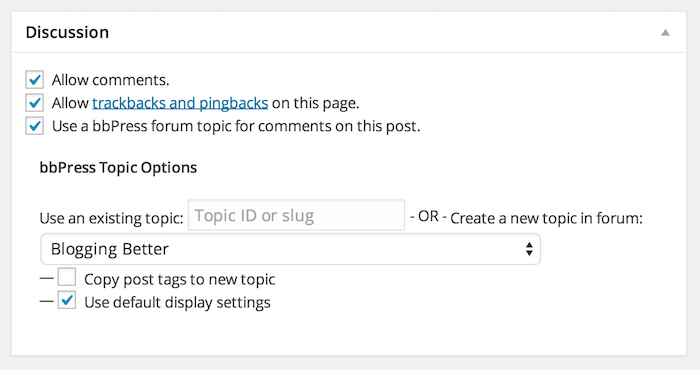 Make sure that the option to Use bbPress Forum Topic is checked and that the Allow Comments option is turned off.
Next, go through the Topic Options by selecting the Forum you wish to have Topics created under and then Publish or update your post.
On the flip side, if you want to completely replace comments with your bbPress Forums, then you'll want to turn off commenting completely through the options in the backend.
This will help keep things nice and tidy on both your site and in the backend of your WordPress site.