When you're new to WordPress, learning all of the little hacks and features built-in to the CMS platform can be a little bit daunting.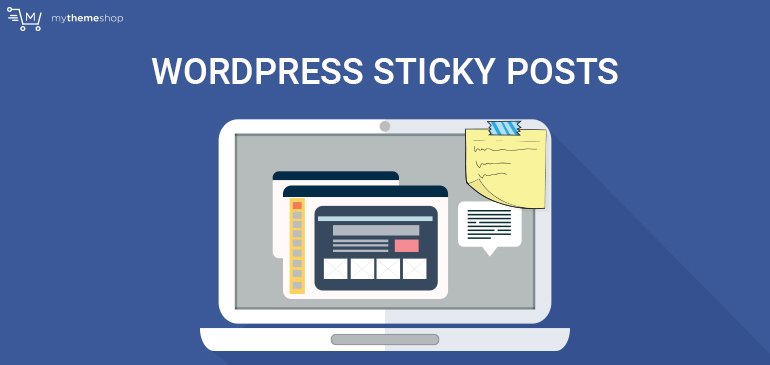 One feature that stands out a bit less but that is can still come in handy, is the Sticky Post feature in the WordPress Editor.
Simply put, a sticky post is a post that "sticks" to the top of an archive page like your blog post page.
So when you use this option on a post, whether you publish a new post every day or every week, that post, in particular, will always appear at the top of your post-stack – no matter how old or recent it might be.
This feature can be handy for a couple of things:
You can put the focus back on an older post to help boost views, traffic or conversion on that post
Putting your best content in front of your viewers so that it doesn't get lost in your blog feed
However, there are other reasons for using a sticky post. Here are some examples to give you an idea of how you can use them.
1

Examples of Posts That You Could Mark Sticky
1.1

Promotional or Give Away Posts: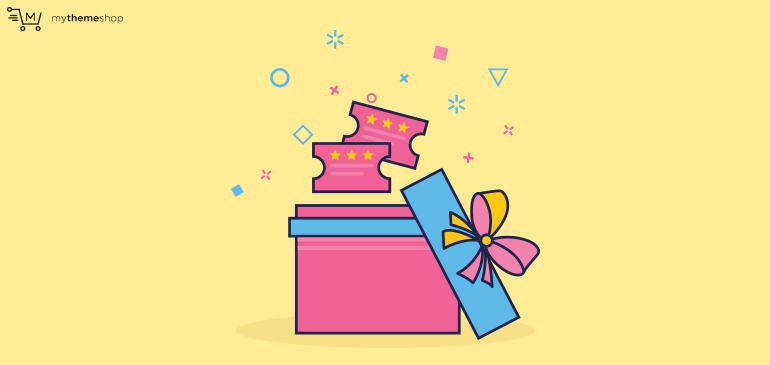 If you're running a week-long giveaway on your blog and your publishing frequency is one post per day, your giveaway post will lose all visibility right within 3/4 days of its publishing because your latest posts will push it down by several levels.
As people won't find it easily, there are chances that your participation will drop. A simple workaround is to make this post sticky.
Likewise, if you're launching promotional sales campaigns like Spring Sales and more, you can choose to make your promotional post sticky to ensure that it gets maximum exposure while the offer is live.
1.2

Critical News, Announcement or Update Posts: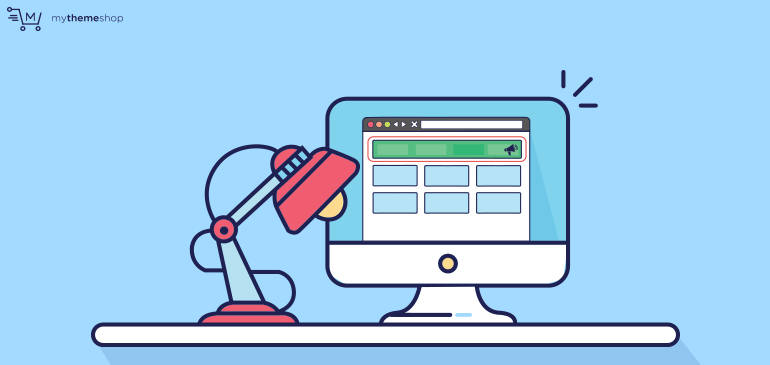 If you're releasing any critical updates to your products or if you're in the process of changing your terms of use, you can simply stick a post at the top of your blog and your readers will be sure to take note.
You can do this for general announcement posts too.
1.3

Pillar Content Posts: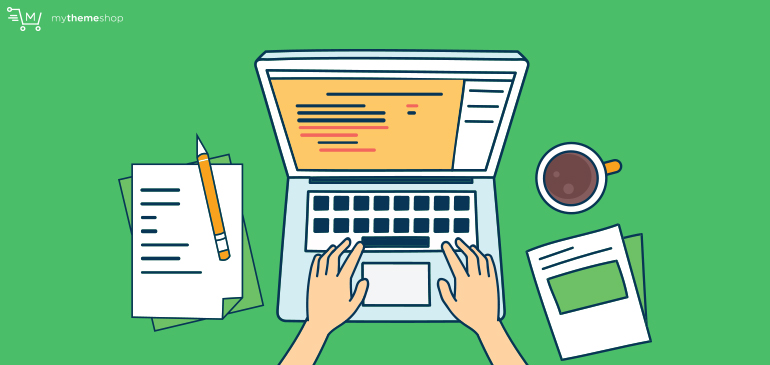 A blog's pillar content is the most relevant, the most shared and the most sought-after content of any blog.
But as newer posts are published, this pillar content gets somewhat bogged down.
Sure, you can create a page that compiles some of your best posts, but there's no way to be sure that readers will browse through this page and pick posts to read.
Catching them while they are on your blog is your best chance. Sticky posts give you a handy way to do this. Your pillar content can stay evergreen this way.
1.4

Weekly/Monthly Featured Posts: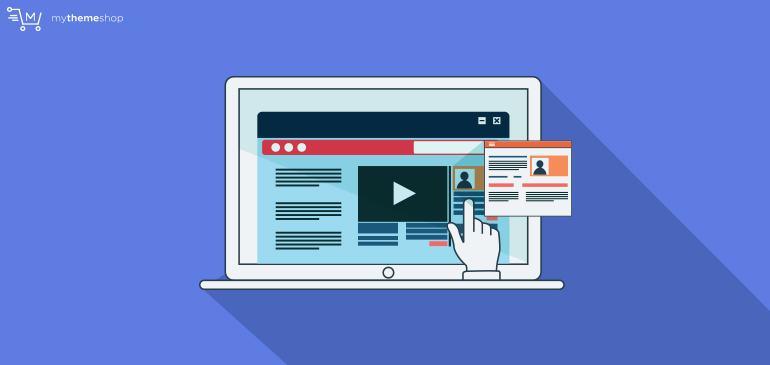 You can use the sticky post feature to show the most popular post of the month or week.
Alternatively, if you have a trend like "Throwback Thursdays" or similar, you can make these posts sticky to make it more popular with your readership.
2

How to Make a Post Sticky?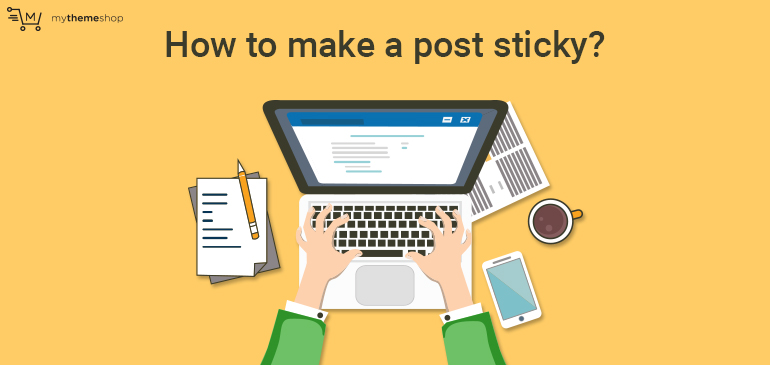 Bloggers prefer WordPress as it's highly intuitive. If you talk about basic blogging, there are very few features that need explanation.
Unfortunately, the sticky post feature is one that needs a bit of a walk-through in order to find and use it!
Here's how you can make a post sticky:
There are 2 ways to make a post sticky. Your first option is to edit your post's Visibility Settings in your WordPress Post Editor.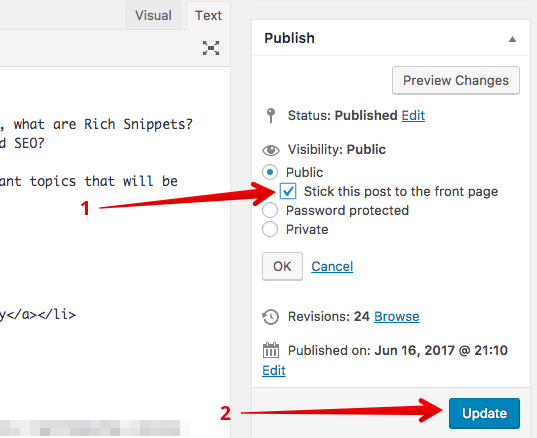 Off to the right in the WP Post Editor, there is the Publish box. Click on Edit under Visibility and you'll see the "Stick this post to the front page" option.
Checking this box and updating the post will make the post stick to the top of your blog post page
Your second option for doing this is through the Quick Edit option in the All Posts section of your WordPress Dashboard.

Find the post you want to stick to the top of your archives pages, click Quick Edit, check the box that says "Make this post sticky", and then update the post.
Now you're all set.
If this Sticky Post option was just a tad more visible, I'm sure that the whole sticky post idea would have been more popular and more widely known
And while we are discussing WordPress sticky posts, we can't miss mentioning these 2 amazing WordPress plugins.
Ace developer Tom McFarlin has developed them. They are pretty handy and will help you maximize the default WordPress sticky post feature.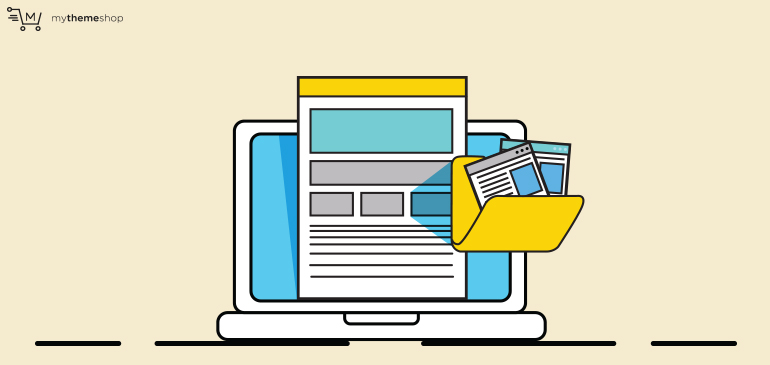 A blog can have multiple categories. And all the people who visit it aren't interested in all of them.
Suppose you run a blog about SEO, and your categories include ones like On-Page SEO, Off-Page SEO, Keyword Research, Link Building and so on.
Now if you only use the default WordPress sticky feature, all that you can do is pick one post from your blog archives and mark it sticky.
If a user navigates to some category of his interest, he'll still see the same universal sticky post. Here is where this plugin steps in. It lets you make posts sticky category-wise.
So, you can make a particular post in the On-Page SEO category sticky while marking some other post sticky for the Keyword Research category.
With this plugin, you can ensure that category-wise relevant posts gain the maximum visibility.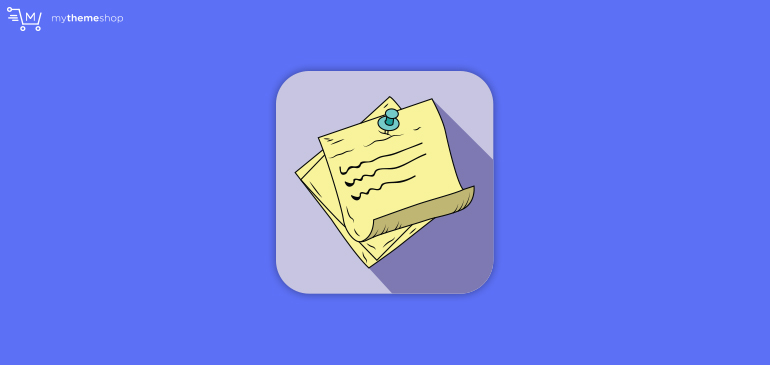 I'll loop back to the same SEO blog example. Imagine that you're using tags to further help readers in filtering your content.
You can have tags like Google Analytics, Keyword Tool, Mobilegeddon and so on…
Tag Sticky Post lets you select a sticky post per tag. So you can make your upcoming Google update post sticky for quick reference to all the people who are interested in that tag.
You can add custom CSS to both these plugins to control how your sticky posts appear.
3

WordPress Sticky Posts Versus Featured Content

WordPress themes often come with support for featured content these days. It's easy to confuse WordPress Sticky Posts with a theme's featured content.

Featured content is the content that is featured or displayed on the front page of a theme — mostly the homepage. Featured posts/content is not a default WordPress functionality.

In fact, it's a feature of a theme. If you want to always promote some of your posts right on the homepage, you should get a theme that supports featured content.
4

WordPress Sticky Posts Vs Promo Bars Vs Sidebar Featured Content (Widgets)

While I was suggesting some post types that you could make sticky, quite a few of you might be thinking that oh, it's so possible by just sticking a promo bar or a sidebar widget.

While you're right in thinking so, but quite some people shut out the promo bar without even trying to read.

The sidebar widgets help, but again, you can't make them point to just one post. It'll look kind of weird.

And adding multiple posts will never really put the spotlight on the one post that's the most relevant or the popular within a particular category or context.
5

Conclusion

So, here's all that you need to know about WordPress sticky posts. You can use this functionality to show important and pillar articles to your users.

What kind of posts do you mark sticky? And how do you benefit from them? We'd love to know in the comments.