What is WordPress?
Well, for a layman, we would say, it's one of those simplest and easiest platforms to build your own website without much technical knowledge.
And yes, that includes all the messy and geeky code, you need not know any of it, and you could still create your own beautiful and professional looking website by following some quick video tutorials.
At its core, WordPress is written in PHP. It is an open-source CMS (content management system) that is licensed under GPLv2. This means everyone and anyone can use or modify the WordPress software code for free.
As per the current statistics, WordPress has nearly 34% market share, which means, it powers 34% of all the website which are there on the web. This is a huge number for an open-source platform.
What kind of websites can you build using WordPress?
If you had asked the same question 3-4 years back, the answer would have been a little different. Earlier, WordPress was just preferred to create blogs.
As we are discussing this today, there have been multiple updations introduced to the core system in WordPress. Thanks to the amazing community members, WordPress today has an amazing collection of high-quality free themes and plugins using which, you can make any type of website on the web with little to no technical knowledge.
Though it was mainly used for creating blogs, today, it provides a robust system using which you can even set up your professional ecommerce store on WordPress using WooCommerce.
Here are the different types of websites that you can create using WordPress:
Blogs
Business websites
Social networks
Resumes
Forums
eCommerce stores
Portfolios
Membership sites
Magazine sites
Viral sites
We have a really awesome collection of high-quality WordPress tutorials that you must check if you are starting as a beginner.
WordPress.com vs WordPress.org – What's the Difference?
We already have a separate article on the topic that you can check by clicking here.
Now that you have a fair idea about what WordPress is and what kind of websites you can make using it, you need to understand the difference between the two WordPress systems – WordPress.com and WordPress.org.
WordPress.com – It is a platform where you can create a website for free at absolutely no cost. You don't have to buy a domain or hosting. Your website would look like – https://www.YourWebsiteName.wordpress.com, where "YourWebsiteName" could be any name you choose while setting up the website. There are some restrictions in this system, such as WordPress will keep a certain portion of the money that you earn from the ads. Also, you won't have the ownership of this property.
WordPress.org – This refers to the self-hosted WordPress, where you can set up a website from scratch. Also, you'd have full ownership of your website. It would look something like this https://www.YouWebsiteName.com.
Top Features of WordPress
Just to make sure you don't confuse between WordPress.com and WordPress.org, we are covering the features of WordPress.org that is used on a self-hosted site.
1. Ease of Use
There are many different CMS platforms like Joomla, Drupal, etc. We can say it with 100% confidence that WordPress is the easiest one to use. The reason being its easy to sift through the platform. The interface is pretty clean. Even a novice could understand from the first glance how to create different pages, posts, or change the specific website settings with just a few clicks.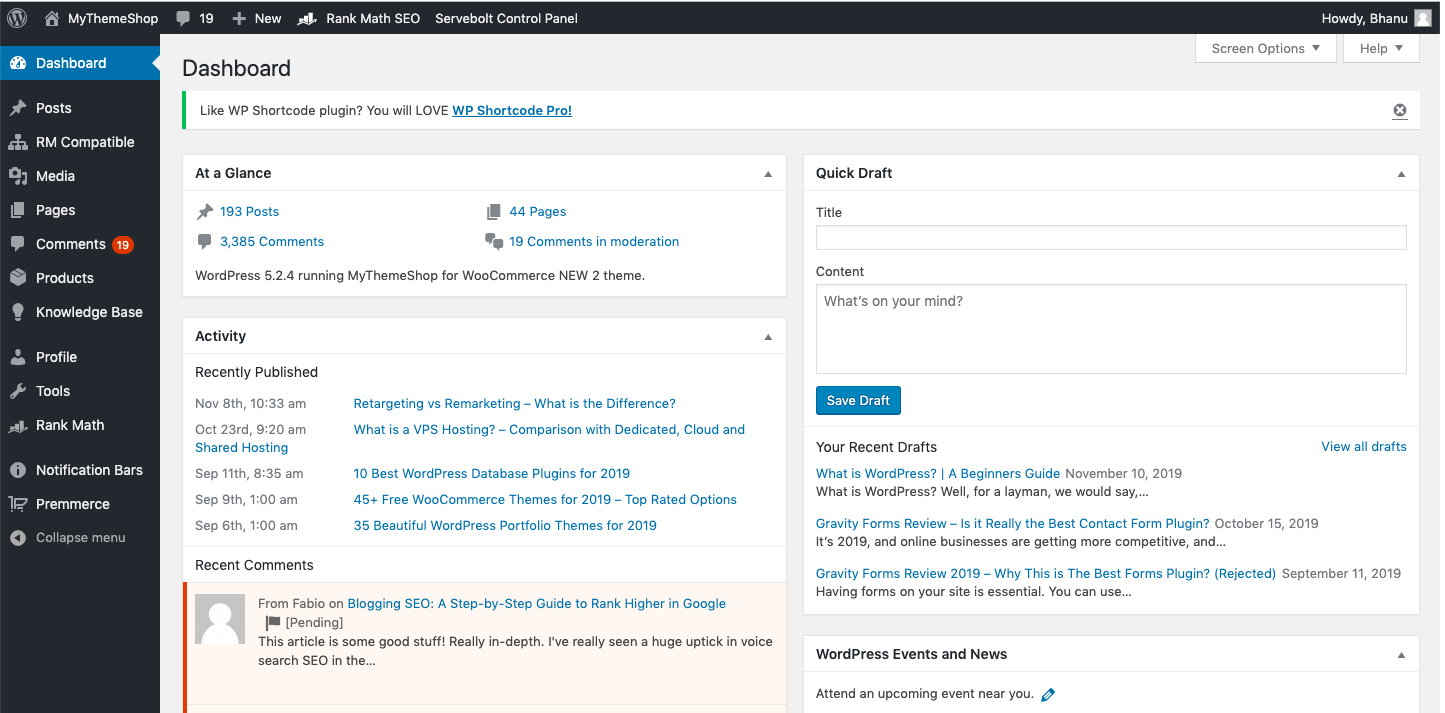 2. Ready to use designs and themes
The best part about WordPress, which makes it so popular, especially for blogging, there are a ton of themes that you can explore and use for your website. It would take less than 10 min to give a stunning design to your website. You can either use a free theme or purchase a paid one. The main difference is that paid themes are generally optimized and properly coded. They have additional features as well – you would get great support from the theme developer.
3. Plugins for adding extra functionality
Since WordPress is an open-source platform, you would get a basic architecture to set up your website. However, if you want to add certain features to your website, you could simply do that by installing the WordPress plugins. Plugins are packages of code which enhance certain functionalities on your website. You can download and install them from the WordPress repository.
4. SEO
It is funny that we take so much effort to create that stunningly amazing website and still can't drive visitors to it. In WordPress, SEO or search engine optimization is really fast and easy. You can use our popular RankMath SEO plugin, which is already loved by more than 100,000 website owners. It is free, easy to use, and works better than any other SEO plugin, period! This way, you would be able to target the right keywords and drive a huge traffic to your website.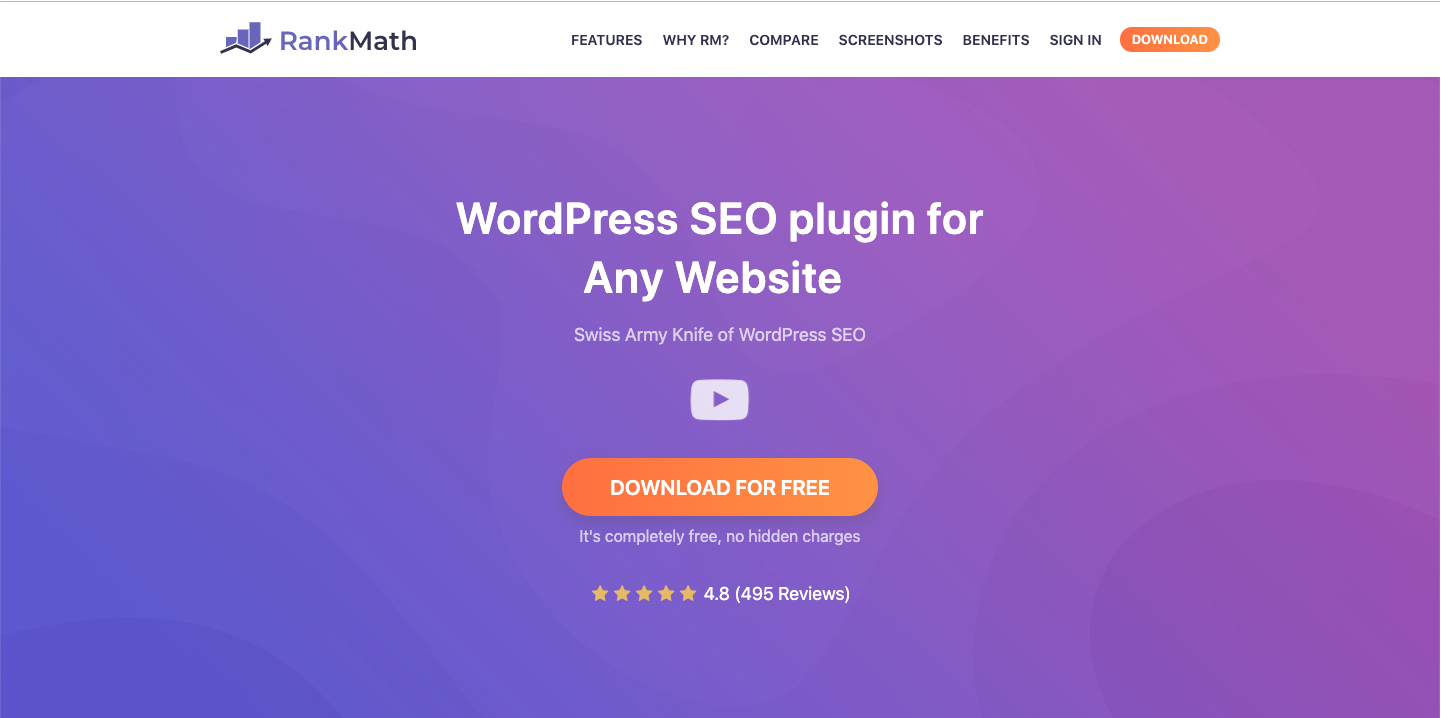 5. Support
Since it is a community-driven software, you can get all your queries and doubts cleared from thousands of WordPress enthusiasts. All you need to do is go to the WordPress support forum and ask your doubt.
There are so many WordPress experts out there who would love to help you. It is similar to asking something on a Facebook post and getting instant responses from your friends.
6. Mobile Responsive
If you ask a web developer to create a website from scratch along with the functionality of being device responsive (tablet, mobile, desktop), it could cost you thousands of dollars. However, on WordPress, the same is taken care of by the WordPress theme developer.
Nowadays, majorly all the WordPress themes that are released by the developers are mobile responsive by default. That means you are getting a fully functional responsive website for free or at an absolutely low price. Isn't it really amazing?
7. User Management
Not everyone would require the same access to your website. Usually, a site should have just one Administrator who could define user roles for everyone else using the WordPress dashboard. On WordPress, apart from the Administrator, you can define user roles for an editor, author, contributor, and subscriber. You can know more about WordPress user roles in this guide.
8. Built-in Comments
Since your site should give your users a chance to interact with you, WordPress has a built-in comments sections using which you can know the views of your audience about your website.
It is an amazing way to engage with your audience and further add value for them.
Popular websites on WordPress
1. Techcrunch
2. Time.com
3. The New Yorker
4. BBC America
5. Van Heusen
6. The Next Web
7. Fortune Magazine
8. Outbrain
9. Wired
10 TED Blog
Final Thoughts
No doubt, WordPress is an amazing way to create websites. You just need a domain name and hosting. Usually, most of the hosting providers give a cPanel using which you can install WordPress and create a site.
The best part about WordPress, you don't need to be tech-savvy. You can easily do a good job having some basic understanding of HTML and CSS.
You can literally create a website on WordPress in just 30min. So be it personal portfolio, company website, or a food blog, you can create any type of website.
To conclude this post, we'd suggest you do not think twice. Use WordPress and create your amazing website.
Also, do share your website in the comments section below. We would love to take a look at it, and this would certainly give us that additional boost to come up with more such amazing posts in the future.