Whether you are creating a personal blog or an eCommerce website, it's integral that you choose the right website builder. However, this is not an easy task, especially if you have no prior experience in web development.
Fortunately, with WIX or WordPress, you can build an exquisite website without the need to hire a developer.
These two powerful and reputable tools share a common goal, and that is to help users create amazing websites in a simple manner and without wasting the much needed time that you would use to do other things.
It's important to note however, that these two website building tools are totally different when it comes to features, user experience, and website designing. So which tool is right and best fits your project needs?
In this in-depth article, we compare WordPress vs WIX website builders. We will look into the key features as well as the deciding factors.
Before we dive deep into the details, let's start with an overview of each.
1

What is WordPress?

There are two different WordPress versions. Hosted WordPress that's available at wordpress.com and Self-Hosted WordPress that's available at wordpress.org.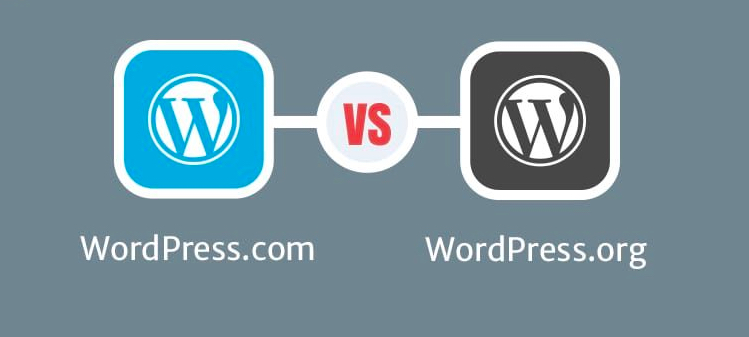 So when we talk about WordPress, it's good to be specific on which version we are referring to. Let's look at the difference between the two.
1.1

Hosted WordPress

Like we mentioned above, this version of WordPress is available at wordpress.com. It's a SaaS (software as a service tool) for website building and maintenance.

It's also 100% free. However, the free version is limited in features. For you to access a broad range of features such as email support, custom plugins & themes, unlimited themes, and SEO tools you need to select your preferred plan and pay a monthly subscription.

With hosted WordPress, you do not need to buy any hosting service because your site is hosted on WordPress servers. Additionally, you get unlimited out-of-the-box functionality.

However, despite its SaaS nature, hosted WordPress is a tad less of an all-rounded website building solution. This is because you have to bank on third-party plugins and themes to enhance the look or functionality of your website.

Let's now look at the self-hosted WordPress.
1.2

Self-hosted WordPress

Self-hosted WordPress, on the other hand, is a content management system (CMS) downloadable from wordpress.org. It's free and to use it, you need to install it on your web hosting server.

It's also an open-source, which means anyone can contribute or alter the source codes to their advantage. This makes self-hosted WordPress sites highly customizable and can thus be modified to meet any website design requirements.

However, despite the power and flexibility it offers, it's vital to note that you do not have to code in order to create and maintain your website on this platform.

For instance, if you are new to web design, you can use third-party editors like Divi for visual editing in place of CSS and HTML. You can also use a tool like Gutenberg for page layouts and content posting.

The thing about self-hosted WordPress is that unlike Hosted WordPress or WIX, you'll have to spend a little more time to learn its ins and outs.

Here are some crucial tasks you'll need to carry out when creating a WordPress website. You'll need to:
Register your domain
Select a hosting service
Download and install WordPress from wordpress.org
Source for a theme
Add the required plugins
Map your domain to your website
As you will realize later in the article, WordPress has a steeper learning curve compared to WIX.
2

What is WIX?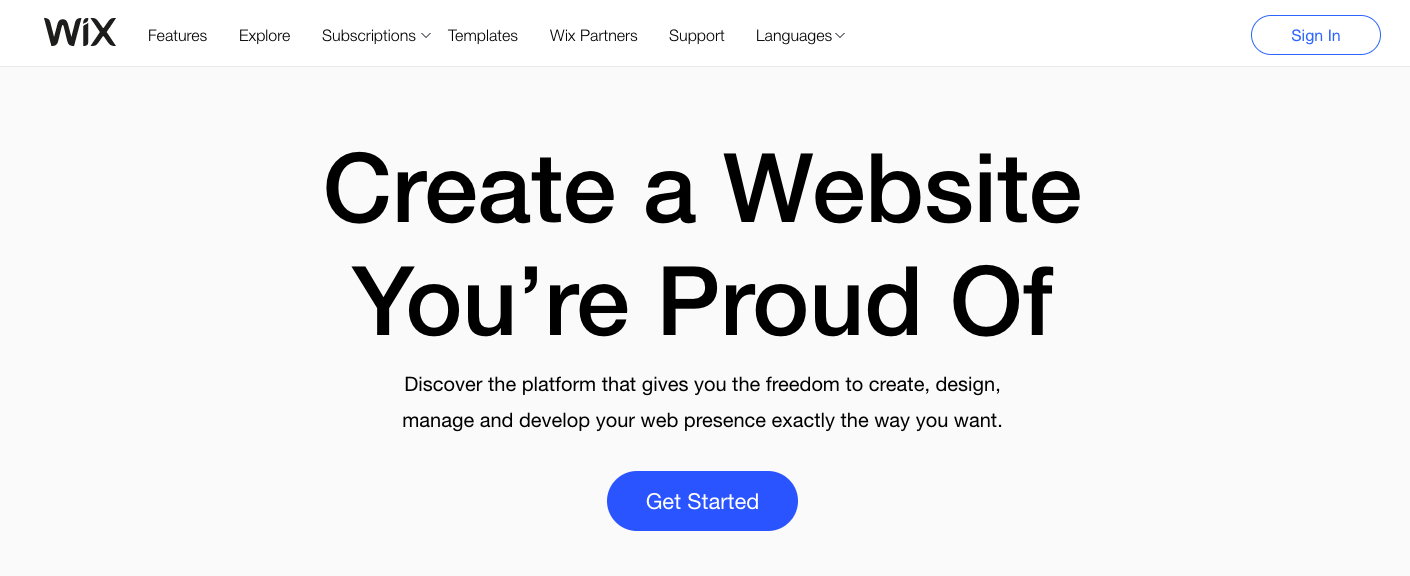 WIX is a freemium cloud-based website building and design platform. It's one of the easiest to use platforms for beginners and non-coders.
As opposed to WordPress, WIX is an all-in-one platform. This means that you can get everything you need to build and maintain your website. This includes domain name, website hosting, e-commerce functionality, CMS, templates, and the necessary support.
To get started on WIX, you can use the WIX Editor or the Wix ADI mode. With the WIX editor, you can choose a template, craft a design for your website, and then fill it with content.
The WIX ADI, on the other hand, uses artificial design intelligence (ADI) to auto-create a customizable website with text, images, and video content. Both of these tools are ideal for people with no prior experience in website design.
3

Hosted WordPress vs WIX or Self-Hosted WordPress vs WIX

In the spirit of healthy competition, this article will be comparing Self-Hosted WordPress to WIX.

Our decision to use self-hosted WordPress instead of hosted WordPress is because self-hosted WordPress is a more powerful platform and requires more work to set up as opposed to hosted WordPress.

This makes it a worthwhile contestant to an all-in-one platform such as WIX.

Now let's see how both of these website building platforms compare.
3.1

WIX vs WordPress: History and user base

When deciding on the best platform to use, it's vital to look at its user statistics and history. A larger user base means a huge availability of resources such as blogs, tutorials, plugins, themes, apps, and support options.
WordPress
Founded way back in 2003, WordPress is the fastest growing CMS, with over 37 million websites powered to date and over 500 websites developed daily.
Given that's it's open-source, it has a large and active community of independent contributors who constantly develop new products like plugins, themes, and extensions.
WIX
Founded in 2006, WIX powers over 3.3 million websites and is one of the largest website building platforms today.
Despite WIX having a lesser user base than WordPress, it's one of the most stable, feature-rich and user-friendly website building platforms ever created.
The bottom line, however, is that both platforms have a rich following and they are there to stay.
3.2

WordPress vs WIX: Pricing

When it comes to making a decision on which platform to use for building your website, one important factor that you need to look into is the cost which, more often than not, is dependent on the plan you choose.

It is, therefore, important to have an in-depth understanding of what you'll be paying for once you decide on a particular platform. This is very crucial as this costs may escalate over time.
WordPress costs
Like we mentioned earlier, downloading and installing WordPress on your web server is totally free. However, to get your site off the ground, there are a number of things you'll have to spend some bucks on since WordPress is a self-hosted platform.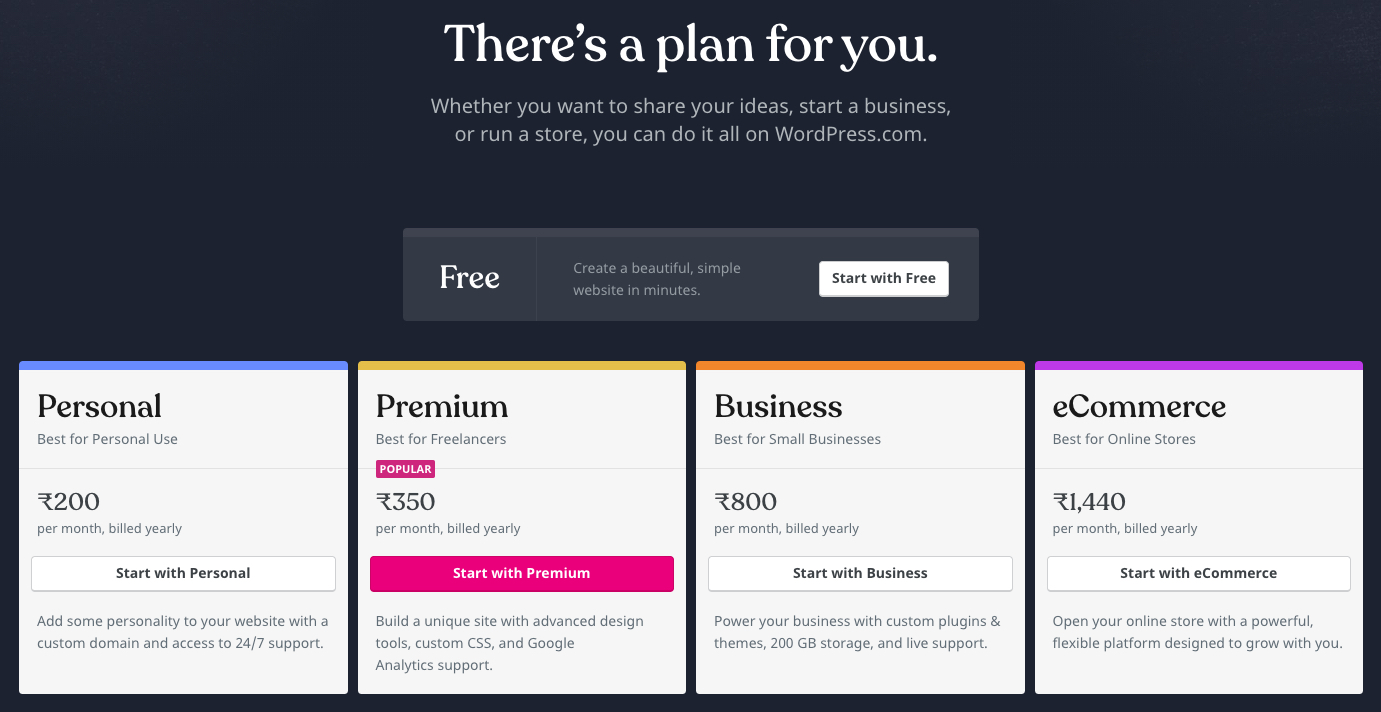 They include:
Domain registration
Web Hosting
Plugins for added functionality
Themes
E-commerce integration tools
You may also decide to hire a web designer and developer if you have little coding experience to assist and hasten the implementation of the project.
With WordPress, you do not have a set of premium plans to choose from. However, based on your requirements for the project, you can choose a plan from your hosting provider.
For example, a hosting provider such as Bluehost (a wordpress.org recommended hosting service) normally charges $7.99/month (current offer $2.65/month) for WordPress hosting in their basic plan.
Then there are premium SEO ready WordPress themes that you can get from MyThemeShop for as little as $19. But you can also consider using free themes which are equally good with some limited features. FYI, our Schema theme is well know amongst newbie bloggers.
For en ecomerce site, you'll need plugins and extensions so that you can be able to add some specific features on your site. You can get these from WooCommerce and can cost as much as $200.
WIX Costs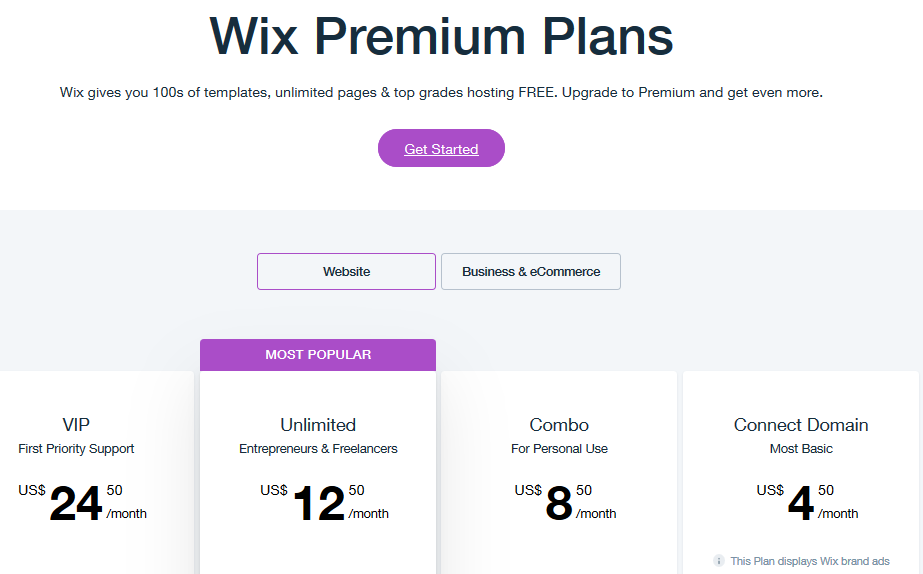 Unlike WordPress, WIX is an all-in-one website builder. Everything is included in one package:
Hosting
Themes
Apps
Customer support
E-commerce
With WIX, all you have to do is sign up on their website and start building your website. You can choose to either go with the free package or one of their paid plans.
Let take a quick look at their premium plans and how much it will cost you. Important to note is that their paid plans vary location wise.
Connect Domain (most basic) – $4.5/ month
Combo (for personal use) – $8.5/ month
Unlimited (for entrepreneurs and freelancers) – 12.5/month
VIP (you get first priority support) – 24.5/ month
WIX also offers premium e-commerce plans for users who want to run an eCommerce website. They include:
Business Basic ( for accepting online payments with no commissions) – $17/ month
Business Unlimited (commission-free online payments, ten video hours, and professional logo) – $25/month
Business VIP (you get a full suite that includes 100% commission-free online payments, unlimited video hours, no WIX ads, priority response, VIP support and unlimited bandwidth, among others) – $35/ month
The free plan gives you access to a number of website building tools such as the WIX Editor, ADI, and templates.
The thing, however, is that, with the free version, you cannot create a professional website unless you want to live with very annoying WIX ads, low bandwidth, and storage. Apart from that, you cannot use a custom domain name.
If you are opting to use the WIX platform to build your website, we recommend that you choose one of their paid plans. All in all, their prices are considerably lower than those of WordPress.
However, pricing should not be a major determinant here as there are other features and functionality that you need to put into consideration when comparing WIX vs WordPress such as templates, e-commerce functionality, ease of use, content management, and many more.
3.3

WordPress vs WIX: Ease of Use

One of the key differences between WIX and WordPress is the ease of use and control.

With WIX, the process of putting a website together is pretty straightforward and similar across the board. Thanks to the drag-and-drop options (Wix ADI, WIX Editor, and Corvid), pre-made templates, and pre-made templates, among many other features.

In practice, working with WIX is similar in complexity to using Microsoft PowerPoint. You just add or edit the content you'd like and then tailor it accordingly.

Another key difference is that with WIX, you manage and make your edits on the front-end, which allows you to see all the edits on your screen.

WordPress, on the other hand, uses a back-end interface to edit content. What this means is that you'll have to keep switching between the editor and published website to see how everything looks.

In the past, the process of adding content to your website involved the use of a WYSIWYG editing tool. However, since the recent launch of the Gutenberg editor, you can now drag and drop elements in your web pages.

By contrast, most things in WordPress are abstracted away from the page. WIX, on the other hand, allows you to edit and view changes live on the website visually.

Overall, it's fair to say that WordPress presents a slightly more cluttered interface than WIX and a more sophisticated website building process.

On the contrary, WIX presents a friendlier interface and a less complicated website building process, making it an ideal choice for novices.
3.4

WordPress vs WIX: Themes and plugins

If you are creating an unconventional website with unconventional features, WordPress is the way to go. However, if you want to go conventional, WIX is your guy.

But what does an unconventional mean? Take for example, a photo gallery that scrolls from left to right. This is an unconventional feature that you wouldn't be able to find on a platform like WIX.

On the other hand, it's easy to find this feature on WordPress thanks to its rich and diverse ecosystem that has over 50K+ plugins. What this means is that, regardless of the feature you have in mind, there is a plugin that can accommodate it.

Some examples of plugins include:

Buddypress: A special plugin that is used to transform your site into a social network.

bbPress: The plugin allows you to add discussion forums on your site.

Redirection: Manages 301 page redirects.

RankMath: It is our Ninja SEO plugin that adds Meta-titles, canonical URLs, XML sitemaps and what not. We already have more than 1,00,000 installs of the plugin. The best part, it is absolutely free.

WIX, on the other hand, covers all these features. It also makes it much simpler than WordPress.

For instance, if you enter your search for something like "photo gallery plugin" on WordPress, you'll get hundreds of plugins. But the main problem here is knowing which plugin is the best.

With WIX, you do not need to go searching for a plugin since everything is contained within one place, making it easier and faster for you to set up your website. So you won't waste your mornings trying different plugins checking for compatibility.

When it comes to themes, WordPress offers more than 11k+ themes, which is in excess of the 500+ themes that WIX offers.

Well, despite the many themes that WordPress offers, compatibility issues are not uncommon, given that most of them are not made in-house. WIX themes, on the other hand, are made in-house, and it's unlikely to run into compatibility issues.

Theme customization on both platforms is straightforward. On WordPress, it's done through a customization tool (Customizer) that allows you to make style customizations and reveal style options.

WIX, on the other hand, employs an entirely different approach. You can grab, move, select, and customize elements on the fly.
3.5

WordPress vs WIX: Mobile Compatibility

Mobile is taking over the search marketing world. As such, this has had a great influence on web design, necessitating users to look for tools that they can use to edit their websites while on the move.

Both WordPress and WIX offer handy mobile tools that you can use to manage your site projects via a mobile device.

WordPress offers the WordPress app on both iOS and Android. The app lets you post content, edit posts, upload media files, monitor traffic, check blog post views, and view site stats. Along with that, the app has a functionality that allows you to receive push-notifications when there is on-site activity.

WIX also has a mobile app known as the WIX app that's available for both Android and iOS devices. The app lets you manage your online store, manage events, publish blogs, edit posts, change elements, view web stats, adjust photos, and start live chats with your site's visitors.

Overall, both apps are great. But the WIX app does it better, especially when it comes to e-commerce and chatting with your customers.
3.6

WIX vs WordPress: Multi-Lingual Sites

Both WIX and WordPress accommodate the creation of multiple versions of your site in different languages.

WIX, for example, has a special feature called "WIX Multilingual." Once this feature is turned on, all you have to do is select a language and then populate.

Worth to note, however, is that it's not possible to translate every site component. Some of these elements include Wix apps, Members Area, third party apps, Wix business solutions, and any content added onto the site using Corvid.

With WordPress, the process is a little different. You have to create a separate website for each language. All you have to do is install the WordPress Multisite feature or install the WordPress Multilingual plugin for $79.

As with most other things on WordPress, you'll need to put in more work as compared to WIX. So as far as setting up a multi-lingual website goes, WIX is a great option, especially to newbies who need fast set up and functionality.
3.7

WIX vs WordPress: E-Commerce Functionality

Building an e-commerce website is not as easy as it sounds. But with WIX, the process is a little bit simple and fast thanks to the integration of online shop templates and other services.

Some core e-commerce features and functionalities offered on the WIX platform include:
Online selling of digital and physical goods/products
Users can sort and filter items
Track product information
Customers can get real-time shipping calculations
Use POS functionality via Square
The WIX platform is pretty easy and fast to learn even for novice users. You'll also realize that setting up payment options as well as adding products is quite straightforward.
Worth to note is that you'll need to subscribe to one of WIX's "Business & eCommerce" plans to get access to online selling capabilities.
Distinctively, WordPress lacks in-built e-commerce functionality. Instead, you need to opt for a third-party plugin or tool such as WooCommerce, Shopify, Ecwid and many more. What this means is that the e-commerce features on your site will be dependent on the plugin you will choose.
Generally, you can choose the solution that serves you regardless of whether you will add plugins or not. However, if you need an all in one eCommerce solution, WIX is our best choice.
3.8

Wix vs WordPress: Data Capture
WIX
When it comes to data capture, the WIX platform enables you to create custom forms thanks to the FormBuilder app. These forms allow you to send mailing lists as well as let users reach out to you.
The captured data, including contact data, is auto-added to your website's contact list. This allows you to follow up on all user interactions on your website.
What's more, there's an e-mail marketing functionary that allows you to send up to 3 newsletters per month.
This free and generous addition gives WIX an upper hand compared to WordPress, which offers none of these features for free.
Another great thing with WIX is that you can connect your site to a third-party e-mail marketing provider such as Aweber or Mailchimp.
WordPress
WordPress, on the other hand, lacks data capture forms. As always, you have to look for a compatible plugin in order to create data capture forms. A good plugin that we would recommend is Gravity Forms.
With a good plugin, you'll realize that WordPress offers a lot more when it comes to data capture. For example, you can implement file uploads and conditional logic on your forms.
The data captures can be exported to CSV for easy mailing thanks to the plugin's built-in functionality. You can also use email marketing tools like Mailchimp to hook up your data forms.
3.9

WIX vs WordPress: App Integration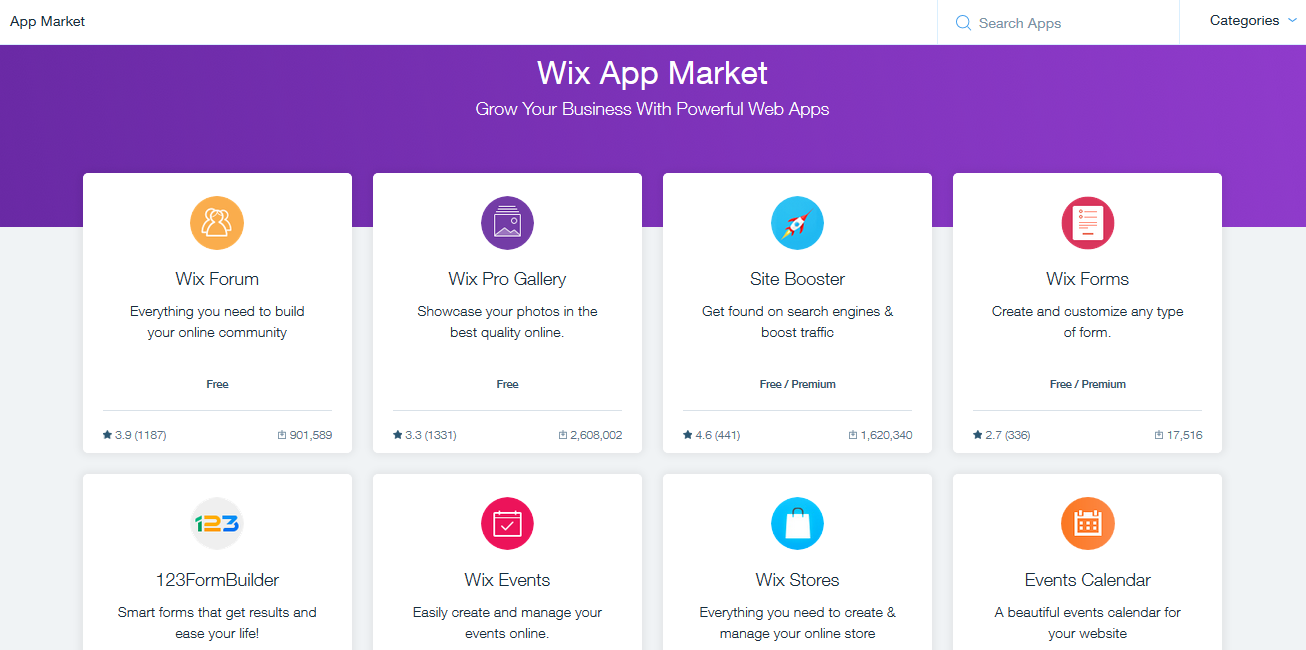 WIX offers more than 250 free and premium apps that you can get via App Market. Most of these apps are developed WIX, while some are third-party.
To use some of these apps on your site, you might need to pay a monthly subscription. However, there are some that follow the freemium model. This means that you can use the app, but access to some features will be limited.
What so impressive about the Wix App Market is that it's very simple to use and has loads of other features that you can add to your website. Such as live chat, forums, calendars, and events. You can also add widgets using HTML block from third-party apps.
WordPress, on the other hand, is a winner when it comes to app integration. Being an open-source platform, it offers thousands of plugins in its directory. There's very little chance to lack a WordPress plugin for nearly anything.
It's also easy to customize a WordPress site, and hence you can tailor it to integrate with other apps.
3.10

WordPress vs WIX: SEO Integration
WIX SEO
WIX provides one of the best SEO (search engine optimization) functionality. You can carry out key SEO tasks such as creating 301 redirects, adding meta-texts and descriptions, URL edits, and header code meta-tags.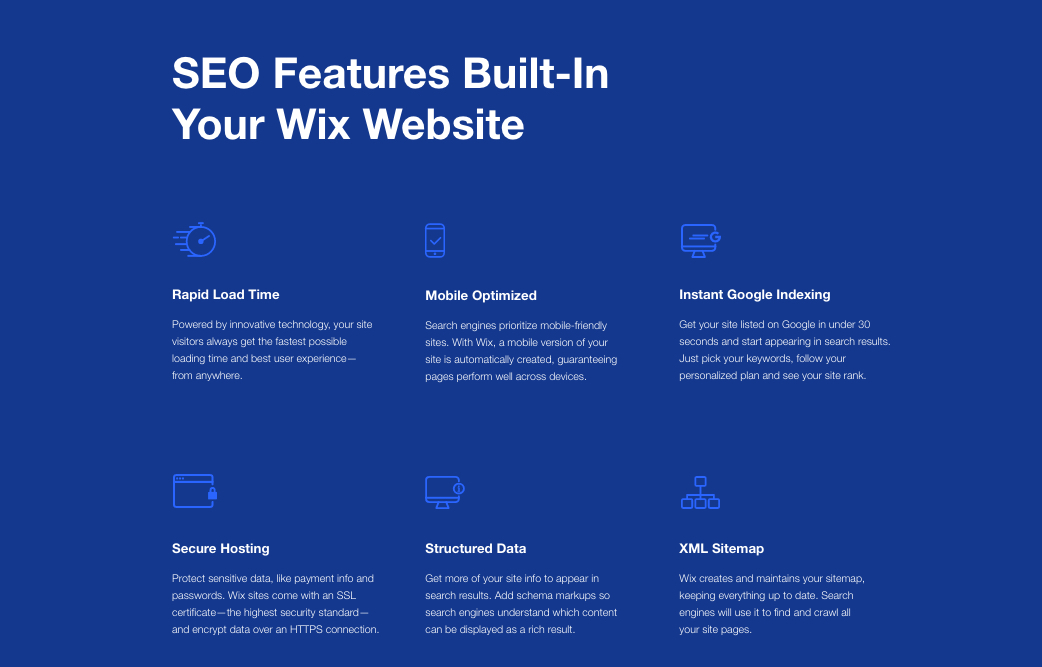 If you are a newbie in SEO, you can go through WIX's SEO Wiz resource and get to understand some key concepts on how you can optimize your site. You'll learn how to add meta-descriptions, update page titles, add alt text, and so much more.
However, it's not all rosy because WIX lacks the needed support when it comes to some important features such as AMP (Accelerated Mobile Pages). This is an important consideration, especially when it comes to loading times and a better Google ranking.
According to SEO experts, AMP pages increase the amount of time that users stay on a page and make Google algorithms recognize your pages faster hence better ranking.
Another shortcoming is that Wix is a hosted solution. What this implies is that you have no server control. As such, you are tied down from using other hosting services with faster servers.
Faster servers ensure that your site loads faster and search engine algorithms may treat this as a positive signal to rank your site faster.
WordPress SEO
If you want a powerful website building platform that's ahead of the competition when it comes to SEO, then WordPress is the solution.
To begin with, the RankMath plugin, which is one of the best SEO tools ever developed for WordPress. This SEO plugin evaluates the quality of your on-page SEO and makes it easy for you to improve it.
When it comes to AMP, WordPress beats WIX thanks to the wide array of available plugins. What's more, WordPress is self-hosted and thus, you can choose your preferred hosting service with super-fast servers.
It thus goes without saying that WordPress sites are very responsive and "loved" by search engine algorithms.
3.11

WIX vs WordPress: Customer Support

Building a website is super easy, but there are times when issues such as billing, servicing and website maintenance may arise. Under such circumstances, you'll need all the needed support you can get. This is where customer support comes in.

WIX has one of the best customer support that you can reach via live chat, email, or phone. Phone support is available in three different languages –Spanish, Portuguese, and English, from Monday through Friday from 5 AM PST to 5 PM PST.

To talk to the support team, you will have to request a callback, which normally takes 5 minutes. Additionally, WIX has a "help center" with a plethora of resources such as articles and video tutorials that you can refer to when stuck. Therefore if something goes wrong, your back is covered.

WordPress, on the other hand, lacks the traditional support team. In most cases, users source for support from their hosting company or from WordPress forums.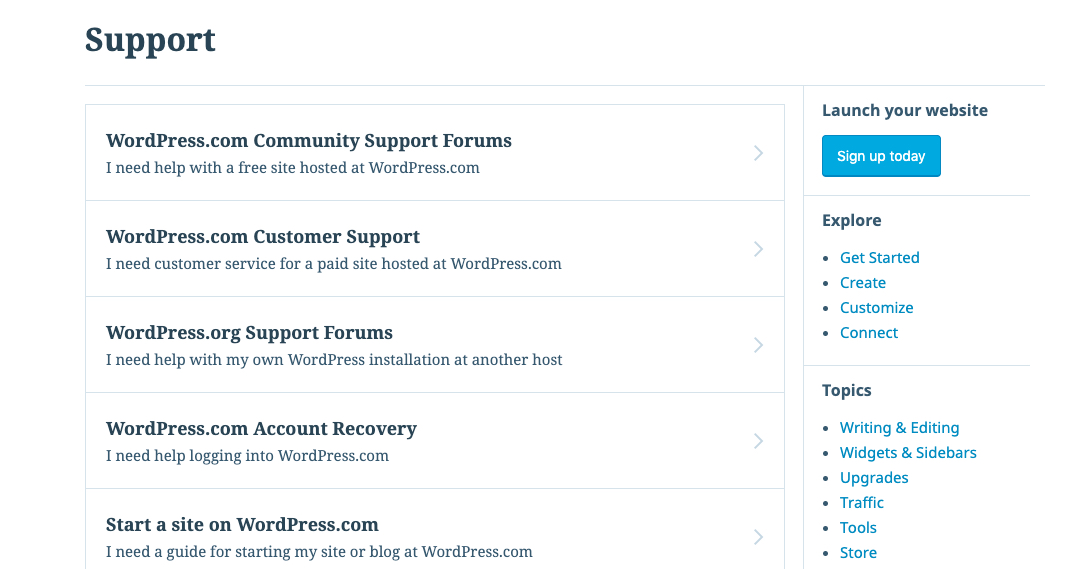 To get the much-needed support for your WordPress website, its best to work with a WordPress developer or agency. While this can be costly, you can rest assured that you'll always have someone to contact if something goes wrong.
3.12

WIX vs WordPress: Security

Given that WIX is a cloud-based all-in-one solution, the security and maintenance of your website are handled in-house by the WIX team. This means that the company handles is responsible for ensuring that your site stays secure and your site's content is backed up.

When it comes to WordPress, it's your responsibility to ensure that your site stays safe. This means keeping WordPress up to date as well as any themes and plugins installed on the platform. Failure to carry out these important tasks can compromise your site's security and even hacking.

Important to note, however, is that some WordPress plugins and themes come with malicious codes, which can threaten your website's security.

As such, you need to do your own due diligence to ensure that any plugin or installation you add does not have malicious codes. Also, ensure that you back up the data of your site regularly. There are numerous plugins that you can use to automate this process for you.

From this, we can conclude that building your site on a WIX platform can go a long way in ensuring that your website is safe. Additionally, all WIX sites come with a free SSL certificate, which means your site's visitors will be browsing on a sure connection.

Furthermore, there's a responsive support team that's ready to assist you when the need arises.
3.13

WIX vs WordPress: GDPR Compliance
WIX
GDPR or the General Data Protection Regulation took effect in 2015 with the goal of protecting personal data of EU visitors from website owners and change how organizations approach data privacy around the world.
This means that regardless of your location, your website must be compliant with GDPR laws and regulations.
According to the regulations, you must ensure that:
You provide sufficient cookie and privacy consent
Store and process visitors data securely
Get consent from people before subscribing them to your mailing list
Offer a means to opt-in or out of unnecessary cookie usage
Failure to follow these regulations will attract a hefty penalty of up to 4% of the organization's revenue or 20 million Euros, whichever is higher.
However, this should not be a cause for alarm. The good thing is that websites that breach these rules will receive a warning first. If compliance doesn't occur, a data processing suspension will follow.
As far as building a website is concerned, implementing the first three requirements above is super easy on the WIX platform. It, however, lacks when it comes to the last requirement that talks about cookie consent.
According to the GDPR, every website owner is required to display a cookie notice that
Let's users agree on which cookies to allow
Logs the visitor's consent to run cookies
Let's users opt-out of cookie usage
This ultimately means that if you build your site on the WIX platform, you'll need to use a third-party tool like CookiePro to make your site GDPR compliant.
WordPress
Just like WIX, managing cookie consent is the most difficult part when it comes to making your WordPress site GDPR compliant.
Luckily, there are hundreds of plugins such as Jetpack that you can resort to in order to make your site GDPR compliant. The good thing about WordPress is that you'll never fall short of resources on how to handle such tasks.
However, it's vital to ensure that any plugin you resort to complies with GDPR rules relating to exporting, providing, and erasing user data. But how do you get to know that a plugin is GDPR compliant?
As a rule of thumb, ensure that you understand how the plugin establishes its data flow and how it processes data. Only a few of plugin providers such as Jetpack have published their GDPR compliance. You, therefore, need to be cautious when using such tools and especially email marketing tools.
It's however, important to note that the core WordPress software is GDPR compliant for versions 4.9.6 and later. Here are the tools available in these versions:
Comments consent
Erase and data export feature
Privacy policy generation
With that in mind, it goes without saying that no platform or plugin can offer 100% GDPR compliance. This is because every website is dynamic in the way it processes data as well as the type of data stored and collected, making the GDPR process to vary.
4

WordPress vs WIX: Which Platform to Choose?
4.1

Why choose Wix?

When it comes to selecting between WordPress and WIX, it all narrows down to your level of experience, confidence, and your project requirements.

WordPress offers a more powerful and flexible solution. It has a rich catalog of themes and plugins for nearly any purpose. It also has an enormous user base compared to WIX.

Despite all this, it is unjust to say that it's the best platform for every single website design project. For most people, including experienced web developers, there are areas where WIX excels and WordPress doesn't.

For example, WIX excels in eCommerce and provides one of the most secure and easy to manage platforms. In addition, its themes and plugins are developed in-house, so you do not have to worry about incompatibility or malicious codes.

Customer support is also top-notch and for a reasonable monthly subscription, you can build a professionally looking site with all the key features such as mailing lists, a blog, galleries and much more.
4.2

Why choose WordPress?

Like we said earlier on the post, WordPress is an open-source software. This means that you can tweak its source codes to your advantage.

It's also self-hosted, which means you can use your own custom domain and select your preferred hosting company with super-fast servers to prevent downtimes (a feature that lacks on the WIX platform).

Therefore if you are planning to build a big website for your business and cannot afford downtimes, WordPress is the best platform to go with.

In addition, WordPress offers support for AMP, allowing your website to load quickly on mobile devices and ranks better on Google.

What's more, WordPress offers the best SEO plugins and tools which is crucial for any website. And given that you'll be working in a very competitive niche, WordPress SEO functionality will give you an edge.
5

FAQs about WordPress vs WIX
What differentiates WordPress from Wix?
Wix is an all-in-one website building solution that comes with a drag-and-drop editor. WordPress is a free, open-source content management system that you install to your web hosting server.
Which platform is better for blog hosting?
The simple answer is WordPress. This is simply because it's designed for content management. However, a little technical knowledge will go a long way in helping you to know the ins and outs of the WordPress CMS. Lastly, WordPress is the best platform for blogging period!
Which platform is best for a beginner?
Wix is the better choice. It's simple to use and comes with the Wix ADI feature that builds and design your website in a matter of minutes.
Can I use Wix to build a professional website?
Yes, you can. Provided you have the necessary technical background. However, we would recommend building such a site on WordPress since it's customizable and modifiable to fit in with any new feature.
Which is better when it comes to SEO?
Both platforms are okay because it all depends on your websites cravens. However, WordPress is better because it offers more advanced SEO plugins and you can alter the codes to suit your requirements.
Wrapping Up
Both Wix and WordPress are brilliant options when it comes to website building, but each platform has its own advantages and shortcomings. Your needs will largely influence your decision.
Important to note, however, is that regardless of the platform you choose, the ultimate success of your website is dependent on you and how you optimize it.
We hope that this guide will go a long way in helping you make the right decision.