Broken links are one of the worst nightmares for a webmaster. They can get your website's reputation at stake if not fixed early.
The best solution is to use a reliable WordPress redirect plugin to properly redirect them to the relevant pages on your website.
The primarly reason for broken links is when you move your website to a new domain or, you delete the post without redirecting its URL to any other relevant page on your website.
To solve the curious case of redirections, we have picked for you the best redirection plugins for WordPress. You can use these WordPress plugins to migrate the website to a new domain, redirecting a URL to another URL on your webiste or temporary redirecting users from one page to another page on your website.
What will all this do?
Well, first of all, it would help you to keep a good and trustworthy reputation among the visitors. Secondly, it would help you to retain the SEO benefits so that your content and website could rank better on the search engines.
Different Types of Redirects
There are multiple kinds of redirects that you can do, we will cover the two most used redirects for WordPress:
301 Redirect
It is a permanent redirect and used when you have shifted from one domain to another. It can be used on the same domain as well if you want to permanently redirect one of the posts on your website to another one on the same website.
The main part is, 301 redirect tells the search engine that the page has permanently moved to a new domain from the former. This would help you pass all the link juice from your old domain to the new domain so that there is minimal to no effect on your website traffic.
302 Redirect
It is a temporary redirect and implies that the link has been redirected only for a temporary period of time. This does not pass the link juice but would help the users land on a relevant page rather than being shown up the 404 error.
Time to check the plugins in detail!
Best Redirect Plugins for WordPress:
The motive to cover these redirect plugins is to help beginner bloggers and webmasters who are not so comfortable doing everything manually using either cPanel or htaccess file.
If you can manually do it, it would be the best as adding plugins to the website would add some amount of weight to your servers. Though, don't stress too much as the majority of these plugins do not make your site too heavy because of their properly optimized code.
1. RankMath SEO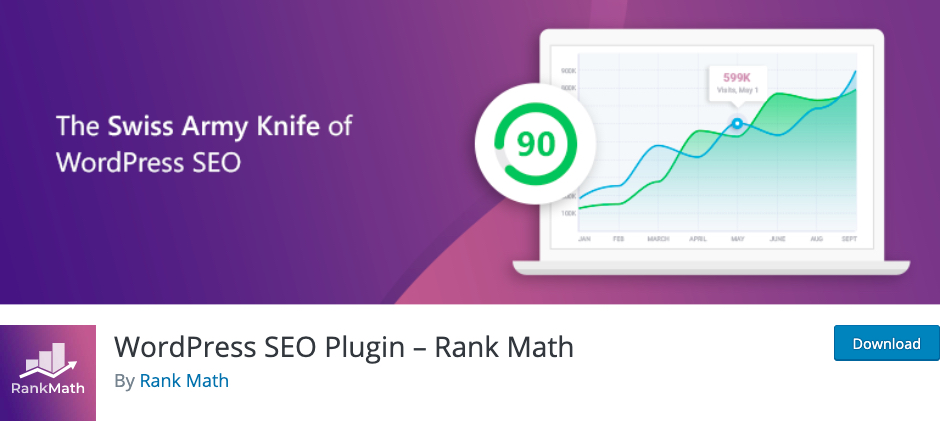 Try our RankMath SEO plugin. It would not only help you manage redirects but would also help you improve your website SEO by giving you suggestions.
The user interface is pretty easy, as you will get all the instructions on the screen. As soon as you add a new redirection, it would show you the below screen.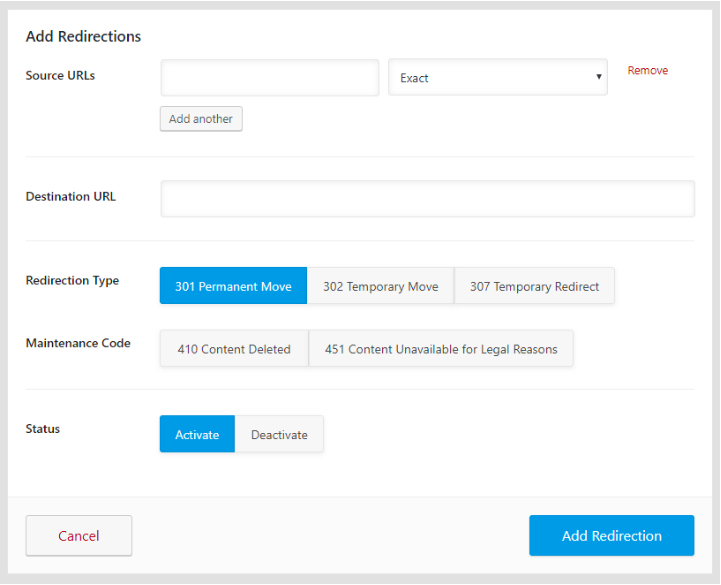 You just need to add a source URL in which you can select parameters such as Exact, Contains, Starts With, End With, and Regex.
After adding the source URL, add the Destination URL, select the redirection type, make it active, and click on "Add Redirection." Pretty simple isn't it?
The best part about using RankMath is, you don't have to add different plugins for SEO and Redirection. You can manage both by just using one plugin – RankMath
Key Features:
A lightweight plugin to manage both SEO and redirects
Intuitive interface for beginners
Activate/Deactivate redirects easily
Free Plugin with awesome support
2. Redirection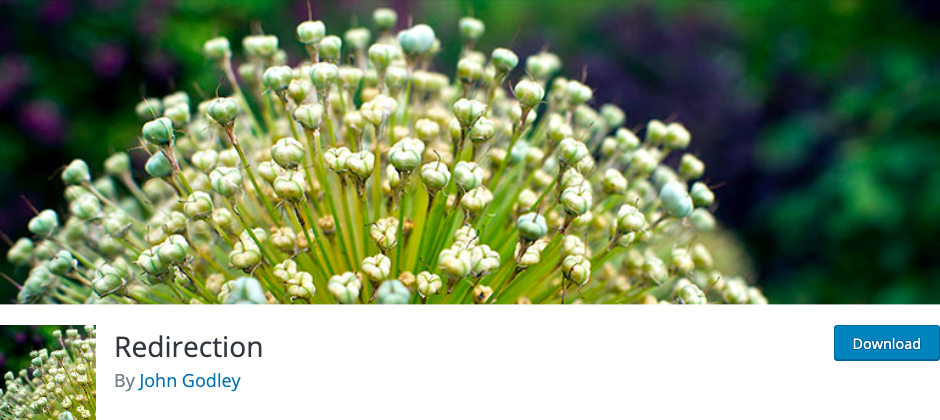 Redirection is a well-known plugin for handling redirects on your website. Be it redirecting 404 pages or old domain to a new domain. You can manage all types of redirects using this plugin.
The plugin can also create new redirects when there is any change in the URLs. The same could be used when the permalinks of the posts/webpages are altered.
As you know, the relevance of broken links in SEO, using this plugin, you can keep your website clean in the eyes of Google, which would further help you to improve your site authority and rank better.
Since you can download the plugin from the WordPress repository, you can avail good support from the WordPress community if you face any problem installing or using the same.
Key Features:
Manage 404 Errors
Nginx and Apache Support
Manage permanent and temporary redirects
Referrer, cookies and browser redirects
Check Login status
3. Easy HTTPS Redirection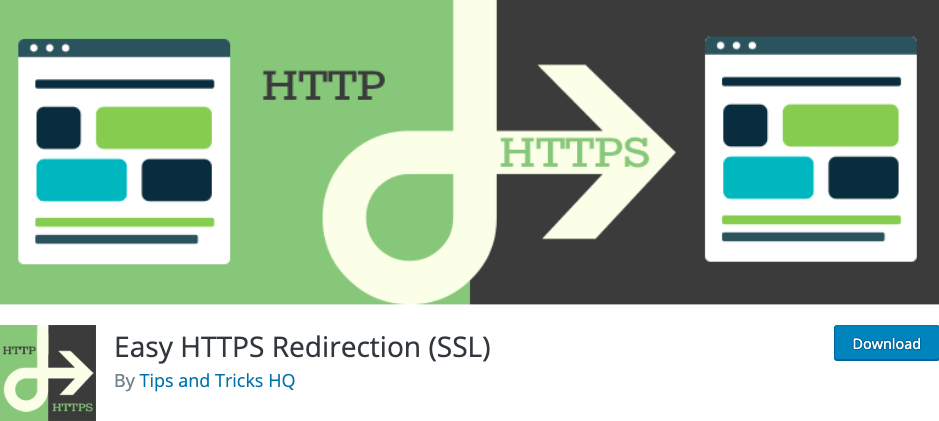 You can download this plugin directly from the WordPress repository. With more than 100,000 installations and majority 5-star reviews, the Easy HTTPS Redirection plugin will help you automatically set up a redirection to the secure HTTPS version of any URL when someone tries to access the non SSL version i.e., HTTP version.
With that said, you can only use this plugin once you have the SSL certificate installed on your website.
For eg, you want to use the secure HTTPS version of the following URL on your site:
www.sample.com/welcome
The plugin will make sure that if someone uses the above version, it will redirect the user to the secure version:
https://www.sample/welcome
This makes sure that the user is only able to view the HTTPS version of your website.
Key Features
Automatic redirect for the whole domain. This ensures every URL is redirected to the HTTPS version.
Auto redirects only a few pages to their corresponding HTTPS version URL.
Using an HTTPS URL, you can force static load files (CSS, images, js, etc.).
4. Quick Page/Post Redirect Plugin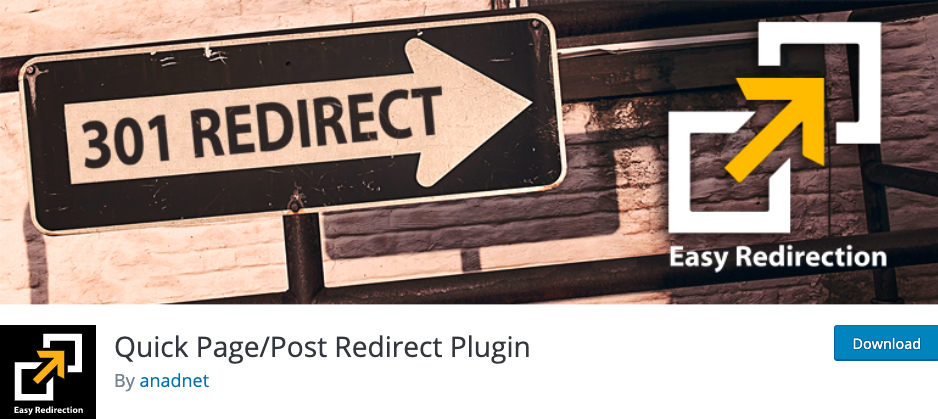 It is one of the top-rated plugins for WordPress, which manages redirections on your website. Quick Page/Post Redirect Plugin is designed to make redirections simple and quick.
All you have to do is mention the Request URL and the Destination URL. The plugin will manage that easily. Using it, you can redirect all your old links to their subsequent new links so that there aren't 404 errors on your website.
You can specify redirections like 301 and 302. The 301 is the best for SEO redirection and it would pass all the relevant link juice from your old URL to the new URL.
Key Features:
Use it with Custom Post Types in WordPress
Quick Redirects option lets you redirect without a Page or Post. It is best for a site that has been moved to WordPress and has an old link generating 404 errors.
You can mention a destination URL that is not on your domain.
Can create global overrides for turning on/off all redirects in one go. It can also make all the redirects open in a new tab.
Take backups of redirects by importing/exporting them.
5. WP SEO Redirect 301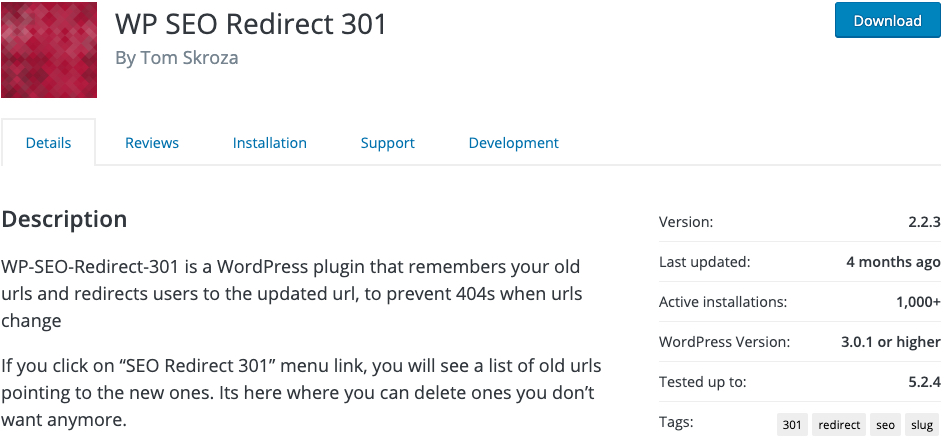 Using the WP SEO Redirect 301 plugin for WordPress, you can prevent 404 errors on your website as it remembers your old URLs and redirects your website visitors to the updated new URLs.
Not only redirects, you can also generate a sitemap which you can further submit to Google and Bing for faster indexing your website's new URLs in the search engine.
In a single dashboard, you can view the list of your old URLs and their specific redirections. You can even delete the redirections in case you do not want them.
Key Features:
Open source plugin, and you can modify or change its code and do further development.
It helps you manage all your redirections at a single place.
A lightweight plugin for your WordPress website.
Regularly updated by the developer.
6. WP 404 Auto Redirect to Similar Post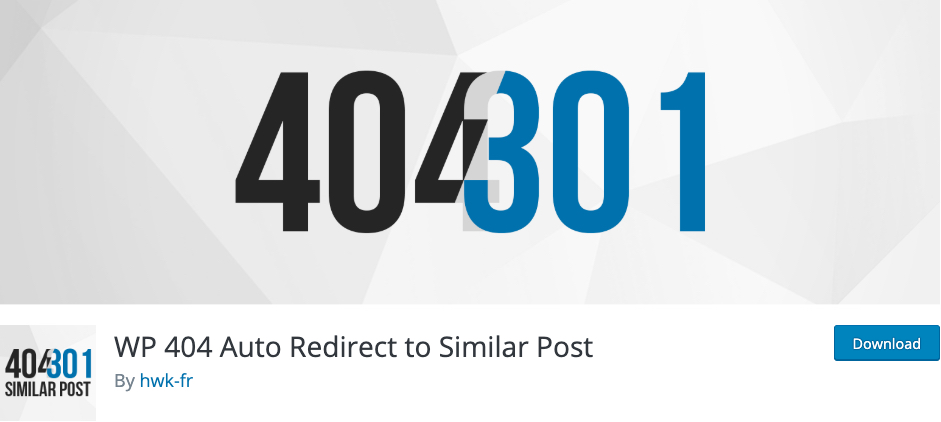 You'd be amazed if we tell you that this plugin has got more than 30,000 installs and have nearly 100% five start ratings on WordPress.
The WP 404 Auto Redirect to Similar Post is a WordPress plugin that lets you automatically redirect 404 pages to similar posts on your website. This is done based on the Title, Post Types & Taxonomies.
In a case, if nothing relevant is found, the plugin will redirect the visitor to your homepage or any other custom URL where you would want your visitor to visit.
Key Features:
It detects the 404 errors automatically.
You can do 301 as well as 302 redirects.
Create own search engine logic, groups, and fir sequence.
Preview a respective redirection from the admin panel.
You can exclude Post types and Taxonomies from possible redirections.
7. Simple 301 Redirects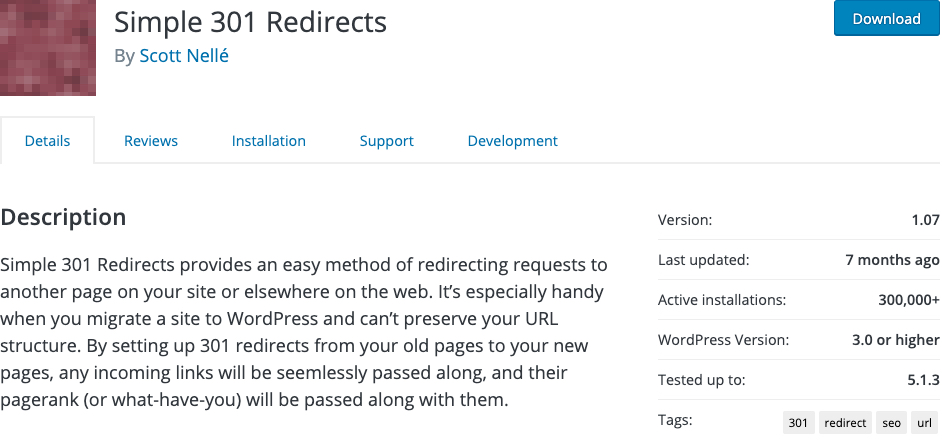 The plugin is installed on more than 3,00,000 websites. The reason being, it makes setting up the redirections very easy.
Using the Simple 301 Redirects plugin, you can do permanent 301 redirects to a URL on your own website or elsewhere on the web.
Key Features:
Best used when you are migrating your website to a new domain.
The 301 redirect passes the SEO link juice and page rank to the destination domain/URL. This helps you keep your website rankings in place.
It is a lightweight SEO redirection plugin
8. 301 Redirects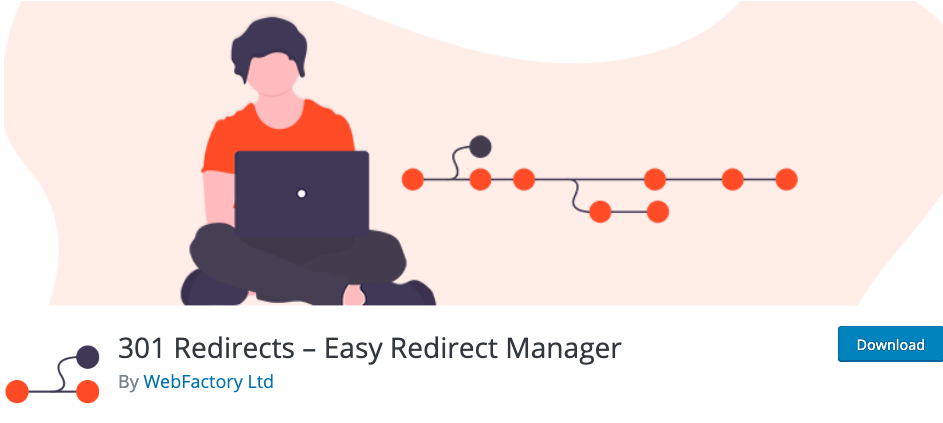 Using the plugin, you can easily manage all the 301 and 302 redirects on your website. The main motive of this plugin is to help you improve the SEO and experience of your visitor on your website.
It has a simple to use interface, and even a newbie could use the same to manage the redirects on the WordPress website. This would also help you to minimize the 404 errors on your website.
Key Features
Easily set up a custom destination URL
Set up simple and fast redirections with a few clicks
Import/export for managing bulk redirects
Shows statistics of how many redirects you have made
9. Safe Redirect Manager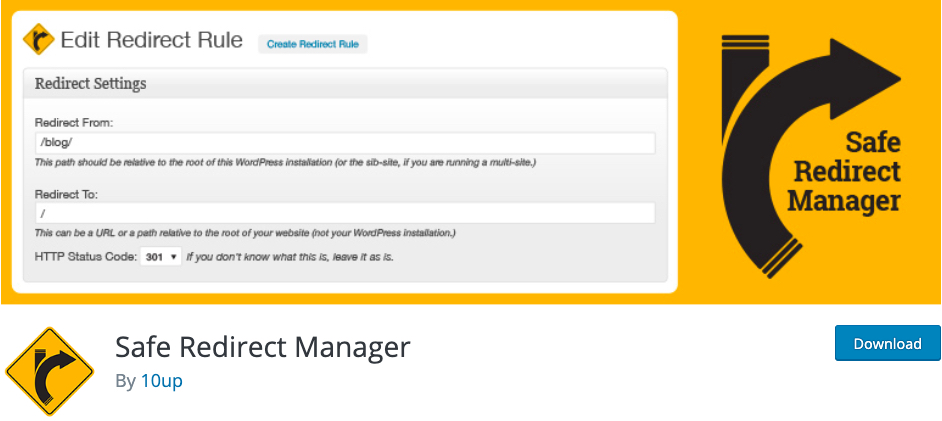 Redirect your posts, pages, other URLs with its HTTP status codes. The plugin is regularly updated and has an easy to use interface using which you can easily set up redirects.
Key Features:
It has a built-in feature for wildcards and regex
The wp_safe_redirect function enhances the security of your website
It can also handle whitelisted hosts
Lightweight plugin with a majority of 5-star ratings
Good for managing ordered redirects
10. All 404 Redirect to Homepage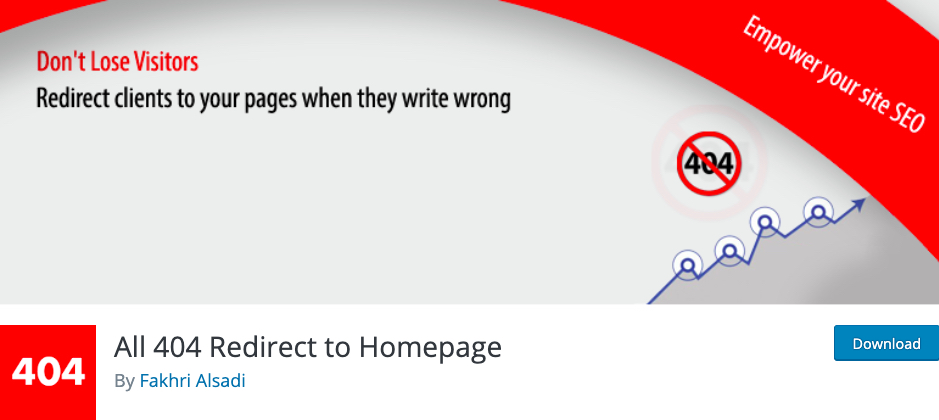 We all know that improper redirects, including 404 errors on your website, hurt your website in the long run.
Not only the SEO gets hampered but, the users who are visiting your website for the information have a bad experience when they aren't able to find the content for which they had landed on your website.
The All 404 Redirect to Homepage plugin lets you handle all the 404 errors on your website quite efficiently.
Key Features:
Redirect all the 404 error pages to a custom URL on your website.
It is a lightweight plugin and won't make your website buggy.
All redirects are 301 and thus pass the link juice to the destination URL.
It is regularly updated with bug fixes.
This was our most comprehensive list of the best WordPress redirection plugin available to help you fix all the 404 errors and keeping the SEO value intact of your website.
Which plugin did you find the best in the list? Do share your views in the comments section below. Also, a quick share on your social wall would motivate us to bring more such detailed posts in the future.