You've thought long and hard about it and you decided you're ready. You want to buy that perfect domain name. Luckily, buying and registering a domain is easier than ever before.
In this article, we're going to teach you how to buy a domain name and also how to register it. We'll also give you some tips on how to select a name for your blog or website.
So let's get started.
What Is A Domain Name?
We all understand that the internet at large is this big database and a lot of code goes into it. That's all what most people understand.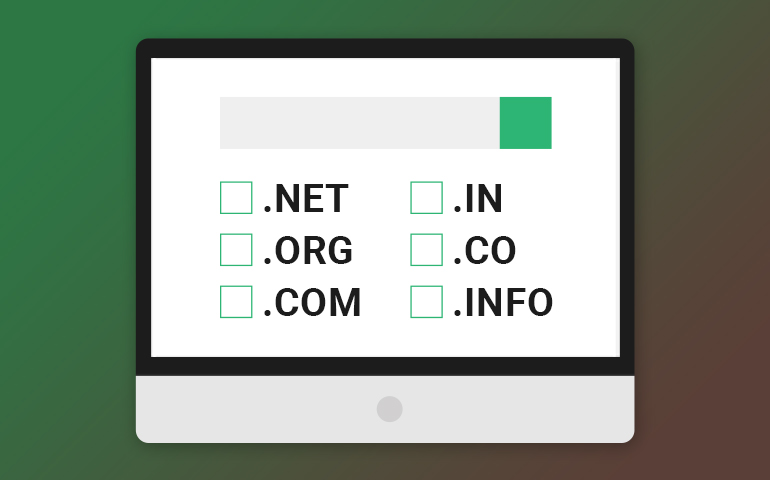 Basically, every website out there from Facebook to Wikipedia to your new website that hopefully flourishes consists of IP addresses and code that your web hosting company worries about.
Your domain name is putting one identifier on all that data to make it easy for you and everyone else in the world to visit your website.
Anyone can do this nowadays, and later on, in this article, we're going to show you how to do it easily with the industry leader in domain registration i.e. Namecheap.
Of course, you can't just buy any domain and hook it up to your website. There needs to be a sensible thought as the domain which you will buy will help you to create your next big brand in the future.
You have to find a domain that is available but also fits well with your business. For that, you'll have to understand terms like tlds and what are top level domains, what is domain privacy etc.
Choosing a Perfect Domain Name – Top Recommendations
Before you buy a domain name, you need to make sure that it's exactly what you want and it will also help you with your goals for your future website. Here are some tips to help you choosing the right domain name.
Use the Main Keyword in your domain name – When you start hunting to buy a new domain, you want to put a little bit of research into the kind of site you are creating and the niche you are going into. If you select something that has a popular keyword in it or something that gets searched a lot in Google and other search engines, you might have more success getting traffic to that website and getting customers.
Try to pick a .com extension – We've written an entire post on choosing .co vs .com that you can check out, but if you want a quick summary, .com is almost always the best option. It helps you out with SEO purposes and most importantly, it doesn't confuse your visitors when they are typing your domain into the address bar. Thus, no doubt, .com domains are your best bet.
Pick an easy name to remember – Sticking with the topic of not confusing your visitors, choosing an easy to remember name will help keep you at the front of your visitors' minds and help you get repeated traffic. If you can, try to create something catchy and easy to remember. Though, we have found, in the crowded landscape of the internet, that this is harder to do now.
Avoid special characters – If you're blanking on different variations to try, don't think it's a good idea to add in hyphens or numbers into your website name. This could only confuse your visitors more as they might mistake a number 4 for the word four or a 1 for an L. It just adds unnecessary thought to your visitors. For eg: let's say a website is called "4Learning", the users might land up any of the mentioned domains – 4learning.com, fourlearning.com, forlearning.com etc. Only the first one, i.e. 4learning.com is the right one.
Check social media platforms – Once you find a name that you think has some traction, check out the social media platforms you might be using to build your brand. See if they have the exact name available on there as well. If they do, you now know that you have found a winner.
How to Buy A Domain Name
So you've picked out your perfect domain name and now you need to purchase it. The easiest way to get a domain name is by picking a registrar that can sell you one for a reasonable amount. Two of the most popular sites are GoDaddy and Namecheap (our personal recommendation).
An available domain name can cost anywhere from $0.99 to up to a few thousand dollars. This depends on if any sales are running, which extension you choose, and sometimes if your domain has a really popular word in it which would make it appear as a premium domain across all of the domain name registrars.
Here are the steps you have to take to buy and register your domain.
Step 1 – Use A Domain Checker
A domain checker looks like a search bar on Google, but what it does is it searches their database to see if the domain you search for is available or not.
Every domain registrar should have one of these and it's usually right on their homepage. Just input the domain you picked earlier and see if it's taken or not.
Here, we have considered checking and registering a domain name via Namecheap.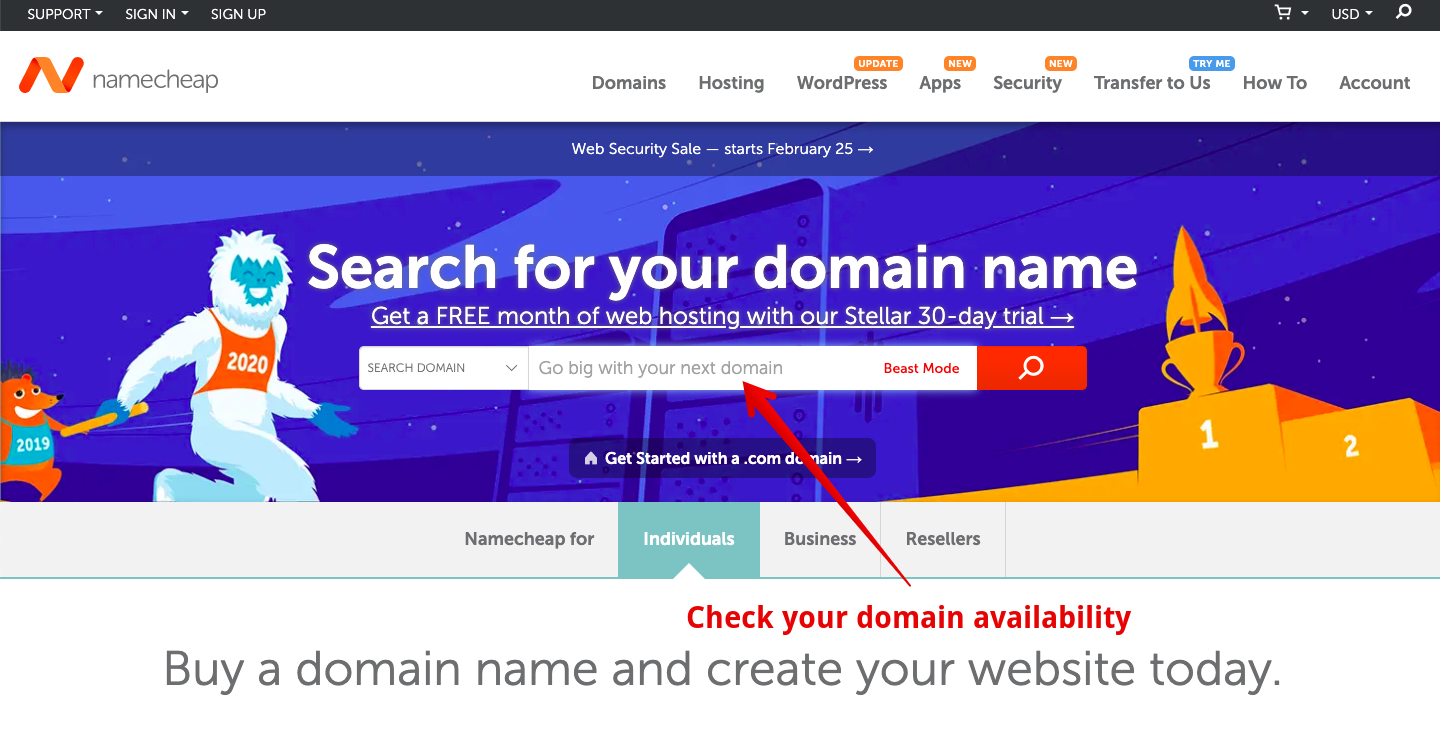 Here are a couple of tips with this step. If you find that your domain is taken, you can try to add a few words in there to try to find a longer version of the domain name.
Most registrars will offer the domain name on a different extension also known as tlds if it's not available in the .com version. Other TLDs or Top Level Domains are .net, .org, .co etc.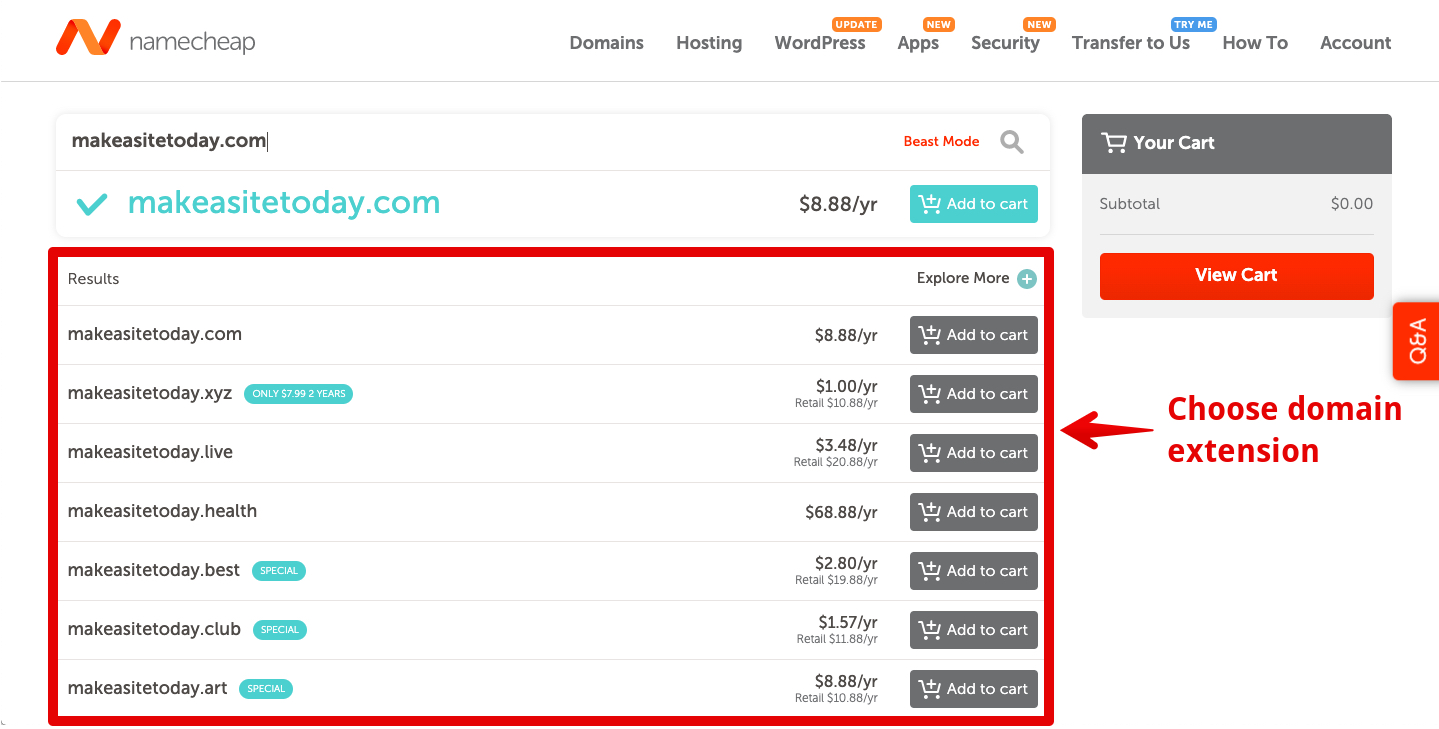 We don't recommend this but if you are stuck to the name you picked, you can choose the .co version or any other domain name extension.
Also, it might pop up that the name is available but only because someone is selling that domain back. This means that before you, that person bought your domain name basically to flip it to someone like you who really wants it.
Usually, this is for a huge chunk of money and we don't recommend if you are just starting as a beginner.
Step 2 – Pick Your Domain
Once you find a domain you like, add that domain to your cart. A couple of things are going to happen.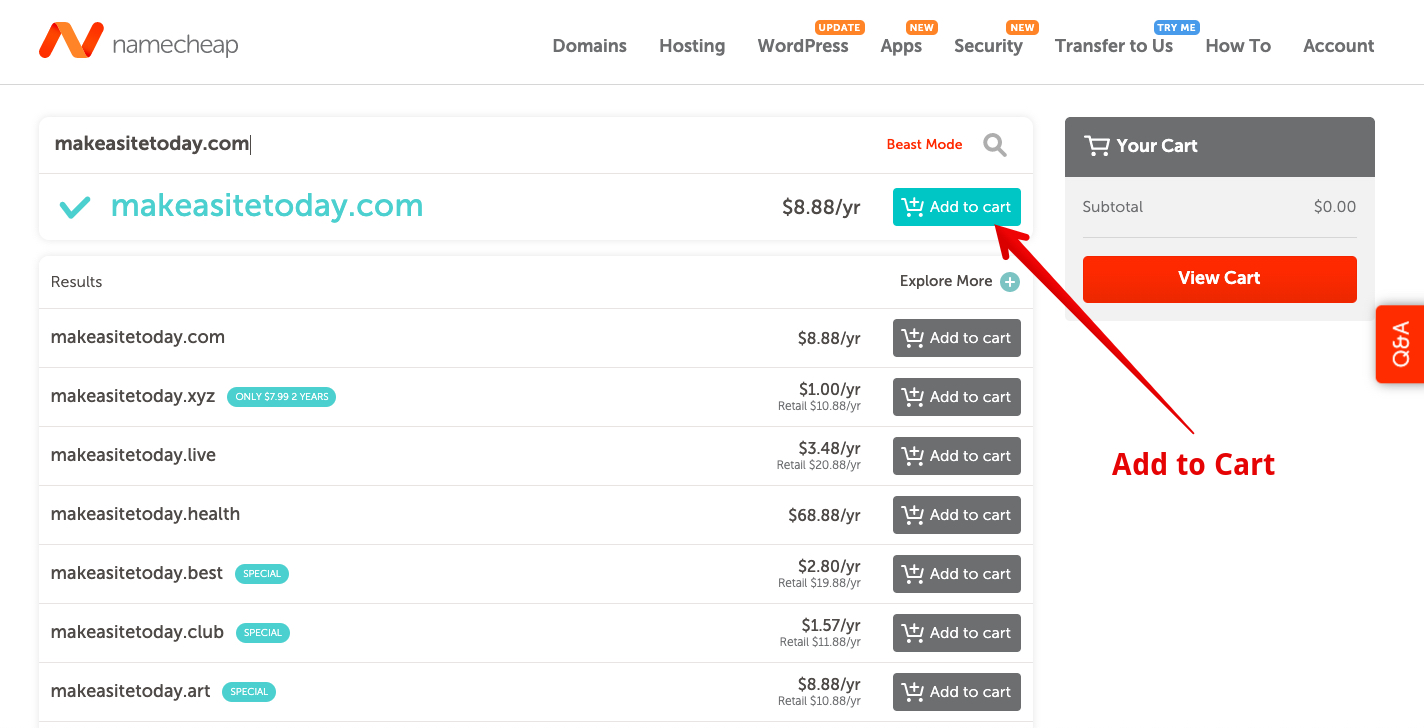 The first thing you'll see is that you're getting upsold right away. These websites are masters at turning a $10 purchase into hundreds of dollars, so be wise on what you pick here.
Some sites allow you to add hosting services, and if you need hosting to make your website work anyway, it might be a good idea to pick that up with your domain because it makes connecting the two seamless.
We'd suggest you use Bluehost in such a case as their hosting plans are pretty beginner friendly.

Another thing that might be a good idea is getting a SSL certificate. If you're going to be selling anything on your website, you are highly recommended to get SSL added to your site, which means that your website and the information it will carry (think credit card info) will be safer than if you didn't have it.
After these three things, a lot of the other stuff is pointless. Don't worry about designing business cards or getting a VPN through them. You can purchase that on later stages.
Step 3 – Purchase the Domain
After you select the domain name and any other add-ons you might need, you'll reach the account creation page.
Here, you have to create your new account or, you can use your existing account also to purchase the domain name.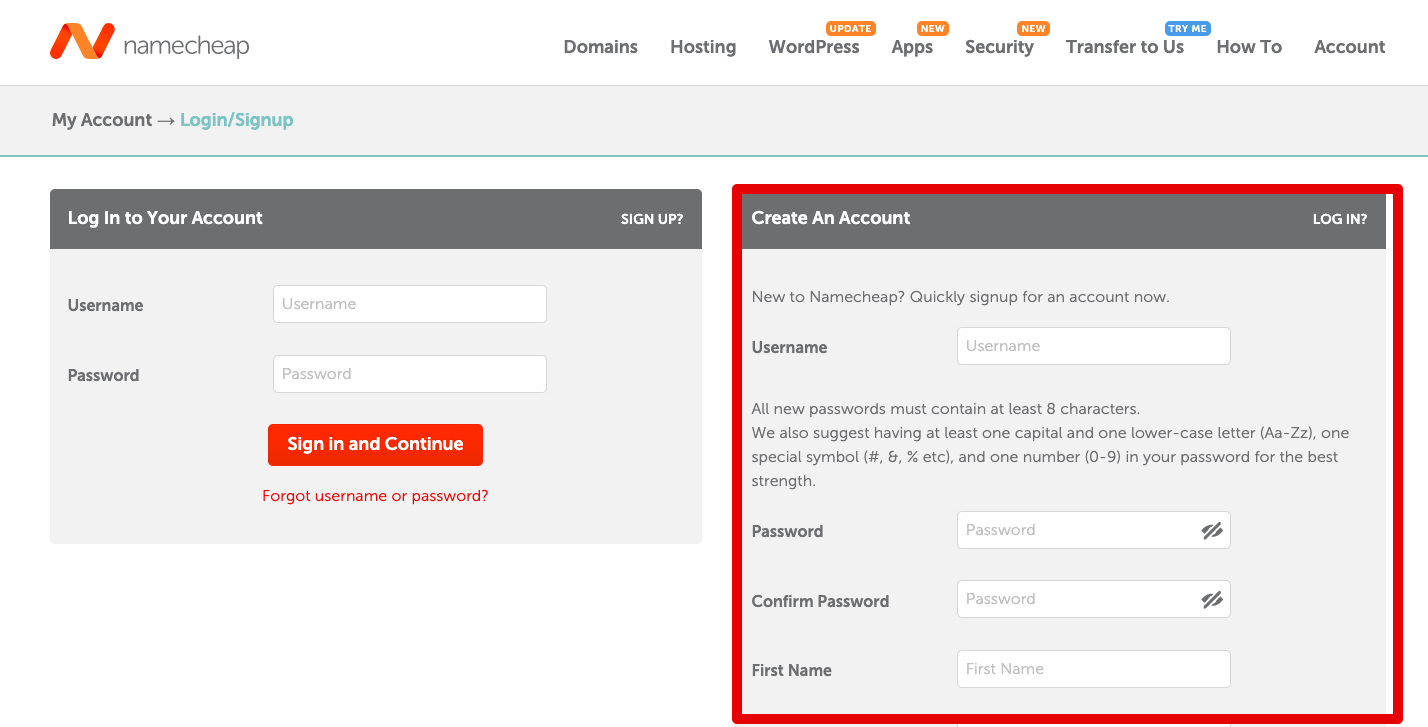 There is one more option that you should decide if it's worth it for you to add on to your order or not.
Each site has a different name for it but it always has something to do with WHOIS privacy protection.
Basically, this WHOIS protection is a service that protects site owners' personal information.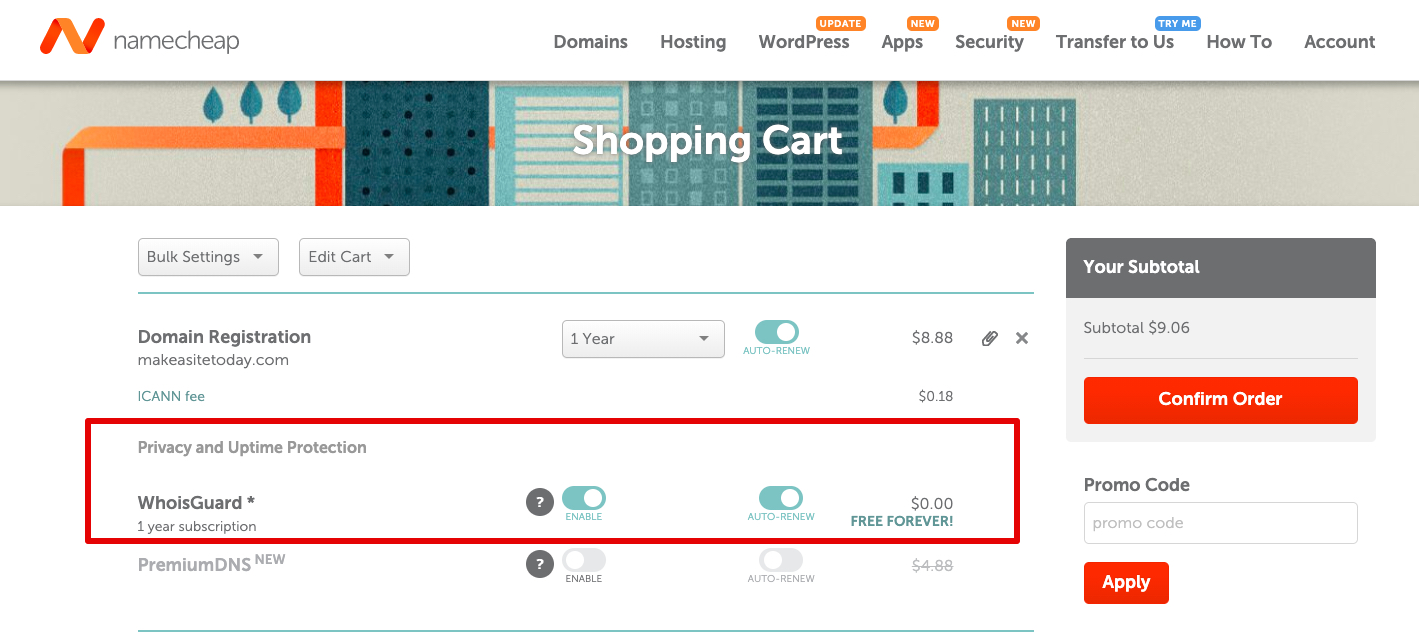 When you buy a domain or hosting, your information goes into a database that is available to telemarketers and other people, letting them know that you have a business or website.
Getting this protection helps you avoid those phone calls pitching you on their services every day. Most people do end up getting this as it does save them the frustration. One of the reasons we recommend Namecheap is because it comes with their WHOIS protection free of charge.
Step 4 – Register the Domain

As soon as you finish paying, you'll be redirected to something called the control panel. Every registrar makes it easy to follow the directions to register your domain, connect it to your hosting platform, or start your website up.
Don't worry. Any information you're putting into this data can be switched at any time, so if you change addresses, phone numbers, or last names, it can always be updated.
Most of the registrars will also require you to verify your email with the domain just to make one extra step to the process to verify you're a real person. It usually only adds an extra minute or two to the process and should be done pretty quickly.
Congratulations! You Have Bought & Registered A Domain Name
As you've just experienced, when it comes to buying and registering a domain name, it seems more complicated than it actually is. Either way, we walked you through the process to help you out. We also gave you tips to assist you in picking a domain name if you're still stuck on that.
If you have any questions, please be sure to ask them in the comments and we'll be sure to answer them.