Starting a new website from scratch and seeing it grow and become successful overtime is fun. But there is a catch for this – and it all starts with choosing the right website building platform.
Luckily, there are a number of great options available that you can choose from. These include WordPress, Wix, Drupal, and Squarespace. In this article, however, we will compare and contrast WordPress vs Squarespace.
While both platforms are designed with a common purpose, and that is to help users build stunning websites without wasting much time, they offer contrasting approaches, features, and tools when it comes to building a website.
So, without wasting much time, let's get started with an overview of each and then dive into the different evaluation categories.
1

WordPress vs Squarespace
1.1

What is Squarespace?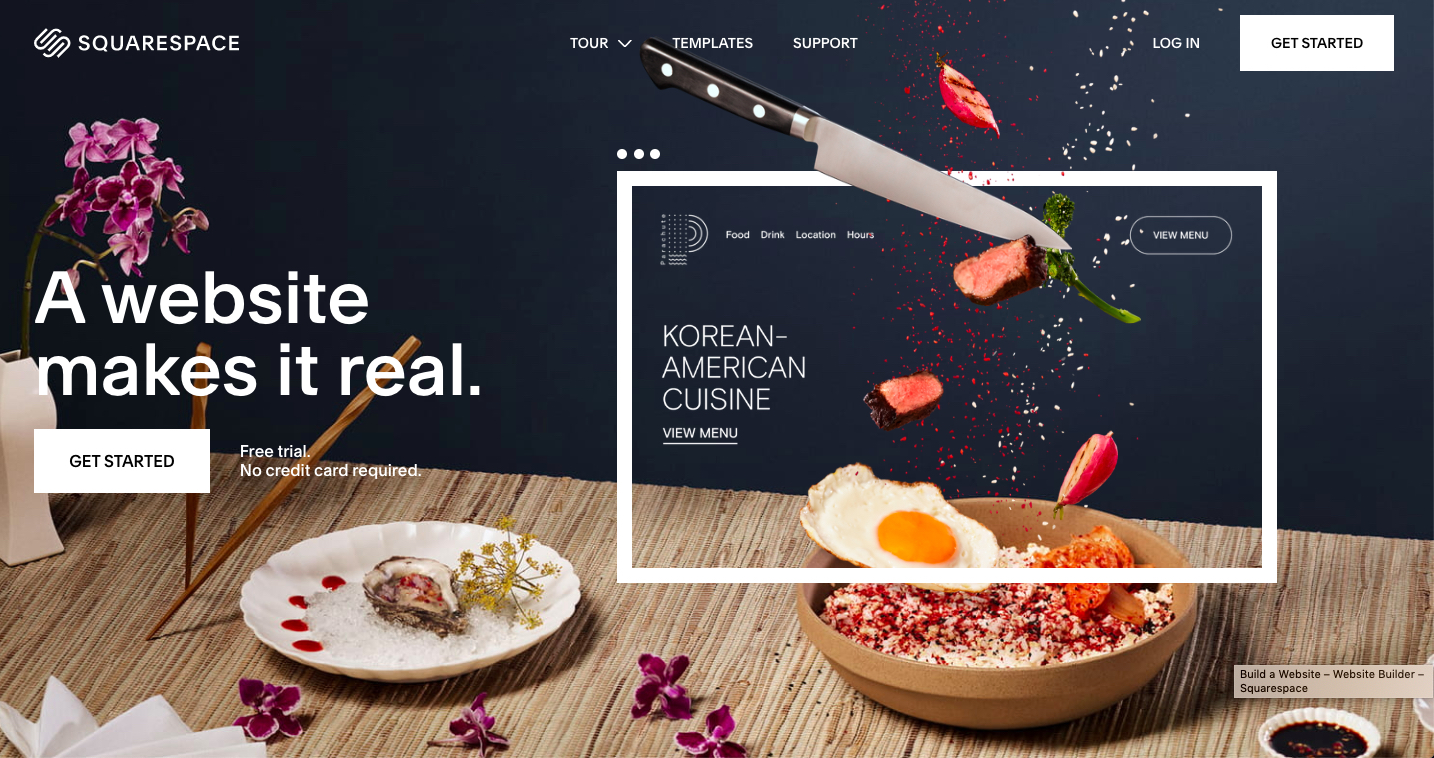 Squarespace is a SaaS (software as a service) website building and maintenance tool. To use the service, you pay a monthly subscription fee.
Unlike WordPress, Squarespace is an all-in-one service. This means that everything you need to build and maintain your website is provided in the service such as a domain, hosting, themes, templates, CMS, eCommerce, and support.
Squarespace is offered in two versions. That is the developer's version for people with web development skills and the "standard" version for people without web development skills.
Although Squarespace is a little vague on their user base, they have a market share of 2.7% according to Web Technology Surveys, which is such a significant difference in reach compared to WordPress.
Nevertheless, Squarespace has a significant following and a loyal fan base thanks to its simplicity and ease of use.
1.2

What is WordPress?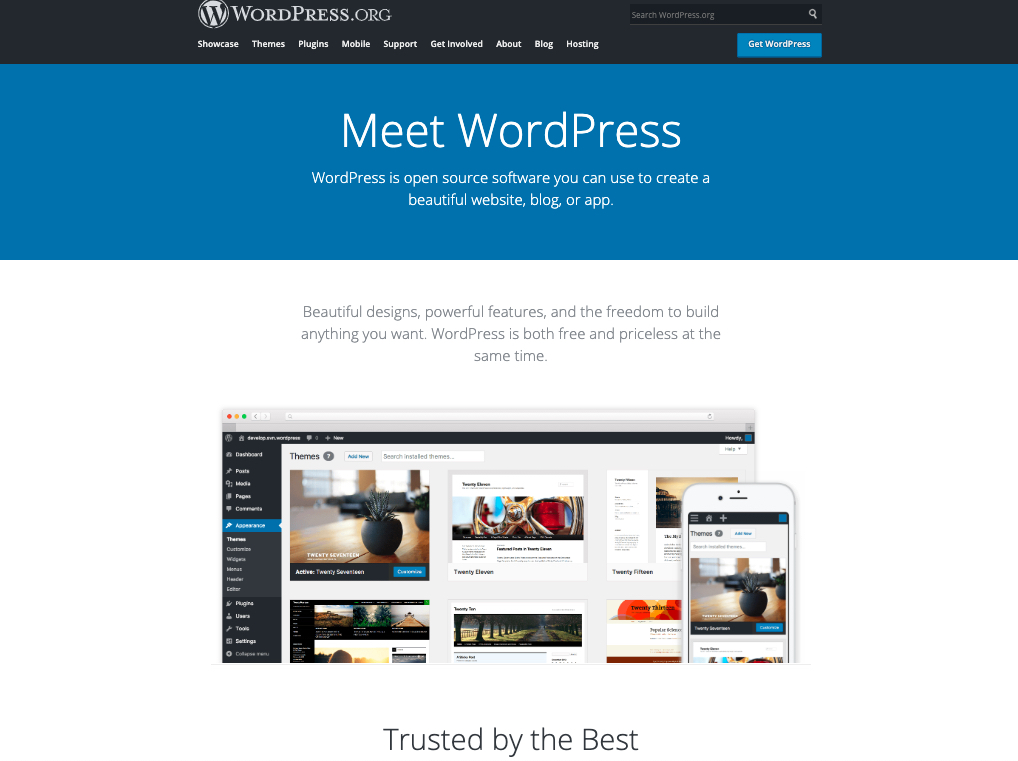 WordPress is available in two versions. So when we talking about WordPress, we are either referring to the Hosted WordPress version or the Self-hosted WordPress version.
Let's see the difference between the two.
Hosted WordPress
Hosted WordPress, better knows as free WordPress is the version of WordPress available at wordpress.com. Just like Squarespace, Hosted WordPress is a SaaS tool for building and maintaining a website.
Worth to note is that, hosted WordPress is offered both as a free service and as a paid service. The free plan has limited functionality and we would not recommend it for a professional website.
The paid service, however, offers unlimited access to a broad range of features such as themes, plugins, SEO tools, and email support. All you need to do is to select your preferred plan and you are good to go. Note that all plans are billed yearly.
The thing about Hosted WordPress is that it's less of an all-in-one service as compared to Squarespace or Wix. This is because you have to resort to third-party tools when it comes to some functionalities. For example, to add eCommerce, you'll need third-party tools such as Shopify or Ecwid.
Being as it may, hosted WordPress offers more flexibility compared to Squarespace thanks to its ability to integrate more templates and apps.
Self-hosted WordPress
Self-hosted WordPress, on the other hand, is the most popular WordPress version for people seeking flexibility and control. Unlike hosted WordPress, self-hosted WordPress is a content management system offered by wordpress.org.
It's free to download and open-source, which means that the source code is freely available and can be modified to your advantage in order to fit your website's design requirements.
In practice, this means that a self-hosted WordPress, in the hands of an experienced website developer is highly customizable. However, this does not mean that if you are not a coder you cannot meet the requirements of your website. All you need to do is know which plugins to install and you are all set. Adding to the above facts, search engine optimization is fairly better in WordPress as compared to Squarespace.
For example, if you are new to web design you can use third-party editors like Divi for visual editing in place of CSS and HTML. You can also use a tool like Gutenberg for page layouts and content posting.
However, unlike Squarespace, you'll spend more time when working with self-hosted WordPress. This is because you'll have to:
Register a domain with a domain registrar
Choose a hosting service such as Bluehost
Download and install WordPress on the hosting server
Source for a theme
Add the required plugins
Map your domain to your website and more
In the spirit of healthy competition, this article will be comparing Self-Hosted WordPress to Squarespace.
Our decision to use self-hosted WordPress instead of hosted WordPress is because self-hosted WordPress is a more powerful platform and requires more work to set up as opposed to hosted WordPress.
This makes it a worthwhile contestant to an all-in-one platform such as Squarespace.
Now let's see how both of these two website building platforms compare.
2

Squarespace vs WordPress:
2.1

History and user base

One important factor to consider when selecting your preferred website building platform is the availability of resources such as plugins, themes, apps, tutorials, blogs, and support options.

This is especially important if you are just getting started on website building. And the best way to know that is by looking at a platform's user base and history. The larger the user base, the more the resources.

Now let's look at how these two platforms stack up in terms of history and user base.

WordPress

Founded in 2003 as a simple blogging service, WordPress is now a fully-fledged website building service. It's the fastest-growing CMS with a user base of over 60%. Statistics also indicate that WordPress powers over 30% of the websites on the internet today. You can literally create a WordPress blog in less than ten minutes.

Given that's it's open-source, it has a large and active community of independent contributors who constantly develop new products like plugins, themes, and extensions.

Squarespace

Founded in 2004, Squarespace also started as a blog-hosting service before evolving into a website building platform. It's the fifth most popular website building platform after WordPress, Joomla, Shopify, and Drupal according to Web Technology Surveys.

Squarespace powers more than 1.2 million websites on the internet today and has a market share of 2.7% percent. Despite its low market share, it is one of the best professional website builders for non-tech savvy users who are looking to get started in web design.

The statistics should not scare you though, because each platform has its upsides and its downsides. Apart from that, they are in the market to stay.
2.2

Pricing

Building and maintaining a website costs money. And these costs are more often than not dependent on the platform you choose to build your website on. As such, it's vital to have a deeper understanding of what you are subscribing into.

Let's see how these costs stack up with respect to these two platforms.

WordPress Costs

When it comes to WordPress, it's practically impossible to determine the exact cost despite the fact that downloading the software is free. For starters, there are some basic costs that you'll need to cover. They include:
Domain registration
Web hosting
Premium plugins and theme
E-commerce integration tools
Important to note is that some of these costs such as hosting and domain name registration are dependent on where you decide to purchase them.
For example, with Bluehost (a wordpress.org recommended hosting service), it can cost you as little as $2.75/ month for shared WordPress hosting and as much as $119.99/ month for dedicated hosting.
With Hostinger, on the other hand, it will costs you $11.95/ month for premium WordPress hosting. Some of these plans offer a free domain as an incentive. So as you can see, the overall cost is dependent on where you choose to put your money.
These costs can also escalate if you decide to hire a developer, purchase premium themes/plugins, hire a developer or upgrade to a managed WordPress hosting service. With managed WordPress, you get a wealth of resources and more power, thus higher monthly costs.
Squarespace costs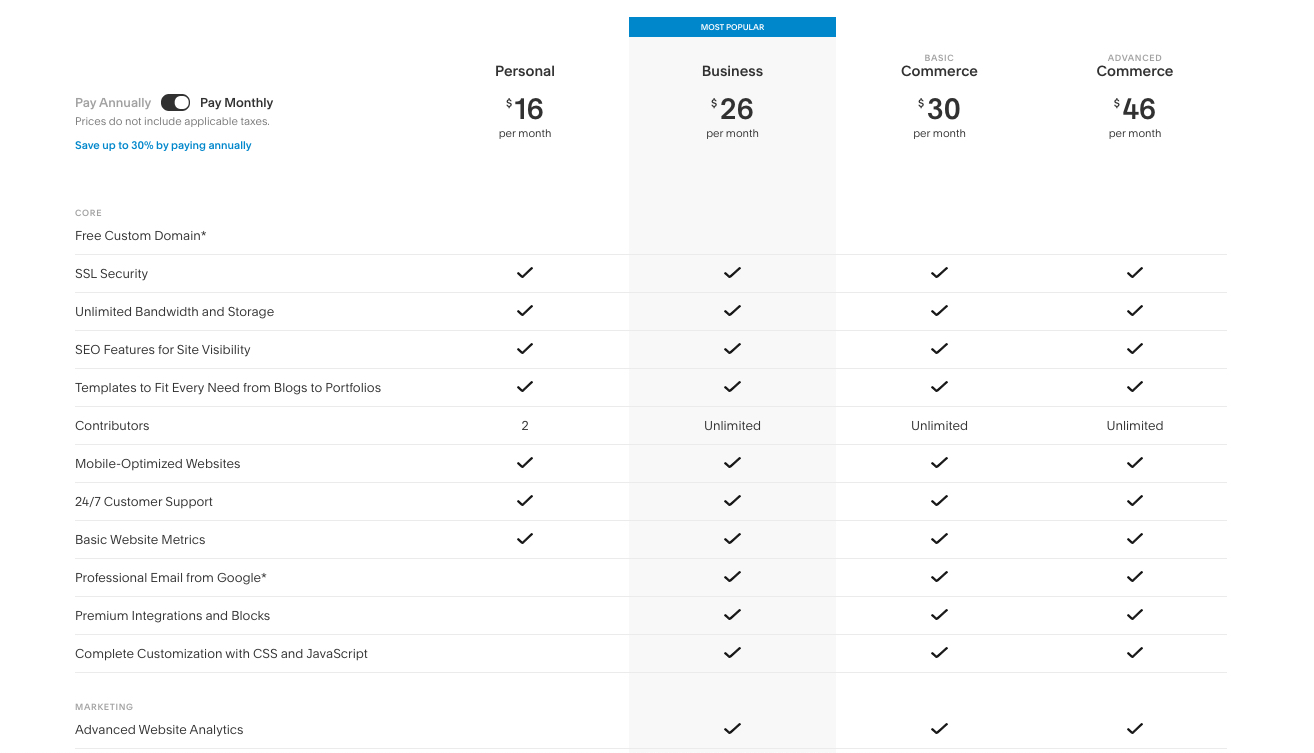 Unlike WordPress, Squarespace is an all-in-one website building solution. This means that you get:
Fully-managed cloud hosting
Free-custom domain
SEO features for website visibility
Templates
24/7 customer support
Squarespace offers four pricing plans, namely:
The Personal plan that costs $16/ month
The Business plan that costs $26/ month
The Basic Commerce plan that costs $30/ month and,
Advanced Commerce plan that costs $46/ month
What we liked most about Squarespace is that their plans are pretty straightforward. The prices are, however, discounted if you decide to pay on an annual basis. For example, if you opt for the Personal plan that costs $16 on a month-to-month basis, you'll pay $12 per month if you decide to pay the whole amount annually.
The same applies to the other plans, whereby you pay $18/ month instead of $26/month for the business plan, $26/ month instead of $30/month for Basic Commerce, and $40/month instead of $46/month for the advanced commerce plan.
These plans vary, however, based on the number of pages you want to create, transaction fees, eCommerce integration, CSS and JavaScript customizations, and other premium integrations.
For example, if you want to build an eCommerce website, you'll have to do away with the $16 personal plan and go for the $26 business plan. This is because the personal plan restricts CSS and JavaScript customizations, and doesn't facilitate e-commerce integrations. Notably, the pricier the plan, the more the features.
As it stands, you can cut a lot of costs with Squarespace if you want to build a business website simply because the costs are straightforward. However, this not to say that WordPress is expensive. This is because with WordPress, whatever you pay is up to you. In addition, the variables involved are dependent on the project in question.
2.3

Ease of Use

Both WordPress and Squarespace are equally easy to use and brilliant in their own respects. The only difference, however, is that their usage and the process of achieving different functionalities are unique to each other.

Let's see how they stack up to each other when it comes to setting up and usability.

Squarespace

With Squarespace, the process of setting up is extremely easy. All you have to do is visit the Squarespace website, and click on the "Get started" button then you'll be taken to a "templates" page.

Pick your favorite design then you'll be taken to a "Create Account" page where you'll be required to enter your personal details. Then you'll select the site category you prefer. After this, you can choose to showcase your portfolio, publish content, etc.

Content editing is also quite straightforward thanks to the drag-and-drop editor that makes it a breeze to lay down your content. You can drop content from other pages, move images, tweak content and see the edits on the page as you make them.

The good thing about Squarespace is that you can do all this on "free trial" using a Squarespace sub-domain then upgrade to your preferred paid plan. This helps you get a gist of how the Squarespace platform works.

The only downside with Squarespace is when it comes to the templates. This is basically because the degree to which they can be tweaked is reliant on the template you choose.

WordPress

WordPress, on the other hand, has a steep learning curve and you need to understand some basics. For example, before getting started on WordPress, you'll need to have a domain and subscribe to a web hosting service.

Then you'll need to download and install WordPress on your web hosting server. While this might sound complex, it's pretty easy and in most cases, it just takes a single click.

After the installation, you'll need to select a theme, customize your website, add quality content, and you are ready to rock the online world.

Sometimes, however, you may face challenges when it comes to a theme set up. But don't fret because most of these themes come with ample instructions on how to properly install them on your new website.

The best thing about WordPress is that once you clasp the basics, you'll be surprised at how much you can achieve.

Overall, when it comes to ease of use, Squarespace is friendlier and will cater for complete beginners who want to create a website in an all-in-one platform. WordPress, on the other hand, is simple but only if you grasp the basics.
2.4

Website Design

The design of your website plays a crucial role when it comes to user experience, conversion, credibility, and engagement. That's why it's crucial to ensure that the website builder you choose offers you the much-needed functionality when it comes to design.

WordPress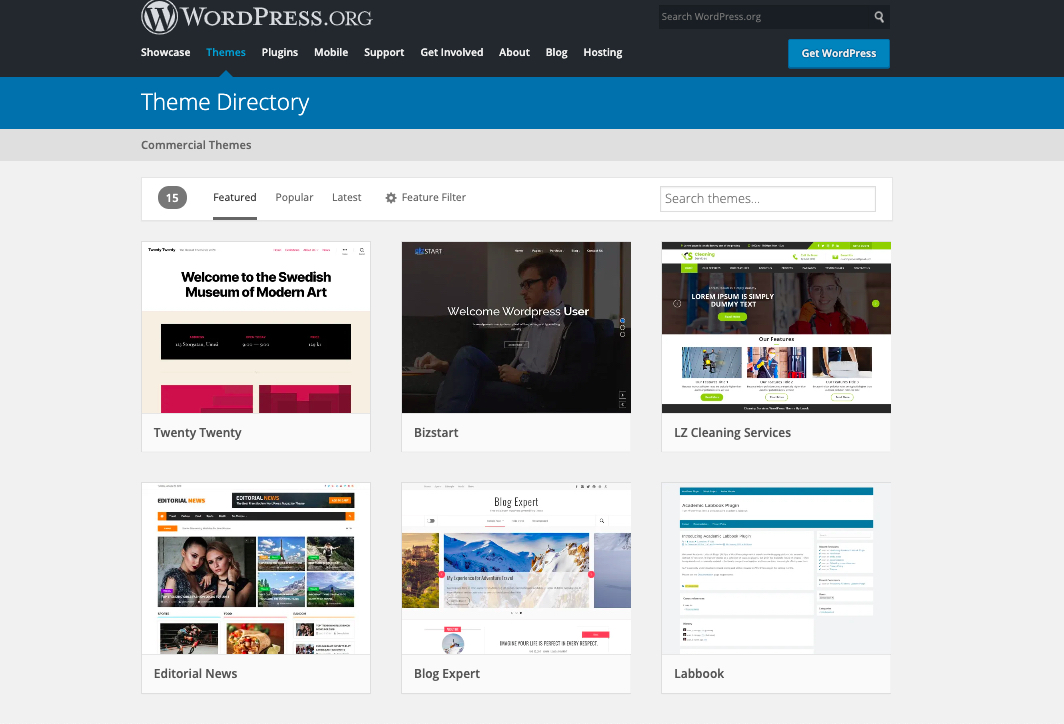 The theme you choose controls the design of your WordPress site. The biggest challenge here, however, is perhaps deciding which theme to go with.
Fortunately, WordPress being an open-source platform, it has a huge community of contributors and developers who offer incredible support and contribution to its vast array of products.
As such, it offers thousands of themes – both free and paid in dozens of different market places. However, our advice to you is to avoid getting overly crazy or getting tempted to trying too many plugins/themes as they can slow down your site or create security issues.
Compared to Squarespace, however, WordPress offers more design options as you will realize below.
Squarespace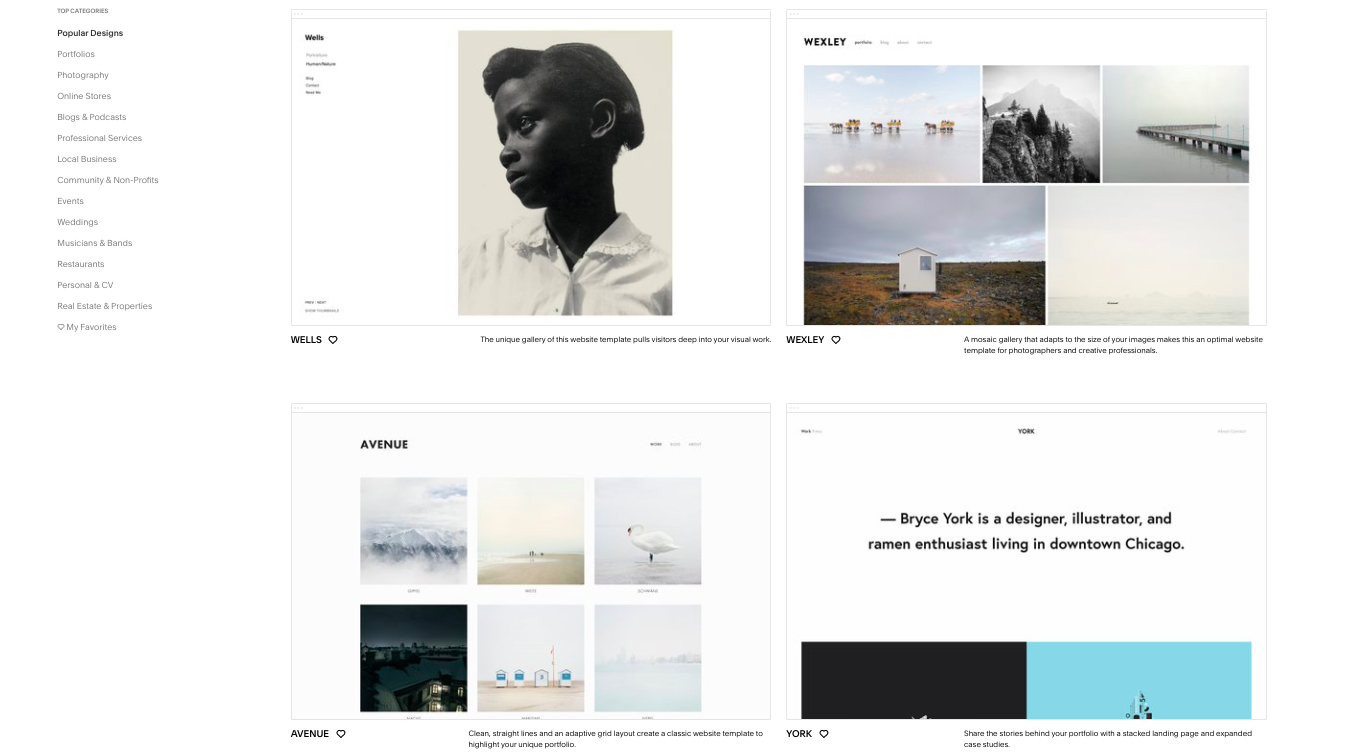 Squarespace, on the other hand, offers pretty, classy, and some of the most professional-looking templates compared to most other competing website builders in its class such as Wix.
Unlike WordPress, however, the number of templates or themes offered by Squarespace is limited, which more often than not presents a major drawback depending on the type of website you are trying to build. What this means is that it's likely for you to run out of theme choices.
Fortunately, the point, change and click interface makes it incredibly easy to customize or change certain aspects of Squarespace templates. The same goes for any other additional features.
Overall, both Squarespace and WordPress offer great design options. However, Squarespace lacks when it comes to how much you can customize your site. There is also a great chance that you'll end up coming across a website that looks exactly like yours.
WordPress, on the other hand, gives you the ultimate freedom and a great number of options to choose from when it comes to your website's design and customization.
2.5

Performance on mobile

With mobile taking over the world, there is a great need for designers to create websites on platforms that offer the needed support when it comes to Accelerated Mobile Pages (AMP).

What we love about Squarespace templates is their responsiveness. They are able to automatically adjust themselves in order to fit well with all types of mobile devices. The same applies to WordPress, thanks to the numerous responsive WordPress themes that are fully optimized for mobile.

One thing that we love most about Squarespace is that it allows you to present your blogs in AMP format by just checking on a box in your site settings. Unfortunately, it's only for blogs but we feel that it's a good move.

AMP is an important consideration especially when it comes to loading times and better Google ranking. Faster loading of mobile pages determines the amount of time that users stay on your page.

WordPress, on the other hand, beats Squarespace when it comes to AMP. Thanks to the vast array of plugins that allows you to customize all page types.
2.6

Mobile Apps

You need a platform that allows you to manage your website while on the move. Both Squarespace and WordPress offer handy mobile tools that you can use to manage your site projects via a mobile device.

Squarespace offers four mobile apps in this respect, namely:
Analytics app (Android and iOS) that lets you access Squarespace's reporting interface.
Blog app (Android and iOS) that allows you to publish and manage existing blog posts.
Commerce app (Android and iOS) that lets you manage certain e-commerce aspects.
Squarespace app (iOS only) that allows you to publish new blog content, access stats, and many more.
WordPress, on the other hand, offers the WordPress app on both iOS and Android. The app lets you post content, edit posts, upload media files, monitor traffic, check blog post views, and view site stats. Along with that, the app has a functionality that allows you to receive push-notifications when there is on-site activity.
Overall, the choice on which platform beats the other boils down to a person's preference. Do you prefer one app or several dedicated apps?
2.7

Security

Since Squarespace is an all-in-one solution, matters of your website's security lie with the company. This means that the company has to ensure that your site's data is backed up and doesn't get hacked.

With WordPress, however, it's your duty to ensure that your website is safe. This means that you have to keep WordPress up to date as well as any themes and plugins installed on the platform. Failure to carry out these important tasks can compromise your site's security and even hacking.

Important to note, however, is that some WordPress plugins and themes come with malicious codes, which can threaten your website's security.

As such you need to do your own due diligence to ensure that any plugin or installation you add does not have malicious codes. Also, ensure that you back up the data of your site regularly. There are numerous plugins that you can use to automate this process for you.

Overall, we think that websites made on the Squarespace platform are less likely to face security issues. And in case something goes wrong, the team at Squarespace can help resolve the issue.

With WordPress, there's a likelihood of users to add dodgy plugins/themes or neglect security on their end, hence exposing their sites to security threats such as hacking.
2.8

Data Ownership

When choosing the right platform to build your website, two very important questions that you need to ask yourself are:
Who owns the data?
How simple is it to move my website to a new platform?
Let's see how both platforms handle these questions.
WordPress
With WordPress, you not only have complete control of your site but also own 100% of the content that you create. This is because WordPress is open-source, which means you are the only one who can control and access your data.
On top of that, you can export everything from your site to a new platform when the need arises.
Squarespace
Given that Squarespace is a hosted solution, you do not have complete ownership over the data. In fact, if you decide to move your site, you are limited to what you can take with you.
Example of what you can export include:
Content pages such as you're about us page
Blog page and posted content
Comments
Image blocks and image gallery pages
Worse still, you cannot download the existing design of your website.
Site data ownership is one of those things that you are likely to overlook when building your first site. However, it's a very critical factor especially if you need to move your site somewhere else.
3

WordPress vs Squarespace: Which Platform Should You Choose?
Why choose WordPress over Squarespace?
WordPress is much more flexible than Squarespace. You can build any type of site you prefer.
It has a rich ecosystem of themes and plugins hence offers unlimited functionality.
You have a wide range of options when it comes to creating websites with deep navigation.
You have more control over what gets on your site when it comes to design.
You own all the data on your website.
Why choose Squarespace over WordPress
Setting up a website on Squarespace is a breeze, compared to WordPress.
You do not have to source for templates and plugins since they are readily available.
Domain name and hosting are offered in the package.
You need not get worried about the technical aspects of your website such as security since they are handled in-house.
It's the best option if you are looking for a simple but elegant website in the fastest possible way.
4

Wrapping Up

Both WordPress and Squarespace are great website building platforms. However, they both have their upsides and their shortcomings.

Therefore, regardless of the platform you choose, your project requirements should come first.

We hope that this guide will go a long way in helping you make the right decision.

Finally, which platform did you choose to set up your website? Do share your views in the comments section below.