The best thing about WordPress is, you can extend its functionality by simply installing a WordPress plugin. It is the simplest way to equip your site with more features. This means you don't need to code countless hours just to implements simple things on your website.
There is no doubt that putting content in a tabular form makes it easy to be skimmed by the users. Though you can create tables in WordPress by simply using HTML codes, the best way is to implement the same by installing a good WordPress table plugin on your website.
Since nowadays, responsiveness plays a major role in ranking sites on the search engine, we did in-depth research to find the best WordPress table plugins available on the web.
After going through countless hours of research and reviewing multiple WordPress users on different WordPress forums, we have cherry-picked the twelve best WordPress table plugins using which you can implement responsive tables on your website.
Using the right table plugin is very important. You should also try to use the star rating in your tables. Since the inception of Google Rankbrain, it tries to find more relevant and related content on your website. Using star ratings in the table can increase the chances of your website showing up in the search engine results page and Google rich snippets.
This means using the right table plugin, you can bring more users to your website. You can pick one of these plugins to create visually astounding tables on your website.
Best WordPress Table Plugins of 2019
Let's understand what each plugin brings on the table. We will learn more about their features. In most of the cases, you'll have to use a simple shortcode in the content, which would then fetch the table in the content when the same is published.
1

TablePress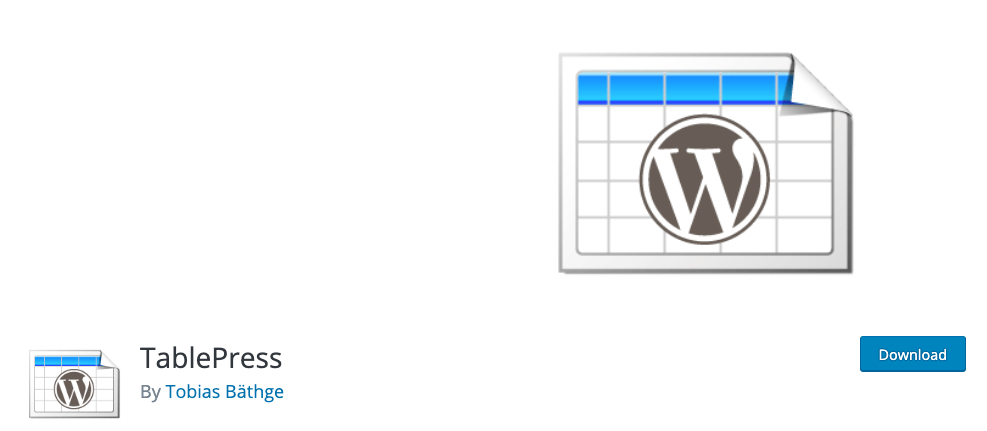 The TablePress plugin is the top-rated and widely used table plugin on WordPress websites. It is one plugin that comes with a variety of features which made it popular among webmasters in a very short period of time.
The best part about TablePress, you can use its shortcodes to add table literally anywhere on your website. Adding to the awesomeness, you can export/import tables to be used on multiple websites. This will literally save a ton of your time if you are managing more than one website.
It also includes some of the advanced features like sorting, pagination, filtering in a simple but intuitive interface.
Though the plugin is mostly responsive, you might have to add an add-on to make it totally responsive. Also, if you have decent HTML/CSS knowledge, you can create visually appealing tables by doing some minor modifications.
The best way to use the plugin would be to utilize its features for creating comparison tables, product specifications for Amazon affiliate sites, pros and cons, etc.
Key Features:
HTML Support inside the tables
Simple to use interface
Use shortcodes of other plugins (e.g., Shortcode Ultimate plugin)
Import from Google Sheets, CSV, and Excel
Export to Excel, CSV, and PDF
Responsive table to fit different screens
It is a regularly updated plugin
Price: Free
2

WP Table Builder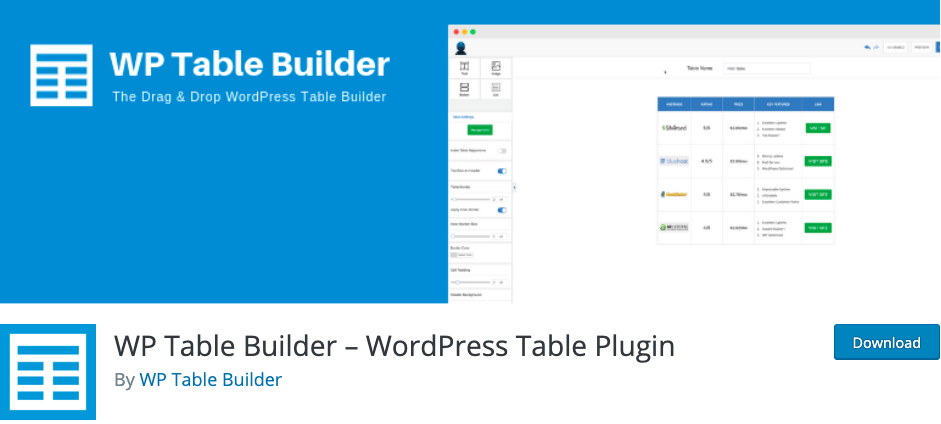 It is one plugin that has the feature to make mobile responsive tables. You can create a table in a few clicks by using the drag and drop interface. The main idea was to make it beginner-friendly so that even a newbie blogger could use the plugin with ease.
Using the plugin, you can insert five different types of elements in your table- List, Button, Text, Star Rating, Image. The interface is so simple that it lets you add and remove columns and rows with a few clicks. You can also alter the width and height of the column and row.
The best part is, using the star rating in your tables can increase the chance of ranking in the Google rich snippets. This way, you would also be able to drive more traffic to your website.
The WP Table Builder is a widely used WordPress plugin for creating comparison tables, Amazon product specifications tables, menu tables, and more.
Key Features:
Drag and drop interface for easy implementation
Shortcode feature to add tables
Mobile responsive to fit multiple screen size
Add/delete/modify rows and columns
Five different elements to embed in the table
Price: Free
3

Posts Table Pro

You might find it both funny and weird if we tell you that the Posts Table Pro is a plugin that creates tables without manual data entry from your end. Yes, it is absolutely true.
The plugin generates tables based on existing WordPress posts, custom post types, and pages.
This also gives a room to visitors to decide how many rows they want to be displayed on a page as they can also filter the post by using a category or tag.
Additional filters can be implemented by using simple shortcodes. The plugin is good for adding visually appealing but easy to skim content.
Key Features:
You can display any post, page and custom post
The tables can be filtered, sorted and searched
The plugin offers a responsive look and design
It also allows you to add multimedia files like video and audio
You can display WordPress posts in HTML Tables
Price: Free and Paid. The free version can be downloaded for free from the WordPress repository. The starter plan starts from $69 to $219. You can also purchase the lifetime version, which ranges from $199 to $649.
4

Ninja Tables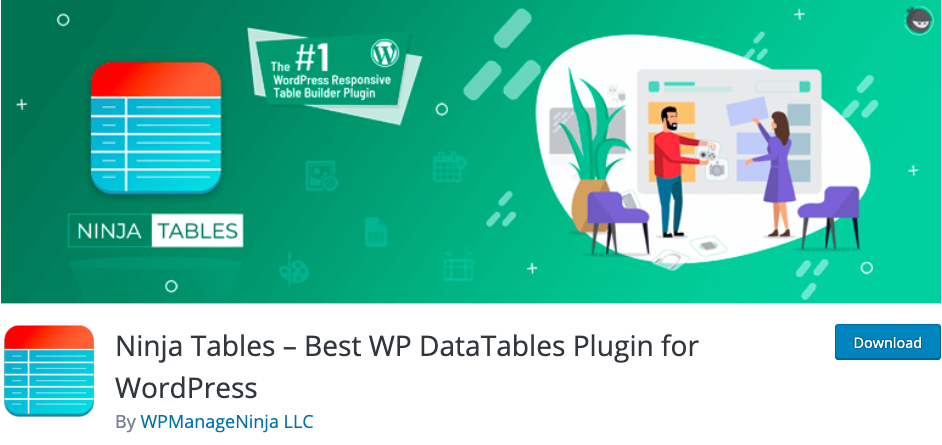 Using Ninja Table, you can create multiple types of dynamic tables on your WordPress website. It is a widely used plugin as it makes creating tables in WordPress very comfortable. The interface is very user-friendly, and thus, even a beginner would be able to create stunning tables by just watching the quick tutorials.
The best part, you don't need any additional add-ons to make the tables fully responsive. The plugin itself has the capability to create responsive tables that would adjust to multiple screens size, be it mobile, tablet, or desktop.
The plugin equips you of multiple table designs, built-in custom schema, predefined schema, and custom CSS. Since Ninja table plugin is a better version of most of the other table plugins available on the web, you can expect it to have the basic features like pagination, sorting, and filtering.
Using simple shortcodes, you can create tables in a very user-friendly way on your WordPress website. You can use the Ninja plugin to create a table for product specifications, Amazon product reviews, product catalog, product comparisons, etc.
Key Features:
Easily filter and sort data in the table
Import/Export tables to use on another website
Filter table using custom values
Duplicate tables in a click
Pagination for easy blending with your website design
Easy configuration for getting started
Easy integration with Google Sheets
Easy integration with WooCommerce
SEO friendly as the content can be picked by Google as a rich snippet
Bordered table
Multiple table colors and customizations
Price: Free version can be downloaded from the WordPress repository. Single site license for the Pro version starts from $49 and goes till $399 for the unlimited site lifetime license
5

League Table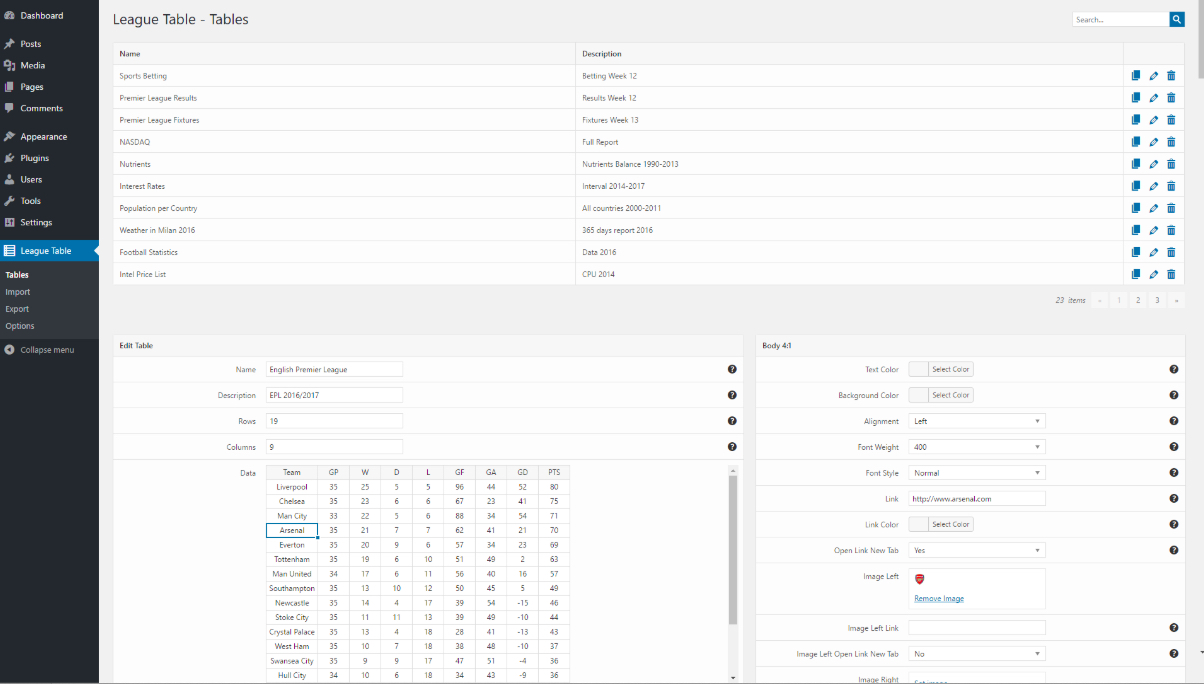 The League table is only available as a paid plugin but is power-packed with a ton of features to create those amazing tables on your WordPress website.
Since it is a premium plugin, the interface is designed to be user-friendly so that you can create table rows and columns easily.
It is one of the best WordPress table plugins and for a good reason as it offers you more than 135 customizable options to configure tables on your website.
Key Features:
Includes sortable columns, filtering, and colors
Easily import/export tables so that you need not create tables from scratch
The spreadsheet editor makes it simple for your manage tables on your website
Multisite support makes you use the plugin on multiple sites.
You can integrate multi-language support by using a transition file
You can do mathematical formulations inside the table
Easily insert HTML and JavaScript code into the cells
Has a responsive interface to support the different screen size
Price: As mentioned the League table plugin is only available as a paid version which costs just $23
6

wpDataTables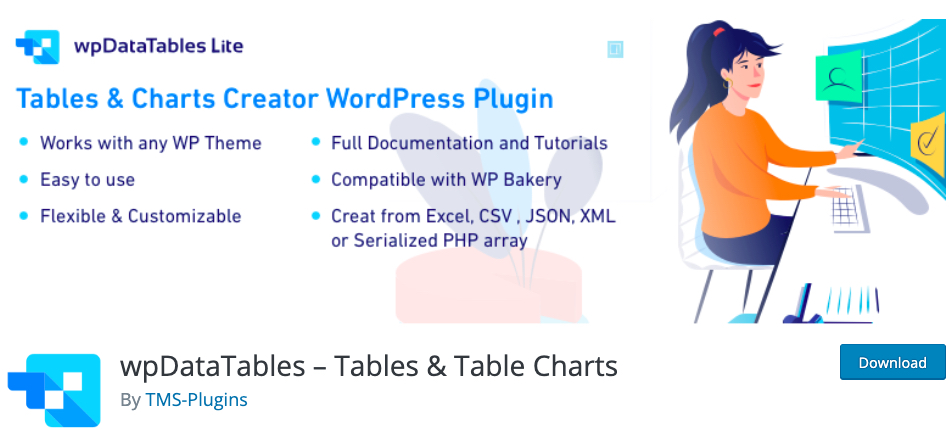 It is a basic tables plugin which would be the best for you if you don't use tables on your website that frequently. Though for extensive use, you can purchase its paid versions as well, the free version would suffice if you want to make simple looking tables on your WordPress website.
Key Features:
Easily import data from CSV, Excel, and JSON
The frontend and backend looks quite similar
Easily implement tables anywhere on your website by using simple shortcodes
User-friendly simple interface
Support from the WordPress community and the plugin developers
Premium Features:
Easily display data from multiple databases like MySQL, PostgreSQL, or MS SQL.
Responsive tables to fit multiple screen size
Create huge tables in minutes. The operations are handled by the MySQL server.
Advanced filter and search option
Highlight the important rows, columns, and cells
Create charts from Tables. The premium version uses engines like Highcharts, Google, and Chart.js for the same.
Perform calculation in the table
Price: The Free version can be downloaded from the WordPress repository. The premium version is from $59-$249/year. You can also purchase the lifetime version, which would cost you $189-$589 depending on the plan you choose.
7

WP Table Manager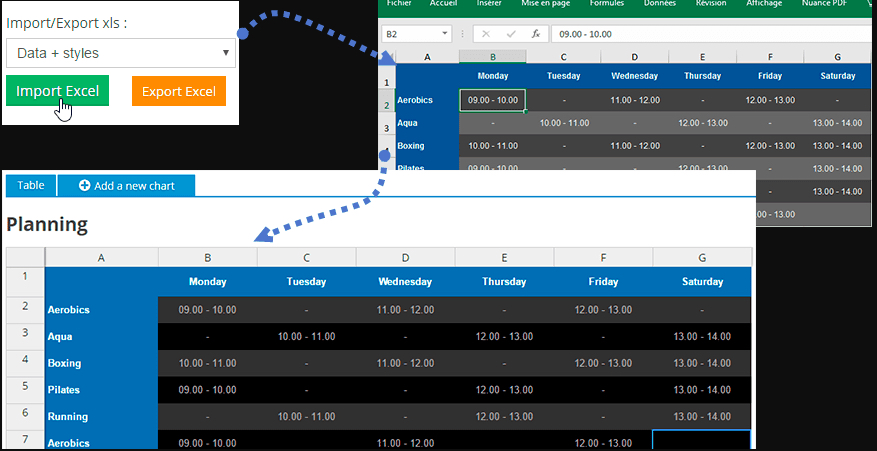 The WP Table Manager is a table plugin developed by JoomUnited. If you are looking for a plugin that can actually help you visually stunning tables on your WordPress blog, WP Table Manager might be the right choice for you.
The plugin provides you with pre-built themes of different styles. You can implement a style of your choice and create an awesome table on your website. All this, without any coding and technical knowledge, seems pretty daunting for a beginner and a newbie.
The plugin supports the new Gutenberg editor as it has two blocks to insert the tables. Apart from this, the plugin automatically integrates with Google Sheets and Excel files.
Key Features:
You can easily edit on an interface which is similar to Excel
Theme styles can be customized according to your preference
You can easily import data from sources like Google Sheets, Excel, WordPress database, etc.
Easily integrate and synchronization with Google Sheets and Excel
Perform numerical summation, counts, average operation in the tables
Create charts from your table by integrating it with charts.js
You can modify the cells using the WordPress visual editor
Advanced users can use the custom CSS code to change the table design
Price: It costs $34 with six-month support and $39 with one year support
8

Data Tables Generator by Supsystic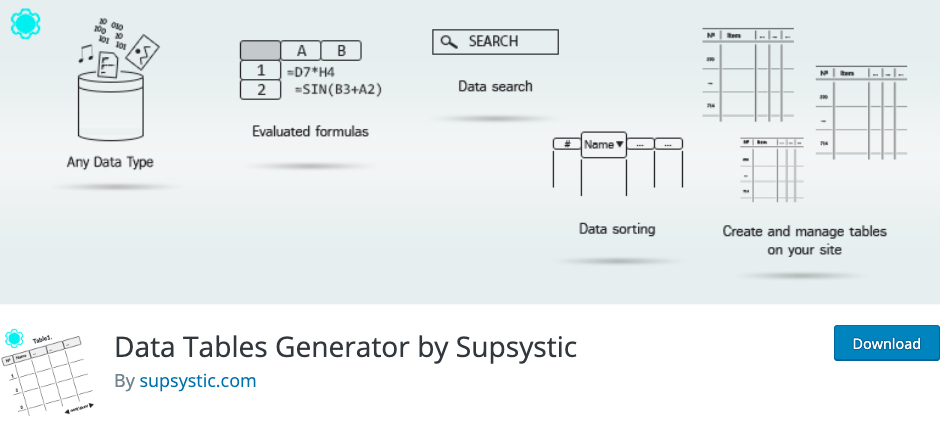 Many of you won't believe that there could exist a table plugin that provides premium features but at zero cost. The Data Tables Generator by Supsystic is one WordPress table plugin that would definitely amaze you with its features.
First of all, it is a free plugin that allows you to create powerful responsive tables on your WP website. You can interactively experience on your site as the plugin helps you to render graphs and charts.
Also, if you use really long and huge tables on your website, it might be a perfect table plugin as it can load huge tables on your website by making use of Server Side Processing.
Key Features:
Basic features like filtering, sorting, pagination
It is one of the best responsive table builder WordPress plugins
Includes HTMLsupport for your tables
Easily enable or disable the table header, caption, and footer
Play with font size, color customization and features like bold, italics, etc. to emphasize the text in the cells
Import data from sources like Excel, CSV and Google Sheets
Export into formats like Excel, PDF, and CSV
Price: It is free and can be downloaded from the WordPress repository
9

Magic Liquidizer Responsive Tables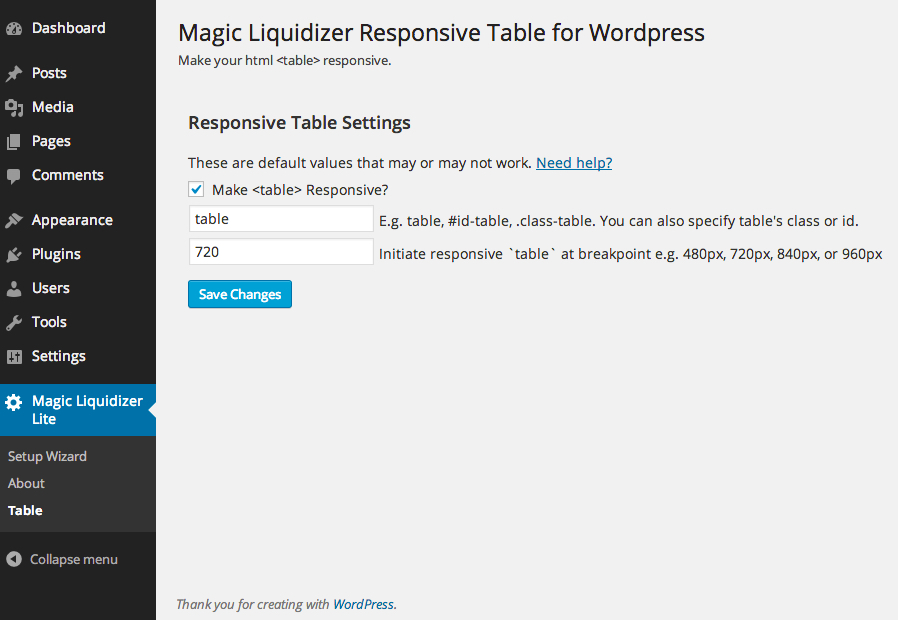 Transform simple-looking HTML tables into visually appealing responsive tables by using the Magic Liquidizer Responsive Tables plugin for WordPress.
The main idea to use this plugin is to avoid instances like- text going out of the screen, text size too big to appear to the mobile screen, etc.
Today, when having a responsive website is a basic need to rank better on Google and other search engines, it is very important to validate that every component of your website content should be responsive and that it fits good on devices with different screen sizes.
Key Features:
Gives a responsive outlook to texts, forms, navigation menu, images and tables
Convert your HTML output to responsive designs
Good for SEO as the tables could be fetched as Google rich snippets
Support for both portrait and landscape view
Easy to activate and use for a newbie
A lightweight plugin that won't make your site buggy
Price: Free to download from the WordPress repository
10

JTRT Responsive Tables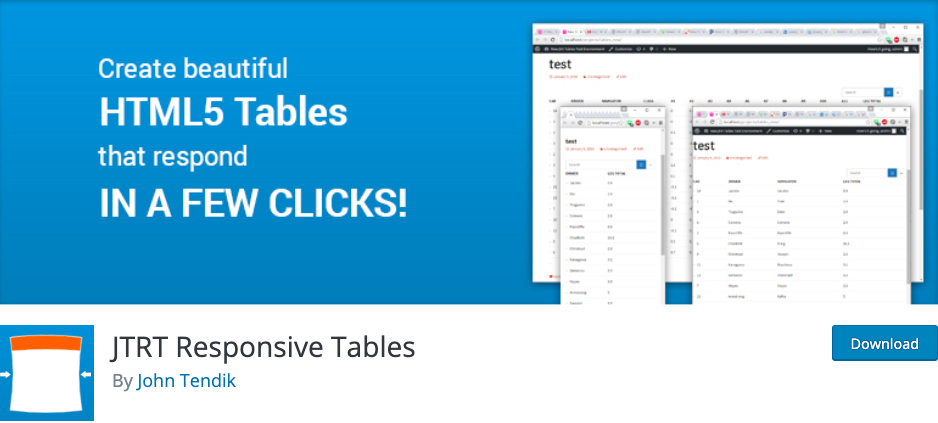 The main reason why most of us use WordPress for creating our website is that we don't want to deal with all that techy and geeky HTML and CSS code to manually design a website from scratch.
Talking about creating a responsive table manually, it could take a beginner countless hours to manually code the whole thing in HTML and CSS. This is where the JTRT Responsive Tables plugin comes to the rescue.
Using the plugin, you can create simple tables on your website without dealing with any coding and technical stuff.
Key Features:
WYSIWYG table editor in the backend
Use the numerical formula in the table
Convert CSV to responsive HTML
Add links and images within the table
Custom shortcode for easy implementation
Edit Cell font-family, font-weight, font-size, text-decoration, font-color with a few clicks
Custom borders and alignment for cells
Easy sorting, pagination, and filtering
Multi edit/multi-select cells
Use keyboard shortcuts
Edit the background of the cells
Price: Free to download
11

Visualizer Tables and Charts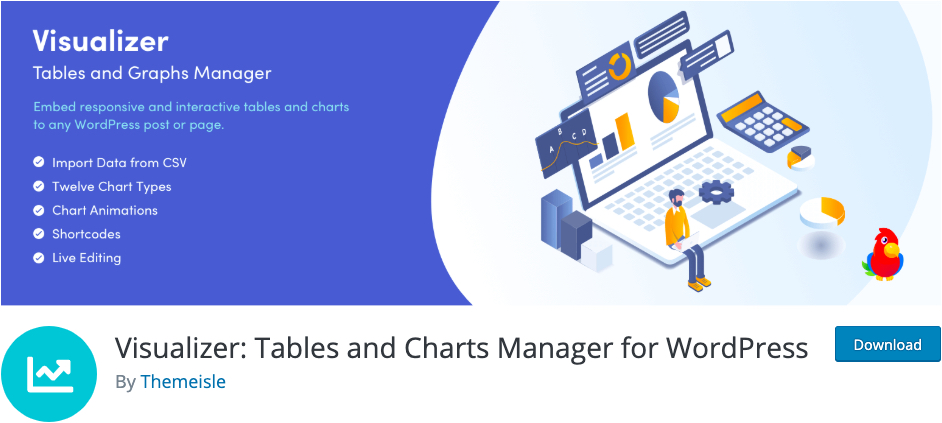 This freemium plugin has been developed by Themeisle. It offers both free and paid versions.
Using the plugin, you can implement animated charts, colorful diagrams along with basic tables. Overall, this plugin would solve the features for which you would otherwise have to download several other plugins.
Using the free version itself, you can create and manage different types of charts and interactive tables in your pages and posts on your website. You can extend the functionalities of the plugins by purchasing its premium version.
Key Features:
Create basic responsive tables
Manage and embed charts and graphs on your website as the plugin uses Google Visualization API, ChartJS, and DataTables.net
Lightweight plugin for your website
Support from Themeisle and the WordPress community
Premium Features:
Easily import data from charts
Live editor to edit data
Six additional different chart types (Polar Area, Timeline, Gauge, Candlestick, Radar/Spider, Combo)
Auto synchronize with your files online
Private charts could be created
Multiple users can edit the charts
Create charts from your WordPress pages, products, and posts
Priority support through email
1-year free updates
Price: Free version could be downloaded from the WordPress plugin repository. The paid version starts from $59.
12

MCE Table Buttons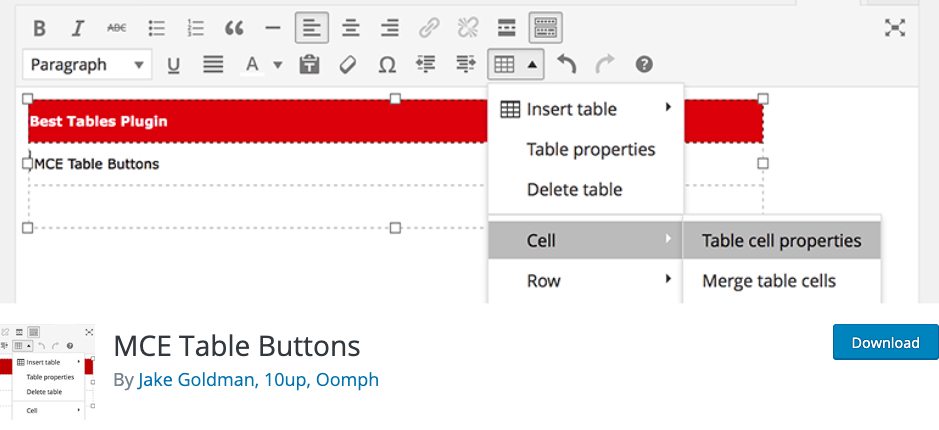 The MCE Table Buttons is a free, lightweight table plugin for WordPress. It is simple to activate and use. Just download, activate, and start creating tables for your website.
The plugin at the time of writing this post has more than 100,000 installations. Since it is a basic plugin, it doesn't take much space on your server.
Key Features:
The plugin adds a button in your WordPress editor so that you can create tables in real-time without having to deal with multiple tabs or windows
Since everything is done in the WordPress editor, you won't need any shortcode to implement tables in your posts/pages
You don't need to know HTML, CSS or any other programming language to use the plugin
You can easily insert or delete tables button and add/merge cells
The interface is clean and beginner-friendly
Price: Free
Conclusion
Using the right WordPress table plugin is very important in today's scenario, especially when you also want to drive more organic traffic through search engines.
All the above-listed plugins are picked to bring you the most authentic and exclusive list of the best plugins so that you can create responsive tables on your website.