Have you been reading around the web lately and come across the phrase, Rich Snippets?
Chances are you have, but there is also a chance that you scratch your head at it. I mean, what are Rich Snippets? Are they important? Can everyone use them? Is there a connection between Rich Snippets and SEO?
These are all great questions that deserve some clarifications. Let's look at some important topics that will be covered in this post.
Rich Snippets: What are they?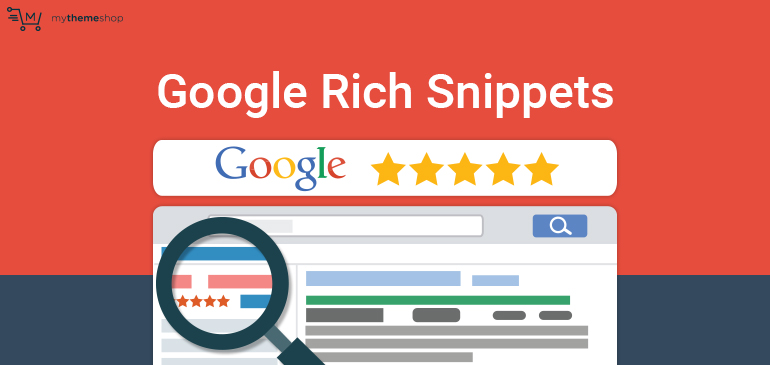 Rich Snippets are a part of what Google calls, Structured Data Markup. According to Google, they are a standard way to annotate your content so machines can understand it.
What this means is that you have made a way for the bots that crawl your website to easily sort out what your page/post is about and then enabled the ability to take that information and display it in Google Search so that your link shows a feature rich snippet of what your post will be about.
You likely come across Rich Snippets all the time in your personal web searches, but for the sake of being thorough here are some examples of a simple Google Search Snippet versus the Feature Rich Snippet that I was referring to.
The example of the search result with the star rating next to them is an example of a Rich Snippet.
There are other types of Rich Snippets that appear in search results as well (news and video), but since they do not fit into the correct category (more on this later) for the star rating, they don't display them.
With the example of the search result for WP Review Pro, you can see additional information next to the rating to help you gather more information about it.
You can tell that the product has a 4.8 star rating from over 200 people and that the regular running price for the plugin is $77.
The other simple snippet that is shown above that is still a review but doesn't use the markup needed to generate the Rich Snippet so the preview of the content shows nothing more than the meta-description for that post.
So now the question is, which out of those two results stands out to you more?
My guess is you're thinking the Rich Snippet link. And if you're eyes are more drawn to that one, then you're more likely to click on it, right?
This means that this link will probably see more click-throughs than the other one, even though the other result is at the top of the page.
Obviously, Google Rich Snippets are a powerful tool to help boost clicks to your results, but as great as it would be to use them, not everyone can.
Who can use Rich Snippets?
In order to get the star rating type of snippet to show up next to your post in Google Search, then your post or page needs to fit in one of the following categories:
Product
Recipe
Review
Event
Software or Application
If your post or page doesn't fit into the above categories, then, getting that rating system next to your link will not work out.
However, on the occasion where your topic at hand fits into one of these categories, then you can integrate Rich Snippets with the star rating into that post to help your post see a higher CTR.
But before we touch on how you can do that, first let's clarify if Rich Snippets have any SEO value.
Google Rich Snippets and SEO
So now the burning question that most people want an answer to:
Do Rich Snippets help with SEO?
The answer to this is two-sided. If you mean, will Rich Snippets improve your site visibility, then the answer is a toss up.
Since Rich Snippets help Google quickly and more easily understand what your post or page is about, then logic suggests that using them would help boost your rankings too.
However, many other things play into whether or not your post will end up on page one.
On the other hand, using Rich Snippets won't hurt your SEO and can really only help you move up in SERPs, so using them is still a great SEO strategy that can pay off in the long run.
If by your question mentioned above you mean to ask if Rich Snippets will help you get more click-throughs to your post from search results, then the answer is, yes, it can help.
Other things will play into this, such as your title and meta-description, but the truth is Rich Snippets draw more attention and thus draw more clicks.
This means that even if your post/page isn't in the number one spot on first page of Google, you will have a better chance of someone clicking on your post versus another one based on the fact that your link used a Rich Snippet.
Do you think that's important? Uh, heck yeah!
Want to integrate Rich Snippets into your WordPress site so that you can display those attention grabbing search results?
Here are some ways to do just that.
How to integrate Rich Snippets in your WordPress site today
The easiest ways to do this is to use a WordPress plugin or a WordPress theme that is set up to include and implement Review based Rich Snippets that Google will recognize.
Doing this will save you a ton of time in trying to do all the coding yourself and will create a nice look on your site as well since many plugins and themes that fit into this category will display your ratings in your post previews.
Using WP Review Pro to integrate Rich Snippets in your WordPress site
As far as Rich Snippet WordPress plugins go, WP Review Pro is one of the easiest, lightweight, and fastest plugin around to do the job.
You choose what features you think are worth a rating, choose a Star, Percentage, or Point review type along with the other requested details of your review and WP Review will handle the rest.
Since the plugin works to create the correct microdata needed for Rich Snippets, once you start to use the plugin and after Google Crawls your site, then your ratings with the Rich Snippets will be more likely to start and show up in Google.
It's easy to use and people always love a good breakdown or review on products, so you have the added benefit of increasing your value to your site visitors.
Using a WordPress Theme
The other option that you have is to find a WordPress theme that takes care of it all or that supports another plugin that will integrate the Rich Snippets for you.
There are plenty of choices out there, however, MyThemeShop has some of the fastest themes on the market and even has some with built-in review system that support the Google Rich Snippet requirements by Schema for displaying Rich Snippets in the SERPs.
Here are a couple of good themes example that you can use on your website and improve it greately in terms of speed, design and SEO.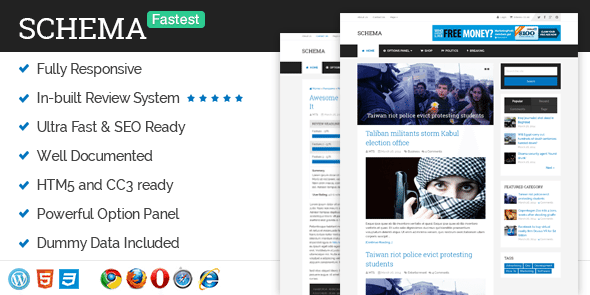 You can do all you want with SEO, but if your theme is poorly coded, none of that is going to matter.
PageSpeed is now a factor that Google uses to determine ranking posts and pages on the SERPs. The Schema theme not only has a built-in rating review system that supports Google Rich Snippets, it is the fastest SEO theme for the WordPress available.
In fact, the Schema theme is so fast that it even beat out the Genesis Framework in a side by side PageSpeed test — like by a lot. You can see the results for yourself in this comparison here.
If you've been looking for blogging theme that is really top notch and that will integrate Rich Snippets, then you should take a closer look at this theme.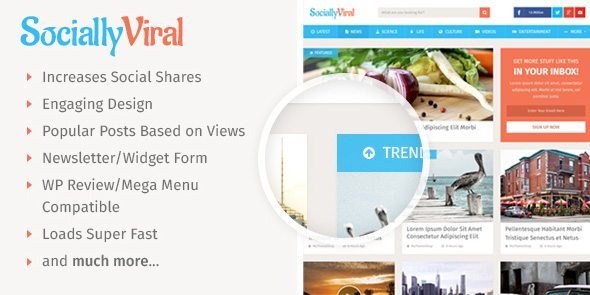 SociallyViral is a MyThemeShop theme that has both super fast page load speed and it is 100% compatible with WP Review and WP Review Pro which will integrate Google Rich Snippets in your site.
The theme comes with some great features and is designed to entice social shares in order to help you get more attention and traffic to your site.
Wrapping It Up
Rich Snippets are a powerful tool that you can implement as part of your SEO and online marketing strategy. Though they won't necessarily help you with rankings much, they can certainly help with many other things including getting more traffic to your website by improving the click through rates.
If you ever write any type of review on your site, then you should do what you can to utilize Rich Snippets so that you can boost the effort you put into that review already.
If you're on the hunt for a new WordPress theme that is great for SEO and that makes it easy to use Rich Snippets, then be sure to stop by our Theme Shop and check out all the great themes that we have to choose from.