Contrary to popular perception, blogging isn't all about writing. Don't get me wrong, writing is a primary requirement, but that's not the only thing you need to become a successful blogger. You'll need to develop a whole skill set to succeed in this competitive field.
In this article, I'll share some reasons why you should start a blog and tips to keep in mind before starting a blog. Let's dive right in.
5 Reasons Why You Should Start A Blog
Starting a blog requires a lot of effort. But what doesn't?
Besides, the pros far exceed than cons. Yet, if you still haven't been convinced that starting a blog is the way to go, here are five reasons you should give it a go before I give my blogging tips for new bloggers.
With blogging, you can…
Attract An Audience
If you're the type who likes to write for an audience, blogging is the perfect activity for you. With blogging, you don't only get to do what you love the most, which is obviously, to write. You also get to attract an audience who will read your pieces.
With blogging, it's not just that satisfaction you get when someone else appreciates something you wrote. It's also the added benefits that come with having a following. We'll discuss this more later.
Establish Authority
Blogging helps you establish the authority you need in the niche you chose. So if you've written many blog posts on marketing, you'll be considered a marketing guru. If you've written a lot about SEO, you'll be the go-to person for anything related to SEO.
That's a good thing because, well, who doesn't want a little popularity in the first place? Besides, that can come in handy when you're selling things related to what you're talking about. If you're selling SEO services, you won't have a hard time getting new clients because a check of your articles will show you know what you're talking about.
Tell Your Story
Blogging is a great way to express yourself. When you blog, you can express your inner feelings and thoughts. You can tell your story in the way you choose and inspire others to follow in your footsteps.
In other words, blogging can be a liberating and therapeutic experience. Bloggers share their experiences with rich storytelling and examples using blogs, and that can be a reason to gain huge followership.

For example, Rand Fishkin, Ex-CEO of Moz, shared his story on how he is leaving Moz and starting a new company – SparkToro. This story got a lot of popularity. Rand was already an influencer, but this storytelling helped him spread a few words on his new product.
Connect With New People
Don't let anyone tell you blogging is only for people who can't socialize with others. Blogging, after all, is also a social activity. When you write for an audience, you necessarily interact with them. When you answer their comments and acknowledge their suggestions, you're socializing.
That's not all. You get to interact with other bloggers as well because you need to expand your network. By connecting with fellow bloggers, you get the help you need, like guest post opportunities, link building, or social sharing.
Invest time in developing your professional network. Identify who you want to connect with. Follow them on social media, and use an email ID finder to get their contact details so you can shoot them an email.
When you blog, you create opportunities, too. Each post is an opportunity to generate new leads that can become conversions. And don't think those new leads will only be based in your country. All your posts have a global audience, which means your leads can literally come from all over the world!
Earn a Side or Full-Time Income
Here's one you will definitely like: With blogging, you can make money. And there are so many ways you can do this. For example, you can use affiliate marketing to promote products and services for a hefty commission. According to Affise, successful affiliates can earn as much as $3,000 a day! Super affiliates can make more than $10,000 a day!
You can earn from Google Adsense, too, or from writing a sponsored content. If you prefer this, you can sell advertising space on your blog or on your email newsletter. Trust me; the sky is the limit when it comes to making money through blogs.
6 Things To Keep In Mind Before Starting Your Blog
Hopefully, you should be inspired to start a blog. In the following paragraphs, I'm going to share some blogging tips and insights you can apply to increase the chance of success. Let's dive into the meat of this article.
Blogging Takes A Lot Of Effort
Blogging is not a walk in the park. Once you decide to get into it, you need a certain level of commitment. One blog post won't cut it, after all. You should be prepared and have a solid plan in your head. People who fail to do so have the highest chances of failing in blogging.
If you want to succeed, you need to publish high-quality content for your site and many guest posts. You won't just have to write the content. You need to do the research, source images, create infographics, and more.
You also need to promote your blog content. That means thinking of ways to get people's attention on Facebook, Twitter, or whatever platform you choose, depending on the audience you're trying to reach. If it's a crowded niche, you'll have to work extra hard to stand out.
It's Not The Easiest Way To Earn Money
Sure, you can earn money from blogging. But it is certainly not easy.
To earn the big bucks from affiliate marketing, Google Adsense, sponsored content, or by selling space in your marketing materials, you need a large audience. You only build a large following if you put in the effort and strategize, and that requires a lot of hard work (and smart work).
Most bloggers start earning money after six months of working hard. After all, that time spent on the blog, they are only earning a part-time income.
I might have scared you a bit. Don't be put off!
Just like every job, blogging also has its challenges. A little bit of hard work and a bit more smart work can do the needful!
Pick A Niche
Most people who start a blog fail. The percentage varies depending on which article you read when you make a search on Google. When I searched, the top results ranged from 80%-99% of blogs.
Regardless of what the figure is, the stats reveal that a high portion of blogs will fail.
The reason most blogs fail is probably a variation of the following; the blogger doesn't make any money, gets disillusioned, and quits. The best way to get over this is to ensure that you make money. That requires a game plan.
Design a strategy for how to make money blogging before you start.
Begin by picking a niche. Choose a niche where there's scope to earn a good income. If you pick a niche where the scope for making money is limited, you'll struggle to succeed because regardless of the niche, being a successful blogger is hard work.
The graph below provides some insights on the opportunity to make money blogging by niche.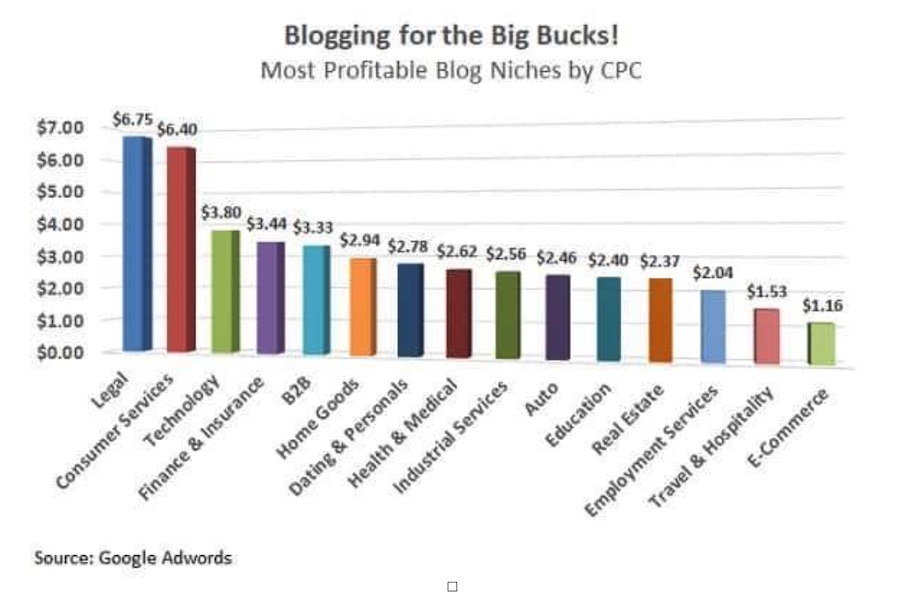 Just in case you didn't get it, the Cost Per Click on ads provides useful insight on the opportunity for earning money. You can see that "blogging for a passion" doesn't make the list.
Once you've picked your niche, figure out how you want to earn your first $1,000 a month. You might achieve this by offering consulting services, selling online courses, or earning an income through affiliate marketing.
Content Is Still the King
This is probably one of the most important blogging tips for new bloggers. When you write, you shouldn't just write. You should write quality content. Let's face it. Even if you're one of the best writers out there, if your content doesn't show value to the readers, it's not enough.
Creating quality content takes practice. Here's the framework that we use to create content for our blog and the guest that our team writes.
Once we have an idea for a blog post, the first thing we do is research the competition. The goal here is simple; find out what's already ranking for the keyword you're targeting. You can use tools like the Detailed Chrome extension to gather insights on the competing content.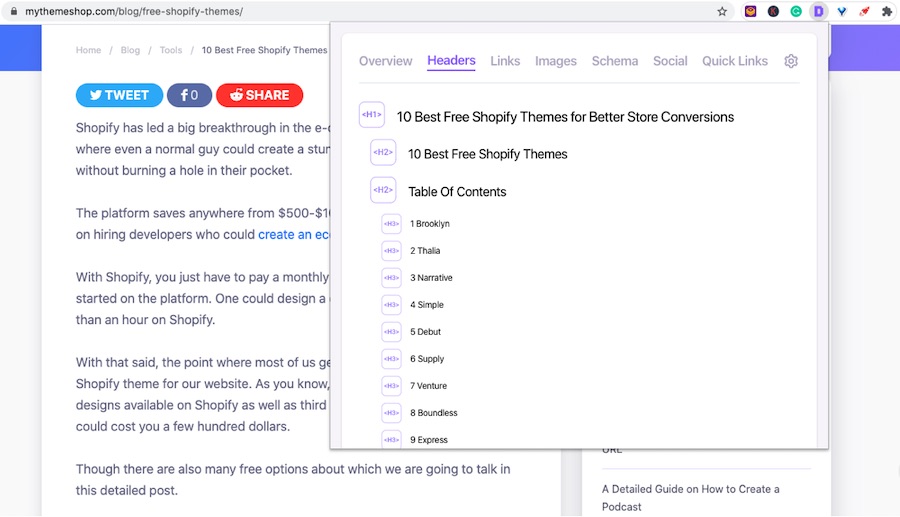 The Chrome extension provides insights like the headings, word count, and other details. The headings are particularly useful as you can see how the writer structured the article.
Once you've reviewed a couple of competing pieces of content, create a structure for your content. Then it's time to start writing.
When you start writing, skip the introduction, and jump straight into the body of the article. Then type, and keep typing until you reach the end of the blog post. Once you've finished your blog post, review the article. This is your opportunity to do some heavy editing. You can also jump back to the introduction and write it up – it's a lot easier to write the introduction once the article is finished.
When you feel like the article is ready, do a final review with a grammar checker. This is your opportunity to catch typos and spelling mistakes and fix grammar errors.
You Have To Learn New Things
To be a successful blogger, you need to pick up a lot of new skills. That includes SEO, marketing, analytics, and Google.
You need to learn how to promote your blog and how to do on-page SEO and off-page. You also need to learn how to analyze your analytics so you can make the necessary adjustments to make your blog highly-visible in search engine results.
Don't worry if you don't know anything about these things. There are plenty of resources online you can read. Ask seasoned bloggers for advice as well. Many will be happy to provide insights.
For example, fundamentally, SEO is straightforward.
Google wants to provide people who are using the search engine to have a great user experience. That means trying to show the best content at the top of the search results to visitors.
Where SEO gets complicated is making sure your content is ranking at the top of the SERPs. Unfortunately, I can't share the solution, it's pretty complex, but I can share the basics.
To rank at the top of the SERPs, you'll need some great content – more on that later. You'll also need to prove to Google that your content deserves to rank for that term. There is a correlation between the number of authority links a piece of content has and where it ranks on Google.
You can see the SEO tool Ahrefs has placed a causal link between the number of backlinks and where it ranks on Google. For instance, to rank on the first page of Google for the term "blogging tips," you will need in the region of 58 links from different authority domains to rank for the term.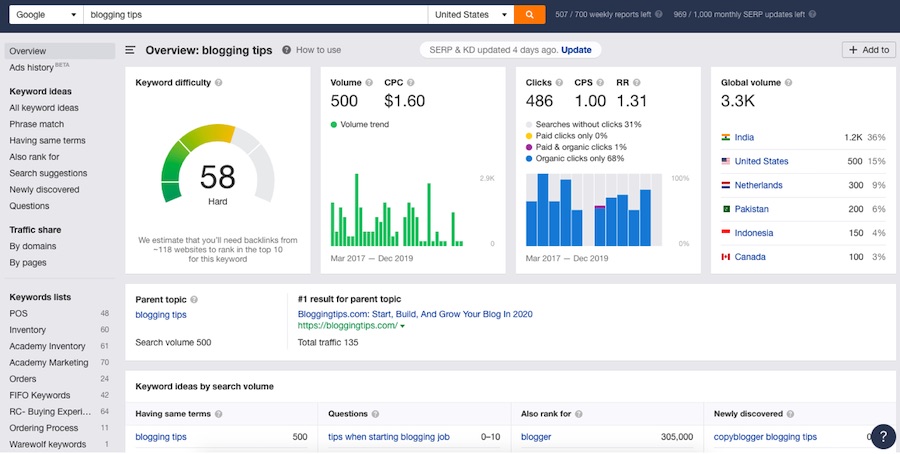 Of course, this isn't an exact science; factors like site speed, internal linking, the quality of your content, and the authority of a site all impact search rankings.
The ability to do basic keyword research and understand what you need to do to rank for the terms that are important to your blog will play an important role in your success. Hopefully, this brief synopsis will provide some insights into how to do this.
Use Every Channel To Spread The Word
There are a lot of different ways to go about promoting content so you can increase website traffic. I recommend you experiment with them and learn what works best for your blog, your skillset, and your audience. If you want to get your content ranking on Google, you will need to invest a lot of time in guest posting to grow the authority of your blog. This will be one of the most direct methods for getting new visitors to your site.
Alongside guest posting, use social media amplification tools to promote your content. In the marketing niche, for example, tools like Zest are a great way to get more eyes on your content.
You'll find social media amplification tools that work well for most niches.
Social media is another obvious channel for promoting your content and engaging with your audience. If you're a naturally sociable person, make the most of social media to promote your content. You can combine your organic presence by using paid ads to promote your blog content.
Finally, make sure to collect the details of everyone who visits your website. The best way to do this is to get people to sign up for your email list. However, you can also set up a retargeting pixel on your site to collect information about visitor profiles. You can run paid ads targeting these people, or you can use this data to create lookalike audiences.
In Conclusion
In this guide, I shared six blogging tips to help you launch a successful blog. Start by building your blog on solid foundations. That means selecting a good hosting provider and an easy to use CMS. I recommend you use WordPress.
Once you've set up your blog, decide what you will write about, and your route to market. If you can make money fast from your blog, you will drastically increase the chance of becoming a successful blogger. Then start creating great content.
Finally, invest in building up a strong professional network of people who will help you achieve your goals and promote your content. I hope that you found the information I shared useful — best of luck with your blogging endeavors.