Almost every photo we come across today is edited or personalized in some kind. Thanks to the numerous design and photo-editing tools available in the market today.
One popular photo-editing and graphic design tool is the Adobe Photoshop, which is touted by many as the "undisputed king" when it comes to professional photo editing. However, its professionalism comes at a price which is a huge factor, especially if you are on a budget.
Luckily, there are other innovative and free Photoshop alternatives. One of them is GIMP. In this article, we will look at the benefits of Photoshop vs GIMP.
Since, there is a lot of confusion to choose the best one from both, we will try to simplify the same for you by bringing you the exact facts and features by comparing the two platforms in detail.
What is Photo​​​​shop?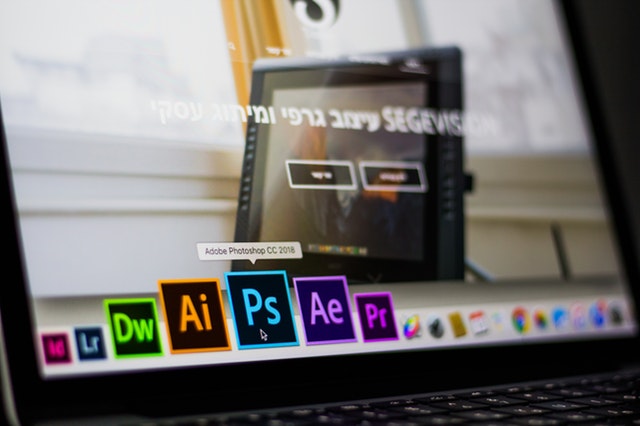 Photoshop is one of the most powerful graphics software for creatives developed by Adobe. The program's functionality is encompassed in the all-inclusive spectrum of graphic related actions. These include image editing, animation, web design, digital drawing, and more.
Since the program is developed for professionals, it's a little more complicated, especially for the new users. Fortunately, you do not need to master all its ins and outs. You can just master a few of its functions using which you can edit photos like a pro.
Photoshop comes with a plethora of tools, functions, and effects. It's also easy to use, thanks to the intuitive and simple interface.
Photoshop Fe​​​​atures
Allows cross-platform compatibility
CYMK mode
Comes with four healing tools
Allows stroke smoothing
Brush organization
Colour and luminance range masking
Comes with a curvature pen tool
You can copy and paste layers
Comes with collaboration tools
Wh​​​​at is GIMP?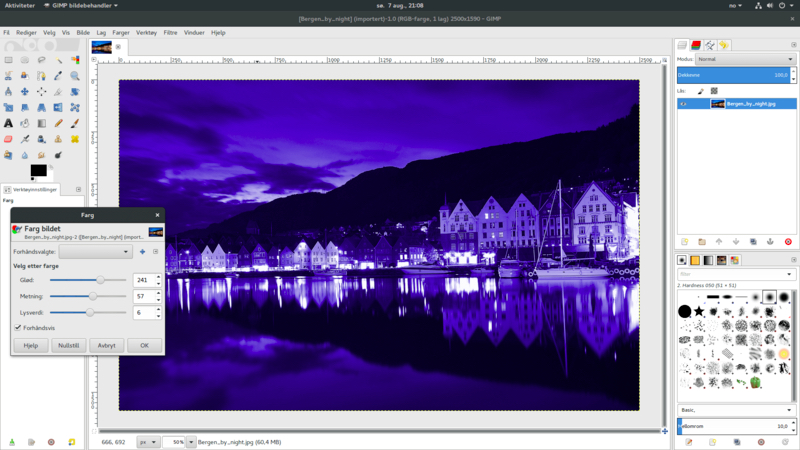 GIMP is the short form for GNU Image Manipulation Program. It is an open-source platform and is regarded as one of the most successful Photoshop alternatives.
The software comes for free and given that it's open-source, it welcomes code adjustments from developers. The program is available for LINUX, Mac, and Windows.
It is perfect for graphics editors and is suited for both professional and home usage. It can perform basic photo editing tasks, illustrations, and color corrections for free.
GIMP feat​​​​ures
Given that it's open-source, you can write or alter the source code to allow you to add or create new plugins
Can read Photoshop PSD native files
Allows digital retouching
Only one healing tool
Allows users to customize the interface
Comes with a variety of painting tools
Has an open-sourcegraphics editor called Inkscape
Compatible with LINUX, UNIX, Mac, and Windows systems
GIMP vs Photoshop: Syste​​​​m requirements
When deciding on which software to download and install, it's natural to check how much space is bound to be consumed. This simply implies that the size of the software plays a vital role when it comes to its functionality and how fast it will process commands.
Photoshop is a big software in terms of download size and system requirements. For machines running on Windows, Photoshop requires 2GB RAM while GIMP requires only 256MB RAM or higher. Apart from this, you'll need a 2GHz processor or faster for Photoshop while GIMP requires Intel Pentium IV or faster processor.
You can only run Photoshop on Windows and Mac systems, GIMP is available on LINUX, UNIX, Mac, and Windows
Photoshop vs GIMP – Basic Differences
| | |
| --- | --- |
| Not easy to use for beginners so you need to go through various tutorials. | Simple software for newbies and professionals. |
| It requires a lot of space for optimal performance. You need atleast 1GB of RAM in your computer. | The program is very light and requires little buffering space. You only need 256MB RAM to run this program. |
| It offers Pantone colors and does not support XCF files, which is GIMP's native file format. | You can read and edit Photoshop PSD files in GIMP. |
| It's not free and requires you to make monthly subscriptions in order to enjoy its features. | It's a free open source program and anybody can alter the source code. |
| The program is designed for professionals. | The program is designed for hobbyists and armatures as a Photoshop alternative. It's thus ideal for users who are on a budget. |
GIMP vs Photoshop: Wh​​​​ich one is right for you?
On a bud​​​​get – GIMP
Like other professional Adobe products, Photoshop comes at a cost. In the past, you had to pay a one-time licensing fee of $700 in order to use Photoshop. Luckily, the fees have been discounted over the years to as low as $20.99 a month. However, this expense can prove to be unjustifiable, especially if you are on a stretched budget or if you only use it occasionally.
Under such circumstances, you might want free pro-grade software and save up the money for other things. The better choice, in this case, is GIMP simply because it's professional, free, and comes at a zero cost.
Edit image​​​​s on the smartphone – Photoshop
If you are always on the move, a laptop or a desktop computer might not be a viable option. As such, you might want to consider a photo editing software that can be used on your smartphone.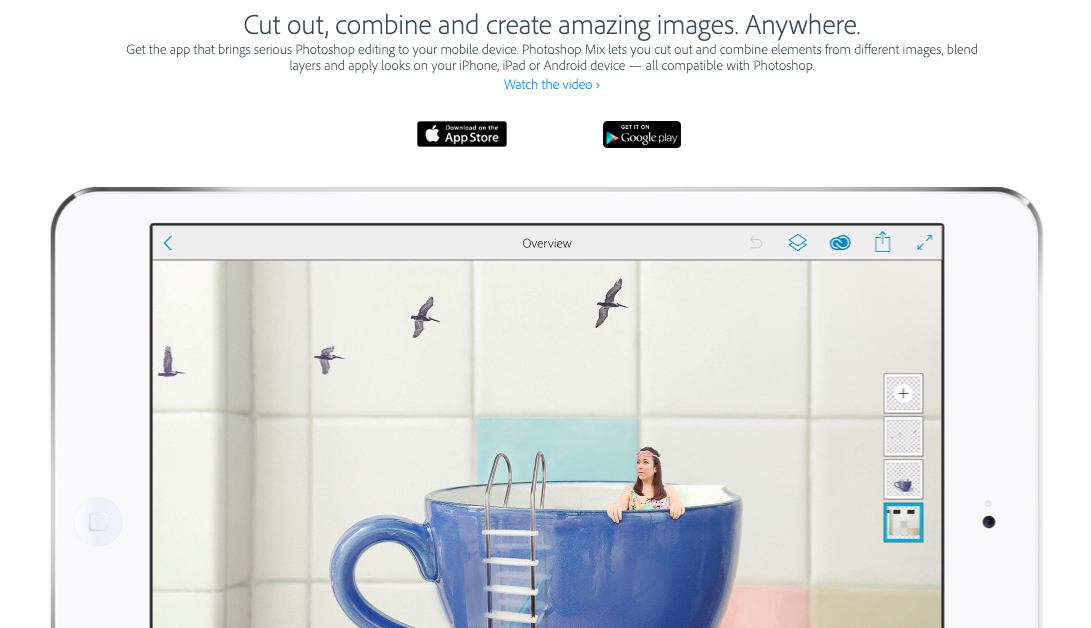 Adobe offers a number of smartphone apps, including the Adobe Photoshop Express for photo editing and the Adobe Illustrator Draw for graphic design. The good thing about these apps is that all your work can be synced back to your computer via Adobe Cloud.
GIMP, on the other hand, is yet to offer an app that can be used on your smartphone. We are hoping that the developers will launch a smartphone version in the near future.
Speed an​​​​d stability – GIMP
Developed with digital photography in mind, GIMP is not only fast, but it's also stable. Apart from that, it allows you to remove any unnecessary tools from the mix, making it less likely to make mistakes that you'll be unable to fix when working.
Photoshop, on the other hand, isn't a tool for digital photography but rather design and illustration tool making it more complex and a bit more confusing for newbies. It also has numerous tools compared to GIMP, which means it takes up more space.
Space cons​​​​cious – GIMP
Most designers and photography professionals use their laptops or desktops to work on their projects. While this is perfectly normal, the only problem is when you want to work with a huge program like Adobe Photoshop.
Not only does Adobe Photoshop require a huge download space, but it also requires a lot of room for rendering in order for you to be able to edit your images faster without overworking your computer.
Therefore, if you are limited on space, Photoshop may not be the right software for you. Fortunately, GIMP is smaller in size, downloads faster, and saves your hard drive and RAM space.
Need CYMK – Phot​​​​oshop
With Photoshop, you can convert your images to CYMK, which is absolutely necessary when it comes to printing images. GIMP on the other hand, processes images using the RGB color profile, which is only good for web images.
Frie​​​​ndly user interface – Photoshop
Both GIMP and Photoshop are easy tools to use. However, as an industry-standard software, Photoshop feels less clunky, especially for experienced users. This is not to say that GIMP is not user-friendly. The fact that it comes with lesser tools makes it easy to customize and less intimidating for inexperienced users. The good thing about Photoshop is that it comes with numerous tutorials that you can use to master it.
Powerful tool – Photos​​​​hop
Both Photoshop and GIMP come pre-loaded with great image editing tools. However, when comparing Photoshop vs GIMP, it's only fair to say that Photoshop is much more powerful than GIMP.
For example, Photoshop is more powerful when it comes to pixel manipulation and also comes with four separate healing tools. GIMP, on the other hand, comes with one healing tool whose function is to remove the odd spot, which is not enough for complex projects.
Fast​​​​er batch processing – GIMP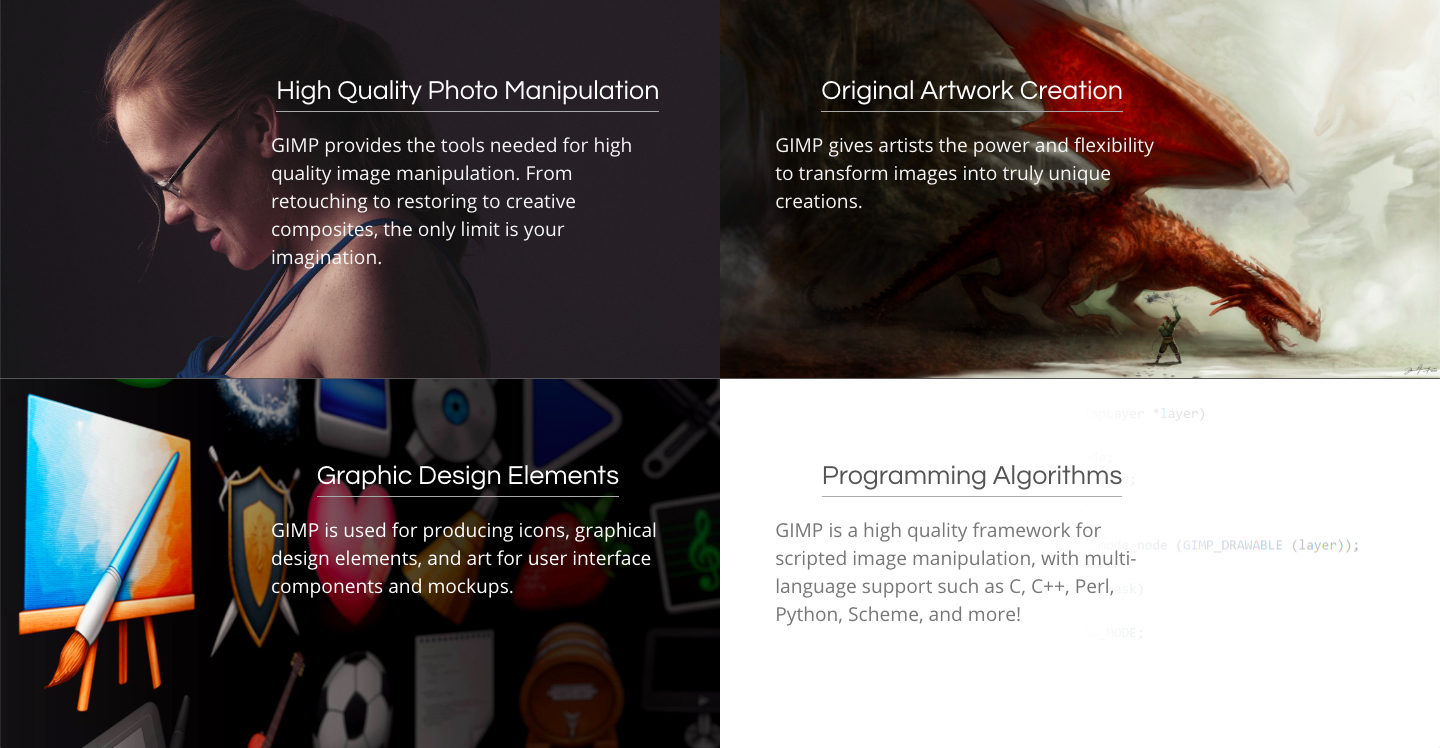 If you prefer to process your images in batches, then GIMP is the software for you. Unlike Photoshop, which takes longer to process batch images, GIMP is much faster and can handle large files as well.
Handli​​​​ng ​​​​RAW images- Photoshop
This is one area where Photoshop overlaps GIMP. Photoshop has the capacity to convert RAW images, thanks to the RAW editor that comes with it. Although you can also use RAW images in GIMP, you'll need to install a separate plug-in. This can become a little confusing, especially if you are a new user.
Continuo​​​​​​​​us development – Photoshop
Adobe is a big software company, and its dedicated team of programmers is always tweaking and upgrading the program. All you have to do is download and install the updates when they are available.
Apart from that, the company offers excellent customer service. GIMP, on the other hand, is an open-source, and it is free, which means updates may take longer to be available and may not be as frequent as in Photoshop.
What ​​​​we like about Photoshop 
It comes with a plethora of editing tools
Adobe suite compatibility allows the reading of files from tools such as Lightroom, Illustrator, and InDesign
Great online support and a vast community
Comes with tons of plug-ins, filters, and tools to smoothen your experience
W​​​​hat we dislike about Photoshop 
Comes at a cost and can be expensive for most of the users
It's believed that due to its cost, most beginners own pirated copies
Plug-ins don't carry over with upgrades
What we li​​​​ke​​​​ ab​​​​out GIMP
It's completely free hence a better choice if you are on a budget
Comes with numerous tools similar to those on Photoshop
It is open-source hence you can alter the source code to fit your needs
It's lightweight and compatible with almost all operating systems
What we dis​​​​like about GIMP
GIMP tools are not as polished as Photoshop
Comes with one healing brush tool
It's a community-based tool hence less support
It takes a while to load on Windows systems
Wrap​​​​ping Up
If you are a professional or novice editor, you need reliable and steadfast editing and designing program. While both Photoshop and GIMP can offer that, the decision on which program to use is solely based on your prowess and kind of project you are working on.
Pertaining to GIMP vs Photoshop; however, we feel that Photoshop is a better program than GIMP because it offers a much stronger pixel manipulation, which is crucial in editing and has more features. GIMP, on the other hand, is a better option if you need to do simple edits, and apart from that, it's free, which is ideal, especially if you are on a tight budget. 
Lastly, if you know Photoshop, you will be eligible to work across professional projects. In short, you can create a career just by getting to know the basics of Photoshop as it is a market standard for web design and image correction.