There are numerous reasons why we choose to create a blog. Maybe we want to share our ideas on different subjects, establish a brand, or create a following.
Whatever the reason is, it's paramount to ensure that our blog is founded on the right platform.
Best Blogging Platforms in 2020
While there are numerous platforms to choose from, only a few will fit perfectly with your specific project.
In this article, we have reviewed the 15 different blogging platforms for 2020. This would give you a better idea to choose the best blogging platform for your next website.
1

 WordPress.org (Self-hosted WordPress)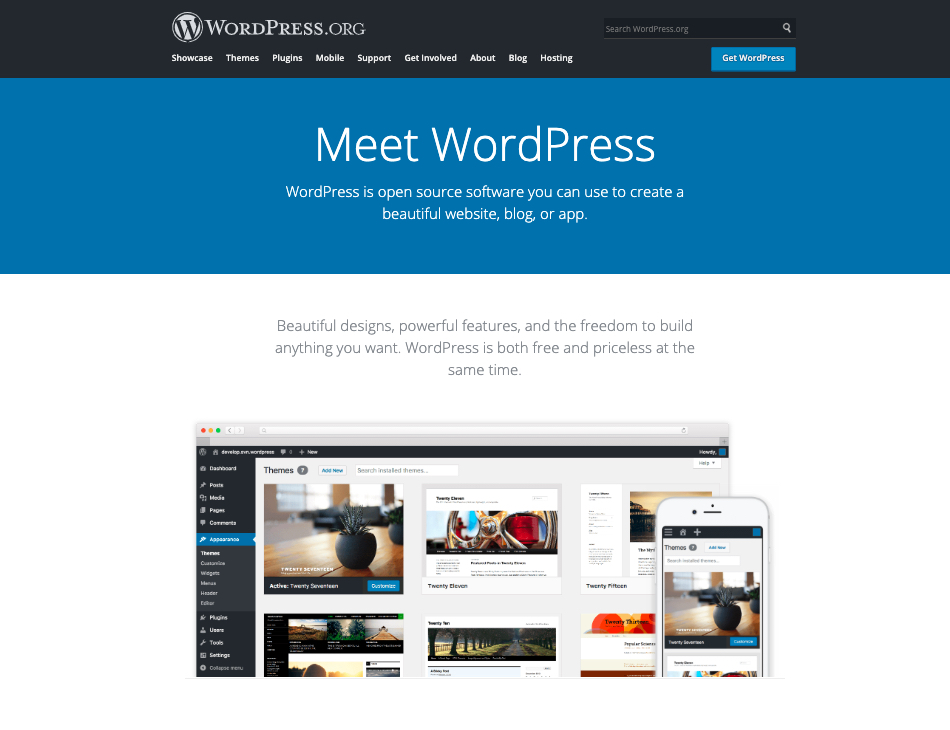 Self-hosted WordPress is the most popular WordPress version for people seeking flexibility and control. This version of WordPress is offered by wordpress.org.
Founded in 2003, WordPress is the fastest growing CMS, with over 37 million websites powered to date and over 500 websites developed daily.
It's free to download and an open-source platform. This means that the source code is freely available and can be altered and updated to your advantage in order to fit your blog's design requirements.
Given that's it's open-source, it has quite a large and active community of independent contributors who constantly develop new products like themes, plugins, and extensions.
In practice, this clearly means that a self-hosted WordPress blog, in the hands of a well-experienced website developer, is highly customizable.
However, this does not mean that if you are not a programmer, you cannot meet the requirements of your blog. All you need to do is know – which essential plugins to install and you are all set.
To get started on self-hosted WordPress you'll have to:
Register a domain name with a domain registrar
Choose a hosting package with a hosting company such as Siteground
Download and install WordPress on your hosting server
Use your preferred theme
Add the essential plugins
Map your domain to your server etc.
Pros
You have total control of your blog.
Installing WordPress takes just one click.
Easy customization thanks to thousands of plugins and themes.
Blogs made on WordPress are search engine friendly.
Cons
It has a steep learning curve for beginners.
Security issues may arise from malicious codes embedded in the plugins.
Pricing
WordPress is free to download and install on your web server. However, to get your blog off up and running, there are a number of things you'll have to spend a few bucks on since WordPress is a self-hosted platform. This includes:
Web Hosting
Domain registration
Themes
Plugins for added functionality
Tools for ecommerce integration
You may also hire a web developer if you don't have much coding experience to assist and hasten the implementation of the project.
In WordPress, you do not have a set of premium plans to choose from. However, considering the scope of your project, you can definitely choose different plans from your hosting provider.
2

 Tumblr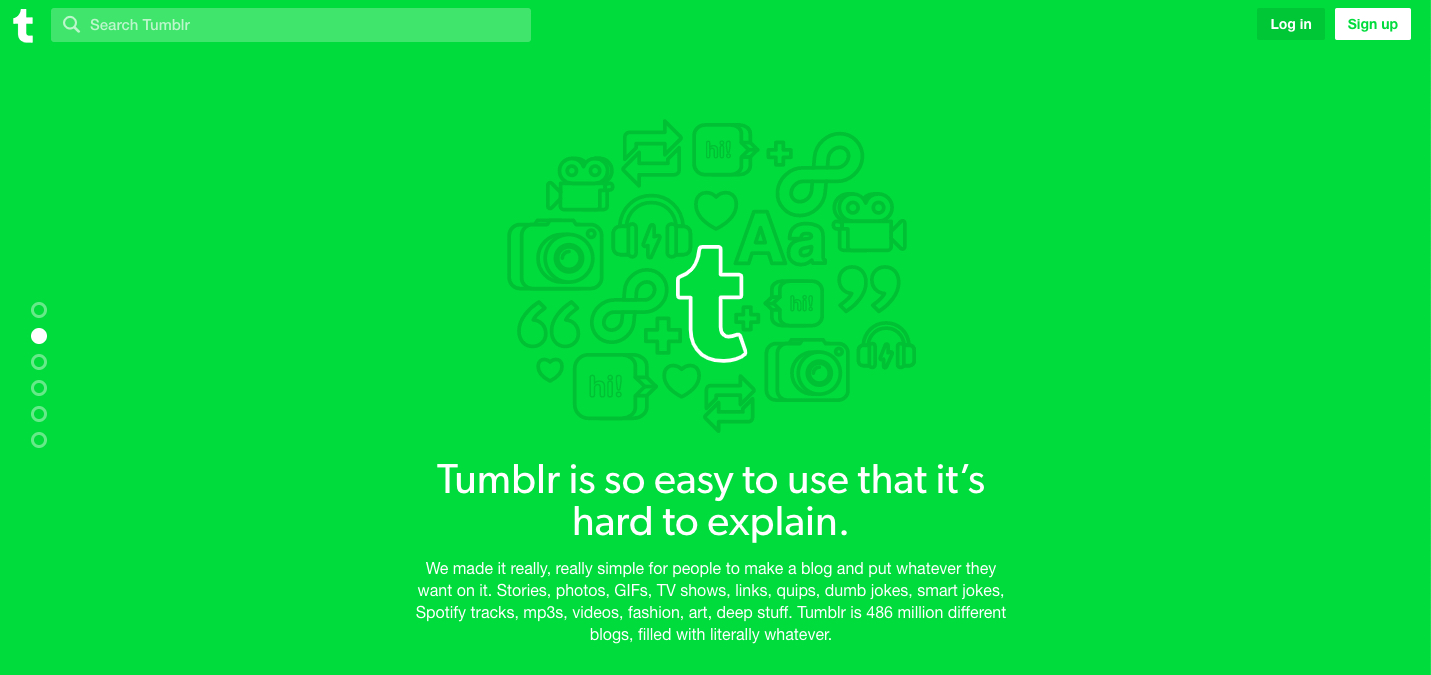 Tumblr or "Tumbler" as you might want to call, is a little different from other blogging platforms on this list.
Unlike other platforms that blur the line between a fully-fledged website and a blog, Tumblr is a microblogging platform with social networking features. What this means is that, with Tumblr, you post and people interrelate with your content by commenting, liking, and sharing.
Just like in a social media platform, content is more short-form, such as an image, jokes, video, quips, or Spotify tracks.
You can also follow other blogs and make edits on your blog and profile. For example, you can add your headshot, logo, and change the theme to make your digital space livelier.
If your main intention is to build a visual blog, then Tumblr could be a good place to start. Best of all, you do not need to understand any programming languages such as HTML and CSS to get started.
Tumblr is a perfect platform for upcoming bloggers who want to learn the ropes on how to set up personal blogs. It's also an ideal place for bloggers who wish to share how-to based content and tutorials.
Pros
It's very easy to set-up and use
It integrates social networking features and allows you to follow other blogs
The platform offers great customization features
It's totally free to use
As a microblogging platform, it makes it easy to blog audio, GIFs, Video, and images
Cons
It's limited when it comes to the number of features it offers
Moving your Tumblr blog to another platform is extremely difficult
It does not offer an option to monetize your blog
Price
Tumbler is free to use and so you will never have to share your credit card, PayPal, or bank information to use Tumblr. However, you may incur some costs if you decide to use a custom domain or some third-party themes.
3

 Blogger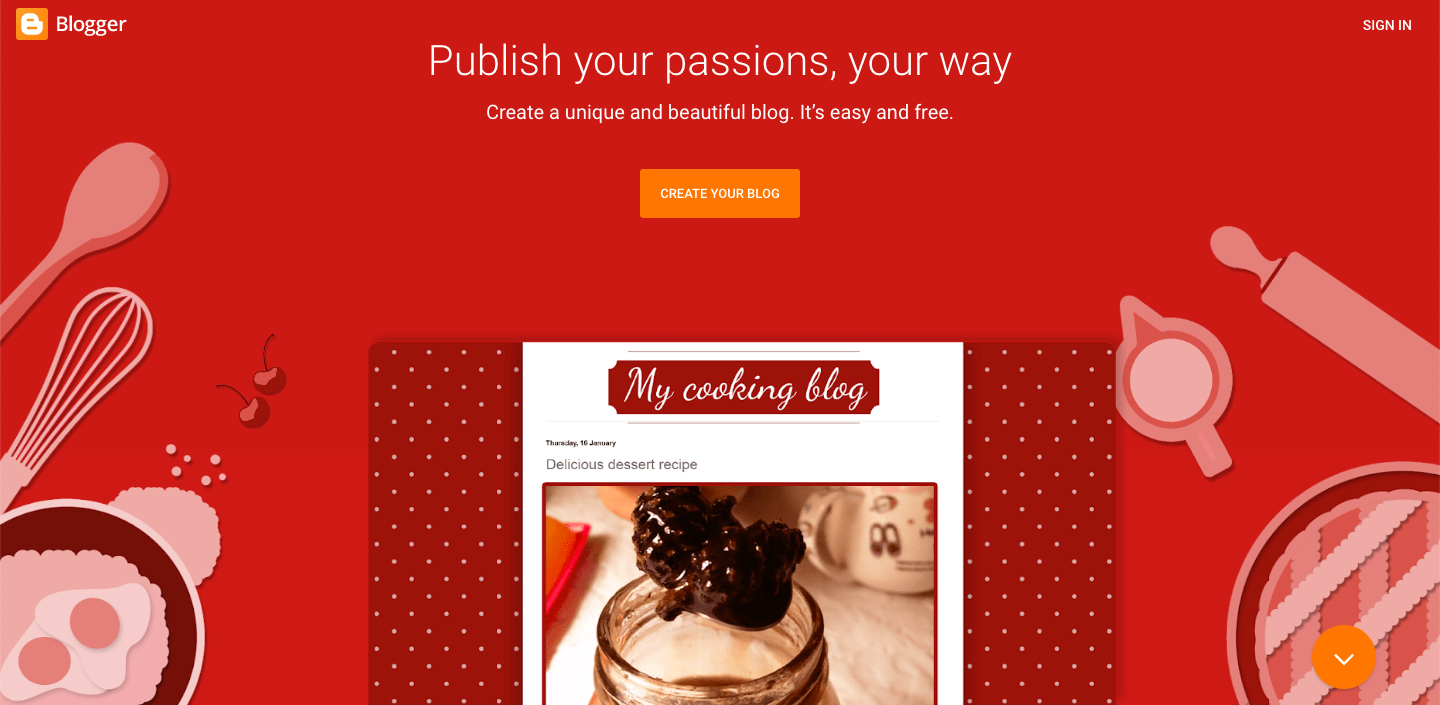 Founded in 1999, Blogger is one of the oldest blogging platforms. In 2003, it was acquired by Google, and it has since forged a massive user base making it one of the most identifiable Blogging platforms.
Creating a blogging profile on Blogger is super easy, provided you have a Google account. All you have to do is pick a title, domain name, template, and post.
The best part is that you do not have to blog using your real names. But if you want, you can connect your Google+ profile to Blogger.
Since it focuses 100% on blogging, Blogger offers very little when it comes to content management. However, the platform is very easy to use, and its minimalistic interface is self-explanatory. You also don't have to worry about security, technical hosting, or security issues since everything is handled by the company.
For a hosted platform, Blogger also offers a lot when it comes to design and customization. For example, you can use the theme editor to change some individual elements, or if you understand how the Blogger coder editor works, you can edit HTML and CSS.
On the wider scope, Blogger provides an all-inclusive website/blog building solution compared to other blogging platforms where you have to buy, install, and manage different parts of your website.
Pros
It's owned by the world's biggest tech company.
It's completely free for life. All you require is a Google account.
Easy to use with a very intuitive interface hence a great place for beginners to start blogging
Cons
It has limited design options and fewer themes.
It's easy to get your blog suspended or canceled.
You cannot add new features to your blog.
It takes time to see new features or updates.
Pricing
Blogger is 100% free. All you need is a Google account, and you are all set. However, you can purchase a third-party domain registrar if you need to use a custom domain.
4

 Wix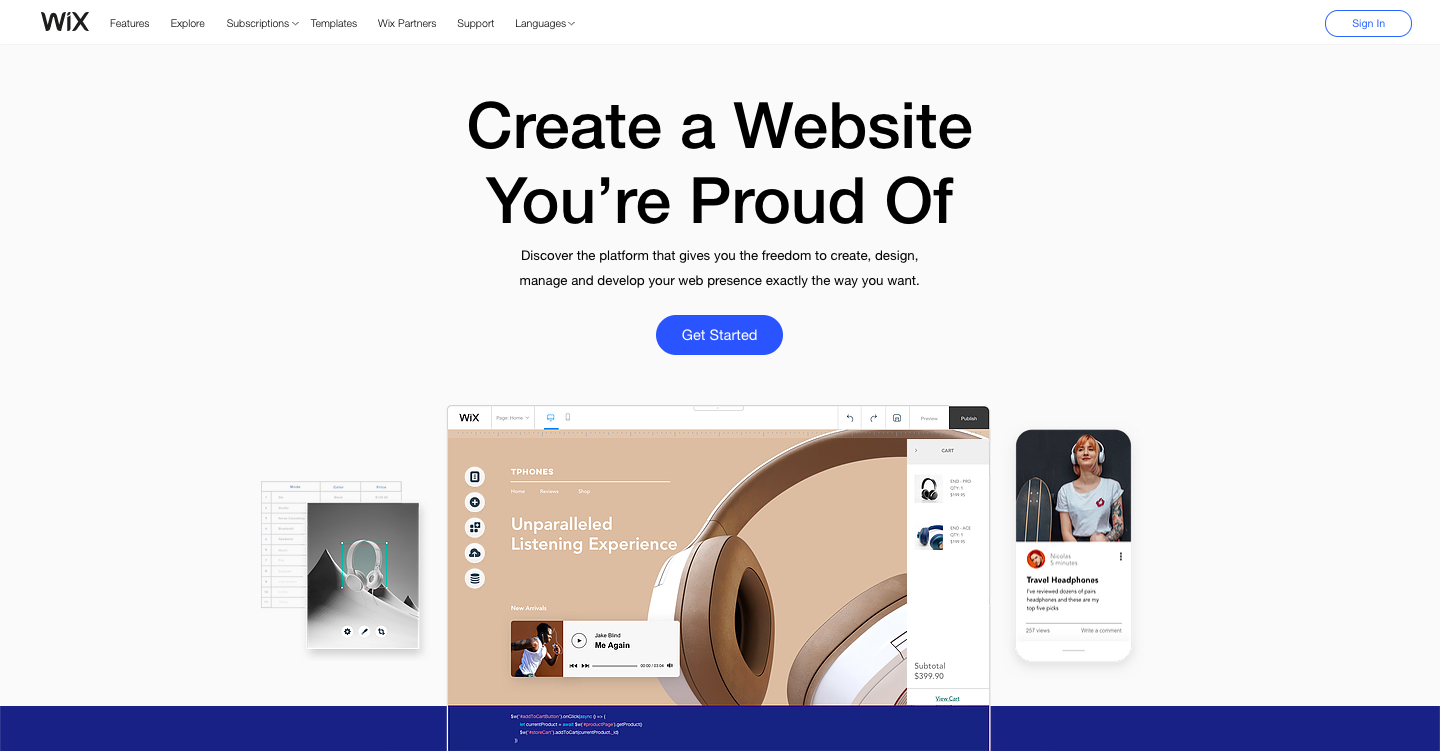 WIX follows a freemium model. It is a cloud-based website building and design platform.
The best part, it's one of the easiest to use platforms for beginners and non-coders.
Founded in 2006, WIX powers more than 3.3 million websites and is one of the largest website building platforms today.
Though it might have a lesser user base than WordPress, it's one of the most stable, feature-rich and user-friendly blog and website building platforms.
WIX offers everything in one roof. This means that you can easily get everything you need to build and maintain your blog, such as a domain name, hosting, CMS, templates, and the necessary support.
You can easily get started on WIX by just using the WIX Editor or the Wix ADI mode. With the WIX editor, you can easily choose a ready to use template, craft a design for your blog, and later fill it with content.
The WIX ADI uses artificial design intelligence (ADI) to auto-create a customizable blog with text, images, and video content. Both of these tools are great for people with no prior experience in web design.
Pros
Very easy to use.
You can get started for free.
Numerous features to customize your blog.
You get a free domain when you subscribe to their premium plans.
Cons
Disruptive ads with the free plan.
Design templates are hard to change.
Pricing
Unlike WordPress, when compared, WIX is an all-in-one website builder. Everything is included in one package, namely:
Hosting
Apps
E-commerce
Themes
Customer support
With WIX, all you have to do is sign up on their official website and start building your blog. You can choose to go either with the free package or one of their paid plans.
The free plan gives you access to a large number of website building tools such as the WIX Editor, ADI, and templates.
The only worry is that, with the free version, you cannot create a professional blog unless you want to be bombarded every time by very annoying WIX ads, storage, and low bandwidth. Adding to it, you cannot use a custom domain name.
However, if you are serious about blogging, you can go with either of their premium packages that include.
Unlimited (for entrepreneurs and freelancers) – 12.5/month
Combo (for personal use) – $8.5/ month
Connect Domain (most basic) – $4.5/ month
VIP (you get first priority support) – 24.5/ month
5

 Ghost
Ghost is a straightforward publishing and blogging platform that relies on a minimalistic and crisp interface. Unlike WordPress, Ghost is purely a blogging interface, and thus it does not power a wide array of websites.
You can utilize Ghost in two different ways. First, you can let your blog to be hosted on their platform or install it on a web hosting server. However, if you are just getting started on blogging, we would recommend the first option since its more straightforward.
What you will notice about Ghost platforms is the elegant, simple, and clutter-less design and layout that it offers. What this means is that it's virtually impossible for you or the reader to get distracted.
Apart from that, Ghost's main focus is content creation. This makes it a coveted choice for journalists, bloggers, and magazines. It also has one of the most user-friendly editors that hardly distracts you.
The platform is also built with SEO in mind. It offers basic SEO features such as AMP pages, Metadata, Canonical tags, and XML sitemaps. You, therefore, don't need to purchase any additional plugins.
Overall, Ghost is a great choice if you want to showcase your prowess in content creation. What's more, it allows seamless app integration using Zapier or the Ghost Public API.
Pros
Ghost blogs are pretty fast because they use CDN (Content Delivery Network).
You get numerous social sharing options, so no need to install any social sharing plugin.
No need for SEO plugins since Ghost offers built-in SEO features.
It's easy to create content thanks to the friendly user interface.
You get a free SSL certificate with every Ghost blog you create.
Cons
It's expensive for beginners.
Hosting is not free.
It offers a limited number of themes.
You need to learn how to code in order to have better control of your blog.
Pricing
Unlike other blogging platforms on the list, Ghost is a premium service that offers different subscription plans.
Each plan offers a 14 day trial period. The good thing about these plans is that you can use a custom domain name, free SSL certificate, automatic updates, and email support, among other features.
6

 Medium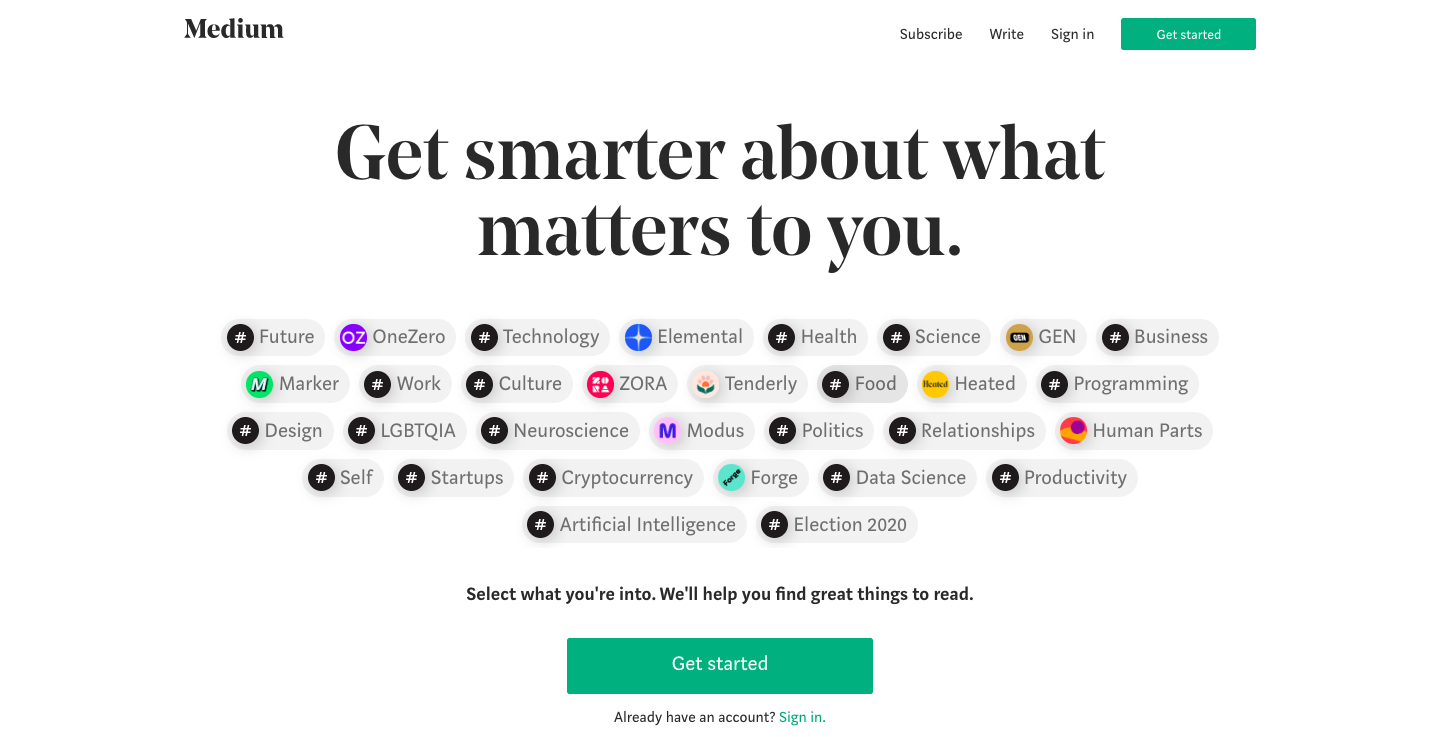 Launched in 2012, Medium is more of a community-based blogging platform and less of a personalized blog. This simply means that with Medium, you post your content, and people share, like, and comment. It works more like Tumblr.
At Medium, writers and readers express their perspectives on various subjects such as technology, society and civilization, Business, Health, Relationships, Design, and more.
Furthermore, Medium is a hosted platform, and you get a free sub-domain and SSL certificate. They also offer a paid membership program where you get paid if you contribute to their content. However, the amount you earn is dependent on how much people like your content.
When it comes to ease of use, Medium offers great editorial features that ensure that you are able to publish your content. Along with that, you can also keep track of any changes you make on your posts as well as interlink your posts.
The only downside with Medium is that you cannot use a custom domain, download anything, or run your blog on a different server.
Pros
It's easy to set up.
You don't need to have any coding skills.
With Medium, it's possible to reach a wide online community.
Cons
Monetizing a Medium blog is not easy since you do not own the content.
Designing your blog is hard hence hard to build a brand.
You cannot use your own custom domain.
Pricing
For starters, Medium is free to use. However, if you need to access the best content, you can upgrade to premium membership.
7

 Weebly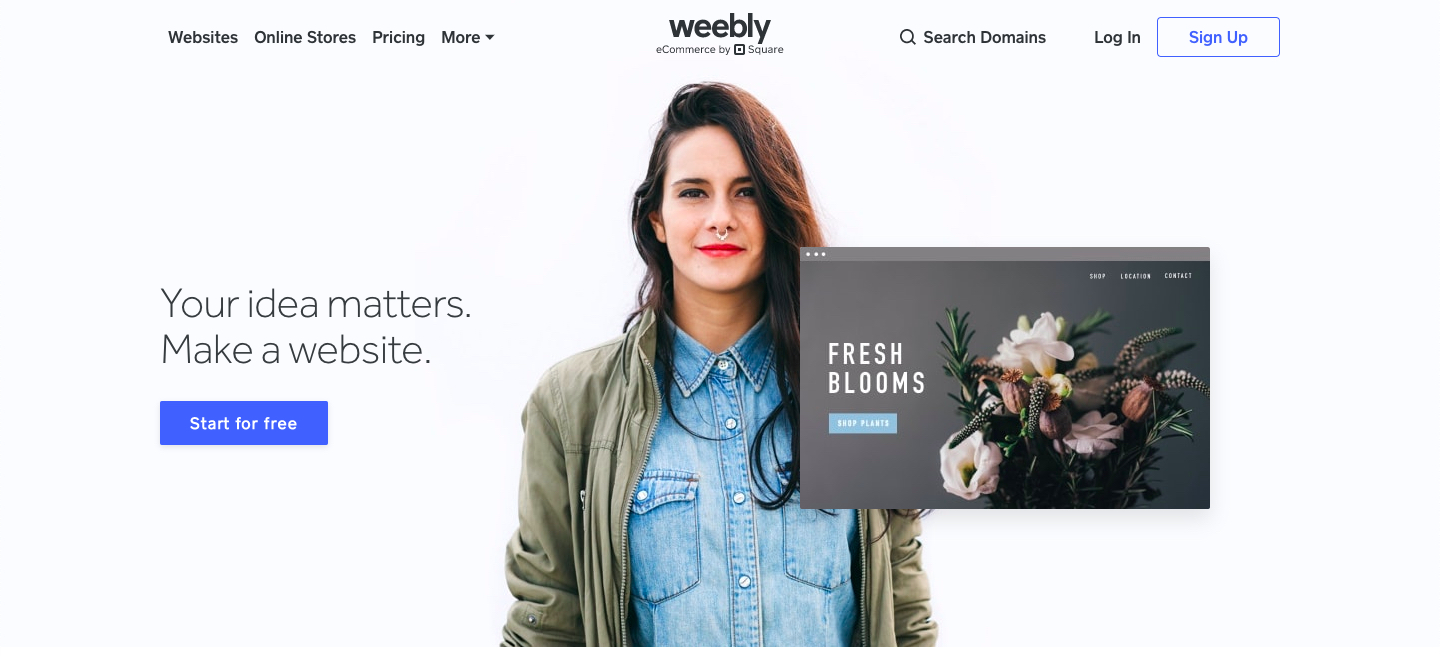 Weebly is one of the most popular website building platforms that lets you build a wonderful-looking website without having to know how to code. The platform currently powers more than 40 million websites on the internet.
Just like Wix, Weebly is a WYSIWYG website builder. This means that you can build your blog or website by simply dragging the elements. Thanks to the drag-and-drop editing tool that lets you drag images, icons, menu, resize pages without having to type a single line of code. This makes it super easy for all skill levels.
Unlike Wix, Weebly's built-in code editor allows you to extensively customize your site if you are handy with HTML or CSS coding languages. So if you are willing to learn and grow, this is one platform we would highly recommend.
When it comes to design and customization, Weebly offers some of the best looking templates that are automatically mobile responsive. However, if you can still purchase a theme from an independent developer to enhance your user experience.
What's more, you can add more functionality to your blog by visiting the Weebly App Center, where you can get a collection of fully-integrated, one-click installation tools. There are numerous categories of tools ranging from e-commerce, social, and marketing tools, among others.
Generally, Weebly offers a friendly user experience that allows you to set up and customize your blog in a matter of minutes. So you don't have to worry about page layouts and formats since most of the designs are fully customizable.
Pros
Very user-friendly. It can be used by people of all levels.
The platform is free to use.
All blogs are hosted on Weebly servers. So you don't need to look for a web hosting service.
Their premium services are reasonably priced.
Cons
The number of themes and templates is limited in the free plan.
You will have to use a subdomain if you do not have your own custom domain.
Pricing
Despite Weebly offering a starter plan for basic use, it also offers other plans for website owners who want more advanced features. The paid plans include Connect ($5/month), Pro ($12/ month), Business ($25/month), and Business Plus ($38/ month). All plans are billed annually.
8

 Joomla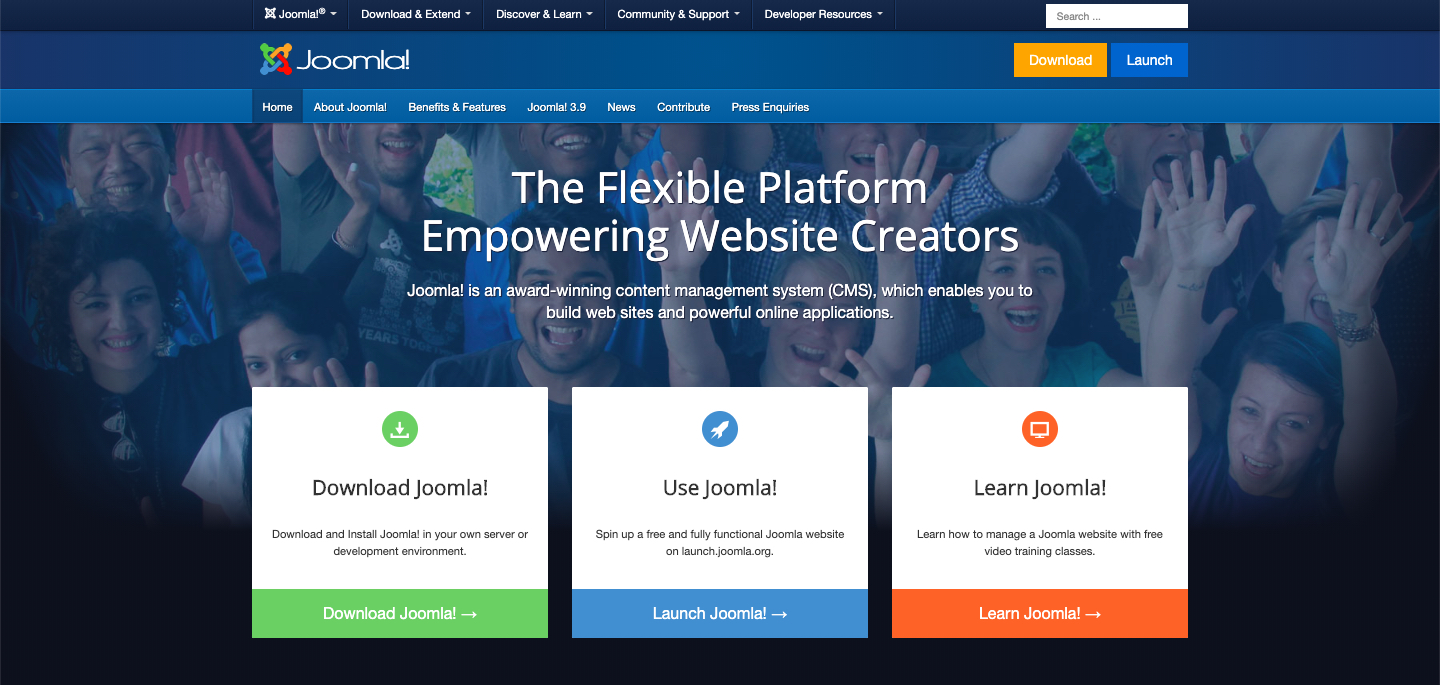 Joomla, just like WordPress.org, is an open-source content management software that's very popular among web developers. The platform is self-hosted, which means you have to download the software and install it on a web hosting server.
You can download the CMS from www.joomla.org. The downloading and installation process takes only a few minutes. However, the technical aspect that comes with the setup process is more complex than that of WordPress but simpler than that of Drupal.
For example, with WordPress, you only have to choose a hosting service, register a domain, install WordPress, Log in to your WordPress account, and configure your account.
As you can see, WordPress offers more of a hands-free approach. Joomla, on the other hand, doesn't offer these sorts of custom installation processes, which means you'll have to do most of the stuff on your own.
However, if you know how to circumvent these technical aspects, working with Joomla is super easy since most of the needed plugins, tools, and tutorials are offered in abundance.
The platform also offers an easy to understand navigation system that enables you to manage a website regardless of the number of subpages easily.
The platform also offers great SEO capabilities mostly, because it generates very friendly URLs and secondly because it enables you to set meta-descriptions and keywords for new content.
Overall, Joomla offers a complex platform for bloggers who want to grow and learn. However, the platform can be intimidating for bloggers who are just getting started.
Pros
The platform is easy to install.
It offers thousands of free plugins.
Generates very friendly URLs that help in SEO positioning.
The comprehensive navigation system makes it easy to manage websites with many pages.
You can update the platform from your web-browser.
Cons
The platform has a steep learning curve hence not recommended for new users.
Joomla offers limited options when it comes to templates and free designs.
Certain plugins might have compatibility issues.
Pricing
Like we mentioned above, Joomla is a self-hosted platform and you'll have to incur some basic costs such as web hosting and domain name registration. This means that the total cost is dependent on the provider you will choose.
9

 Squarespace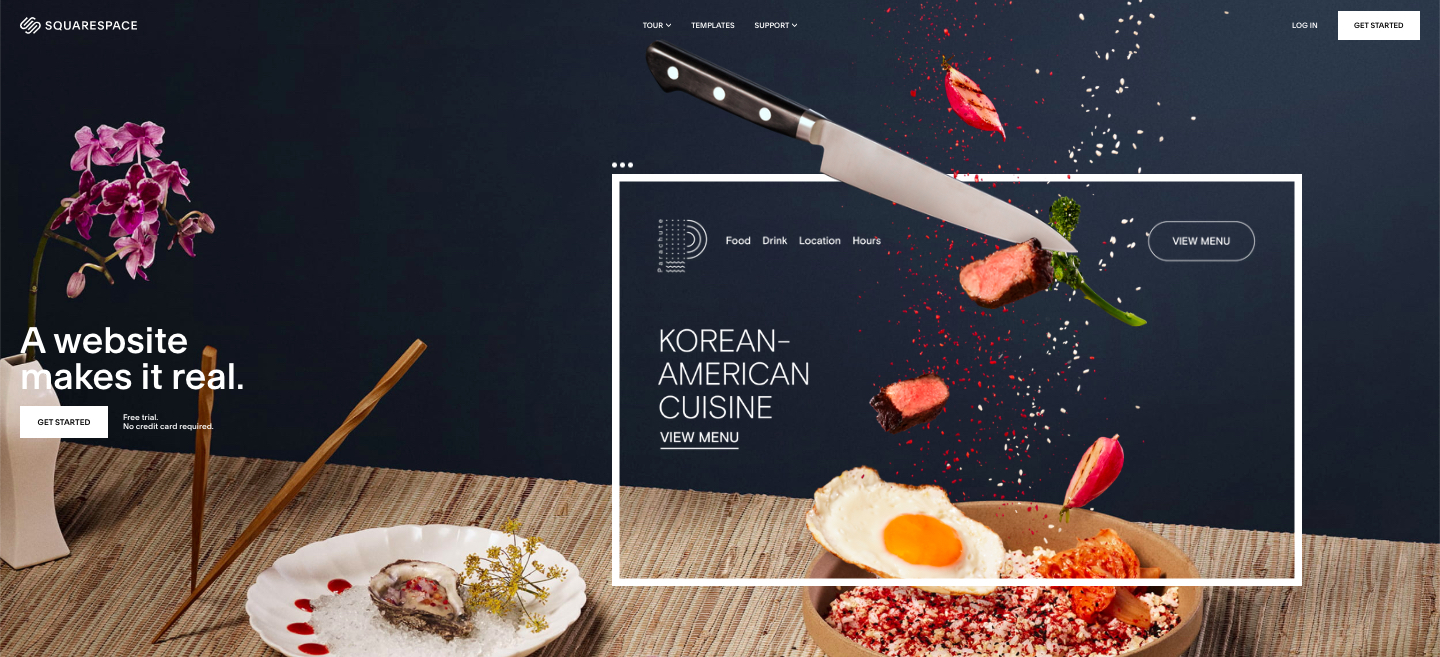 Squarespace is a SaaS (software as a service) website building and maintenance tool. To use the service, you pay a monthly subscription fee.
Just like Wix, Squarespace is an all-in-one service. This means that everything you need to build and maintain your blog is provided in the service, such as a domain, hosting, themes, templates, CMS, eCommerce, and support.
With Squarespace, the process of setting up is extremely easy. All you have to do is visit the Squarespace website and sign up.
Content editing is also quite straightforward thanks to the drag-and-drop editor that makes it a breeze to lay down your content. You can drop content from other pages, move images, tweak content, and see the edits on the page as you make them.
In terms of design, Squarespace offers pretty, classy, and some of the most professional-looking templates compared to most other competing website builders in its class, such as Wix. However, the number of templates or themes offered by Squarespace is limited, which is a major drawback depending on the type of website you are trying to build.
Nevertheless, Squarespace offers simplicity and ease of use for users who want to get started in blogging.
Pros
Content editing is super easy, thanks to the drag-and-drop tool.
Easy platform for new users.
You can get started for free.
Cons
There's a limited number of templates.
Pricing
Squarespace is an all-in-one website building solution. This means that you get:
Fully-managed cloud hosting
Free-custom domain
SEO features for website visibility
Templates
24/7 customer support
Squarespace offers four plans, namely:
The Personal plan that costs $16/ month
The Business plan that costs $26/ month
The Basic Commerce plan that costs $30/ month and,
Advanced Commerce plan that costs $46/ month
What we liked most about Squarespace is that their plans are pretty straightforward. The prices are, however, discounted if you decide to pay on an annual basis.
10

 WordPress.com
This is the other version of WordPress that's available at wordpress.com. It's a SaaS i.e. software as a service tool for website building and maintenance.
The important part, it's also 100% free. However, the free version offers limited features. For you to access a broad range of features such as custom plugins, email support & themes, and SEO tools, you need to select your preferred plan and pay a suitable monthly subscription.
With hosted WordPress, you do not need to buy any separate hosting service because your site is hosted on the WordPress servers. Additionally, you get unlimited out-of-the-box functionality.
However, hosted WordPress is a tad less of an all-rounded website building solution.
This is because you have to majorly bank on third-party plugins and themes to enhance the look or functionality of your blog.
Pros
Easy and fast to set-up.
Easy to manage.
You can use it for free with a WordPress sub-domain.
It's beginner-friendly.
Cons
You do not own the blog. This means that your blog or website can be suspended anytime by WordPress.
No monetization options.
Limited features in the free plan.
Pricing
Like we mentioned above, WordPress.com is completely free. However, the free plan offers you limited functionality.
If you want your blog to grow, we recommend going for a premium subscription plan. The premium plans include:
Personal plan (best for a personal blog)- $4/month
Premium plan (best for freelancers with blogs)- $8/month
Business (best for bloggers with small businesses) – $25/ month
eCommerce (best for online stores) – 45/ month
Note that all plans are billed yearly.
11

 Typepad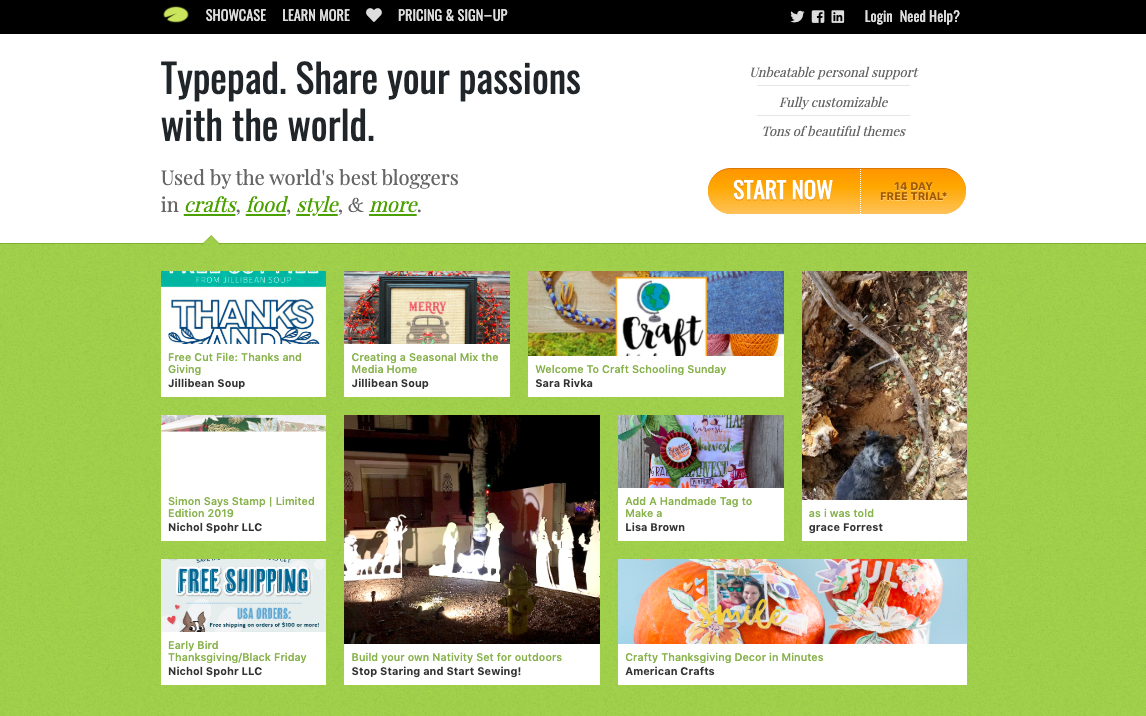 Typepad is a fully-fledged blogging platform designed for both experienced bloggers and beginners. The platform offers an easy-to-use interface and an array of themes and plugins to help customize your blog.
It's very flexible and gives you numerous publishing options. For instance, you can publish from a mobile device, web browser, or email. It also offers seamless integration with Google Analytics.
The platform is fully hosted, which means that your blog is hosted on their server. One drawback of Typepad is that you cannot edit codes. However, it supports design customization with Theme Builder and theme modification with custom CSS.
Pros
The intuitive and user-friendly dashboard makes it easy to draft and publish content.
It allows social media integrations.
It allows video and audio podcasts.
Google-friendly content posting features.
Cons
Limited integration widgets.
You can only create a restricted number of blogs.
Pricing
Type pad offers a wide range of plans to choose from. The cheapest plan is called "Plus" and costs $8.95/month. The plan offers a wide array of design templates, unlimited support, domain mapping, and personal support.
Other premium plans include "Unlimited" ($14.95/ month), "Premium" ($29.95/ month), and "Enterprise" ($49.95/ month). The more expensive the plan, the more the features.
All plans come with a 14-day free trial.
12

 Gator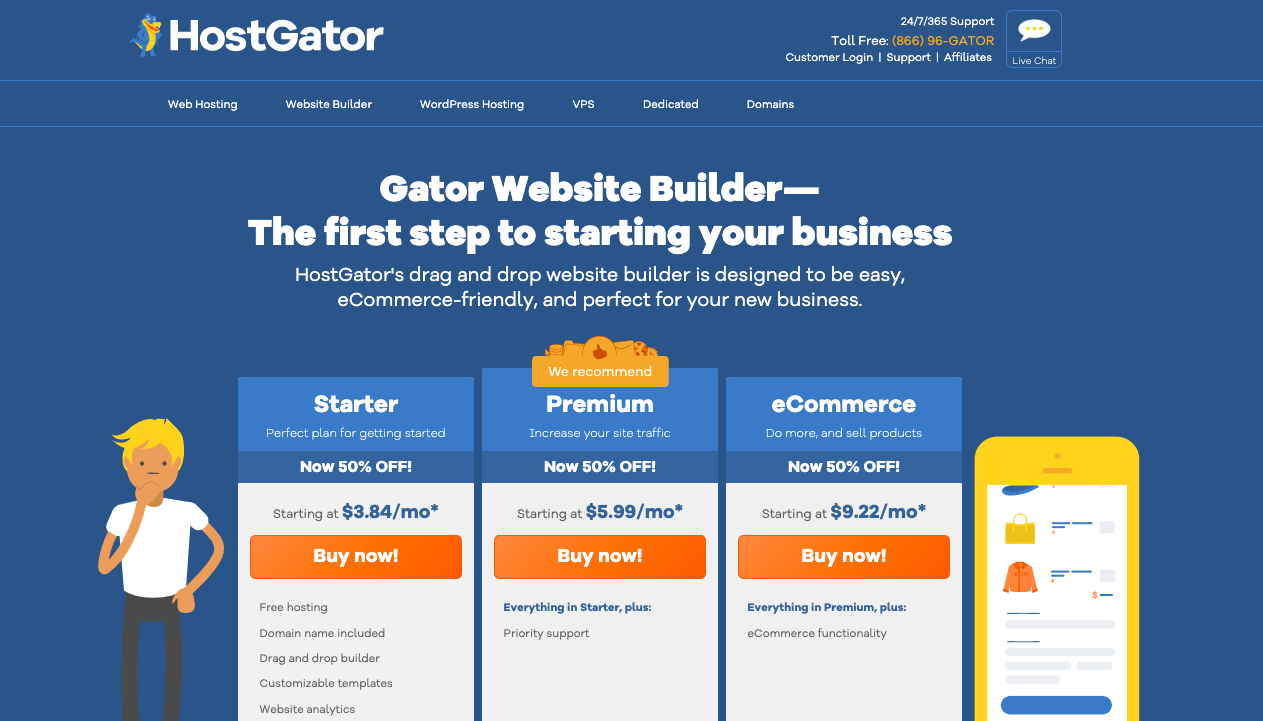 Check It Now

-full wp-image-611268″ />
Gator is a simple website building tool offered by HostGator, one of the world's best hosting service providers.
The platform is easy to use, and getting started is a breeze. All you have to do is sign up and pick a template.
The thing about Gator is that all the templates are categorized into industries to ensure that you don't spend a lot of time trying to hone the right design for your blog.
The platform's editor is pure-drag-and-drop. This means that you can move things around and position them exactly where you want them.
If you experience any challenges, Gator provides a handy onboarding tutorial to assist you with the process. The customer support is also quite responsive, and you can reach them via email, live chat, or phone.
Overall, Gator provides you with an all-in-one blogging platform, which lets you have total control of your blog.
Pros
Very user-friendly blogging platform.
Packages come with free domain and SSL certificate.
No need to have the technical know-how.
Backup and Security handled by Hostgator.
Cons
It's not free.
If you want an eCommerce blog, you'll have to dig deeper into your pockets.
Pricing
Hostgator offers three premium plans. There is the Starter plan that costs $3.84/month, the Premium Plan that costs $5.99/ month, and the e-Commerce plan that costs $9.22/month. For a personal blog, the Starter plan will serve you better.
13

 Constant Contact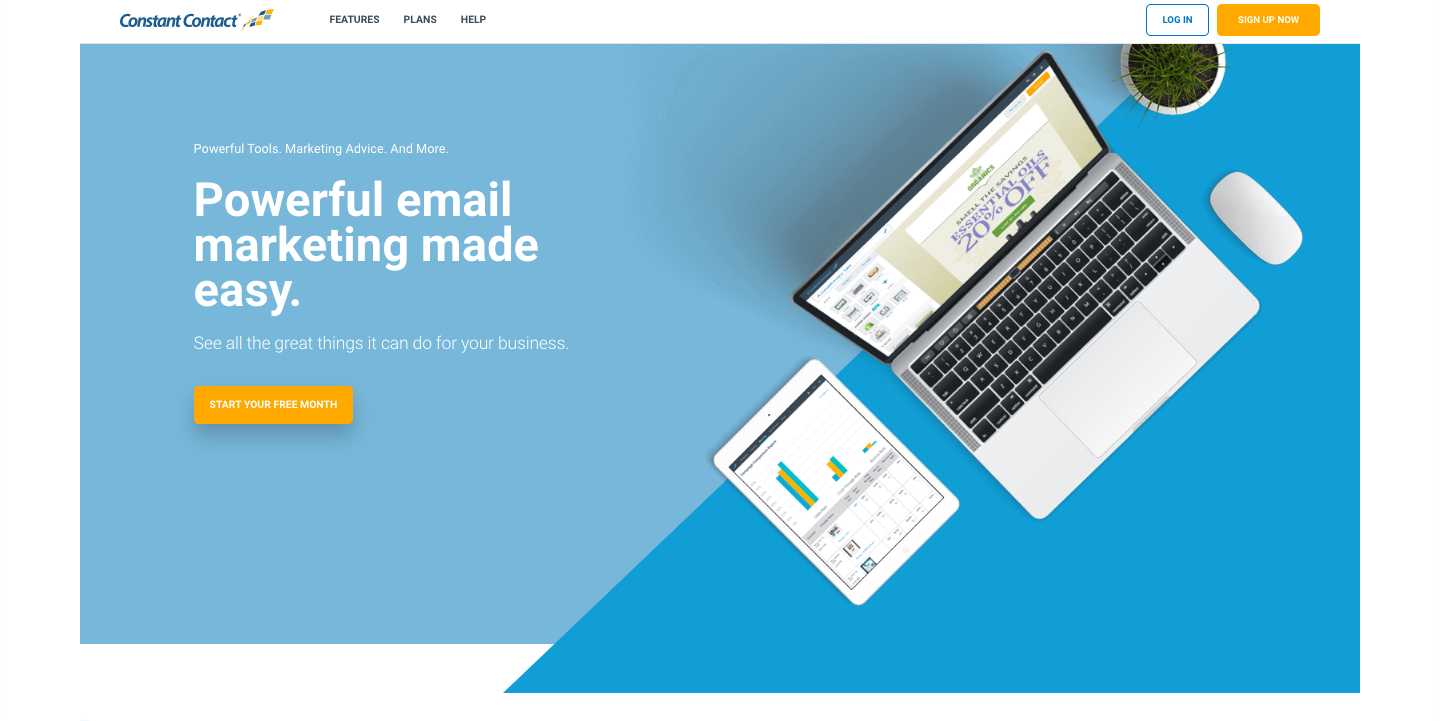 Constant Contact is a legendary blogging platform that was founded in 1995. Over the years, the platform has grown to help small businesses and blogs succeed in email marketing campaigns. The platform supports a customer base of more than 250K.
The platform is designed in such a way that both experienced and non-experienced bloggers can use it with ease. For example, if you are new to e-mail marketing software, you can use this platform to set up your e-mail list quickly.
The dashboard is pretty intuitive and does not overwhelm you with features. From the dashboard, you can be able to; view analytics reports, manage subscribers, create sign up forms, create email campaigns, and more.
Best of all, you can be able to integrate Constant Contact with WordPress using a special plugin. The plugin allows you to manage your subscribers and add a signup form from within the WordPress dashboard.
Overall, the platform does an impressive job when it comes to email marketing. It also packs numerous features that lack in bigger platforms. However, the price point is a little higher compared to other beginner platforms.
Pros
Very easy platform to use.
One-click integration with WordPress and other platforms.
No limitation to the number of emails you can send per month.
Has a vast community that's very knowledgeable.
Cons
Not feature-rich.
Third-party extensions are not allowed.
Pricing
Constant Contact offers two premium plans to its users, namely: "Email" plan that costs $20/ month and the "Email Plus" plan that costs $45/ month.
It's important to note that the prices are based on the number of contacts. However, you can choose to start with a six-day trial to get a gist of how the platform works.
14

 LiveJournal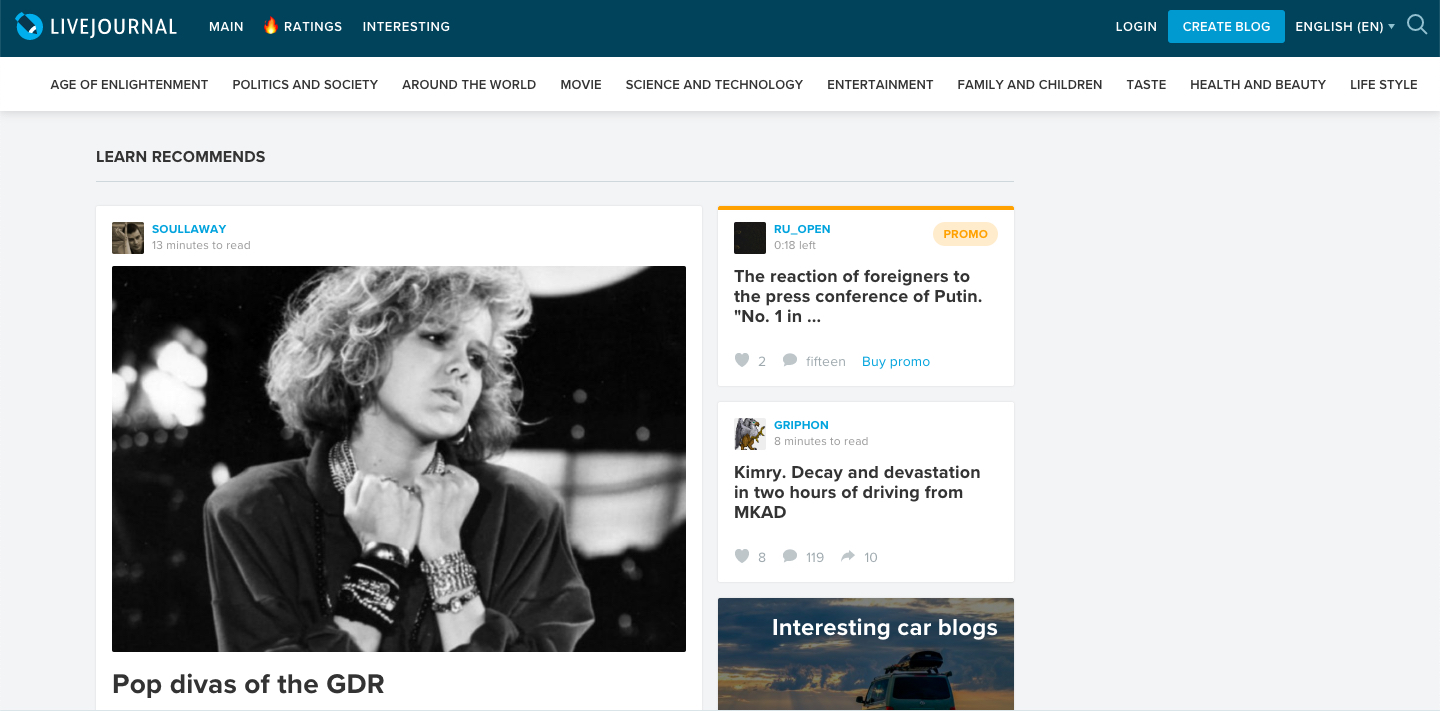 Launched in 1999, LiveJournal is one of the longest-running blogging platforms that allow people to not only blog but also get updated news from different journals around the globe.
The platform offers numerous networking features, making it one of the best choices for beginners. For example, the "friends list" feature allows you to link comments from other journals to your blog.
What's more, the platform offers a huge library of templates/themes, making it easy to customize your blog. The only downside is that it's impossible to modify the HTML of your blog.
Despite that, making posts is a breeze, thanks to the Post New Entry link feature on the interface that brings you directly to the text editor. You can also embed videos and photos on your blog.
Another important feature is the comment moderation tool that allows you to ban commenters. As such, upgrading to a premium plan opens up a wide range of features that will allow you to get the needed functionality on your blog.
Pros
It's free, but you can also sign up for the paid version.
It's available in various languages.
It allows you to blog anonymously without revealing your identity.
Cons
Not ideal for professional blogs
Too many destructive ads in the free version
Lacks professional templates.
Pricing
Apart from the free plan, LiveJournal offers the following paid plans:
An annual plan that costs $19.95/year, Semi-annual plan that costs $15 for six months, a bi-monthly plan that costs $5, and the monthly plan that costs $3/month.
15

 Drupal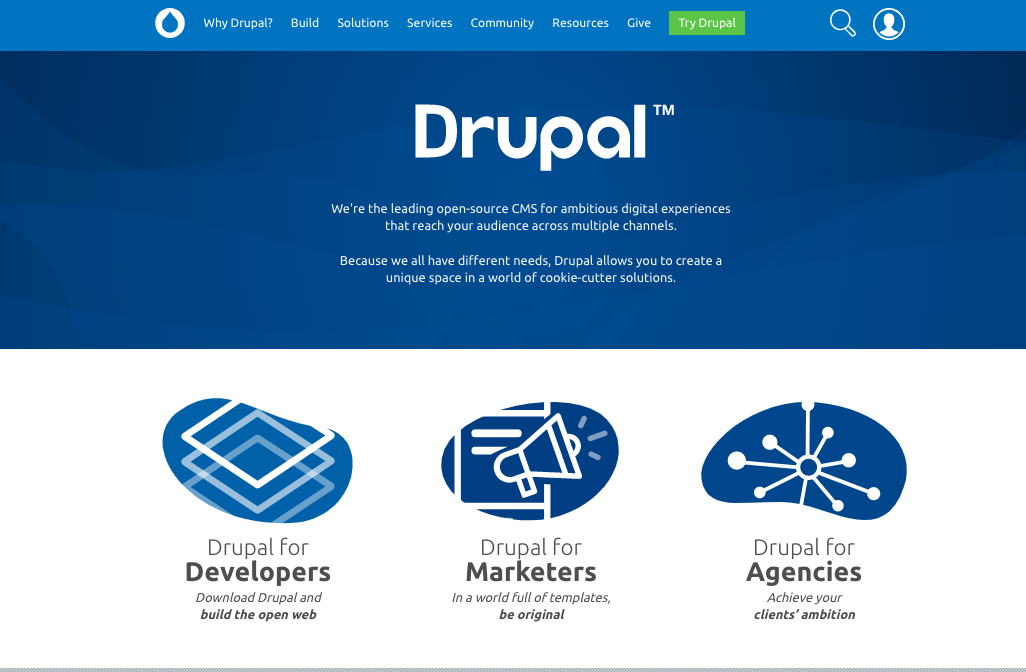 Drupal is a free and an open-source content management system distributed under the GNU General Public Licence.
Drupal is a great choice for blogs associated with businesses. It lets you add, publish, and remove content from your blog.
Just like WordPress, it's easy to set up. All you have to do is look for a reliable web hosting service, then install Drupal.
The thing about Drupal is that you need to have some basic technical skills in order to get the most out of the platform. For example, you'll need to adjust the code to keep your site updated and compatible with every element. We recommend hiring a developer at this stage.
So if you are a beginner, this is not the ideal blogging platform for you. However, if you are looking to advance your skills, there is no limit to the things you can do with Drupal.
Pros
Great platform for high-profile business related blogs.
You get built-in access control.
Multi-lingual site support.
Ability to handle tons of data.
Cons
Not ideal for complete beginners without the required technical expertise.
Has a steep learning curve.
Pricing
Drupal is an open-source platform that anyone can download and use for free. However, to get your site up and to run, you will need to incur some basic development costs such as domain registration, hosting, and security.
Along with that, you might need to hire a developer if you lack the technical expertise needed. This will likely hike your initial investment cost making Drupal a more expensive choice.
Wrapping Up
As it stands, there are numerous platforms you can choose to build your blog. However, all of these plans come with their advantages and disadvantages.
Therefore, it's important to consider what you want to achieve as well as the requirements of your project. If you are looking to create a powerful and flexible website or blog that offers you complete control, we highly recommend WordPress.org.
Do share your views about this post in the comments section below.