WordPress vs Blogger, it is the source of endless discussion and a major topic of confusion for every newbie who is planning to make it big in the blogosphere.
Nevertheless, picking out one is always hustling as both the platforms are renowned and the most established blogging platforms.
Please note, here we are talking about WordPress.org and not WordPress.com. You can learn the difference between both in this detailed post.
Choosing the best platform among WordPress and Blogger, the verdict will be based on some of the major factors that we will be taking into consideration throughout this post.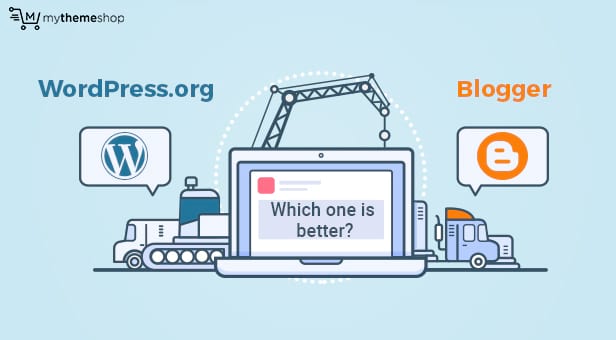 In the end, we will leave the final decision to be taken by you. Considering that MyThemeShop is powered by WordPress, we promise you to give an honest and unbiased version of both the platforms.
Let's see some factors that we would be used for comparing the two platforms.
Cost
WordPress
Although WordPress is an open source platform and you can download and install the WordPress CMS on your blog for free, you will need to purchase the Domain name and the hosting package to setup your WordPress website.
Domain name is nothing but the name of your website. Buying a domain name of your choice will give your website a professional feel.
Hosting is the storage space where the content and data of your website will be hosted. We would recommend you SiteGround for purchasing your hosting as it gives an additional 60% off to MyThemeShop readers. 
Blogger
Blogger is a free platform. You can use the free domain name given by blogger. It would look something like:
You can also use a custom domain name of your choice to give a professional look to your website. Purchasing a domain name costs not more than $5 for a full year registration.
You can host your data on Blogger for free. There is no cost incurred on that but, it is limited to 1GB only. After 1 GB, you will need to pay the charges for additional storage space.
Ownership
WordPress
Using WordPress, you are the sole owner of your WordPress blog. You have the full liberty of keeping your website running just the way you like.
You own all the data and have full control over what information you choose to share with any third party sources.
Blogger
Blogger is a platform by Google, and thus you have no ownership of your Blogger website.
Google is the sole owner can choose to shut your website or even prevent you from accessing it. However, these circumstances happen in the most unusual cases when your website doesn't comply with Google's policies.
So, if you are using blogger, you have no right to any content and data that you published on your website.
Appearance
WordPress
Developing your website on WordPress comes with a great advantage. This is because you have full control over the design and appearance of your website.
You can choose from thousands of free and premium WordPress themes which will give your website a stunning look.
On WordPress, there is a theme for typically any kind of a website. You can choose from numerous high-quality themes and easily modify and customize your website.
Blogger
Blogger being a free platform provides a very limited number of templates. Also, you can only customize a very limited view of your website.
Blogger does not give you the advantage of fully customizing your website's appearance. You can only create your own layouts and make limited modifications to that.
So basically, you don't have many options to customize your website on Blogger.
Control
WordPress
WordPress being an open source provides you full control over your website. You can use thousands of free as well as premium WordPress plugins which allow you to modify the functionality of your website according to your need.
Blogger
Blogger is a free service and thus provides limited flexibility over enhancing the functionality of the website.
Using Blogger, you can only perform a fixed set of functions and tasks on your website, and there is no way to extend them to meet the need.
Security
WordPress
Being the sole owner of your website, it's your responsibility to implement proper measures to prevent your website from any outside intrusion and malicious attack. It is always preferred that you take a proper backup of your website.
Blogger
Using Blogger, you can stay relieved from managing your website because Google takes full care of that.
You don't have to worry regarding your website's server resources, website backup or securing your blog. Google maintains all the technical aspects of your website.
Support
WordPress
WordPress is an open source platform, and unlike every open source platform, WordPress also has a rich community of online enthusiasts who are there to support you in all instances of website development.
WordPress has online documentation, community forums and chatroom where you can take help from the experienced WordPress professionals and developers.
Using WordPress, one thing is for sure; you won't be getting stuck as the community is always there to help you.
Blogger
Blogger, on the other hand, has very limited sources comprising of online documentation and limited chat forums. You may expect a little support if you are stuck somewhere while using Blogger.
Monetization
WordPress
With Wordpress, you have full control over how you want to monetize your website.
You can use various monetizations techniques such as ads, banner ads, affiliate program links or anything else. You can monetize your website in multiple ways.
Blogger
You can monetize your website on Blogger using Google Ads integration which is fairly easy because Blogger is being owned by Google. Apart from that, you don't have many options for monetizing your website.
WordPress and Blogger are two of the best platforms for designing a website. We hope that now you would be able to choose the platform which best suits your interest.
Let's look at the below infographic to understand the difference between WordPress and Blogger with a clear picture.

When to Choose WordPress?
If you want a professional website.
If you want full control over your website.
If you want your website's design to be awesome.
If you want to monetize your website in many ways.
If you want to customize your website your way.
When to Choose Blogger?
If you don't want to spend a penny from your pocket.
If you just want to try your hands in Blogging and try the basic stuff.
If you do not want to worry about the technical aspects of your website.
If earning from your blog is not the prime motive.
WordPress vs Blogger- Final Conclusion
Whether to follow it professionally or as a hobby, we would prefer WordPress for blogging. The fact that top websites of the world are using WordPress, then why not give it a try? You will never regret making a WordPress Blog.
With WordPress, you can take your website to a whole new level. There are no boundaries of limited functionality or not being able to compete with the top websites of the industry. No matter if you are starting as a newbie. Watch our free WordPress tutorials to become a pro WordPress user.
We know that you could possibly start your website for free using Blogger but, if spending $5 a month gives you a professional-looking dynamic website which you can proudly own, why would you want to go for a platform which gives you no authority of your work and can take the ownership of your website from you at any instance?
Do share your views in the comment section below.