As a content creator, selecting the right platform to host your videos is very important. Though most of you would anyway host your videos on YouTube, Vimeo is also an equally good option if you know what you are doing.
In this post, we'll do a detailed comparison of Vimeo vs YouTube and find out the exact details, features and specifications of both the platforms. By the end of this post, you will be able to figure out which platform is better for you.
1

Introduction

Before getting started with the detailed comparison, let's also have a brief understanding of both the platforms, when were they started etc.

YouTube

It is currently, worlds largest video platform which was started in Feb 2005 by three former PayPal employees-Chad Hurley, Steve Chen, and Jawed Karim.

By January 2012, the daily number of video views on YouTube reached 4 billion. The website features films, music videos, trailers, news, educational programs, as well as amateur videos, including video blogs, slide shows, humorous videos, and more.

Vimeo

We were pretty surprised to see that many of you don't know what is Vimeo. For your knowledge, it is an American video content hosting and sharing company headquartered in New York. Launched in 2004, today, it comes as mobile applications for iOS, Android and Windows Phone platforms.

It draws users from over 150 countries and gets more than 800 million views a month.
2

What's the Difference between YouTube vs Vimeo?

This article is relevant to anyone who wants to capitalize on the opportunity to drive more sales, followers and subscriptions by utilizing the power of videos. We will tell you the exact reason why you should choose one of the mentioned websites and what are the specifications and features of each video platform.

Both YouTube and Vimeo are great platforms to host and share videos on the web. They come with a lot of different features which you must know before making any choice.
2.1

Audience & Community

Winner: YouTube

There is no doubt that YouTube is the biggest platform when it comes to numbers. YouTube has more than 2 billion users worldwide. Adding to the fact, 79% of the online users have a YouTube account which is pretty huge if you consider other platforms in the segment.

Compared to YouTube, Vimeo has an audience of just 240 million people who use their platform worldwide. The good part is, approximately 30% of the total users are from the US. This gives you a little edge if you are making content, especially for the US-based crowd.
2.2

Search Engine Rankings

Winner: Vimeo

Since Vimeo has less crowd, it gives you the opportunity of being found reasonably easily as compared to YouTube.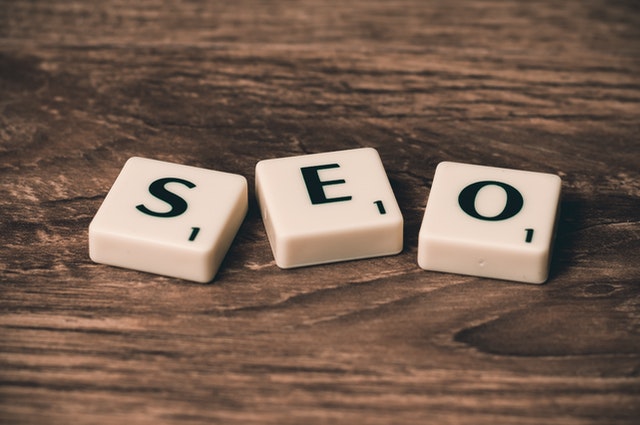 On YouTube, it takes time to get found. Also, if you are making videos in a niche which is already overcrowded, going with simple SEO optimization would not help you to gain instant views on the platform.
Since the userbase is so large on YouTube, it becomes difficult for you to be found on the YouTube search results if you are just starting out without any fan following or zero branding.
2.3

Search Optimization

Winner: YouTube

YouTube is the second largest search engine on the planet after Google. Also, since Google owns it, the platform is highly favoured and you also have a chance of coming up in the Google search results as well for your search query.

Let's say you are in the food recipe niche and you make videos like "How to make a vegan Pizza at home?". In this case, you deserve to be on YouTube as you will gain traction from both the search engines – Google and YouTube.
2.4

Membership

Winner: YouTube

YouTube is an entirely free platform to get started and host unlimited videos. Though, there is an option to get a subscription of YouTube premium for $11.99/month in which you can have an ad-free experience on the platform. It also gives you other features like – downloading content and playing it for 30 days without connecting to the internet, and playing music in the background while you are exploring other apps. Though anyone can watch YouTube videos for free.

Vimeo offers you four different subscription options – Plus, Pro, Business and Premium. The price for the same could be seen in the screenshot below: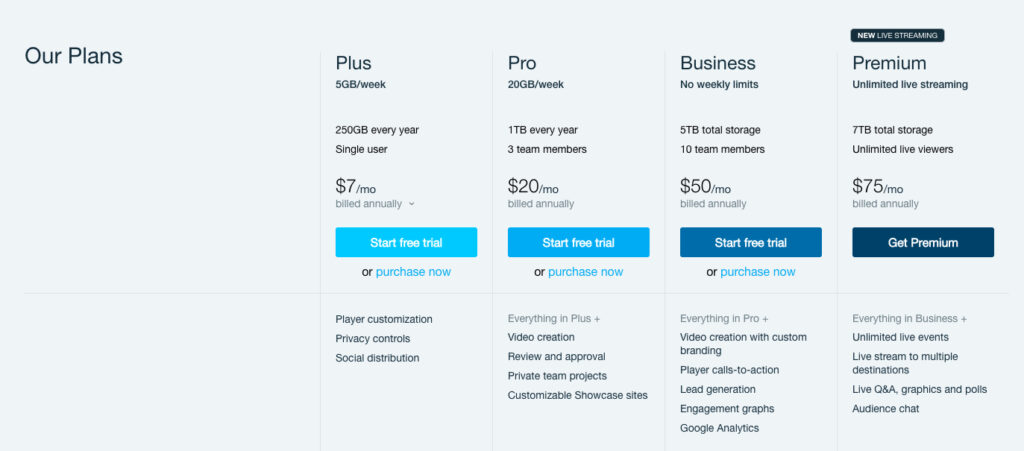 2.5

Mobile Users

Winner: YouTube

This had to be pretty obvious since YouTube has 30X more users than Vimeo. Approximately 70% of the watch time comes from mobile users on YouTube.

It could significantly help you if you want to target people on mobile.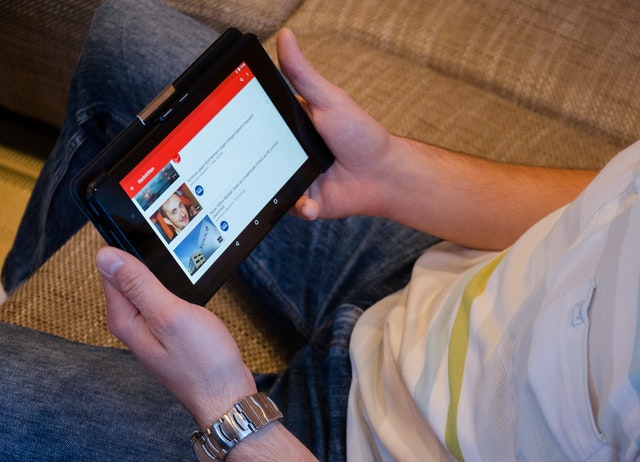 Though both Vimeo and YouTube optimize a video as per mobile, tablet and desktop. In terms of reach, YouTube provides you with a better option to reach more people.
2.6

Support

Winner: Vimeo

Vimeo offers you different layers of support which usually starts from their basic plan itself. For it's paid customers, Vimeo is a good option as you will get faster replies and guidance as compared to YouTube.

When it comes to business, Vimeo could be an excellent platform for you if you hardly have any expertise in video making.

If we compare YouTube vs Vimeo, YouTube offers you a lot of free documentation and tutorials to resolve common issues on the platform. Though, if you have a specific query, it could be quite daunting to get a reply from their support team.
2.7

Storage

Winner: YouTube

YouTube offers you unlimited storage for your videos. This is one of the biggest reasons why the platform has seen an exponential rise in the number of content creators. You can upload unlimited videos per week.

You have the same privilege as Beyonce to show your talent without paying a single penny. This makes it a perfect platform and lets you focus on your content rather than worrying about the subscription charges.

One thing to notice, YouTube offers you to upload videos up to 15 minutes long. If you want to upload a video which is longer than 15 minutes, you can do so by verifying your account.

Compared to YouTube, the free Vimeo account gives you 500MB of storage per week. You could go till 7TB max storage with no boundation on per week storage if you choose to go with the $75/month premium plan which is also the maximum subscription fee you are being charged on the platform.
2.8

Pre-Roll Ads

Winner: Vimeo

As a content creator, you would want to make sure that your viewers enjoy your video without any interruption.

Though, this also depends from niche to niche. On Vimeo, there are no pre-roll, post-roll ads and overlays to tarnish your video. You have the freedom to showcase your work the same way you want without any interruption to your viewers.

Well, on YouTube, you can expect ads pretty much on all videos. Thus, especially for businesses, it might not be the perfect platform to host videos if you have a particular niche audience.
2.9

Running Advertisement Campaigns

Winner: YouTube

Since it is the second-largest search engine on the web, it gives you the power to reach a humongous crowd and promote your videos and products.

YouTube is a compelling platform to do your branding as you will reach a wider audience. Also, it is somewhat cheaper than search ads on Google.

Typically every big platform, be it Amazon, Walmart, etc., use YouTube to reach a wider audience.

Vimeo is an ad-free platform and thus you can't run paid advertisements on the platform.
2.10

Privacy Options

Winner: Vimeo

Though both the platforms give you the option to make your videos private or public, Vimeo is slightly better in the game as it gives you specific privacy options based on your interest.

For instance, on Vimeo, you can add password-protected videos, share them only with people who follow you and can even hide it from the Vimeo Community.

It could be a good option for you, especially during Covid-19 times, when most of us are working from home. If you have a lot of video-related stuff to share in the meetings, Vimeo is a great option.
2.11

Customizable Player

Winner: Vimeo

If we compare YouTube vs Vimeo, Vimeo's player comes with a bunch of useful customization options that unfortunately are not present on YouTube.

On Vimeo, you can include a custom player log, hex colour customizations etc. This would also update your previously embedded videos and will reflect the changes automatically without using any code.
2.12

Analytics

Winner: YouTube

It is pretty surprising that being a free platform, YouTube shows you precise analytics for your videos.

You can view statistics like watch time, retention time, realtime video views, subscriber change, estimated revenue, comments, average view duration, likes vs dislikes, your top published videos and whatnot.

Vimeo also offers you a robust analytics platform for which you'll have to pay a subscription fee to access the same.
3

Frequently Asked Questions (FAQs)
Does YouTube Own Vimeo?
No, both YouTube and Vimeo are different platforms. InterActiveCorp has the majority ownership in Vimeo which they acquired in 2006. On the other hand, YouTube is owned by Google.
Is Vimeo free?
Vimeo is free to join. Though, to explore its actual features, you would have to subscribe to a paid version which begins from $7/month.
Does Vimeo pay you like YouTube?
Vimeo is an ad-free platform. Thus, one cannot generate ad revenue out of the same. On the other hand, you can make money by doing brand deals or so once you become a known creator in a particular space.
How to make an account on YouTube?
You can use your email address to create an account. The same email address will be used to recover password in case you forget it. However, you can watch a YouTube video for free.
4

Final Thought

Both YouTube and Vimeo are great platforms for content creators across the world. Vimeo has a large part of the users from the US, which is a great thing for someone targeting the American audience, as we mentioned earlier.

Overall, if you're looking for a creative community where you can chat with other video creators and stand out in a specific niche, Vimeo is the best place to start sharing your content.

If your business goals pretty much revolve around search engine optimization, advertising or video hosting, YouTube is the best choice.

Which one is your favourite platform amongst YouTube vs Vimeo? Do share with us in the comments section below.