People often misunderstand that expensive things ensure quality. A good VPN doesn't need to be expensive. You might be surprised to know that some of the best VPNs are actually quite affordable and cost you less than a cup of coffee for a monthly subscription.
With their unquestionable performance and great features, you surely wouldn't mind getting a subscription and testing them out.
If you are one of those individuals who like to keep their online life private and would want nothing but top-grade performance without paying a fortune, we have come up with a list just for you – the top ten cheapest VPNs that offer you great value for money.
What can you expect from top VPNs?
To set it straight, a cheap VPN doesn't mean you settle for something less in terms of performance and quality. Tight security and assured privacy with a good speed are a must.
Of course, the cross-browser and device compatibility add to the user-friendly quotient and the overall value offered. But with all that, you need to make sure that it does solve the purpose you chose it for – unblocking your favorite video streaming websites or even the torrent portals if required by not risking your security and privacy.
Also, if you like to use your VPN on mobile too often, do ensure that they have dedicated Android and iOS apps as well.
10 Best Cheapest VPN Services
1

Cyberghost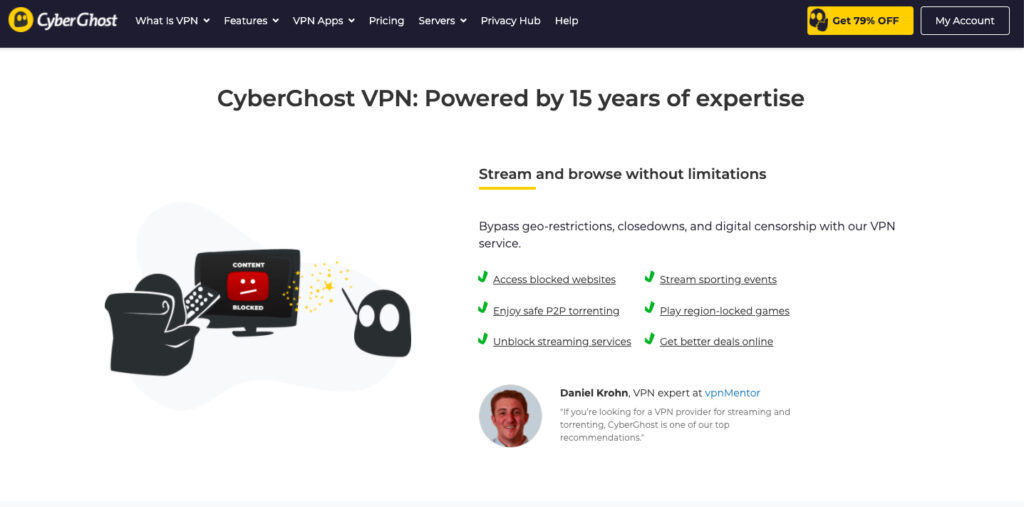 6000+ servers in over 110 countries – that's what you get from Cyberghost's arsenal. Better than any other cheap VPNs that we have used, it does make it quite simple for you to log in and get the ball rolling.
With access to a huge range of servers, you will get to choose just the right one needed to unblock your favorite streaming or torrent websites.
Yes, we did find that it could not provide us with consistently high speeds, but it compensates well in all other domains, including the ease of browsing, support, technical strength, cross-browser stability, and more.
But don't just believe us. Discover their features and check the performance by subscribing to their free trial of 45 days – undoubtedly one of the longest trial packs among all top VPN services. This also makes it a best VPN service provider in the segment.
Key Features:
Great value for money
Brilliant smart features
Longest trial offering among VPNs
Maximum number of devices supported – 7
Price – You can subscribe to the 1-year plan at $2.75 per month, whereas plans for the lesser duration will cost you more – $7.99 per month for 6 months or $12.99 for one month.
2

NORD VPN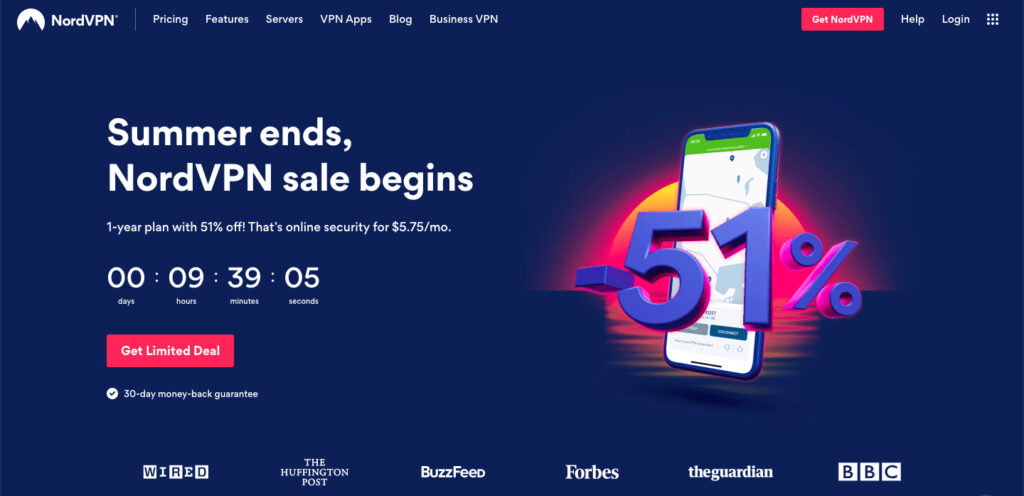 Nord is one of the most popular VPNs out there which provides you with an unmatched level of security and privacy.
With a huge variety of features as well as top-grade performance, Nord offers you unmatched value for money and thus it is the best VPN service you can use without burning your pocket.
With a number of servers that offer double protection (your data being routed through two different servers for an added layer of protection), Nord is indeed one of the most preferred choices among virtual private network users.
If you are someone who loves to be secure and avoid even the slightest chance of your data being recorded, you will definitely love Nord for its DNS leak protection, double 2048 bit encryption, and the automatic kill switch.
Nord has an easy to use client. We also found the 'no-logs' policy quite impressive, but that being said, it is not one of the cheapest VPNs out there, which did motivate us to look beyond.
Key Features
Impressive for both mobile and desktop
Unmatched performance
Double encryption for added protection
A bit complex as compared to other VPNs
It's a reliable and trusted VPN service provider
Price – You can test out Nord for a free 30-day trial after which the subscription plans are going to cost you as follows –
$89.04 for 12 months subscription
$54 for 6 months subscription
$11.95 for one month
3

Surfshark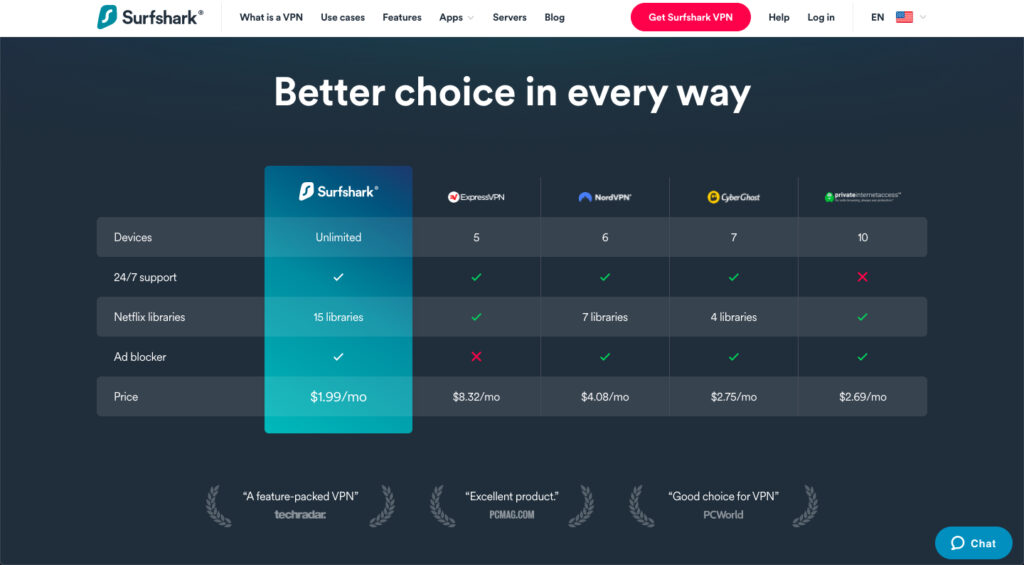 Its position on the list is debatable as Surfshark happens to be the most 'value for money', yet one of the best cheap VPN services out there in the market.
When you say affordable, Surfshark happens to be one of the top two recommendations from experts. It has a peculiar name, and honestly, that price subscription trumps every other feature that its competitors have to offer.
It does have an impressive array of security features – Open VPN UDP and VPN, private DNS, IKEv2 protocols, and AES256 encrypted double-hop VPNs.
When we say it costs less and that compensates well, we do not mean that Surfshank is any less in its performance. It offers a decent speed from its 100+ servers spread across 110 locations all over the world.
What really made it our favorite pick is its ability to provide simultaneous protection to unlimited devices. No, there is no limitation there, and you might just be able to protect all your home devices for less than $2 per month.
So now, perhaps you wouldn't be surprised when you find Surfshark name on the list of best cheap VPN services in the market.
Key Features
Incredibly attractive low price
Top grade performance
Fast connections
Unlimited device bandwidth
Too basic in features and interface
Price – For a 2-year subscription, Surfshark is available for as low as $1.99 per month, whereas its 12 months and 1-month package cost $5.99 per month and $11.95 per month, respectively.
4

Private Internet Access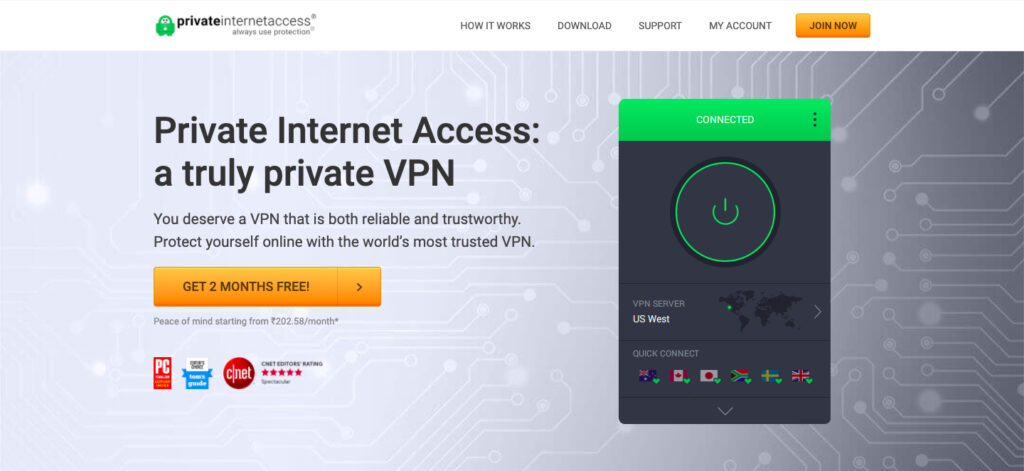 Another top choice among experienced users and experts, the PIA or the Private Internet Access, is at the top of our mobile Virtual Private Networks list!
The VPN supports torrenting with its 2700+ servers in 47 countries. Cross-device compatible without any glitch in performance, the VPN comes with a 10-device limit, which means that you can have your mobile phones and desktop connected and going without any hindrances.
Excellent cheap VPN that offers a huge variety of servers to choose from, PIA does fall a bit short on its desktop version, even though its impressive browser extensions are quite popular among VPN users. That also happens to be the reason why you might not find PIA in the top 3 picks in any list.
We really liked the fact that PIA has the ability to use advanced features like SOCK5 Port forwarding along with an option to set up applications to provide you with automatic protection when browsing through an unsecured network or WiFi connection.
Key Features
Covers upto ten devices
Brilliant extension and app support
It's a powerful cheap VPN service
Commendable speed and performance
Price – The full 12-month plan will cost you $3.33/mo, whereas the 6-month plan will cost you $5.99 a month.
5

Hotspot Shield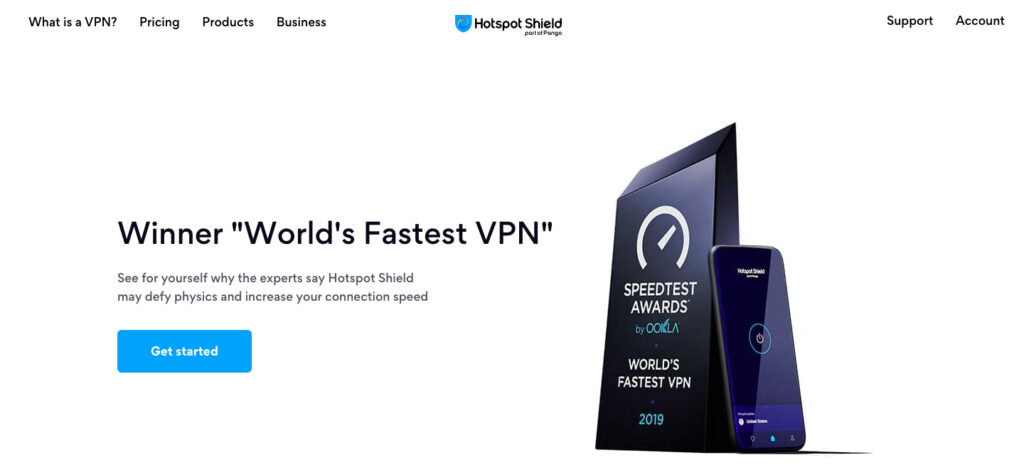 One of the most popular but cheap VPNs in the market, Hotspot Shield, happens to be a great VPN service that offers great value for money.
Available for a price as low as $2.99 a month, Hotspot Shield provides you access to their proprietary encryption algorithm, which happens to be amongst the fastest servers clocking top-grade performance.
Even though some people might not be happy with its free to access server being limited to one, you do get a 45-day money-back guarantee with Hotspot Shield, giving you ample time to test out its features and performance.
One impressive feature that had us applauding the VPN was Hotspot Shield's stability and compatibility with different Operating systems and devices – something which is really hard to find even amongst the best cheap VPNs.
Key Features
Cheap VPN with a freemium subscription
Uses a proprietary algorithm
Highly stable and compatible
Above-average speed and performance
A limited number of servers and locations
Price – For the 3-year plan, you can get a premium subscription at $2.99 a month, whereas the 12 months plan is going to cost you around $7.99 a month. If you'd like to go for the month on month plan, that would cost you $12.99 a month.
6

Express VPN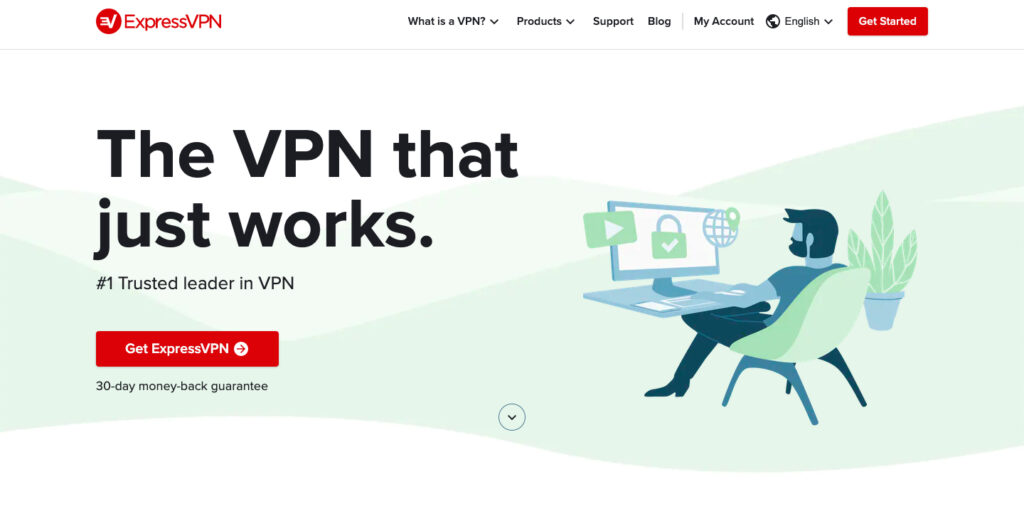 Over 3000 servers in 94 countries and a limit of 5 devices in one plan that come along with the brand name that has stood synonymous with top-notch performance and service for the past few years – that is what Express has to offer its subscribers.
The VPN's Perfect Forward Secrecy is what caught our eye initially, as it happens to be quite the powerful feature in itself.
Not only does it guarantee your secrecy, but it also connects with a different key every time and changes the key every hour that your connection stays active.
Another impressive feature is Express's support – which actually happens to be, hands down, the best support service by any VPN.
The live chats have a negligible wait time, and the operator is able to help out with almost all the issues. In all, yes, it might cost more, but its features, supports, and the complete experience make it worth the extra money you pay.
Key Features
Great support
Enhanced security with Perfect Forward Secrecy
Covers all types of devices
Has a great selection of mobile apps
Price – The annual subscription for Express will cost you $6.67 a month with three extra months (pay for 12, get 15!), whereas the 6 months and monthly plans will cost you $9.99 a month and $12.95, respectively.
7

Zenmate
Another popular brand amongst VPN users, Zenmate is best known for its excellent support across all devices while allowing you to connect upto 5 devices at the same time.
Zenmate made a name for itself with its free VPN service, but the German brand is now offering access to 3600+ servers across 74 countries for as low as $2.22 a month. The robust IKEv2 and OpenVPN encryption ensure that all your connections are secured beyond measure.
So if you are looking for a powerful VPN that can offer you great features, a premium support service, and an excellent overall package at a pocket-friendly price, Zenmate has got to be on your list of choices to explore.
Key Features
Uses IKEv2 and OpenVPN encryption
Allows five devices at a time
Excellent user support
Freemium subscriptions
Access to over 3600 servers in 74 countries
Price – The annual subscription will cost you $2.22 a month, and with that, you get free 6 months as well! However, $5.39 a month and $10.99 a month for the half-yearly and monthly plans.
8

Ivacy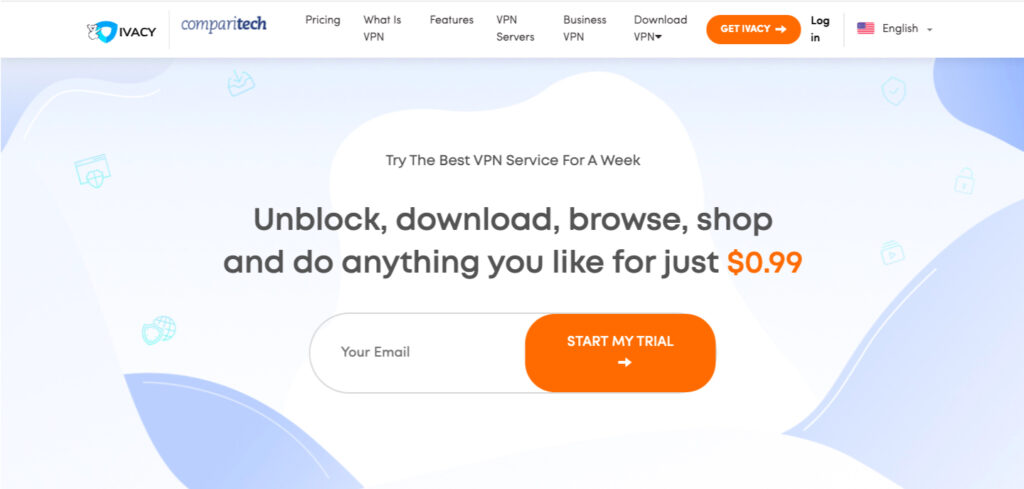 If you are ready to compromise a bit on the features, Ivacy might be the best cheap VPN for you. That being said, Ivacy is no less in terms of securing the privacy of its users as it secures its connections with OpenVPN encryption. However, it does not have thousands of servers to offer you and has limited coverage.
Even though the speed is pretty impressive with the resources at hand and they are unable to unblock most of the libraries and websites, you can try it out for yourself as the VPN offers you the service with a 30 day money-back guarantee.
Key Features
Military-grade encryption
Cheapest we have come across
Limited server offering
30 day money-back guarantee
Price – Take the 5-year plan and get the subscription for $1.16 a month. The annual plan will cost you $3.95/mo, whereas the monthly subscription will cost $9.95.
9

Private VPN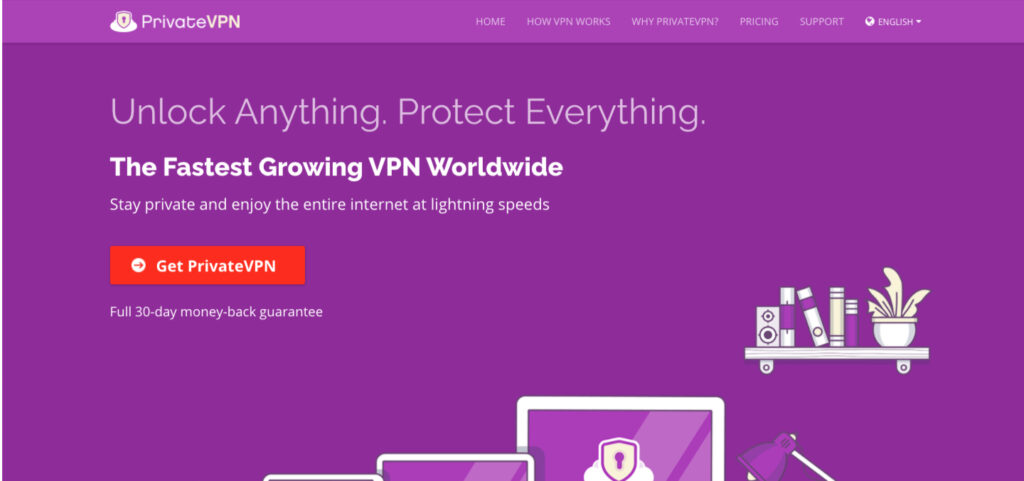 Having won several awards for offering value for money, the Private VPN still does find its way to our top picks. Great encryption, good connection speeds, stability, 60 server locations, and decent customer support make it a powerful and user-friendly VPN tool that you would love to have.
This cheap VPN offers you the ability to connect six devices simultaneously, without breaking down on performance.
Goes without saying, it can unblock various Netflix libraries and several other streaming sites as well.
Key Features
Offers 30-day money-back guarantee
Easy to use cheap VPN service
60 server locations
Decent support and performance
Price – The 24 months subscription of the Private VPN will cost you $1.89 a month, whereas the 3-month plan will cost you $4.20/mo against the monthly subscription cost of $7.12.
10

SaferVPN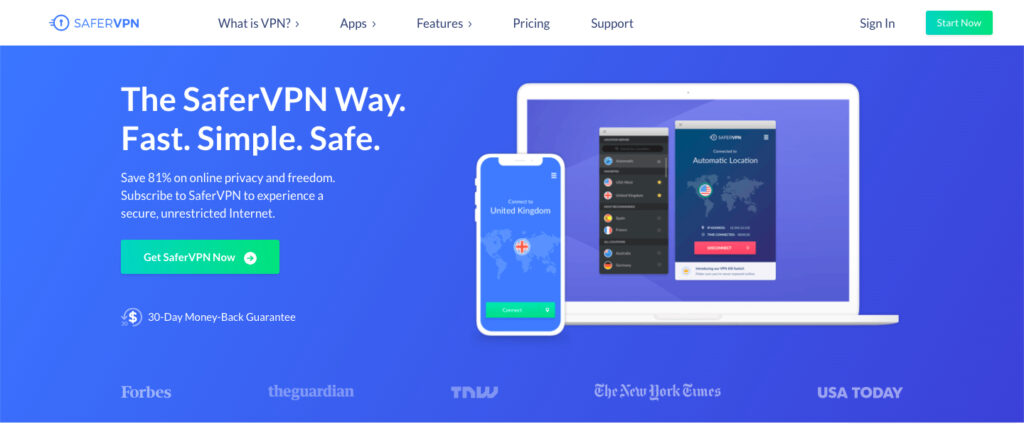 Built-in kill switch and DNS leak protection along with high-end encryption and several other impressive features – now you might think it will cost more like other reliable brands, but SaferVPN is the name that offers you top-notch service and features at the cheapest possible rate.
Often overlooked and underestimated, this is a game-changing VPN tool that packs several powerful features into one bundle.
The only drawback we saw was that SaferVPN still struggles with some popular streaming sites and players like BBCiPlayer. Otherwise, its 24/7 live chat support and no-log policy do make it quite user and privacy-friendly.
Key Features
Good customer support
Apps available for all devices
Build-in leak protection and kill switch
30 day money-back guarantee
Price – SaferVPN has different subscription plans to offer –
3 years plan – $2.50/mo
2 years plan – $3.29/mo
1 year plan – $5.49/month
1 month – $12.49
Finally, which VPN did you choose to go with? Do tell us in the comments section below.