WordPress is an amazing CMS. Powering almost 39% of the web, the success, stability, and versatility of WordPress is known worldwide.
What's even more amazing is the brilliant ecosystem that has developed around WordPress.
Thousands of people have created millions of themes and plugins (paid and free) to extend WordPress and help people create the website that they dream of.
The ecosystem around WordPress is great, but it can overwhelm people with choice. For context, there are over 58 thousand plugins available just on the WordPress repository.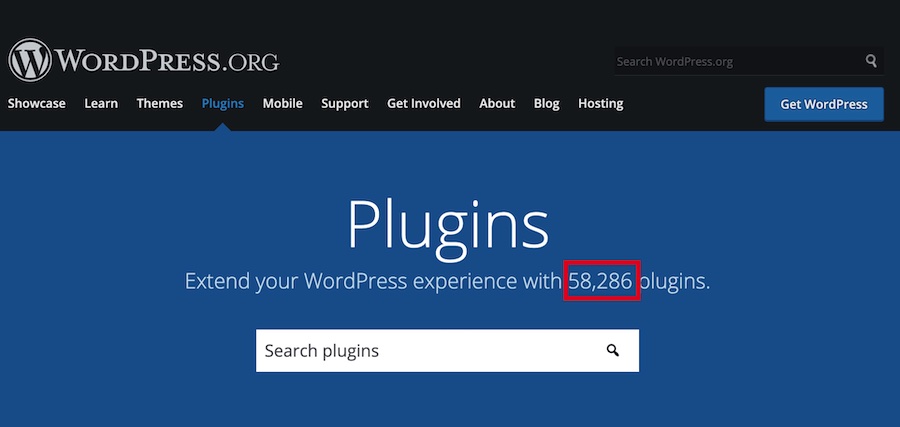 If you include plugins sold by 3rd parties and individuals, the estimated number of available plugins would be many multiples of that. If you're just starting out with your first website, these numbers can scare you.
Worry not, you only need a few plugins for your website, and don't need to install all the plugins that you hear about. Below, I've discussed some essential WordPress plugins, and also included a couple of alternatives where I see fit.
Essential WordPress Plugins List Which Are FREE!
---
1

SEO

Search engine traffic can be very lucrative and provide a consistent flow of visitors to your website.

Therefore, it makes sense to optimize your website in a way that it maximizes the traffic coming to your website from various search engines. That process is called Search Engine Optimization, or SEO.

WordPress is a SEO ready CMS. What that means is that it does provide a decent SEO framework, but you do need a plugin to make your website up to date from an SEO perspective.

My recommendation for an SEO plugin is Rank Math. It's a fantastic SEO plugin that does the job of multiple SEO plugins for an unbeatable price of FREE.

It can help you optimize your content by giving you specific recommendations, give you internal link recommendations, help you optimize your post for social sharing, help you optimize your meta descriptions, and hundreds of small things that make a large impact on your overall traffic.

Rank Math is completely free to use without limits, and it already does more than the premium offerings by competing plugins. Here are some of the features that Rank Math has.
Very Intuitive & User-Friendly Interface
Support for 14 Types of Schema Markups
Google LSI & Keyword Position Tracking
Deep Integration with Google Search Console
Advanced Content Analysis and Recommendations
Built-in SEO Audit tool
XML Sitemaps, SEO Breadcrumbs, 404 Monitor, Redirections
This is not a complete feature list by any means, and I encourage that you check out the entire list on Rank Math's website.
An advantage of using Rank Math is that it eliminates the use of many other plugins that you otherwise would have had to use.
It is common knowledge that using 1 plugin that does the job of many is better than many plugins that do small jobs within themselves, and Rank Math helps you achieve that.
Without Rank Math, you'd have to install separate plugins for checking broken links, rich snippets, redirections, Google Search Console integration, generating a sitemap, and even use a 3rd party service to conduct an SEO audit.
---
2

Backup

Even with the best of security, your website can get hacked. While you should always aim to prevent any hacks, you should also prepare for the day that your website does get hacked. The best way to do that is to have regular backups.

The best plugin for backups is Updraft Plus. It's one of the most popular backup plugins, and for a good reason.

Here is a list of its features.
Backup (and restore from) to the most popular cloud storage services like Dropbox, Google Drive, and others
Schedule your backups
Uses fewer resources than most plugins
Tested over a million websites
Alternative
As an alternative, I recommend My WP Backup.
---
3

Security

WordPress is pretty secure by itself, and constant updates ensure that WordPress is as secure as it can be. But, hackers are smart and always looking to break into your website.

Also, every plugin that you install, and even your server setting or your host's settings can leave security vulnerabilities that hackers can exploit.

That is why it is critical that you install a security plugin. A good security plugin will proactively protect you from attacks and also help you get your website back in case you do get hacked.

Again, there are hundreds of security plugins, but our vote goes out to WordFence.

WordFence is a fantastic WordPress security plugin that adds a secure layer between your server and your users and uses its advanced firewall and other protection technology to protect your website. Here are some of its key features.
Web Application Firewall that blocks malicious traffic
Integrated malware scanner that tracks changes to WordPress core files
Protection from brute force by limiting login attempts
Proactively checks your site for vulnerabilities and informs you of any issues
Block malicious bots and spiders that slow down your site
Alternatives
Another great security plugin that you can use on your website is Sucuri.
---
4

Caching

With every visit, your server has to spend some resources executing code, fetching images, loading the content from the database, and many other operations that makeup one-page load. As the number of visitors on your website increase, this process becomes inefficient.

To speed up the process, you can implement caching, which makes a copy of the page's final HTML code (after all operations) and uses it to serve visitors. This saves server resources and improves performance.

To implement caching, I recommend the W3 Total Cache Plugin. It's an excellent plugin which will definitely improve your website's performance quite a bit. Because caching can be complicated to set up, we wrote a helpful guide that teaches you how to configure W3 Total Cache.

You can even download our best settings from the article and simply upload it to your site to get it up to speed. Here are some things that you can achieve with W3 Total Cache.
One of the fastest caching plugins
Minifies and compresses your HTML, CSS, and Javascript
Works on all types of hosting
AMP and mobile support
Multiple caching types supported
Alternate Caching Plugin
Some amazing alternatives to enhance performance with caching are WP Rocket and Perfmatters.
---
5

Content Design

To keep your user's attention, you have to style your posts in attractive ways. Otherwise, your readers will be bored and drop off.

With the new Block Editor in WordPress, the styling options in WordPress have grown, and now you can style your content in ways that were not possible earlier.

Our favorite content styling/page builder plugin is Elementor.

Since its launch 3 years ago, it's taken the WordPress design market by storm. Here is what you can do with it.
A full drag-and-drop based editor
Live Editing – See your changes in real time
Hundreds of free templates that you can download for free
Full visual designer with animation support
Alternative
If you're not interested in using a full-fledged page designer, you can use the WordPress Shortcode plugin to style your content in attractive ways.
---
6

Email Capture

It's a common saying that the money is in the list, and unfortunately, WordPress doesn't have any email capture features.

To capture emails, I recommend that you use the Sumo Suite.

It's an all in one list building, sharing, and conversion suite designed for all website owners.

It is a 3rd part service, and it does have a WordPress Plugin that you can use to integrate their service with your website. Here is what you can do with Sumo.
Create high converting popups, welcome mats, and popups
Create share buttons and embed them in various sections of your website
Use smart bars to attract email subscribers
Alternatives
An excellent alternative to build your email list is WP Subscribe.
---
7

Forms

A great addition to WordPress are forms. Whether you realize it or not, you fill out forms on websites all the time.

A comment box is a form, a contact form is a form; a checkout is a form. Forms are everywhere. But, WordPress doesn't have a built-in method to create forms.

Our recommended plugin to create forms is Ninja Forms.

It's a great plugin that you can use to create unlimited forms with complete control. Here are some of its features.
An intuitive, drag and drop interface
Create unlimited forms with unlimited fields
Export all form entries in multiple ways
Redirect users to other pages after they fill a form
Alternative
If you're facing issues with Ninja Forms, then you should try Gravity Forms.
---
8

Image Optimization

Most bloggers don't realize is that the images on your page can be multiple times the size of everything other combined. To maintain the high performance of your website, it is critical to optimize your images.

Our recommendation for an image compression plugin is ShortPixel.

Here are some of its features.
Supports both lossy and lossless compression
Supports the most popular image formats
Supports image conversions
Uses progressive JPG for better rendering
Full WebP Support. Click here to read about WebP
Alternative
An excellent alternative to the ShortPixel plugin is the WP Smush Plugin.
---
9

Social Sharing

I don't need to tell you about social sharing; you already know how being active on social media can improve your authority and give you access to an audience that you otherwise wouldn't have had.

To embed social sharing on your website, I recommend that you use the Ultimate Social Media Icons Plugin.

It a free plugin that offers a lot of features, and is very easy to use. Here are some of its features.
Choose from 16 designs of social sharing icons
Animate social media icons to encourage sharing
Make social sharing buttons that follow the user along the post
Display number of shares for social proof
Integrate pop-ups that ask users to share your content
Alternative
If you want to check out a few plugins before you stick to one, then I suggest that you also check out Social Snap.
It's another fantastic social sharing plugin that offers some additional social features as well.
---
10

Comment Management

If you're getting comments on your blog, that's a great sign that people are engaging with your comment and enjoying it.

A few comments are easy to manage, but when your blog becomes popular, and you start getting hundreds of comments, it becomes painful to manage your comments and engage with the people who take their time out to comment.

There are several plugins that can help you to manage your comments better, and one of the best is Disqus.

It is the world's most popular comment management system used by millions of websites worldwide. Here are some of its features.
Users create a single profile to manage their comments across the web
Automatic Spam detection and prevention
Easy installation and management of comments from a backend
Engage your readers with automatic email and notifications
Alternative
Since Disqus's free version is ad-supported, I understand that not everyone will be sold on using it. If you're one of those website owners, then I would recommend that you use wpDiscuz.
It offers similar features to Disqus, and you keep all your comments on your website. The pricing is friendly too. wpDiscuz is free to use, and you can purchase additional integrations to manage your workflow and comments better.
---
Other Notable Mentions
---
11

Review

Most bloggers make their money by reviewing products and referring other people to buy said products.

Writing a good review is not an easy task, and you need to take care of a lot of factors to make a review helpful. A good plugin can help create amazing reviews which make you a lot of money.

To create stunning reviews, you can use our WordPress Review plugin.

It's a fantastic product that will help review any product in a stylish, high converting manner. Here are some of its amazing features.
Blazing Fast – Doesn't affect your website's speed
Create 3 types of reviews
Fully responsive
Full rich snippet support and more.
If you're new to website creation and reviews in general, I'd recommend that you read this guide on how to create a review website. It covers all the basics of review websites and how to set them up. Once you go through the guide, you'll have the knowledge required to create your very own review website.
Alternative
WP Review doesn't have alternatives that match its functionality. But, if you're looking for more features to enhance your review website, I would recommend WP Review Pro.
It offers all the features of WP Review and adds many other professional features that are useful to create high-performing review websites.
---
12

Push Notifications

Push Notifications are a new way to get people to "subscribe" to your content. They are similar to having email lists as once a user is subscribed, you can send them your content.

The only difference is that instead of an email, they will receive a notification, similar to the ones you get from apps.

To enable push notifications on your website, I recommend that you use OneSignal.

It's a fantastic free plugin (and product) that lets you send unlimited notifications to unlimited people. Here is what you can do with OneSignal.
Send mobile app-like push notifications on mobile
Send desktop notifications on Chrome, Safari, Firefox, and other popular browsers
Design pop-ups, banners, and other in-app elements
Create beautiful emails with the drag and drop designer
Alternatives
There are many alternatives for sending push notifications out there, and PushCrew is a great freemium product.
---
13

Link Shortener

There are many reasons to shorten your links. It helps with tracking clicks, manages affiliate links, shares better-looking links on social media, and just makes life easier. I highly recommend using a Link Shortener plugin to manage your links.

Our choice for a URL shortening plugin is URL Shortener. It is a powerful URL shortening plugin that offers a lot of flexibility in how you shorten and manage links.

Here are some of the features it offers.
Organize shortened links in categories
Choose the type of redirect (301/302/307) used
Automatically NoFollow and open links in new tab
Bulk replace links in older posts and many more.
Alternative
If for some reason you don't prefer using URL Shortener, you can use Redirections or Pretty Link to shorten URLs and manage them. Both the plugins are good, highly rated, and offer similar features to URL Shortener.
---
14

Amazon Affiliates

Most bloggers when they start out to make money with their blogs, choose to start with Amazon Affiliates, as its one of the easiest affiliate program to get into. Signup is easy, and you can get started right away.

The trouble is, you have to spend a lot of time creating and managing the affiliate. Also, the Amazon affiliate program prohibits you from mentioning prices of the product unless they are pulled in through their API.

An excellent plugin to help you manage this is AAWP – Amazon Affiliate WordPress Plugin. It's an excellent plugin that lets you compare products, create product boxes and more for the Amazon Affiliates Program.

Here are some of the things you can do with it.
Works with all WordPress themes
Prices, images, and other information pulled from the API updates automatically
All content created with the plugin is responsive
Auto-create comparison tables for comparing products
Alternatives
Another plugin that works similar to AAWP, but with different features in Content Egg.
---
15

Memberships

You're surrounded by memberships. In the real world, they are called subscriptions, and you probably pay for your fair share. College, the gym, membership clubs, Netflix, Amazon Prime, are all memberships that you pay for.

Many WordPress website owners also monetize their website by creating memberships. They do so by locking most of their content behind a paywall, and only people who pay for the subscription are allowed to access it. We also wrote an extensive guide on how to create membership sites.

In our opinion, the best plugin to create membership sites is Ultimate Membership Pro.

It is available for sale on CodeCanyon, and has a range of impressive features, some of which are:
Fully GDPR compliant
Unlimited levels of subscriptions
Supports multiple payment options, also recurring payments
Full custom field support with conditional logic
Alternative
A great freemium alternative to Ultimate Membership Pro is Membership by Supsystic.
---
16

Table

Tables are a useful way to organize and present information. Recipes, reviews, and all sorts of other content use tables. A good table plugin will let you create, update, and manage tables easily.

To create tables on your website, I recommend that you use TablePress.

It's a great, free plugin that lets you create excellent looking tables and embed them in your posts. Here are some of its important features.
Create unlimited tables
Embed text, numbers, images, HTML, or scripts in the table cells
Create tables with formulas in them
Enable table sorting, pagination, filtering, and scrolling
Style tables with custom CSS
Alternative
TablePress is a great plugin, but you can also try Ninja Tables as an excellent alternative.
---
17

Gallery

Just like you'd store your printed photos in an album to organize them, you should also organize the images that you upload to your posts. In WordPress, they are called galleries, and they offer ways to upload and display images in better ways.

Out of the many gallery plugins available, the Envira Gallery WordPress plugin is one of our favorites. 

It lets you create many types of galleries, alongside these features.
Create unlimited galleries
Add multiple hover, loading effects, and lightbox styles
Add videos to galleries (pro version)
Alternative
NextGEN Gallery is another fantastic alternative that you can use if you found that you didn't like working with Envira.
---
18

Quizzes

Quizzes are engagement magnets. We're sure that you've seen people sharing some of the other quizzes on Facebook. That just shows how powerful quizzes can be for achieving any blogging goal.

To create quizzes, I recommend that you use WordPress Quiz plugin.

Here is what you can do with WP Quiz.
Create unlimited quizzes
Choose from 3 types of quizzes
Personality Quiz
Trivia Quiz
Flip Cards
All quizzes are responsive by default
Import and Export quizzes
Integrated social sharing with quizzes
If you're new to quizzes, I'd recommend that you read this article about the power of quizzes. It showcases all the website that are using quizzes to bring in millions of people to their websites. Once you're through with it, you should read this guide about how to create quizzes with WP Quiz. Once you've read both the articles, you'll be equipped with the knowledge to create high-performing quizzes yourself.
Alternatives
If you'd like more control over the quizzes you create, I recommend that you use the pro version of WP Quiz.
---
Conclusion
With thousands of WordPress plugins available, it is difficult to ignore the next big shining plugin that claims to change your blogging life.
In pursuit of a website with the perfect features, you might ignore your actual goal—attracting the perfect audience. So ignore the instinct that tells you to install the next fancy plugin, and listen to the voice of reason.
Just choose from the essential plugins that we've listed above and take your focus where it should be—towards your audience. I wish you all the best with your blogging journey.