The digital landscape is always changing. As such, digital marketers need to stay ahead of the game and adapt to these changes as they ensue in order to have a competitive edge in their respective niches.
That said, it goes without saying that more and more people use mobile devices to conduct search queries as opposed to computers. This unrelenting dominance in the use of mobile devices has prompted digital marketers to optimize their website's mobile responsiveness to boost their conversions.
The problem, however, is that load-speeds remain to be a major backlash for most users. For example, according to a study by Kissmetrics, it was found that 47 percent of users expect a web page to load in not more than 2 seconds.
The same study found out that out of the 47 percent, 40 percent will abandon your site if it takes more than 3 seconds to load. That's a pretty huge number of potential clients to lose, right?
While digital marketers can carry out a few tweaks to boost loading speeds such as reducing server response times and image optimization, Facebook's new "Instant Articles" feature take things a notch higher.
This new feature from Facebook improves speeds right from the FB feed. Simply stated, the Instant Article feature allows you to conveniently publish interactive content while ensuring a better user experience than that of your own website (for the most part).
In this article, we'll learn more about Facebook Instant Articles and what you need to know when getting started with this godsend feature.
Facebook Instant Articles: What are they?
From a technical point of view, Facebook Instant Articles are HTML documents that load with super-fast speeds on Facebook.
In simpler terms, Instant Articles are mobile-optimized articles that give you the ability to tell rich stories in a customizable and branded format while leveraging Facebook's native publishing platform.
With Instant Articles, users can read the entire article without leaving the FB app in just a similar manner as they would read it on your website. And given that the functionality of FB Instant Articles is strictly formatted in HTML5, you can rest assured of better performance and faster loading speeds.
How Beneficial are Instant Articles?
As aforementioned, Instant Articles were primarily developed to enhance articles as well as boost loading speeds right from the FB feed. But how else is it beneficial to you as the publisher? Let's take a look.
Enhanced user experience
Along with faster loading speeds for articles, the Instant Articles feature supports dynamic content like images and videos. This immersive new format allows publishers to combine articles and media in a bid to paint a more vivid picture while ensuring a greater user experience.
While this is still being improved, the Facebook team behind Instant Articles terms this as a huge step forward in in-app content rendering.
A suite of dynamic publishing tools
Beyond load times, FB Instant articles include a full suite of specialized tools to enhance the reading experience. For example, photos can now get tilt-to-pan effects that work on slideshows and single images. Note, however, that this effect is best displayed on mobile devices with larger screens.
Along with the photos, publishers can define kickers, custom images, typographic elements, and layouts for different publication sections to match the web version.
Customization and control
One thing that's so unique about Instant Articles is that, as a publisher, it offers you full control of how your stories look and feel. Apart from that, you can customize your content to identify with your brand.
For example, videos, photo galleries, blockquotes, and other non-paragraph text can be customized to convey some emphasis when need be. The thing about Instant Articles is that most of the elements are directly controlled through Facebook. This explains why you need a Facebook page for you to publish Instant Articles.
Analytics and browsing data
What's better than knowing how much your content is being consumed? We guess this is one of the major reasons we create content, right? Now, with Instant Articles, you can track readership analytics and get data on engagement as well as the page activity.
This data includes the extent to which the article reached the audience, the number of users engaged in the content, how much time was spent reading the content, scroll depth, and whether any digital media elements were used.
Note that the same criteria used for ranking and organizing articles on the mobile web are the same as that used on the user's news feed.
The factors used to rank feed content include the amount of time spent reading the content as well as the number of users reading or clicking on your story.
Monetization opportunity for publishers
One of the huge benefits of using online social media platforms is to generate revenue. And how best can you do this than to use Facebook? Being the biggest social media platform with the largest user base across the globe, Facebook, through its Facebook Audience Network, allows publishers to sell ads in their Instant Articles.
This exclusive programmatic ad network runs through Facebook ads for targeted campaigns. Publishers can take home 100 percent of the revenue generated. To enhance the user's reading experience, the ads within Instant Articles are designed to load with super-fast speeds.
Although this program is still in its baby stages, it's not hard to notice how the FB Audience Network is quickly growing. For example, when you go through your FB timeline, it's not uncommon to notice advertisers looking to drive app installs.
Publish directly from any content management system (CMS)
One amazing aspect with FB Instant Articles is that you can publish directly from your website regardless of whether it runs on Drupal, WordPress, or any other CMS.
All you need to do is connect your content to FB via RSS feed and all your posts will appear as Instant Articles once you hit publish. What's more, all the edits or updates in the articles are done in real-time and automatically reflected in the article.
This gives FB an edge when it comes to speed and efficiency, as opposed to regular cached pages.
Getting Started With Facebook Instant Articles
Step #1: Sign Up
To get started, you'll need to sign up in order to join the Instant Articles program. Follow the following link: https://www.facebook.com/instant_articles/signup. Note that you must have an existing Facebook page as well as admin privileges.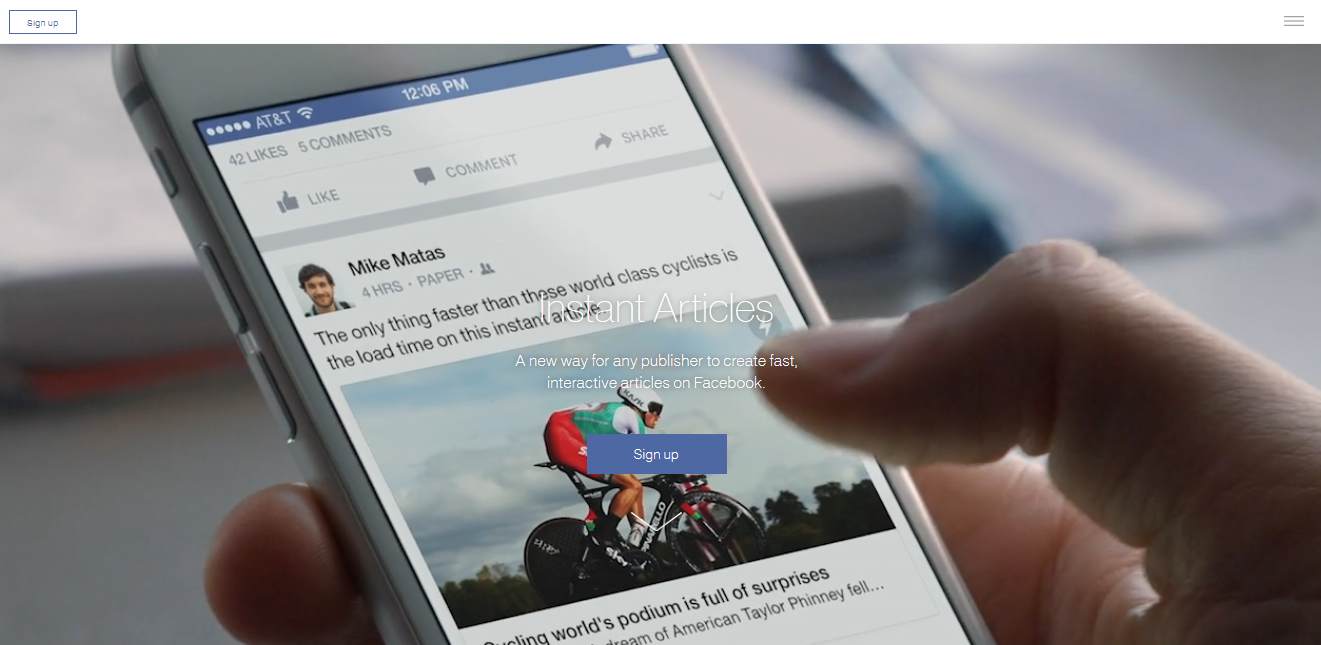 Step #2: Choose a page to use for Instant Articles
Once you've signed up, choose the Facebook page that you'd like to activate for Instant Articles.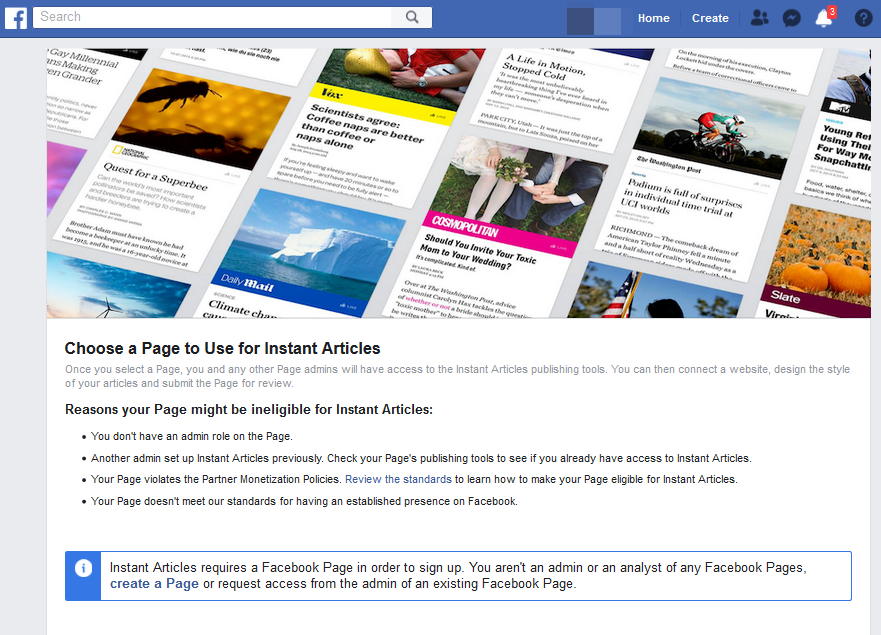 Step #3: Claim your URL
After selecting the page, you'll be required to provide a URL for your articles. This will form the basis for all the posts you intend to publish.
To claim your URL, you'll need to follow the steps below.
Add a meta tag to your HTML's tag
Then add the URL to your settings
You will find this information in the settings.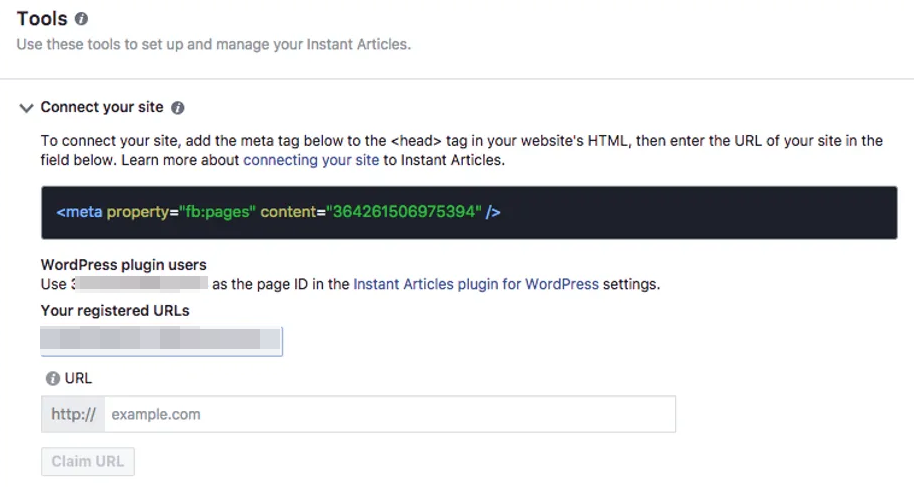 Step #4: Create articles
The good thing about Instant Articles is that you can publish your content directly to Facebook from your CMS. So you don't have to recreate articles on Facebook. There are numerous options to do this.
To begin with, you can sync your post with Instant Articles through:
An RSS feed
Third-party Facebook publishing tool such as the WordPress plugin
Instant Articles API
RSS feed
An RSS feed is the simplest way to connect your content to Facebook if you are using another CMS other than WordPress. An RSS feed seamlessly integrates with Facebook to automatically syndicate new posts as Instant Articles whenever you click on publish.
To enable custom RSS feed, you'll need to configure your CMS in order for you to publish your content as Instant Articles. As such, each article must contain the following three elements.
< title >: this is the article's headline.
< link >: this is the article's original URL.
< content: encoded>: this is the full article content in HTML.
Once you've got the URL to your RSS feed, all you have to do is notify Facebook as to which RSS feed you want to use in order to distribute your article as Instant Articles.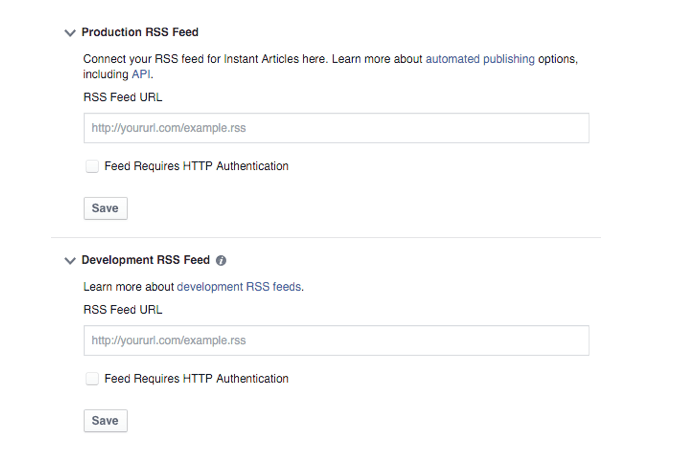 Connecting with WordPress
If you use WordPress CMS, then you are in luck, thanks to the Facebook Instant Articles WordPress plugin that makes it easy and quick to get started with Instant Articles.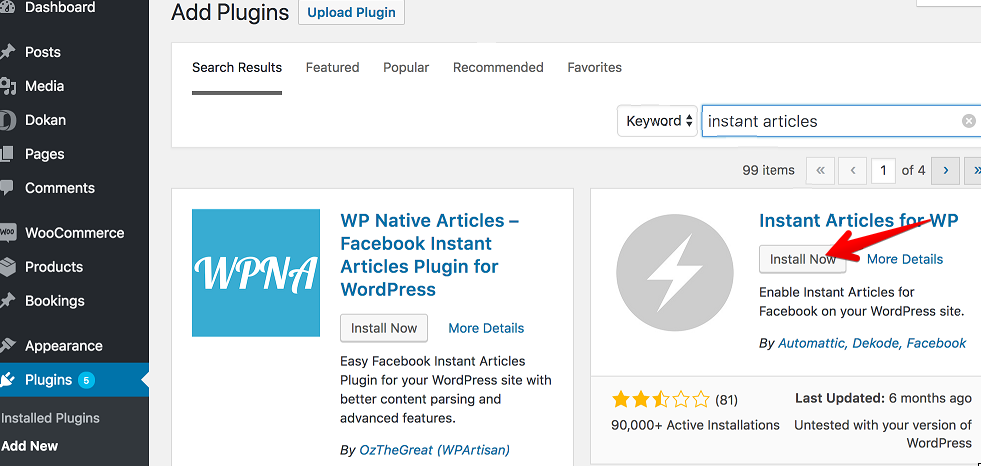 Once the plugin is active, you'll see a special RSS feed. This will be added to your WordPress site with either of the following URLs.
/feed/instant-articles
/?feed=instant-articles
The plugin's aim to help you to automatically add extra data and mark up without using too much time.
Using Instant Articles API
With the Instant Articles API, you can publish, update, and delete Instant Articles directly from your Facebook page or CMS. What's more, you are able to get errors and alerts through your CMS as soon as they are detected.
Step #5: Style your articles
One notable aspect of Facebook is that it gives you the option to brand or customize the look and feel of your articles. Here you can select your preferred font style as well as upload a logo. To find the Style Editor follow the following steps:
On your page, go to publishing tools
Then Instant Articles
Then Configuration

Step#6: Submit for review
If you've completed the above steps, Congratulations! Now submit your articles for review to the Facebook team for approval. Note that you need to have ten articles ready and show them on your feed.

If you already have the batch ready, click on submit for review. It might take 24 hours or a few days to get a response. You may also be asked to resubmit in case of any errors.
After approval, you can begin publishing them to the social network.
Wrapping Up
As with any other publishing platform, the overall benefits that you can extract with the Facebook Instant Articles are primarily based on what you want to achieve as a publisher.
As with us, we feel that the Instant Articles feature is a good place to start if you are looking to increase your blog's readership.
We hope that this article was helpful as you look forward to growing your business through Facebook Instant Articles. Do share your views in the comments section below.