One of the great things about WordPress as a content management system is the flexibility that it brings to your web experience. WordPress can be used as a gallery, a personal blog, a magazine-blog or a niche news portal, among other things. So, we wondered why most WordPress themes are single-purpose only.
That's why we created BookShelf. BookShelf is a flexible, multipurpose and multifunctional WordPress theme that is perfect for anything from personal blogs to magazine style blogs and niche news portals. Thanks to the customizable backgrounds, color schemes, fonts and widgets, you can restructure and restyle BookShelf without having to bother with cantankerous code.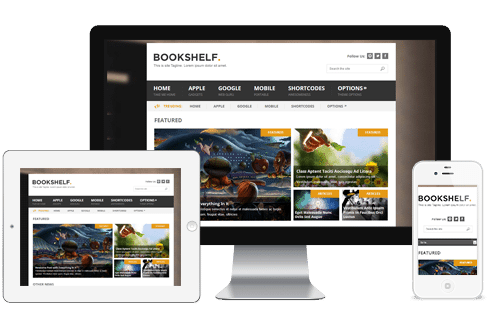 BookShelf features a multi-format post display on the homepage, a subcategory menu to help you organize your content, and is fully responsive to ensure that it will display properly for every user.
Of course, BookShelf is also built to help you attract more users, since we know that traffic and revenue is the key to any blog's success. Therefore, we included our SEO optimization to help you dominate the search engines, and our social media integration will help you capitalize on the social media revolution. With the translation-ready, you can translate your theme to new languages and reach users across the globe.
The best part is that everything is built using lightning fast HTML5 and CSS3 to keep you ahead of the curve, and all the options are controlled via our industry-grade options panel.